Manufacturer:

Ventus Watches

| Price: $235 USD (€210 EUR, £185 GBP approx)
Originally launched as their 3rd Kickstarter campaign way back in March of this year, the Ventus Northstar was fully funded in less than 5 minutes. That's pretty damn amazing and I believe it's one of the fastest, fully funded watch campaigns on Kickstarter, second only to the Kraken H2 by Hamtun, which I believe, was fully funded in less than 4 minutes! Anyway, having a successful campaign on Kickstarter doesn't always mean that you, the customer, are guaranteed to end up with a great watch once they're delivered. So, let's find out if the Northstar stands up to the hype.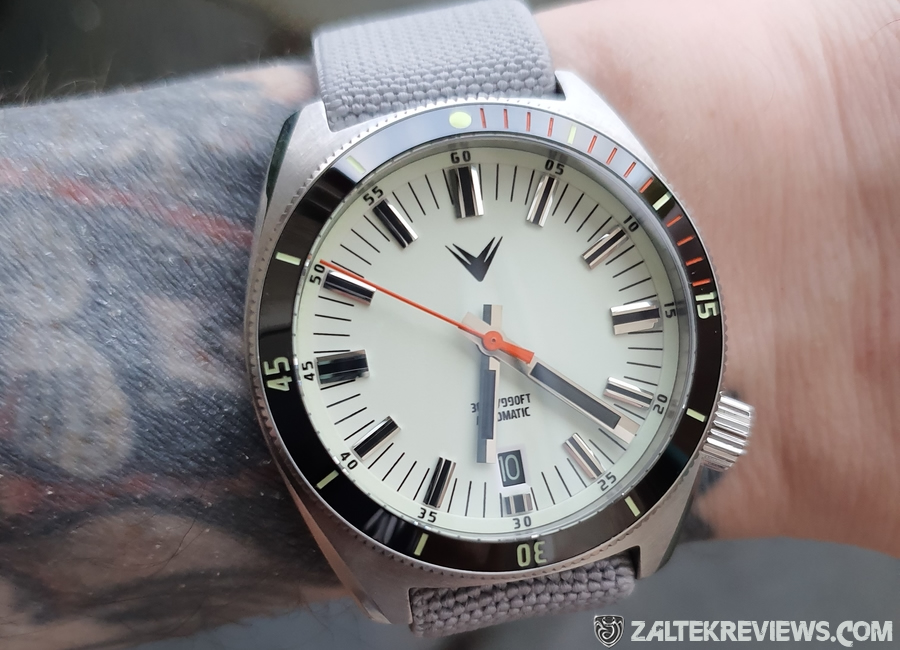 Specifications
Dimensions: Case Diameter – 39.9mm, Thickness – 13.5mm, Lug to Lug – 45.3mm, Lug Width – 20mm
Movement: Seiko NH35 Automatic, 21,600vph (3Hz), Hackable, Self Winding, 41hr Power Reserve
Case Material: Brushed 316L Stainless Steel with Polished Accents (Brass Option Available)
Strap: Black Silicone, Signed Buckle (Optional Stainless Steel Bracelet for SS Models)
Crystal: Double Domed Sapphire, Multiple Anti-Reflective Coatings (Inner)
Bezel: 120 Click Unidirectional, Brushed Stainless Steel or Ceramic Insert, Fully Lumed
Extras: Leather Watch Roll, Horween Leather Strap
Water Resistance: 30ATM / 300m / 990ft
Lume: Swiss Super Luminova® C3 (Multiple Layers)
Crown: Signed, Screw Down   Caseback: Screw Down, Deep Stamped Divers Helmet
Warranty: 1 Year    Where to Buy:

Crowdox.com

Case Options: Material: Brass, 316L Stainless Steel
Colours: Fiery Orange, Admiral Blue, Azure Teal, Stealth, Vintage Black, Azure Blue, Forest Green, White (Fully Lumed)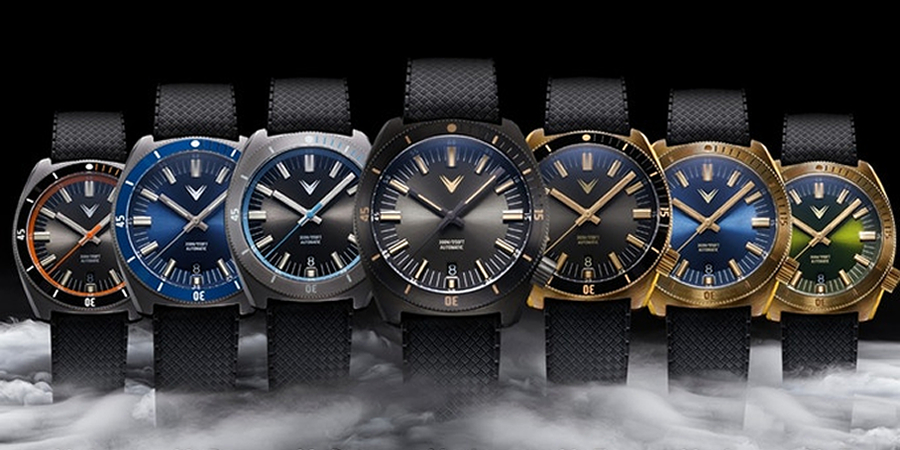 Ventus Watches - The Company
Ventus Watches was conceptualized to offer classic timepieces with unique twists, while still remaining affordable. It was founded by two close friends, both who share a passion for watches. Elshan, the owner of Zelos who needs no introduction, and Shane, a passionate collector of mechanical wristwatches. Shown below are a few other watch models from Ventus.

The case of the Northstar is 39.9mm. The lug to lug is 45.3mm and the overall thickness, including the sapphire crystal I measured in at 13.5mm. The entire case, caseback, bezel and crown are all 316L stainless steel. The finish of the case is entirely brushed, with very nicely done polished accents on the outer edge of the case and over the top edge of the lugs.
The Ventus Northstar has a water resistance rating of 300m, thanks to the screw-down caseback & crown. The proportions of the watch, are in my opinion, pretty much made to measure for my 7″ wrist. The Northstar wears very well on wrist and is very comfortable. With a compact lug to lug of just 45.3mm it would easily look perfectly fine on a wrist as small as 6″. The crown is also superb with absolutely zero wobble when the crown is at its fully extended position.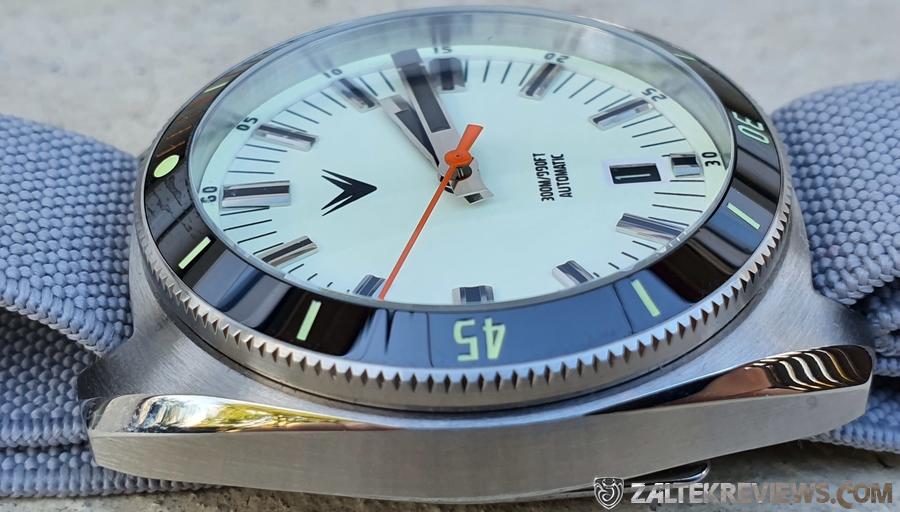 There is a bracelet option for the Northstar, but as standard it comes with two straps, a silicone and a horween leather strap. If you've ever bought a Zelos previously, then you should be rather familiar with the straps that are included with this Ventus Northstar. The pretty much standard silicone strap, although very comfortable, as soon as I received the Northstar, I removed it and replaced it with one of my G2 Elastico LuffStraps that you can see in the images of this review as I think it suits the aesthetics of this version of the Northstar very well. As previously mentioned, you also get an extremely comfortable and supple Horween leather strap and trust me when I say this, these are brilliant! These can't be cheap, so kudos to Ventus for including them as part of the bundle.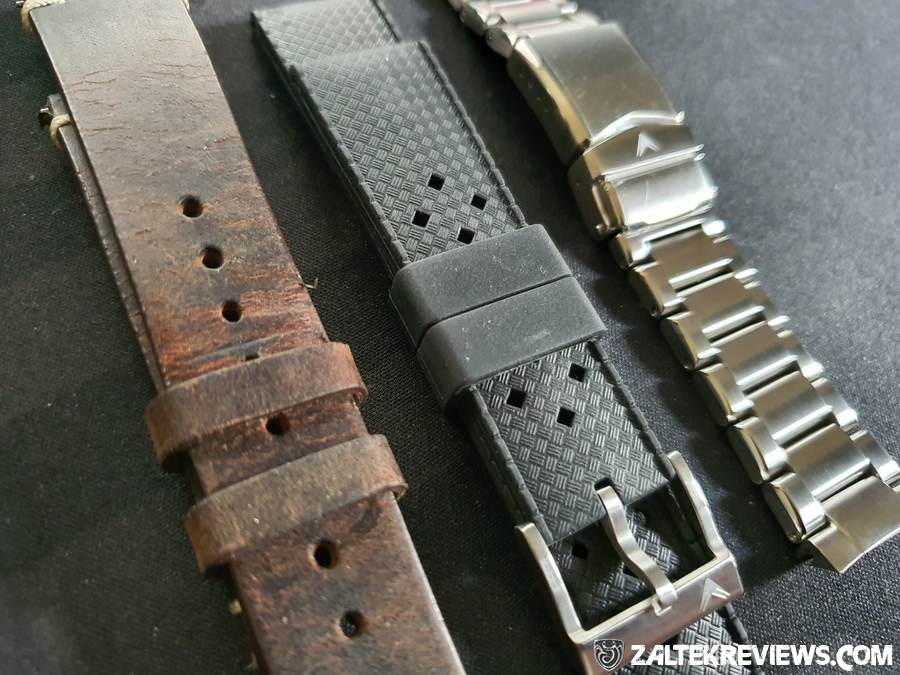 The optional bracelet, which I believe costs an extra $50 USD is a total bargain. The quality of the bracelet is fantastic, solid end links, screw-pins for adjusting/resizing and a fully milled signed clasp. The bracelet is very comfortable with smoothed links throughout and chamfered polished edges on both the links and on the edges of the milled clasp.
The Ventus Northstar is fitted with the microbrand go-to movement of choice, the super-reliable Seiko NH35 Automatic. A fantastic workhorse that is a 21,600vph, 3Hz, 24 jewel movement with a 41hr power reserve, self winding and of course hacking. Checking the accuracy after running the Northstar for over a week, mainly on my wrist and occasionally in my Barrington Watch Winder, I thought the accuracy was great, with it showing an average of just +7.1spd which is still well within the accuracy range stated by CaliberCorner.com.
This white, fully lumed dial version of the Northstar has a 120 click unidirectional bezel with a fully lumed ceramic insert. It is of excellent quality and everything does line up as it should. The bezel action is very nice and has zero backplay. As you can see in the images, the hour and minute hands are of quite a chunky style that are reminiscent of fence post hands. I like them just as much I like the overall layout of the dial. The hour markers on this version have a black contrasting insert with chrome surrounds. These play with the light a lot, so much so, when I actually received the watch and first looked at the dial I thought there were some parts misaligned, but it isn't… That was just the light and my f**ked up eyes playing tricks on me. Everything lines up 100% perfectly as you can see in the image below.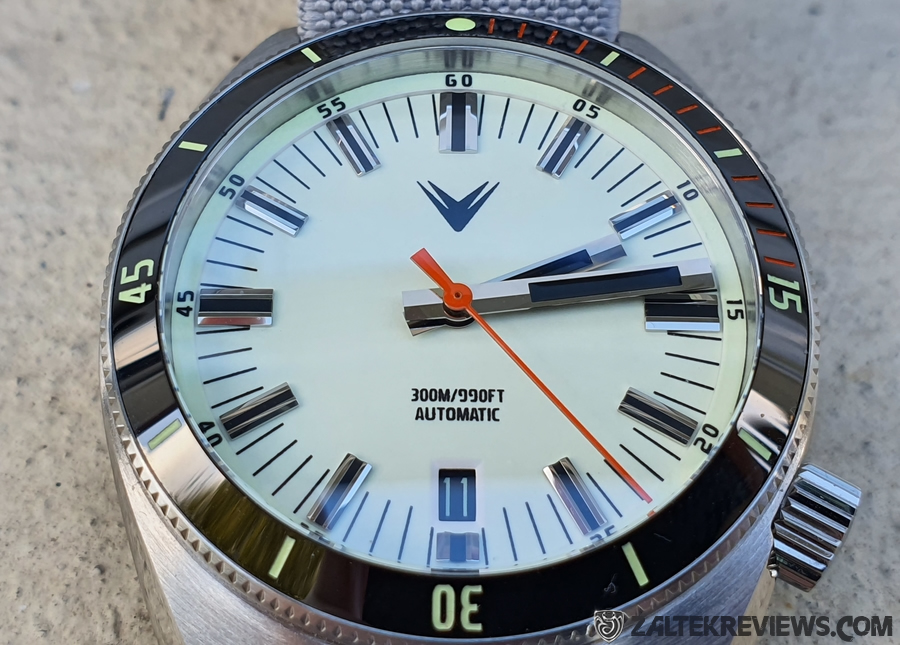 The seconds hand is great too, finished in bright orange, which matches the markers on the bezel insert from the 0 to 15 minute marker positions. The lume used on the Northstar is Super Luminova® C3. This white dial version is fully lumed with the hour markings having a contrasting effect to the dial. As you'll see in the lume shot below, it certainly works a treat! I will say though, that in normal daylight, the dial is more of a creamy colour rather than a crisp white.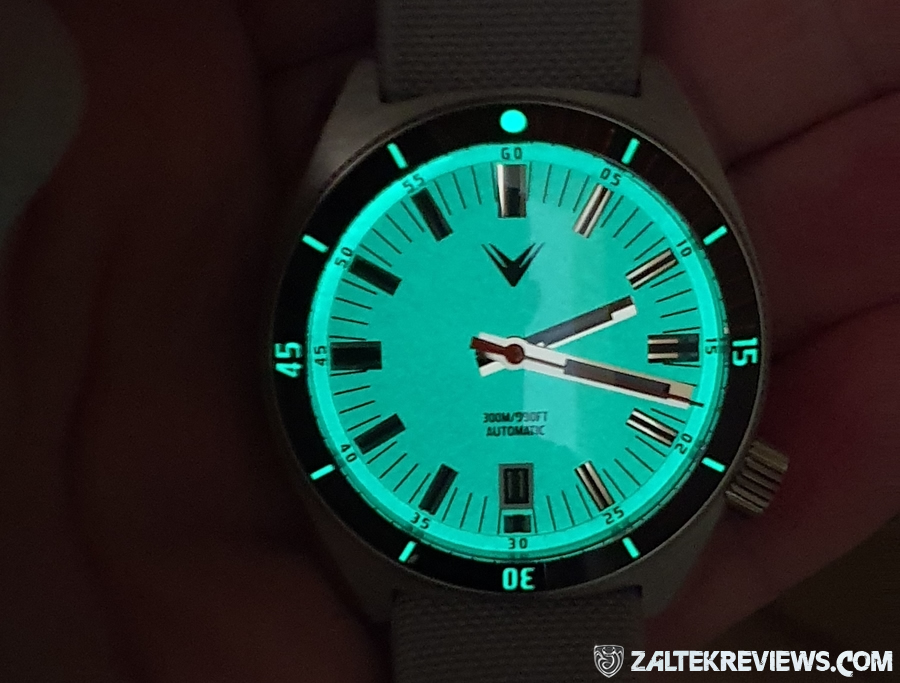 Anyone that speaks to me on Facebook knows full well that I am a massive Zelos fan as I'm always banging on about the company. You would also know that I have quite a few Zelos' as part of my own watch collection. As I've previously mentioned, Elshan (the owner of Zelos) is one of the partners of Ventus Watches, so to be honest, I thought I'd essentially be reviewing a Zelos here today but with a different logo on the box. I was wrong.
Don't get me wrong, the Ventus Northstar is a very nice watch and I do recommend it as it has everything I look for in a watch, spec wise. There's just something about it though… maybe it's the fully lumed dial I'm not keen on, who knows. Ideally, I'd have liked to have had a different version here to compare. If I was in the market for one of these, I reckon I'd probably opt for the teal version with its brushed stainless steel bezel insert.
I will add though, if you managed to back this when it first hit Kickstarter back in March 2019 and you got it for the insane pre-order price of just $199 then I would tip my hat at you in recognition. Don't get me wrong, it is still an utter bargain if you ordered it today at $235 or $285 with the bracelet option.
Elshan / Shane @ Ventus Watches – A fantastic watch with a brilliant specification however, I just don't know what it is with this one, but in my opinion, the Northstar is lacking something that I just can't put my finger on. I just can't connect with it, which is a total shame as I should really like this one, as on paper, it's perfect. Ah well… maybe next time.
9/10 - RECOMMENDED, FANTASTIC VALUE!
A huge thanks to Dennis Kwok from our Facebook group
WatchChat
for sending me the Northstar to review. Thanks buddy, I really appreciate it.
To view the Ventus website, or join their mailing list to be informed of new models etc, visit
Ventus Watches
.
Follow us on
Instagram
and join our Facebook group
WatchChat
, a very busy community for both watch enthusiasts and collectors with tons of images and in-depth discussions.
At Zaltek Reviews, we encourage the companies whose watches we've reviewed to comment on our articles. We invite any company representatives to respond in the public comments section below. Thanks very much.