Manufacturer:

Vintro Watches

| Price: €479 EUR ($529 USD, £425 GBP approx)
Since the beginning of the post-war period, chronographs have not only been designed for military purposes, but also for motorsport. During those days, many classic designs were created that are still timeless today and make many collectors' weak at the knees. The design of this Vintro chronograph was inspired by that era. Vintro pay tribute to the chronographs of this period because of their beautiful dials, which provide a wealth of information and are both elegant and sporty. This chronograph is named after the legendary 24 Hours of Le Mans. In 1952, Hermann Lang and Fritz Riess won the race in a Mercedes 300SL (W-194 series) as the first and last Germans. Motorsport has long been influenced by Swabian engineering, and Vintro still believe that Swabian skills can change everything. For this reason, Vintro watches are made in southern Germany. Through Swabian thoroughness, Vintro ensure that their chronograph not only captivates due to its timeless vintage design, but also because of the quality seal "Made in Germany". Carefully selected materials and precise workmanship make Vintro watches suitable for everyday use and more importantly to be your long-lasting companion.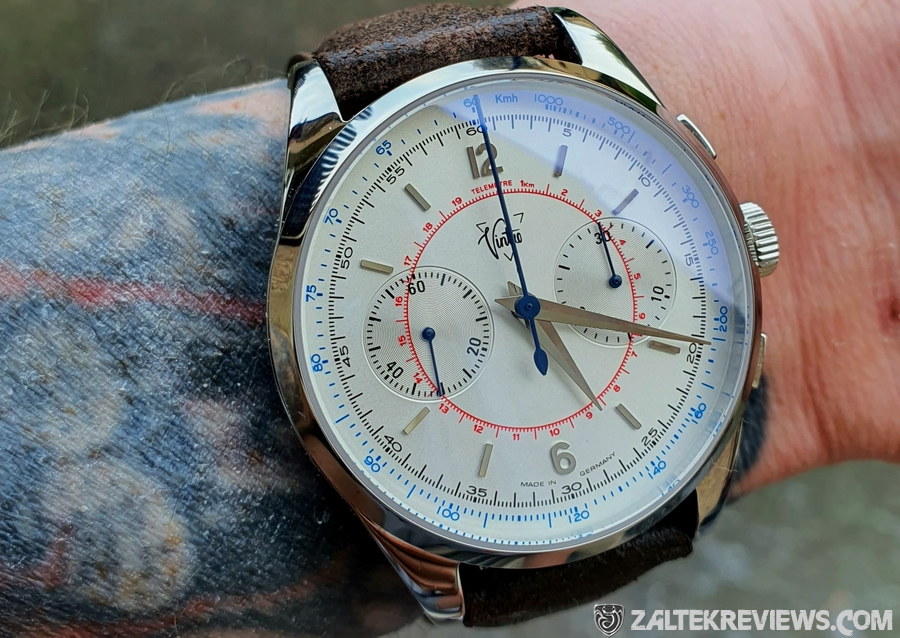 Specifications
Dimensions: Case Diameter – 39.8mm, Thickness – 15.1mm, Lug to Lug – 48.1mm, Lug Width – 20mm
Movement: Sea-Gull ST1940, Automatic Chronograph, Self Winding, 36hr Power Reserve
Case Material: Polished 316L Stainless Steel
Bracelet: Polished 316L Stainless Steel, Solid End-Links, Screw-Pins, Signed Clasp
Crystal: Domed Sapphire, Anti-Reflective Coating
Extras: Leather Presentation Box, Leather & NATO Strap, Spare Spring Bars x8, Bracelet/Strap Changing Tool
Water Resistance: 10ATM / 100m / 330ft
Crown: Signed, 2x Chrono Pushers   Caseback: Screw Down, Exhibition Display
Warranty: 2 Years      Where to Buy:

Vintro-Watches.de

Case Options: Material: Rosé Gold, Stainless Steel, Yellow Gold
Strap Options: Leather: Black, Blue, Brown, Cognac, Dark Brown, Grey | Nylon: Beige, Black
Vintro Watches - The Company
Vintro stands for vintage and retro, or Vintro for short. It is based upon years of experience in the field of used luxury watches and the founder's penchant for the classic designs of the period from the 40's right up to the 80's. The origin story of Vintro watches begins and ends in the Swabian Aalen. Not only is the design created here in the south of Germany, with the Swabian thoroughness, Vintro also ensures that every watch meets their high-quality standards so that you can enjoy your Vintro Watch for many years to come.
The packaging that comes with the Le Mans 1952 is of very good quality. The box itself when removed from the outer sleeve is itself, very solid with a leather finish. Inside you'll receive a card with a personal hand-written note from Vintro Watches, a nice touch I though. You don't even get that after blowing £4k on an Omega! Additionally, you'll find a small box full of spare quick-release spring bars, a very good quality NATO strap with signed hardware, an extremely nice genuine soft leather strap which also has signed hardware and a bracelet / strap changing tool. Note* the mesh style bracelet that you can see in the image below doesn't come with the retail packaging. Overall, the packaging is very nice! On the underside of the top tray you'll find a small leather section with an instruction booklet and 2 year warranty card.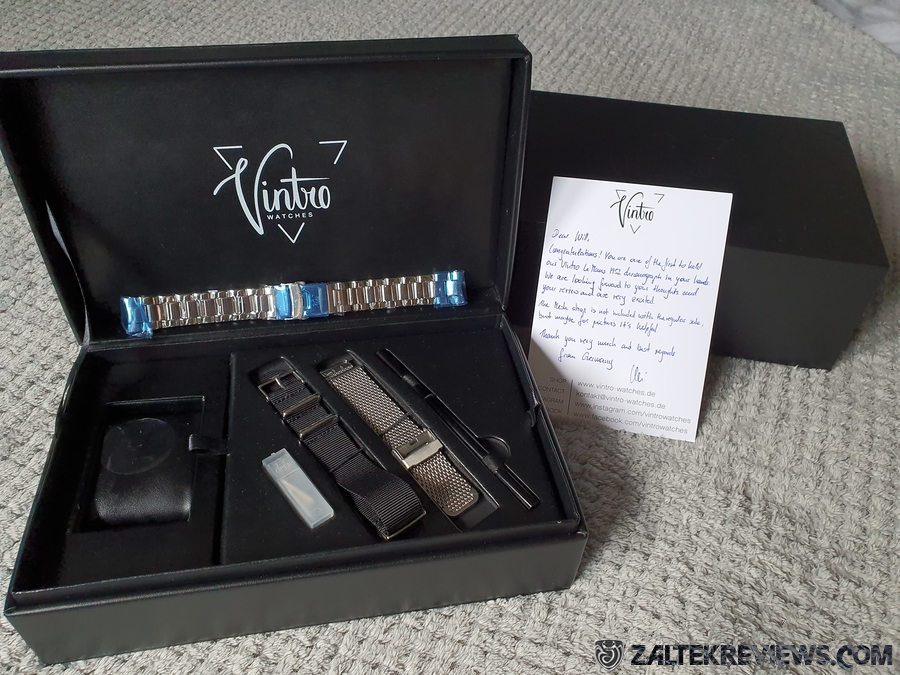 The case of the Le Mans 1952 is 39.8mm. The lug to lug is 48.1mm and the overall thickness, including the sapphire crystal I measured at 15.1mm. The entire case, caseback, bezel, bracelet, crown and pushers are all 316L stainless steel. The finish of the case is entirely polished. Neither the crown or the pushers are screwdown, so don't submerge in water.
The proportions of the watch, in my opinion, are fantastic on for my 7″ wrist. The Le Mans 1952 wears really well on wrist and is very comfortable even if on paper, it looks large due to the previously mentioned thickness. I actually measured this twice, thinking I'd made a mistake but when on wrist it doesn't look thick as the caseback kind of melts into the wrist.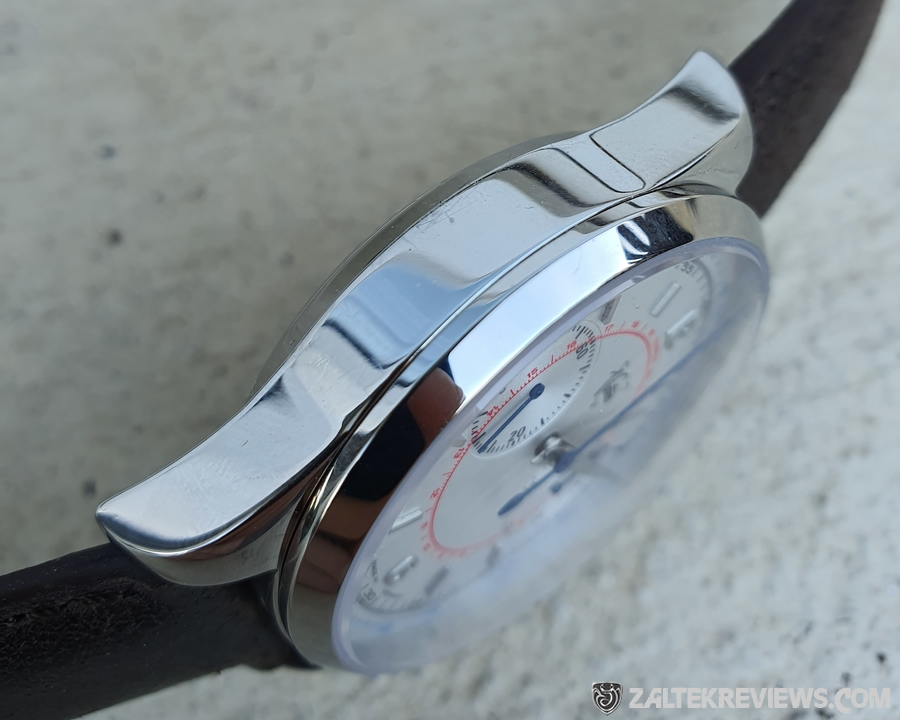 The bracelet that comes with the Le Mans 1952 is entirely polished which does unfortunately put me off fitting it to the watch as obviously if continually worn, it'll be nothing more than a total scratch magnet even if it does look pretty good when fitted. The fit of the bracelet is really good with absolutely no wobble at all at the lugs. The links of the bracelet also conform to the wrist really well. The bracelet itself tapers from 20mm at the lugs to 18mm and back up to 20mm at the clasp. Sized up for my 7″ wrist I had to remove a few links, which was simple enough to do with the screw pins. Solid end links and a clasp that is also signed with the Vintro logo are also present on this very SHINY bracelet.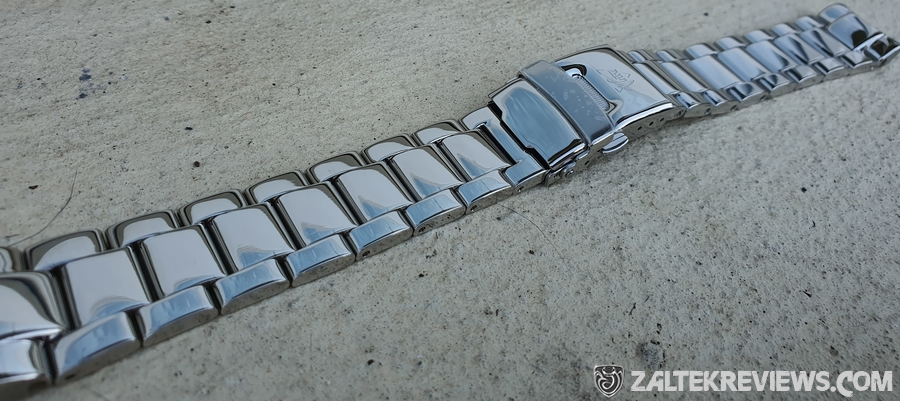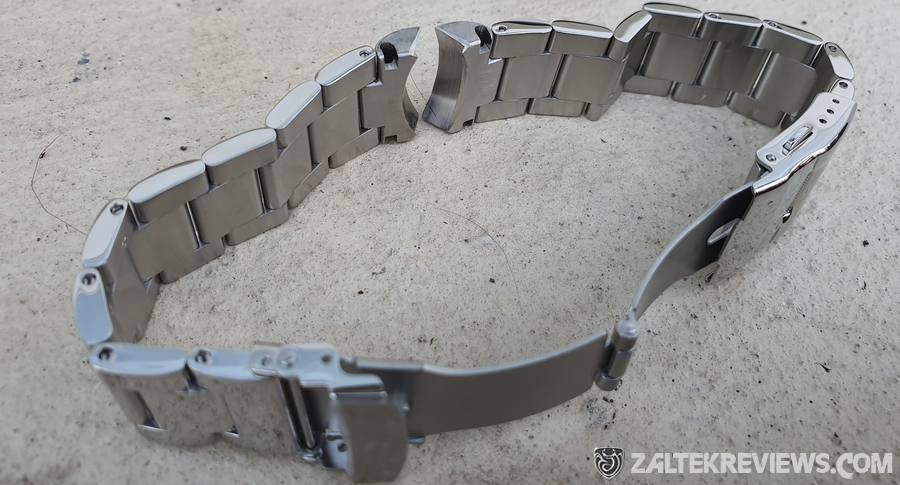 Here we have a problem with the Le Mans 1952 bracelet, other than it being completely polished. The bloody clasp. You've heard me say this previously in other reviews a ton of times, but a basic pressed clasp on a watch that costs £425? C'mon ffs!! I'd suggest Vintro Watches change this as soon as possible to a fully milled clasp, maybe by leaving out the NATO strap to cover the costs, I don't know, but there must be some way of getting this done. Different packaging maybe? Either way, a fully milled clasp is more important to me than the aforementioned. Thankfully though, the watch does come with a very well made leather strap that is both extremely comfortable and of exceptional quality.
For this automatic version, Vintro Watches have chosen a special clockwork mechanism with a great and long tradition. The Sea-Gull ST1940 is based on an old Swiss model, the Venus 175, originally developed and manufactured by Fabrique d'Ebauches Venus SA in Moutier between 1940 and the early 1960s. It was used in several high-end chronographs, such as the Breitling Chronomat and the Breitling Top Time Chronograph. In the 1960s, Venus decided to develop a new clockwork mechanism that would replace the 175. To raise the required capital, the company sold all the rights and tools needed to manufacture Venus 175 for the Chinese military, who then produced clockwork mechanisms for their air force. Later, this mechanism was commercially marketed as the Sea-Gull ST19 series. The calibre ST1940 used is a modified automatic version – a precise, reliable, and modern clockwork with a ratchet wheel. Due to the tradition and origin of the ST1940, it has the robustness and accuracy of the Venus 175, which is why Vintro Watches chose it for this watch.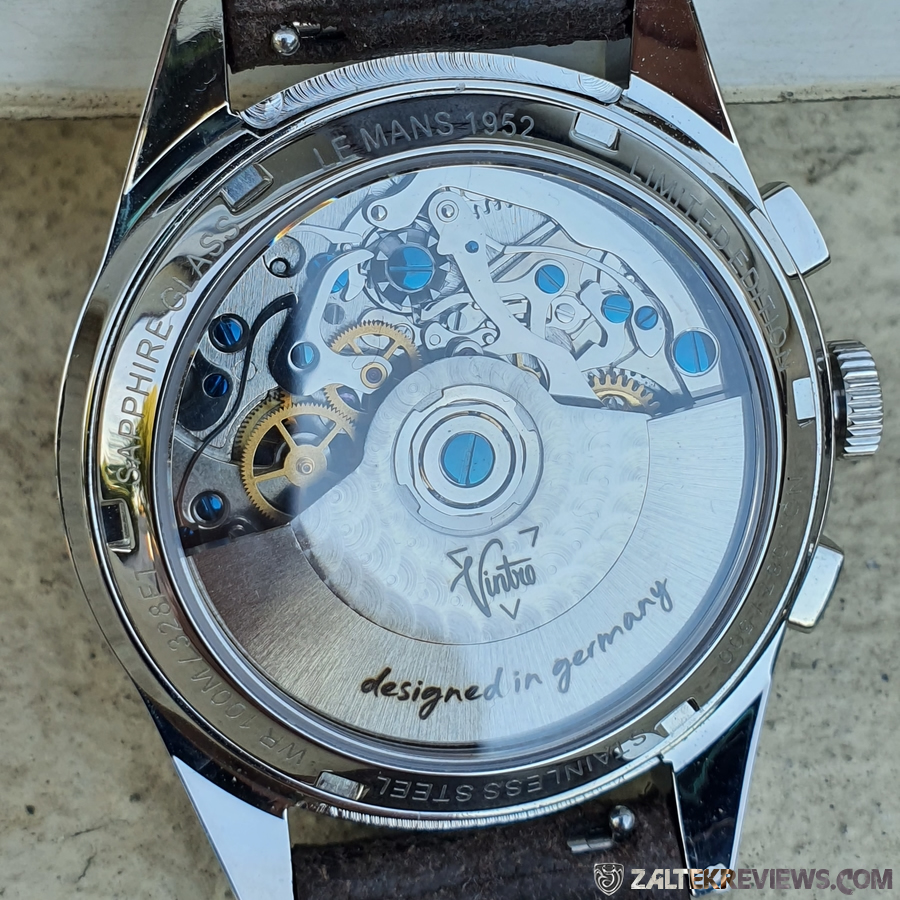 This white dial version of the Vintro Le Mans 1952 is probably my favourite version from the choices that are available. It has applied arabics at the 12 & 6 positions as well as applied hour markers at every hour less the 3 & 9 positions due to the integration of the sub dials. Talking of sub dials, you have a 30 minute timer at the 3 position and a running 60 second smooth sweep seconds hand at the 9 o'clock position. There really is so much detail on this dial, it'd be easier for me just to take a high res close up photo to let you see all the attention to detail thats went into the Le Mans 1952.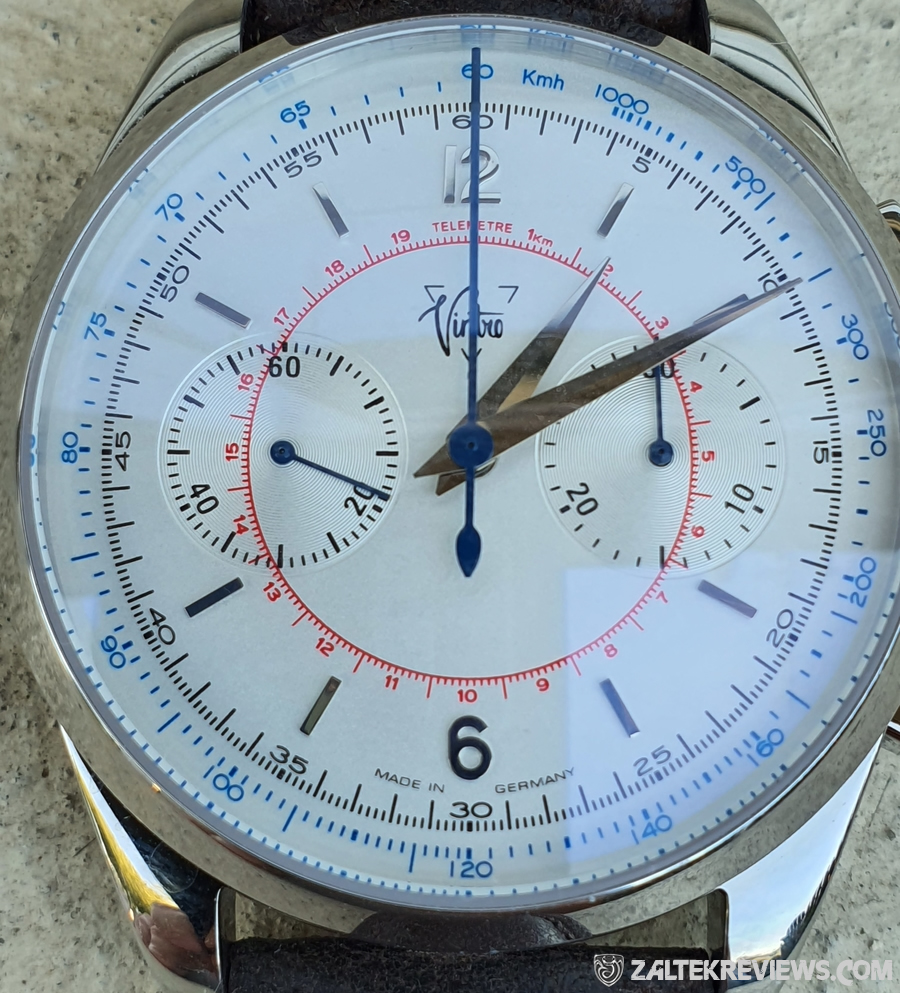 The Vintro Le Mans 1952 Automatic Chronograph is a fantastic watch, one that I'd be more than happy to wear regularly and keep as part of my own collection. It just wears so well and is extremely comfortable. Would it replace my Nezumi Studios Corbeau chronograph? No, it's a totally different style, it's much more of a dress style chronograph in my opinion.
Vintro Watches – A totally brilliant watch with great design, attention to detail and fit & finish. I love it. Just fix that bloody pressed clasp issue! Fix that and I'm pretty sure I couldn't give this watch anything less than a 10!

9/10 - HIGHLY RECOMMENDED
A huge thanks to Uli at Vintro Watches for sending out the Le Mans 1952 so quickly for review.
To view the Vintro website, or join their mailing list to be informed of new models etc, visit
Vintro Watches
.
Follow us on
Instagram
and join our Facebook group
WatchChat
, a busy community for watch enthusiasts and collectors with tons of images and in-depth discussions.
At Zaltek Reviews, we encourage the companies whose watches we've reviewed to comment on our articles. We invite any company representatives to respond in the public comments section below. Thanks very much.