Manufacturer:

Werenbach

| Price: from €945 EUR (£859 GBP, $1,060 USD)
Before I start this review, let it be known that this review will be slightly different to my normal reviews. This watch isn't the usual diver, sports or field watch and it certainly isn't a friggin' dress watch either. This is a tool watch, through and through, or to be a more specific, a rocket watch! (queue Elton John's Rocket Man). I was actually going to embed that song into my review of the Werenbach and stick it on autoplay and loop, just to piss everyone off, but during a moment of clarity, I decided against it. Anyway, you could just click the link above to have it playing in the background. I did exactly that during my final proof read of the review and it certainly is the perfect soundtrack! Anyway, as you probably are already well aware, I talk a lot of shite at times and I think I've bumped my gums enough, so anyway, moving on…
Everyone bangs on about the Omega Speedmaster, aka the Moonwatch and the whole first watch on the moon blah blah fuckin' blah… The watch that you actually get from Omega, after spending around £4,000, is the same as any other watch, where every single component that goes into the watch has nothing to do with space travel or the moon, it's just been marketed very well since July 1969, the first moon landing, where Buzz Aldrin had a Speedmaster on his wrist. Well, let me introduce to you, Werenbach, where you ARE getting a watch that has parts that have actually been into space!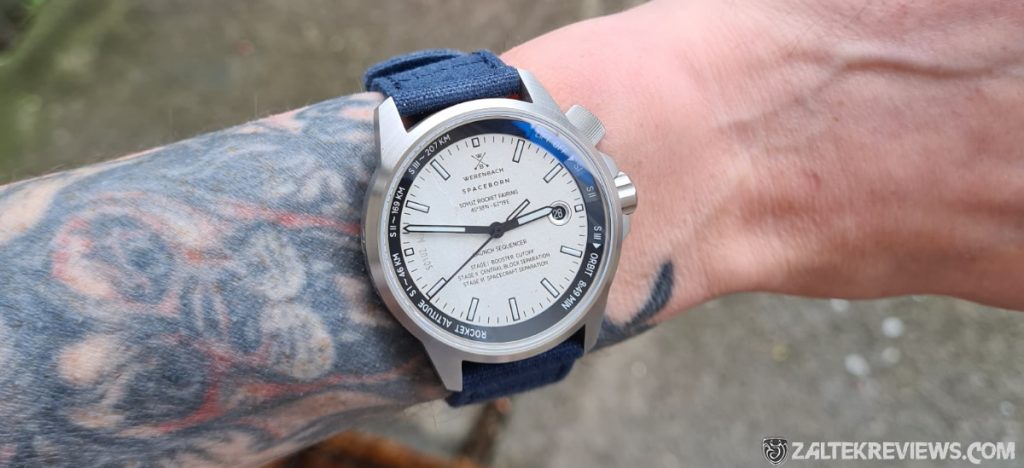 "When you see the Earth from space, it changes the way you think."
Frank White, Overview-Effekt
Dimensions: Diameter – 40.4mm, Thickness – 12.3mm, Lug to Lug – 47.1mm, Lug Width – 20mm
Movement: Swiss STP 1-11, 28,800vph, 26 Jewels, Hackable, Self Winding, 44hr Power Reserve
Case Material: Bead Blasted/Brushed 316L Stainless Steel
Strap: 8x Strap Options in 3 Lengths, Optional Stainless Steel Bracelet
Crystal: Flat Sapphire, Multiple Underside Anti-Reflective Coatings
Bezel: Internal, Operated by Crown at 2 o'clock
Water Resistance: 50m / 5ATM     Lume: Swiss Super Luminova® C3
Crowns: x2 Screw Down      Caseback: Exhibition Display, Sapphire Crystal
Warranty: 2 Years    Weight: 94g     Where to Buy: Werenbach

Dial Options: Booster Shell (x3 Variations), Fairing, Engine Cladding
"It was three and a half years (Autumn 2013) before the idea of building a watch from a space rocket had materialised into the first tick of the first second hand. The procurement of the material in Kazakhstan, the importing of the materials to Switzerland and the development of the two metal treatment processes required a great deal of time and resources. On many occasions, the project seemed as though it was doomed to fail. The start-up phase was characterised by a number of setbacks. In a rare moment of calm, Patrick Hohmann began to commit his own story to paper in the form of a novel.In 2017, Werenbach successfully funded the Leonov Collection via an international crowdfunding campaign."
"The German-language novel "Werenbachs Uhr" ("Werenbach's Watch") was written by Patrick Hohmann in 2012-2013. Based on the real-life story of the Werenbach watch brand, it is the first adventure novel to have been written about a watch. It brings its readers along on a thrilling fictional retelling of the turbulent start-up phase. "It's exactly as a book should be. Books should whisk us away from the banality of everyday life: on gravel trails, across deserts and over the edge of the horizon. Werenbachs Uhr is a story that restores our belief in dreams being realised – an enthralling pageturner." Ricco Bilger, Publisher. The book was published by Swiss publishing house Bilgerverlag in 2015. The second edition was published in 2018."
The case of this Werenbach Leonov Model 4 (to give it's full name) has a diameter of 40.4mm. The lug to lug is 47.1mm and the overall thickness, including the sapphire crystal, albeit flat, I measured in at a rather slim 12.3mm. The entire case and dual crowns are 316L stainless steel and the finish is bead blasted on the sides with circular brushing on top.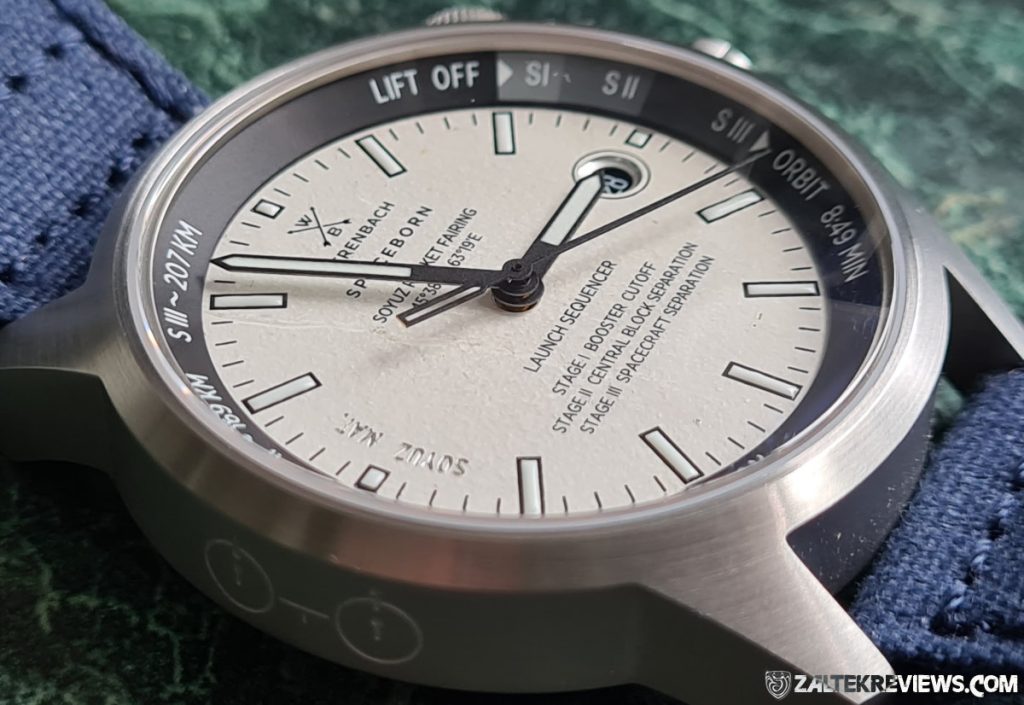 The Leonov has a water resistance rating of just 50m, which is perfectly fine, given that this isn't a dive watch. I do feel however, that this is a rather conservative rating, as both crowns are screw down and I also believe that the caseback is too. I've known a few companies that under-rate the water resistance of their watches, just to be on the safe side and I believe Werenbach have done the same here with the Leonov, as I will concur that it's extremely well made.
When I say the Leonov is well made, I'm actually talking along the same lines as Sinn. Yep, the build quality of these Werenbach's are that good! The proportions of the watch, in my opinion, are excellent for my 6¾″ wrist and I'm so glad Werenbach didn't go down the stupid, overly large route with this model, as its current size of 40mm is right in the sweet spot. Great news, considering some companies have a tendancy of producing helicopter landing pads for your wrist. 🤮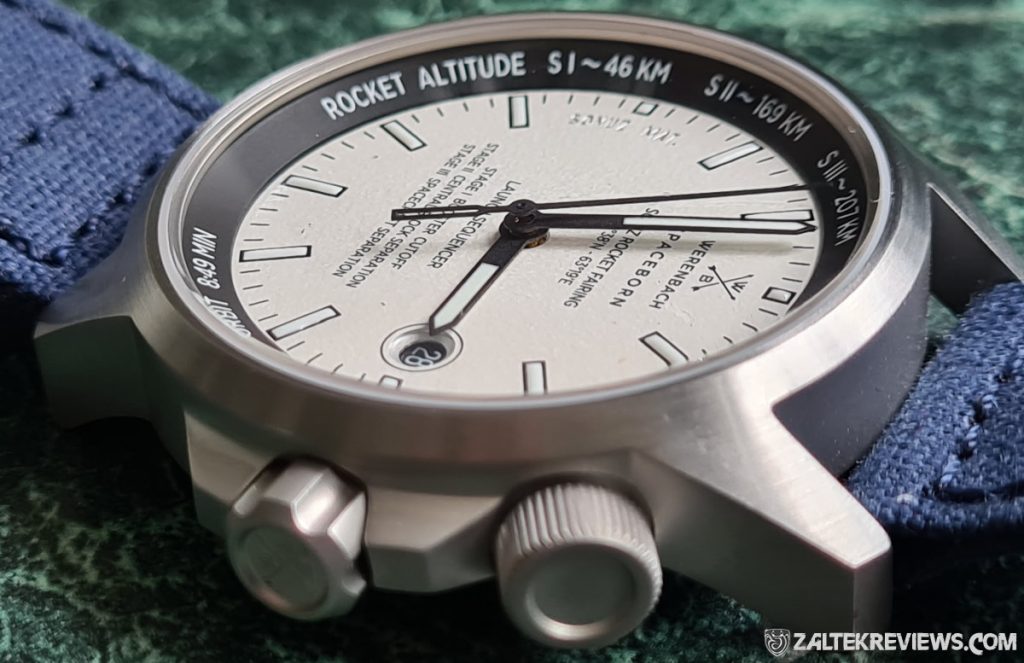 The crowns on the Leonov are great, both are screw down and are very well manufactured, with zero wobble whilst in use. However, I find it a bit odd that the main crown at 3 is signed and not only that, but as you can see in the image above, both crowns have different grips, with a coin edge style on the crown at the 2 o'clock position. This seems a bit of an odd decision, I 'd have much preferred the style of the crown at 3, so can we have two of those please, or vice-versa?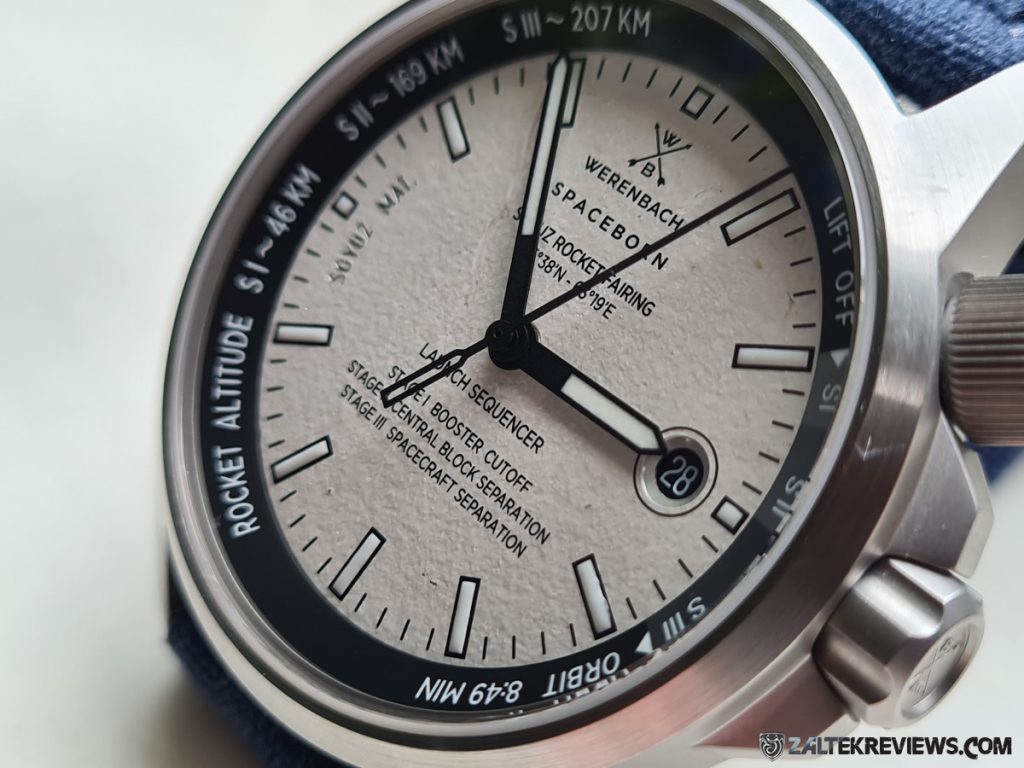 Straight out of the box, I received a white leather strap with my Leonov. Even although it's beautifully made, I found it a little uncomfortable, obviously down to the fact that it's brand spanking new and I didn't have the patience to allow it to break in over time. As you can see in most of my other images, I fitted one of my old canvas Barton straps to the Leonov. Even although it doesn't really match aesthetically, it is very comfortable. I do have a much more aesthetically pleasing SteveoStrap coming soon for it though. When you are ordering from Werenbach, you're given a total of 8 different strap options, most of them available in 3 different lengths, as well as an optional stainless steel bracelet. I'd love to try out the bracelet, and I might just go ahead and do that sometime in the near future.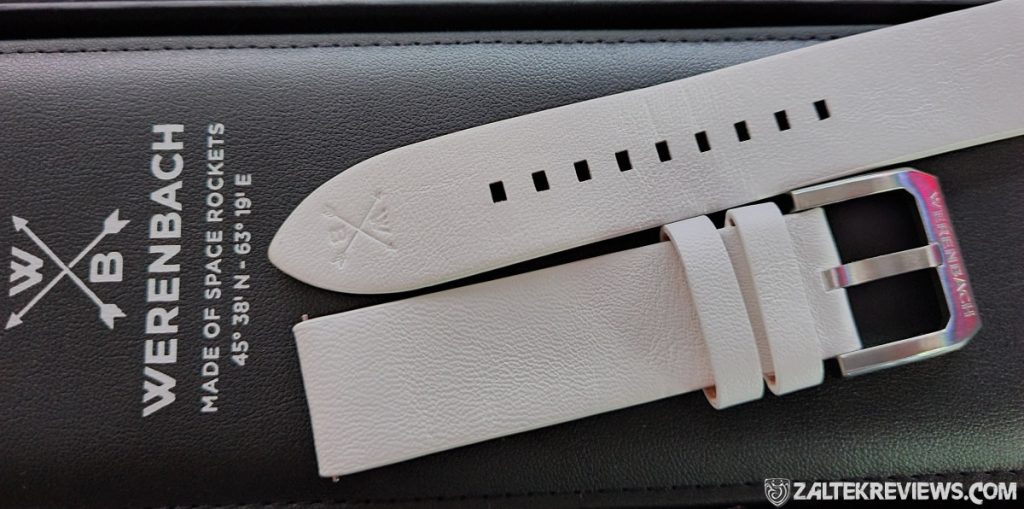 The chosen movement for the Leonov is the Swiss STP1-11. A fantastic, if slightly under-rated calibre, that runs at 28,800vph, 4Hz, with 26 jewels, self winding, hacking and a very impressive 44 hour power reserve. Checking the accuracy after running the Werenbach Leonov for around 2 weeks, mainly on wrist and occassionally in my winder, I was very pleased with the results, with the Leonov showing an average of just +5.5 seconds per day. That's a superb result! 👍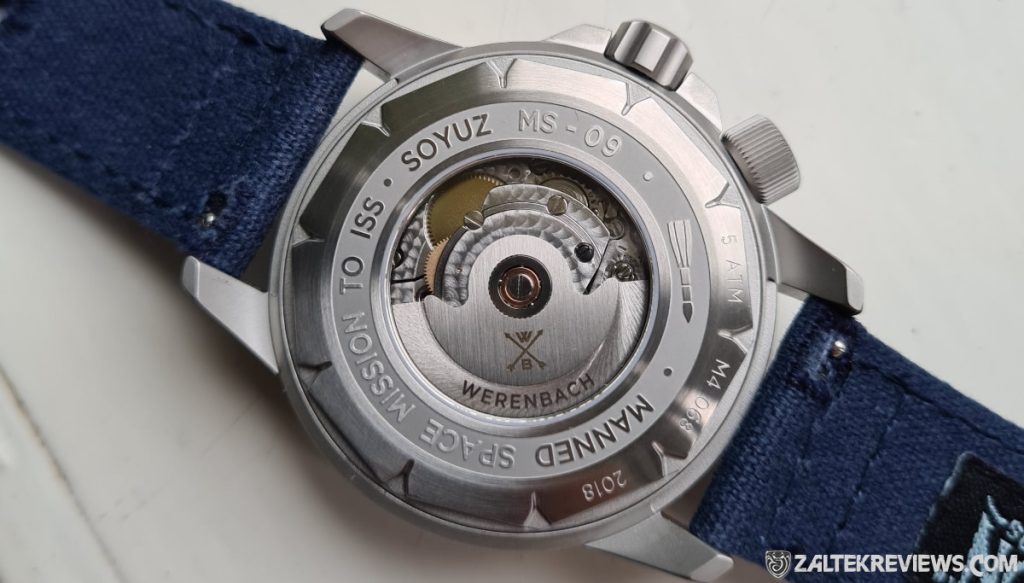 Rather than me trying to explain on how this inner rotating bezel works, I thought I'd just show the video directly from Werenbach instead. Personally, if I'm brutally honest, I think it's a little gimmicky. It's not as if I'll need to time a launch anytime soon! If I actually was in a manned rocket that was heading to space, the only thing I'd be doing is clinging on for dear life and screaming like a 12 year old girl! 😱 (
A lot like Howard Wolowitz from

The Big Bang Theory
). Anyway, I'd have much preferred to have seen a countdown bezel on the Leonov, much like a Sinn 104, but internal, rather than external as on the Sinn. A countdown bezel would be far more fitting in my opinion, as well as a lot more useful.
The Model 4 version that I have here, sports a slightly more simplified looking dial compared to that of the other models. Saying that though, each dial is still totally unique with its slice of rocket from the fairing*. The only similarity on the model 4's being the actual printing that's been applied to the dial. I won't do my usual of typing out exactly what's on the the dial, as it's a bit much. Just take a look at the image below to read all the text. Normally, I would detest any watch that had an absolute shit-ton of text on the dial however, it's hard to explain, but it just works on the Werenbach Leonov.
*When a rocket launches with some payload (like a satellite for example), it needs a fairing. The fairing, essentially the rocket's nose cone, is the covering on top of the payload that makes the spacecraft more aerodynamic as it speeds through the atmosphere. However, once the rocket gets past most of this, it doesn't need the fairing, as it becomes just non-essential weight, so the fairing gets ejected and falls back to Earth.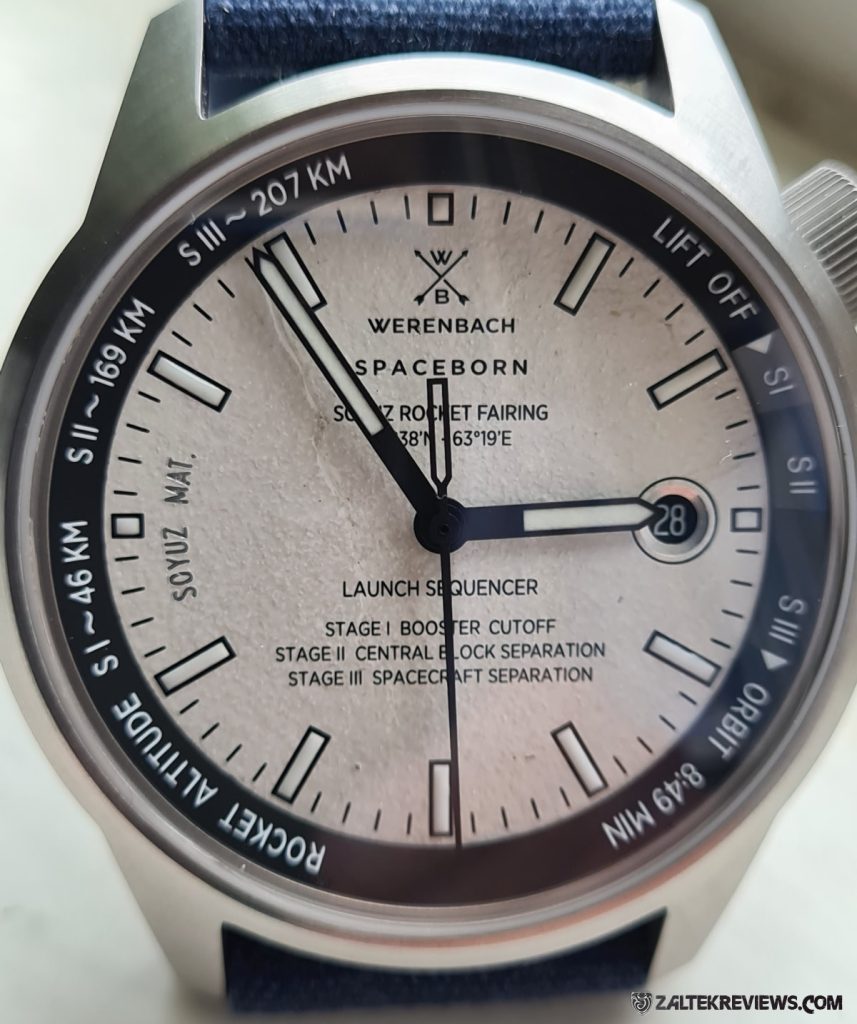 As you can see in the images, the hour and minute hands are nicely done with their full monochrome design that suits the overall aesthetic of the watch perfectly. The seconds hand is great too, with it's wee skeletonized section and black paint finish that reaches right out to the minute track when sweeping around the dial. There is also a date window at the 3 o'clock position, which looks great. I also love the detail of the decision to use a black date wheel instead of boring white.
The lume on the Werenbach Leonov is very nice indeed and I can honestly say, in execution, it's better than even some dive watches that I've reviewed. The actual lume that's been applied, I'm guessing is Swiss Super Luminova® C3 (it doesn't actually state what Werenbach have used on their website) and it has been applied pretty much perfectly. It does make a huge difference, especially when the watch itself doesn't really have a great deal of lume real estate. The lume is not only initially potent, more importantly, it has great staying power and does last for many hours during low light situations.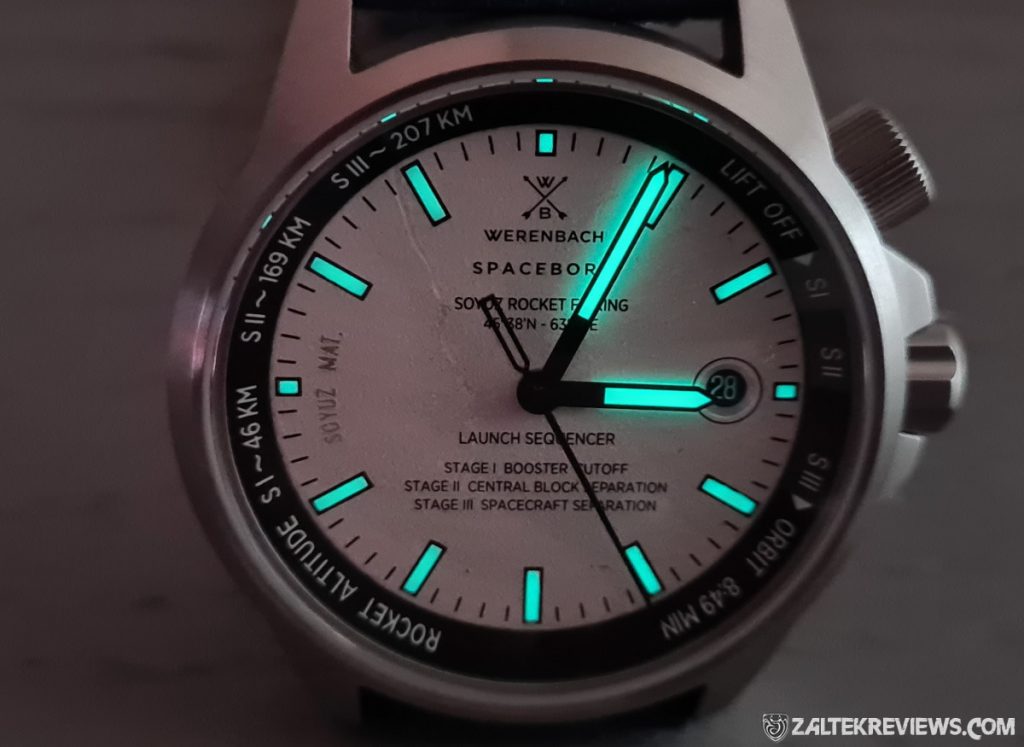 I'll be honest, before I actually received the Werenbach Leonov, I thought the watches were going to be overpriced novelty style pieces. How wrong was I!? After reading through many stories and watching various videos about the brand and how the rocket parts are acquired etc, I can't even imagine the amount of resources and the costs invloved on getting what Werenbach need to make these watches in Switzerland. The mind boggles, as it can't be friggin' cheap!
However, once the watch actually arrived, I was totally blown away with the overall build quality. I do remember thinking it was pretty much identical to the build quality of Sinn watches that I've experienced. (Sinn 104 and 556i in case you were wondering). Trust me, that's a HUGE compliment! Even although there are a couple of quirks, like the rotating bezel and crown design, I do actually like this watch a LOT. I'm sure most of you reading this review can relate to what I'm getting at… It might be a watch that isn't 100% perfect, but there is just something about it, as a package, that you just love.
There is still one point that I haven't mentioned yet, the price! The Leonov is more expensive than the microbrands that I usually review, but considering the costs involved and the build quality being as fantastic as it is, I actually think it's a bit of a bargain! All in all guys n girls, if you're looking for something totally unique, that's built like a bloody tank, at a really nice size with a great overall spec, then I wholeheartedly recommend that you take a look at Werenbach.
Werenbach – I'm very impressed and definitely now a fan of the brand! So much so, I would love to take a look at one of your other models, especially one of your B.T.O. Editions.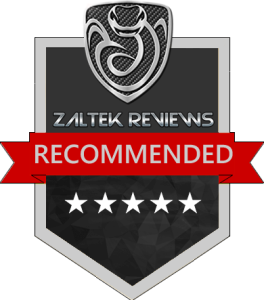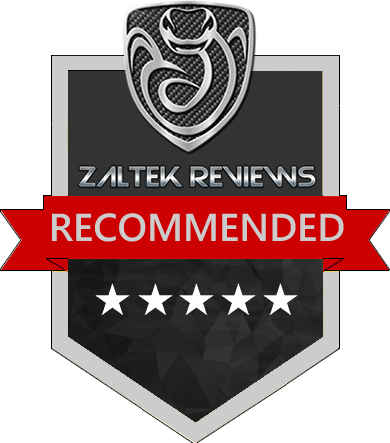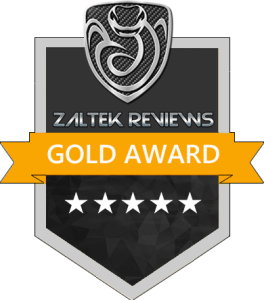 9.6/10 - HIGHLY RECOMMENDED!
A massive thank you to Werenbach for sending the Leonov Model 4 out for review so quickly. Very much appreciated.
To view the Werenbach website, or to join their mailing list to be informed of new models etc, visit
Werenbach
.
It takes a fair amount of work to do these reviews. If you feel like donating to Zaltek Reviews to help with my running costs, or even if you just feel like buying me a coffee, please use the PayPal button below.  Thanks very much. 👍
[paypal-donation purpose="Donate to Zaltek Reviews" reference="Ref:Zaltek" button_url=""]