Manufacturer: Zelos | Authorised Dealer: SeriousWatches | Price: €549 EUR
Everyone knows that I am a huge fan of Singapore based microbrand, Zelos. I've owned pretty much every model they've released over the years, apart from the rather expensive flagship, the Mirage. However, out of all the Zelos models I've owned, I've always thought their two big hitters that really capture the Zelos brand, are the Mako and Swordfish models. I've owned practically every single version of both, with all sorts of different case materials, from stainless steel to bronze, as well as titanium making an appearance on the Swordfish Ti. The Mako v1, v2 and even the current v3 have been offered in loads of different case materials, but never in titanium. Until now! I know I'm rather late to the "reviewers party" for the Mako v3 Ti range, but I thought it was about time I got my finger out and review this Storm Grey version, that I've personally bought TWICE! Yup, you heard me correctly. I'm a fuckin' idiot! The first one I bought was directly from Zelos, but as soon as it arrived I was offered stupid amounts of money for it, so off it went. As soon as it was gone, I had a major bout of sellers remorse, so I waited patiently until they came into stock at SeriousWatches, an EU based Zelos Authorised Dealer and snapped one up. Rather than just doing a normal review though, I thought I'd mix things up a little and do a buyers experience style review of SeriousWatches, as well as reviewing this very sexy Mako v3 Ti in Storm Grey.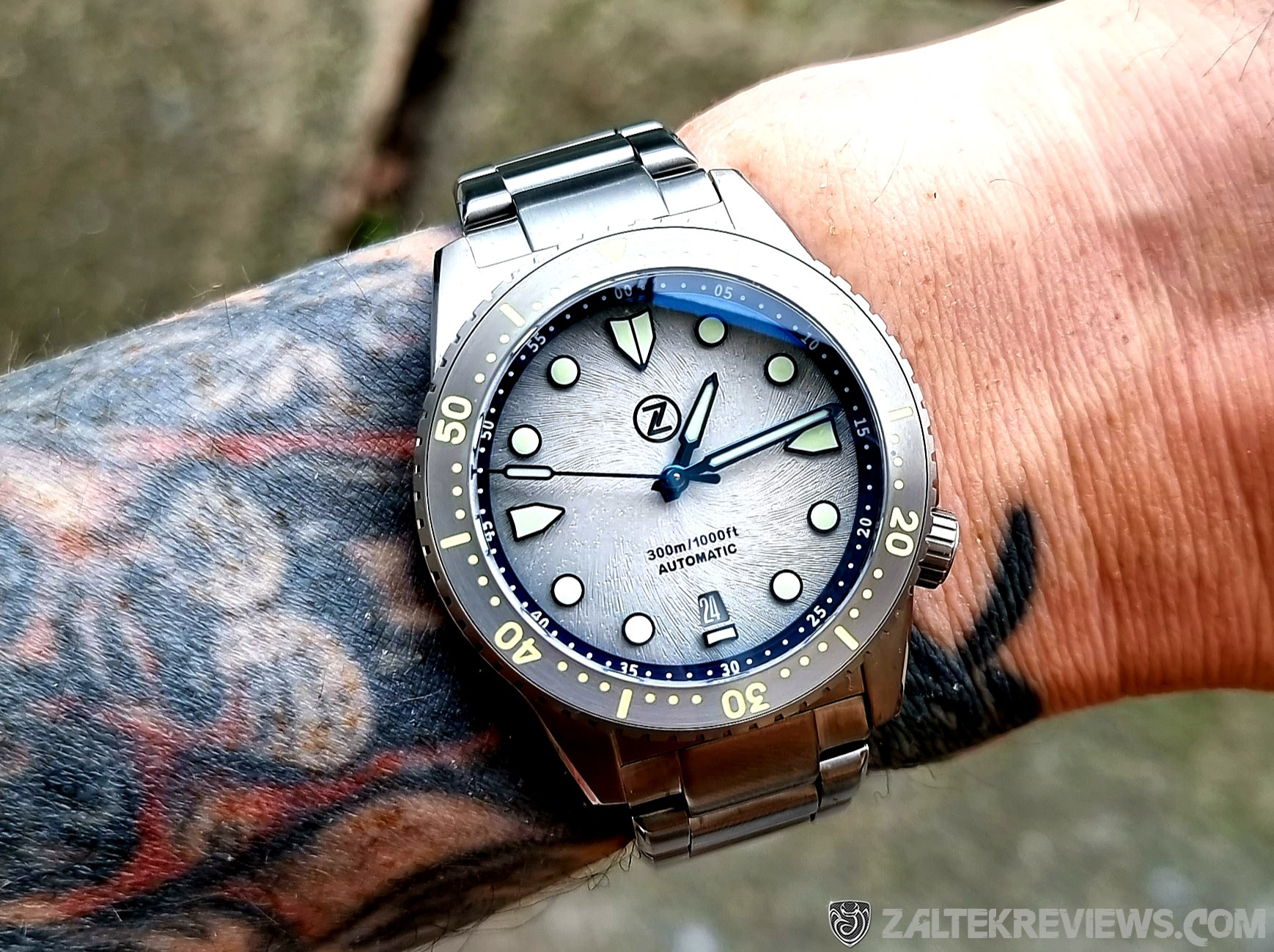 Full Specification
Dimensions: Case – 40.1mm, Thickness – 12.9mm, Lug to Lug – 45.8mm, Lug Width – 20mm
Movement: Miyota 9015, 28,800vph, 24 Jewels, Hackable, Self Winding, 42hr Power Reserve
Case: Brushed & Polished Titanium, 1200Hv Hardness Coating
Bezel: 120 Click Unidirectional, Titanium Bezel & Insert, Fully Lumed
Dial: Textured Fumé Grey, Blued Hands & Indices, Colour-Matched Date at 6
Lume: Swiss Super-LumiNova® C3 X1 & BGW9
Bracelet: Brushed & Polished Titanium, 1200Hv Hardness Coating, Solid Links, Screw Pins, Milled Clasp
Crystal: Box Domed Sapphire, Multiple Underside Anti-Reflective Coatings
Water Resistance: 300m / 30ATM / 990ft

Caseback: Screw Down, Deep Stamped Artwork, Unique Serial Number
Crown: 6mm, Screw Down, Signed, Lumed Logo

Weight: 114g (sized up for my 6¾″ wrist)
Where to Buy: SeriousWatches

Warranty: 2 Years (SeriousWatches Warranty)
Zelos Mako v3 Ti Dial Options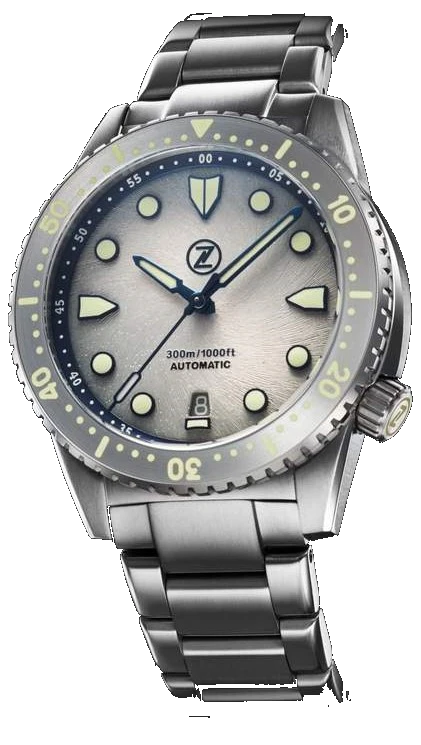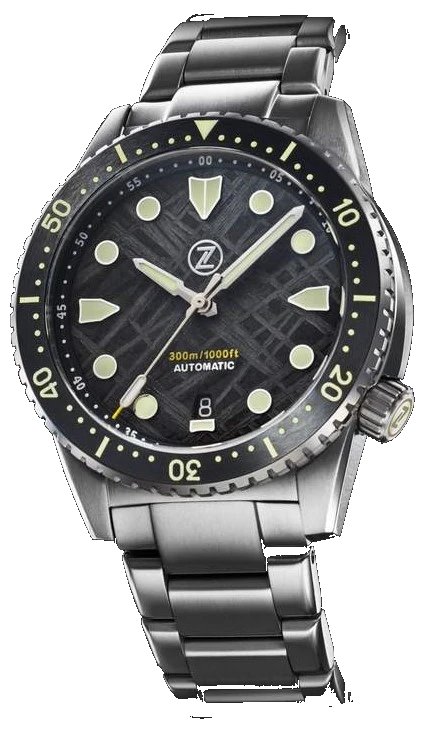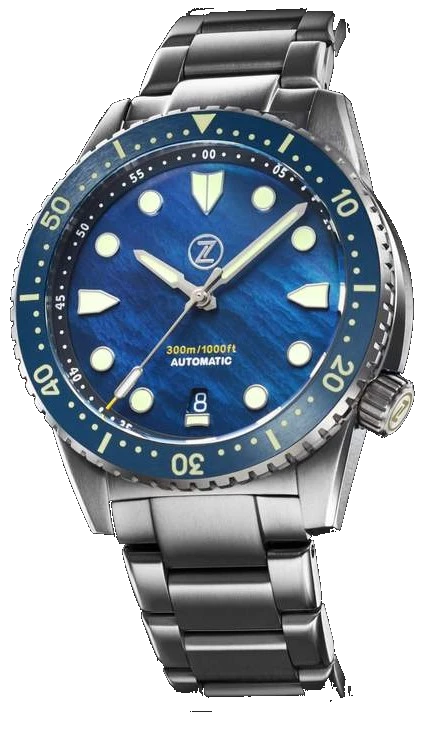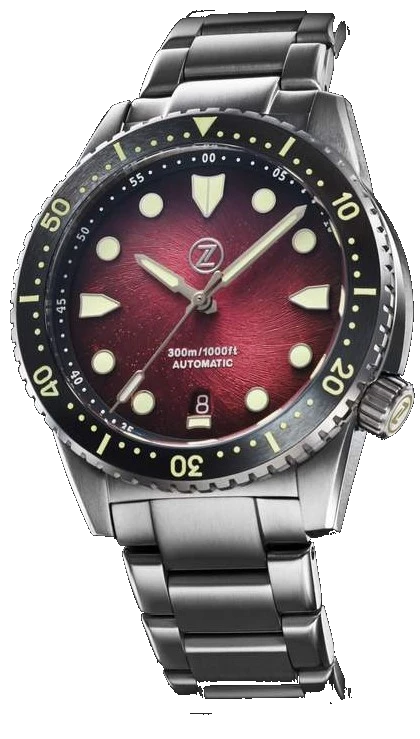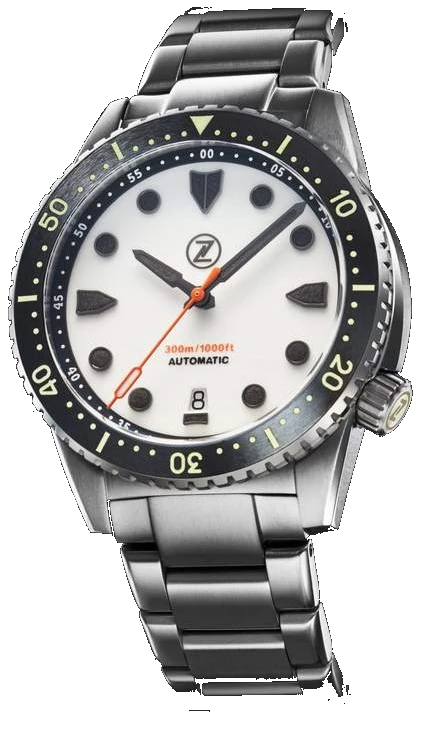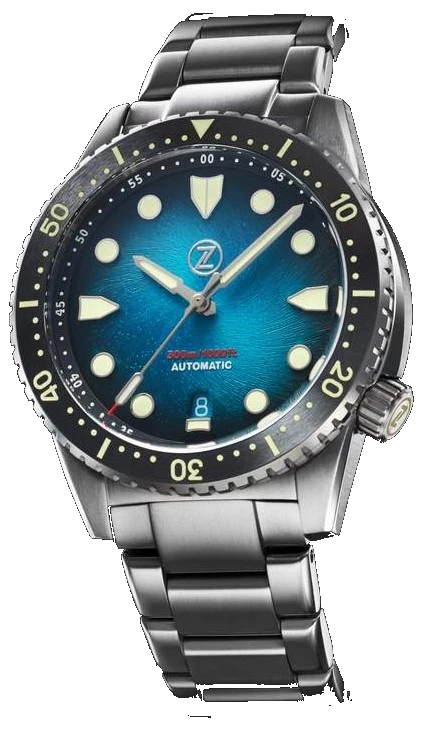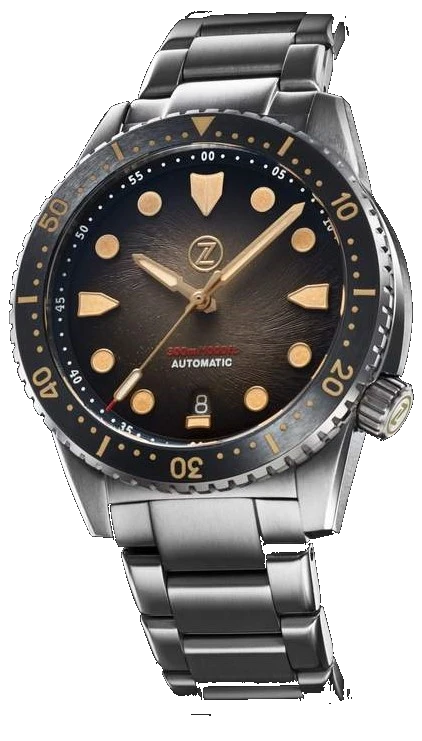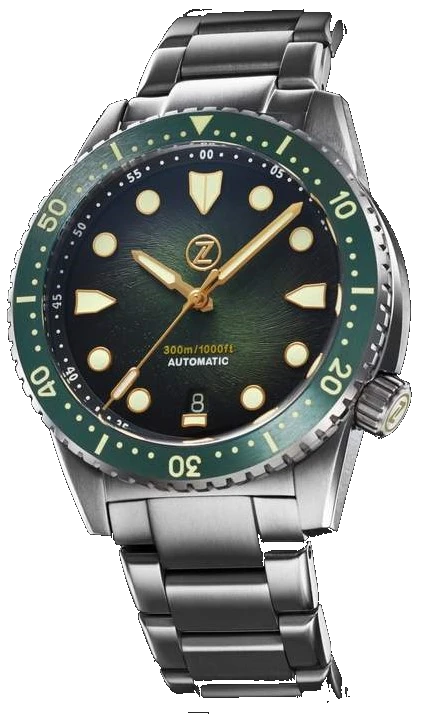 "SeriousWatches was founded in 2011, as a natural result of our passion for watches. We started off with just the Orient brand, yet quickly expanded to other brands. Our vision is that we need to offer high quality brands, that have unique aspects and that you won't find on every street corner. Our team currently consists of over 10 motivated watch enthusiasts, including a fully certified watchmaker. Our passion for watches ensures our service goes beyond Monday-Friday, 9-5. We're here for you 7 days a week. We are trying to make online shopping a personal experience by going the extra mile for every customer and by ensuring your package gets to you in great condition. As an authorised dealer of every single brand we stock, all of our watches come with the international warranties offered by the brands, but we also offer our very own 2 year warranty in addition. We hope we can bring our enthusiasm for quality watches to your wrist!"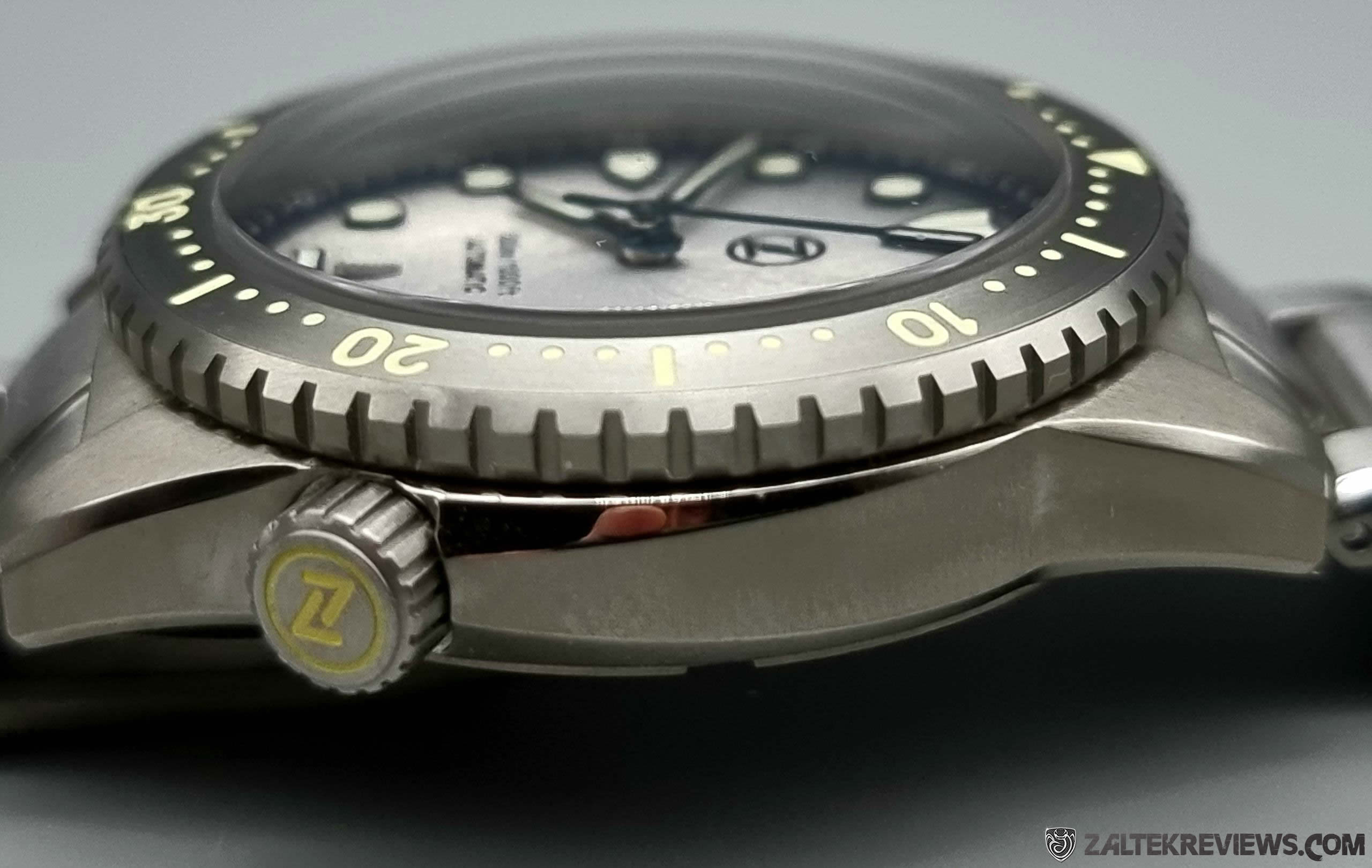 The case of the Zelos Mako v3 Ti according to my calipers, has an overall diameter of 40.1mm. The lug to lug is 45.8mm and the overall thickness, including the box domed sapphire crystal, I measured in at a rather impressive 12.9mm. The mid-case, caseback, bezel, bezel insert, crown and bracelet are all Grade 2 Titanium. The finish of the case is mostly brushed, but with the addition of some rather gorgeous polished chamfered edges that run along both top & bottom edges of the case and curve to the edge of the lugs, as well as part of the crown guard. Overall it looks stunning, with the same level of finishing and attention to detail we saw on the original Mako v3 in steel. Another bonus feature with the titanium version though, is you also get an all-over 1200Hv hardness coating.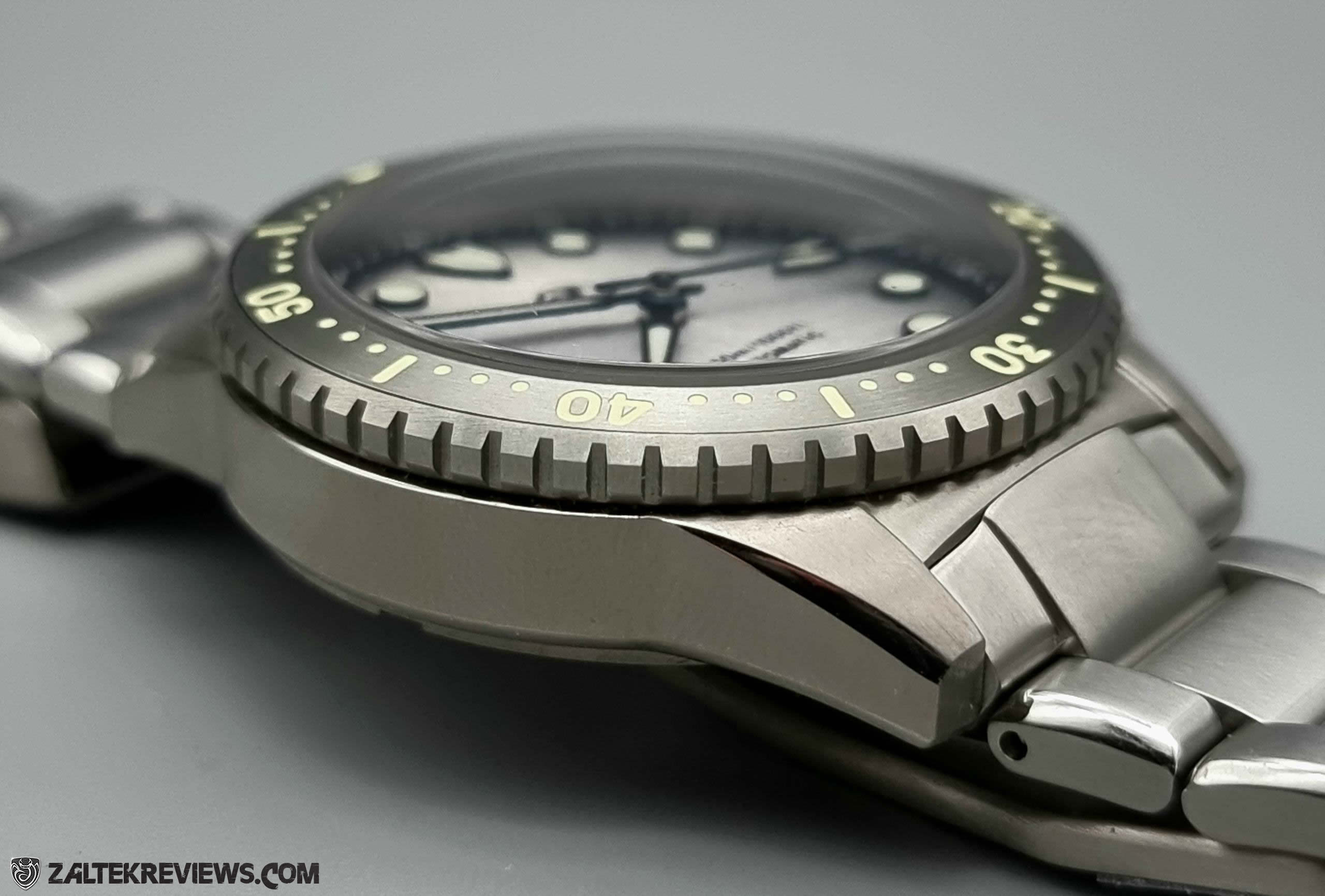 The Zelos Mako v3 Ti still retains the generous water resistance rating of 300m as well as the perfect proportions of the original Mako v3 Ti., The base 40 x 46mm size will suit a huge variety of wrist sizes, as it wears brilliantly on wrist and is extremely comfortable. The signed and lumed crown is nicely sized at 6mm, looks fantastic with it's lumed Zelos logo and is a total piece of piss to operate, with oodles of grip and zero wobble either when the crown is in use. As you can see in the image below, we're also treated to a very well finished and refined caseback. The level of detail is outstanding and it's also really smooth to the touch.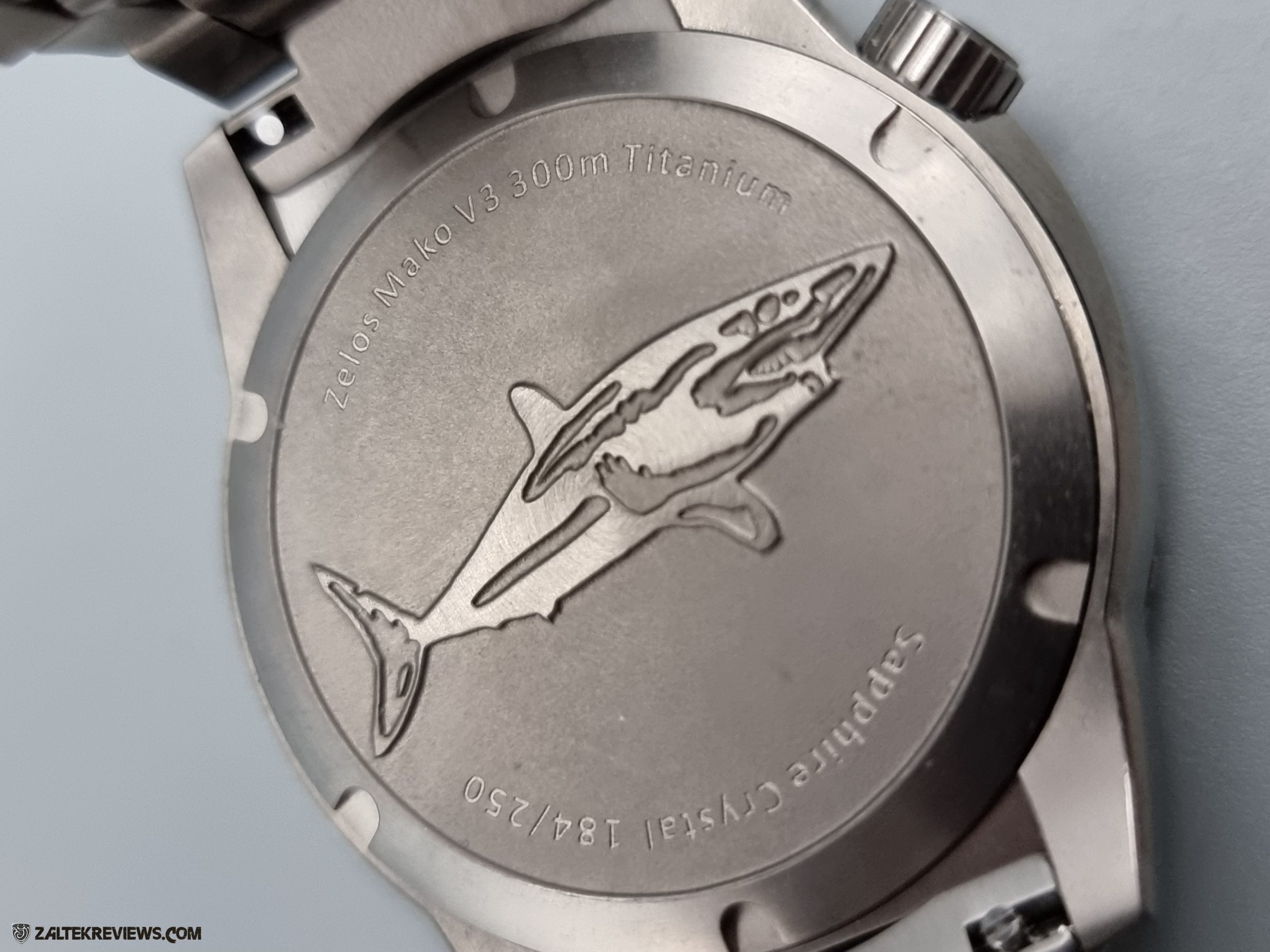 The Mako v3 Ti comes as standard with a truly outstanding 20mm titanium bracelet. I remember that the first batch of Mako v3's released way back in late 2019, only came with a tropical strap, with the bracelet being a cost option. Things have been vastly improved by Zelos since, with the second batch of v3's in stainless steel (or the "3.5's" as they're known on Zelos Timekeepers Facebook group) having a greatly improved and much more refined bracelet & clasp over its predecessor. This titanium version however, even if at first glance might look pretty much identical to the bracelet of the v3.5, it isn't. Obviously, it's made from a different material, but I can clearly see when comparing the two side by side, the titanium version is a tad more refined.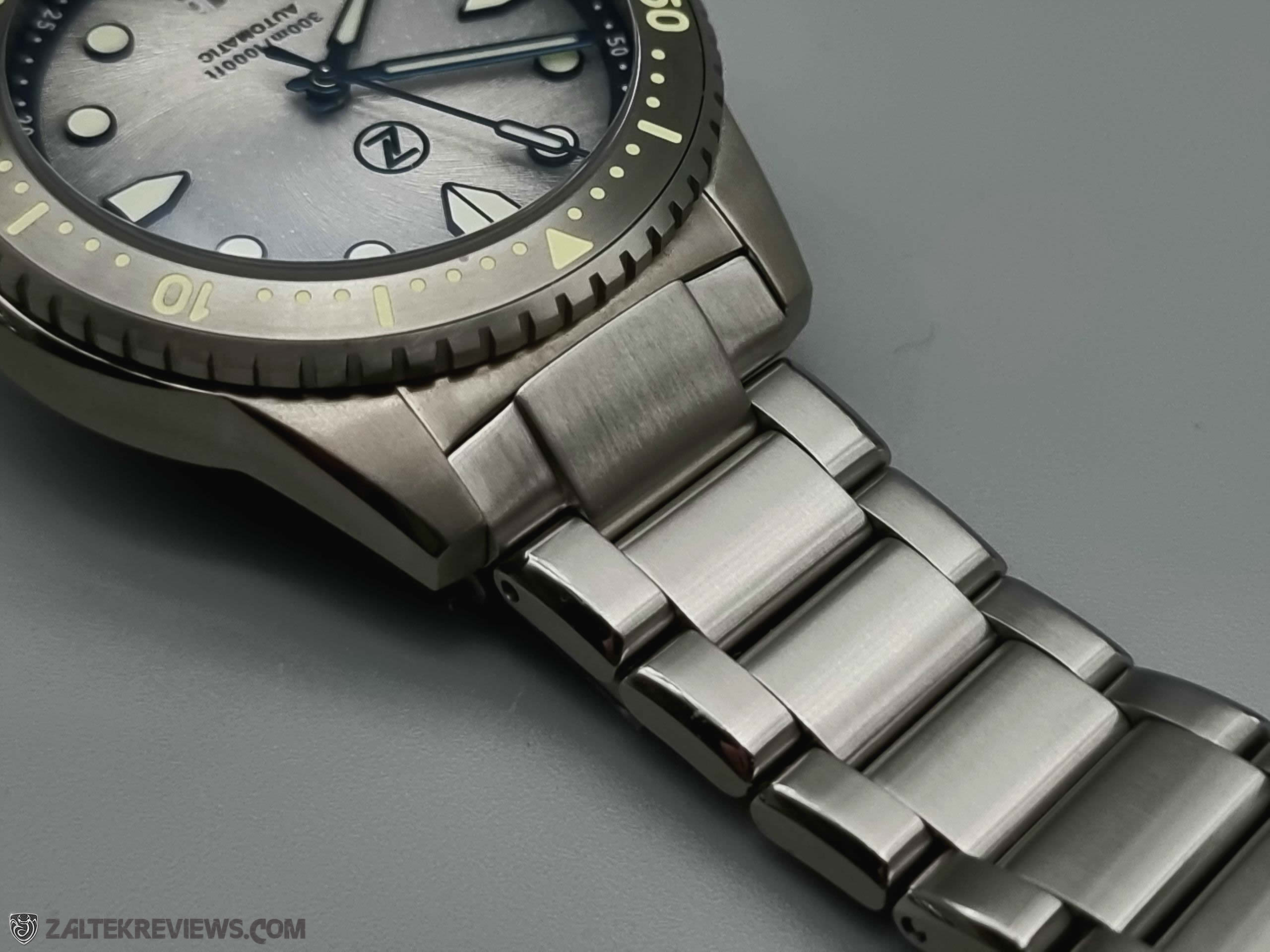 The clasp is also a step up, even when it's actually made from stainless steel and finished in a slightly different shade, just so it aesthetically, it matches the slightly darker tone of the grey titanium. The logo on the clasp is also a lot smoother than before. This is what I love about Zelos… Elshan is a watch enthusiast first and foremost and it really shows, as he listens to his customers and the general feedback he receives. He really takes attention to detail to a whole new level. Oh aye, before I forget, there is a 2mm taper on the bracelet, there's solid links throughout with screw pins and a fully milled custom clasp with on the fly adjustment.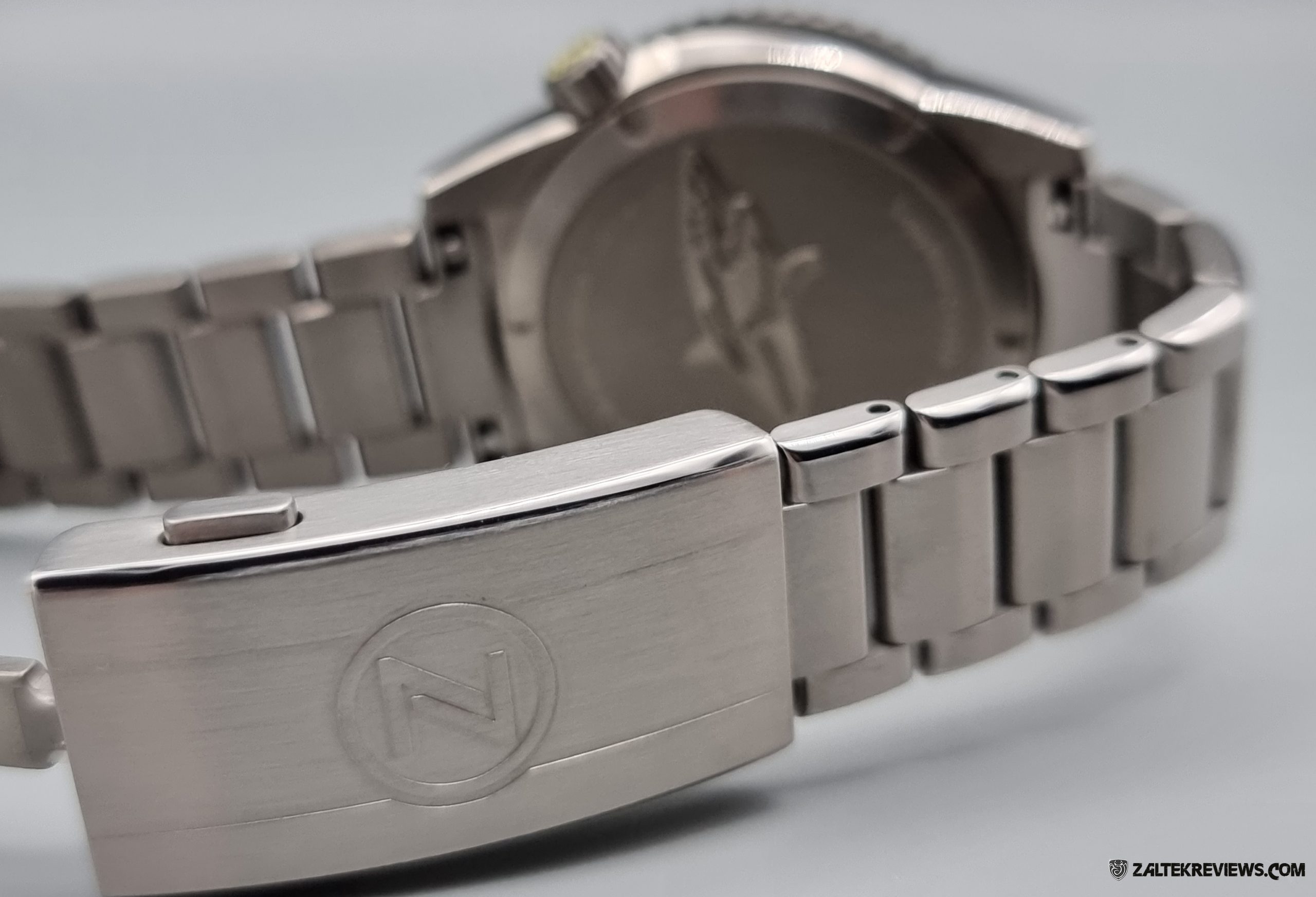 The chosen movement for the Zelos Mako v3 Ti is the high beat, smooth sweep Miyota 9015. This Japanese movement is self-winding, has 24 jewels and the oscillating weight spins up, giving you up to a pretty respectable 42 hour power reserve. The balance runs at 28,800vph '4Hz' and the movement is also hackable. Checking the overall accuracy on my trusty timegrapher, after wearing the Mako v3 Ti for just a few days, I was pleasantly surprised, with the Zelos Mako v3 Ti coming in at an average of just +3 second per day, with zero beat error. That's a truly fantastic result, so I'm well chuffed with that! 👍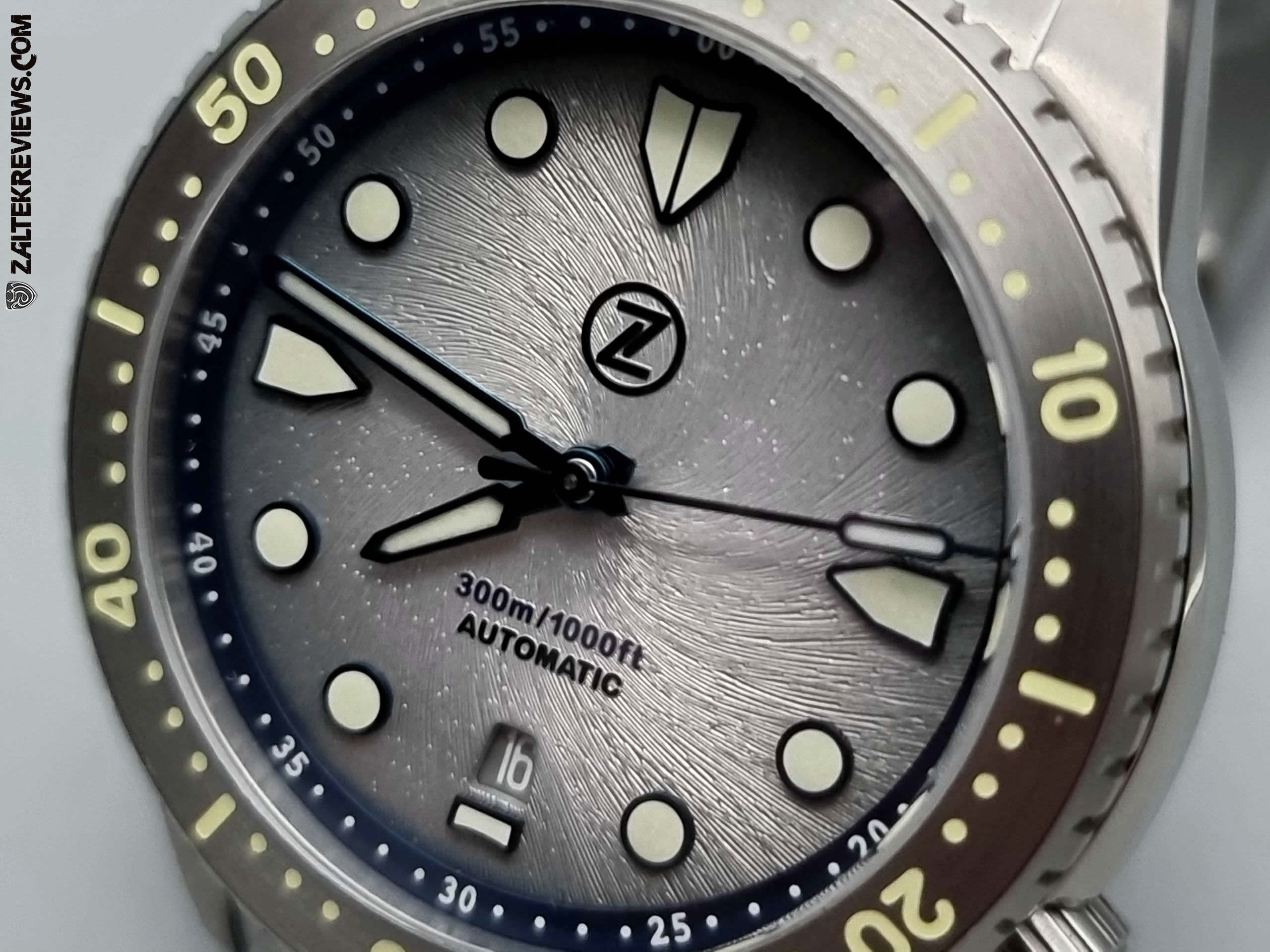 This Storm Grey version of the Mako v3 Ti has an extremely nicely manufactured 120 click unidirectional titanium bezel, that also comes with a lumed titanium insert, The printed text on this grey dial is just the word Automatic, with the depth rating of 300m/1000ft just below, all printed in a very dark blue, The Zelos logo is at the usual spot of just under the double marker at 12 o'clock. As you can clearly see in the images, the dial itself has a textured whirlpool effect on this fume grey dial. If you're not sure what that is, the dial is a lighter grey at the pinion that changes gradually to a darker grey at the outer edge of the dial. The hour markers are all applied and have thermally blued surrounds that really set off this dial brilliantly. Not just that, it also adds to the excellent overall legibility.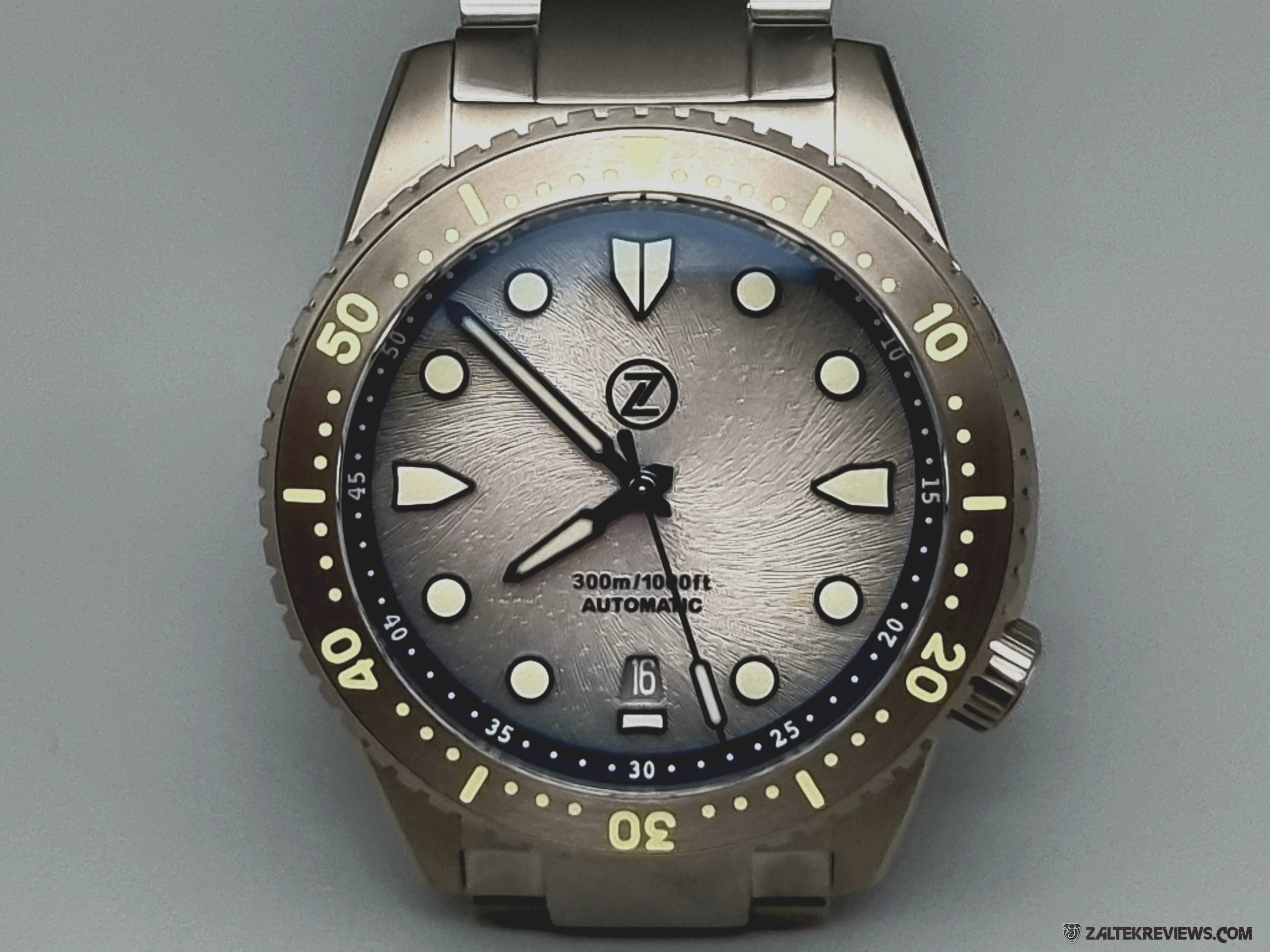 Another massive tick from me is the white on a matching grey date complication at the 6 o'clock position. This is how a date complication should be done! Colour-matched to the dial, placed at 6 for perfect symmetry, with just a lovely chamfered edge around the edge, with no hint of any cheesy or cheap looking chrome frame. The hour and minute hands are just stunning with their thermally blued finish. The lumed oblong shaped section of the blued seconds hand is also rather lush, with its actual tip of the hand reaching right out to the dark blue chapter ring. I have absolutely zero complaints regarding this dial. Simply beautiful!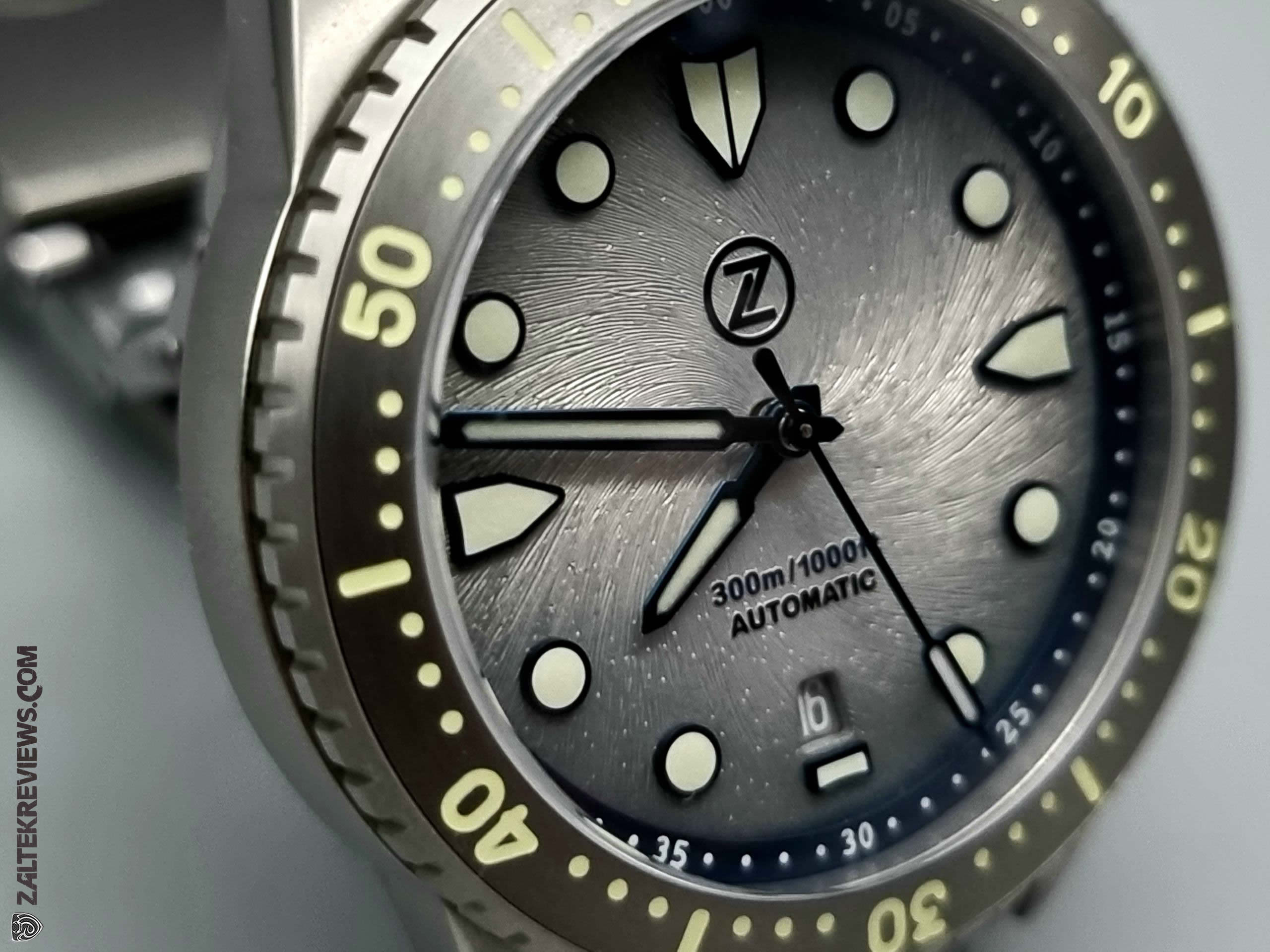 The lume on the Mako v3 Ti is pretty much what everyone expects these days from Zelos, absolutely fuckin' phenomenal! Zelos have always been the king of lume in my opinion, and not just in the microbrand world either, Zelos are probably one of the best I've seen, even outperforming the big boys along the likes of Rolex, Tudor, Omega, Seiko etc, etc… (I think you get my point!?). The actual formula that's been applied to the Mako v3 Ti, is a combination of both Swiss Super-LumiNova® C3 X1 & BGW9. It's not only been applied pretty damn thickly with 100% precision, it's as bright as a bloody torch! I'm sick of hearing that analogy.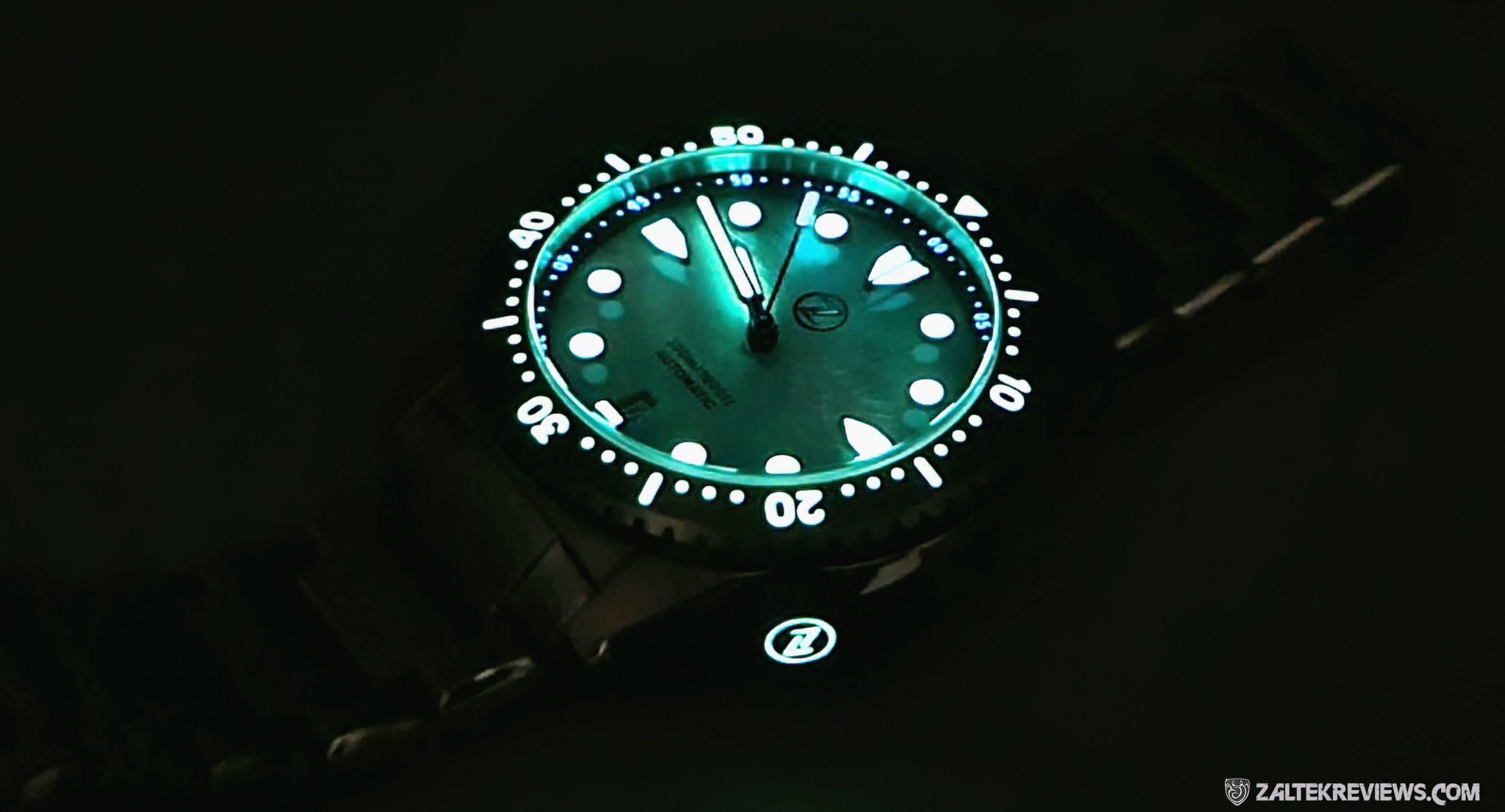 I think I may have gushed a bit throughout my explination and review of this Mako v3 Ti in Storm Grey. I have actually had hands-on with other versions of the Mako v3 Ti recently though, but to be perfectly honest with you, none of them come close to just how much I love this Storm Grey version. For me, it is definitely the pick of the bunch! I could explain to you what I wasn't keen on with the other versions, but then I'd be here all fuckin' night and I've barely mentioned SeriousWatches since the introduction of this review. I've purchased through SeriosWatches more than just a few times now, although this is the first time since the whole Brexit thing is in full swing. As I'm in the UK and no longer part of the EU, the price I paid was excluding VAT, so it worked out pretty well. The only dreaded bill to follow was the import tax, handling charges etc and anything else the customs monkeys can think of. It wasn't too bad though and actually less than I had expected at £42.65. The service I received from SeriousWatches was absolutely flawless. They are easily the best I've experienced in all my years of buying watches. The packaging is just beautiful, it was more like an event rather than just a boring old unboxing. I should have took pictures, but totally forgot during my excitement of getting the watch sized and on my wrist. To summarise then… this Storm Grey Mako v3 Ti – Perfection! SeriousWatches – Best in the Industry!
A massive thank you to Mark at SeriousWatches for sorting out this Zelos Mako v3 Ti Storm Grey for me. Very much appreciated buddy and thanks again for the first class customer service! To view what SeriousWatches have in stock, or even to join their mailing list to be informed of new releases visit
seriouswatches.com
. Obviously, another shout out has to go to Elshan at Zelos. A totally incredible watch with outstanding customer support. I always recommend that you go and sign up to Zelos' newsletter to be informed of new releases and how to get them at preorder prices. Full information & details can be found at
zeloswatches.com
.
It takes me a fair amount of work (and time) to do these reviews, so if you feel like supporting Zaltek Reviews to help towards my running costs, or even if you feel like just buying me a coffee, then please donate using the PayPal button below. Unfortunately, 97% of my readers just scroll on past this section. If you feel like that I've given you maybe a few quids worth of knowledge and/or entertainment, then please take just a couple of minutes of your time to donate. Thanks.