Manufacturer: Aquacy Watch | Price: $295 USD (£195 GBP, €220 EUR (approx))
I stumbled upon the Aquacy brand pretty much by accident when I was first offered a sample piece from a fellow reviewer and to be honest, at the time, I was just way too busy. I had a large backlog of watches to get through, so I declined the invitation to review it. As we're all pretty much on lockdown these days, due to the pandemic that is of course COVID-19, all I do these days is work on the website and write as many reviews as I possibly can.
The backlog has pretty much dwindled down to under 5, so I finally said that I'd take a look at the Cave Diver and give it a totally honest and thorough review. My good friend and colleague, Dave Sergeant was originally going to review this one, but due to unforseen circumstances, the review will be written by me. Whether that is a good or bad thing for you, a readers perspective, I really don't know… (or really give a shit to be honest – only joking, I do actually love my readers!).👍
*WARNING! – There will most likely be a LITTLE amount of swearing during this review. So if you're a certified snowflake and easily offended, please look elsewhere.*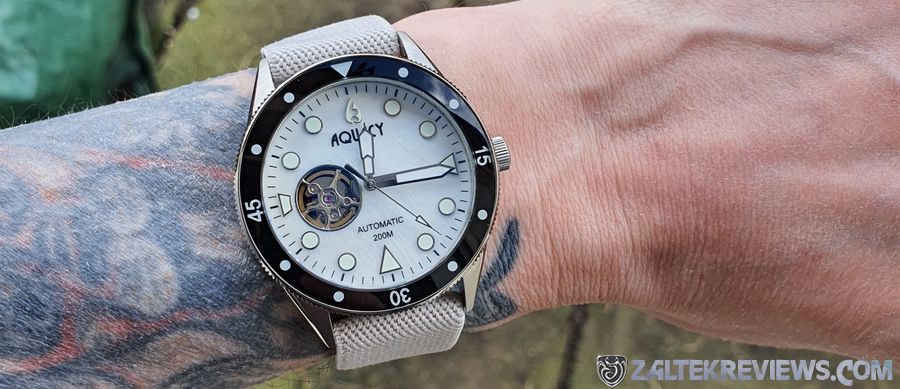 Specifications
Dimensions: Diameter – 42.2mm, Thickness – 14.4mm, Lug to Lug – 47.8mm, Lug Width – 22mm
Movement: Seiko SII NH35, Automatic, 21,600vph (3Hz), Hackable, Self Winding, 41hr Power Reserve
Case Material: Brushed 316L Stainless Steel, Polished Accents
Strap: Crazy Horse Black Saddle Leather, Signed 37.5mm (widest part) SS Buckle, 125/85mm, 4.5mm (thick)
Crystal: Domed Mineral, Sapphire Coated, Underside Anti-Reflective Coating
Bezel: 120 Click Unidirectional, Aluminium Insert, Fully Lumed
Water Resistance: 200m / 20ATM / 660ft
Lume: Japan Superlume
Crown: Screw Down, Signed
Caseback: Screw Down, Exhibition Display
Warranty: 4 Years    Overall Weight: 104g      Where to Buy: Aquacy Watches

Options: Dial – Abalone, Blue MoP, Blue Vintage, Black MoP, White MoP
Aquacy Watches - A Brief Introduction
"Aquacy is a U.S.-based watch company founded by a veteran of the watch industry. After 13 years in the watch industry, selling other watch brands to clients all over the world, they decided to start their own brand. The mission of Aquacy is to bring quality watches to the marketplace for watch lovers. Every watch they design will have desirable features, a rich backstory, and at great price points. Like the Hei Matau upon which the Aquacy brand is built, Aquacy pledges that every watch will represent strength, good luck and safe travels.

The Cave Diver is inspired by the record breaking, deepest cold water cave dive ever completed. The dive occurred in New Zealand in 2011. Divers reached a depth of 194m, but still did not find the end of the cave or its mysterious source. Even dye tracing has been unable to find the source. The expedition was funded in part by National Geographic."
The case of the Aquacy Cave Diver has an overall diameter of 42.2mm. The lug to lug length is 47.8mm and the overall thickness, including the domed sapphire coated mineral crystal, I measured in at 14.4mm. The entire case, caseback, bezel and crown are all 316L stainless steel. The finishing of the Cave Diver is actually very nice indeed, with its mainly brushed aesthetic. The coin edge bezel is polished, as are the nicely executed chamfered edges on the sides of the lugs. The weight of the Aquacy Cave Diver, on the rather substantial supplied leather strap, came in at a roughly, slightly expected 104g.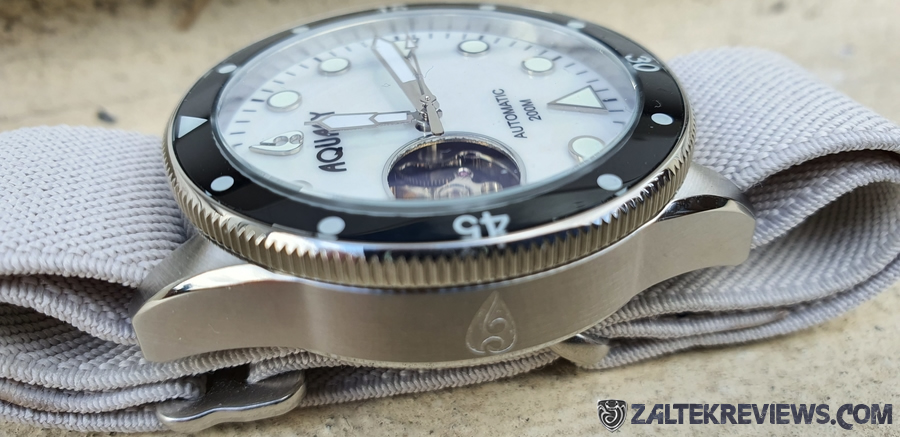 The Cave Diver has a water resistance rating of 200m, thanks to the screw down caseback & crown. The proportions of the watch, in my opinion, are pretty nice for my average 7″ wrist, due to the 42mm case diameter and the relatively short lug to lug distance of just under 48mm. The Cave Diver does wear very nicely on wrist and it is comfortable, although, only after I removed the rather stupid oversized supplied leather strap from the watch. More on that friggin' thing later…🤬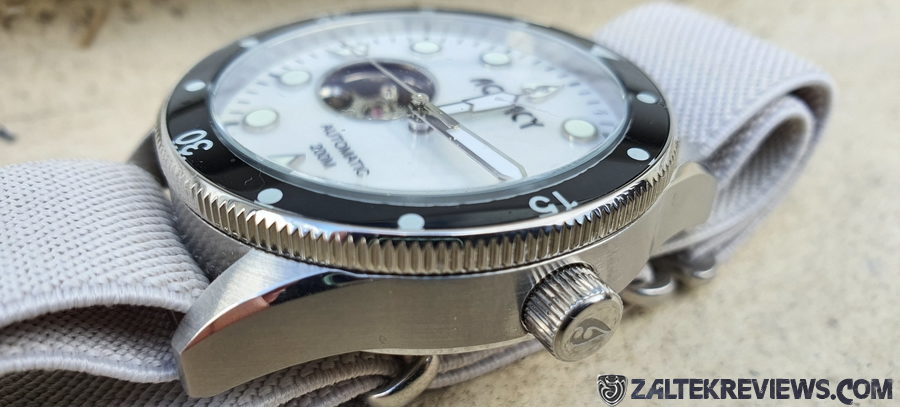 The signed crown is pretty good and is of a decent size, easy to grip and shows off the etched logo nicely. There is minimal wobble when the crown is in use and you can feel a nice little pop as you unscrew it. The caseback is confusing to me though. Why give it an exhibition display caseback and then slap on a huge fuckin' logo on it? Totally pointless and a waste of time if you ask me! Even without the logo on there, I wouldn't get too excited about looking at a Seiko NH35.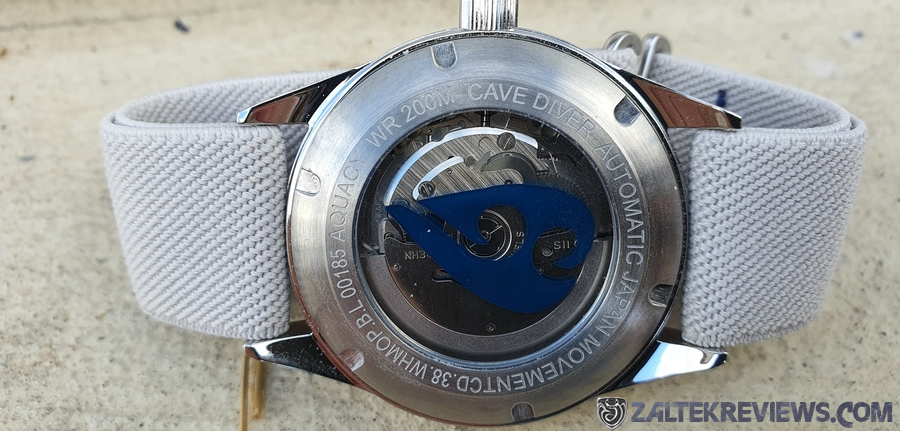 Straight out of the box, the Cave Diver comes fitted as standard with a 22mm crazy horse black saddle leather strap that you can see in the image below. Although, the image doesn't really show just how friggin' big this thing is. Let me paint you a little picture instead… Once this thing is on wrist, the overall thickness of the leather, with the included buckle is just ridiculous. I kept banging the underside of the strap and buckle off the edge of my desk and it was so fucking uncomfortable it really does begger belief why Aquacy thought this strap was a good idea. It is so thick, that even when I put the watch in my watch box, the glass of the lid would touch the face of the watch. I've never had that happen before, even with watches that are much larger, it's just this bloody strap, it just totally ruins the watch.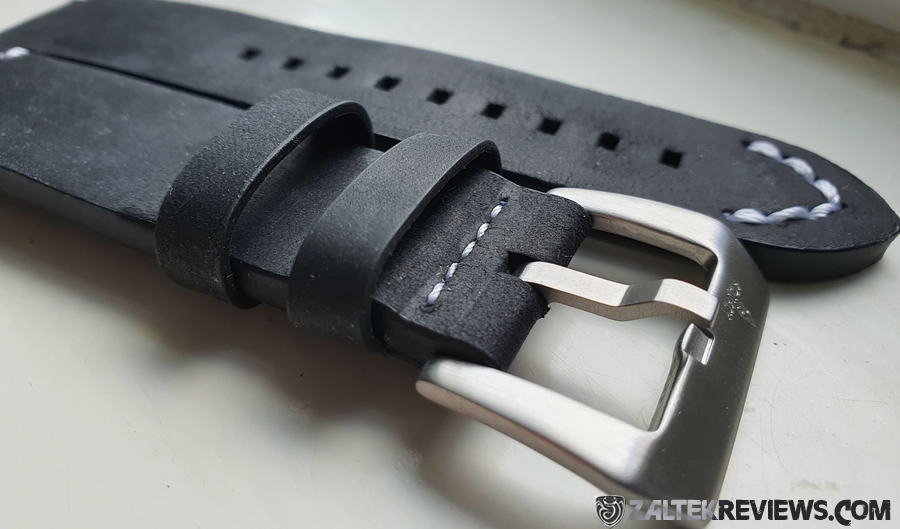 Oh yeah, the signed stainless steel buckle… it is very well made, but as per with the rest of the strap, it's ridicuously oversized at 37.5mm at the widest measurement. Putting that into perspective, I've got watches with a case diameter of 38mm for fucks sake! Anyway, I think you get the point, so to give the watch a fair chance in this review, I replaced the supplied leather strap with a Nick Mankey Designs hook strap that you can see in most of my other images. Much better!
The movement selected for the Aquacy Cave Diver is the microbrand go-to movement of choice, the super-reliable NH35 manufactured by Seiko. The SII NH35 is a fantastic workhorse with 21,600vph, 3Hz, 24 jewel automatic movement with a 41hr power reserve, self winding and of course hacking. Checking the accuracy after running the Cave Diver for around a month, mainly in my watch winder and occasionally on my wrist, I thought the accuracy was pretty disappointing, with it showing an average of +18 seconds per day. Although, granted, it is still within the manufacturers tolerances. That's still shite though, if you ask me.🤬
The Aquacy Cave Diver has a 120 click unidirectional bezel with an aluminium insert. It is of decent quality and everything does line up 100% perfectly. The bezel action is nice & smooth, with just a little backplay. The text is printed, showing the word AQUACY directly underneath the applied and lumed Aquacy logo at the 12 o'clock position. The word AUTOMATIC and depth rating of 200m are also printed at just above the 6 position.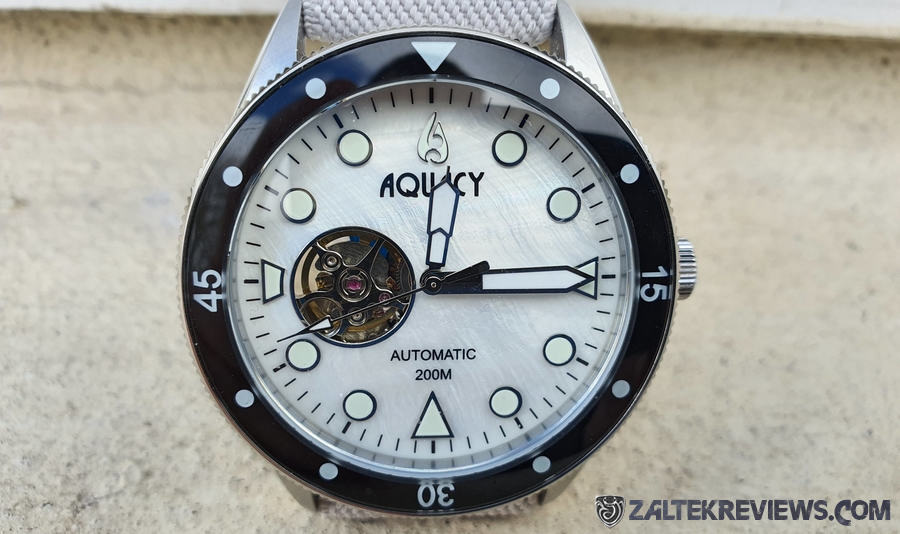 As you can see in the images, the hour and minute hands are very nicely done and look fantastic in their appearance. The size of the hands too are pretty much spot on in relation to the size of the dial. The matching seconds hand is lovely too, with it's wee lumed arrow section, with the tip of the hand reaching out almost to the minute track that's also printed on the dial. All three hands are finished in silver with vast amounts of Japan Superlume.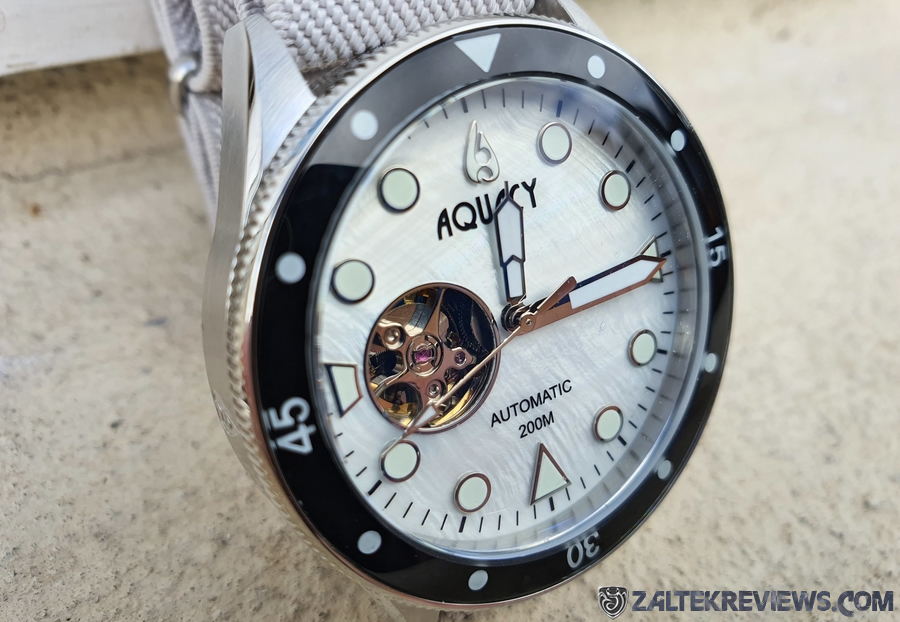 The applied indicies are nice with their silver surrounds and there are triangle shaped markers at 3 & 6, with the one at 9 being shortened due to open heart section. Talking of the open heart area that is there to show the inner workings of the movement. WHY!? Also, a mother of pearl dial. WHY!? This is primarily supposed to be a dive watch. Is it a large ladies watch, a dress watch or maybe even a dress diver? A dive watch, essentially, is nothing more than a tool watch, or atleast it's supposed to be in my eyes. I think that these whole dress watch aspects that have been implemented to the Cave Diver have just pushed it over the edge. Aquacy have took this design just way too far with trying to make it look different from everything else that's on the market.
The lume on the Aquacy Cave Diver is actually very nice indeed! It actually had me double checking the spec to find out exactly what type of lume it is, especially after seeing the results in low light. The actual lume that's been applied to the Cave Diver is Japan Superlume. It is indeed very bright and last for hours, I also love that Aquacy made the effort and actually lumed their logo. To be fair, as I have slagged off this watch quite a lot, the lume does get a thumbs up from me.
I reckon this watch, although the quality of the thing is actually very niceley done, with superb finishing and attention to detail. The rest of the watch is just a mis-match of various designs. I couldn't even come to the conclusion that I could call the Cave Diver from Aquacy unique, because it's not. It's just a bunch of different designs mashed together, and I'm sorry, but as you've probably guessed by now, it just doesn't do it for me.
If you like the design of this (maybe a trip to SpecSavers is due), then by all means, buy it, as it is very well made. It's also decent value for money, although I will add, you can actually see where corners have been cut. If I was going to recommend an alternative to this watch, I'd suggest you take a look at the Ventus Northstar or even an Orient Mako.
6/10 - WELL BUILT, BUT IT SEEMS THIS WHOLE DESIGN DOESN'T KNOW WHETHER IT'S A DIVE WATCH, A LADIES WATCH, A DRESS WATCH, A PAPERWEIGHT OR A FUCKING TOASTER!
A huge thank you to Darrell from Aquacy, for sending out the Cave Diver for review. Thanks, I really do appreciate it. Darrell, my review is, as always, an honest one and although this watch is very disappointing, your Oceaneva range of dive watches are still, to quote Joanna Lumley, "absolutely fabulous darling!"
To view the Aquacy website, or to join their mailing list to be informed of new models etc, visit Aquacy Watch.
Follow Zaltek Reviews on
Instagram
,
Twitter
and
Facebook
and please feel free to join our Facebook group
WatchChat
, a busy community for watch enthusiasts and collectors alike, with tons of images and in-depth discussions.
At Zaltek Reviews, we encourage the companies whose watches we've reviewed to comment on our articles. We invite any company representatives to respond in the comments section below. Thanks very much.
[mailerlite_form form_id=1]