Manufacturer:

Archimede Watches

| Price: €1,060 ($1,155 USD, £945 GBP approx)
Today, we have the Archimede Outdoor 41 Antimagnetic Sports Watch. Is it a sports watch, a dress watch, a tool watch? Who gives a sh*t what label or category this watch falls into, it's bloody nice! Is it perfect? Not quite. Let me explain…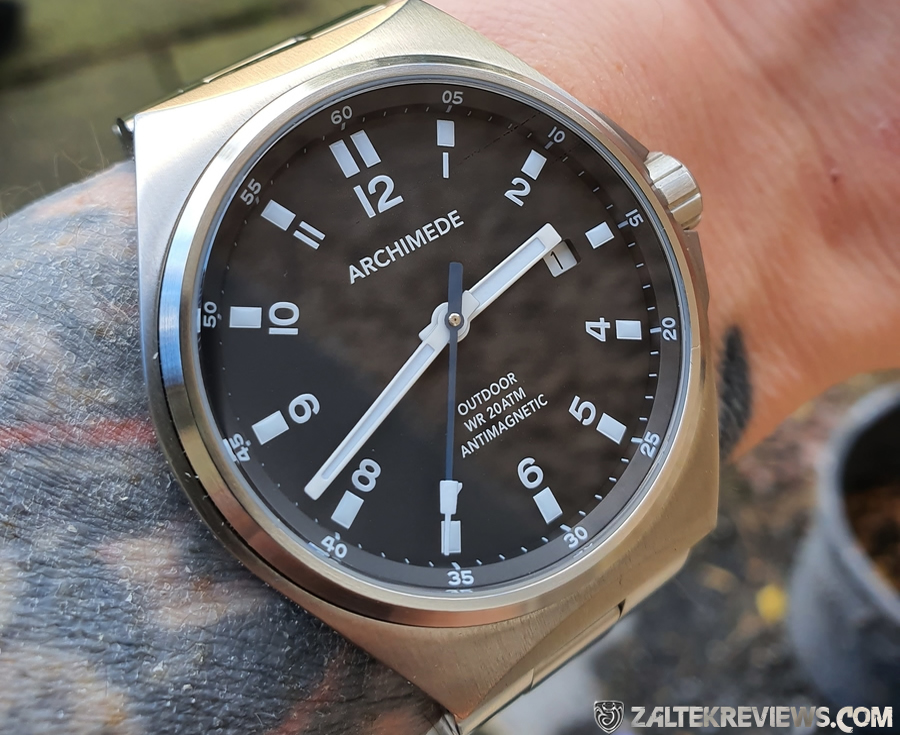 Specifications
Dimensions: Case Diameter – 40.9mm, Thickness – 10.7mm, Lug to Lug – 46.5mm, Lug Width – 22mm
Movement: Swiss Sellita SW200 Automatic, 28,800vph (4Hz), Hackable, Self Winding, 38hr Power Reserve
Case Material: Brushed, Hardened 316L Stainless Steel
Bracelet: Brushed 316L Stainless Steel, Solid End-Links, Screw-Pins, Milled & Signed Clasp
Crystal: Flat Sapphire, Multiple Anti-Reflective Coatings (Inner)
Bezel: Fixed       Water Resistance: 20ATM / 200m / 660ft
Lume: Swiss Super Luminova® C3
Crown: Signed, Screw Down   Caseback: Stainless Steel, Screw Down
Warranty: 2 Years    Where to Buy:

Archimede-Watches.com

Options: Stainless Steel Bracelet, Black Leather Strap (€80 Less Expensive)
Archimede - Made in Germany
German Precision Since 1924
Karl Ickler founded the Ickler family business in 1924, after working as the head of the manufacturing department for a number of foreign companies. Armed with this invaluable cache of experience, he founded his own watchcase factory. In 1947, his two sons rebuilt the company, which had lain dormant during the war. Today the company is managed by Thomas Ickler, a member of the third generation of the family. These days, Ickler manufactures premier quality watches and watchcases, made to the highest quality standards, for a demanding international clientele – all made in Germany. This wide range of manufacturing in Germany is an integral characteristic of Archimede. Only few watch brands can offer such a high in-house added value.
The Brand Archimede
Planning and designing of the Archimede line began at the turn of the new millennium. In 2003, the first models were brought to market. Offering exceptional quality at an affordable price point, it soon became clear that the entry-level Archimede Pilot model would be very successful. With different case sizes, dial variants and the choice between automatic and chronograph movements, the 'Pilots' have delighted innumerable customers all around the world. Since then, the Klassik, DeckWatch, SportTaucher and OutDoor family of watches have built up a considerable fan base. If you plan to visit Germany, you are most welcome to visit Archimede in Pforzheim and see their high quality timepieces in-house.
Ickler Watch Cases
Since 1924 Ickler manufactured premium quality watchcases, made to the highest standards. Almost every part of an Ickler watch is developed and manufactured in-house; design, construction, prototyping, parts,production, surface finishing/treatment, laser engraving, assembly and quality control. The watchcases are crafted in-house, from solid blocks of stainless steel, pure titanium or bronze. Their experienced craftsmen use the latest high-tech CNC machinery, guaranteeing ultimate precision. When it comes to polishing the surfaces, assembling parts and complete watches and the thorough quality control, the foundation of the Ickler process lies on careful human touch and intuition.
The case of the Archimede Outdoor 41 is 40.9mm. The lug to lug is 46.5mm and the overall thickness, including the sapphire crystal I measured at a slim 10.7mm. The entire case, caseback, bezel, bracelet and crown are all 316L stainless steel. The finish of the case is entirely brushed, with absolutely no polishing found anywhere. I like that a lot however, don't get me wrong, I do like it when watch manufacturers incorporate a few nicely polished chamfered edges here and there. I just hate it when they go all out and polish way too much like their life depended on it… it just makes the watch a total scratch magnet. With the Outdoor 41 though, fully brushed suits me, and my general taste in watches very well.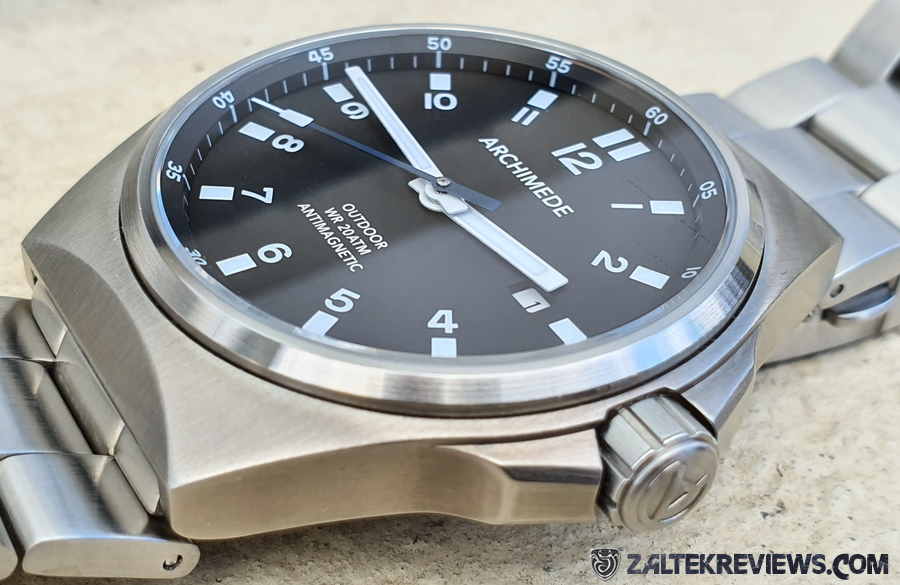 The Archimede Outdoor 41 has a water resistance rating of 200m / 20 ATM, thanks to the screw-down caseback & crown. The proportions of the watch, in my opinion, are fantastic for my 7″ wrist. The Outdoor 41 wears brilliantly on wrist and is very comfortable. Additionally, the crown guards are machined as part of the case and don't come across as some sort of bolt-on afterthought. Also, check that actual crown out in the image above, with its deeply stamped Archimede logo and just as important, it's sized perfectly and fits between the crown guards flawlessly. The crown is also fitted to the case with absolutely zero wobble when the crown is at its fully extended position. You'll also notice that the case has no traditional style lugs giving the watch a much more optimal size even for those with a smaller wrist size.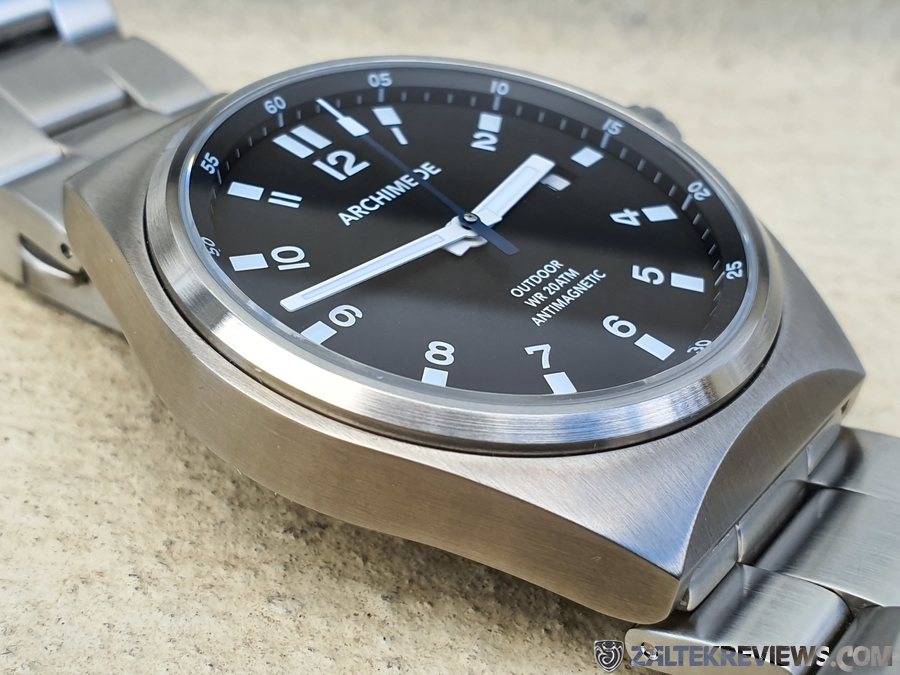 The bracelet that is fitted to the Outdoor 41 is to put it simply, what I look for in a bracelet and wish all bracelets were built and manufactured as solid as this one. It has solid end links, screw pins for resizing and adjusting, a fully milled, signed clasp and loads of micro-adjustment holes to make sure you get the optimum fit. The bracelet itself tapers from 22mm at the watch head down to 20mm and back up to 22mm at the clasp. You can't see in the image below but the clasp also has nicely done chamfered edges matching the overall smooth style of this brilliant bracelet.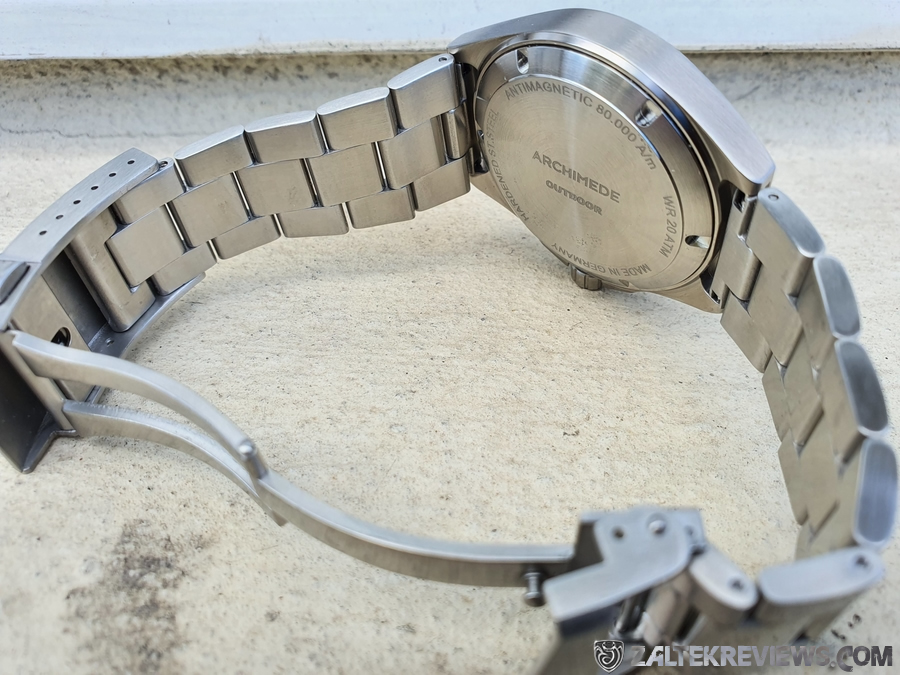 The chosen movement for the Outdoor 41 is the Sellita SW200. A very reliable calibre that is a 28,800vph, 4Hz, smooth sweep, 26 jewel movement with self winding and of course hacking. Checking the accuracy after running the Archimede Outdoor 41 for over a couple of weeks, mainly in my
Barrington Watch Winder
and occasionally
on my wrist.
I was more than happy with the accuracy, with it showing an average of just +1.7 seconds per day.  The movement has an anti-shock system that will protect its inner workings during a ton of different activities or impacts. The movement also has a 38 hour power reserve and an antimagnetic rating of 80,000 A/m. Please watch the following video for more information.
As you've probably noticed whilst reading this review, I've had nothing but praise for the Archimede Outdoor 41. Well, it's on the dial where things go a little wrong, for me anyway and my taste. Don't get me wrong, I still like it, but I would make a few small changes if I was in charge of design at Archimede. To put it simply and you've probably heard me say this a hundred times, "colour match the date wheel"! I'd also have placed it at the 6 o'clock position. No news there, I'm always banging on about date wheels. More bizarrely though, who thought it was a good idea placing the number 9 on its side? It was the first thing I noticed about the dial when I got the watch in for review. It just looks weird to me, it would have looked so much better the right way up. Fix the number 9 and put a colour matched date at 6 and it'd be perfect!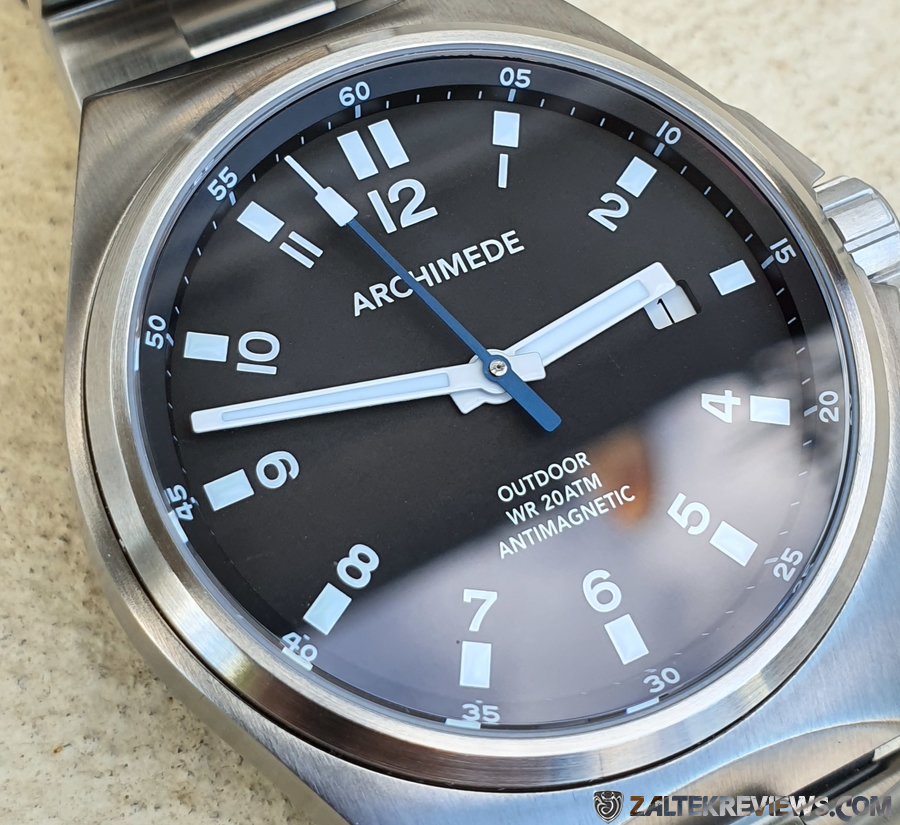 As you can see in the images, the hour and minute hands are in my opinion, aesthetically spot on! Although they are relatively slim, they are still full of lume! The seconds hand is great too, where Archimede go the extra mile and thermally blued the hand with a nice little chunky lumed end. The text on the dial is simple but very legible and printed very neatly.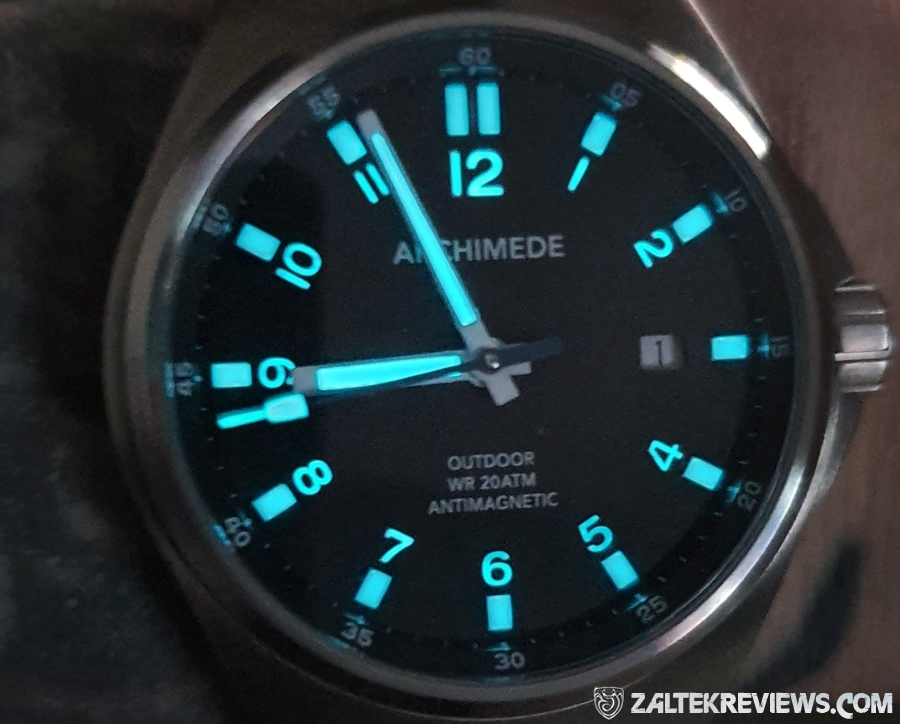 As you can guess, I really like the Archimede Outdoor 41 and I was really tempted to give it a 10 out of 10 and I probably would have if those small niggles on the dial were corrected to suit my tastes. I understand that no watch is perfect, but god damn, the Outdoor 41 is so, so close to being "the one watch" for me.
The Outdoor 41 really is a fantastic watch and I would love to own one. Would I buy one? No, probably not. It's a little too expensive for what it is, hence why I don't think the value is great. Maybe Archimede could sell me this slightly scratched up press loaner? Either that, or hopefully they don't ask for it back immediately so I can wear it for a little bit longer.
Archimede Watches – What can I say… An outstanding watch with excellent build quality. Fantastic job!
9/10 - HIGHLY RECOMMENDED
A huge thanks to Lisa at Ickler for sending out the Archimede Outdoor 41 so quickly for review.
To view the Archimede website, or join their mailing list to be informed of new models etc, visit
Archimede Watches
.
Follow Zaltek Reviews on
Instagram
and join our Facebook group
WatchChat
, a busy community for watch enthusiasts and collectors with tons of images and in-depth discussions.
At Zaltek Reviews, we encourage the companies whose watches we've reviewed to comment on our articles.
We invite any company representatives to respond in the public comments section below. Thanks very much.