Manufacturer:

Borealis

| Price: $450 USD (£319 GBP)
I've been wanting to get my hands on a white Borealis Adraga ever since the v1 was released. I tried to purchase one from Borealis directly back in the day, but I was just too late, as all the pre-order slots were taken. So, after patiently waiting and checking various groups and forums, I finally found one on eBay a few months later, but when it arrived I was gutted, as it was a totally shite example that had more scratches and dings on it than a fuckin' 1985 Ford Escort. From that moment on, I thought fuck it, I'll just wait, bide my time and see if I get lucky and find a new one from somewhere else. Weeks and months dragged on… Nothing! As you're probably aware, I currently work with a lot of microbrands, but it was only until recently that I finally started working with Borealis, reviewing their entry level Neptuno dive watch just a few months ago. So when it was announced that the Adraga v2 was coming soon, I immediately got in contact with Carlos, the owner of Borealis and pretty much begged and pleaded for a white Adraga v2 to be sent out for review. Carlos however, couldn't make any promises as to which exact colourway would be sent out, which I knew from a reviewers perspective, was more than fair. It was just a few weeks later though, I received a package and noticed on the label that it was from Portugal. "That's got to be from Borealis" I thought. Imagine my excitement when I opened it and saw that Carlos had managed to send me the white dial with commando hands. Fuckin' SWEET! Anyway, without sounding like a love struck fan boy, let's crack on with the review…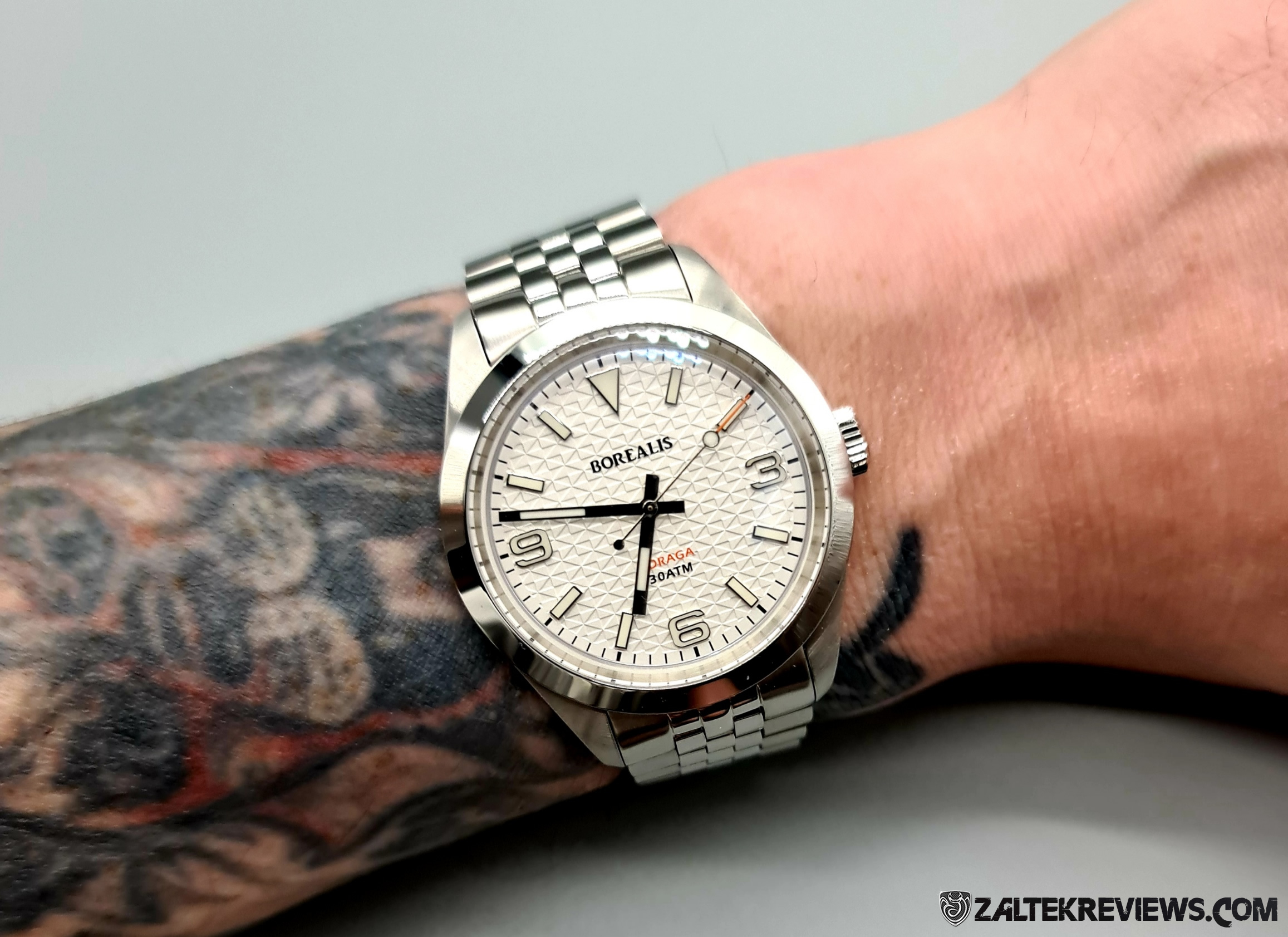 Full Specification
Dimensions: Case – 39.6mm, Thickness – 11.2mm, Lug to Lug – 46.9mm, Lug Width – 20mm
Movement: Miyota 90S5, 28,800vph, Hackable, Self Winding, 42hr Power Reserve
Case: Brushed & Polished 316L Stainless Steel
Bezel: Fixed, Polished 316L Stainless Steel
Dial: Applied Markers/Arabics, Flag Pattern, Commando Hands
Lume: Swiss Tritec Super-LumiNova® BGW9
Bracelet: Jubilee, Brushed & Polished 316L Stainless Steel, Solid Links, Screw Pins, Milled Clasp
Crystal: Double Domed Sapphire, Inner Anti-Reflective Coatings
Water Resistance: 300m / 30 ATM / 990ft

Caseback: Screw Down, Engraved Mermaid
Crown: 6.5mm, Screw Down, Signed

Weight: 144g (Sized up for my 6¾″ wrist)
Where to Buy: Borealis (50% Deposit Pre-order)
Warranty: 1 Year International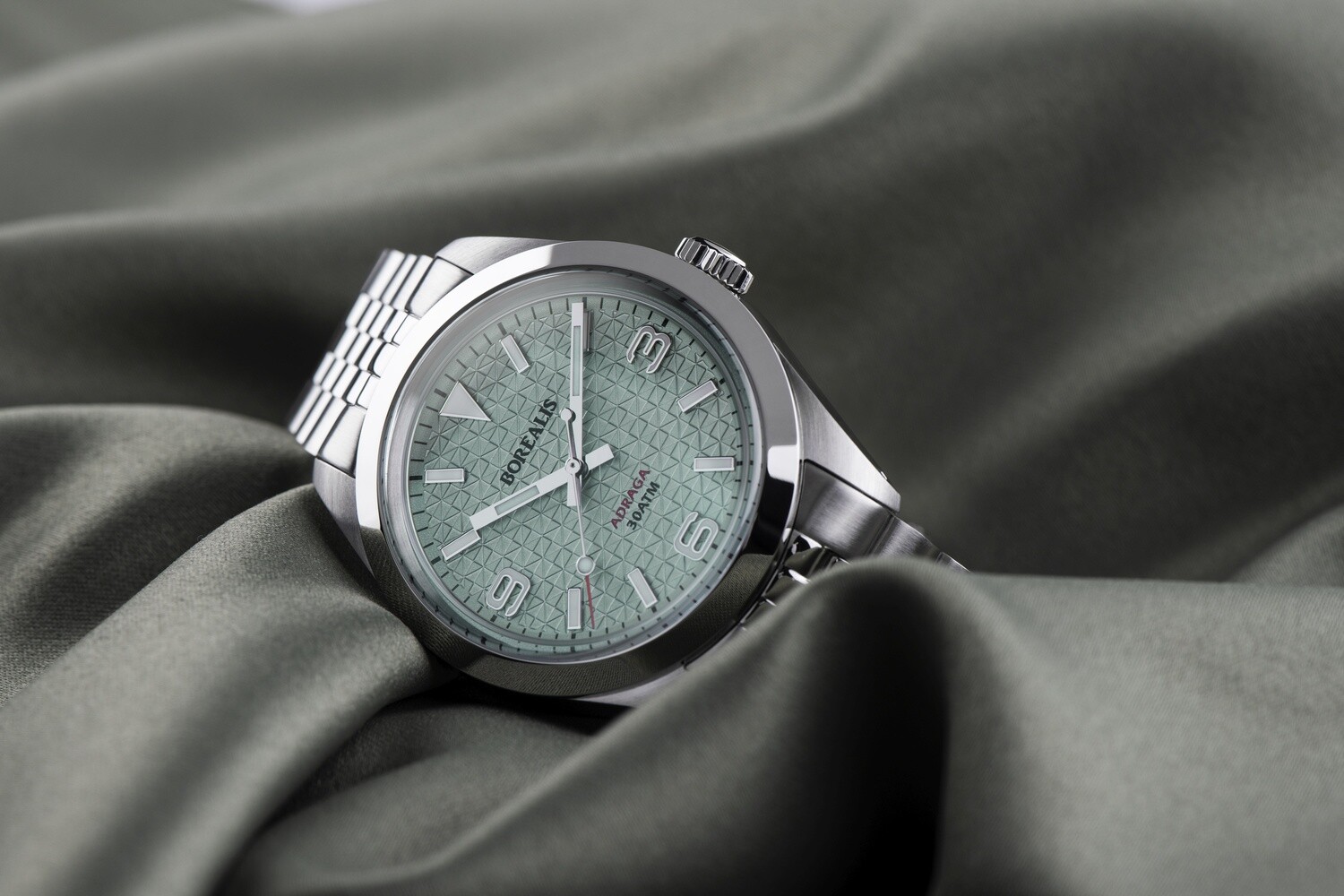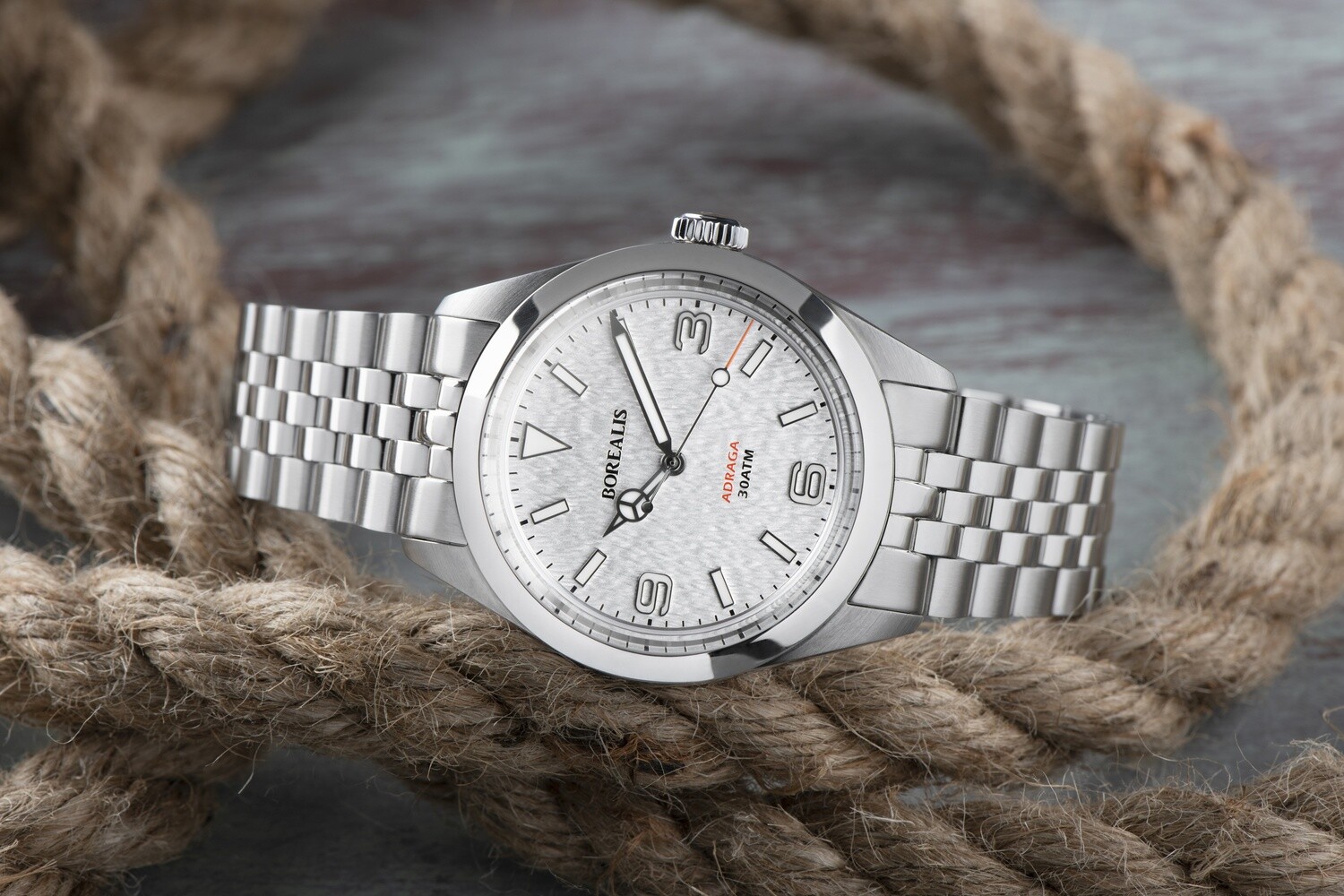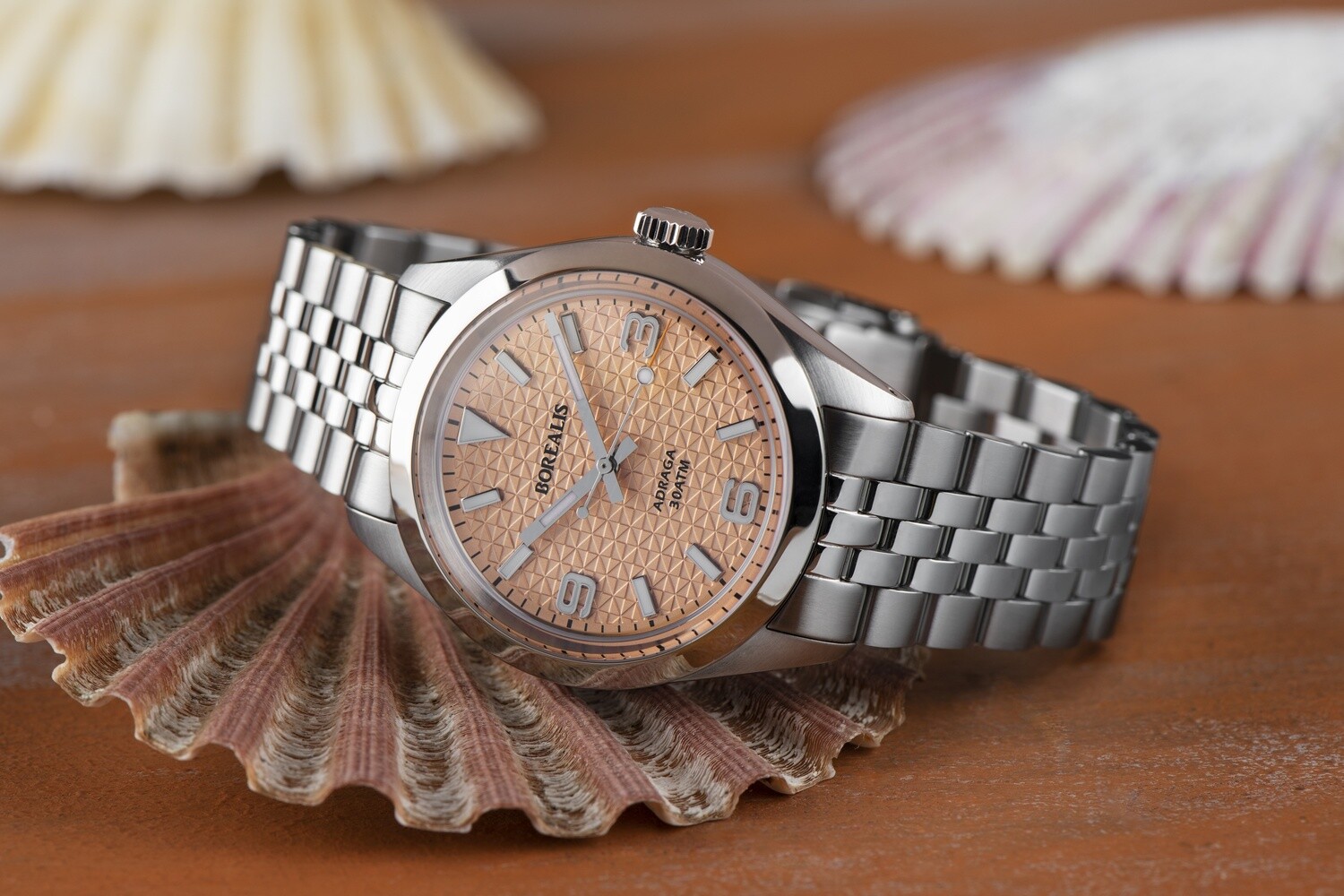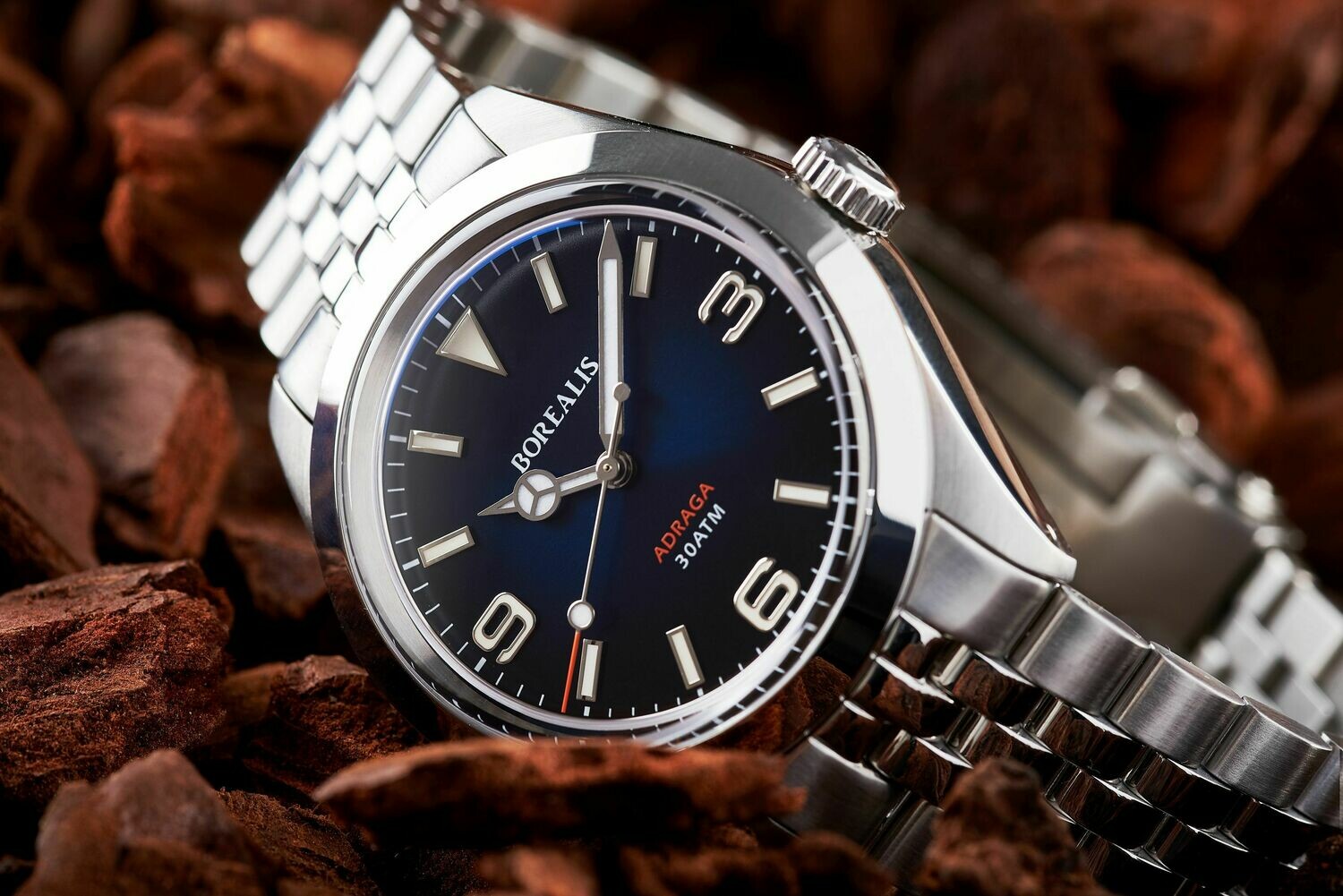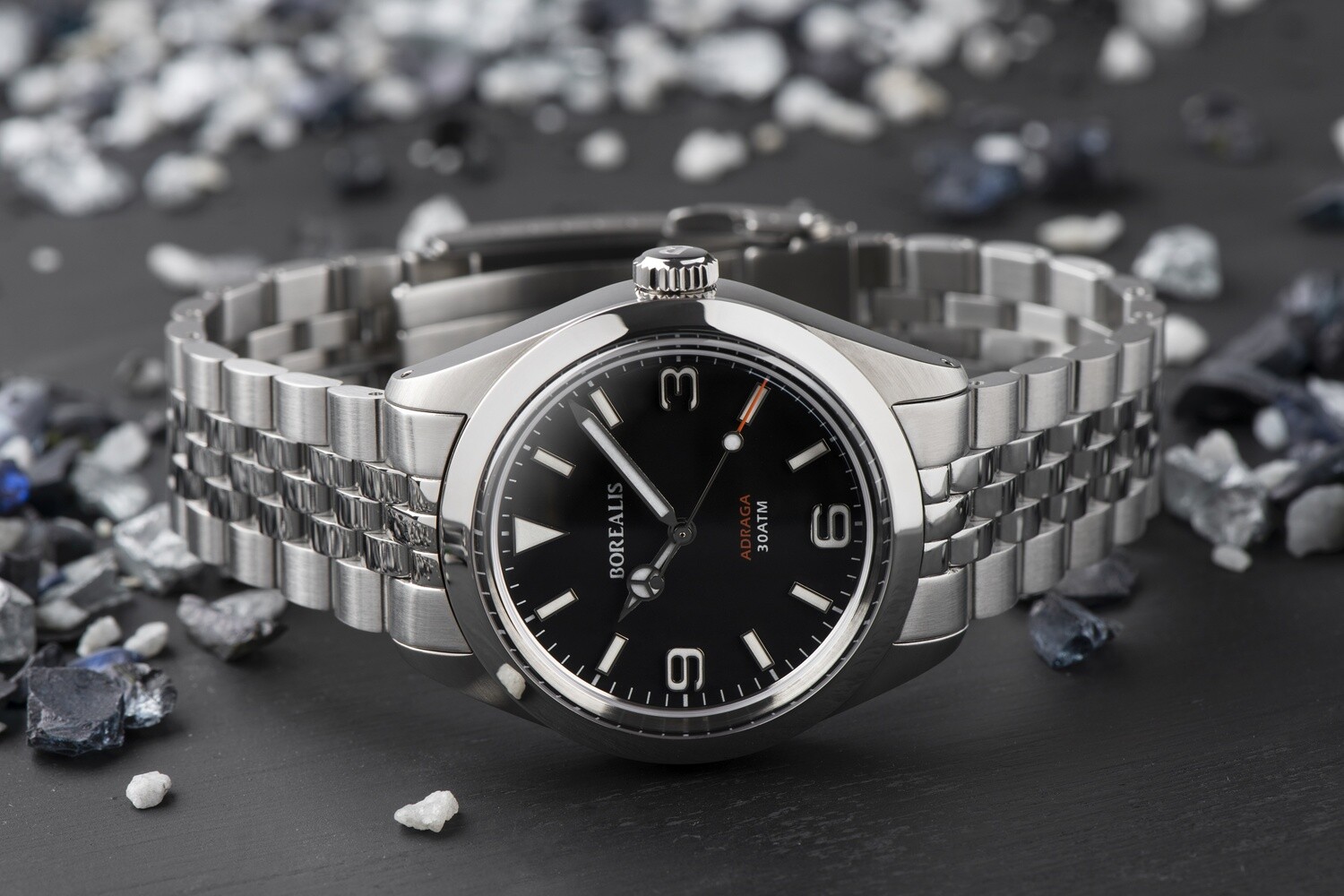 "Here at Borealis Watch Company we are dedicated to the production of professional, reliable, affordable watches. To achieve this goal, we only use the best components available from manufacturers in Asia and Switzerland, using only high grade products during the manufacture process. All of our watches come with a 1 year limited warranty. Our watch cases are made from either 316L surgical grade stainless steel, titanium, CuSn8 bronze or aluminum bronze. As part of our philosophy, watches manufactured by us are made with reliable mechanical movements, clean and easy to read dials and made with the highest grade quality materials. Our watches are fairly priced and affordable to the majority of watch collectors. We achieve this not by cutting in quality, but by sourcing only from manufacturers able to provide the best quality for the price. Our watches are powered by reliable mechanical movements from Swiss manufacturers, namely Swiss STP or Asian manufacturers, namely Miyota, Seiko Time Module, Seagull, Shanghai and Hangzhou. Before any watch is shipped, we test it thoroughly for 48 hours, to ensure that it is up to our very high standards."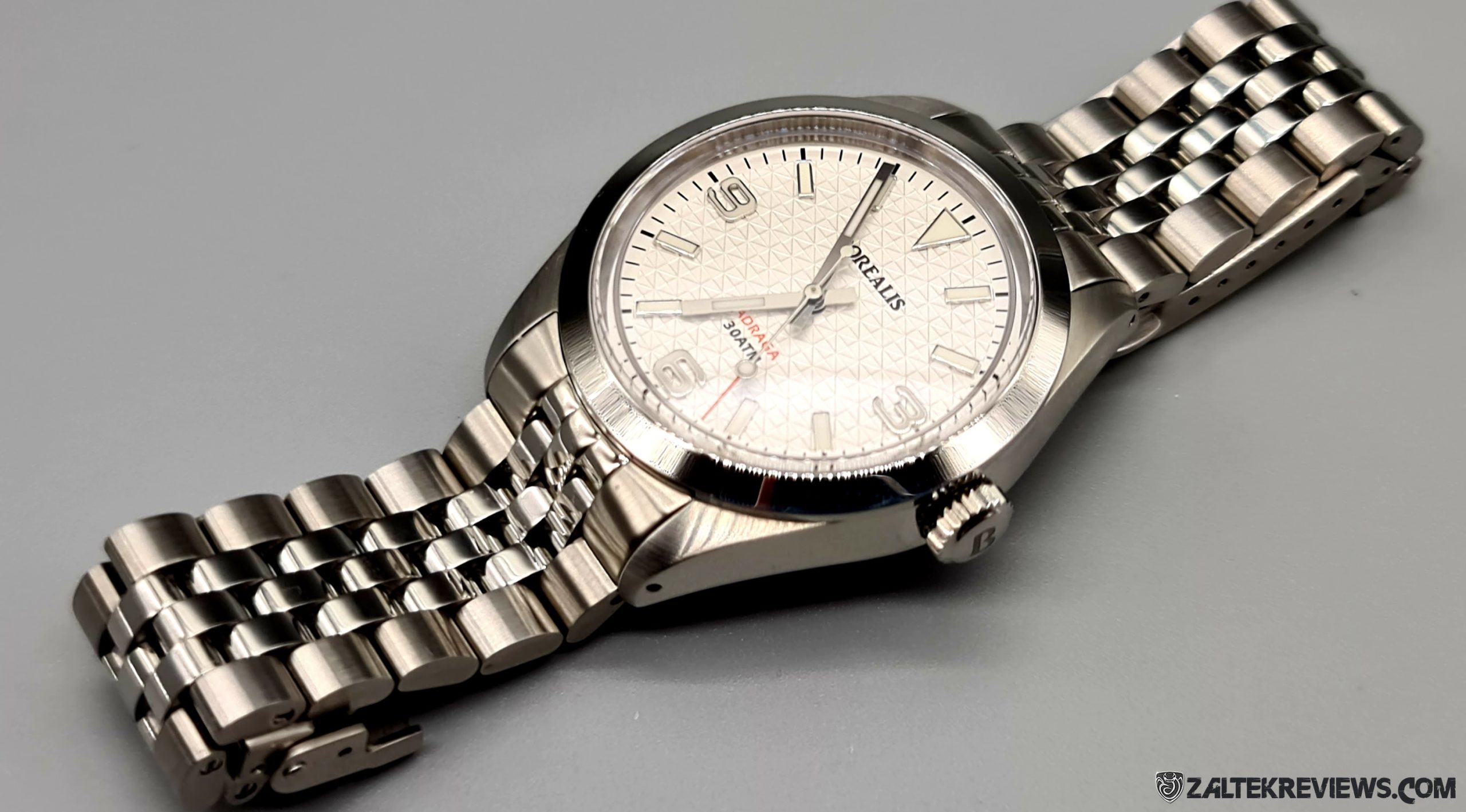 The case of the Borealis Adraga v2 has a diameter of 39.6mm. The lug to lug is 46.9mm and the overall thickness I measured in at a rather svelte 11.2mm. The case, caseback, bezel, crown and bracelet are all 316L stainless steel. The finish of the case is mostly brushed, with the addition of polished sides. Overall, it looks utterly gorgeous and I can only describe the overall build quality as superb! No matter how hard I tried, the pictures I've took really don't do this Adraga v2 any justice. The Adraga v2 has a total water resistance rating of 300m, thanks to the excellent build quality and addition of a screw down caseback & crown.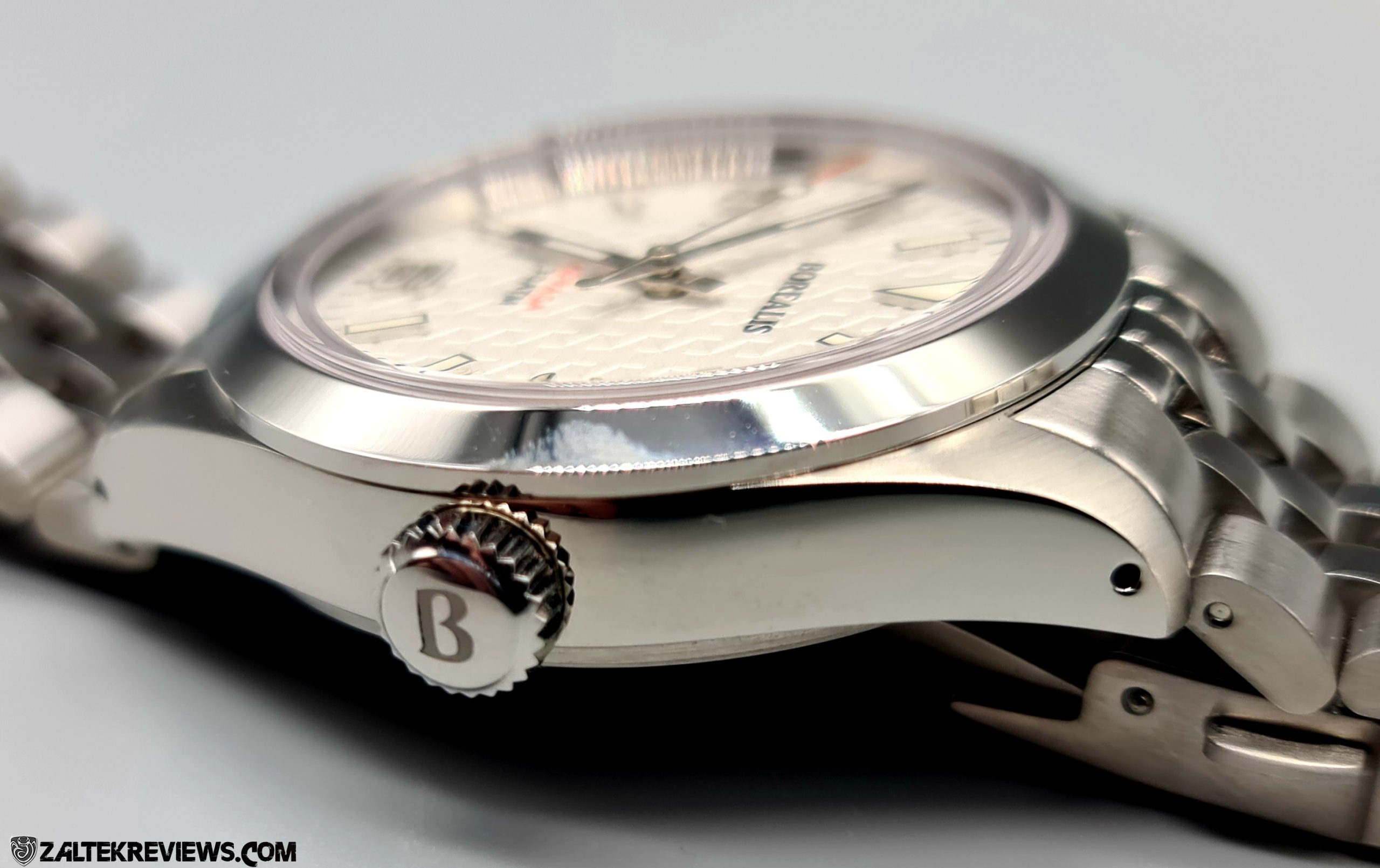 Some might say that 300m is a bit overkill for this field/sports watch? Maybe it is, but either way I'm not complaining, if anything, it shows just how well built this thing actually is. The proportions of the Adraga v2, in my opinion are absolute perfection as it wears so well on wrist and is very comfortable. The signed crown is perfectly sized at 6.5mm, it looks fantastic and is simple to operate. There's absolutely zero wobble when the crown is in use and you can also feel a nice wee pop as you unscrew it. The caseback could be described as a little sterile in comparison to some other watches, but again, it does it's job, which is by far the most important thing. There is the inclusion of an etched mermaid there though, with the obligatory basic spec sheet etched around the edge.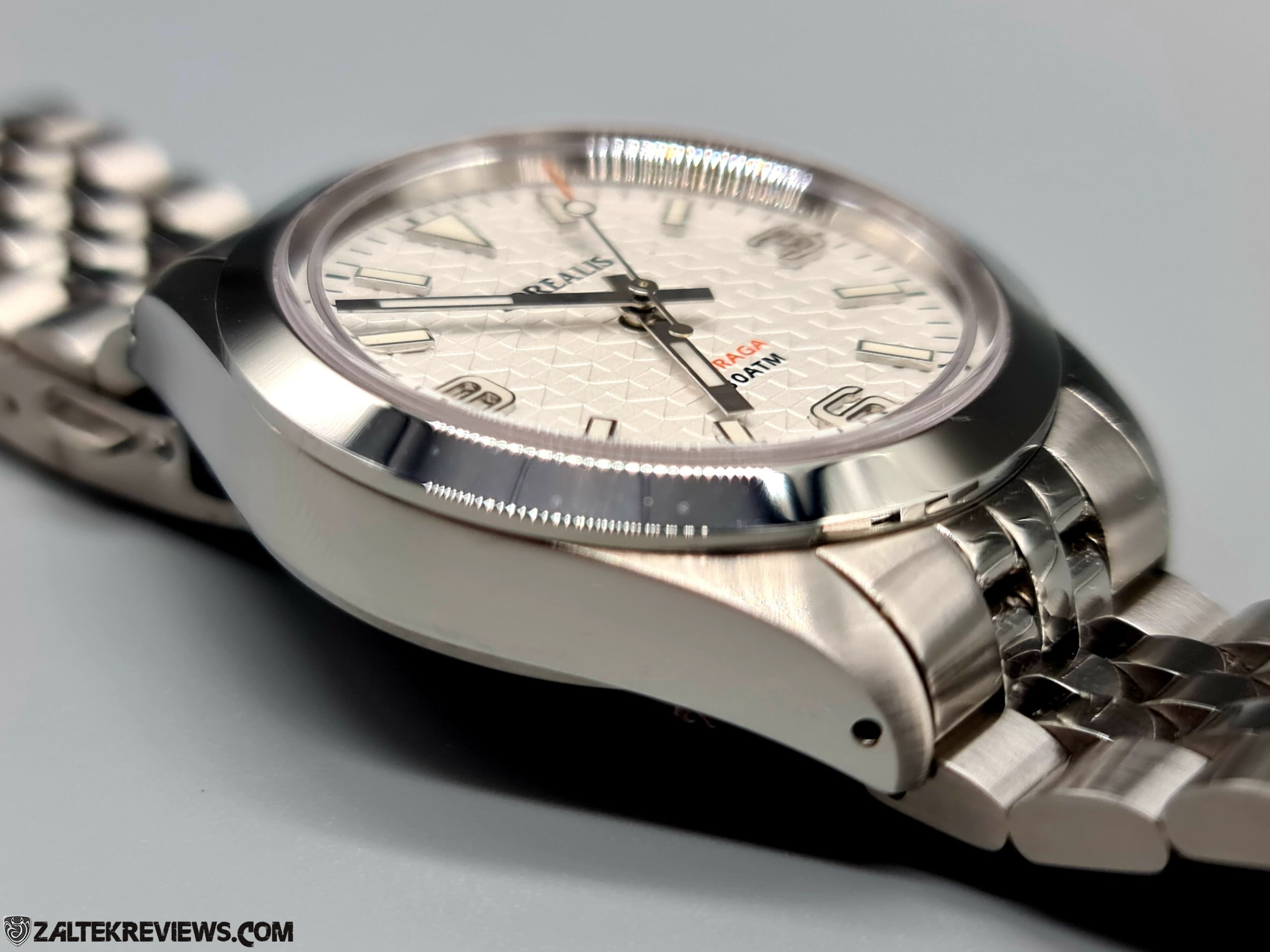 Straight out of the box, you can either have a fantastic bracelet or this fabulous bracelet. Obviously, it's not a bad thing, as this bracelet is gorgeous and way better than your usual shizzle from other microbrands. There are female end-links, which always get a thumbs up from me, the screw pins are of excellent quality, and each and every link fully articulates, giving optimum comfort when on wrist. Finishing wise, it's brushed with just the centre links being polished. It is just gorgeous and matches the case perfectly. The tolerances are excellent too and the fitment of the bracelet between the lugs is great, with no movement whatsoever.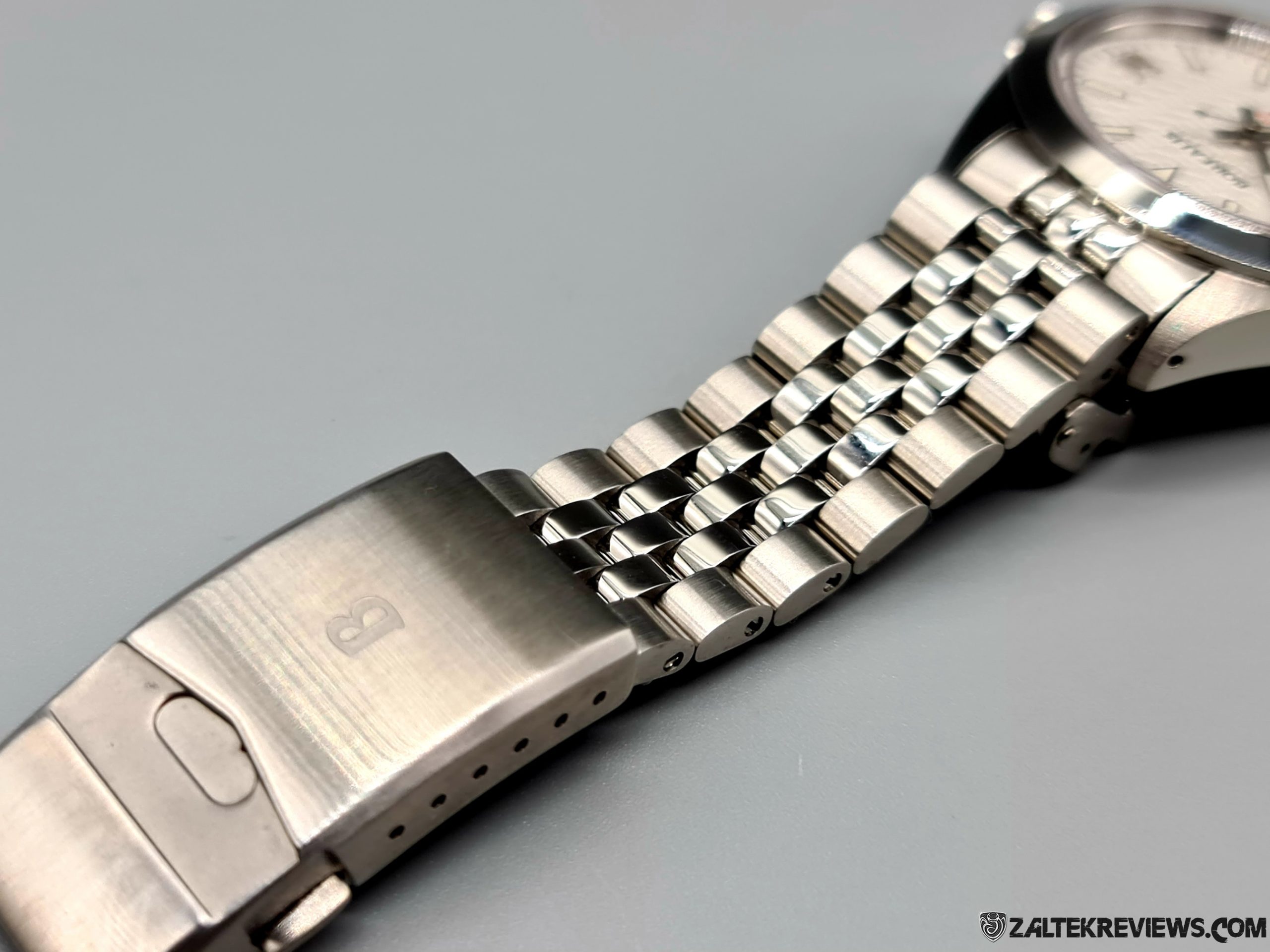 This is certainly one of the nicest and most comfortable bracelets I've experienced from any microbrand. I really can't find any negatives with it, as it just ticks all the boxes. The clasp too, is the 'clasp' of choice, before heading into a realms of a bespoke custom one. This signed clasp is also fully milled, with chamfered edges and a total of six micro-adjustment holes. Oh aye… the measurements are 20mm, tapering down to 17.5mm and back up to 20mm at the clasp.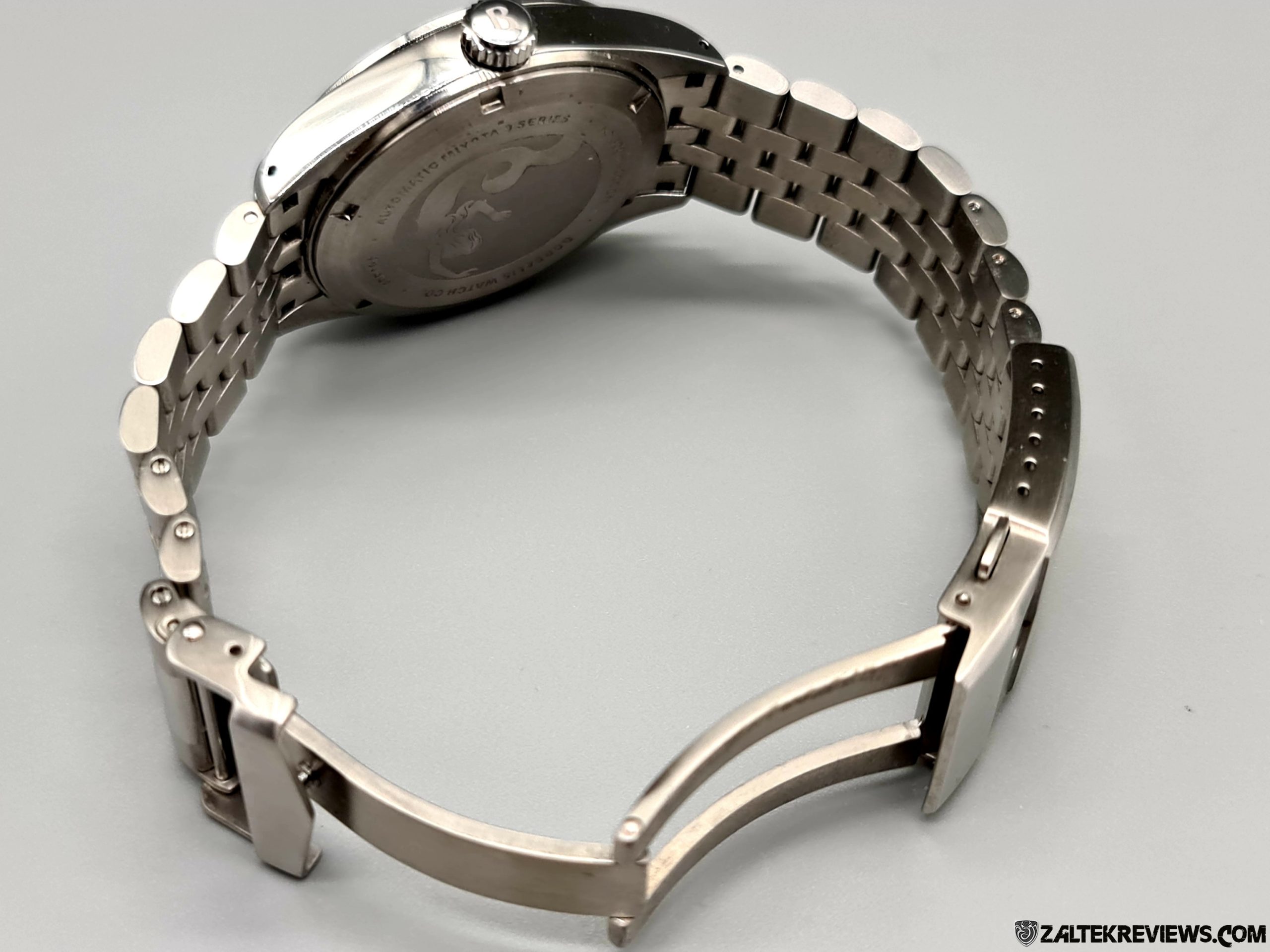 The chosen movement for the Borealis Adraga v2 is the high beat, smooth sweep Miyota 90S5. This slim Japanese movement is self-winding, has 24 jewels and the oscillating weight spins up giving you, up to a very healthy 42 hour power reserve. The balance runs at 28,800vph (4Hz) and the movement is also hackable. Checking the accuracy on the timegrapher after running the Borealis Adraga v2 for around two weeks, I was extremely impressed with the final results. The Adraga v2 came in at an average of just +2 second per day, with a very minimal beat error. Lovely jubbly, I'll happily take that, any day of the week!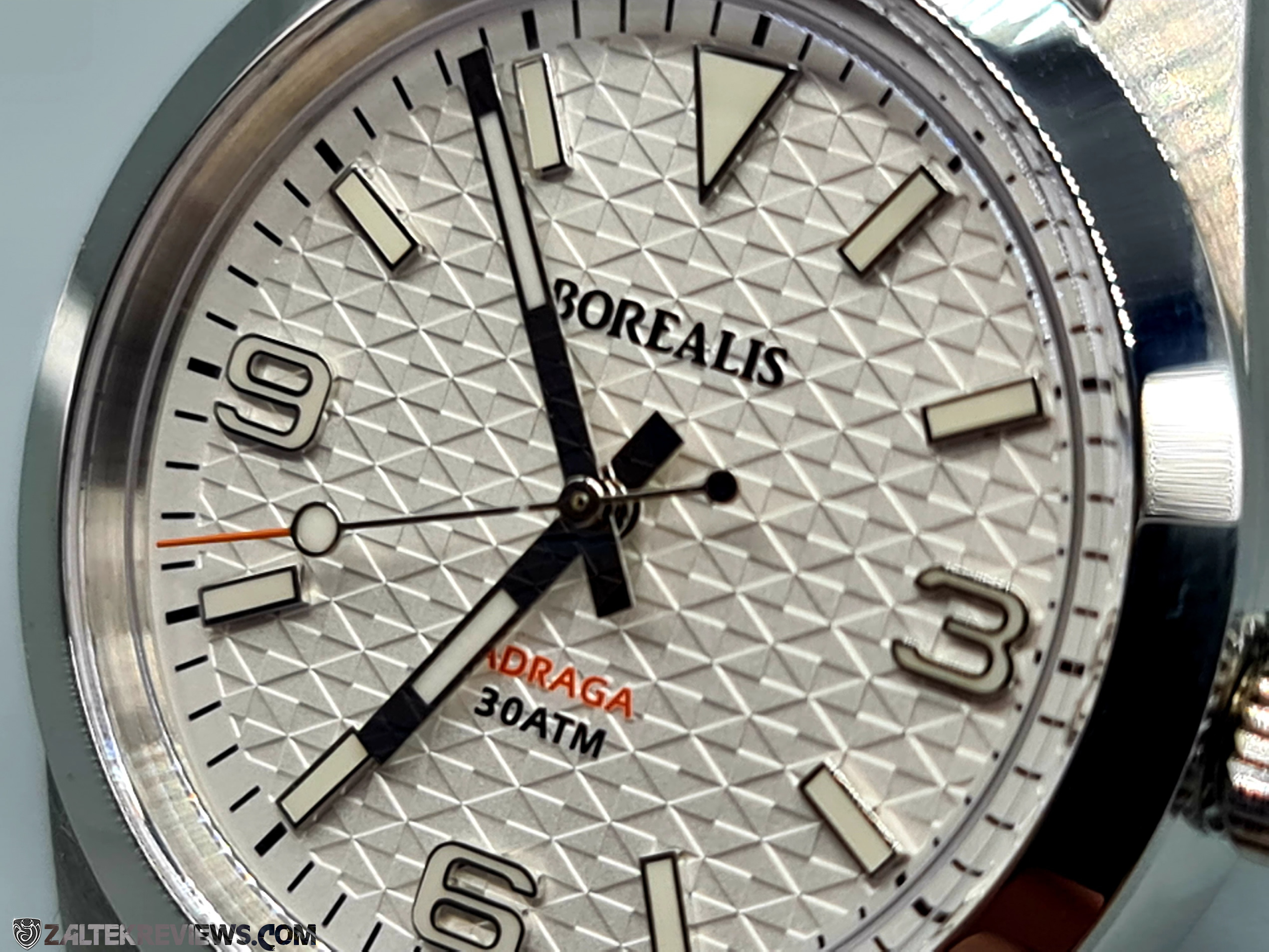 The Borealis Adraga v2 obviously has a completely fixed bezel and it is of superb quality and certainly looks the part with its fully polished finish, that matches the overall aesthetics of the case perfectly, without even coming across as too blingy. The printed text on this gorgeous dial is just the word ADRAGA, finished in a nicely contrasting shade of orange, with the depth rating of 30ATM just below, The Borealis logo is at the usual spot of just under the marker at 12 o'clock. The hour markers are all applied with a triangle at the 12 and arabics at 3, 6 & 9 o'clock positions. This white model also has what appears to be in most lights, a slightly dark chrome surround on each and every arabic and hour marker. A very sensible and legible option for this glorious crisp white dial.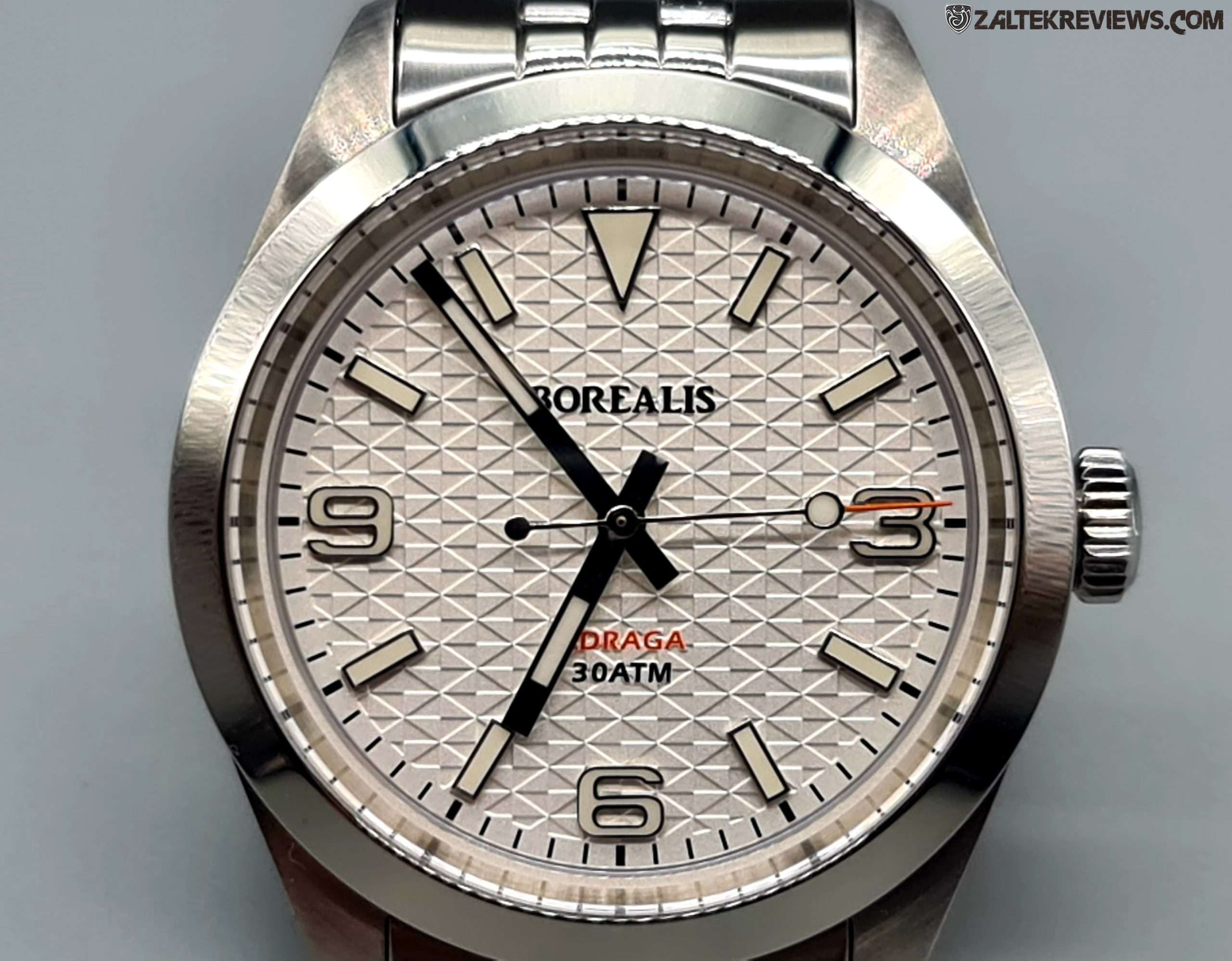 Next up, the hour and minute hands… they are both very nicely finished in the same aforementioned slightly dark chrome, with their commando handset design. If you're not a fan of these, then you have the option of the popular Mercedes hands (I'm not a fan of those myself). The seconds hand is also lovely, with it's small circular counter-balance and lollipop lumed section further up the hand, as well as the tip that's finished in orange and reaches right out to the very legible printed black minute track. The star of the show has to be that dial though… finished in crisp white, with a gorgeous flag pattern design. It looks absolutely stunning!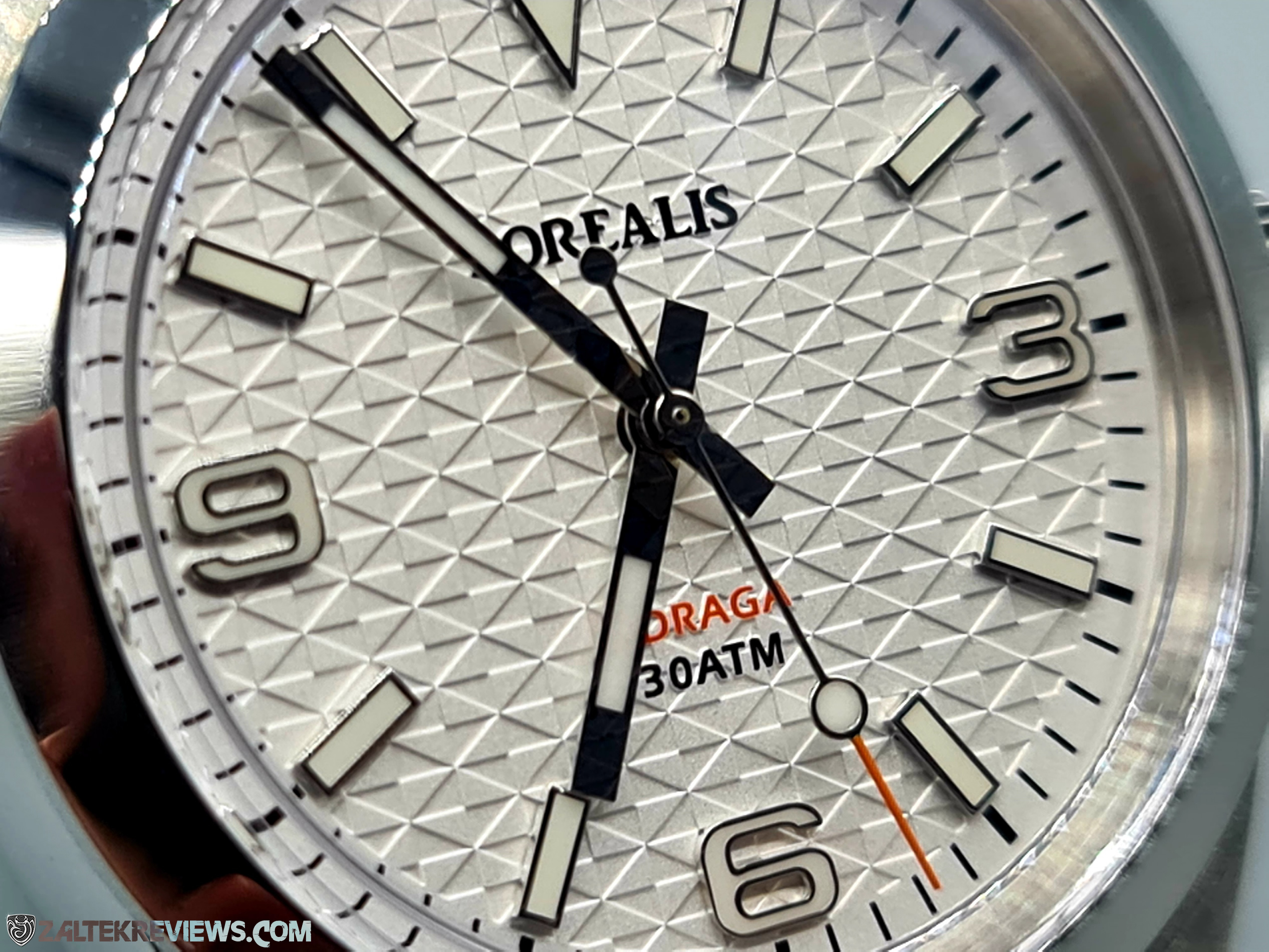 The lume on the Borealis Adraga v2 is actually executed very nicely indeed, even on this pre-production prototype. Initially, it is rather bright and even although it does fade over time, it's still legible many hours into the night. The actual formula that's been used on the Adraga v2 is Swiss Tritec Super-LumiNova® BGW9.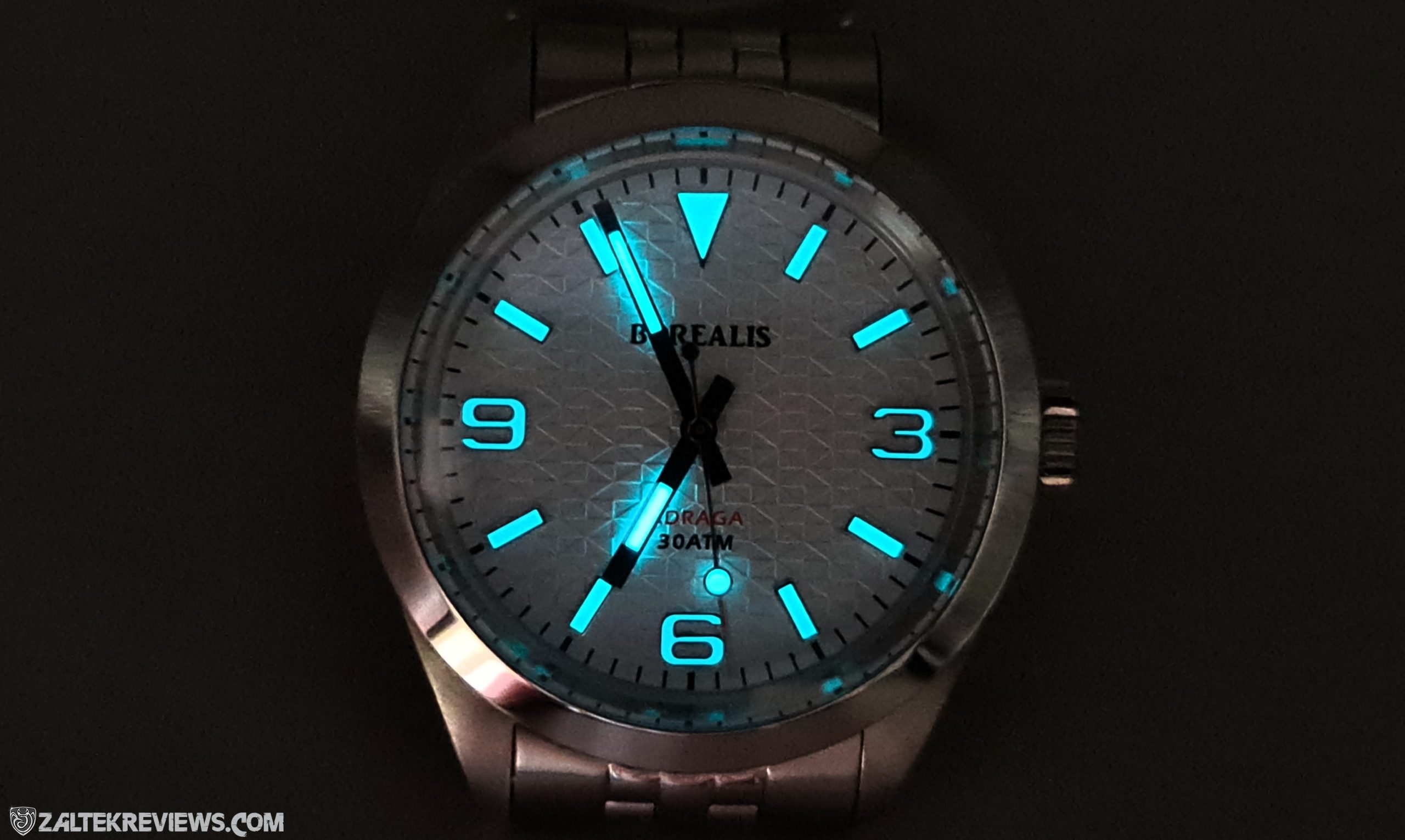 So, if you read my introduction, you might be wondering if this watch has been worth my long, long wait? The Borealis Adraga certainly has been worth the long and enduring wait and I actually reckon that this v2 is way better (and sexier) than the original. Remember that what I have here is a pre-production prototype, or is it? If it is, well I don't think Carlos has much, if anything left to do, as I certainly can't find anything that needs to be rectified for production.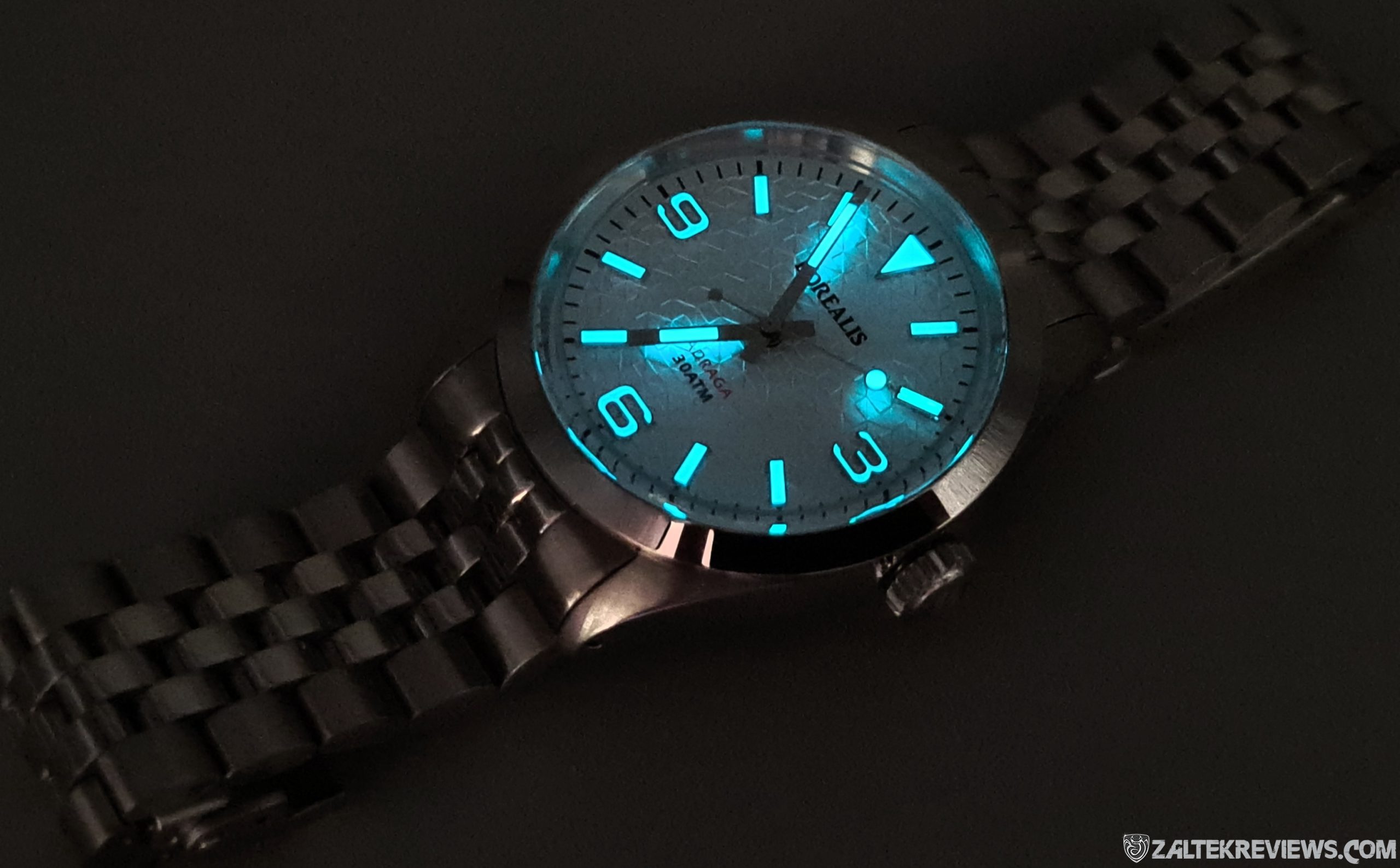 Usually when I get a prototype in for review, you can tell pretty much straight away what faults or parts that need to be improved. Not with this Adraga v2, it arrived in the usual production Borealis packaging and was still covered in its brand new, unmolested protective plastic. I can tell you one thing for sure,.. I'm going to be fuckin' devastated when I have to see this one leave. Would I change anything if I could? Well, other than a date at 6, nope, zilch! (I know,.. I say that about every bloody watch!) The Adraga v2 is certainly going on the Zaltek Reviews Elite List. Well done Carlos / Borealis. An absolutely outstanding timepiece.
A massive thank you to Carlos at Borealis, for arranging and sending out this absolutely gorgeous white dial Adraga v2 for review. Very much appreciated! To view the Borealis website, or even to join their mailing lists to be informed of new models etc, visit
borealiswatch.com
.
It takes me a fair amount of work (and time) to do these reviews. If you feel like supporting Zaltek Reviews to help towards my running costs, or even if you feel like just buying me a coffee, then please donate using the PayPal button below. Unfortunately, 97% of my readers just scroll by this section. If you feel like that I've given you maybe a few quids worth of knowledge and/or entertainment, then please take just a couple of minutes of your time to donate. Thanks.