Manufacturer: 

RZE Watches

| Price: from $359 USD (£265 GBP, €295 EUR)
As most of you should know by now, 99% of the watches that I review are microbrands. Sometimes I'll get a watch in and more than likely, it will be their very first watch and I can tell pretty much immediately, if the company will unfortunately fold at some point in the not to distant future. Some microbrands just don't put enough effort in, and I'm not just talking about the actual watches themselves. I'm talking about things like their overall professionalism, the way they present themselves as a company, the effort and even how much investment they've put into their website etc… As a reviewer and being able to see these things quite easily, it's simple to spot which brands are head & shoulders above the rest.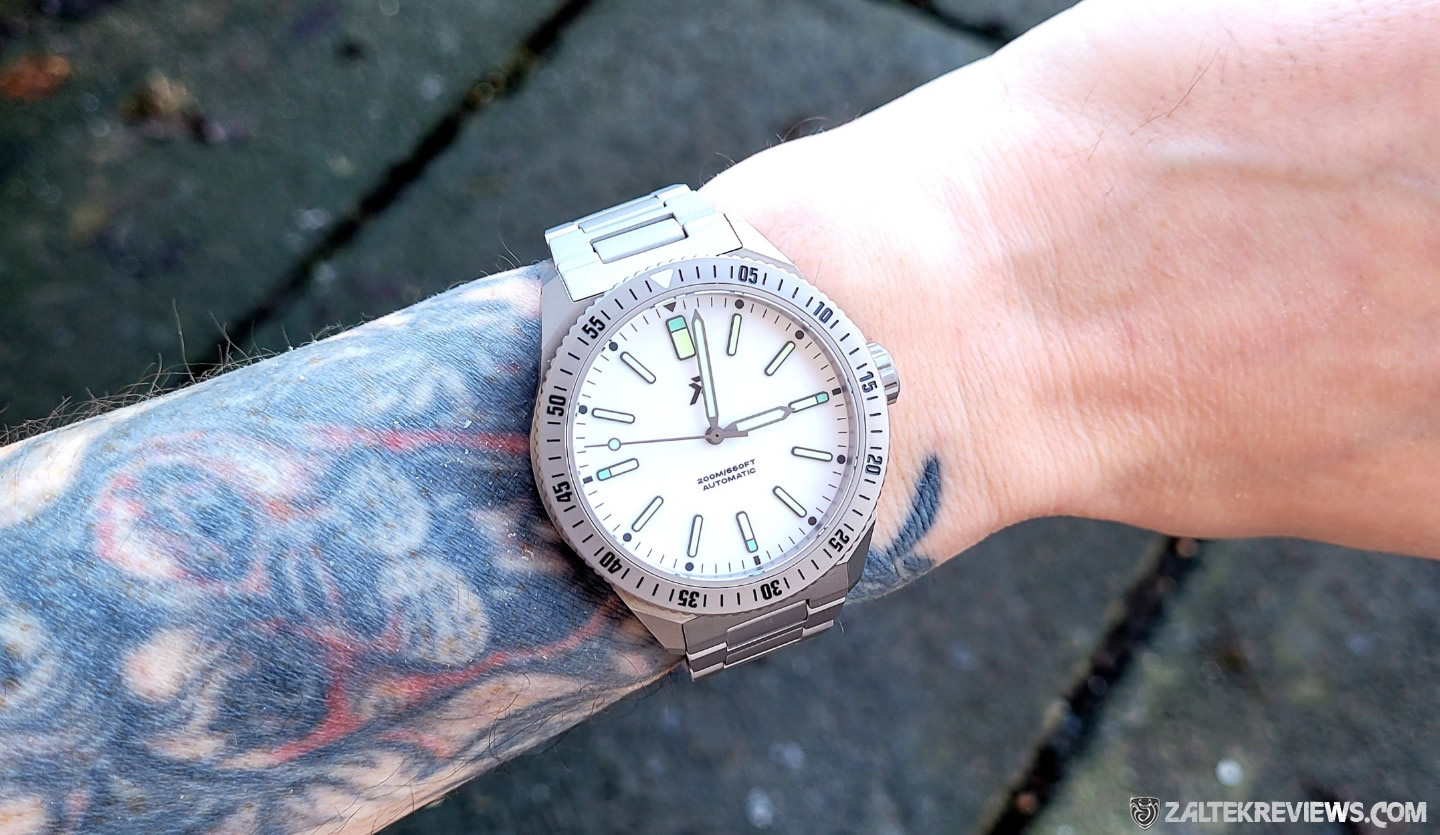 RZE Watches are definitely one of these companies, as their overall work ethic and how they run their business is beyond reproach, from their website to press releases, and that's even before I've even mentioned the quality of the prototypes that they send out. Everything from their packaging, the level of detail they put into their emails, even down to just talking in general on social media. It all adds up to a very pleasant and professional experience. I reviewed RZE's first watch, the Resolute recently, yet here we are, still in January and I'm already checking out their latest diver model.
Specifications – RZE Endeavour Ti
Dimensions: Case Diameter – 39.6mm, Thickness – 12.2mm, Lug to Lug – 46.1mm, Lug Width – 20mm
Movement: Seiko SII NH38A, 21,600vph, 3Hz, Hackable, Self Winding, 41hr Power Reserve
Case Material: Titanium Grade 2, UltraHex 1200Hv Scratch Resistant Coating
Bezel: 120 Click Unidirectional, Titanium Grade 2, Lumed Marker
Dial: Textured, Applied Indexes, No-Date
Bracelet: Titanium Grade 2, UltraHex, Solid H-Link, Screw Pins, Milled & Signed Clasp
Crystal: Flat Sapphire, Underside Anti-Reflective Coatings
Lume: Swiss Super Luminova® C3 & BGW9
Water Resistance: 200m / 20ATM / 660ft      

Caseback: Titanium, Screw Down, Viton® Gasket, Unique Serial Number
Crown: Titanium, 7mm, Screw Down, Signed  
Weight: 97g (Sized up for my 6¾″ wrist)
Where to Buy:

RZE Watches



Warranty: 2 Years International
RZE Endeavour Ti Colourways
RZE Watches - Introduction
"We believe in experimenting often. Always trying new things, always improving and always moving forward; together with our stakeholders, suppliers and customers. Our criteria for the best product rests on function, repairability, and foremost, durability. We firmly believe in repairing over replacing our products and ultimately building a product that can last for generations, or at the very least, be recycled. Making the very best matters for saving our planet.
We hinge our core to doing good by our people and our planet. We focus on building durable products to last for generations so there is no need for replacing, keeping our eyes focused on protecting our Mother Earth every step of our production process. Friendship is what keeps us together and community is what keeps us moving. We always want to cultivate a spirit of community with our customers, always remaining humble, open to feedback and/or criticism."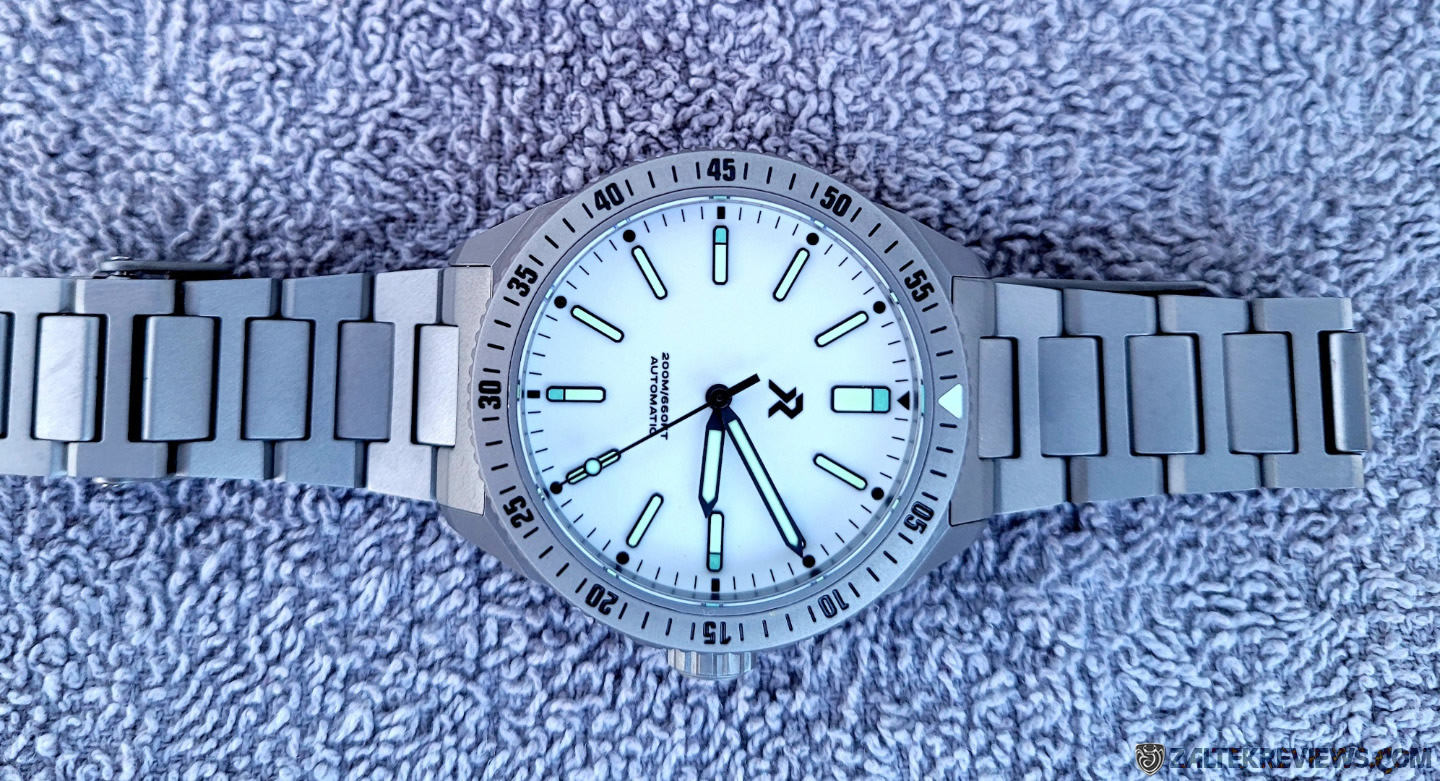 The case of the RZE Endeavour is almost identical to the Resolute, but beefed up ever so slightly for this dive watch. It has a total diameter of 39.6mm. The lug to lug is 46.1mm and the overall thickness, including the sapphire crystal, albeit flat, I measured in at just 12.2mm, just slightly thicker than the Resolute, although that's due to the increased water resistance. The entire case, caseback, bracelet, one-piece bezel and crown are all Titanium Grade 2, with RZE's very own UltraHex scratch resistant coating, applied to both the watch and bracelet, giving a total hardness of almost 1200Hv. The finishing of the watch is identical to the Resolute, done in a full sandblasted style finish. The Endeavour has a total water resistance rating of 200m, which is great, yet RZE have kept the case thickness relatively slim as I previously mentioned.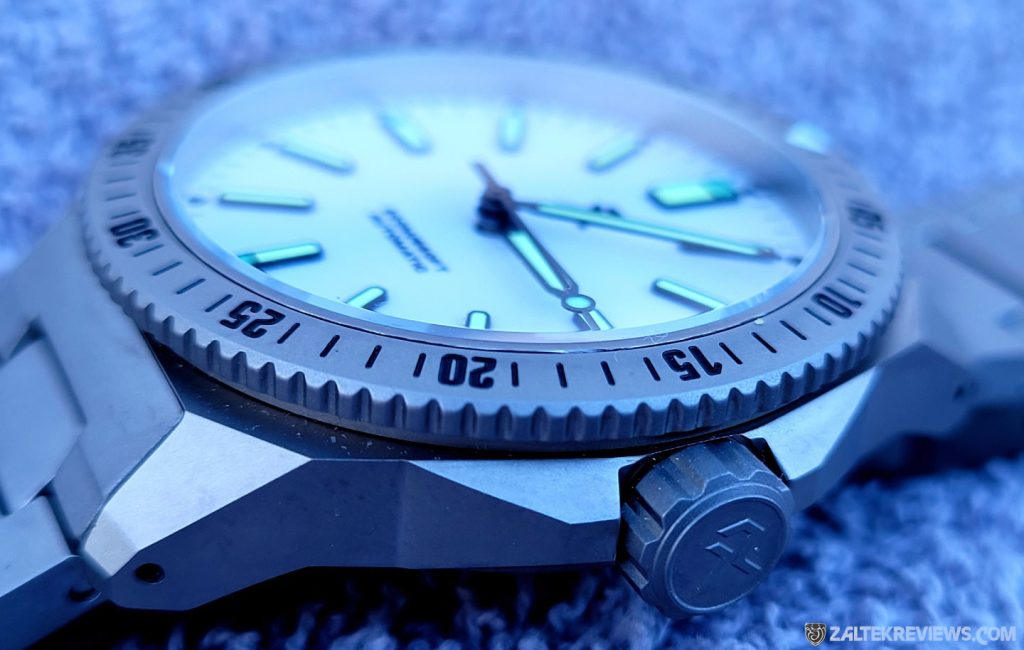 The signed crown is of great quality, giving a nice little pop when you unscrew it and there's zero wobble either when the crown is in use and the embossed logo is also very nicely executed. The caseback of the Resolute is still quite sterile in appearance, but there is the unnecessary but very welcome addition of a unique serial number. Similarly to the Resolute, keeping everything water tight at the arse end of things, is the inclusion of a Viton® gasket. Viton® gaskets have outstanding resistance to chemicals, hot water and steam, at temperatures not achievable with lesser materials. There is also high resistance to atmospheric ageing, making the Viton® gasket a superb choice where high tolerances are required.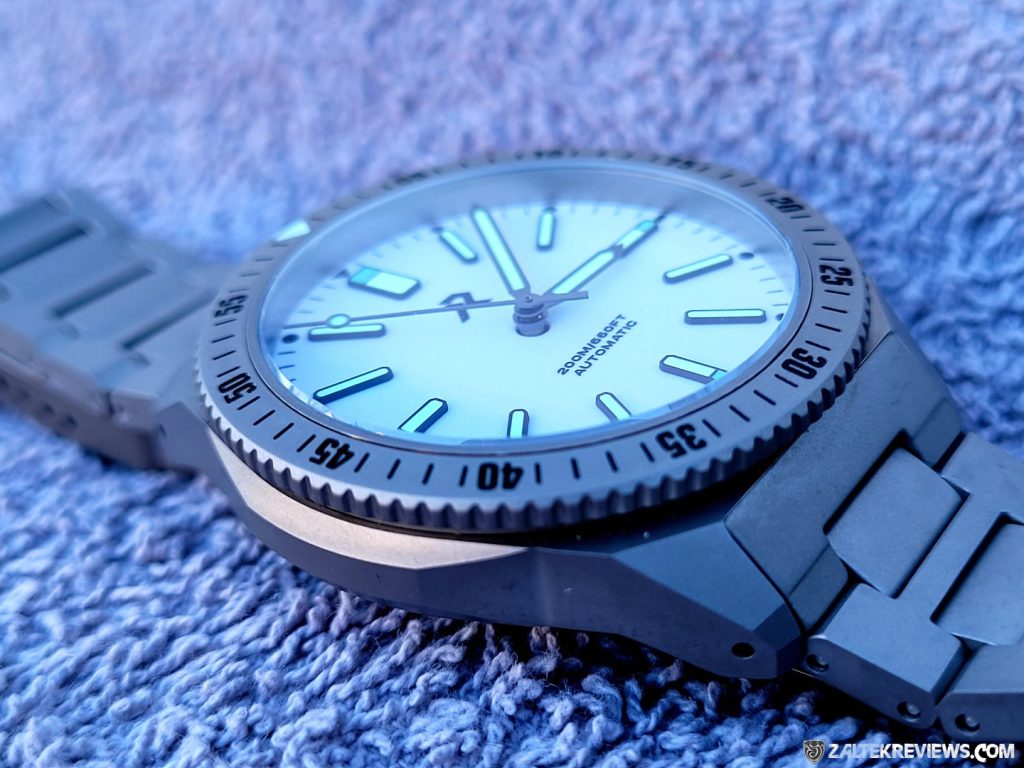 Titanium Grades Explained (well, sort of...)
Here is my 'thick bastards' version of me trying my best to explain Titanium and its relative gradings… Grades 1, 2, 3 & 4 are commercially pure (99% minimum titanium). These grades have slight variations in chemical composition, that can both affect mechanical properties and design capability. Titanium, as most of you are aware, is very lightweight compared to stainless steel and has exceptional corrosion resistance, exceeding that of the aforementioned in most scenarios.

Of the four commercially pure titanium grades that I've mentioned, Grade 2 is definitely the titanium of choice for most manufacturers in the watch industry, giving both good ductility, as well as corrosion resistance. Titanium Grade 5 is an alloyed titanium (an alpha-beta alloy) and is subsequently considered the 'best of the best'. However, it is also around twice the price of Grade 2, depending on which part of the world it is sourced and/or bought from.

The RZE Endeavour comes fitted as standard with a 20mm titanium bracelet, that I can only describe as very nice indeed. It is the same bracelet that was a $99 USD option on the Resolute, however this time round, it is totally standard and is included in the price. It does have all the bells & whistles that you might expect, solid links throughout and screw pins for sizing and adjusting etc… The clasp itself, is also nicely manufactured, even if it is of a rather simple design, it is still way better than some other microbrand clasps that I've seen. The clasp is milled and signed, with a grand total of four micro-adjustment holes. More importantly though, the entire bracelet and clasp have RZE's 1200Hv hardening treatment.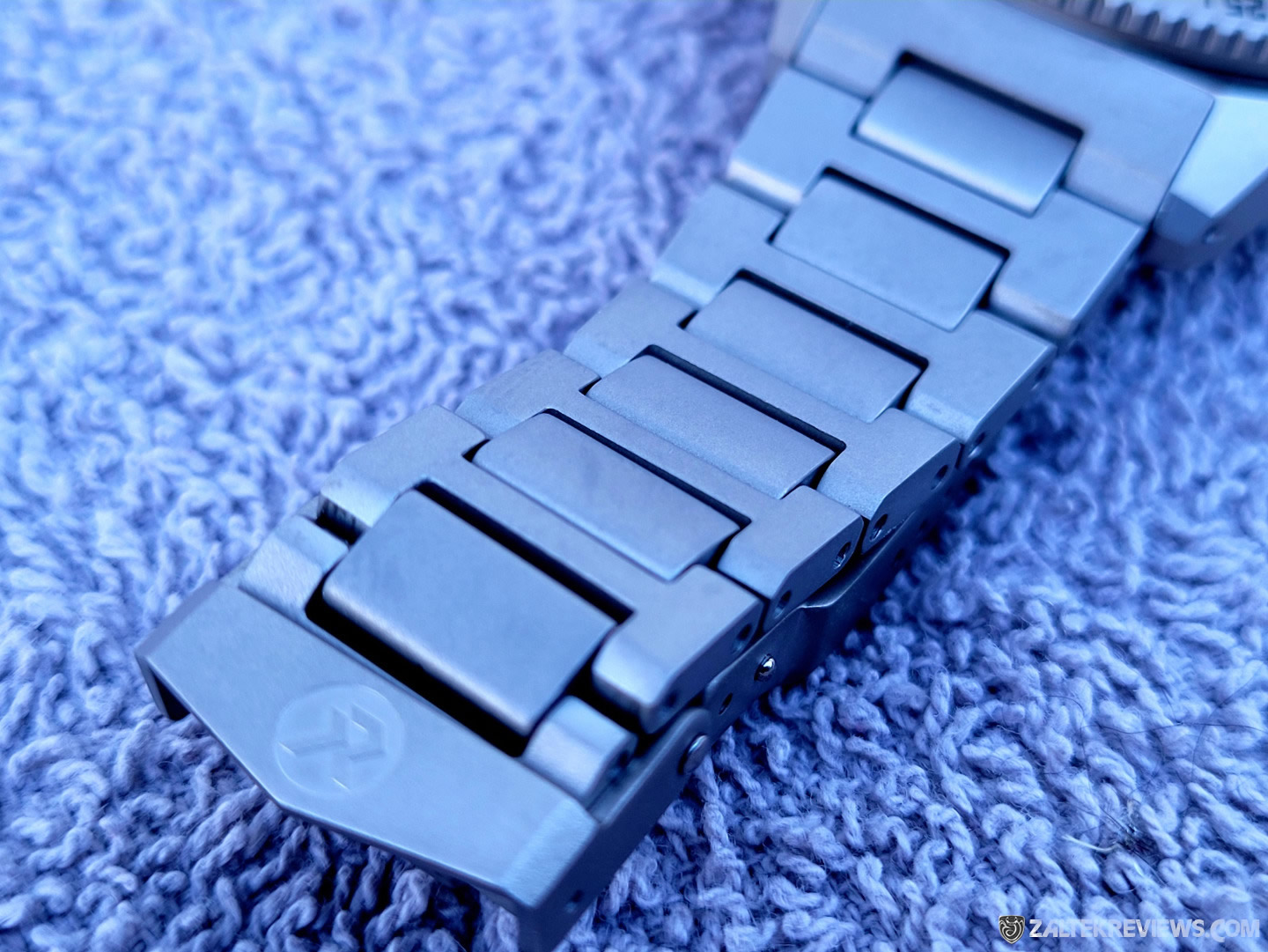 If you take a closer look at the bracelet, you'll also notice female end links, which is by far the best choice in my opinion, as it enables the bracelet to fully articulate for optimum comfort and zero (effective) extended lug to lug. Measurements of the bracelet are what I'd call pretty much bang on for this style of watch, starting at 20mm at the lugs, tapering down to 16mm at the thinnest most part, back up to roughly 17.5mm at the clasp. Lovely jubbly, zero complaints from me!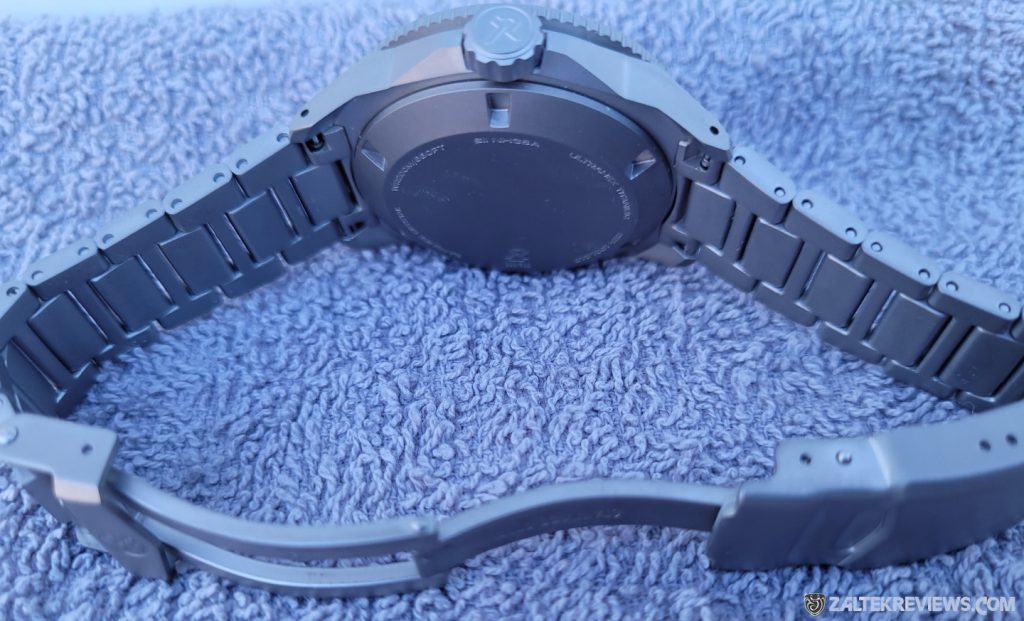 The chosen movement for the RZE Endeavour is the microbrand movement of choice, the super-reliable SII NH38, manufactured by Seiko. A fantastic workhorse that is a 21,600vph, 3Hz, 24 jewel, proper no-date movement (so there's no ghost position on the crown), with self winding and hacking, as well as the inclusion of a very respectable 41 hour power reserve. Checking the accuracy after running the Endeavour for just over a week, mainly on wrist, I thought the accuracy was superb, with it showing an average of just 1.8 spd!
Is this yet another suspected regulated watch by RZE, much like their previous model, the Resolute? I've no fuckin' idea, as there's nothing listed in their press material, regarding movements being regulated before shipping. Don't get me wrong, I'm not complaining, far from it. I only mention it as, if RZE are regulating movements, they should be promoting that fact, or maybe I'm just lucky on the movement lottery? Either way, I'm very happy with the results.
The Endeavour has a completely one piece titanium unidirectional 120 click bezel, with black minute markings all around. The bezel isn't fully lumed, however there is a lumed triangle at the twelve/zero position. The printed text on the dial is very clean & sharp, with the RZE 'R' logo at the usual spot of just below the 12 o'clock position. Above the hour marker at 6, you'll find the word AUTOMATIC, with the depth rating of 200m/660ft just above it printed in a contrasting black.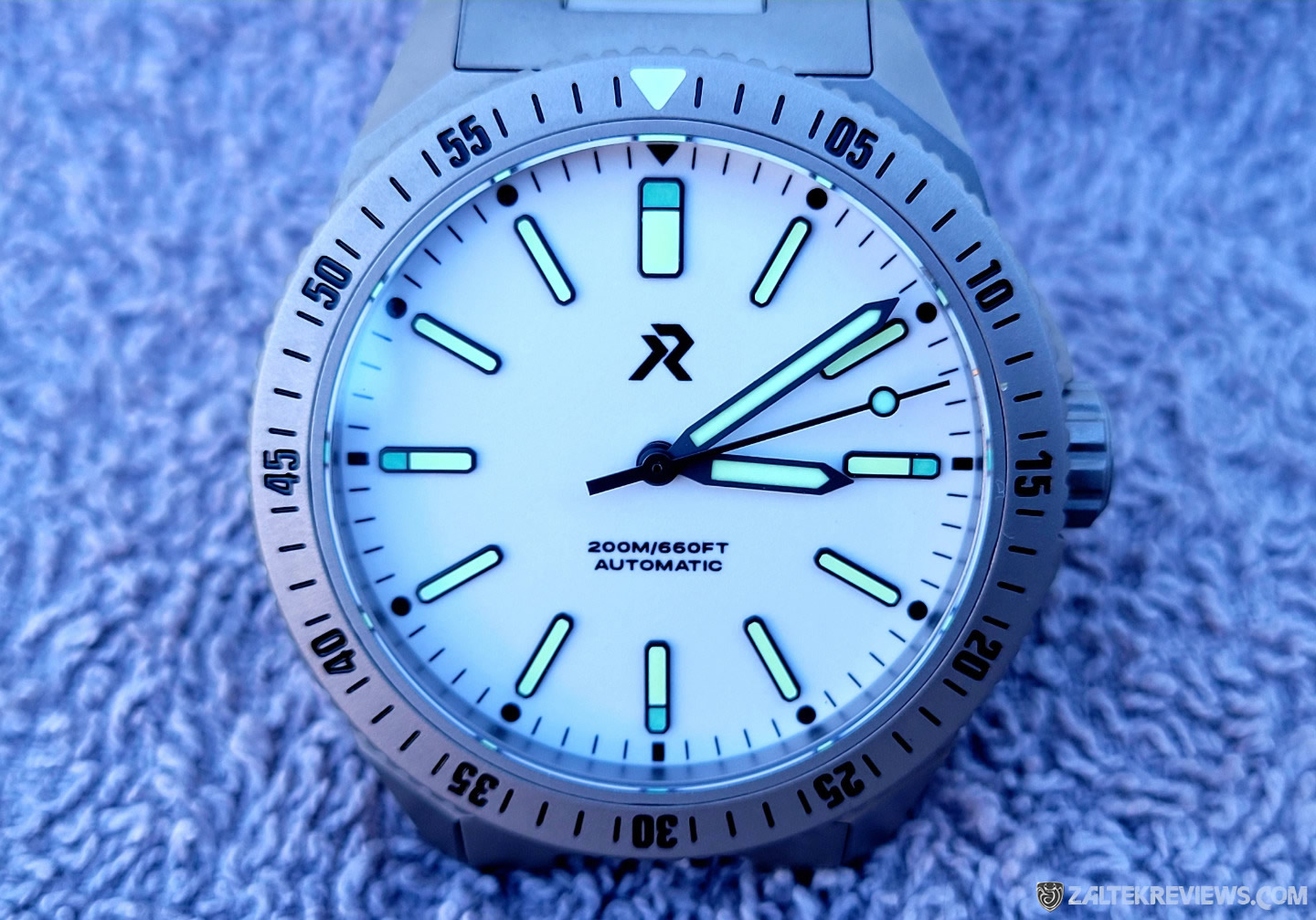 All of the hour markers are applied with a chunkier marker at 12, while the markers at 3, 6 & 9 have a split lume design that I really like and not something you see all that often. There's also a nice black contrasting minute track, with black dots at ever hour, all except for the small rectangles at 3, 6 & 9, with a more distinguishable triangle at 12. As you can see in the images, the fence post style hour and minute hands are nicely done, also finished in black and filled with lume. The lumed lollipop seconds hand is lovely too, that also matches and reaches right out to the minute track.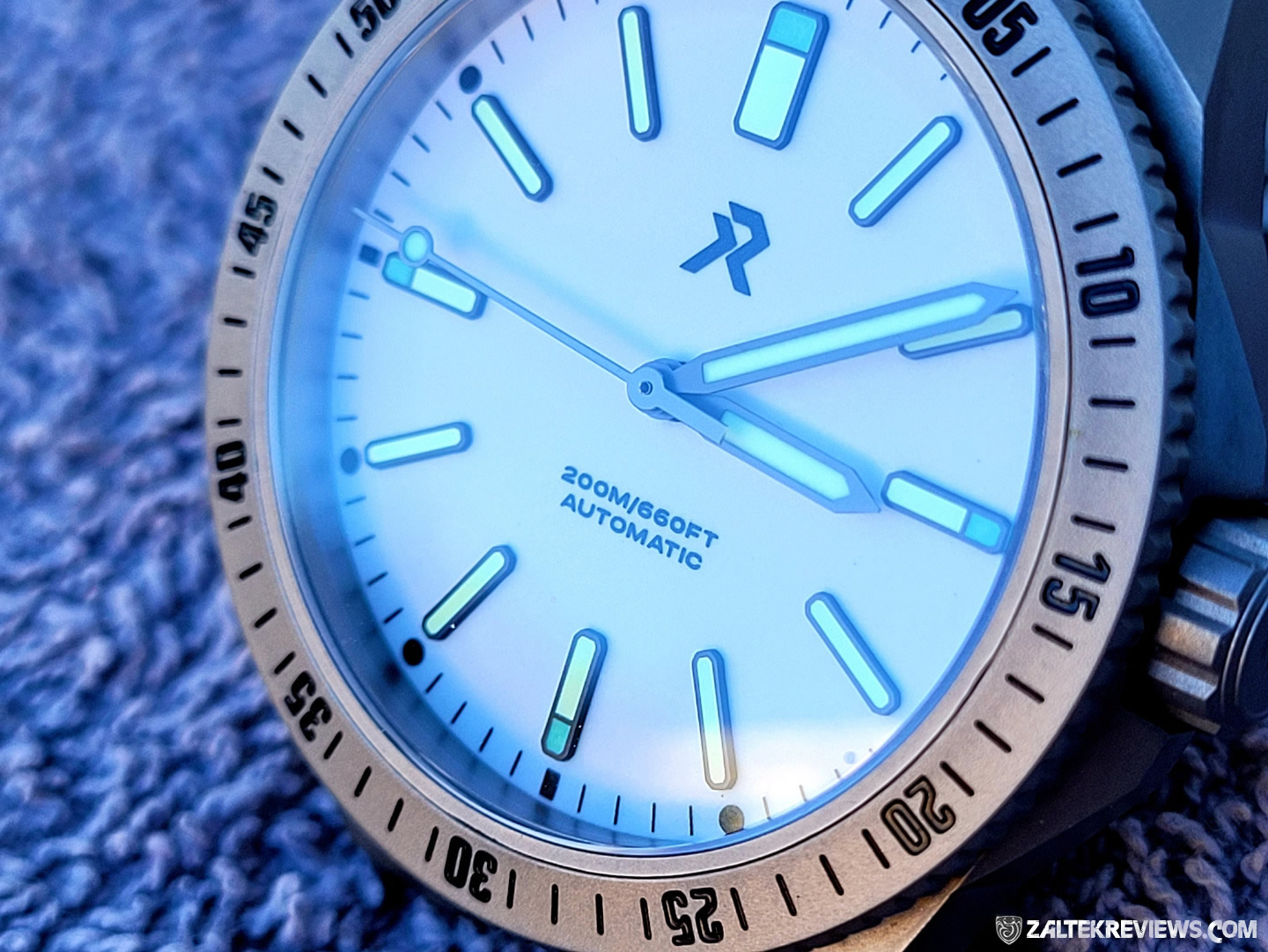 The Polaris White fully lumed dial of this RZE Endeavour is absolutely phenomenal! The lume that's been applied to this version of the Endeavour is a combination of both Swiss Super Luminova® C3 & BGW9. It's been executed with superb attention to detail and you only have to have to take a quick gander at the lume shot below, to see what I'm bumping my gums about. It's incredibly potent, yet like most lume it will fade over time, but it still lasts well into the wee small hours.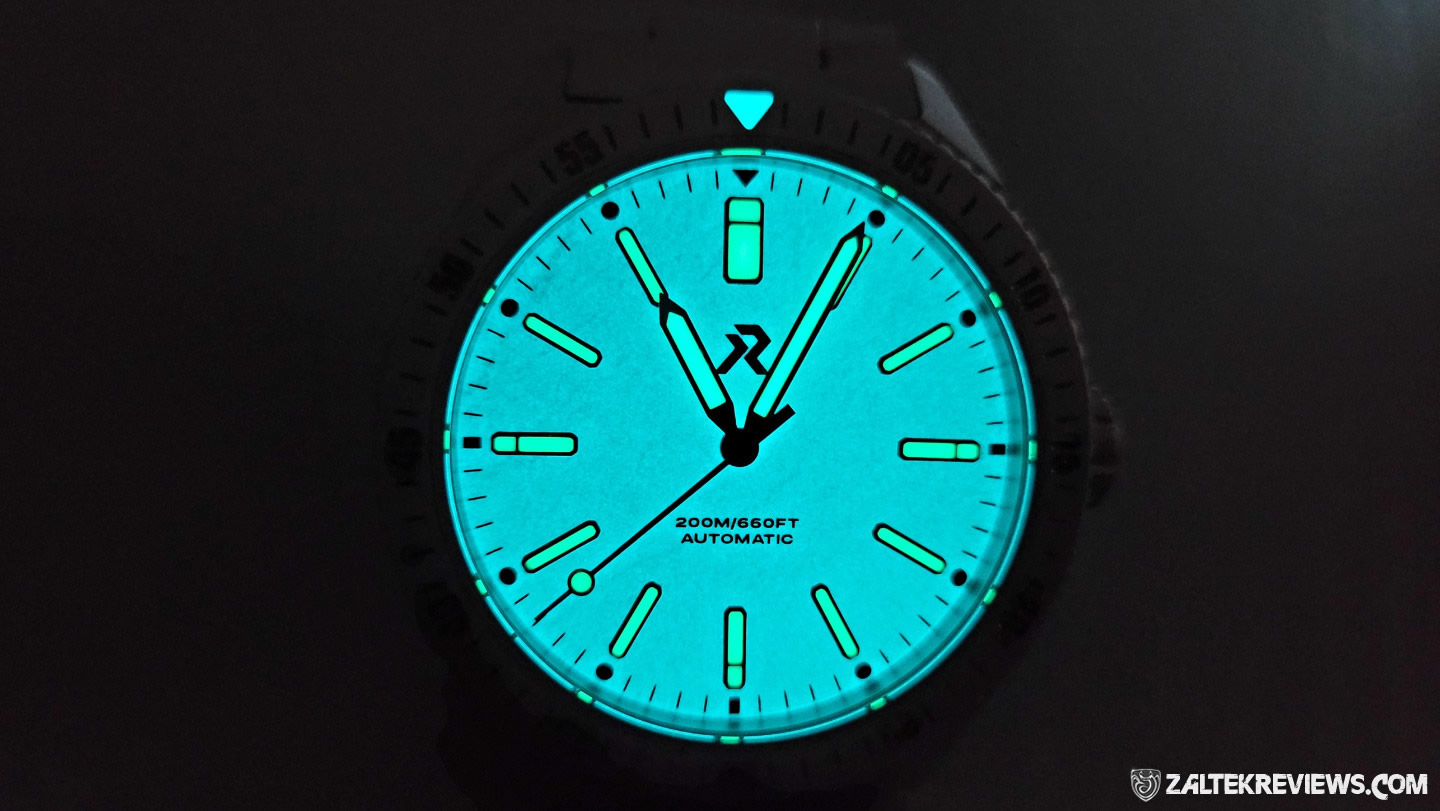 There's no question that I'm obviously a bit of a RZE Watches fan. I bought their Resolute field watch at the start of the year and around a month later, I was sent their new Endeavour diver on loan to review it for their up & coming release, which is actually today, the 1st of February. So what's my thoughts on this new model? Well, I've pretty much referenced the previous Resolute throughout my review and it's pretty obvious as to why. There isn't a great deal amount of difference between the two. Both have identical cases, crowns as well as bracelets. Sure the dials and movements are slightly different, and obviously there is a dive bezel and the case is a baw-hair thicker on the new Endeavour.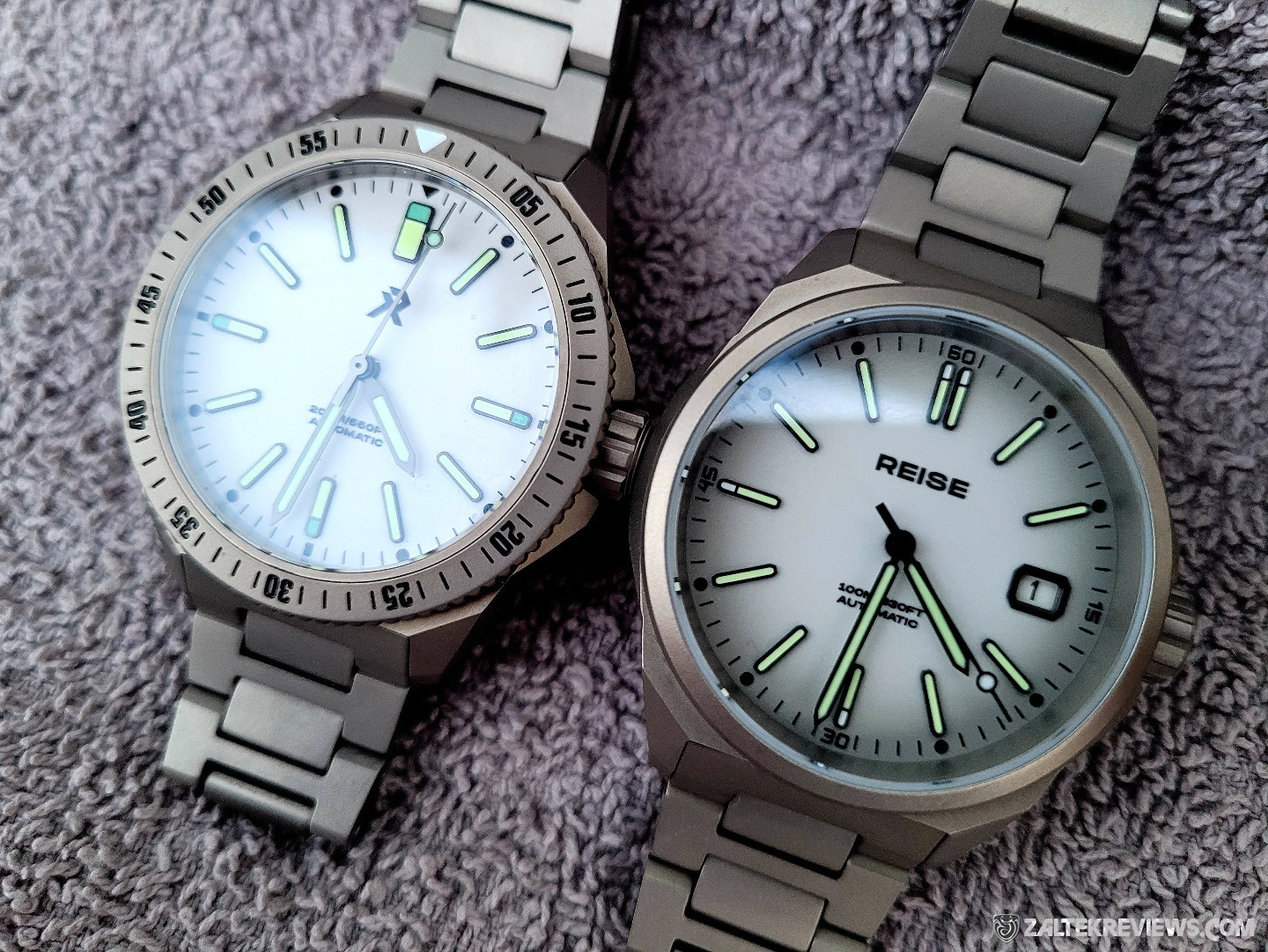 Some might say the Endeavour is a rather sloppy or even lazy approach to watch design. I don't! I think it makes perfect sense. I'd see the point in changing the design if the first model had been a total dog's breakfast, but it most certainly wasn't. All I would say is, just buying one of them and not buying both of these watches, would be the most sensible and obvious choice, even if both of them are truly fantastic, just one of them would be plenty to satisy your appetite for a titanium watch. Me, being the total fuckin' idiot that I am, I never listen to my own advice, as I intend to buy the Endeavour too. I'm just a sucker for white dials and that whole lightness thing of titanium just all adds up to a total no-brainer for me, with my wallet getting well & truly shagged yet again! Yup, you won't find "Includes Paid Promotion" on this fuckin' website people, I put my money where my mouth is! See, maybe it's time I changed my terms & conditions.
A huge thanks to Travis at RZE Watches for sending out the Endeavour for review. Very much appreciated! To view the RZE Watches website, or to sign up for their newsletter for details of new releases etc, visit
rzewatches.com
. RZE social media—>
Instagram
/
Facebook
.
It takes me a fair amount of work (and time) to do these reviews, so if you feel like supporting Zaltek Reviews to help towards my running costs, or even if you feel like just buying me a coffee, then please donate using the PayPal button or QR code below. Unfortunately, 97% of my viewers/readers just scroll on by this section. If you feel like that I've given you maybe just a few quids worth of knowledge and/or entertainment, then please take just a couple of minutes of your time to kindly donate. Thanks very much, Will Duncan – Zaltek Reviews.