Manufacturer: 

RZE Watches

| Price: from $359 USD (£265 GBP, €295 EUR)
Me being the complete cockwomble that I am, I actually had one of these original Reise Resolute's in arctic grey, well before the company changed their name to RZE Watches. At the time, I was totally overwhelmed with review samples, so I had it sent onto another reviewer here in the UK, thinking I'd get it back with enough time to review it before launch. WRONG! It was gone! Off to some other part of the world and I'd missed my opportunity to review it. FUCK! So, what did I do? I remembered the Resolute being pretty bloody awesome for (what felt like) the 5 minutes I had it. So after a little bit more research, I went ahead and just bought one. Being a sucker for white dials, I went for their alpine white version with the optional bracelet. So was it money well spent? Or did I blow over 300 quid, just because I was suffering from FOMO?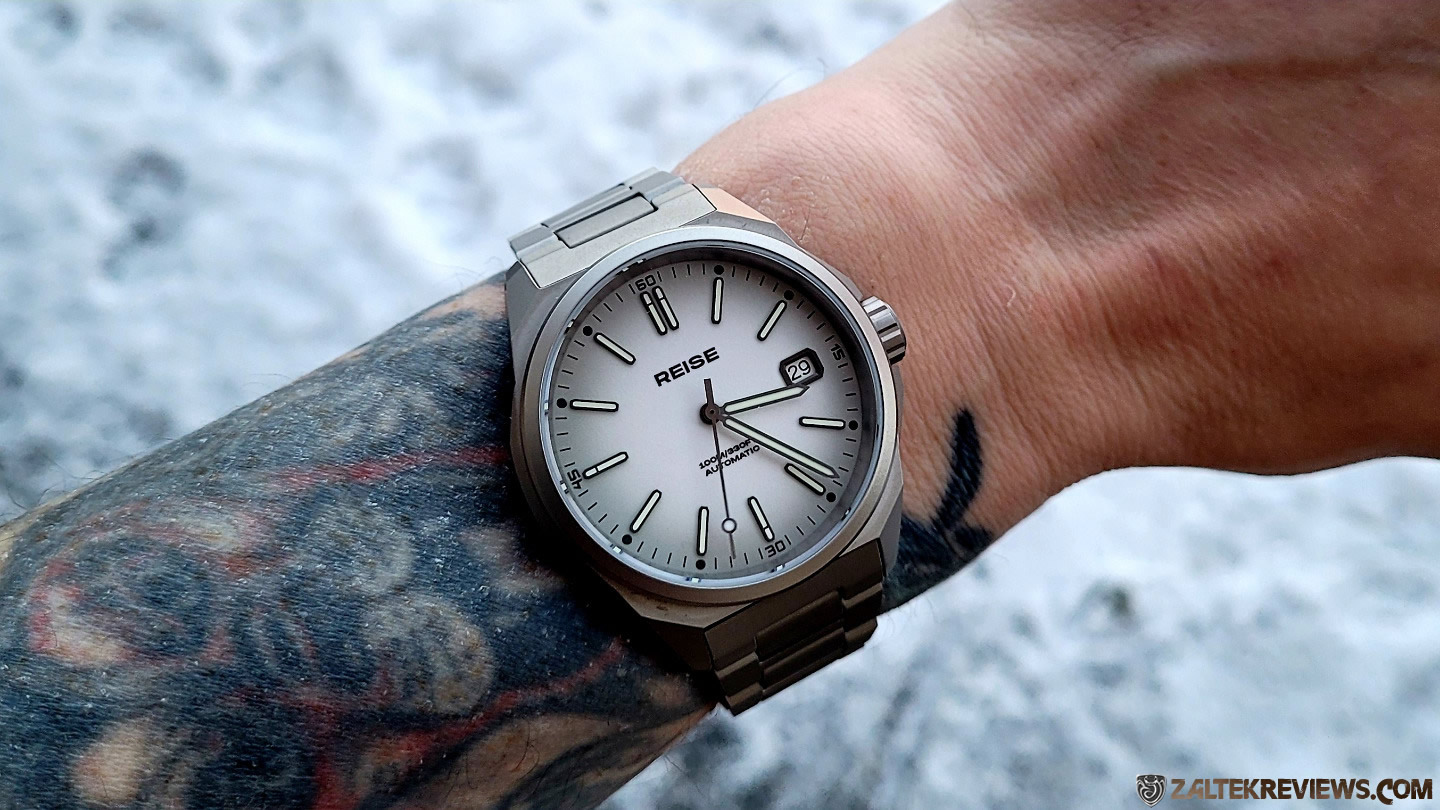 Specifications – RZE Resolute Ti
Dimensions: Case Diameter – 39.8mm, Thickness – 11.3mm, Lug to Lug – 45.8mm, Lug Width – 20mm
Movement: Seiko SII NH35A, 21,600vph, 3Hz, Hackable, Self Winding, 41hr Power Reserve
Case Material: Grade 2 Titanium, UltraHex 1200Hv Scratch Resistant Coating
Dial: Textured, Applied Indexes, Colour Matched Date Wheel
Strap: 20mm, Tropic Rubber / Canvas with Leather Backing, Titanium Hardware
Crystal: Flat Sapphire, Underside Anti-Reflective Coatings
Lume: Swiss Super Luminova® BGW9 & C3
Water Resistance: 100m / 10ATM / 330ft      

Caseback: Titanium, Screw Down, Viton® Gasket, Unique Serial Number
Crown: Titanium, 7mm, Screw Down, Signed  
Weight: 94g (On Bracelet – Sized up for my 6¾″ wrist)
Optional Extra: UltraHex Titanium H-Link Bracelet (+$99 USD)
Where to Buy:

RZE Watches

Warranty: 2 Years International
RZE Resolute Ti Colourways
RZE Watches - An Introduction
"We believe in experimenting often. Always trying new things, always improving and always moving forward; together with our stakeholders, suppliers and customers. Our criteria for the best product rests on function, repairability, and foremost, durability. We firmly believe in repairing over replacing our products and ultimately building a product that can last for generations, or at the very least, be recycled. Making the very best matters for saving our planet.
We hinge our core to doing good by our people and our planet. We focus on building durable products to last for generations so there is no need for replacing, keeping our eyes focused on protecting our Mother Earth every step of our production process. Friendship is what keeps us together and community is what keeps us moving. We always want to cultivate a spirit of community with our customers, always remaining humble, open to feedback and/or criticism."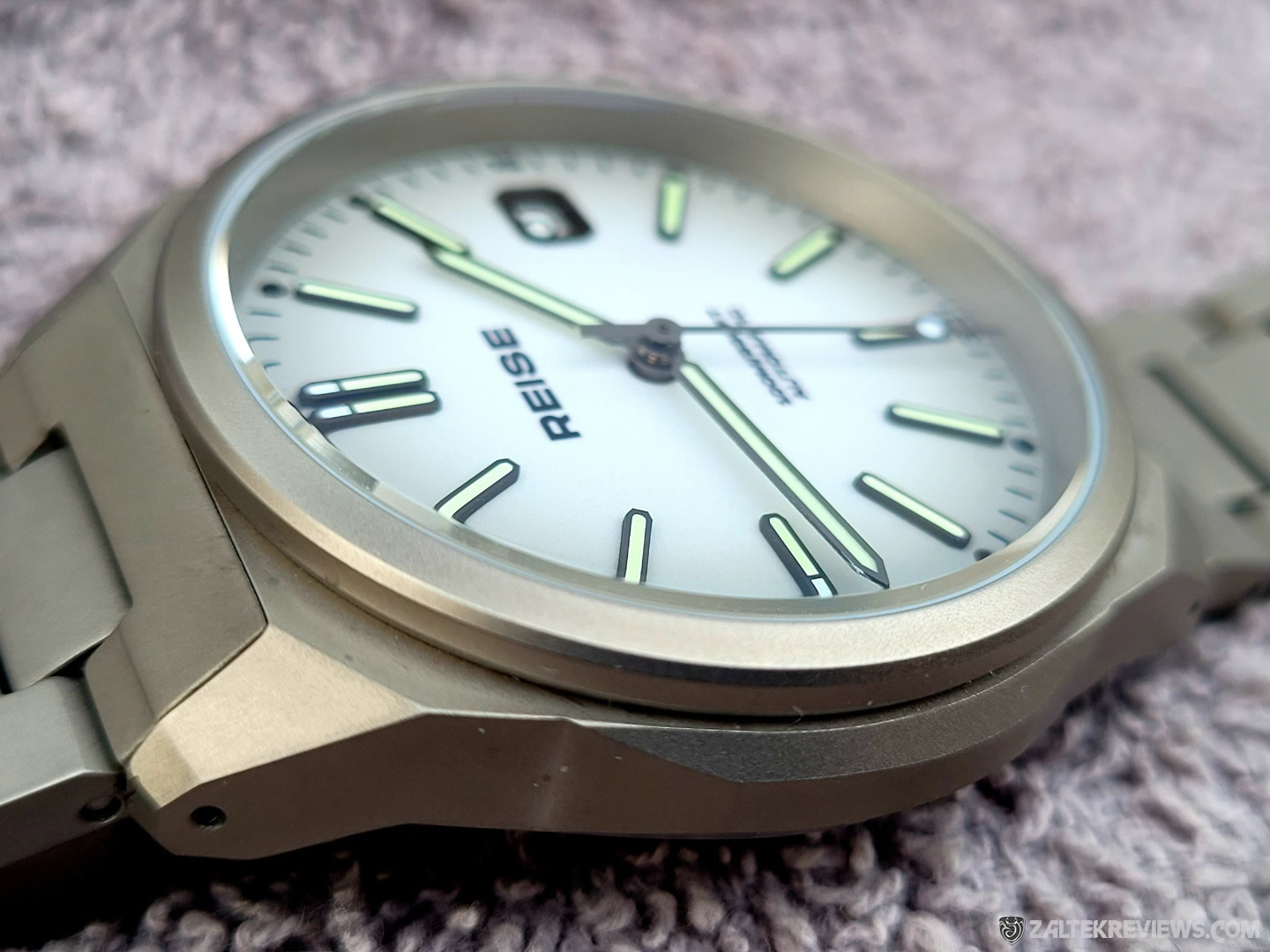 The case of the RZE Resolute has a diameter of 39.8mm. The lug to lug is 45.8mm and the overall thickness, including the sapphire crystal, albeit flat, I measure in at a rather svelte 11.3mm, which is impressive for a watch fitted with a Seiko NH35 movement. The entire case, caseback, bracelet, fixed bezel and crown are all Titanium Grade 2 with RZE's own UltraHex scratch resistant coating, applied to both the watch and bracelet, giving a total hardness of around 1200Hv. The finishing of the watch is what I'd call a full matte sandblasted finish, giving the feel and partial appearance of a tool watch. The RZE Resolute has a water resistance rating of just 100m, but that's plenty for a field watch in my opinion.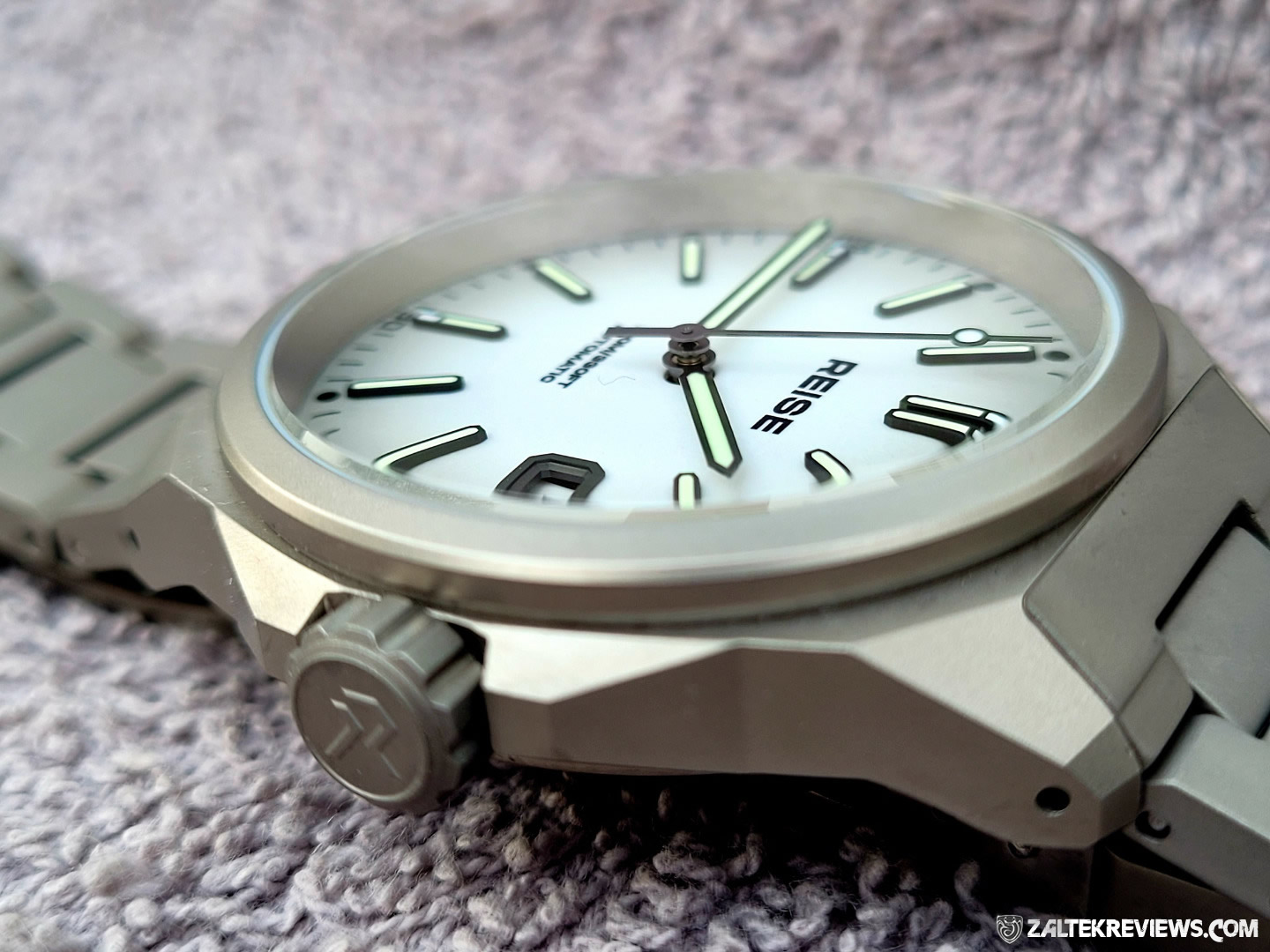 The signed crown is of fantastic quality, giving a nice pop when you unscrew it and there's no wobble either when the crown is in use, the embossed logo is also nicely executed. The overall proportions of the watch are just perfection. The caseback of the Resolute is sterile in appearance, but there is the welcome addition of a serial number unique to the watch. Underneath, keeping everything water tight, is the inclusion of a Viton® gasket. Viton® gaskets have outstanding resistance to chemicals, hot water and steam, at temperatures not achievable with lesser materials. There is also high resistance to atmospheric ageing, making Viton® gaskets a superb choice where tolerances are paramount.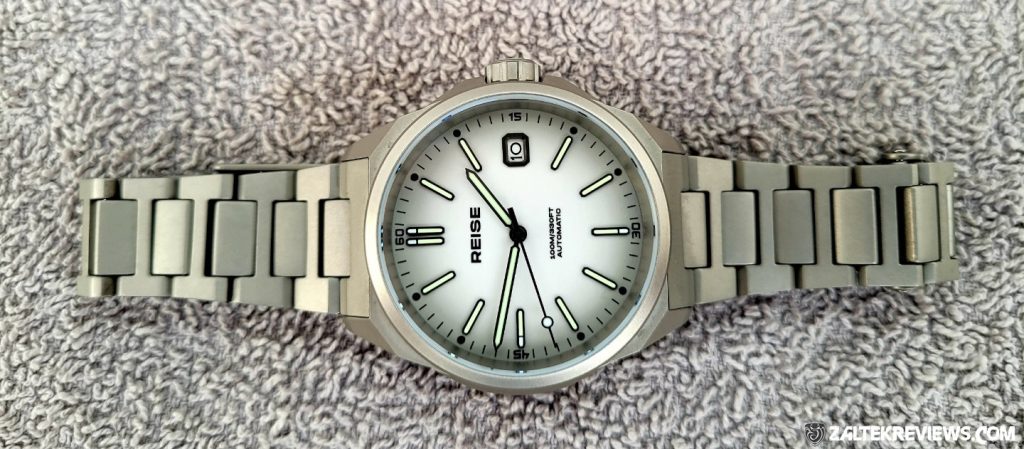 Titanium Grades Explained (well, kind of...)
Here is my dumbed down version of me trying to explain Titanium and its relative gradings… Grades 1, 2, 3 & 4 are commercially pure (99% minimum titanium). These grades have slight variations in chemical composition, that can both affect mechanical properties and design capability. Titanium, as most of you are aware, is very lightweight compared to stainless steel and has exceptional corrosion resistance, often exceeding that of stainless steel in most environments.

Of the four commercially pure titanium grades that I've mentioned, Grade 2 is definitely the titanium of choice for most manufacturers in the watch industry, giving both good ductility, as well as corrosion resistance. Titanium Grade 5 is an alloyed titanium (an alpha-beta alloy) and is subsequently considered the best of the best. However, it is also around twice the price of Grade 2, depending on which part of the world it's sourced and/or bought from. Any wiser? Nah, me either! All I'll say is, it can be the perfect material for larger/heavier watches that require "tamed down" from steel.

This Alpine White version of the RZE Resolute comes fitted as standard with a 20mm tropic rubber strap, with matching, signed Titanium hardware. Other colourways, depending on which one you go for, come fitted with a colour matched canvas strap, with a leather backing and Titanium hardware. I don't have one here, so I can't really comment on it.
Being the certified bracelet guy that I am, I paid the extra beer tokens for the optional UltraHex Titanium bracelet. Is it worth the extra cash on top of the watch itself? Oh, HELL yeah! It most definitely compliments the watch brilliantly and it's so bloody comfortable! The bracelet is fully articulating with solid female end links, screw pins for adjustment, as well a fully milled, signed clasp with 4 micro-adjustment holes to ensure that perfect snug fit. This Titanium H-link bracelet measures 20mm at the lugs, tapers down to approximately 16mm at the thinnest most part and back up to 17.5mm at the clasp. Oh yeah before I forget, the entire bracelet has the excellent UltraHex 1200Hv hardening coating done to it too.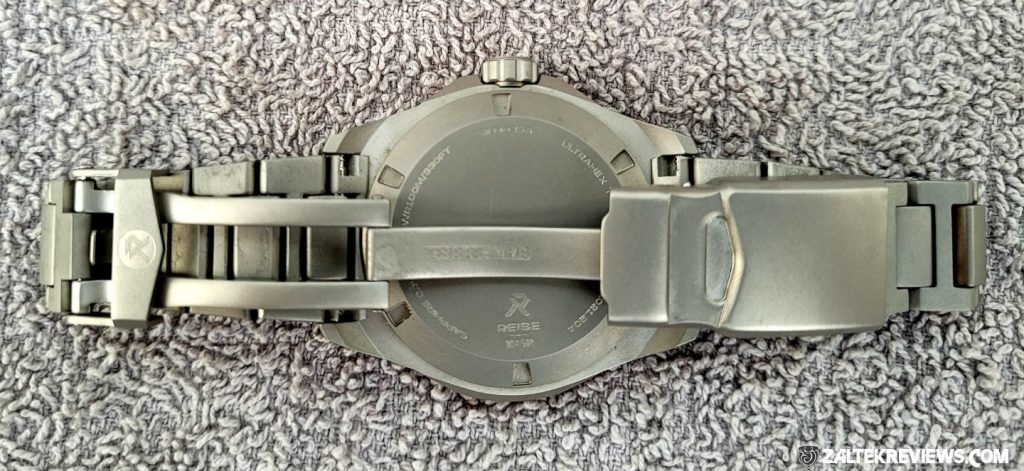 The chosen movement for the RZE Resolute is the microbrand go-to movement of choice, the super-reliable SII NH35, manufactured by Seiko. A fantastic workhorse that is a 21,600vph, 3Hz, 24 jewel movement, with self winding and of course hacking and the inclusion of a very respectable 41 hour power reserve. Checking the accuracy after running the Resolute for just over 3 weeks, mainly on wrist and occasionally in my watch winder, I thought the accuracy was phenomenal, with it showing an average of, get this… bang on +0 spd! The most accurate watch in my collection! Was it regulated by RZE Watches before being shipped? I've no idea, either way, I'll take that flatline accuracy all day long!
The RZE Resolute has a fixed Titanium bezel that's perfectly matched to the case. The printed text on the dial is clean & sharp, with the REISE logo at the usual position of just below the 12 o'clock position, although the logo has obviously been replaced with their new 'R' logo for the new rebranded RZE versions. Above the marker at 6 you'll find the word AUTOMATIC, with the depth rating of 100m/330ft just above that printed in black. All of the hour markers are applied, with a double marker at 12 and there is also a nice black contrasting minute track on this alpine white colourway.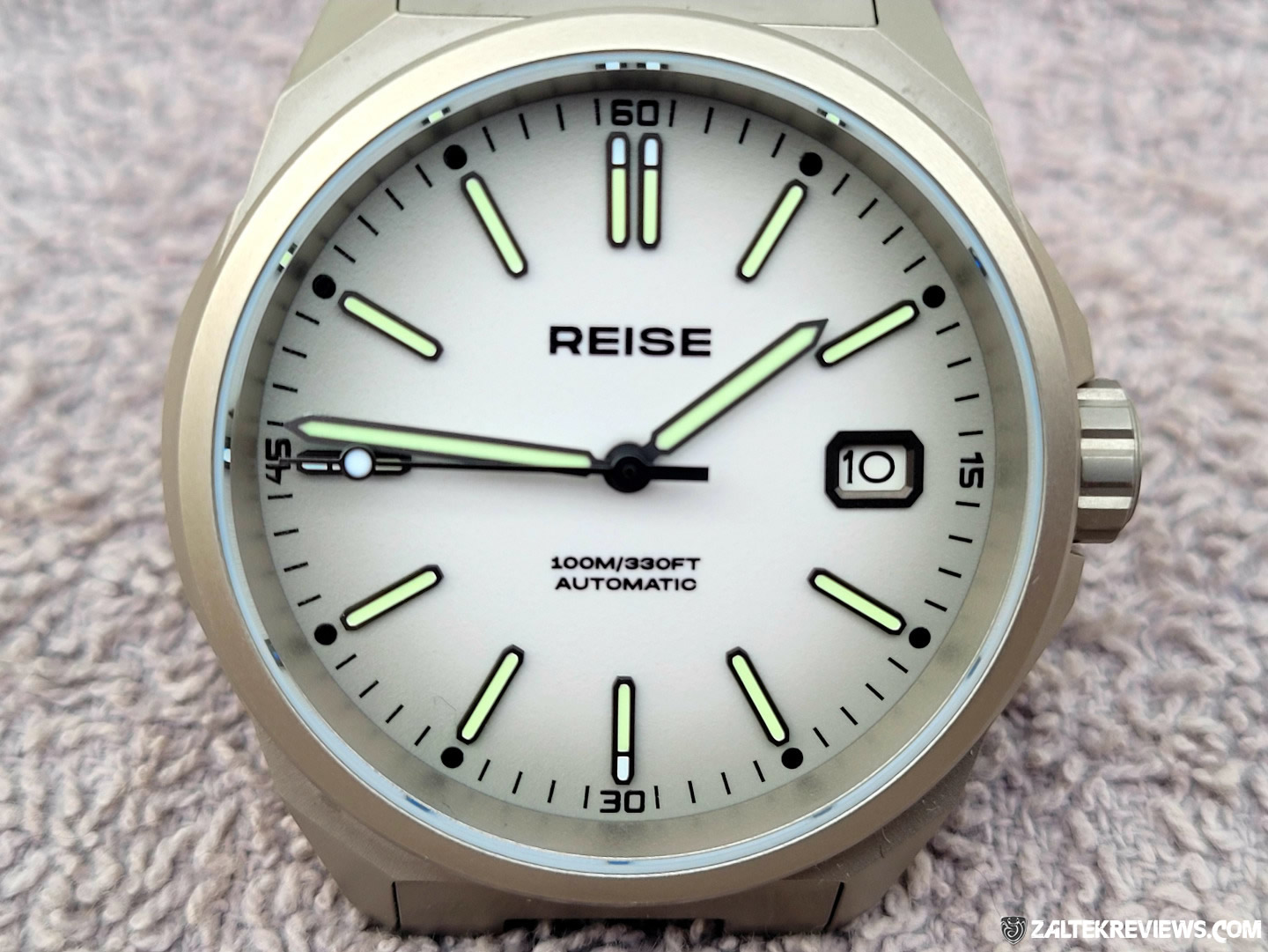 As you can see in the images, the relatively slim hour and minute hands are very nicely done, with their proportionate  scale and overall design. The lumed lollipop seconds hand is lovely too and reaches right out to the edge of the minute track. There is also a colour matched date wheel at the 3 o'clock position, but RZE Watches decided on a blackened chrome style border to frame it. It's the only part of the watch that I'd change. I'd totally remove the frame and just have a chamfered edge around the date cut-out. Great job on colour matching the date wheels on every model though.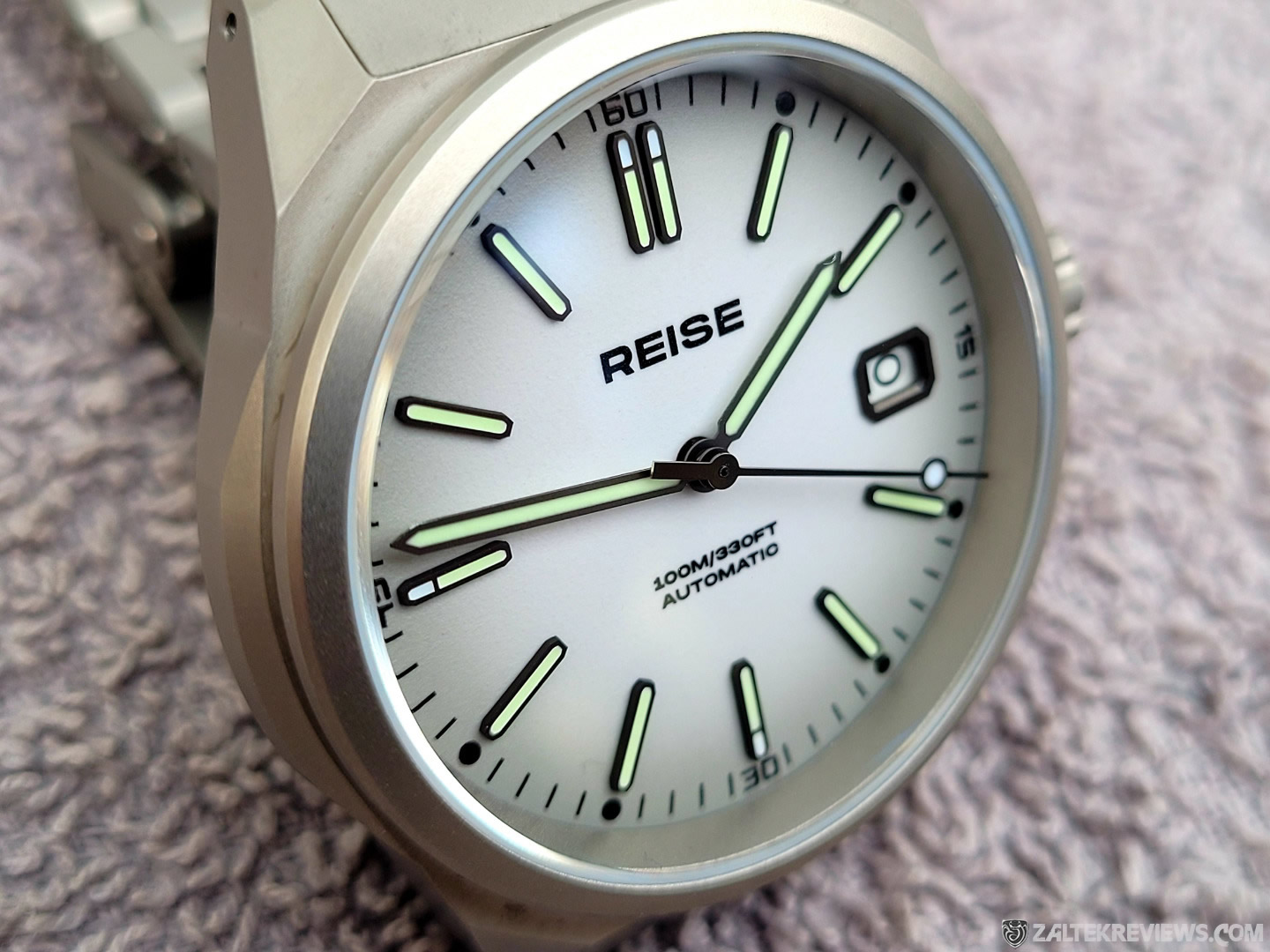 The fully lumed dial of this alpine white RZE Resolute is absolutely superb! The lume that's been applied to this version of the Resolute, is Swiss Super Luminova® BGW9 on the dial, with C3 on the hour markers and hands. It's been executed with fantastic attention to detail… you only have to have to take a quick peek at the lume shot below, to see what I'm banging on about. Of course, it does fade over time, but it certainly looks the part and it does last for a good few hours.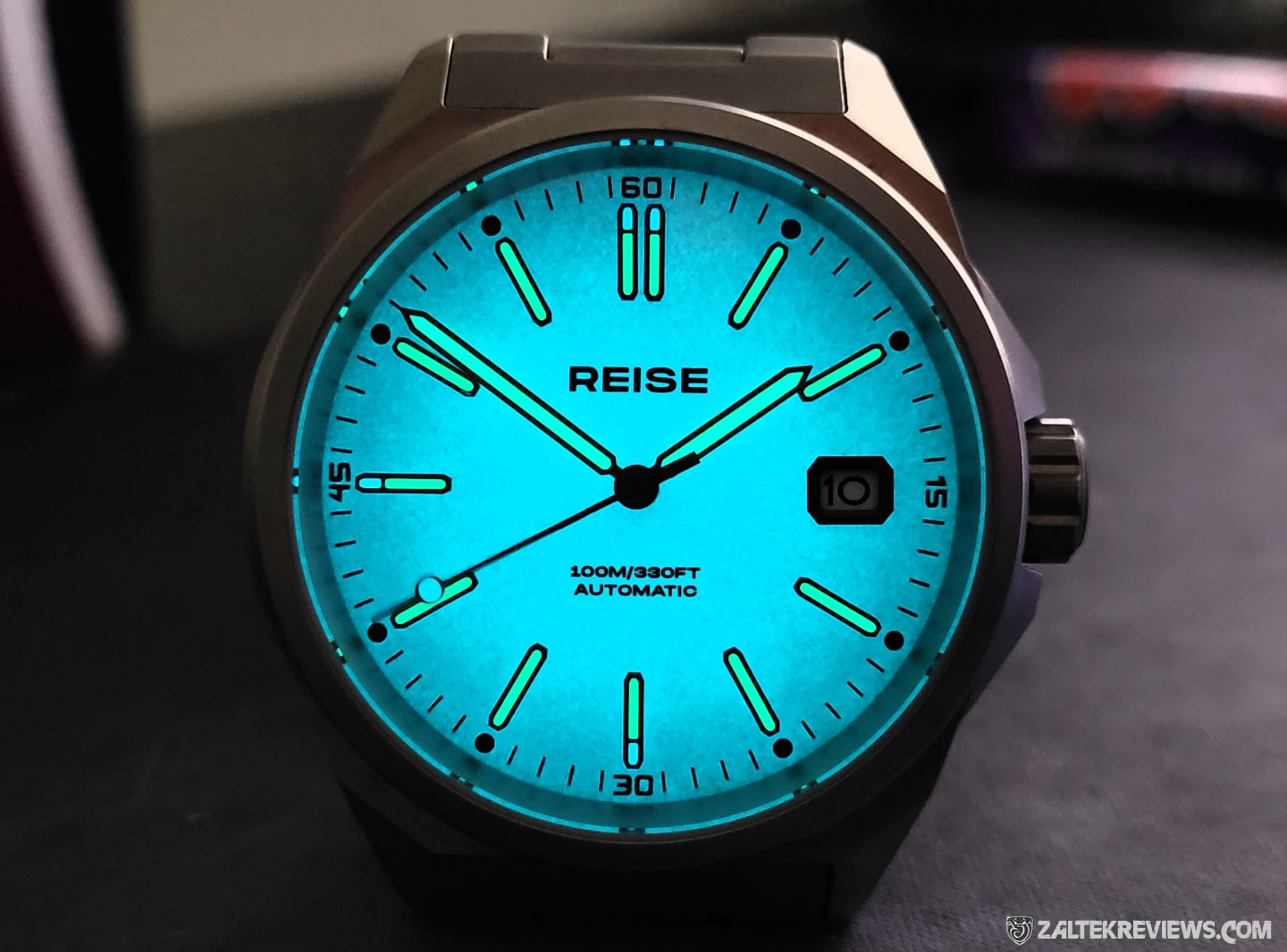 Field watches have really started to become one of my favourite genres of watch in recent months. They really just hit the mark for me, with their emphasis on great legibility and a rather 'no nonsense' approach. The Resolute from RZE Watches is of no exception either. Ok, it is a little different than your more traditional field watch, but that's why I like it. It's as light as a feather, coming in at under 100g, and that's WITH a bracelet! The fully lumed dial on this one, isn't something you see very often on a field watch either and for me personally, this alpine white version is my favourite out of all of them. I suppose that's why I bought it eh!? I'm also really glad I stumped up the extra cash for the bracelet, it's a beauty!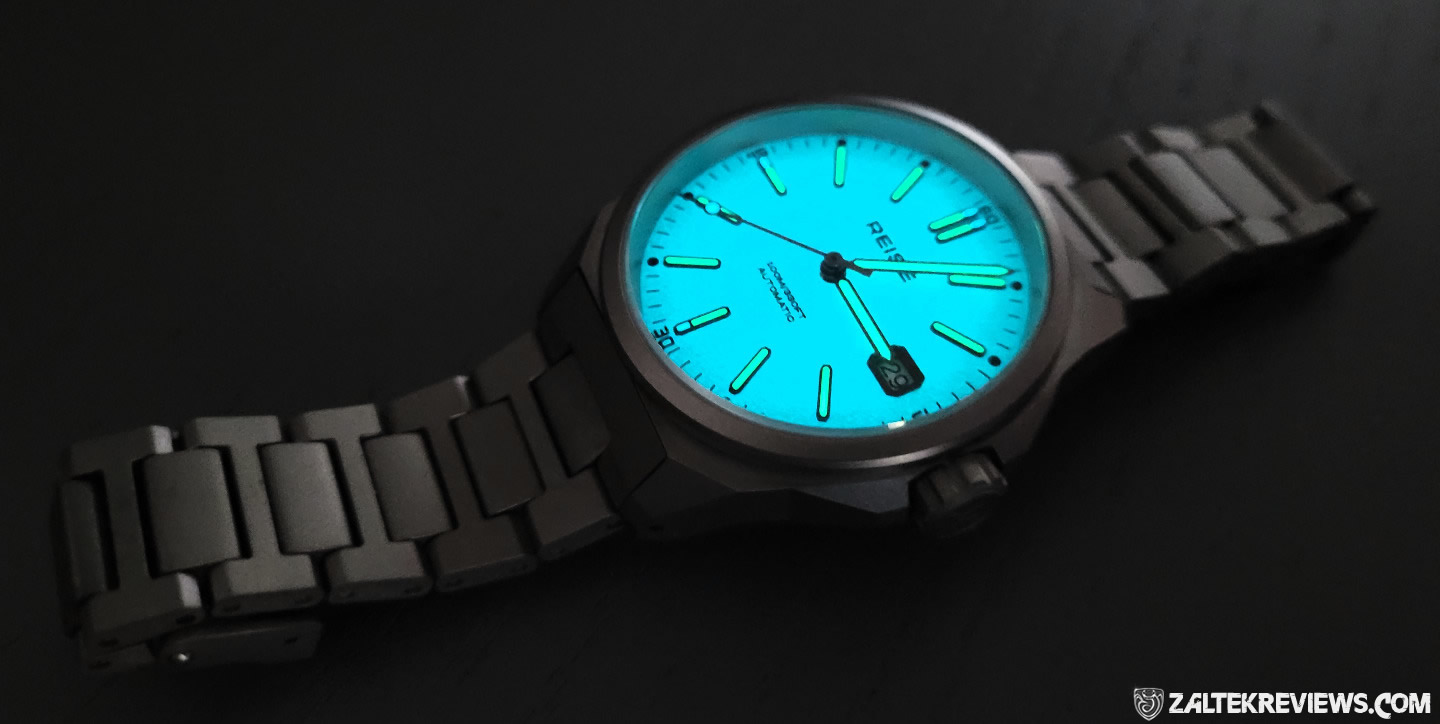 To be honest, I could spend all day throwing compliments at the Resolute and stating just how much I really like it. But I'm not going to do that… (This is the point where Travis (RZE Watches owner) starts shittin' in his undercrackers)! LOL, nah, I'm only jokin', I don't just like this watch, I friggin' love it! Hence my PLATINUM award, that's well & truly deserved.
Is there anything I'd change for a possible v2 in the future. Well… obviously! I'd love to see an upgrade to the movement, to maybe a 9015 from Miyota. I'd also lose that frame around the date and move the lot to just above 6 o'clock. Getting my arse back to present day though, Travis at RZE Watches should definitely take a bow for this one, his very first model.
10/10 - PHENOMENAL, VERY HIGHLY RECOMMENDED!
A huge thanks to Travis at RZE Watches for sending out the Resolute for review. Very much appreciated! To view the RZE Watches website, or to sign up for their newsletter for details of new releases etc, visit
rzewatches.com
. RZE social media—>
Instagram
/
Facebook
.
It takes me a fair amount of work (and time) to do these reviews, so if you feel like supporting Zaltek Reviews to help towards my running costs, or even if you feel like just buying me a coffee, then please donate using the PayPal button or QR code below. Unfortunately, 97% of my viewers/readers just scroll on by this section. If you feel like that I've given you maybe just a few quids worth of knowledge and/or entertainment, then please take just a couple of minutes of your time to kindly donate. Thanks very much, Will Duncan – Zaltek Reviews.