Manufacturer: Stella Watch Co | Price: $1,185 USD (£950 GBP, €1,090 EUR)
Second review in a row where we have a brand new microbrand releasing their first timepiece. Stella Watch Company haven't played it safe either with the usual dive watch with a NH35 stuck inside with a relatively low price. Hell no! Stella Watch Company have hit the watch market with their Swiss made Felix field / dress watch (what would you call it?), a totally unique design, in a variety of colours with a retail price of nearly $1,200 USD. So, is it any good? Let's find out…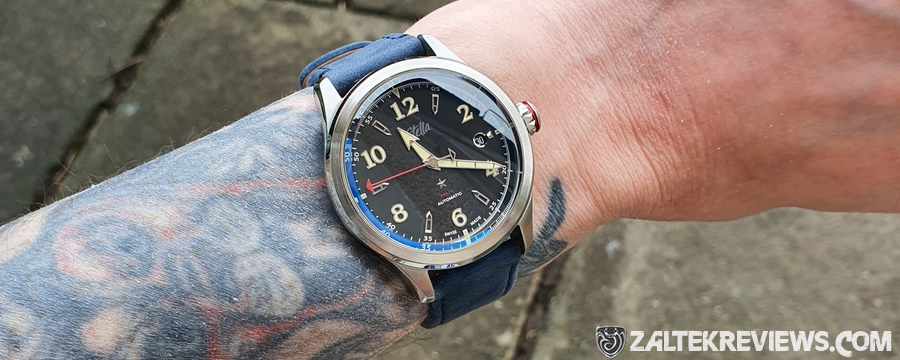 Specifications
Dimensions: Diameter – 39.6mm, Thickness – 12.6mm, Lug to Lug – 46.7mm, Lug Width – 20mm
Movement: Swiss STP1-11, Automatic, 28,800vph, 26 Jewels, Hackable, Self Winding, 44hr Power Reserve
Case Material: Brushed 316L Stainless Steel with Polished Accents
Strap: Washed & Oiled Full Grain Leather, Milled Signed Buckle
Crystal: Semi-Domed Sapphire, Underside Anti-Reflective Coatings (3 Layers)
Bezel: Fixed, Brushed & Polished
Water Resistance: 100m / 10ATM
Lume: Swiss Super Luminova® C1 & C3
Crown: Screw Down, Black Enamel with Red Star Logo
Caseback: Exhibition, Screw Down, Sapphire Crystal, Unique Serial Number
Warranty: 2 Years     Weight: 84g     Where to Buy:

Stella Watch Company



Options: Dress Blues, 77 Blackout, Times Grey, Grand Central Silver, Downton Red, Gotham Gold
Stella Watch Co - The Brand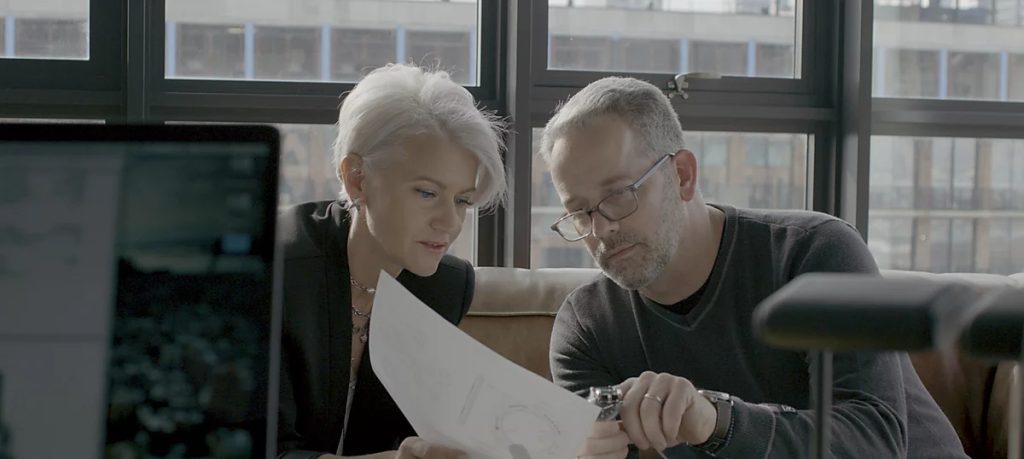 Marcella – Left Brain
Marcella's entire career has been in the watch industry. In 1995 she received a call from a friend who asked her to work with him at a small watch company. "I knew nothing about watches but the job had benefits so I said yes. I also had a strong desire to learn, a solid work ethic and I never turned down a good challenge", she laughs. "I loved designing watches and I was immediately hooked. I also loved sourcing new materials, trying new finishing techniques and working with suppliers. I was constantly pushing myself to learn and I soon became engulfed in every aspect of the business." This kind of drive eventually led to a vice president position for the watch division of a global fashion company. "I'm very lucky to have built a career doing something I love. It is true what they say – once you get into the watch industry, you never leave. Not only for the rewards of designing something so intricate and beautiful but also for the friendships you make. It's a small but close community that not everyone understands. But when you get it, you get it".
Stephen – Right Brain
While Marcella was a fledgling watch designer Stephen was graduating from the University of Miami with a major in finance and then Columbia University with an MBA in management. Throughout his career in both retail and consumer products, Stephen has always had a passion for well-designed products. "I bought my first 'real' watch when I was 20, at a small antique shop in my hometown. It was a 10k Wittnauer skeleton manual wind. The intricacy, quality, and engineering of this tiny watch were just amazing to me. It's still one of the most cherished pieces in my collection and I won't even dare to say how many I own today! From that day on I had a real appreciation for how special a watch could be and how a quality watch could be handed down for generations".
Two Halves Make a Whole
Marcella and Stephen's career paths happen to coincide for a brief time and both recognized the talents of the other. "Working with Stephen was a real learning experience for me," says Marcella. "He has a unique ability to not only think outside the box but to completely smash the box and look at things from angles you never dreamed of. He taught me to find what I couldn't see, even though I didn't know I was looking for it! When I design its mostly pure emotion but Stephen can look at a design and take it apart critically to find the flaws. It really opened my eyes to a new way of thinking". Stephen says that "Marcella and I made great business partners because we both had strong work ethics, a unique appreciation for great design and a mutual appreciation for each other's strengths. Marcella is an incredibly creative individual who is very passionate about watches. She is also not satisfied with a project until she feels it is 100% perfect. And she will not stop until it is". Having mutual respect for each other's talents is what makes the journey of Stella a collaborative partnership to develop exceptional products with passion and integrity.
The Future
Stella Watch Company is the culmination of two careers that led, in a way, directly to this point. "When Stephen and I started discussing this idea, I knew it made perfect sense. We're both very fortunate to be at a place in our careers that allow us to step away from the commercialism and do something just for the pure passion of it". "This is not something we are doing as a hobby" says Stephen. "We are doing this because we love watches and we want to connect with and give something back to the community. What we can offer is our experience and knowledge and a guarantee that Stella will be the highest quality timepiece with a well thought out, beautiful and just downright cool design".
The case of the Stella Felix has a diameter of 39.6mm. The lug to lug is 46.7mm and the overall thickness, including the semi-domed sapphire crystal, I measured in at 12.6mm. The case, bezel and crown are all 316L stainless steel. The finish of the watch is mostly brushed but with the addition of some very sexy chamfered polished accents that run along the side of the case, over and down over the ends of the lugs. I have to say, I love this as it looks absolutely fantastic and certainly gives the Felix a very premium look. There is also a unique approach of PVD coating thats been implemented to the lower part of the case that gives the illusion that the watch wears much slimmer than it actually does. It's a fantastic design aspect that I very much like & appreciate. It totally works and I'd love to see other brands do something similar.
The Stella Felix has a water resistance rating of 100m, thanks to the screw down caseback & crown. 100m is perfectly acceptable in my opinion, for a dressy style field watch. The proportions of the watch, are quite frankly, superb for my average sized 7″ wrist, due to the relatively short lug to lug distance and the way the lugs follow the curve of your wrist.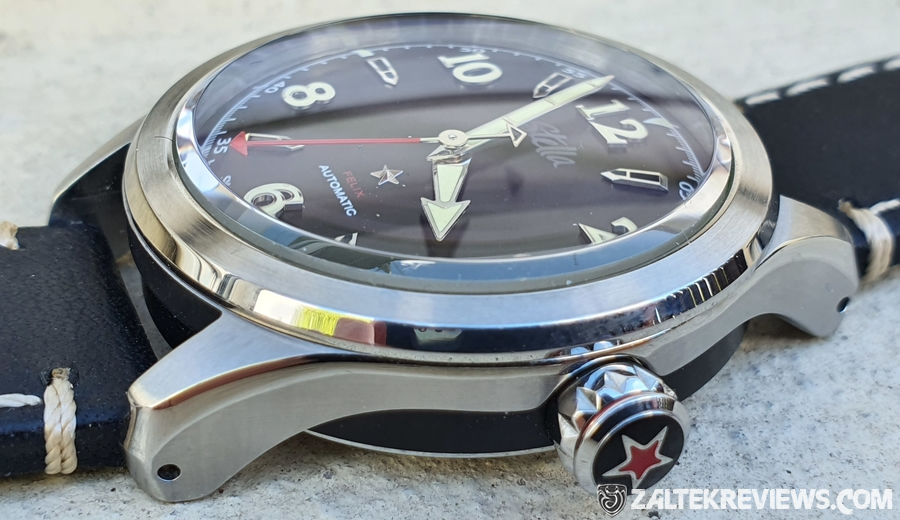 The signed crown is gorgeous and does look great with it's enamel insert and red star logo. If I'm honest though, and if it was my design, I wouldn't have done the crown with a polished finish. There's no wobble whatsoever, when the crown is in use and you can also feel a very nice little pop as you unscrew it. You can also see the amount of work that has gone into the crown, making it feel a cut above the norm. The caseback is nothing short of a piece of art, with its exhibition display, a nice piece of sapphire showing off the lovely swiss movement and custom rotor. More on that later…
Straight out of the box, the Stella Felix comes fitted as standard with a 20mm leather strap with a fully milled, signed, extremely nice looking buckle. The strap itself is listed on the Stella website as, "Washed & Oiled Full Grain Leather". When I first read that, I thought, here we go, what a load of shite, more marketing bollocks. It might well be exaggerated bumf, however, I will say that the strap is actually very comfortable and it is very well made with perfect stitching all-round.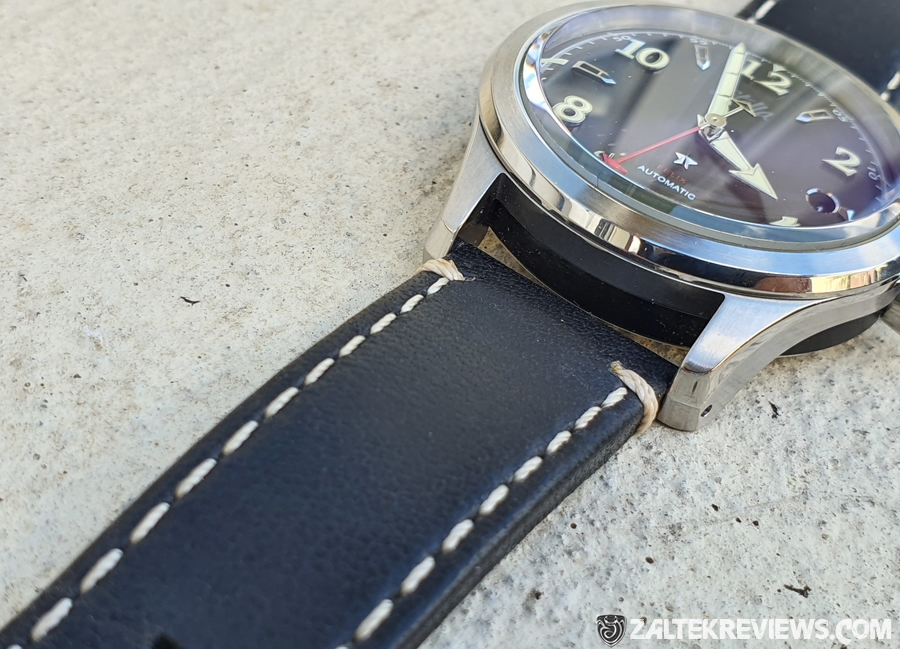 I'm much more of a bracelet kind of guy as most of you know, if you read my reviews on a regular basis. Unfortunately, there isn't a bracelet option for the Stella Felix, which is a real shame. I can only begin to imagine just how gorgeous the Felix would look if it had, say, a matching brushed & polished beads of rice bracelet fitted to it. Oh man! (I think a little wee just came out there). I reckon the bracelet would actually push me over the edge and I'd get a Felix immediately.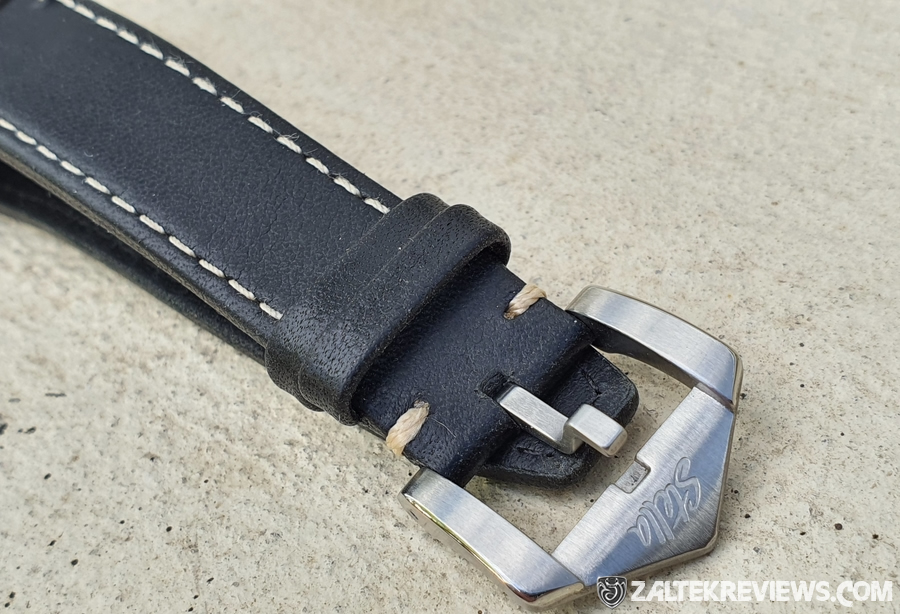 The chosen movement for the Felix is the Swiss STP1-11. A fantastic, if slightly under-rated calibre that runs at 28,800vph, 4Hz, with a smooth sweep, 26 jewels, self winding, hacking and an impressive 44 hour power reserve. Checking the accuracy after running the Felix for around a week, mainly on wrist and occassionally in my winder, I was totally gob-smacked with the results, with the Felix showing an average of, get this… +/- 0 seconds per day. Ok, it may have just been down to the "movement lottery", either way, I'm impressed! It's been an absolute age since I've had an automatic that's this accurate straight out of the box! Oh yeah… just look at that movement and rotor, friggin' gorgeous!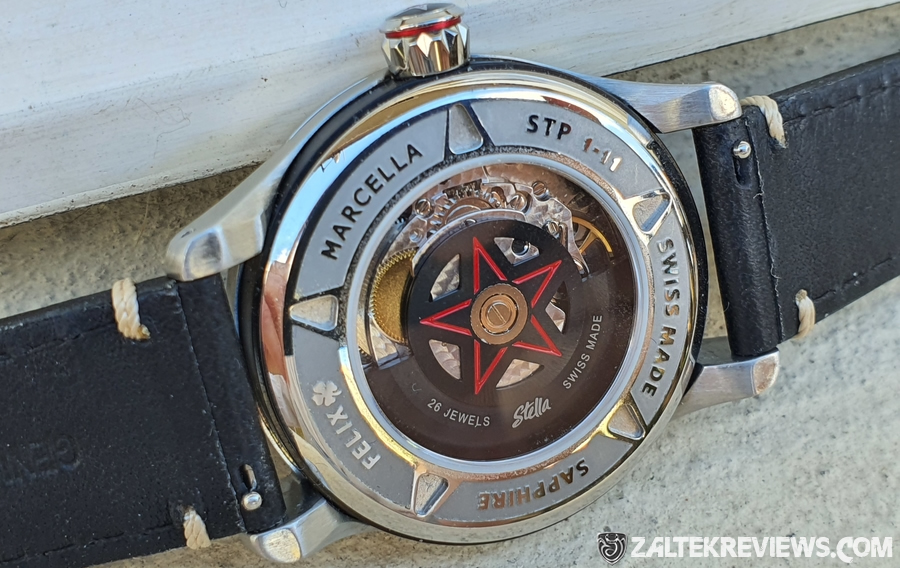 The Stella Felix has a totally fixed bezel with a matching brushed and polished finish. The text itself is printed, showing the words FELIX & AUTOMATIC, with Swiss Made at the usual position at either side of the arabic at 6. The main Stella logo is just under the 12 o'clock position and there is also a nice touch of an applied star just above the model name.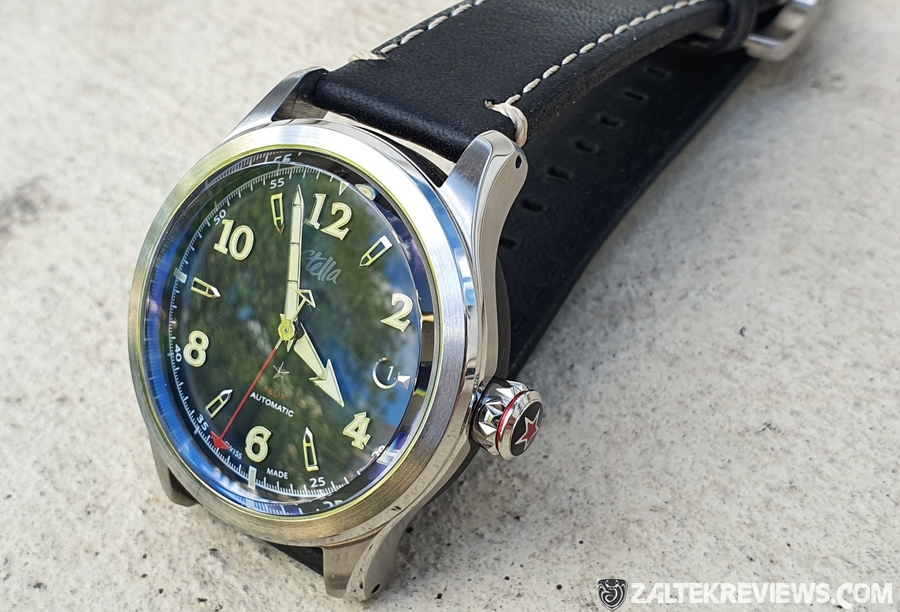 The dial itself looks great with applied arabics at the even positions with applied batons at the odd positions. Personally speaking, I would have preferred arabics all round, but then again, that would make the watch less unique.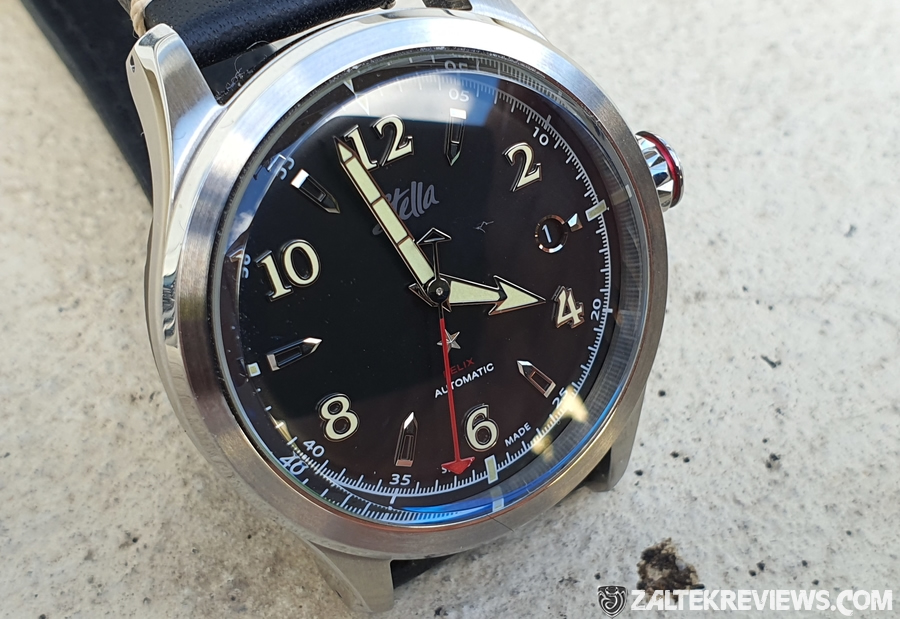 As you can see in the images, the hour and minute hands are nicely done with their very proportionate aesthetic. The seconds hand is great too, with it's red finish reaching right out to the minute track when sweeping around the dial. There is also a date window at the 3 o'clock position, which looks fantastic… and what's this…? It's colour-matched! Sweet!
The lume on the Stella Felix is pretty decent for a dressy style field watch. Obviously, it's no where near as good as a proper dive watch, but the hands atleast have decent staying power, making it still pretty legible throughout the night. The actual lume that's been used on the Felix is a combination of Swiss Super Luminova® C1 & C3.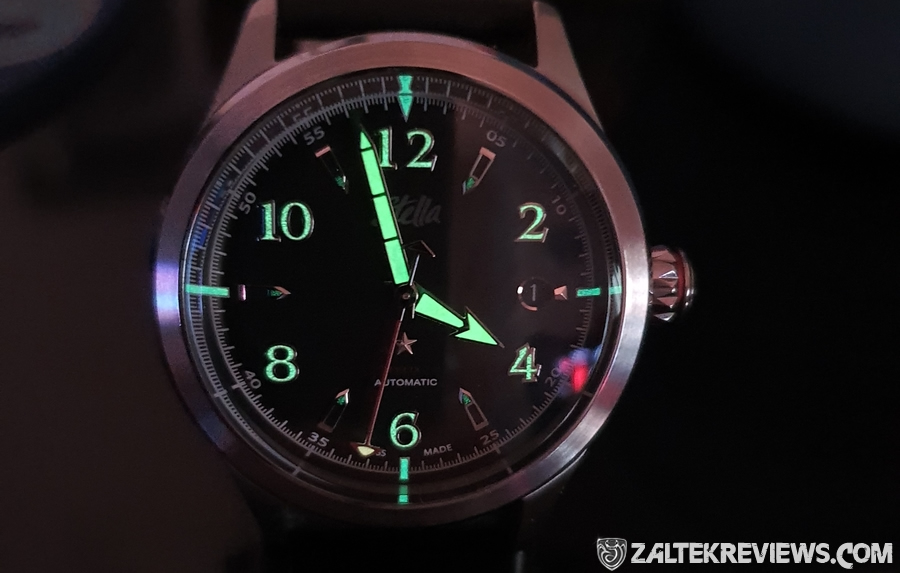 My initial thoughts when I first seen images of the Stella Felix were, I'm not that keen and it's heavily overpriced. However, after spending some time with the watch, I can honestly say that the watch is absolutely beautiful! The attention to detail, the build quality are all fantastic. Is it still overpriced? Yup, slightly.
If you managed to grab one of these on their recent Kickstarter campaign, you have actually grabbed a total bargain! It's not my job to say, on this or that watch should be such and such a price, as all companies have different manufacturing costs and other overheads etc… From just a potential customers point of view though, I would love to have seen the final retail price of the Stella Felix at around the $700-$800 mark. It is for sure worth that! Don't get me wrong, it is still an outstanding watch though, and I would be all over it, if only it came on a nice matching bracelet.
Stella Watch Company – For a first watch, the Felix is most certainly a beautiful timepiece. I'm most definitely looking forward to seeing what other models you release in the near future.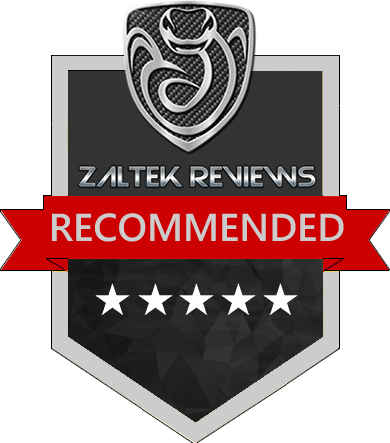 A huge thank you to Marcella & Stephen for sending out the Stella Felix for me to review. Thanks, I really appreciate it.
To view the Stella website, or to join their mailing list to be informed of new models etc, visit
Stella Watch Company
.
Please follow Zaltek Reviews on
Instagram
,
Twitter
and
Facebook
and feel free to join our Facebook group
WatchChat
, a very busy community for watch enthusiasts and collectors, with tons of images and in-depth discussions.
At Zaltek Reviews, we encourage the companies whose watches we've reviewed to comment on our articles. We invite any company representatives to respond in the comments section below. Thanks very much.