Manufacturer: Traska | Price: $375 USD (£305 GBP, €345 EUR (Approx))
There's no question or doubt in my mind that I'm a big fan of Traska watches. I bought their original Freediver and reviewed it quite some time ago, where it received an absolutely glowing review. On the basis of owning the original, I actually backed Traska's kickstarter campaign for their new Summiteer, believing it'll be great, and it's actually due to be delivered in around a week or two. So, I will be reviewing that one too, once it arrives and lands on my doorstep.
At the end of 2019, I heard that Traska were releasing a new version of their Freediver, aptly named the Freediver II. My initial thoughts were, why? The original is fantastic. I didn't actually believe they could've made it any better. But sure enough, on paper, it looked like they have. I immediately fired up my email account to contact Jon, the owner of Traska, to bluntly say, "HERE, TAKE MY MONEY!" Did I make a mistake? Should I have waited to see if the changes were justifiable? Nope! I jumped in with both feet like an idiot, going totally against my own usual advice. So, did I f**k up? Let's find out…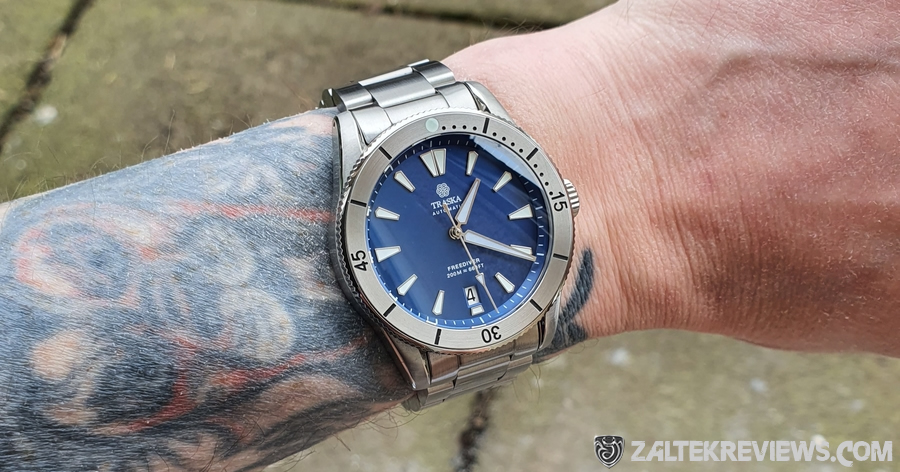 Specifications
Dimensions: Diameter – 39.8mm, Thickness – 13.2mm, Lug to Lug – 47.8mm, Lug Width – 20mm
Movement: Seiko SII NH35/38, Automatic, 21,600vph (3Hz), Hackable, Self Winding, 41hr Power Reserve
Case Material: Brushed 316L Stainless Steel with Polished Accents, Scratch Resistant Coating, Drilled Lugs
Bracelet: Brushed 316L Stainless Steel, Scratch Resistant Coating, Solid End Links, Screw Pins, Milled Clasp
Crystal: Double Domed Sapphire, Underside Anti-Reflective Coatings
Bezel: Polished, Coin Edge, 120 Click Unidirectional, Brushed Stainless Steel Insert, Lumed Pip        
Water Resistance: 200m / 20ATM / 660ft
Lume: Swiss Super Luminova® BGW9
Crown: 6.5mm, Signed, Screw Down
Caseback: Screw Down, Stamped Freediver Logo, Unique Serial Number
Warranty: 3 Years    Overall Weight: 159g     Where to Buy: Traska

Dial Colour: – Black, Blue, Grey, Mint        Bezel Insert: Stainless Steel, Ceramic
Movement: Seiko SII NH35 / NH38, Date / No Date

Traska - A Brief Introduction
"The inception of Traska was motivated by their vision to create sport watches that enrich the lives of those wearing them. Coupling robust construction with a timeless aesthetic, the results are watches that will last a lifetime and thrive in any environment. Whether you're scuba diving Darwin's Arch, rock climbing Half Dome, or diving into the pool to save a drunken party guest, a Traska watch is a companion worthy of any adventure.

Traska are an independent American watch brand with a passion for exquisite detail and a commitment to excellence. Unmoved by the shallow ethos peddled by luxury brands and weary of fast-fashion offerings designed for obsolescence, Traska seized the opportunity to establish a legacy. They craft world class wrist watches that combine classic design and contemporary engineering. Their drive; to inspire those with discerning tastes to seek more from the watch on their wrist.

The knot logo symbolizes a seemingly complex problem that actually has a very clear and clean solution. We see the watch industry as hopelessly divided with low-quality fast fashion "articles" on the one hand and pricey luxury "timepieces" on the other. We decided to be different. With each new design, we obsess over every detail and challenge ourselves to break the mold and create something that will last — a watch that transcends the fads without the luxury facade. Our logo speaks to the fact that we aren't intimidated by complexity. Instead, like Alexander the Great cutting the knot with one swipe of his sword, we're motivated to keep finding bold yet simple ways to make watches we can be proud of.

Traska, in Swedish, is a verb that means 'to take a stroll', and our Swedish friends say it makes them think of nature. It's also a reasonably uncommon word, which is good because it means we can really make it our own. Since we're a global community of connoisseurs and adventurers, it's also important that Traska is easy to pronounce, no matter what your native tongue."
The case of the Freediver II has an overall diameter of 39.8mm. The lug to lug is 47.8mm and the overall thickness, including the double domed sapphire crystal, I measured in at a very nice 13.2mm. The entire case, caseback, bezel, bezel insert, crown and bracelet are all 316L stainless steel. The Freediver II, like the original, has the addition of hardening treatment applied to it (case & bracelet) and it won't cost you an extra penny, as it's totally standard on all Freediver II's.
The finishing of the Freediver is where the watch really starts punching well above its weight, with its mainly brushed appearance but with the addition of really subtle, but very well executed polished highlights. The coin edge bezel is polished as are the chamfered edges on both sides of the lugs. Once you see this watch in the flesh, I guarantee you'll be blown away by the attention to detail and tolerances of the Freediver II. It's even better than some watches I've seen that cost triple the price! The weight of the Freediver II, on bracelet, sized up for my 7″ wrist, came in at a very nice 159g.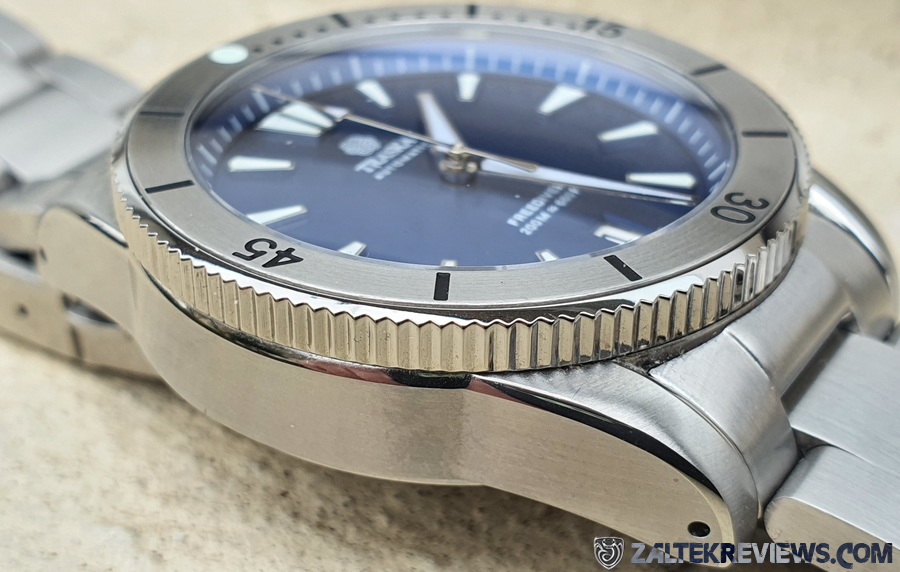 The original Freediver had a water resistance rating of just 100m, that had most people complaining. I didn't complain as such, but I did state in my review that it could be seen as a negative. Traska took that feedback on board and increased the WR of the Freediver II to 200m. A smart move from them if you ask me, just so the "great unwashed" (the general public) have nothing to complain about! The proportions of the watch, in my opinion, are nothing short of perfect.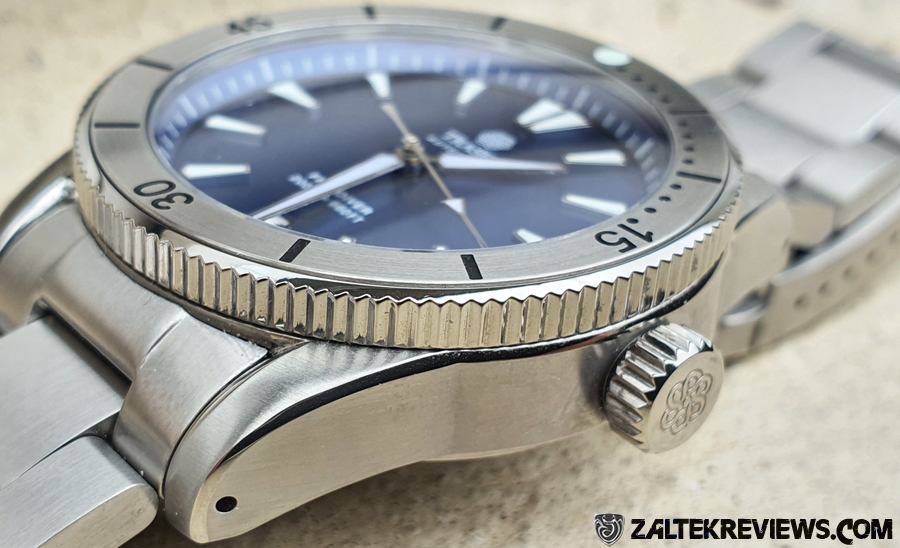 The signed crown is great and of a good size at 6.5mm and shows the Traska logo off very nicely. There is zero wobble too when the crown is in use and you can also feel a nice wee pop as you unscrew it. The caseback has an etched freediver design on it that looks pretty cool and you'll also find the usual etched specs as well as a unique serial number.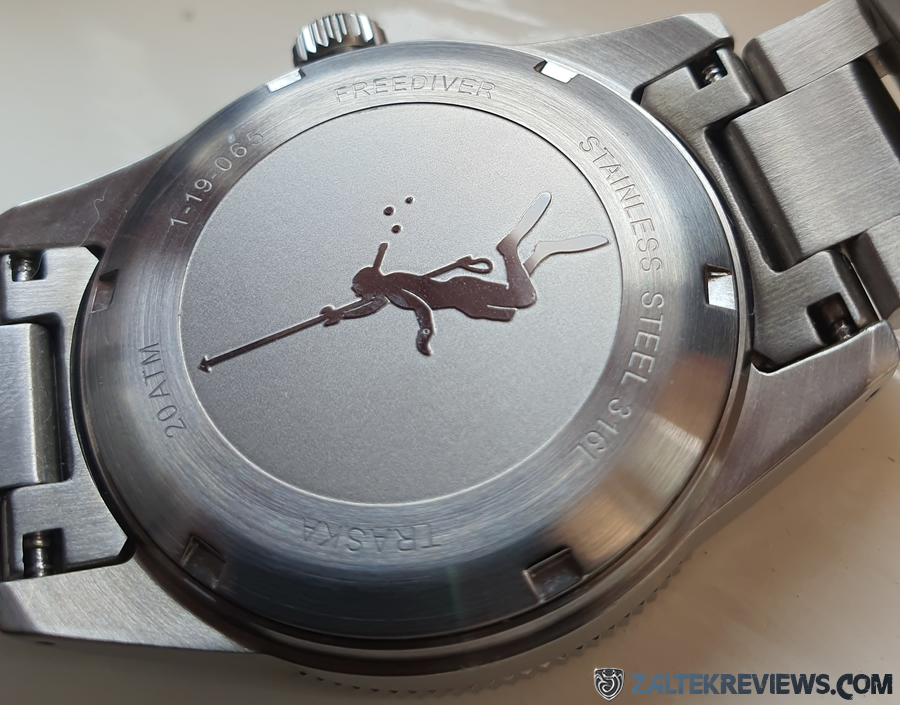 The Freediver II comes fitted as standard with a gorgeous 20mm brushed 316L stainless steel bracelet that definitely just oozes pure and utter quality. It is leagues above the usual microbrand bracelet and has all the nice bells & whistles that you'd expect to find from a premium bracelet that you'll usually find fitted to a watch that costs triple the amount of the Traska Freediver II. Solid links & end links, screw pins for sizing and adjusting, as well as a solid, milled signed clasp. Even when adjusting the size of the bracelet, the screws used are of very high quality, none of that usual crap you get with some microbrands that are just trying to scrimp & save to cut corners and keep costs low.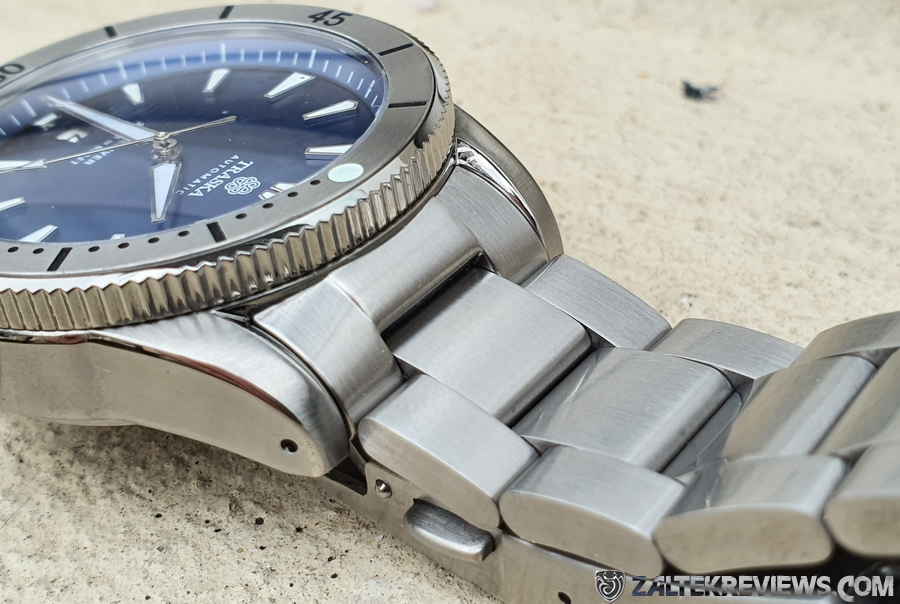 The clasp has polished chamfered edges as does the flip-lock mechanism which is an appreciated extra little touch. You'll also find perlage finishing done to the inner scissor arms that you can see in the image below, although I must admit, it was a little difficult to capture it well enough with my camera, so I can only apologise. The bracelet also has a very nice taper to it, from 20mm at the lugs, down to around 17.5mm, before back up to approximately 19.5mm at the clasp.

The chosen movement for this Freediver II is the date version of the very reliable Seiko NH series. Thankfully, Traska also go the extra mile and use the NH38 for the no date version of the Freediver II, which obviously equates to a no ghost position when using the crown. Excellent attention to detail from Traska.
Checking the accuracy after running the Freediver II for a good few weeks, mainly on my wrist and occassionally in my watch winder, I was absolutely gobsmacked with it showing an average of just +1.2 spd. I'm not sure if the movement I got in my Freediver II was regulated or not, either way, it's an excellent result!
The Freediver II has a 120 click unidirectional bezel with a brushed stainless steel insert. (Ceramic inserts are an option). It is of outstanding quality and everything lines up 100% perfectly. The bezel action is phenomenal, nice & smooth, with zero backplay. The text is printed, showing the words TRASKA & AUTOMATIC under the double batons at the 12 position, as is the Traska logo itself. The model name and depth rating of 200m/660ft is also printed at just above the 6 position.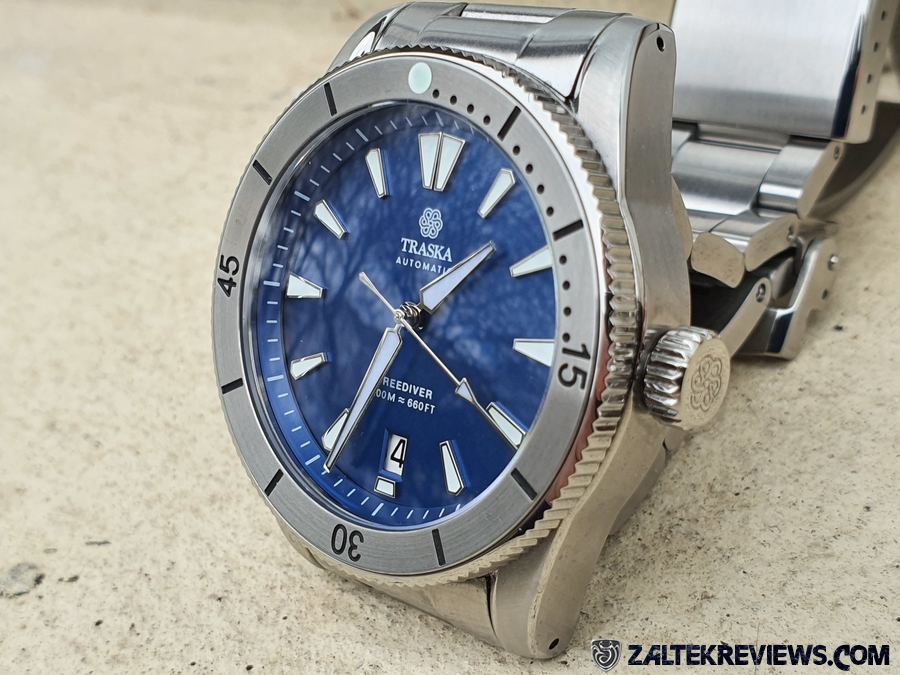 As you can see in the images, the hour and minute hands are very nicely done and look fantastic with their alpha shaped appearance. The size of the hands too are pretty much perfect in relation to the size of the dial. The matching seconds hand is a stunner too, with it's wee lumed arrow section, with the tip of the hand reaching right out to the minute track that's printed on the sloped chapter ring. All three hands are finished in silver with vast amounts of BGW9.
The applied hour markers or batons (whichever you prefer to call them) have been increased in size slightly, when you compare it to the original Freediver. Great decision if you ask me, as that means, more real estate = more lume!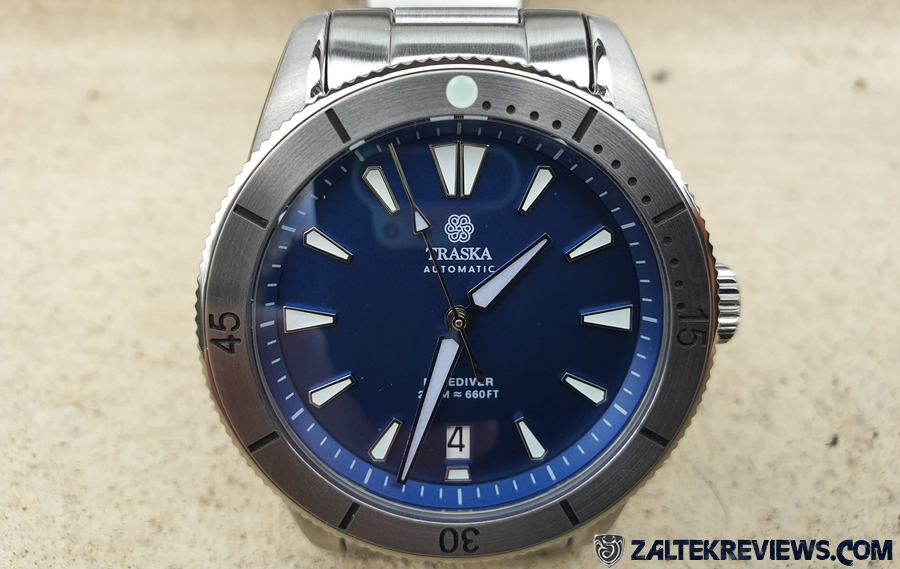 There is the addition of a perfectly executed date cut out at the 6 o'clock position for this new version of the Freediver, but obviously, you still have the option of a no date version as previously mentioned. I love a date complication, as you all know, especially when done right. Ok, the wheel itself isn't colour matched to the dial, but I'll forgive Traska this time.
On this blue model of the Freediver II, the actual colour, or shade of blue used, is probably my favourite blue dial watch that I've seen. In real life, the shade comes across as more of a denim blue, rather than the slightly darker navy blue that you first might think when looking at the abundance of images that are available across the interweb.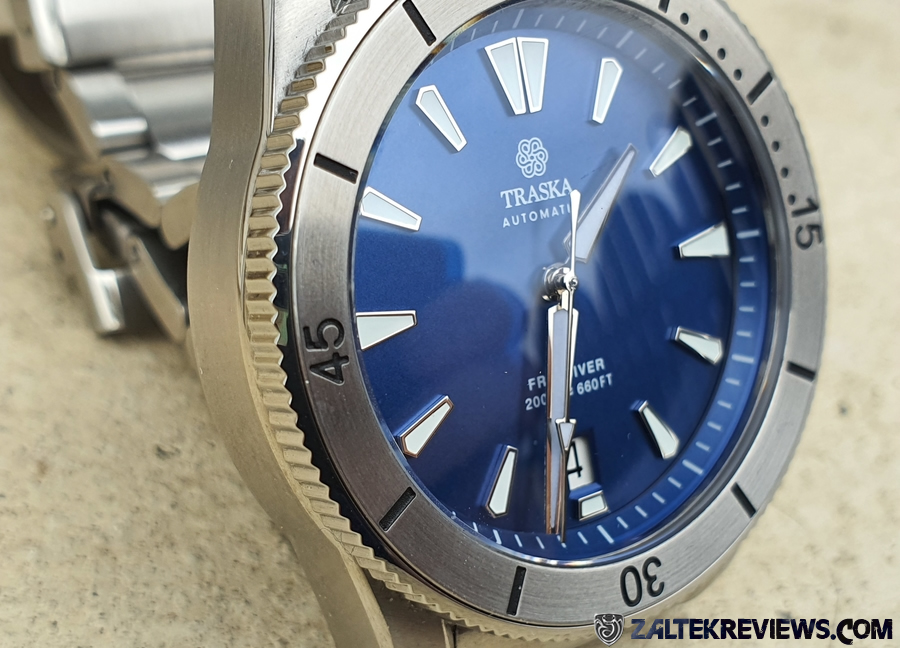 The lume on the Freediver II is very good and I can honestly say, it's easily up there with the best of the best. The actual lume that's been applied is Swiss Super Luminova® BGW9, and it has been applied not only evenly, but perfectly. The lume is not only bright, it also lasts for many hours. If you thought the lume needed improved on the original Freediver, well, Traska have nailed it with their latest MkII.
As I stated in my introduction for this review, I didn't think it was possible for Traska to improve on the original Freediver. Well, I can honestly say that they have achieved that in spades! Just small tweaks they've made, but they've tweaked and improved practically every single aspect of the watch. The design of the watch is just gorgeous and to be honest, I would struggle to make any changes to it, oh, apart from the colour matched date wheel I mentioned earlier, however, if they had done that, I'd need to give the watch an overall score of 11/10. Yep, this watch is that GOOD!
I can honestly say, hand on heart, that this is the best watch I've reviewed so far in 2020. Yep, we might only be as far as April, but there has been some serious competition already this year, from the likes of Zelos and their excellent Mako v3, the Nanok from Hamtun (I love that watch)… and these are just a couple of fantastic watches that spring to mind that have stood out to me so far this year.
The quality of the Freediver II is what I'd expect from a watch costing 3 or 4 times more. I really can't find any fault with it, and trust me when I say this, I've studied this watch, stared at it for ages, even under macro and I just can't find any negatives. It's just beautifully made. Oh yeah, how can I forget the price, it's the bargain of the f**kin' century!
Traska – One word can only describe the Freediver II; PHENOMENAL!
10/10 - EASILY THE BEST SPORTS/DIVE WATCH UNDER $400!
A huge thanks to Jon from Traska for putting yet another dent in my wallet. Thanks buddy, worth every penny though.
To view the Traska website, or to join their mailing list to be informed of new models etc, visit
Traska Watch
.
Follow Zaltek Reviews on
Instagram
,
Twitter
and
Facebook
and please feel free to join our Facebook group
WatchChat
, a busy community for watch enthusiasts and collectors, with tons of images and in-depth discussions.
At Zaltek Reviews, we encourage the companies whose watches we've reviewed to comment on our articles. We invite any company representatives to respond in the comments section below. Thanks very much.