Manufacturer: Hamtun | Price: £445 GBP ($520 USD, €480 EUR (approx))
As I stated last month in my Phantom Caleuche review, (a sister brand of Hamtun) is I've had Hamtun on my radar for an absolute age! I originally backed their campaign on Kickstarter back in March 2019 of their Kraken H2 Diver, right up until the very last minute, but decided to pull out for various reasons. I do actually have a no-date version of the Kraken H2 now, having bought one just a few weeks ago, although, now that I mention it, I've still to do a review on that one.
First up though, I managed to borrow a Hamtun Nanok from my good friend Dennis, who graciously let me borrow his very own personal watch for a while. I've had the watch now for 3 weeks, so I thought I better take it off my wrist for long enough to finish my review on it, before Dennis gets pissed off and sends the lads round to get his watch back. You better send a f**kin' Army round to cut this off my wrist mate, as the Hamtun Nanok is an absolute beauty 😂 Let me explain…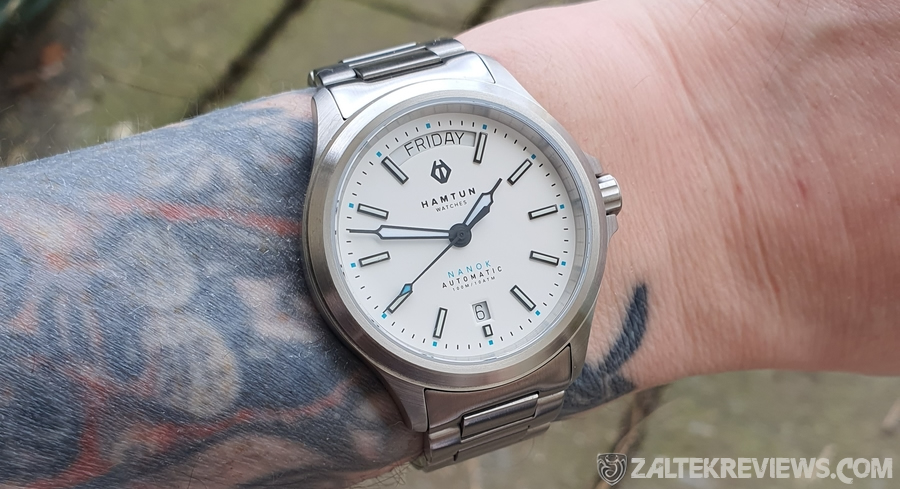 Specifications
Dimensions: Diameter – 39.2mm, Thickness – 10.9mm, Lug to Lug – 46.3mm, Lug Width – 20mm
Movement: Sellita 240-1, Automatic, 28,800vph (4Hz), Day/Date, Hackable, Self Winding, 38hr Power Reserve
Case Material: Brushed 316L Stainless Steel (Optional Hardening Treatment (Case & Bracelet))
Bracelet: 316L Stainless Steel, Solid Links & End Links, Screw Pins, Fully Milled Ratcheting Clasp
Crystal: Flat Sapphire, Underside Anti-Reflective Coating
Bezel: Brushed, Fixed          Water Resistance: 100m / 10ATM / 330ft
Lume: Swiss Super Luminova® BGW9
Crown: Screw Down, Signed
Caseback: Screw Down, Etched Hamtun Design, Unique Serial Number
Warranty: 2 Years    Overall Weight: 139g (Sized)      Where to Buy: Hamtun

Options: Dial Colour – Black, White | Stainless Steel Hardening Treatment (+£40) 
Titanium Version Coming Soon with Additional Colour Options, incl Colour Matched Day/Date Wheels

"Hamtun was founded by a couple of friends back in 2015. Lead by co-founder and designer Ross Davis, the aim was to create the watches that we wanted to own but, as family men with normal jobs, just couldn't afford. By cutting out all of the extra layers of bureaucracy and by working to sensible margins, we set out to make high quality watches for people like us. Hamtun is one of the original names for the settlement that eventually became Southampton, our home city. Naming stuff is hard!

Ross Davis came up with the original watch designs in 2015 and for the first couple of years of operation was responsible for every aspect of the business, from product design, through to shipping and general administrative roles. Ross lives with his wife and three children in Southampton, United Kingdom. Before starting Hamtun, Ross spent 10 years in product and project management roles for various software companies in London. With long term aspirations to run his own business, Hamtun started in 2015 semi-accidently as a result of his enthusiasm in watches."
The case of the Hamtun Nanok has an overall diameter of 39.2mm. The lug to lug is 46.3mm and the overall thickness, including the sapphire crystal, albeit flat, I measured in at a very svelte 10.9mm. The entire case, caseback, bezel, crown and bracelet are all 316L stainless steel. The Nanok that I have here, has the optional hardening treatment applied to it, which will cost you an extra 40 quid, but it's definetly worth it, in my opinion. The overall weight of the Hamtun Nanok, on the supplied bracelet, sized up for my 7″ wrist, it came in at a very balanced 139g.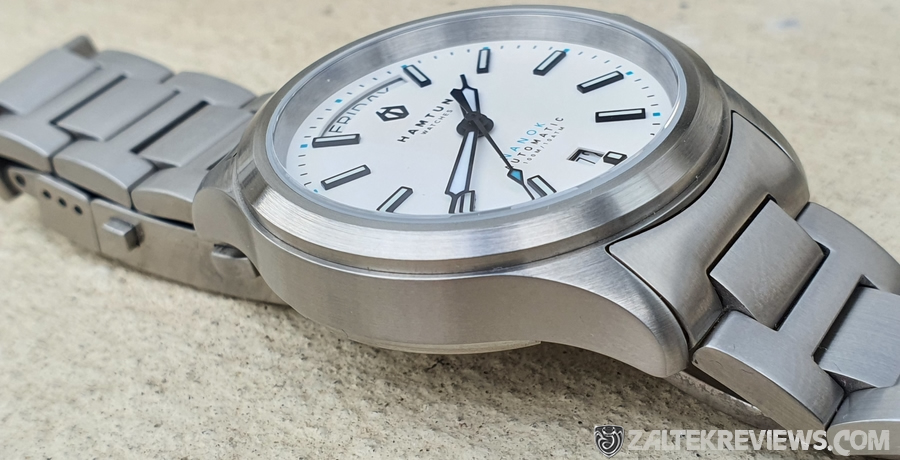 The Nanok has a water resistance rating of 100m, thanks to the screw down caseback and crown. I'm pretty sure the WR of the Nanok could possibly be increased to 150m or maybe even 200m without too much effort, I'm not entirely sure, it's maybe something I should ask Ross (the owner). It's not that I personally think that would be necessary, as 100m is plenty if you ask me, but you know what some people are like, they're never f**kin' happy. The proportions of the watch, in my opinion, are nothing less than perfect, especially with the way it wears on wrist. Oh, and don't let the dimensions put you off either, as the watch is pretty much all dial and wears slightly bigger than 39mm might suggest.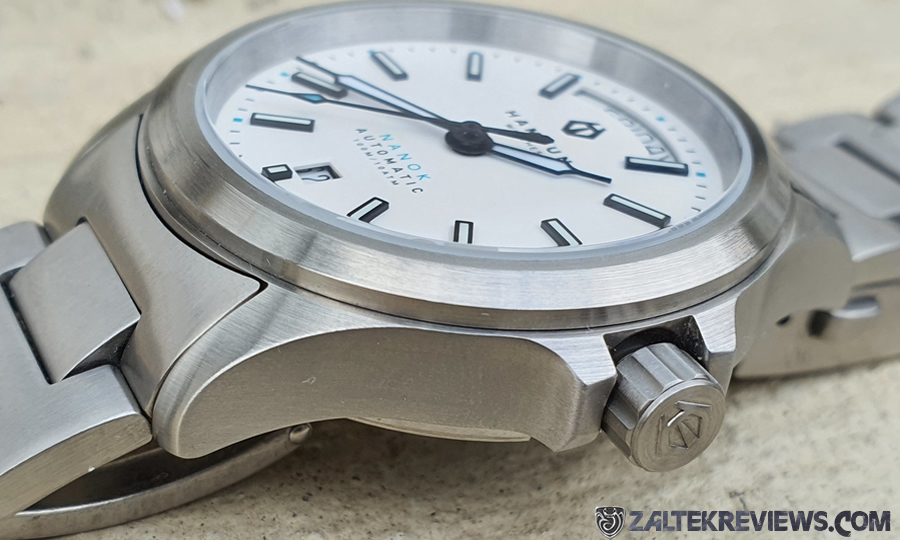 The signed crown is great and nicely done that showcases the Hamtun logo off very well. There is no wobble either when the crown is in use and you can also feel a nice little pop as you unscrew it. The caseback has a etched Hamtun design on it that looks fantastic. You'll also find the usual specs etched around the edge, as well as a unique serial number.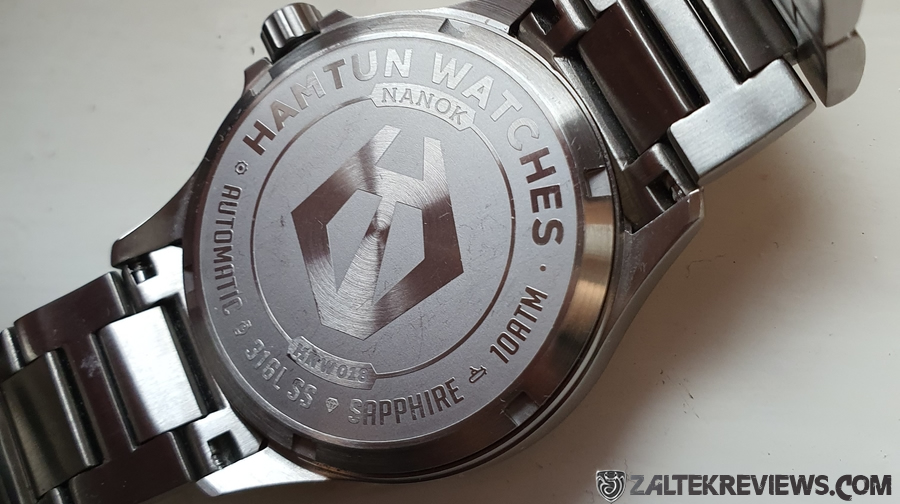 The Nanok comes fitted as standard with a 20mm 316L stainless steel bracelet that just oozes quality. It has all the bells & whistles that you'd expect from a premium bracelet, solid links throughout, screw pins for sizing and adjusting, as well as a solid, fully milled, signed ratcheting clasp. The clasp also has a little polished border on both sides and even although I like it, I find it a little weird considering the rest of the watch finish is entirely brushed. Oh, I've forgot to mention, the bracelet also has a lovely taper from 20mm at the lugs, down to around 17.5mm before the 20mm clasp.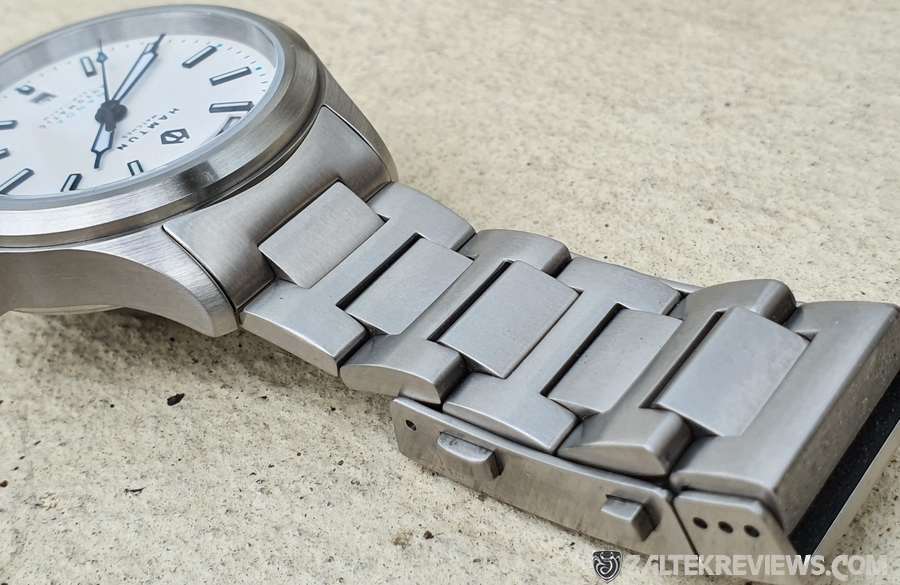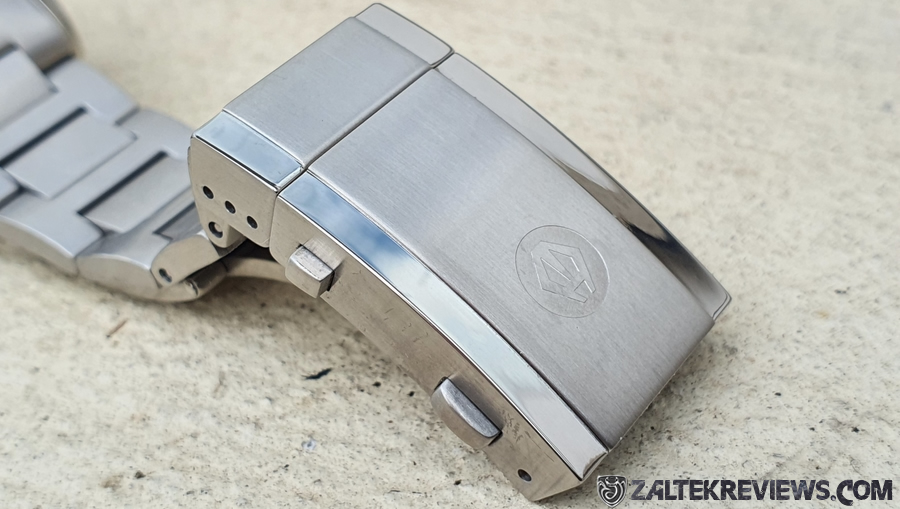 The chosen movement for the Nanok is the Swiss made Sellita 240-1. A fantastic calibre that is a 28,800vph, 4Hz, smooth sweep, 26 jewel automatic movement with self winding, hacking and a very respectable 38 hour power reserve. Checking the accuracy after running the Hamtun Nanok for around 3 weeks, mainly on my wrist and only occassionally in my watch winder, I was very happy with the results, with the Nanok showing an average of just +4.5 seconds per day.


The Hamtun Nanok has a totally fixed bezel, a brushed finish with hardening treatment to match the rest of the case and bracelet and everything is of very good quality. The text on the dial, that's printed in the lower section, are the words NANOK which is finished in blue and the word AUTOMATIC in black. The depth rating of 100m/330ft is just below that.
The Hamtun logo is also printed and it is situated at the usual spot of just under the 12 o'clock position. For the soon to be released titanium versions of the Nanok and all the other Hamtun models going forward, the actual 'Watches' part of the Hamtun logo has been removed, giving all models a very much cleaner aesthetic. This is a very smart move from Ross, as it was probably going to be one of the small changes I would've made to the Nanok.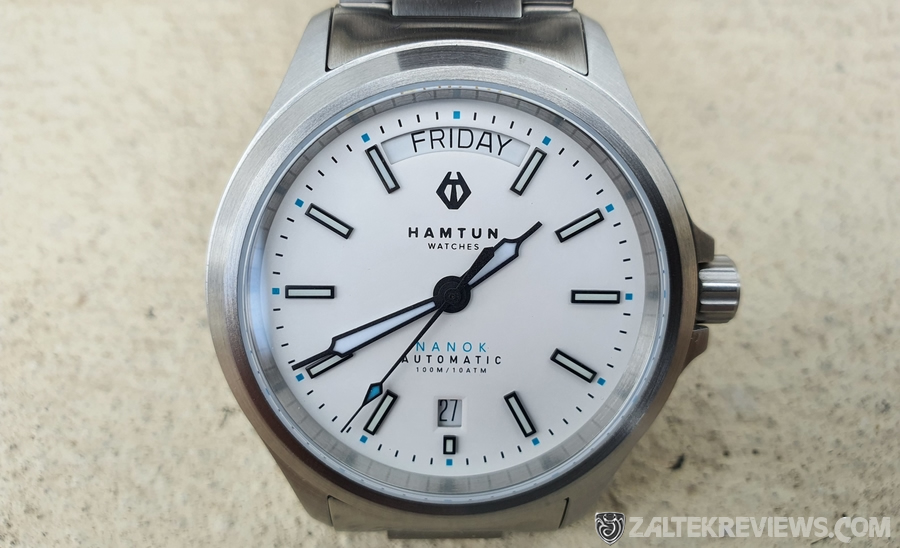 As you can see in the images, the hour and minute hands are very nicely done with their sword/candle style appearance with a nice tip at the ends. The size of the hands too are pretty much perfect in relation to the size of the dial. The matching seconds hand is a belter too, with it's wee blue section and tip reaching right out to the minute track.
There are perfectly executed day & date windows cut out at the 12 and 6 o'clock positions respectively. On this white model, they are just perfect, although I think Hamtun did miss a trick on the black model, as they're not colour matched. Oh, man! That black version would've looked sexy AF with black day/date wheels. However, not to panic, the forthcoming titanium versions, whether you pick either the grey or pastel blue, all the day/date wheels are perfectly colour matched!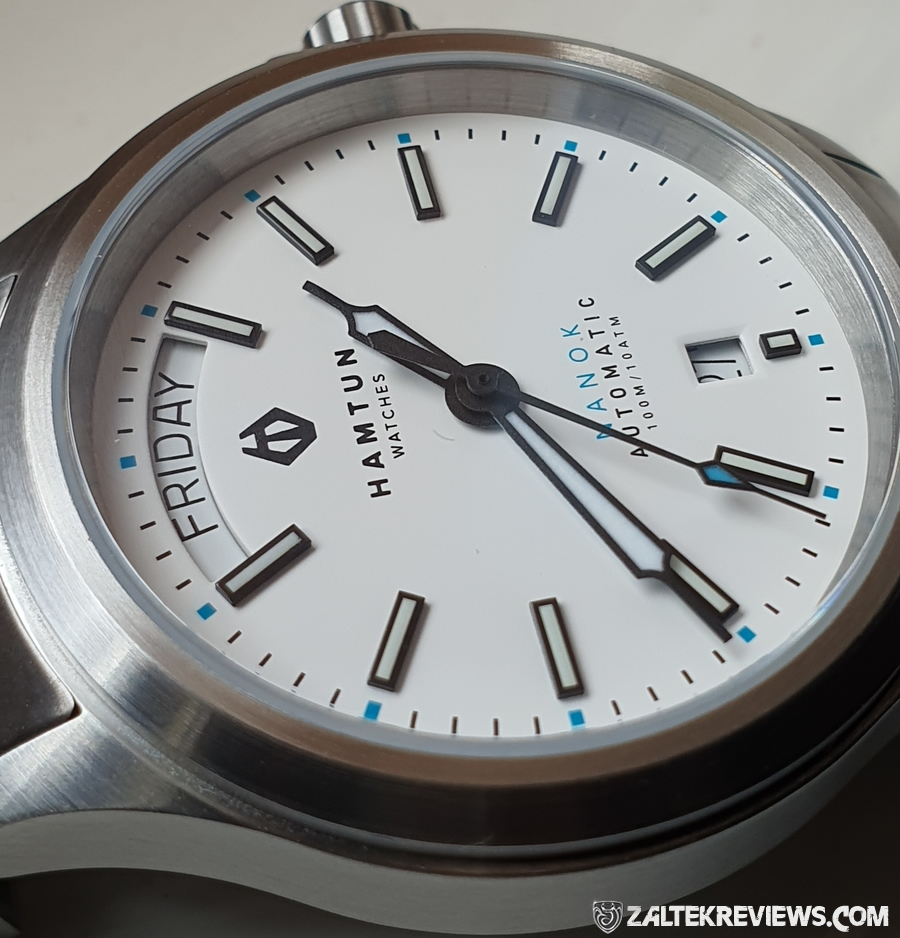 The lume on the Nanok is very nice and I can honestly say, it's easily better than even some dive watches I've reviewed. The lume that's been applied is Swiss Super Luminova® BGW9, and although these are just words, trust me when I say this, it has been executed 100% properly, even when the watch doesn't have a great deal of lume real estate. Great work Hamtun, it's that attention to detail is what makes all the difference. The lume is not only bright, it lasts for many hours.
It is not very often I get a watch in for review where I totally struggle to find even the slightest tiny niggle or something I'd like to change or adjust. The Nanok from Hamtun is one of those watches! It isn't even the one that I have here where I'd make any changes, it's the black version. Two guesses what that is, yup, the day/date wheels. Make them black Ross to colour match the dial please and so it matches the rest of the model range.
Anyway, as I mentioned, I wouldn't change anything to the watch I have here, the white version. It is a truly gorgeous watch. Ok, it doesn't have the fancy finishing of a Monta Triumph or a Christopher Ward C60 Pro Mk3, but then those watches are two, even three times as much. They are also prone to scratching due to the polishing on them, whereas the Hamton is pretty much entirely brushed, this one also has the hardening treatment done to it. Best 40 quid spent, ever?
The build quality of the Nanok is certainly on par though, as is the design. In fact, I much prefer the design of this Hamtun over the Christopher Ward or Monta any day of the week. All this for under £500!! It's a total no brainer if you ask me. This white stainless steel version of the Nanok is by far my favourite, and yes, before you ask, I will most certainly have one of these  in my collection as soon as I possibly can, no question!
Hamtun – Excellent work Ross! An excellent, high quality, beautifully designed everyday sports watch. I'm definetly a fan!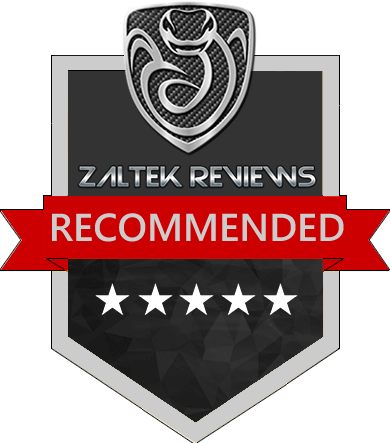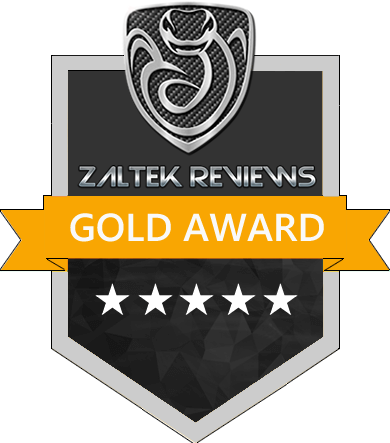 10/10 - HIGHLY RECOMMENDED!
A huge thank you goes to Dennis Kwok from our very own Facebook group
WatchChat
, for sending me his Hamtun Nanok to review. Thanks buddy, I really appreciate it.
To view the Hamtun website, or to join their mailing list to be informed of new models etc, visit
Hamtun
.
Follow Zaltek Reviews on
Instagram
and
Facebook
and please feel free to join our Facebook group
WatchChat
, a busy community for watch enthusiasts and collectors, with tons of images and in-depth discussions.
At Zaltek Reviews, we encourage the companies whose watches we've reviewed to comment on our articles. We invite any company representatives to respond in the comments section below. Thanks very much.
[mailerlite_form form_id=1]