Manufacturer: Werenbach | Price: $1,599 USD (£1,165 GBP (price includes optional bracelet))
Ever since I was a kid, I've always had a thing about rockets, mainly down to the fact of just how bloody complicated the whole rocket engineering this is. Never mind the absolute fuckin' bat shit crazy lunatics that actually volunteer to get dressed up in a spacesuit, then strap themselves inside, while a bunch of muppets countdown to zero before you get thrust into space at over 1,000 miles an hour. FUCK THAT! Oh hang on, that must mean I was the world's youngest (potential) astronaut back in the 70's, as I should have been shot into space if my Dad's condom hadn't burst!
That's right peeps, I'm here all week! Fuck my life, I really NEED to get out more, as I just read over that and thought it may be a good idea to delete it and start over. Balls to that, this isn't fuckin' YouTube where everyone is offended at something, I'm in control here, so it's staying exactly where it is! I suppose I had better get on with this review then… So what am I reviewing today? Yup, it's the long-awaited Werenbach Soyuz 02 range. The Anniversary Edition too, marking 60 years since the first bampot was shot into space.
Below is a short video that was only taken last week of 34 OneWeb satellites that launch atop a Soyuz rocket. You should watch it, as it's pretty bloody impressive!
Full Specification – Soyuz 02 RAW II
Dimensions: Case – 41.7mm, Thickness – 11.5mm, Lug to Lug – 47.9mm, Lug Width – 20mm
Movement: Sellita SW200-1 Elaboré, 28,800vph, 26 Jewels, Hackable, Self Winding, 38hr Power Reserve
Case: Brushed & Polished 316L Stainless Steel
Bezel: Fixed, Brushed 316L Stainless Steel
Dial: Unmodified Soyuz Rocket Booster Material, Custom Hands & Counter-Balance
Lume: Swiss Super-LumiNova® X1 GL C1
Strap: Top Grade Rubber, Textured Top, Leather Reinforced Accents, Milled & Signed Buckle
Bracelet: (Cost Option) Brushed 316L Stainless Steel, Solid Links, Screw Pins, Milled Butterfly Clasp
Crystal: Double Domed Sapphire, Underside Anti-Reflective Coatings
Water Resistance: 100m / 10ATM / 330ft

Caseback: Screw Down, Deep Stamped Artwork, Small Exhibition Display, Unique Serial Number
Crown: 6mm, Push/Pull, Signed

Weight: 93g (On Rubber Strap)
Where to Buy: Werenbach

Warranty: 5 Years International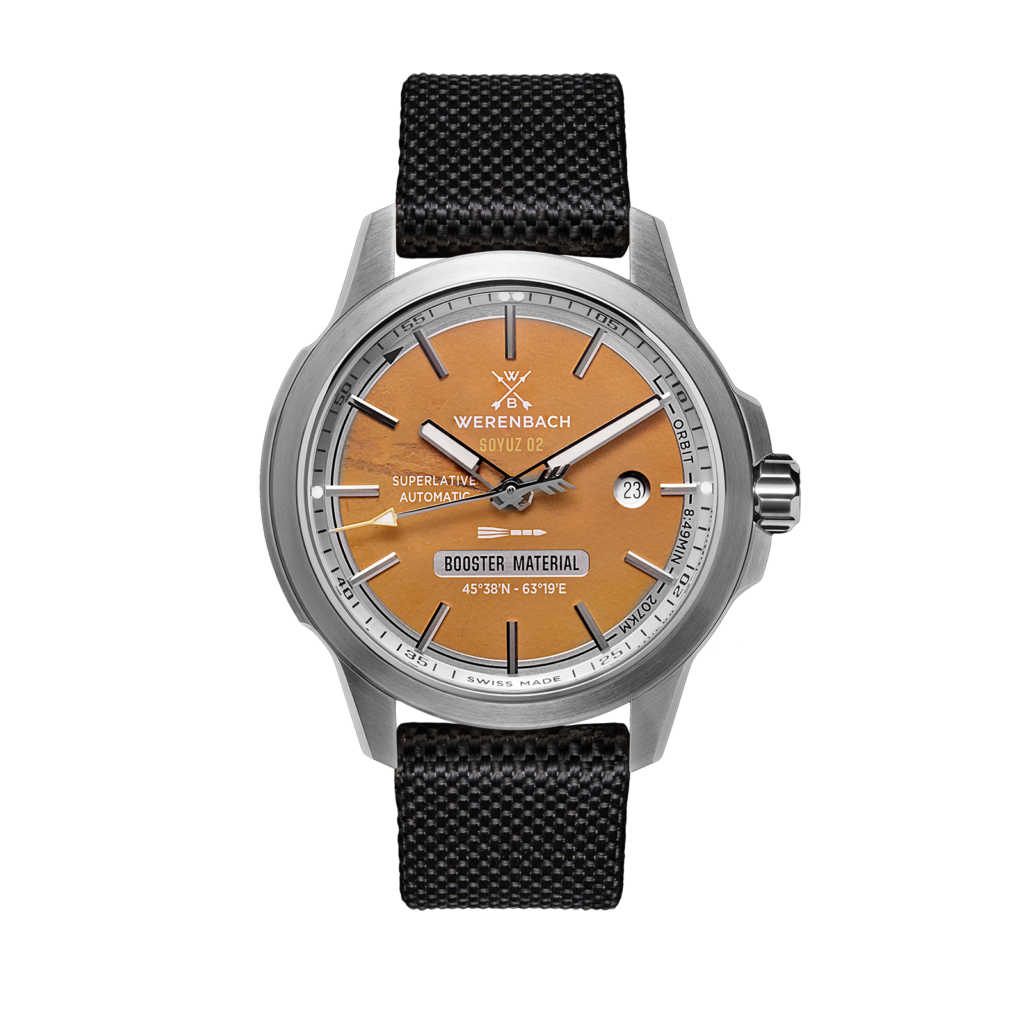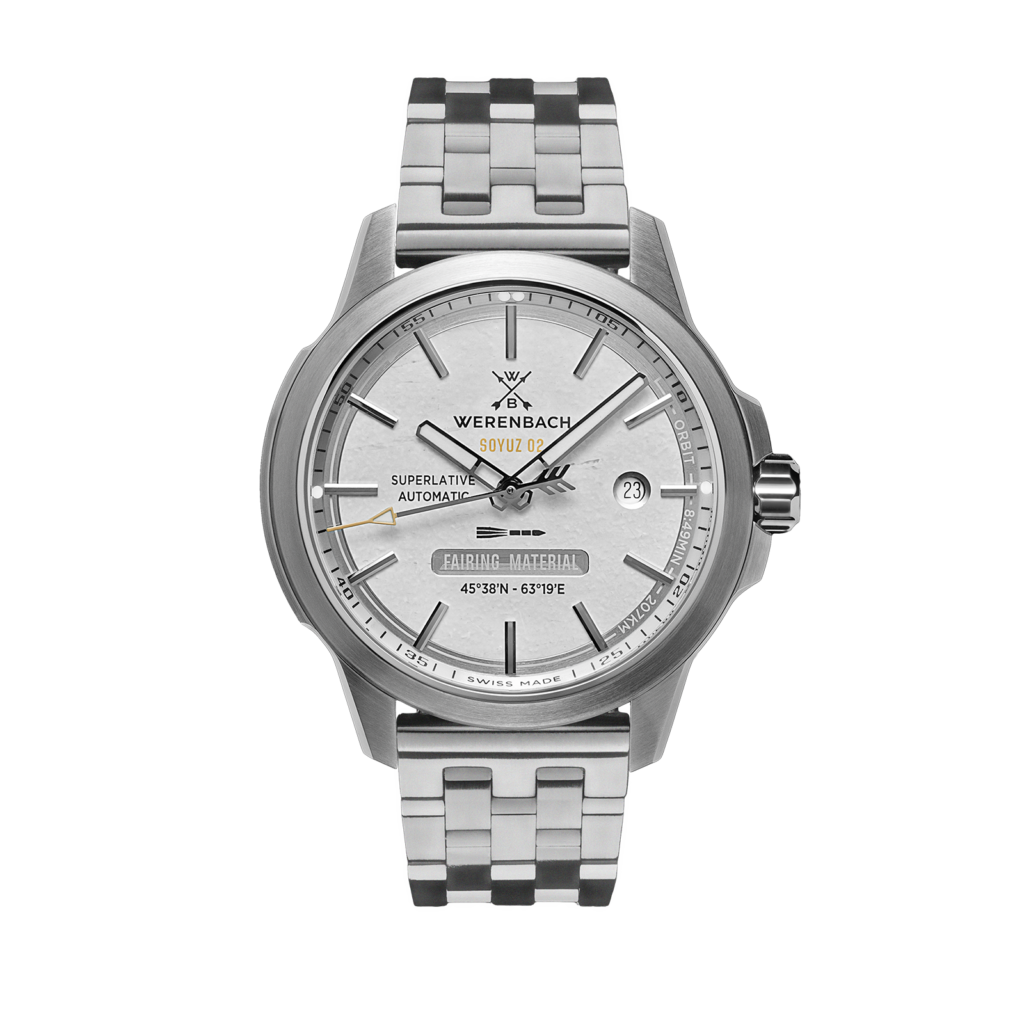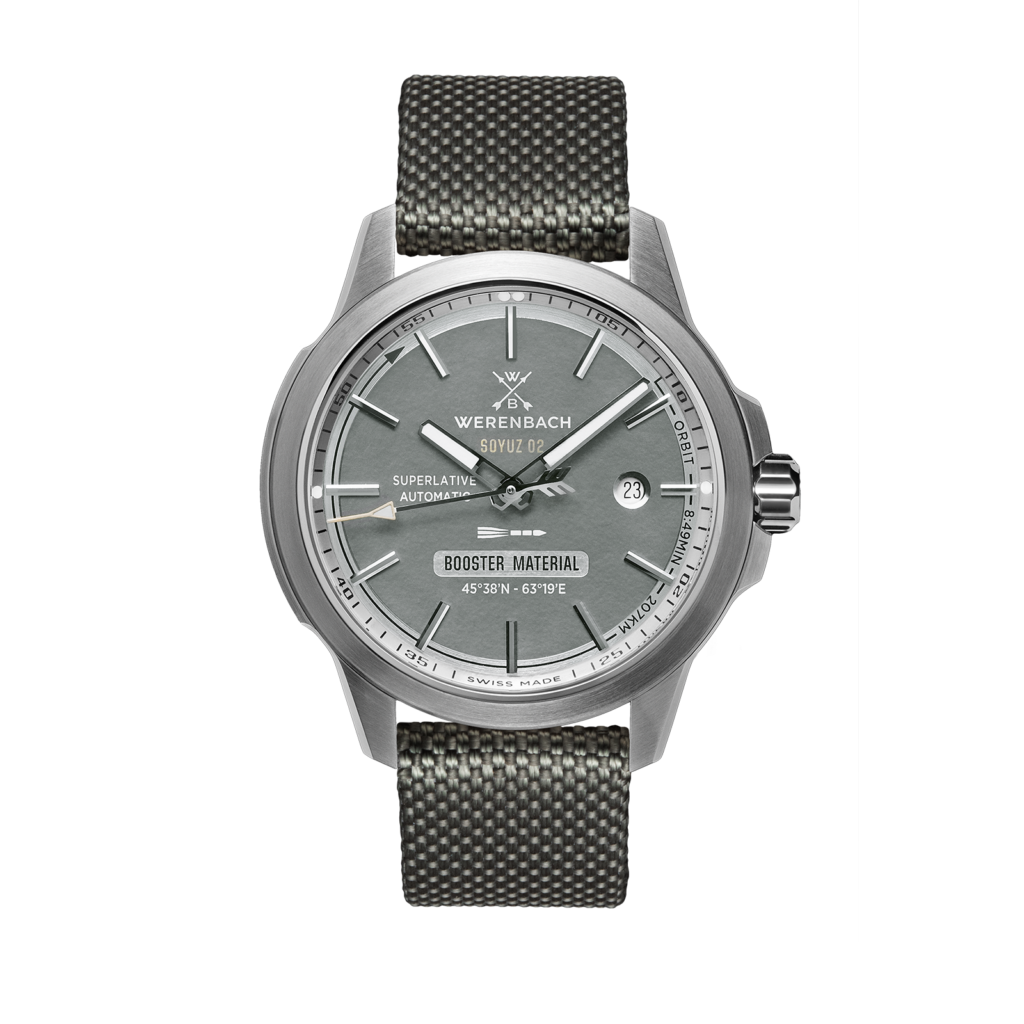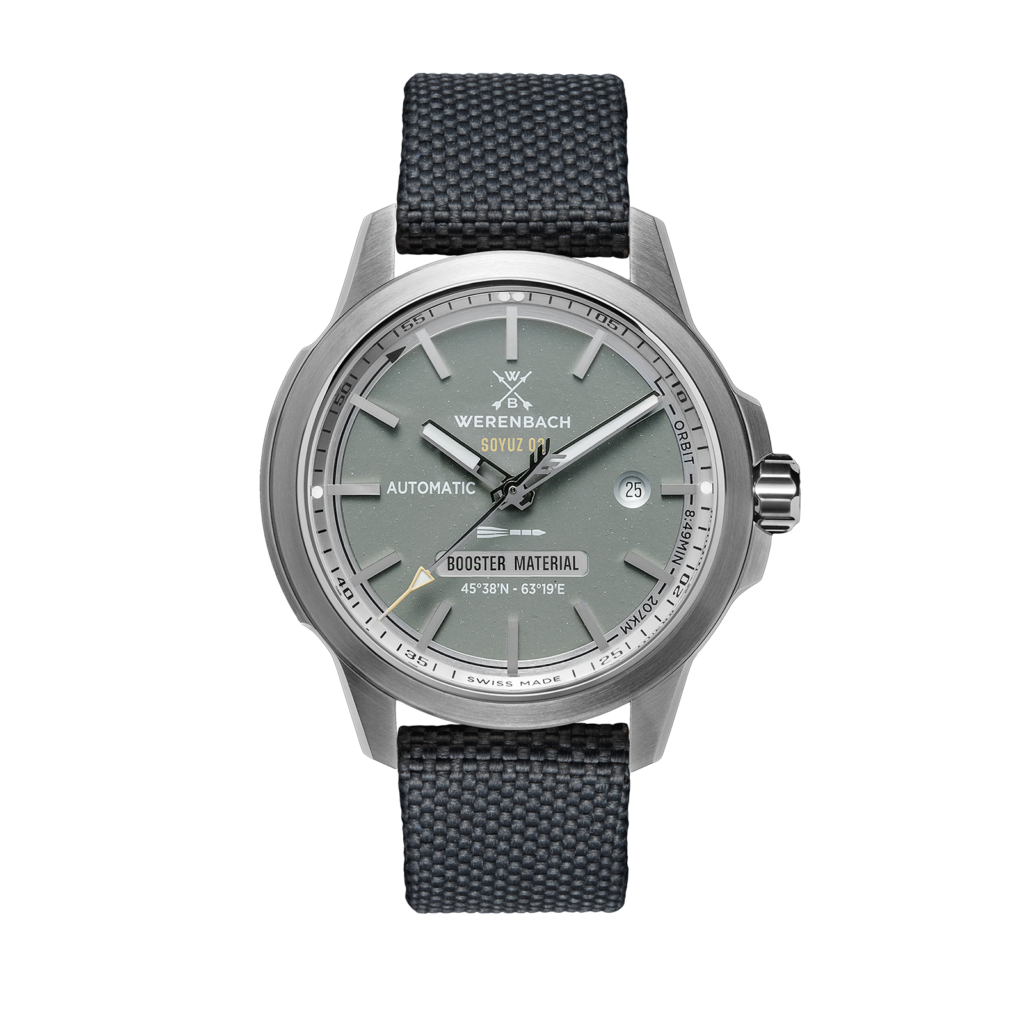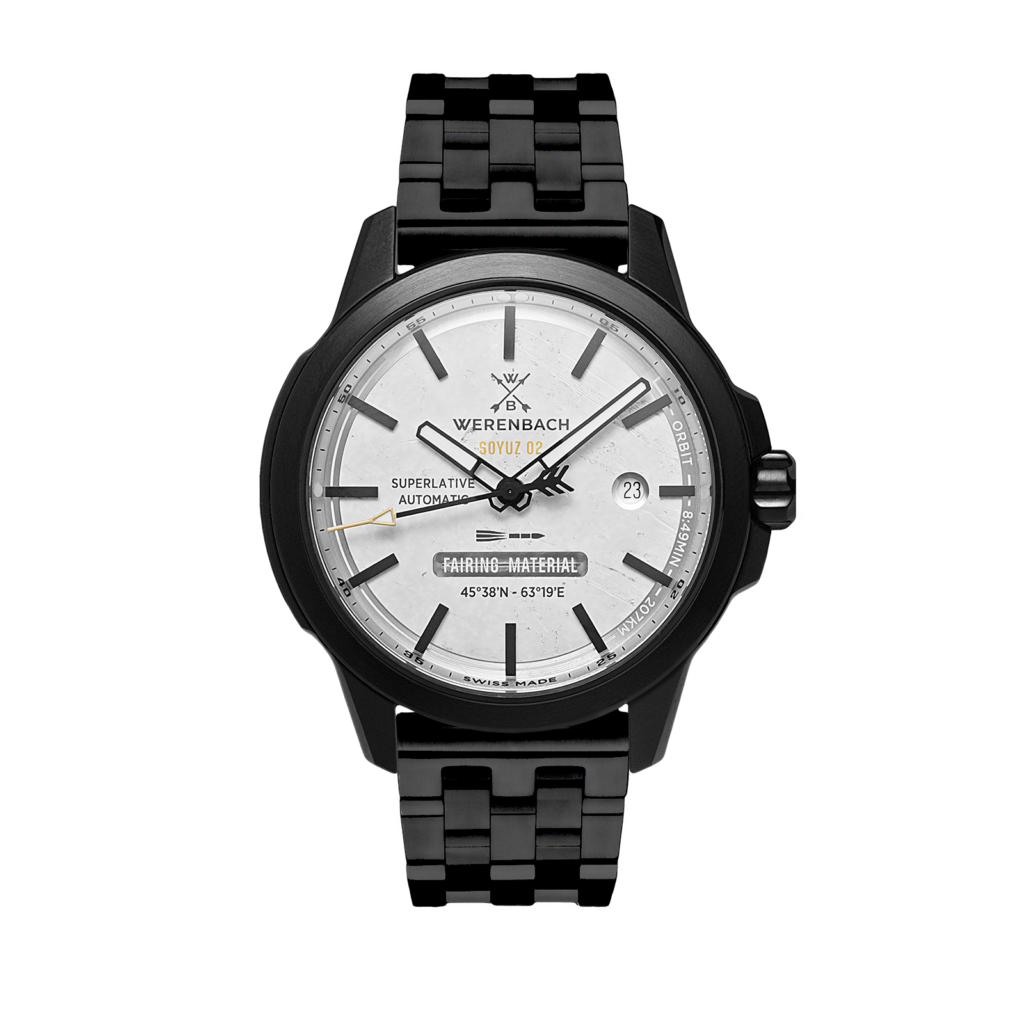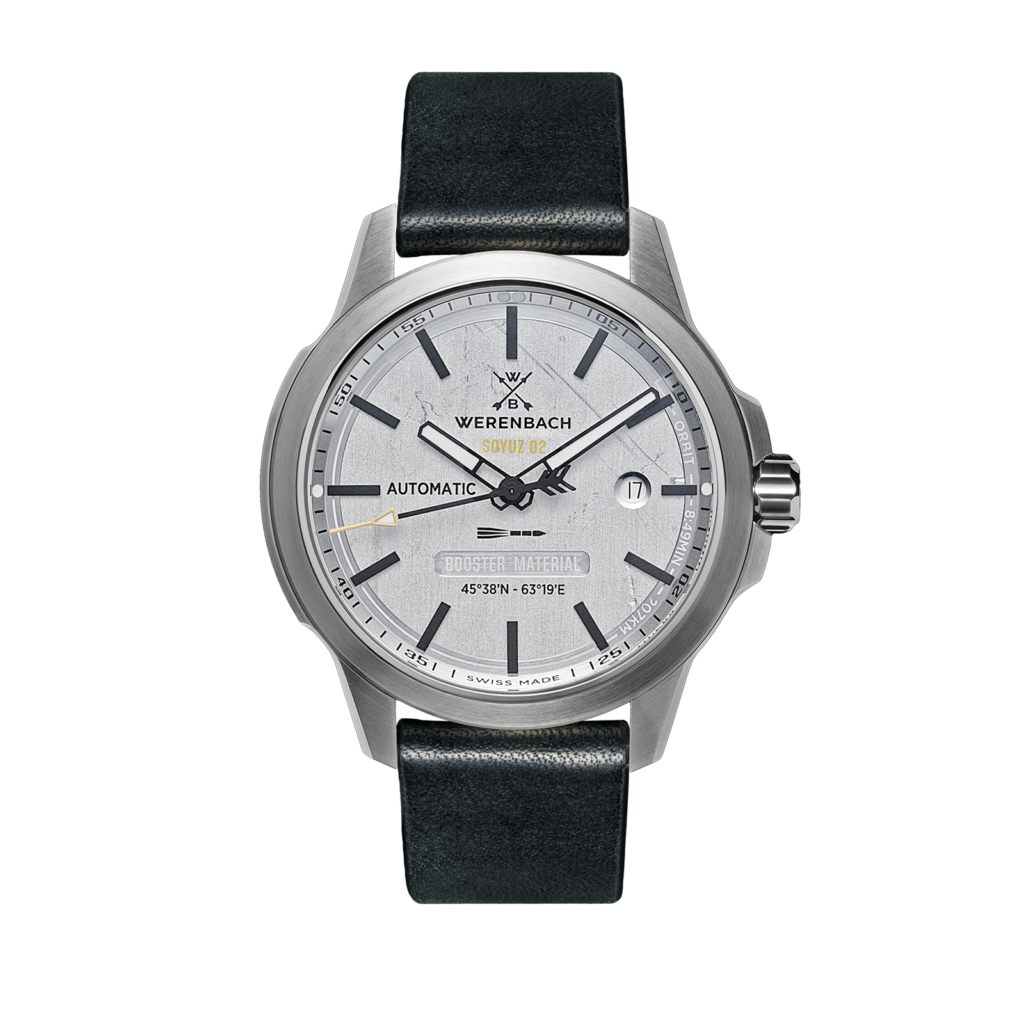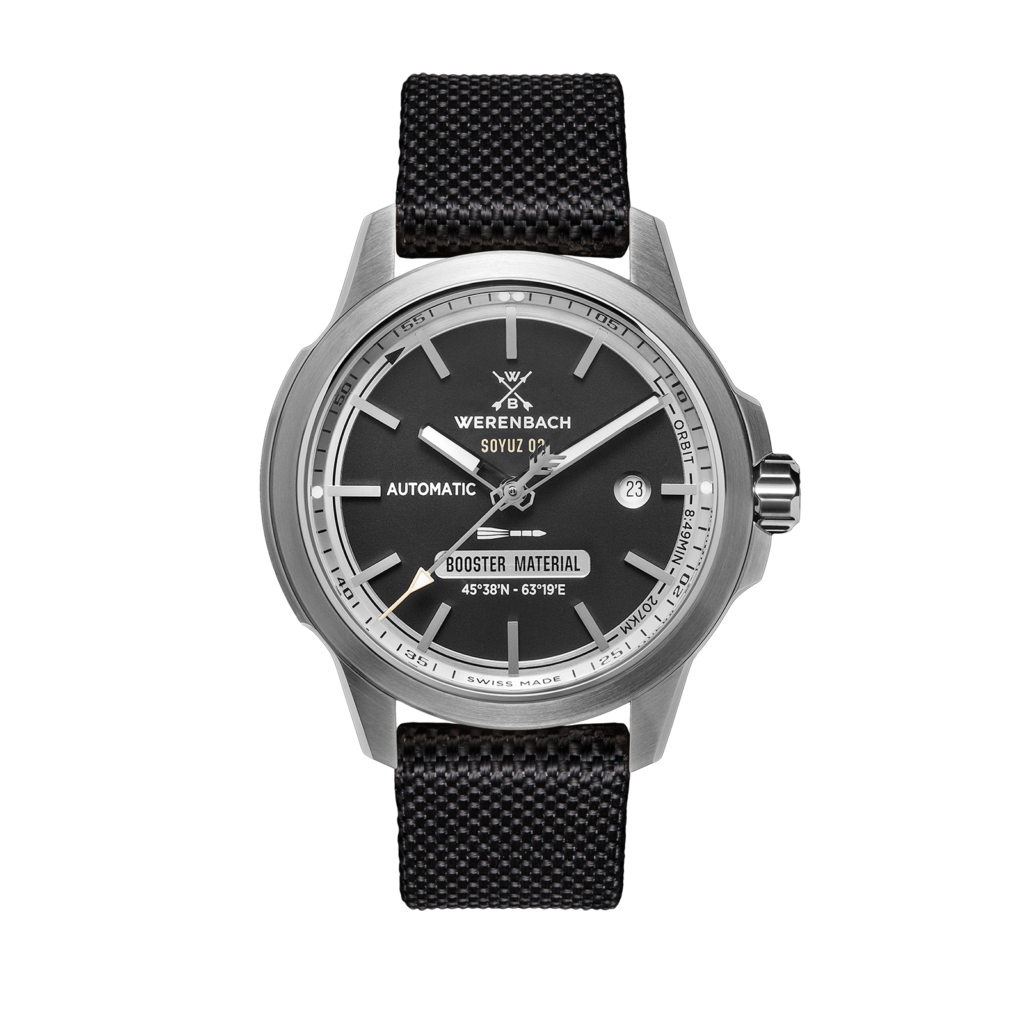 Werenbach Soyuz 02 "Anniversary Edition"
"After a long development period, we are launching the new Soyuz 02 "Anniversary Edition". This is a unique anniversary edition - on the occasion of Yuri Gagarin's first space flight 60 years ago. The Soyuz 02 is a reinvention of the previous Leonov collection; the dial is cut from the original rocket material, thus preserving the original surface of the manned space rocket. Compared to the previous collection, it has been massively improved, both technically and optically. Nevertheless, the price point is still the same."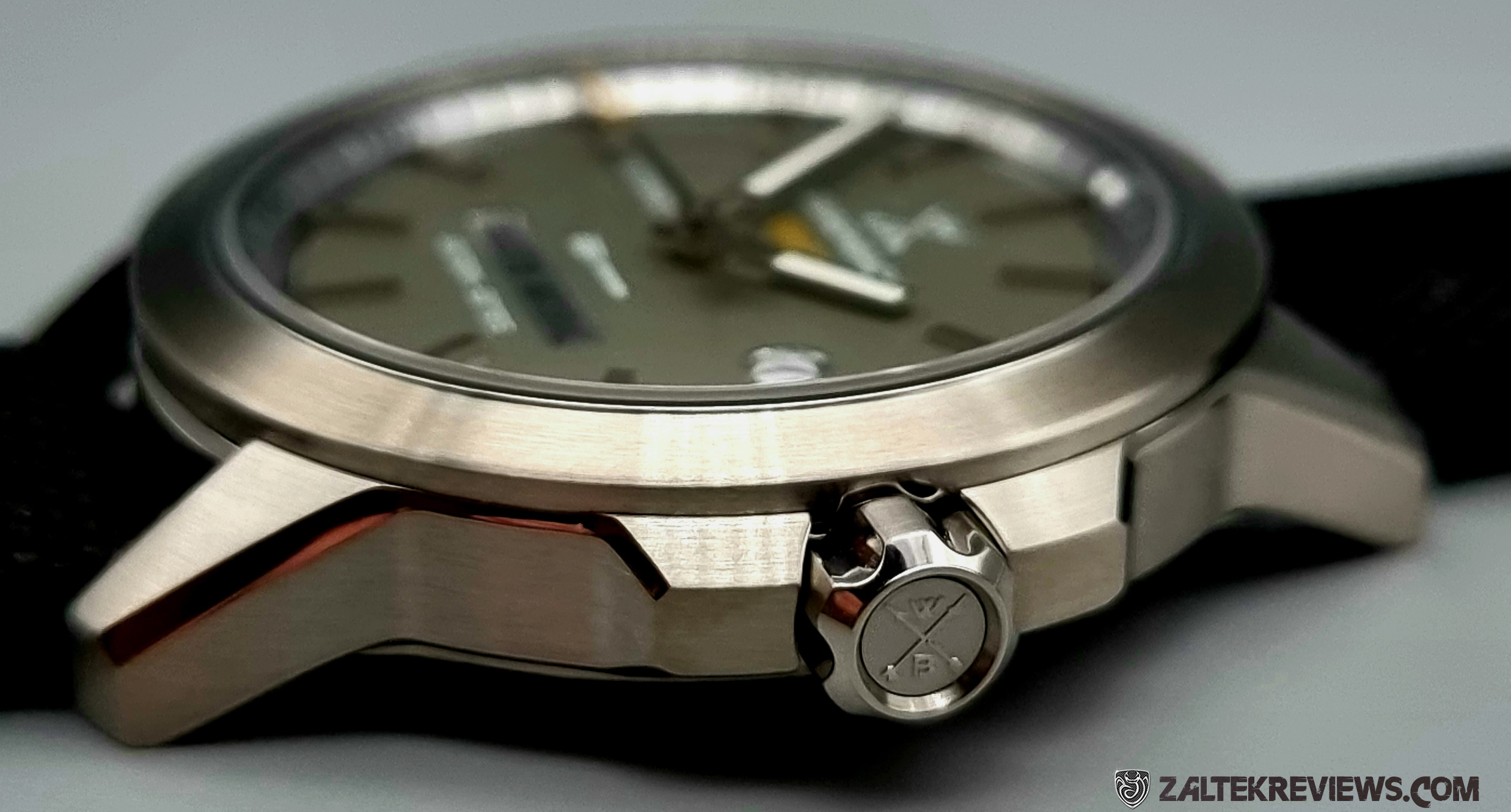 The case of the Werenbach Soyuz 02 RAW II Anniversary Edition (to give it its full name), according to my calipers has a diameter of 41.7mm. The lug to lug is 47.9mm and the overall thickness, including the double domed sapphire crystal, I measured in at a rather tasty 11.5mm. The mid-case, caseback, fixed bezel, crown and the optional bracelet are all 316L stainless steel. The finish of the case is mostly brushed, with the addition of polished chamfered edges, that run along the top edge of the case, down over the lugs and the inner edge of the crown guards. Overall, it looks absolutely stunning and I could easily rate the finishing as right up there with the likes of Christopher Ward. On the opposite side of the crown there's a SPACEBORN plaque that just adds that wee bit of Je Ne Sais Quoi.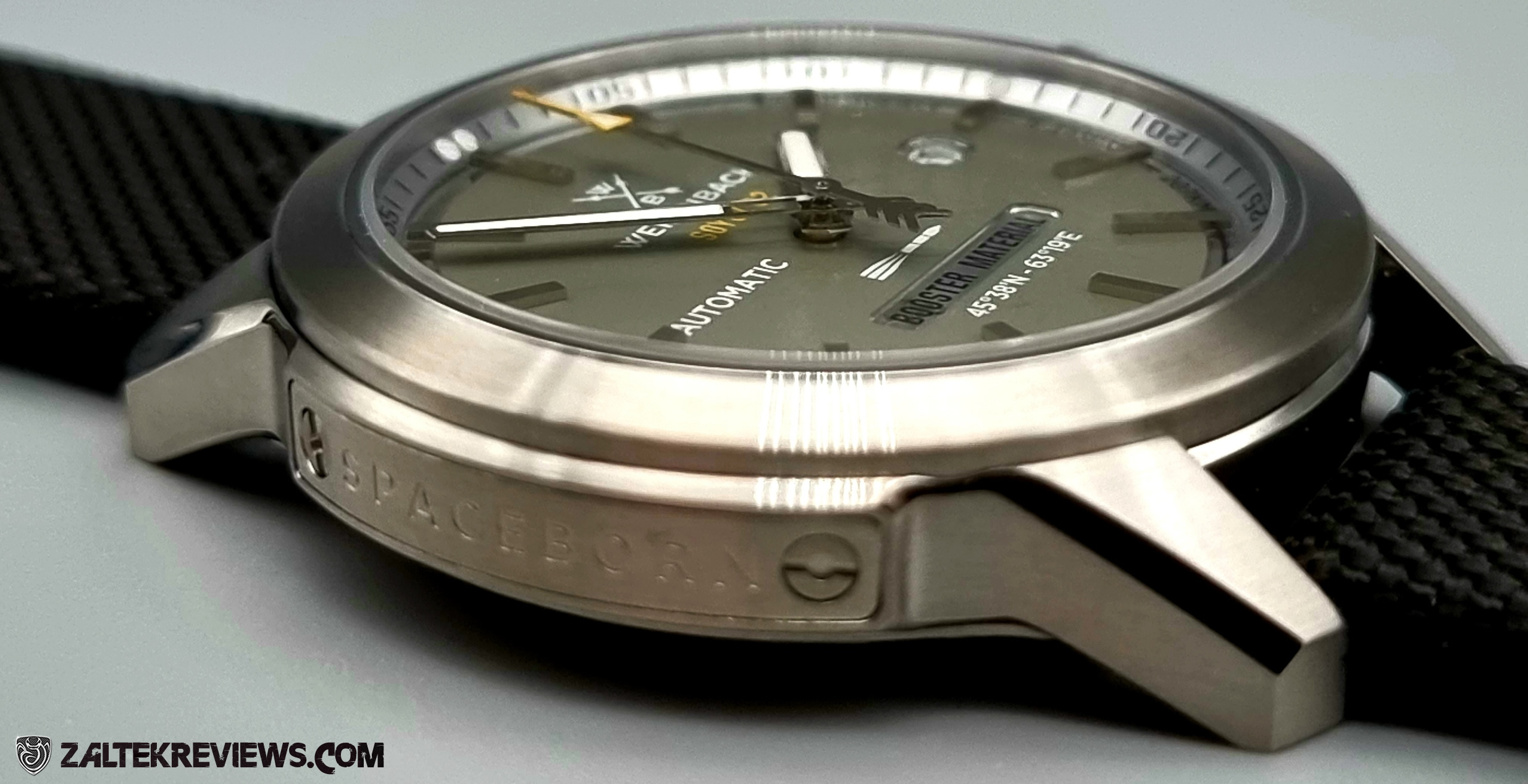 The Soyuz 02 range all have a water resistance rating of 100m, which is plenty, when you take into consideration the type of watch we have here. The proportions of the Soyuz 02 are absolutely bang on in my opinion, 41 x 48mm will suit a whole variety of wrist sizes. It also wears brilliantly on wrist and is extremely comfortable. The signed crown is nicely sized at 6mm, looks great with it's embossed logo and is a piece of piss to operate with an absolute ton of grip. There's no wobble either when the crown is in use and even although it's push/pull, it's still of very high quality. As you can see in the image below, we're also treated to the best of both worlds, with deeply stamped artwork, as well as a small exhibition window that shows off the Werenbach logo perfectly when the rotor swings on by. One thing that did confuse me though. It says number 16 of 20 on the back. I thought these had a run of 60 of each model? Maybe I'm just pissed drunk!?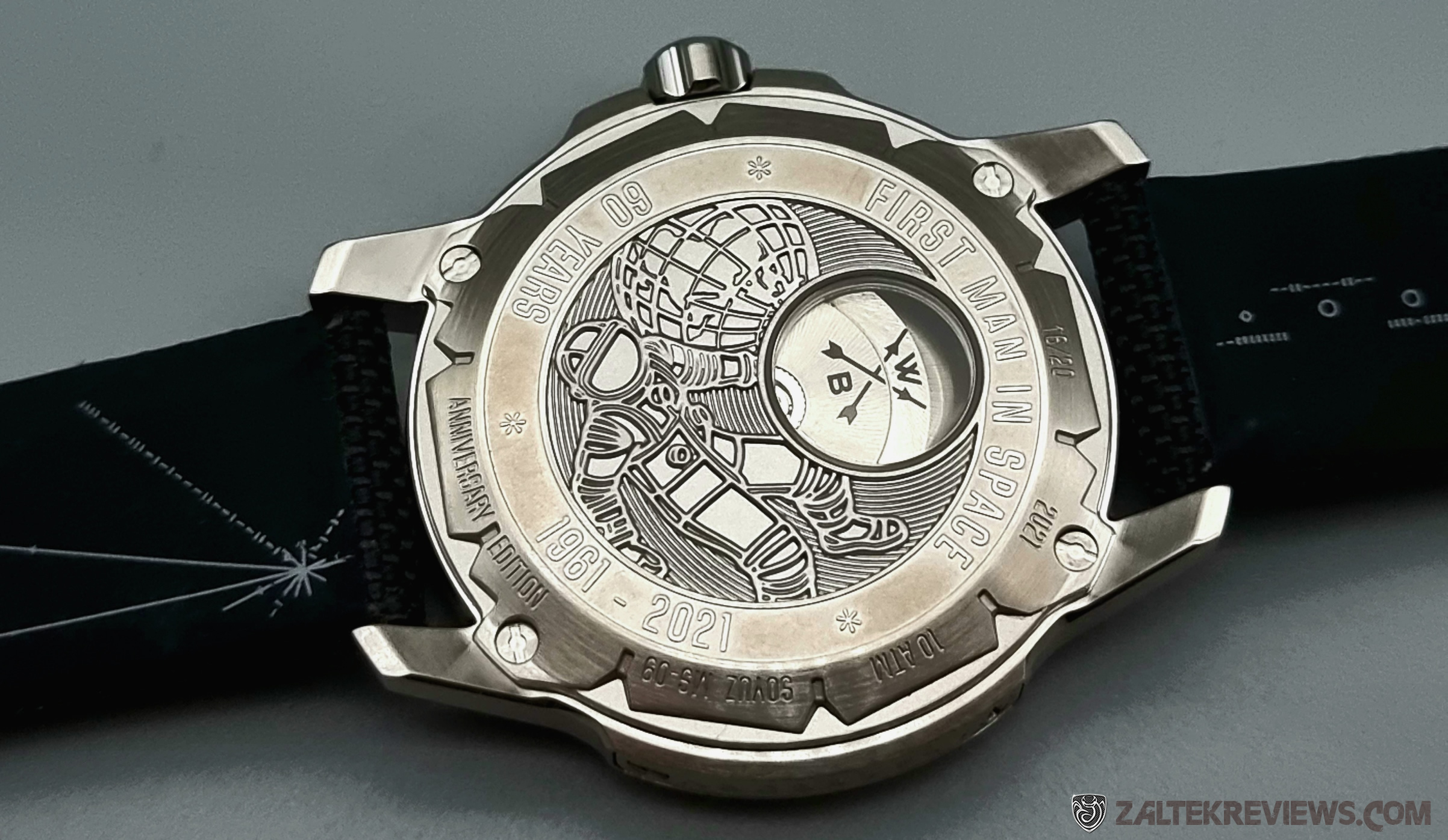 The Soyuz 02 RAW II is available with a varied choice of straps, with an added cost option of a 316L stainless steel bracelet (more on that later). I reviewed the Werenbach Leonov just over a year ago and that came with Werenbach's leather strap, that I wasn't all that keen on, mainly as I couldn't be arsed giving it time to break in. Thankfully though, Patrick from Werenbach sent me the new rubber strap this time round and I will state right off the bat, the quality is a hundred times better! It has a textured style upper with nice & soft high quality rubber underneath. There are also leather accents around the adjustment holes, as well as tasteful leather keepers, one floating while the other is static. Measurement wise it's 115mm x 75mm, excluding that gorgeous fully milled & signed buckle.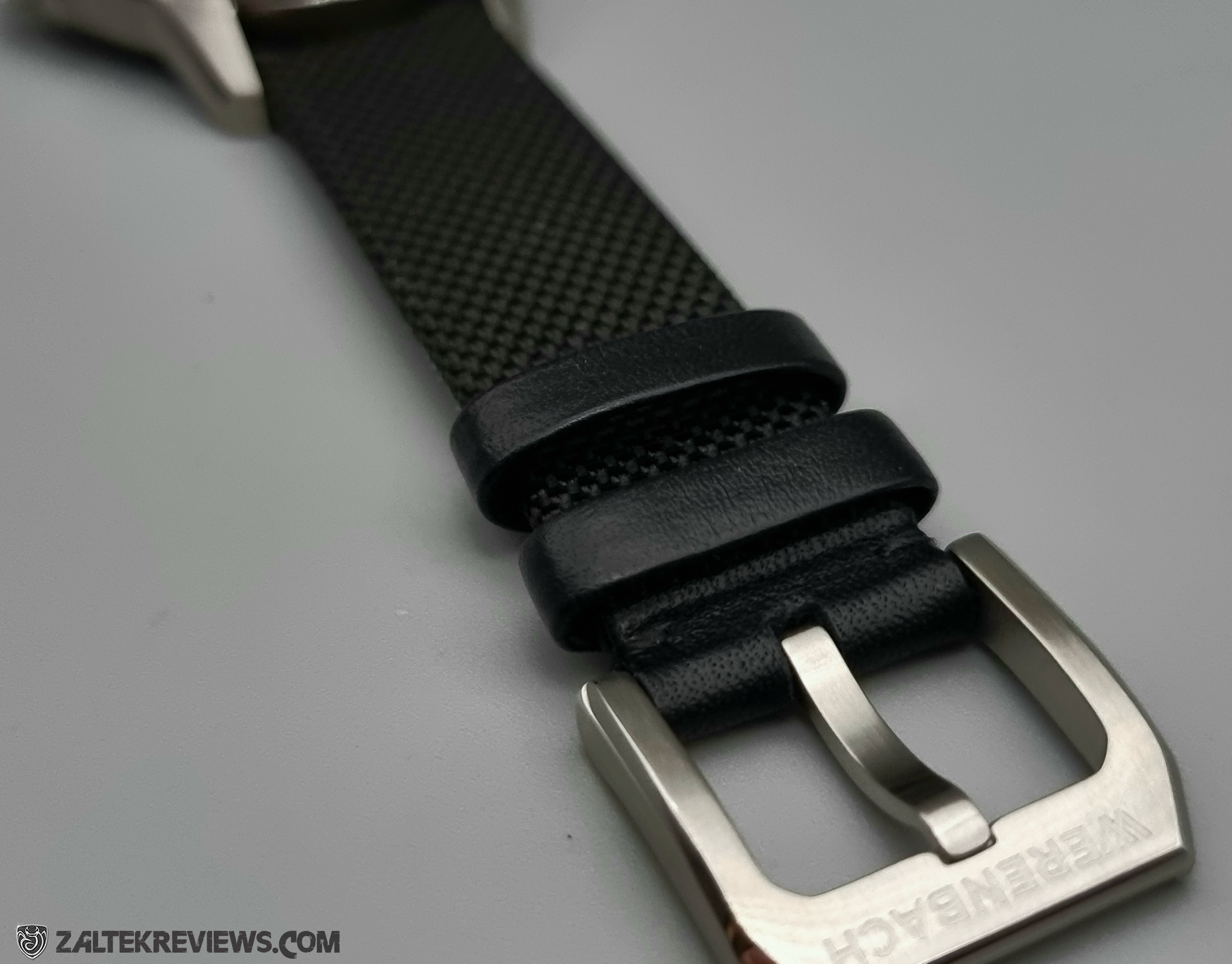 Unfortunately, even although I've had nothing but praise for the Soyuz 02 so far in my review, it's this bracelet that I just don't like. It has universal straight end links rather than proper fitted ones. I've never once liked this approach from any brand, so as soon as I saw it, I knew straight away that it was going to be one of my negatives. Don't get me wrong though, it is a beautiful bracelet that has been manufactured to an extremely high standard, but as it's also a rather expensive option, why can't we have fitted end links? Unfortunately, there's another negative… it has a butterfly clasp. I'm not a fan of these bloody things either I'm afraid, as there's fuck all micro-adjustment. Personally speaking, I would just order the Werenbach Soyuz 02 on the rubber strap and save yourself a good few quid.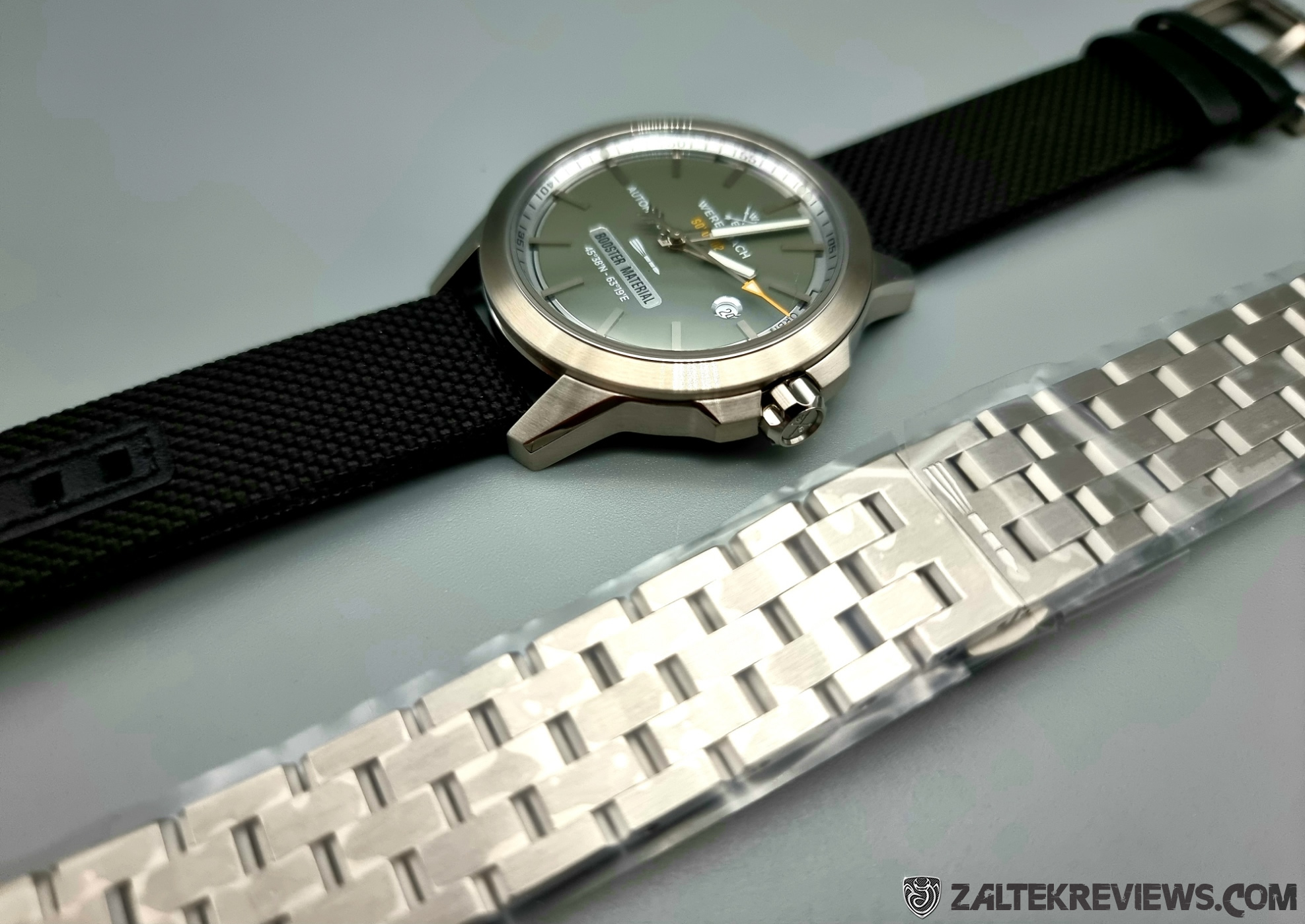 The chosen movement for the Soyuz 02 RAW II is the high beat, smooth sweep, Sellita SW200-1 Elaboré grade. This Swiss made movement is self winding, has 26 jewels and the oscillating weight spins up giving you up to, a fairly decent, 38 hour power reserve. The balance runs at 28,800vph (4Hz) and the movement is also hackable. Checking the accuracy on my trusty old timegrapher, after running the Soyuz 02 RAW II for around a week, I was extremely surprised with the results. So much so I checked it again, as the Werenbach was coming in at bang on +/-0 second per day, with zero beat error! It's impossible to achieve any better than that peeps, thus it's giving the big middle finger to competitors.
Hang on a minute, what fuckin' competitors? There aren't any, none that I know of anyway!?

The Werenbach Soyuz 02 has a very nicely manufactured fixed bezel that matches the case perfectly. It has a circular brushed finishing and if you look closely, there's also a very small polished chamfered edge on the inside next to the sapphire crystal. The printed text on this very unique olive grey rocket booster dial are the words AUTOMATIC at 9, BOOSTER MATERIAL at 6, with a small image of the Soyuz rocket just above and the grid reference of 45°38'N – 63°19'E below, The Werenbach logo is at the usual spot of just under the marker at 12 o'clock, with the range series SOYUZ 02 directly below, that's been finished in a contrasting and rather vibrant shade of yellow. The hour markers are all applied that extend out from the chapter ring and are finished in a kind of dark chrome / gloss black.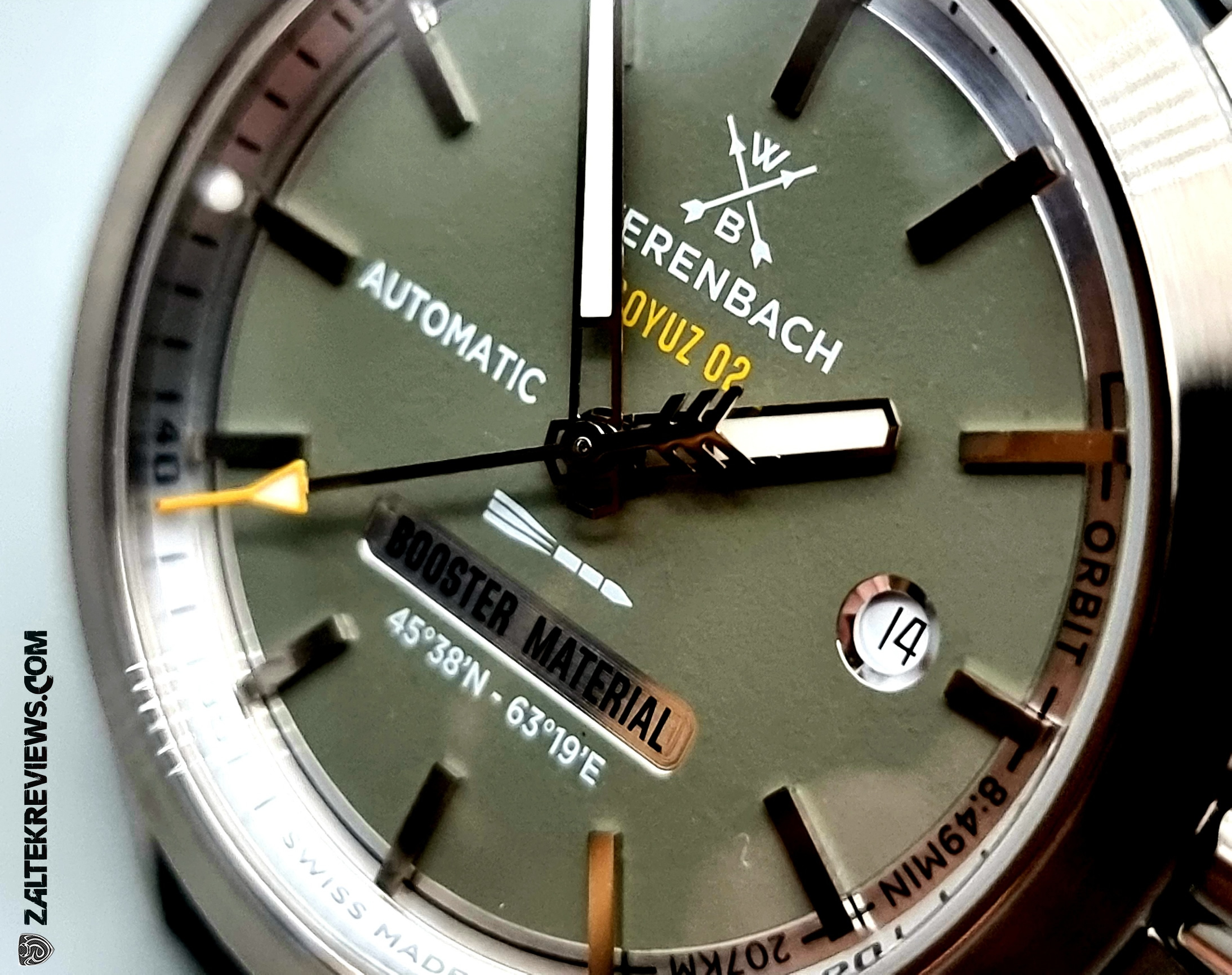 If someone had explained to me what the dial was like before seeing it in person, I would've told them to go get fucked, that's just WAY too much text! For some reason though, it just works, I really, really like it! Next up are the custom made hour and minute hands that are just stunning, with their perfect scale and lovely overall design. The lumed yellow arrow shaped section of the seconds hand is just fabulous and the actual tip of the hand reaches right out to the very edge of the chapter ring. The best part of the seconds hand though is that counter balance, with it's triple chevron design, I absolutely love that! Oh aye, I forgot to mention earlier, there's a date complication at the 3 o'clock. It's also the first time I'm not complaining about its' position, it just works on this fantastic unique dial!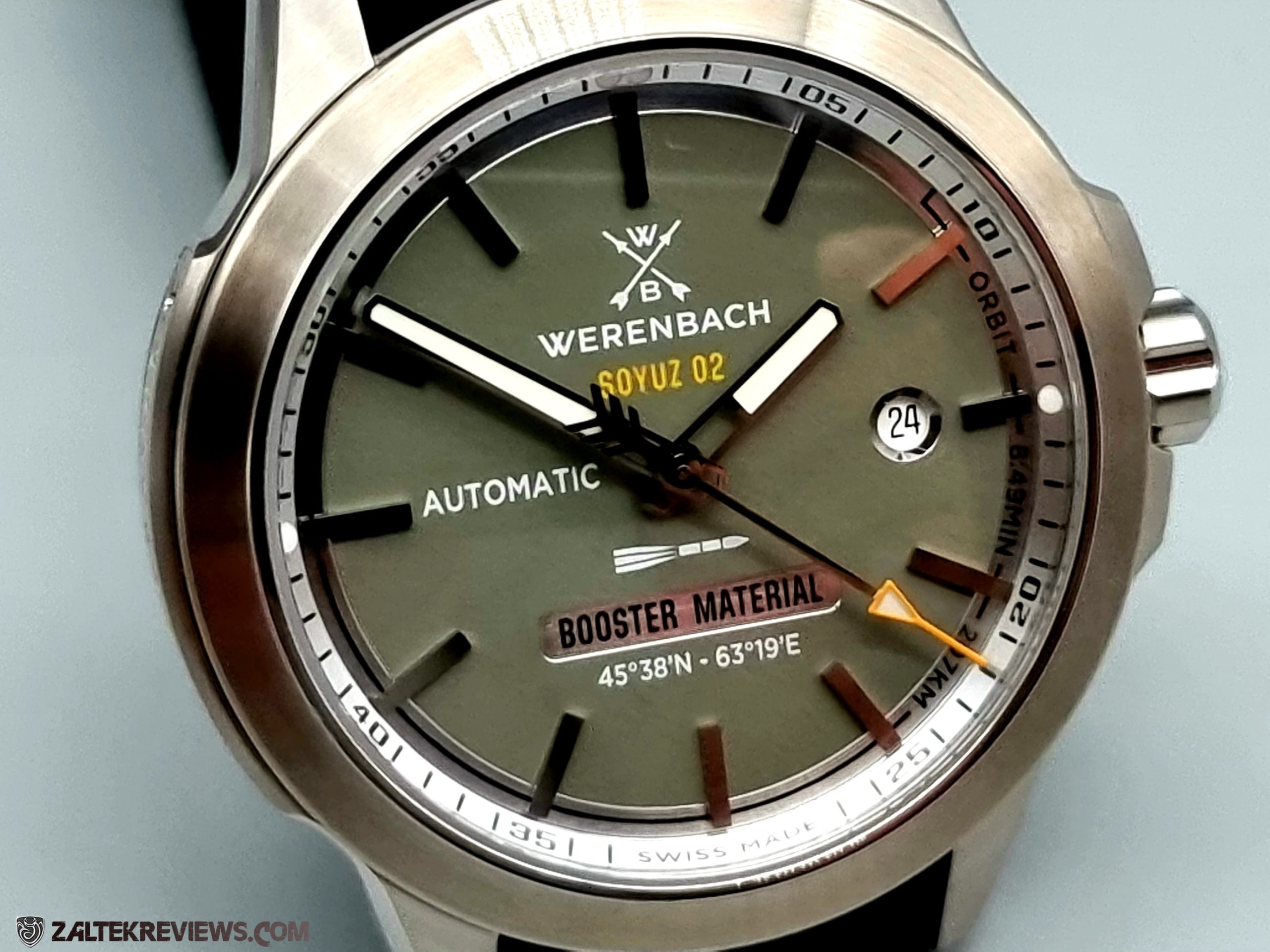 The lume on the Soyuz 02 RAW II is actually way better than you initially might have expected. However, it's pretty bloody obvious that this is no dive watch. Where the lume has been applied though, the overall execution is fuckin' outstanding! The lume itself is applied to just the hour & minute hands, as well as that arrow section of the seconds hand. There are also small circular lume plots on the chapter ring, double dots at the 12 with just single dots at 3 & 9 o'clock positions. The lume is very bright initially, and even although it does fade over time, it's still very legible, especially the hour & minute hands that seem to just last forever! The actual formula that's been used on this Werenbach Soyuz 02 RAW II is none other than Swiss Super-LumiNova® X1 GL C1.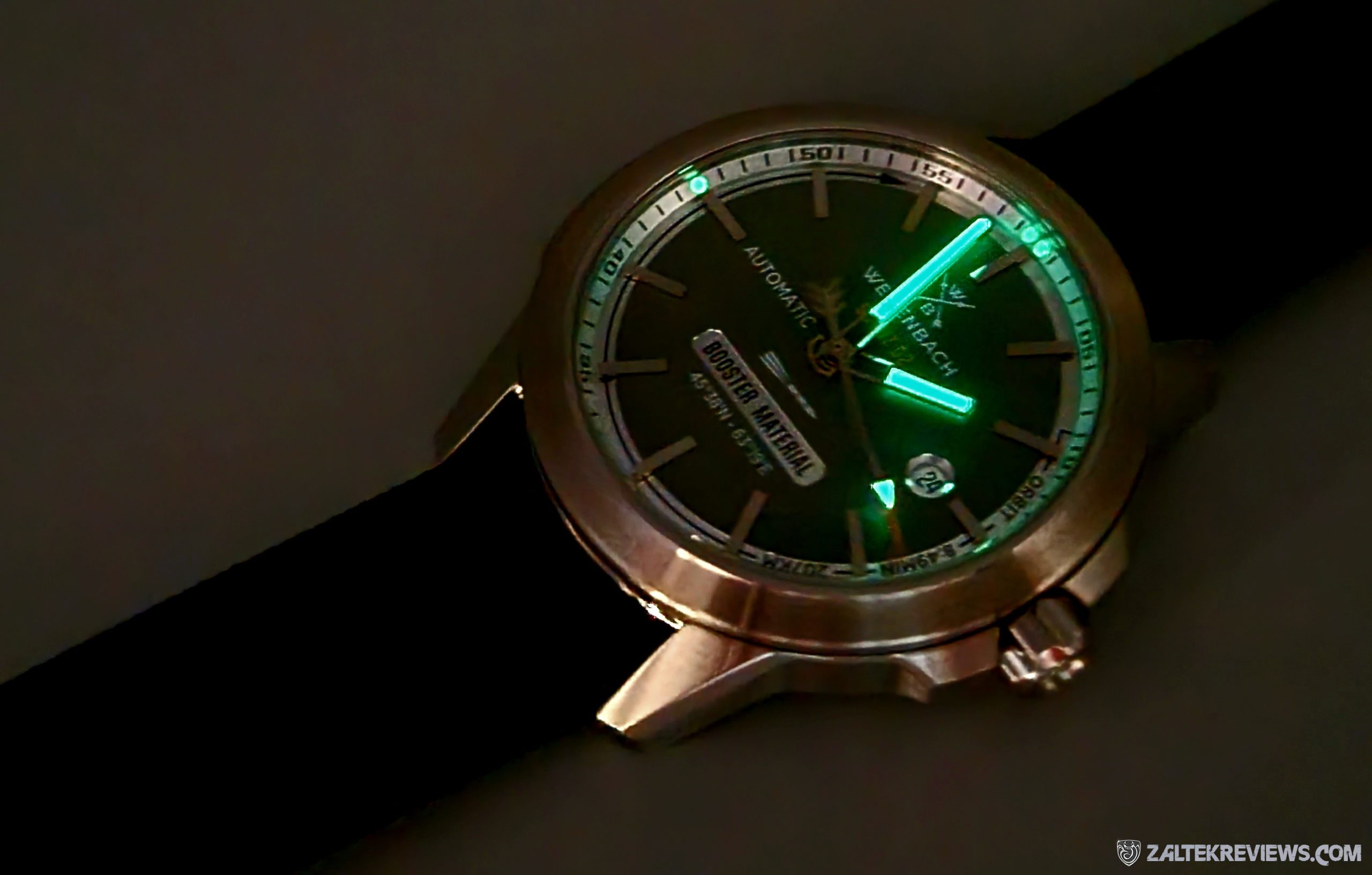 Isn't it fuckin' weird how some watches can just creep up on you and smack you square in the face with just how much you instantly adore them, even when on paper at least, you should actually hate it, as it goes against everything that you would normally complain about. Well, that's what's happened here with the Soyuz 02 from Werenbach. I absolutely love this watch, everything just works and it's like a marriage made in heaven! Don't worry, I'm not getting all soppy on you, not that kind of marriage! I mean a marriage like beer & fags, sausages & bacon, those kinds of things! That's what this Soyuz 02 range is like, rockets & watches, what's not to fuckin' love!! Ok, there's one thing I haven't mentioned and that's the dirty subject of money. Sure, it isn't exactly cheap, but then, you are paying for a totally unique Swiss made automatic watch, that is superbly designed, with build quality that is just phenomenal! If you can afford to drop $1,350 ($$ without the bracelet) on this, I'd say do it, do it NOW, before they sell out. Great job Patrick and the small team at Werenbach, I love your work! I am most definitely a fan…
A massive thank you to Patrick at Werenbach for arranging and sending out the Soyuz 02 RAW II Anniversary Edition for me to review. Very much appreciated! To view the Werenbach website, or even to join their mailing list to be informed of new models etc, visit
werenbach.ch
.
It takes me a fair amount of work (and time) to do these reviews. If you feel like supporting Zaltek Reviews to help towards my running costs, or even if you feel like just buying me a coffee, then please donate using the PayPal button below. Unfortunately, 97% of my readers just scroll by this section. If you feel like that I've given you maybe a few quids worth of knowledge and/or entertainment, then please take just a couple of minutes of your time to donate. Thanks.