Manufacturer: Zelos Watches | Price: from $449 USD (£369 GBP, €415 EUR)
One of the most popular Zelos line of watches since the company began in 2014 are the Hammerhead divers. I haven't personally owned one, as I always thought they were aimed at a different corner of the market, mainly down to the overall dimensions of the watch. I always thought it'd be just way too thick for me to comfortably pull off. I've been continually pestered to review one though, so I contacted Zelos to request a review sample. Elshan graciously sent one out pretty much immediately. Just 3 or 4 days later it had arrived all the way from Singapore, to my front door in the UK. I wasn't sure which version Elshan had sent, so I was pleasantly surprised to see the forged carbon ETA bronze version. Anyway, is it any good, does it look like a helicopter landing pad on my 7″ wrist? Let's find out shall we…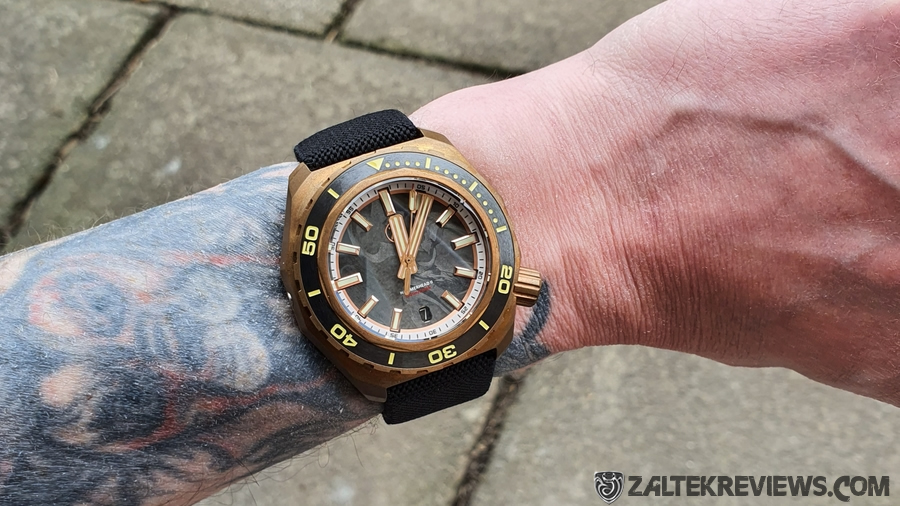 Specifications
Dimensions: Diameter – 44.5mm, Thickness – 16.6mm, Lug to Lug – 47.2mm, Lug Width – 22mm
Movement: Swiss ETA 2892, Automatic, 28,800vph (4Hz), Hackable, Self Winding, 42hr Power Reserve
Case Material: CuSn8 Bronze, Brushed & Sandblasted Finish
Strap: Custom 22mm Rubber, Signed CuSn8 Bronze Buckle
Crystal: Double Domed Sapphire, Multiple Underside Anti-Reflective Coatings
Bezel: 120 Click Unidirectional, Brushed Ceramic Insert, Fully Lumed
Water Resistance: 1000m / 100ATM / 3280ft
Lume: Swiss Super Luminova® BGW9 & C3
Crown: 7mm, Screw Down, Signed, Lumed Logo  
Caseback: Screw Down, Exhibition Display, Sapphire Crystal
Warranty: 1 Year    Weight: 146g     Where to Buy: 

Zelos Watches

| Serious Watches

Case Options: CuSn8 Bronze, 316L Stainless Steel (with Bracelet)
Colour/Dial Options: Meteorite, Forged Carbon, Teal, Midnight Blue, Black Sand, Slate Grey, Sunburst Silver
Movement Options: Seiko SII NH35, Swiss ETA 2892
"Zelos was founded to offer timepieces with cutting-edge design with materials such as bronze, meteorite and forged carbon. Zelos design and produce watches from the ground up, ensuring that you get a watch that can be found no where else. Since the start of Zelos in 2014, we have launched 3 models on Kickstarter with increasing success. Zelos' first model, the Helmsman gathered 273% of the targeted funding. The Chroma followed next with 350% and finally the Abyss with 650% of funding.

Zelos no longer utilise Kickstarter when releasing a new model, opting to take preorders on their own website with just an average 2 – 3 week wait time before you get the email stating that your watch has been despatched via FedEx. Zelos is based in Singapore and was founded by Elshan Tang, who, having been fascinated by mechanical timepieces for many years, building one was the next logical step. I believe that great timepiece design should not be confined to just expensive luxury brands. Shown below are just a very small example of some previously released Zelos timepieces, with plenty more on the way..."
The case of the Zelos Hammerhead II has a diameter of 44.5mm. The lug to lug is 47.2mm and the overall thickness, including the double domed sapphire crystal, I measured in at 16.6mm. The entire case, bezel and crown are all solid CuSn8 bronze. The finish of the watch is mostly brushed but with the addition of a sandblasted effect in places. You might think that after reading the actual thickness of the Hammerhead II, that it's not for you, I thought the exact same until I actually put the watch on wrist. I have to say, the Hammerhead II wears a lot slimmer than the measurement might suggest. To try and put it into perspective, if a Seiko SKX and a HELM Komodo had a baby (a f**kin' chunky baby at that!), this is pretty much the only way I can describe just how the Hammerhead II wears on wrist, if that makes any sense. 🤣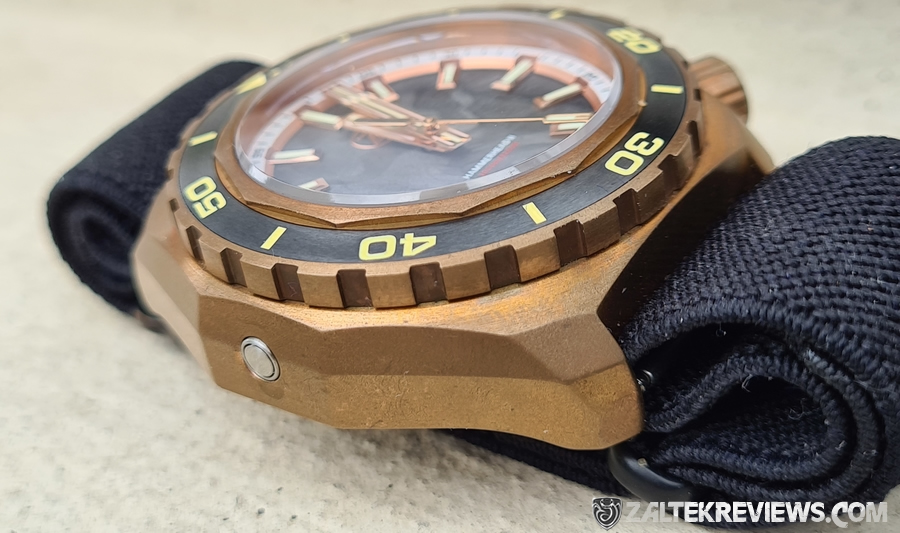 The Zelos Hammerhead II has a water resistance rating of an eye watering 1000m, thanks to the screw down caseback, crown and obviously the robust build quality plays a large part. The proportions of the watch are still obviously what makes it a bit of a chunky monkey, but surprisingly, the Hammerhead II doesn't wear top heavy whatsoever! It is actually very comfortable even after wearing it for over 24 hours. The signed crown is fantastic and looks great with it's fully lumed logo. There is absolutely no wobble whatsoever when the crown is in use and you can also feel a nice wee pop as you unscrew it. On the opposite side of the case you will also find a helium release valve. Handy for a 1000m diver. 😳
Straight out of the box, the Hammerhead II comes fitted as standard with a black 22mm rubber strap with a signed, very nice looking solid bronze buckle & tang. Being honest though, it was just a tad too big for me, but I felt I could tame the watch a little better with one of my Nick Mankey Designs hook straps that, in my opinion, matches the watch very well.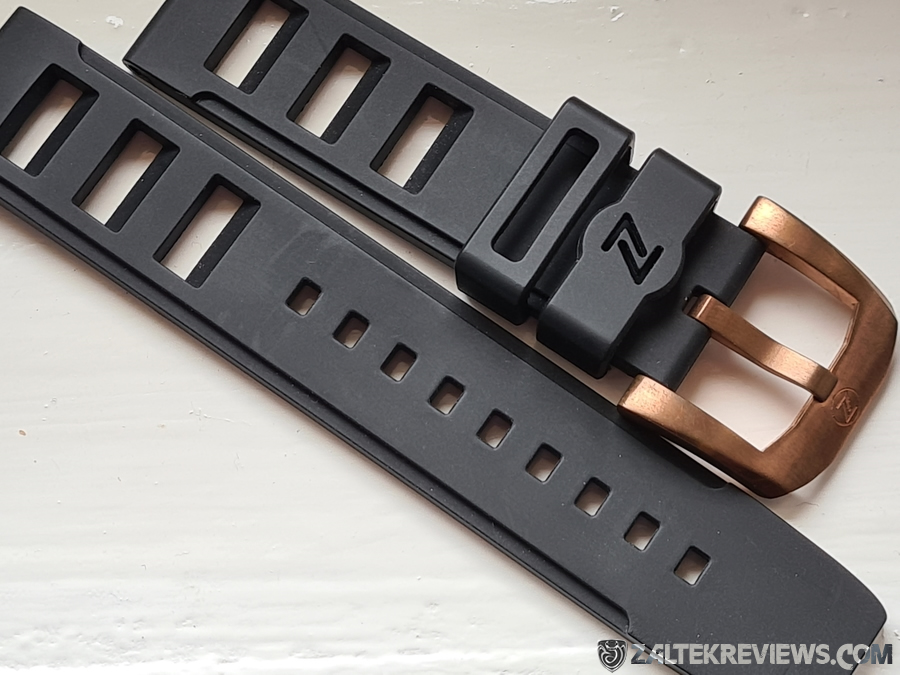 The chosen movement for this version of the Zelos Hammerhead II is the smooth sweep, high beat, ETA 2892. This is a Swiss made 28,800vph, 21 jewel movement with a 42hr power reserve. Checking the accuracy after running the Hammerhead II for just over a fortnight, mainly on my wrist and occasionally in my watch winder, I was more than happy with the results, with the Hammerhead II showing an average of just +6.4spd. That isn't too shabby at all if you ask me!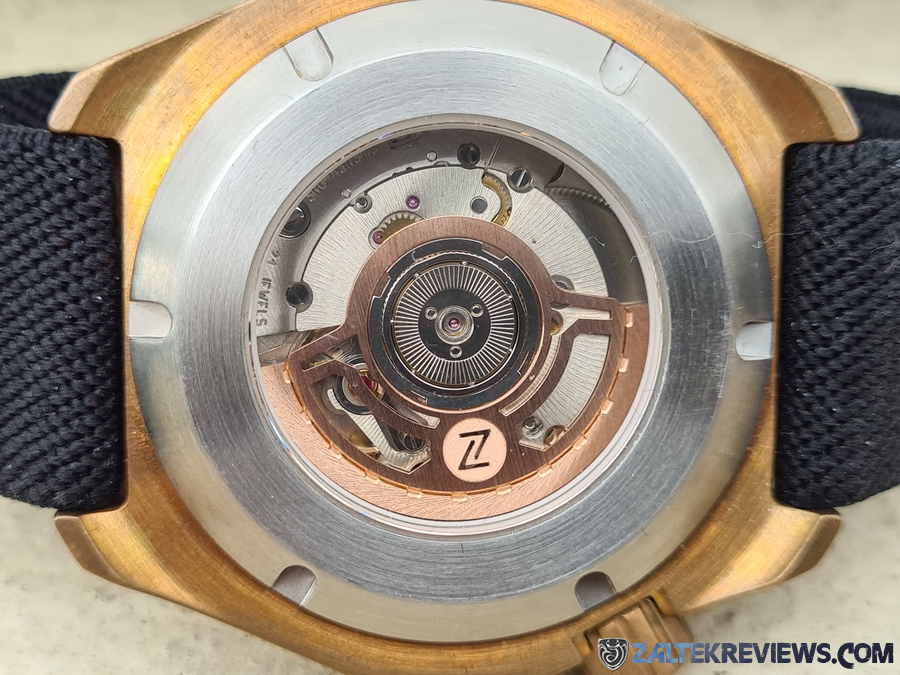 The Hammerhead II has a 120 click unidirectional bezel with a fully lumed ceramic insert. It is of outstanding quality with everything lining up absolutely perfectly, just as it should. The bezel action is typical Zelos, brilliant with no backplay. The text on the dial that's printed are the words HAMMERHEAD II with the depth rating of 1000m/3280ft just below finished in red, which I have to admit works well. The Zelos logo is applied as always and placed just under the 12 o'clock position.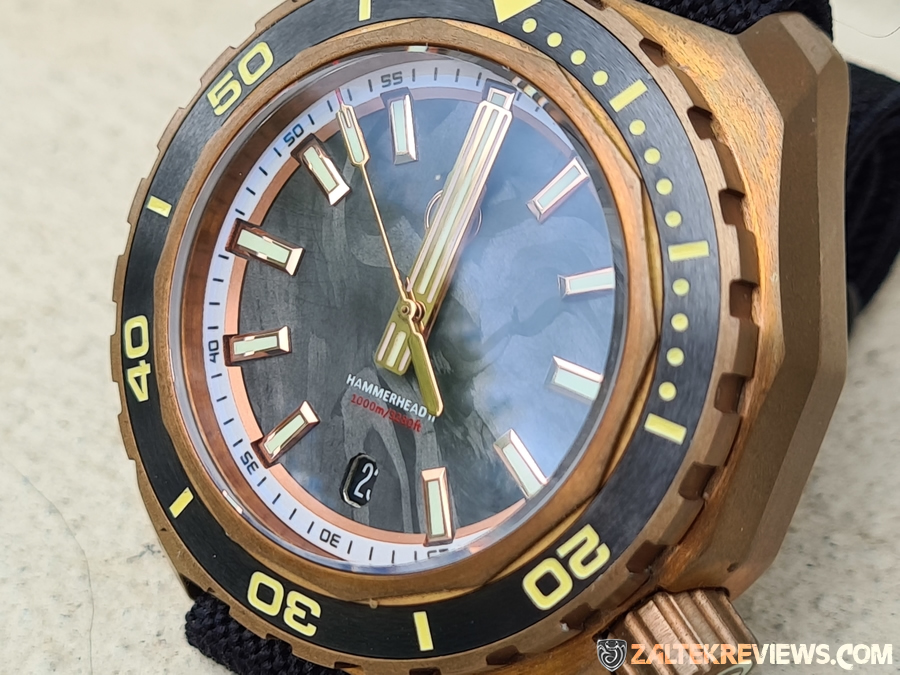 The version that I have here, sports an amazing looking dial, with it's totally unique forged carbon. Yep, you heard me correctly, each and every single watch, similar to the meteorite versions, have a totally unique effect on every single dial! The batons at each hourly interval are all applied with a matching bronze coloured surround. The chapter ring similarly has a bronze colour around the inner edge changing to a more legible white with a contrasting black minute track.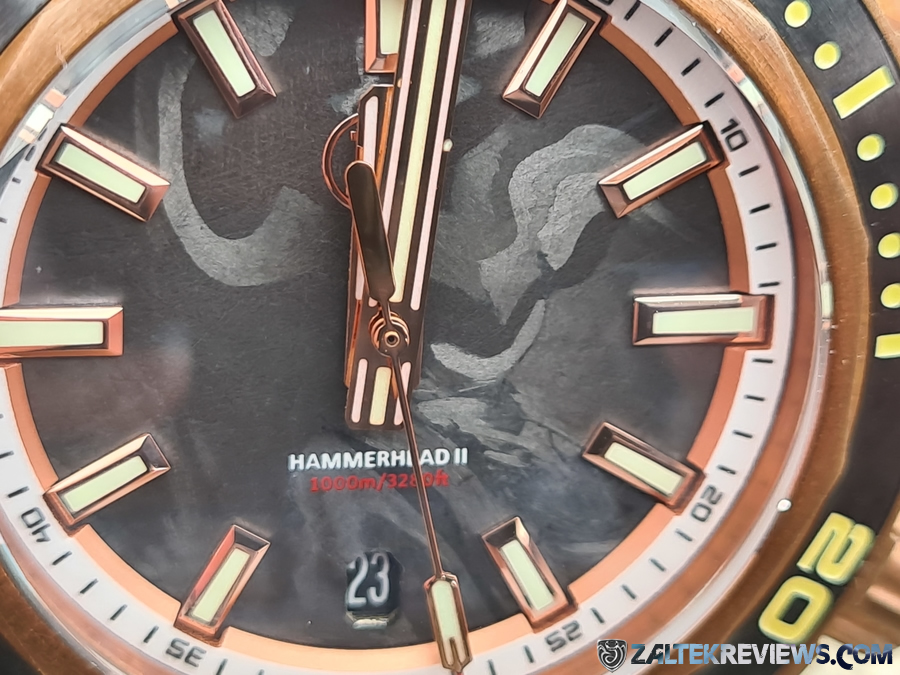 As you can see in the images, the hour and minute hands are very nicely done with their somewhat chunky aesthetic. The seconds hand is great too, with it's wee lumed paddle section and red tip, that reaches right out to the minute track. There is also a borderless date window at the 6 o'clock position, which looks perfect… and as with most Zelos', it's 100% colour-matched to the dial. WOOHOO! Don't think, 'oh, it's just a black date wheel', look at all the other colourways at the start of the review and you'll see that every date wheel is matched to the dial. Other brands should take note and follow suit when trying to incorporate a date complication to their watches. This is how it SHOULD be done people!
The lume on the Hammerhead II is nothing short of bloody outstanding! Zelos have always been the champions of lume in my opinion, not just in the microbrand world either, Zelos watches are probably the best I've seen, destroying the likes of Rolex (over-rated by fan boys as per usual) as well as Seiko's LumiBrite. The actual lume that's been applied to the Hammerhead II, is a combination of Swiss Super Luminova® BGW9 & C3. It has not only been applied very thickly and 100% perfectly, it is as bright as a 20th Century Fox Searchlight and of course it lasts right throughout the night. 😎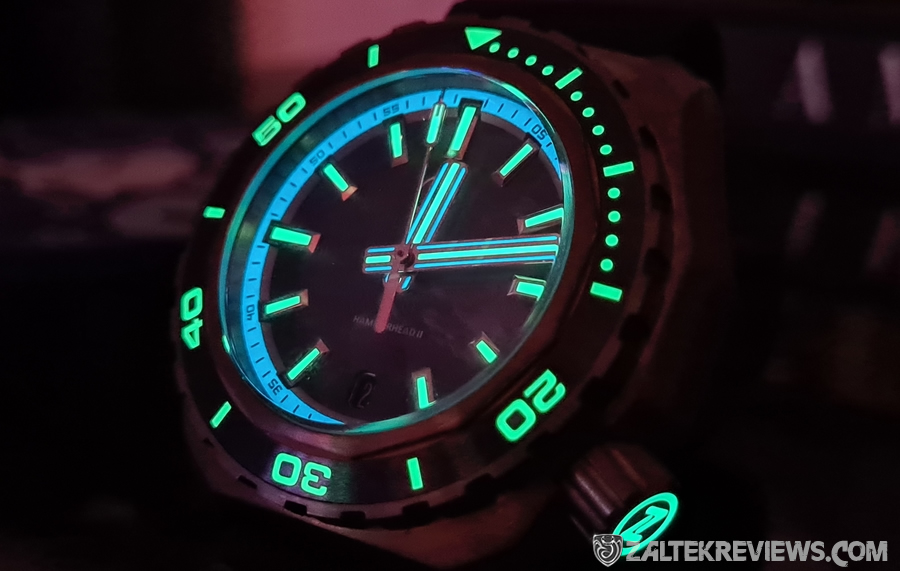 I've reviewed more Zelos watches since I started Zaltek Reviews in 2018 than any other brand. Each and every time when a new Zelos arrives, I'm like an 8 year old kid seeing a shiny new bike on Christmas morning. I have been asked many times, who are my favourite microbrands. Each and every single time, Zelos are in that list, always at number 1.
Reading this, you're probably thinking I'm just a jumped up Zelos fan boy, and yeah, you'd probably be right! But it's definately justified! Zelos are churning out outstanding watches release after release, unlike most other microbrands that can and do make excellent watches, but they only have just a small handful of models.
Zelos on the otherhand… well, put it this way, I have seen a few Zelos prototypes and various planned releases for the remainder of 2020. I remember when I first saw them, my first impression was, "HOLY F*CK!, just take my money now." Trust me when I say this, you are most definately in for a treat with what Zelos have planned!
Elshan @Zelos – Can Zelos do no wrong? Maybe, just once, Elshan will get shit-faced drunk and produce a totally shite watch, then send it to me, just so I can rip it a new arsehole in my review! I seriously can't see that happening anytime soon. 🤣 Yet again, Zelos have totally nailed it with the Hammerhead II. Great job Elshan, I salute you Sir. 👍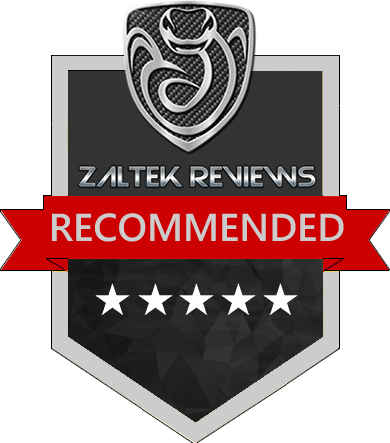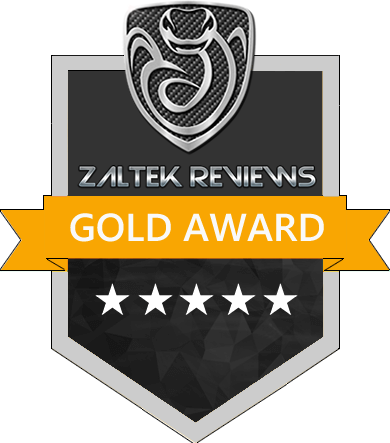 9.5/10 - HIGHLY RECOMMENDED!
A massive thank you to Elshan at Zelos for sending the Hammerhead II out for review so quickly. Much appreciated.
To view the Zelos website, or to join their mailing list to be informed of new models etc, visit
Zelos Watches
.
It takes a fair amount of work to do these reviews. If you feel like donating to Zaltek Reviews to put towards my running costs, or even if you feel like just buying me a coffee, please use the PayPal button below.  Thanks very much. 👍
[paypal-donation purpose="Donate to Zaltek Reviews" reference="Ref:Zaltek" button_url=""]
At Zaltek Reviews, we also encourage the companies whose watches that we've reviewed to comment on our articles. We invite any company representatives to respond in the comments section below. Thanks.