Manufacturer:

Direnzo Watches

| Price: from 599 CHF (£465 GBP, $645 USD)
My last review was of the Nine Four Successor, a sports watch with a similar aesthetic (from a distance) to this DRZ04 Mondial from Direnzo Watches. That's as far as the similarities go though with these two, as both watches are more different than chalk and cheese, especially when it boils down to the actual fit & finish, specs and build quality. You won't find any sloppy finishing on this offering from Direnzo Watches that's for sure! You only just have to look through the images below and see that the DRZ04 Mondial is leagues above the Nine Four Successor. Unfortunately, I am  a little late with this review, as the DRZ04 never turned up until last weekend, with less than 12 hours to go before the preorders began. Anyway, as a favour to Sergio Di Renzo, I have pushed the DRZ04 Mondial to the very front of my review queue.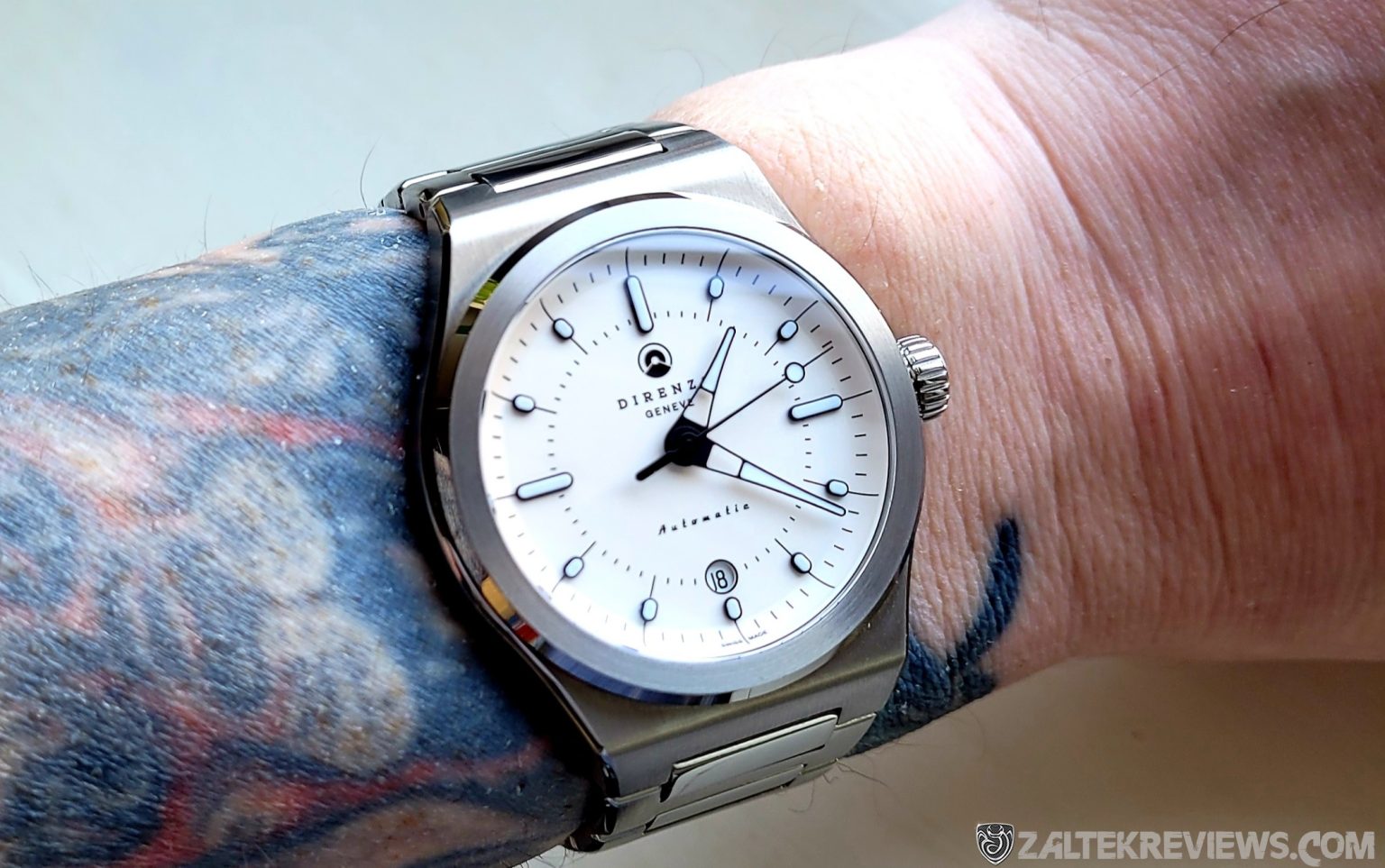 Specifications
Dimensions: Case – 39.8mm, Thickness – 11.2mm, Lug to Lug – 45.7mm, Lug Width – N/A
Movement: Sellita SW200 Elaboré, 28,800vph, 4Hz, Hackable, Self Winding, 38hr Power Reserve
Case Material: Brushed & Polished 316L Stainless Steel, Scratch Resistance Coating (800Hv)
Dial: Bowl Shaped, Date at 6, Matte or Sunburst Fumé / Meteorite
Bracelet: Brushed & Polished 316L Stainless Steel, Screw Pins, Solid Links, Milled Fold Over or Butterfly Clasp
Crystal: Domed Sapphire, Underside Anti-Reflective Coatings
Lume: Swiss Super-LumiNova® BGW9
Water Resistance: 100m / 10ATM / 330ft      

Caseback: Screw Down, Exhibition Display, Sapphire Crystal
Crown: 7mm, Screw Down, Signed

Weight: 124g (Sized up for my 6¾″ wrist)
Where to Buy:

Direnzo Watches

(Preorder)

Warranty: 2 Years International
Direnzo DRZ04 Mondial Options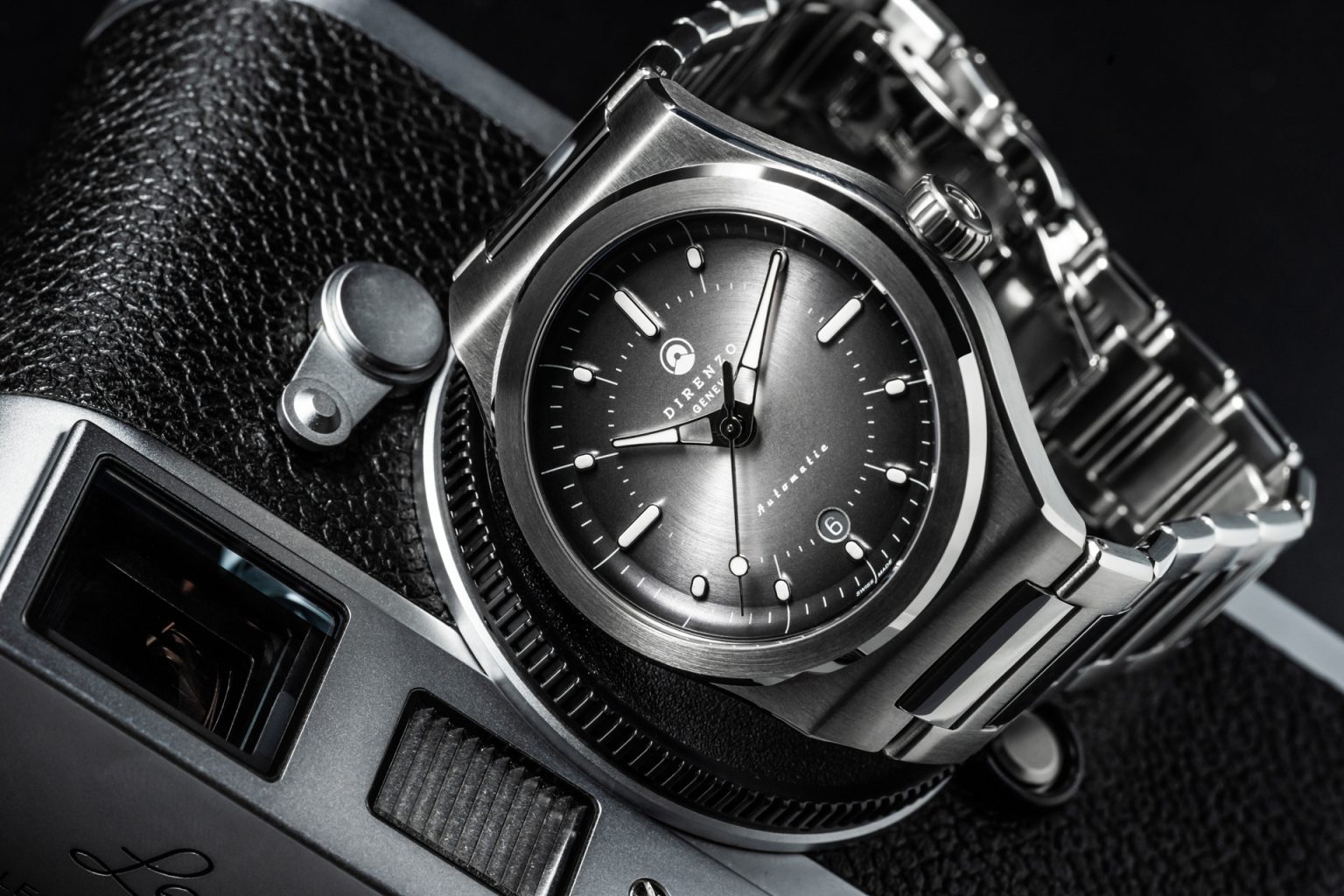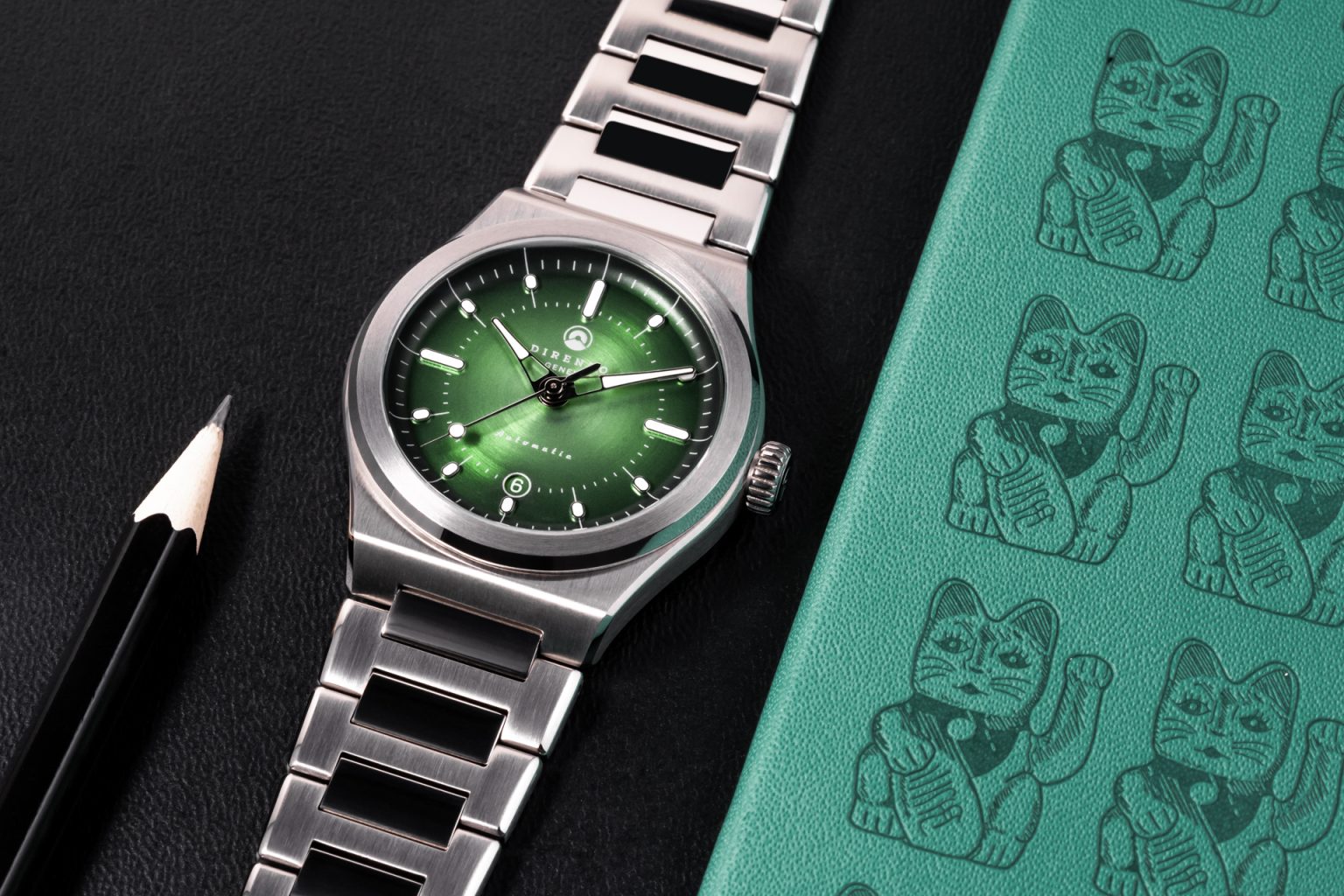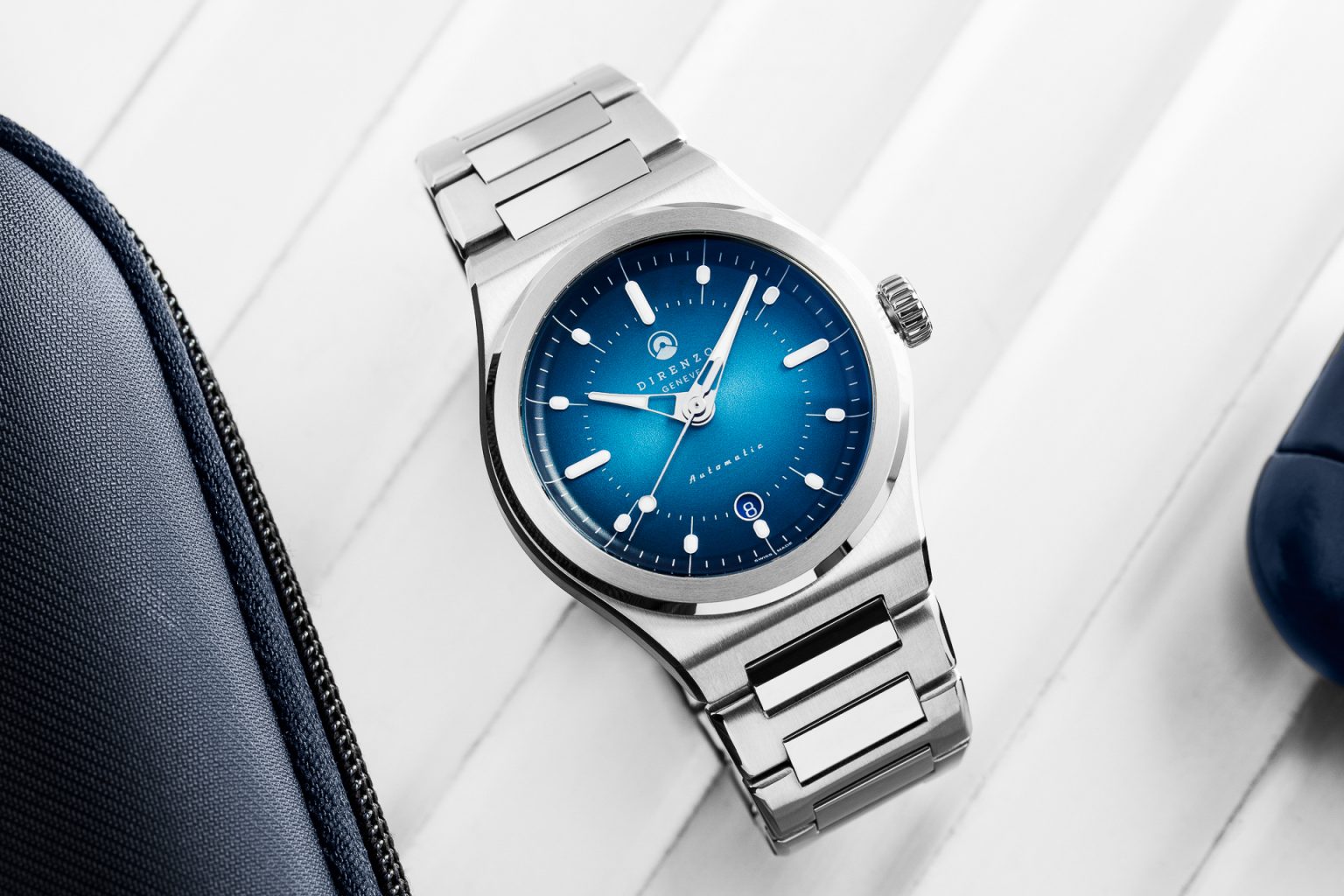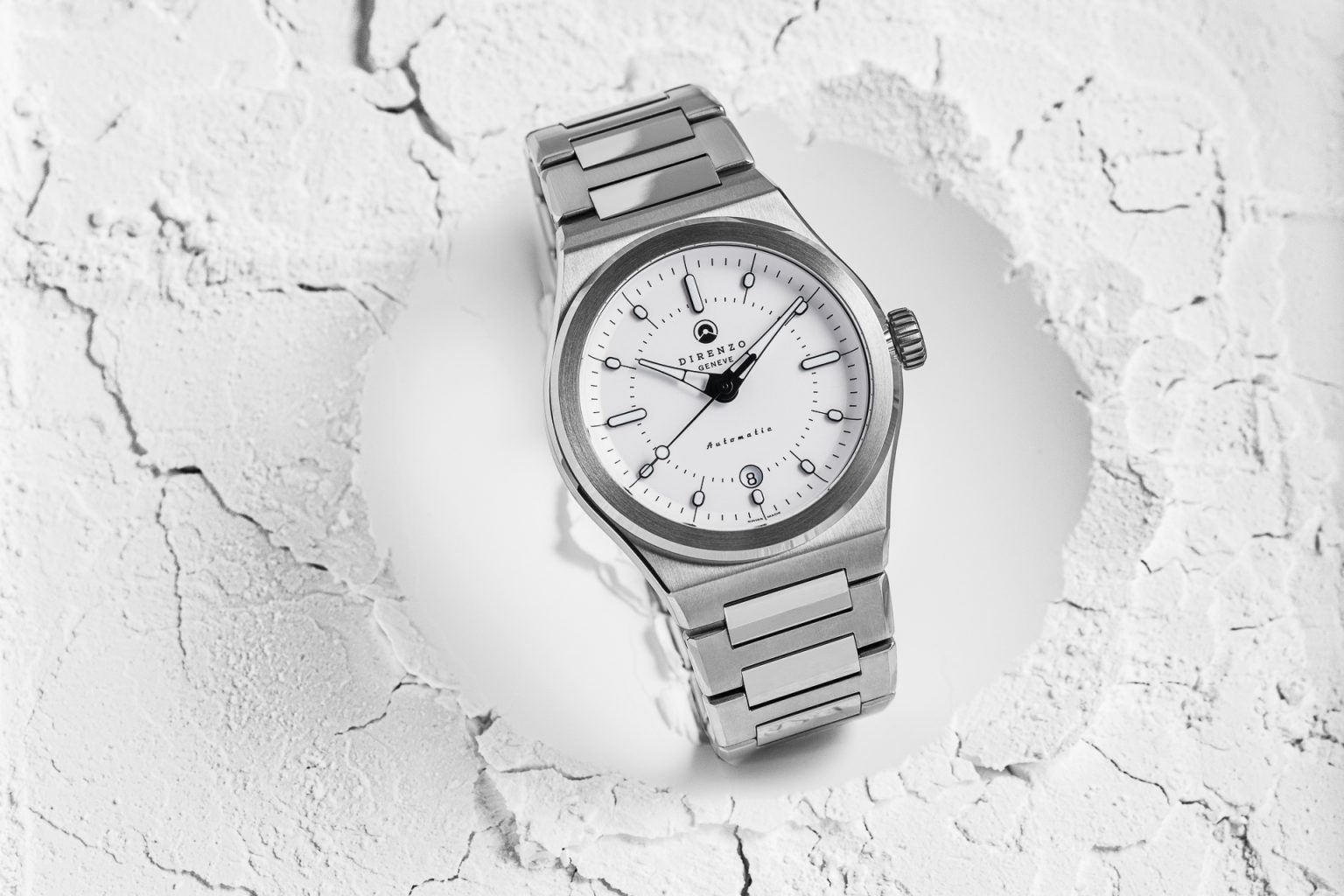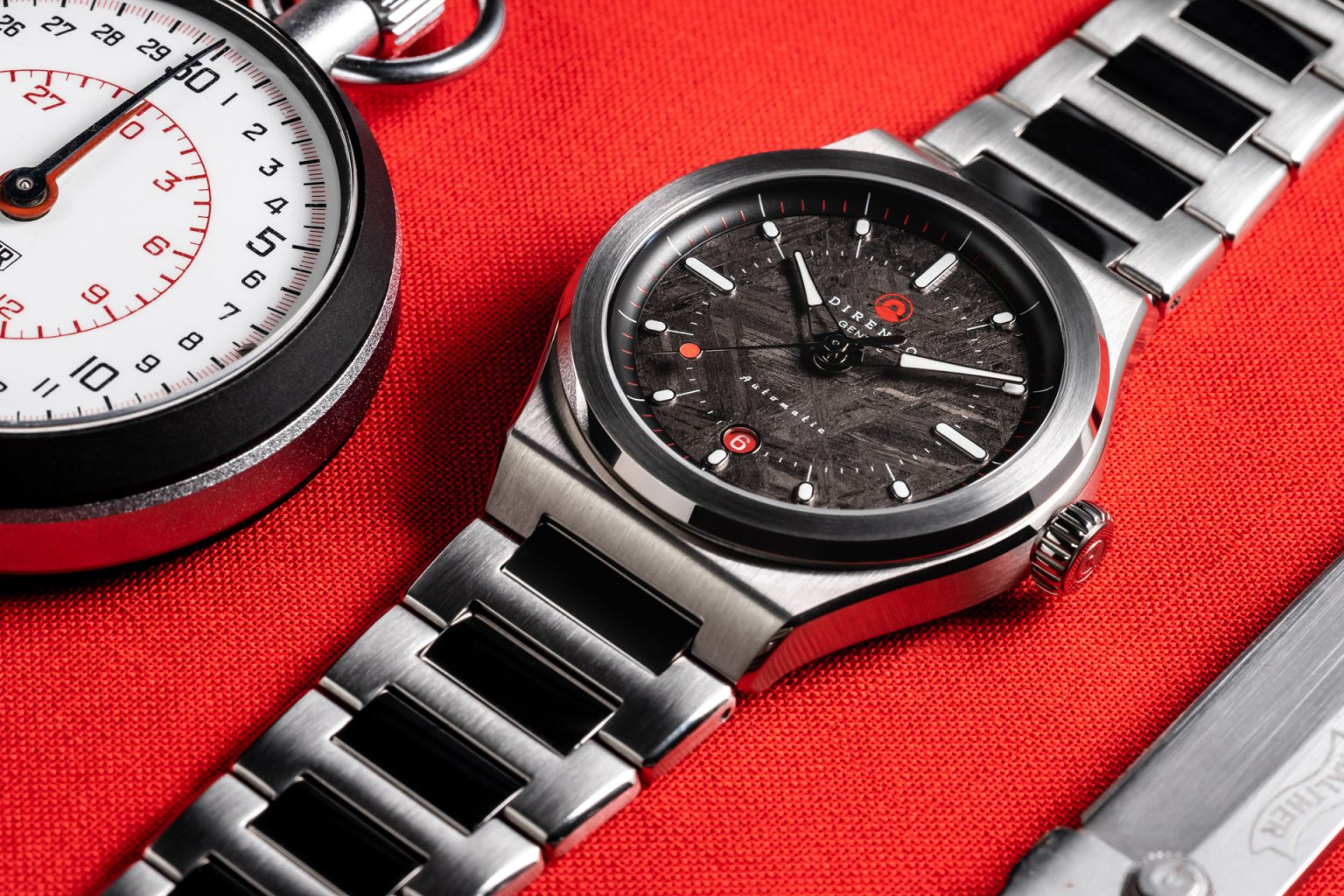 "Direnzo Watches were founded in 2016, driven by a clear vision; to produce a range of uniquely exquisite watches inspired by the timeless aesthetics of mid-20th-century race cars and aircraft. Created for all those who share my passion for beautiful, mechanical wristwatches; my hope is that you get as much enjoyment from wearing these timepieces, as I have from bringing them to life."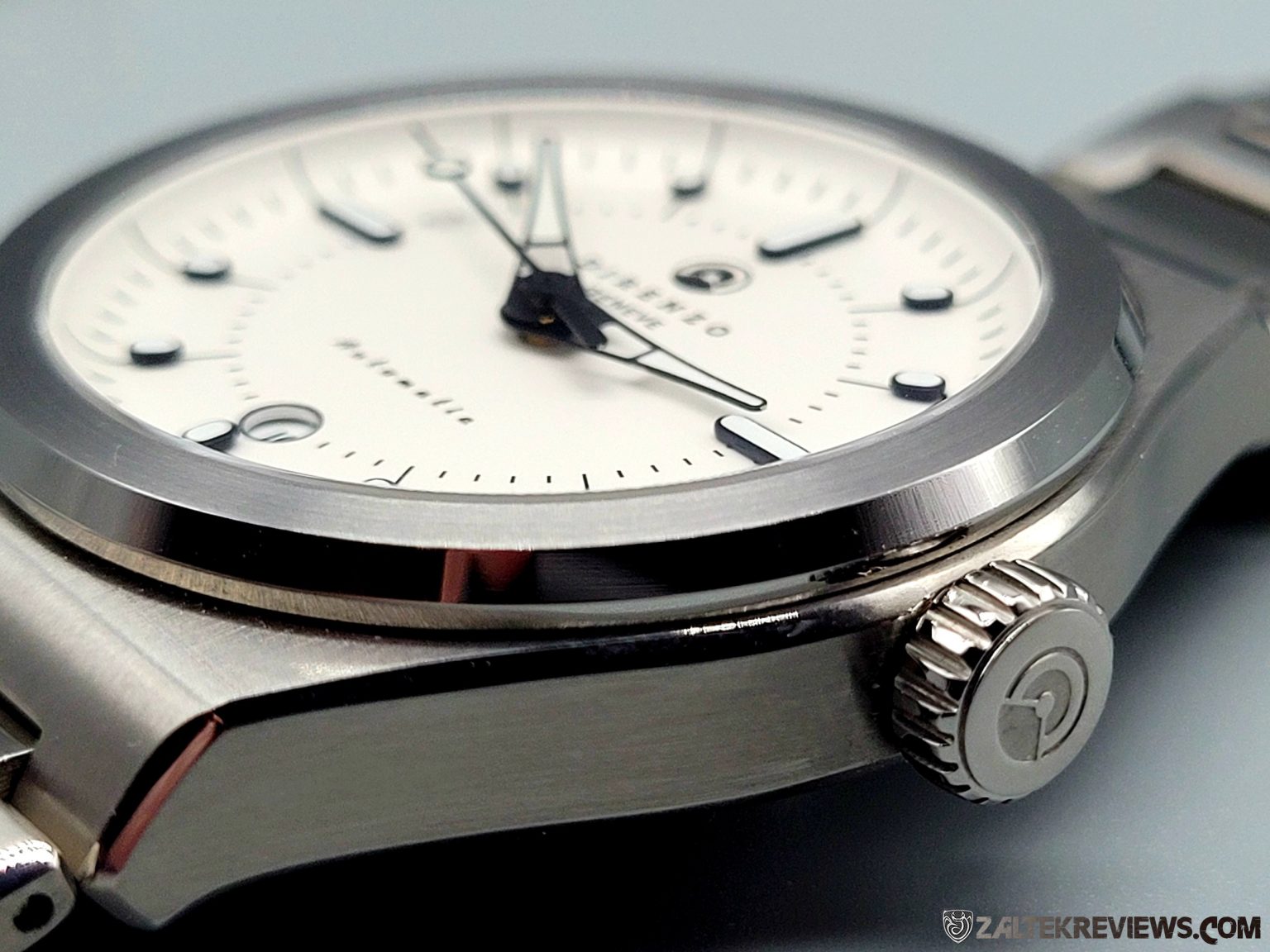 The case of the Direnzo DRZ04 has an overall diameter of 39.8mm. The lug to lug is rather compact at 45.7mm and the overall thickness, including the domed sapphire crystal, I measured in at a rather svelte 11.2mm. The case, caseback surround, bezel, crown and bracelet are all 316L stainless steel. The finish of the watch is mostly brushed, but with some rather lovely polished accents along the top and bottom of the case, as well as on the lower section of the bezel. Overall, it does look fantastic and I can only describe the transitioning between the two finishes as superb.
The DRZ04 Mondial has a total water resistance rating of 100m, thanks to the addition of a screw down caseback & crown. The proportions of the watch, in my opinion are bang on, due to the 39.8mm case diameter and the relatively short lug to lug distance of just 45.7mm. The DRZ04 wears extremely well on wrist and is really very comfortable, with it just melting onto your wrist. I love the way it wears so much in fact, I've barely took it off my wrist since the day it arrived. The signed crown is fantastic, looks great and is very easy to operate. There is absolutely zero wobble either when the crown is in use and you can also feel a very wee pop as you unscrew it as it settles into its first position. The exhibition caseback is gorgeous with a sapphire crystal allowing you to take a look at the custom SW200 Elaboré grade movement.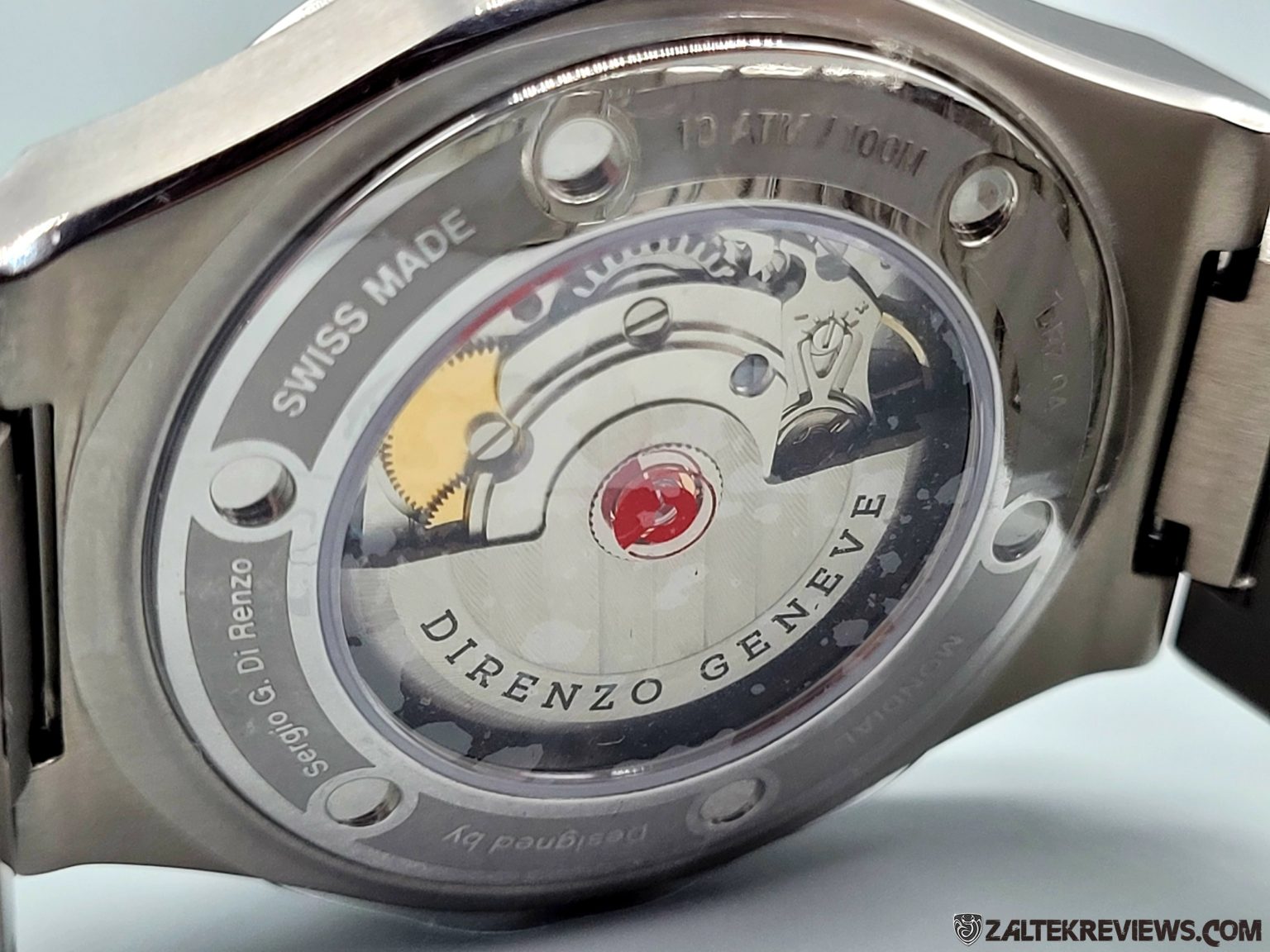 Straight out of the box, you can either have a bracelet or a bracelet. It's definately not a bad thing though on this one, as the bracelet is stunning. It's fully integrated and certainly looks like it's made specifically for the DRZ04 and not some butchered off the shelf pile of shizzle. Female end-links, which always get a thumbs up from me, screw pins that are of excellent quality and each and every link fully articulates giving optimum comfort when on wrist. Finishing wise, it's a wee bit blingy with those polished centre links, as well as the polished chamfered edges that run along either side of the links.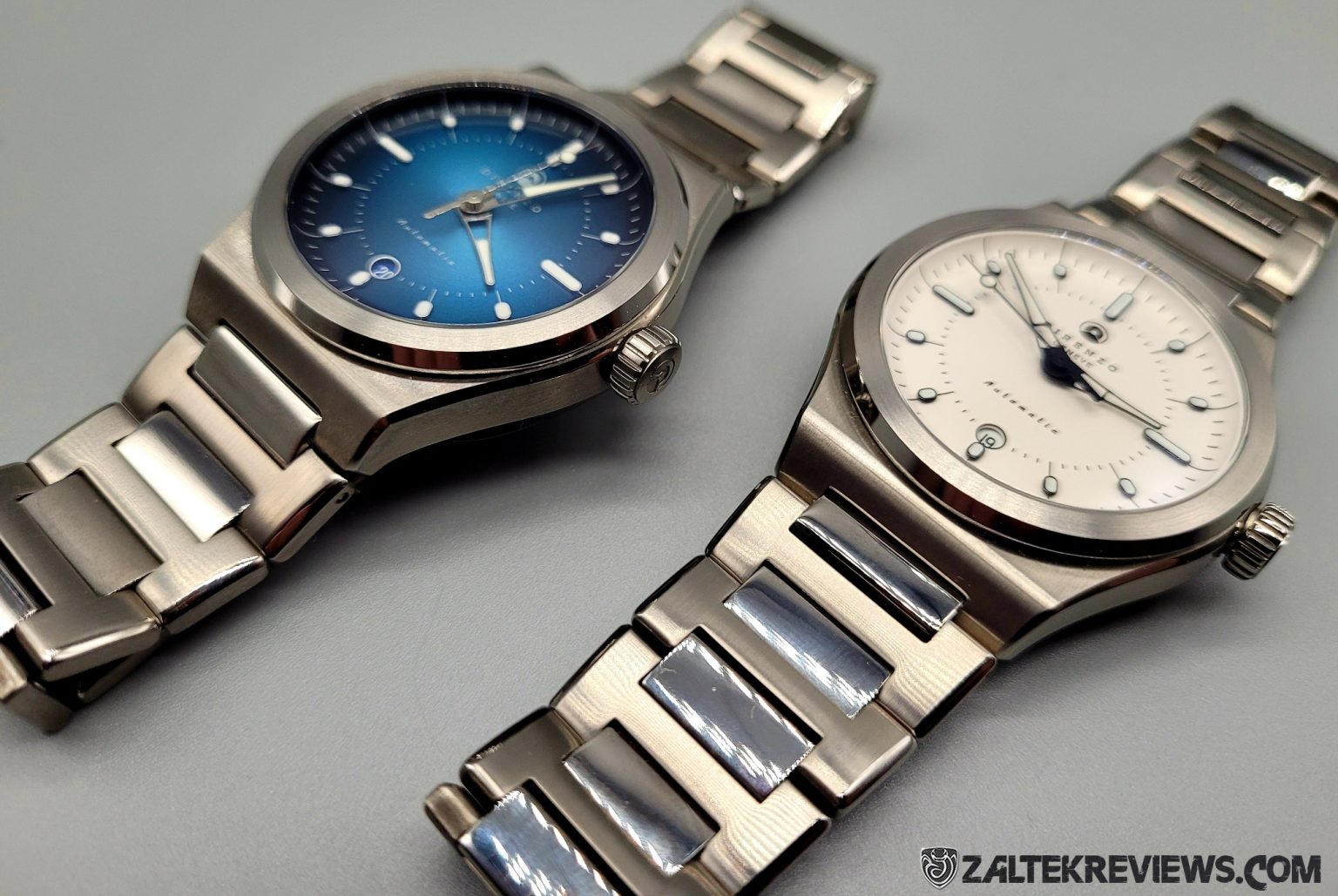 At first glance, the bracelet would be a straight no from me. Don't get me wrong, the bracelet itself is gorgeous as I previously mentioned. It's when I first clapped my eyes on that butterfly clasp. I hate these friggin' things, as you can never get them to fit properly, it's either too big or too small (that's what she said). All is not lost though and the main reason why I'm still bashing away at my keyboard…  Direnzo Watches certainly have their customers in mind, as they are offering you the choice of the aforementioned pain in the arse butterfly clasp, or a fully milled fold-over clasp, with 3x micro-adjustment holes. Fuckin' SWEET! I certainly know which clasp I'd choose. Other brands should take note of this and offer their customers this common sense approach. Well done Sergio Di Renzo, finally a brand owner with a friggin' brain!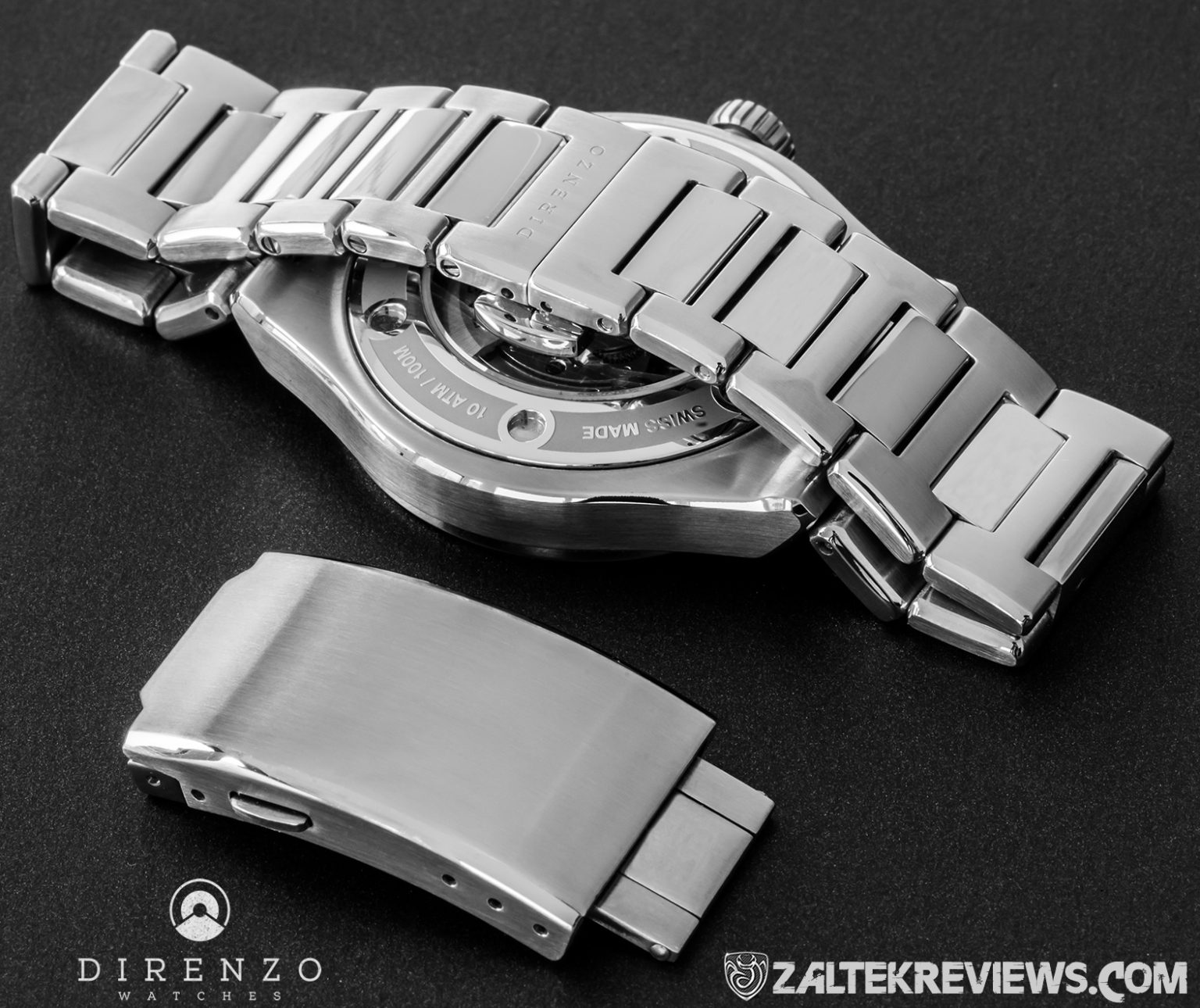 The movement selected for the Direnzo DRZ04 Mondial is the Swiss Sellita SW200 Elaboré grade with a custom rotor as well as an Incabloc protection system. This Swiss made movement is self-winding, has 26 jewels and the oscillating weight spins up giving up to a very respectable 38 hour power reserve. The balance runs at 28,800vph (4Hz) and the movement is also hackable. Each watch is also personally inspected by the owner of Direnzo Watches (Sergio Di Renzo) before being shipped out, allowing a final QC check to be carried out on the watch and obviously have a gander at the movement's precision. After running the DRZ04 Mondial myself for around 7 days, both on wrist, as well as occassionally in my watch winder, it was time to put it on my newly acquired timegrapher. I was very pleased with the results, with the Direnzo DRZ04 Mondial showing an average of just +4 seconds per day, with zero beat error, in the dial up position.

The Direnzo DRZ04 Mondial obviously has a totally fixed bezel. It is of outstanding quality with very smooth circular brushing and a polished edge just below that matching the case finishing perfectly. The text on this gorgeous bowl shaped dial is just the word Automatic, done in an italic, almost racing style font. The Direnzo logo is also printed and placed at the usual spot of just under the 12 o'clock position. The hour markers are all applied, with larger rounded baton shaped markers at the 3, 9 & 12 o'clock positions. Sensibly, the white model has matte black surrounds on each marker, where as the blue has the more traditional silver surrounds.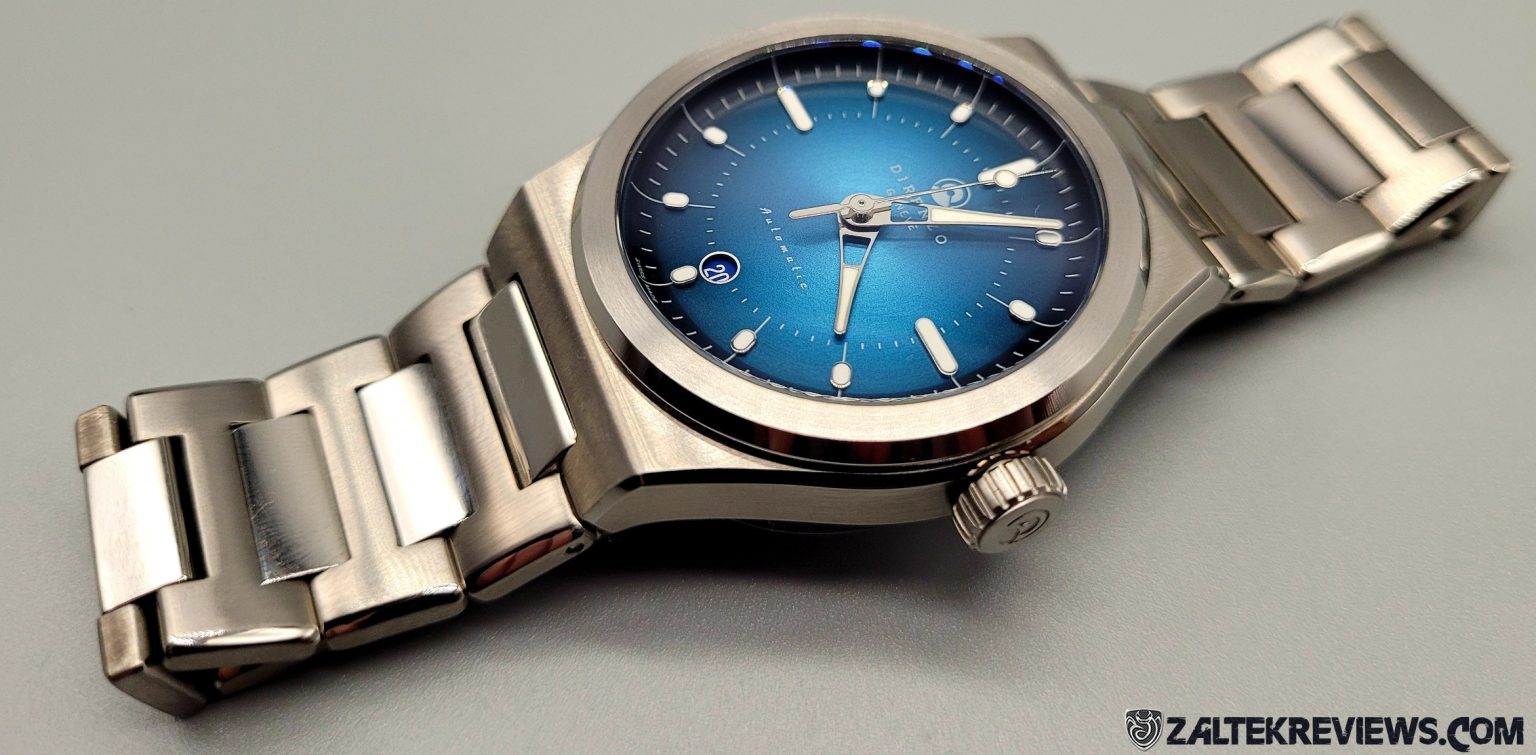 Thankfully, Direnzo Watches also opted for a date complication at my favourite position of 6 o'clock, and the best part… they are colour-matched on all colourways. Next up, the hour and minute hands… they are superbly done, with their very unique design. The part skeletonized hour and minute hands are just lovely. The seconds hand is nice too, with it's wee lollipop lumed marker and a tip that reaches right out to the minute track when sweeping around the dial. Last but not least, is the glorious bowl shaped dial… I just can't imagine how difficult this must have been to manufacture and the failure rate must be rather high, bumping up costs no end. Click on the pic below to see just how damn sexy this dial is.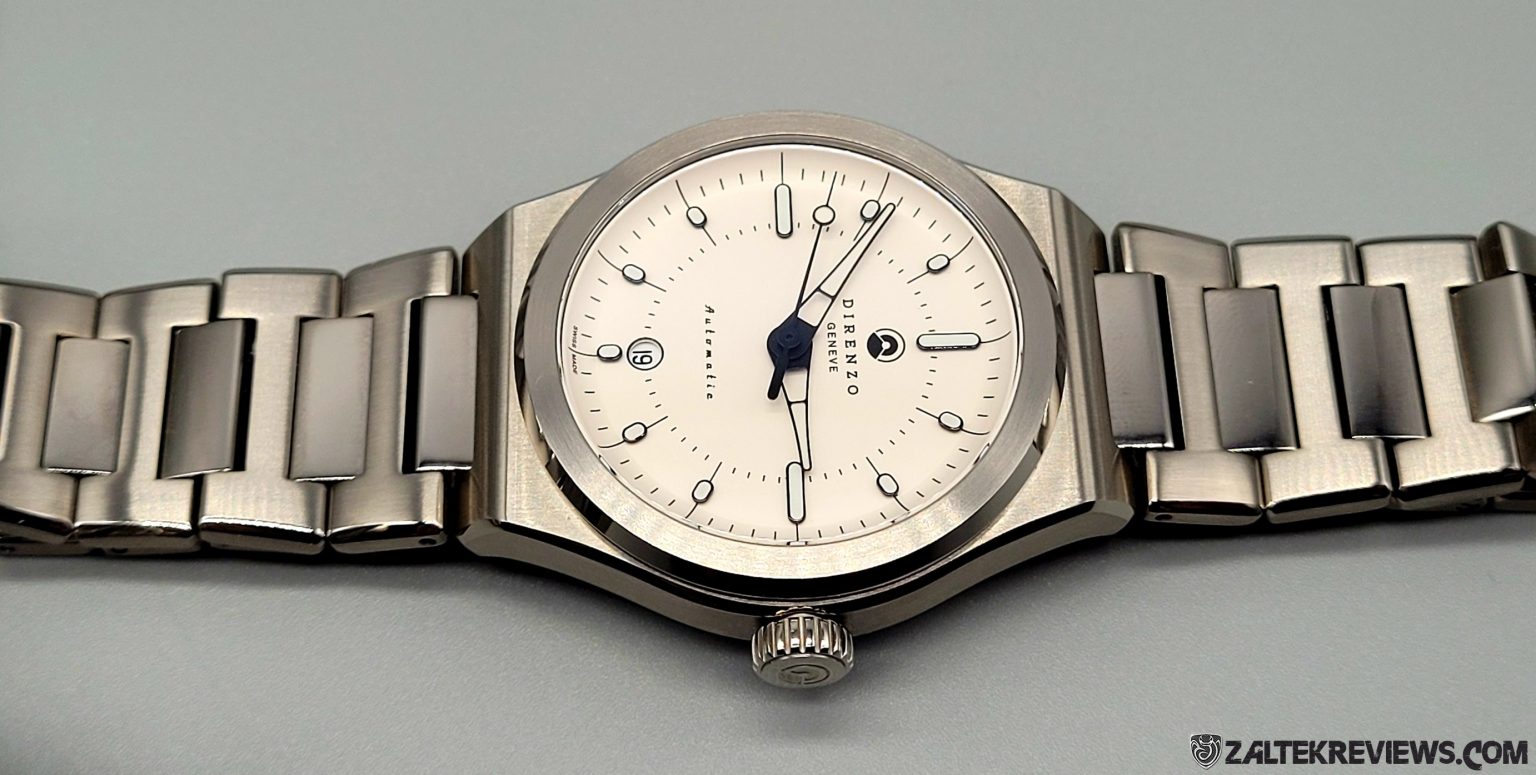 The lume on the Direnzo DRZ04 Mondial is actually rather nicely done, even on these prototypes. Direnzo Watches have stated however, that this will be improved even further for the actual production models. No complaints from me then, more lume the better I say! The actual formula that's been used on the DRZ04 is Swiss Super-LumiNova® BGW9.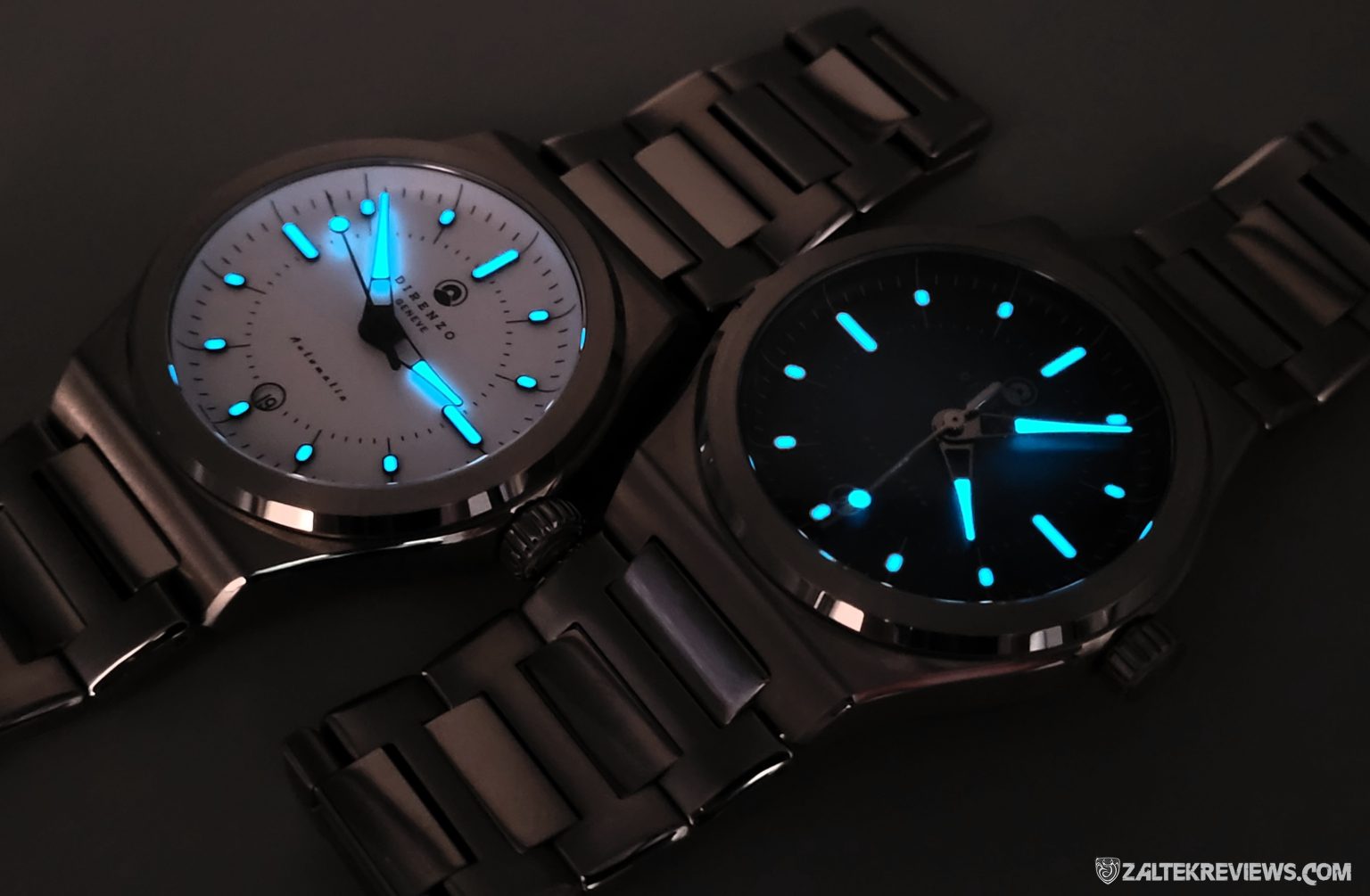 There is no doubt in my mind that the DRZ04 Mondial from Direnzo Watches is an absolute stunning timepiece. As I stated in my review of the SWC Bunker, I am working on a new section of the website, aptly named the Zaltek Reviews Elite List. Well, as you can probably guess, the Direnzo DRZ04 will most definately feature on it, under the sports watch section. You won't have long to wait to see the list either, as I'll be finishing it off once I've published this review.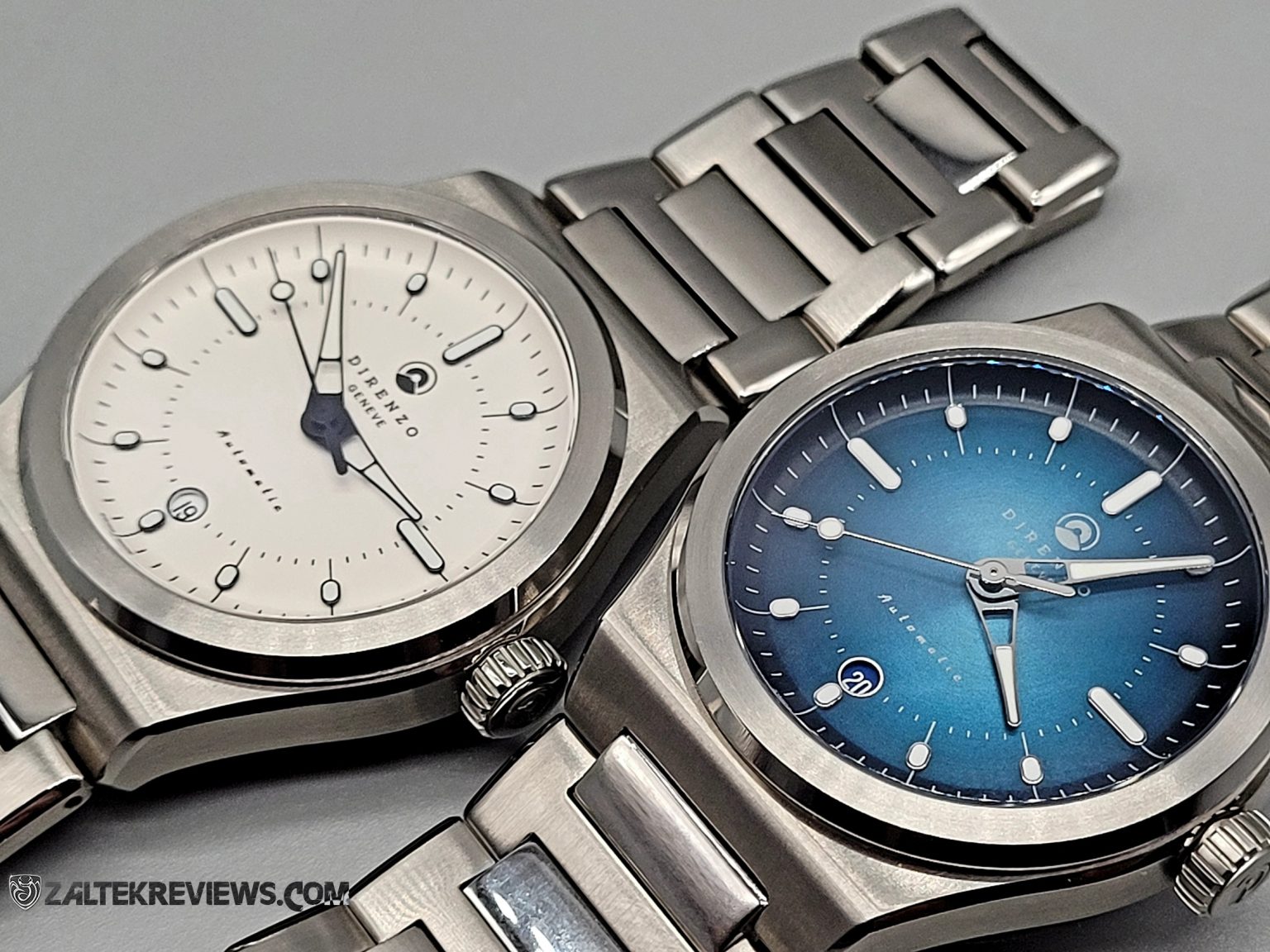 So, to summarise then… Should you buy this Direnzo DRZ04 Mondial? Of course you should, what kind of stupid arsed question is that Will? I'd be quick though, as the preorder price is due to go up on the 1st April, so at the time of writing, there's only 5 days left to grab one at its cheapest price. Have I bought one, I hear you ask. Unfortunately not, as I'm more skint than fuckin' Greece! 
If I could buy one though, I'd be all over the white dial, it's definately my favourite. *Cough*… Sergio, I've got two daughters that I could let you "borrow". One is blonde with big boobies, the other is brunette with a big booty. Take your pick, although I will add, they're very expensive bitches, so you're looking at about an hour to cover the cost of a white DRZ04 Mondial. What the FUCK am I doing… Trying to pimp out my daughters for a watch! HAHA, worth it though! I bet you don't get reviews like this on "FaceTube". 🤣
A massive thanks to Sergio at Direnzo Watches, for agreeing to send out the DRZ04 for review. Very much appreciated. To view the Direnzo website, or to join their mailing list, to be informed of new models etc, visit
direnzowatches.com
.
It takes me a fair amount of work (and time) to do these reviews. If you feel like supporting Zaltek Reviews to help towards my running costs, or even if you feel like just buying me a coffee, then please donate using the PayPal button below. Unfortunately, 97% of my readers just scroll by this section. If you feel like that I've given you maybe a few quids worth of knowledge and/or entertainment, then please take just a couple of minutes of your time to donate. Thank you. 
[paypal-donation purpose="Donate to Zaltek Reviews" reference="Ref:Zaltek" button_url=""]