Last year Timex released their popular Q model. It was a reissue of a watch from their catalogue originally launched in 1979 and it proved a great success. It quickly sold out and was highly sought after, often selling for considerably more than retail on the secondhand market. Now, in 2020, Timex have announced a follow up, titled the M79 Automatic. Not a huge amount is known at this time, but let's have a look at what we do know so far…
Colour Scheme
Advertisement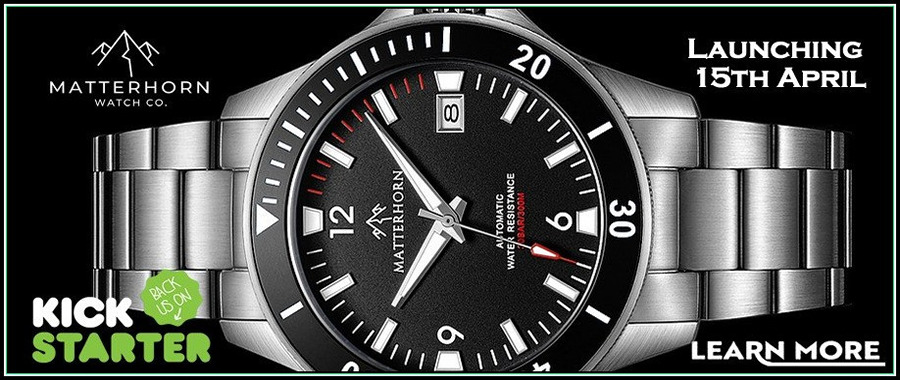 The original reissue featured the classic red and blue combination, made famous by Rolex and affectionately dubbed 'Pepsi' due to Pepsi's red and blue branding. The new update moves on to another classic combination also made famous by Rolex. The red is replaced with black and – "voila!" – we have the 'Batman'! This watch has long been rumoured and unofficially teased via fan-made mockups for some time – now it's official, Timex have made quite a lot of people very happy!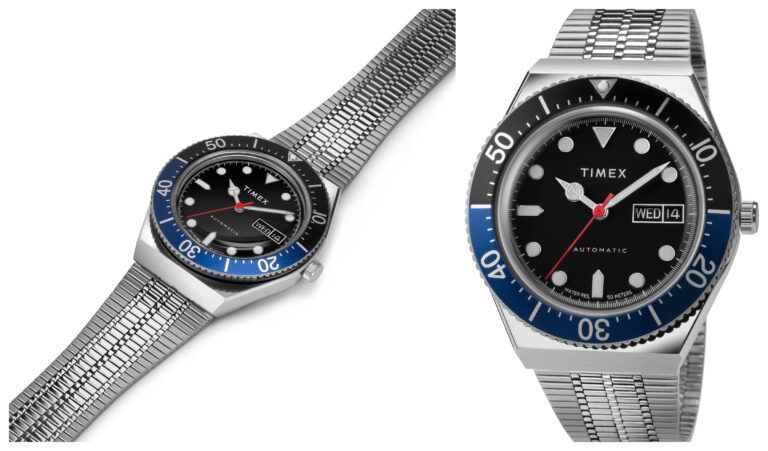 Movement
As the name suggests, the new M79 iteration has a big change in the movement department. Gone is the quartz engine of the Q (the Q stood for quartz…who knew?!) and in its place is a shiny new automatic movement, courtesy of Citizen-owned, Japanese movement maker, Miyota. At this point, there's no word on exactly which model they have chosen to power the M79 but I'd imagine it's from the 8-series – possibly the 8205 due to the day/date function. This would allow Timex to keep the M79 in the affordable price bracket they have become known for. The 8-series isn't as flashy as the premium 9-series; it won't break records with its accuracy or win prizes for its decoration, but it'll do the job well enough. You'll be able to see it beating away through a display case back.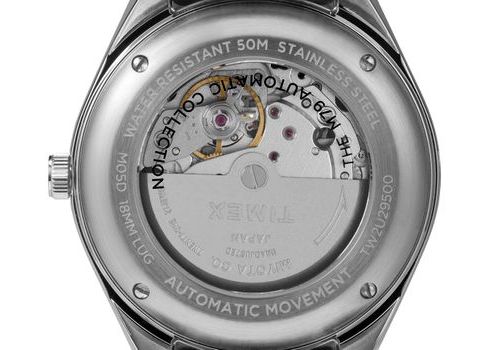 Bezel
The bezel also receives a welcome upgrade. My biggest annoyance with the Q was the bidirectional, friction bezel. Sure it was functional but it felt cheap and, for me, it was a letdown to an otherwise cool watch. I have read similar opinions from other reviewers, and Timex seem to have listened. The M79 now has a unidirectional, ratcheting bezel. Hurrah! This simple upgrade adds a lot of value in my opinion. Good choice, Timex! The ratcheting bezel is completed by traditional dive timing markings instead of the 12-hr scale as on the Q.
Case Size
38mm is dead. Long live 40mm! This one may upset a few people, but I'm not too fussed. I like 40mm a little better so it suits me, but case size is a very subjective stat so it'd be impossible to please everyone. The main reason for the bump was to accommodate the larger, automatic movement. Extra space was required and, in order to maintain the 50m of water resistance, a decision had to be made.
Advertisement

Bracelet
No change in this department. The same vintage-style bracelet is used on the M79 as on the Q. Having spent some time with the Q previously, and having really enjoyed the bracelet, I have no qualms with Timex leaving it as is. Not much more needs saying!
Opinion
The Timex M79 Automatic was inevitable; people had been clamouring for months for a Batman version of the Q. It would have been all too easy for Timex to just change the colour scheme, so it's great to see that they've seized this opportunity to make changes and improve on the success of the Q. In doing so, they'll sate the appetites of the ravenous Timex fanboys, whilst the upgrades will also draw in a newer crowd of value-seeking watch enthusiasts.
Personally I like the upgrades and I it as a nice affordable (assumably – no price announced yet!) addition to Timex's repertoire and I reckon it'll certainly be another success. Will it sell out instantly and resell at a profit on eBay and the likes? Only time will tell. You can sign up to Timex's mailing list here to receive more information as it's released.