Manufacturer: Spectre Time | Price: $290 USD (£235 GBP, €265 EUR (approx))
I've been in contact with Gulshan, the owner of Spectre Time for quite some time now, as I always like to keep an eye out on the designs that he comes up with next. I reviewed his Phantom II last year, as well as one of his sister brand watches, the Velthor S1 Concept. As soon as I saw the renders of this new diver he was planning on releasing, I knew I'd be looking forward to seeing it in the 'metal'. Remarkably, I do believe I'm the first to review the Frostbite. So… is it any good?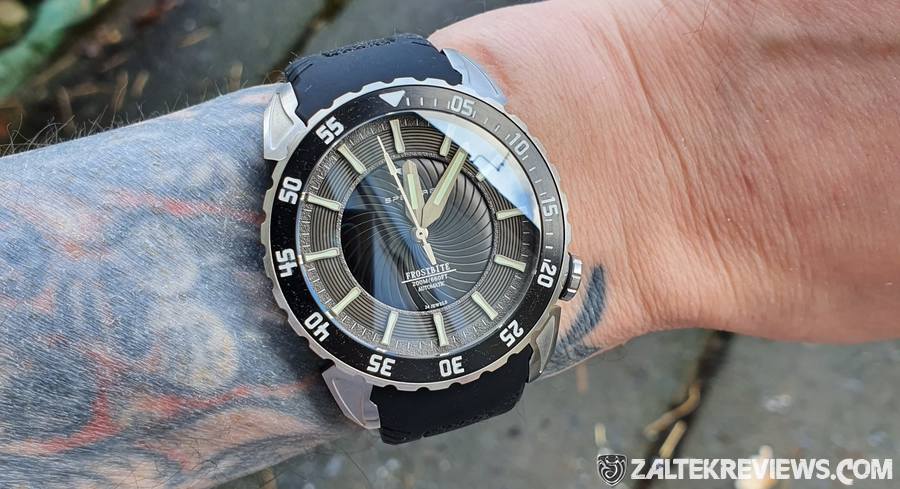 Specifications
Dimensions: Diameter – 41.8mm, Thickness – 14.1mm, Lug to Lug – 49.4mm, Lug Width – 22mm
Movement: Seiko NH35, Automatic, 21,600vph (3Hz), Hackable, Self Winding, 41hr Power Reserve
Case Material: Brushed 316L Stainless Steel
Strap: Fitted Hybrid Silicone, Quick-Release Pins, 115/70mm, Signed SS Buckle
Crystal: Double Domed Sapphire, Underside Anti-Reflective Coating
Bezel: 120 Click Unidirectional, Aluminium Insert, Fully Lumed
Water Resistance: 200m / 20ATM / 660ft
Lume: Swiss Super Luminova® C3 & BGW9
Crown: Screw Down, Signed
Caseback: Screw Down, Etched Artwork
Warranty: 2 Years    Overall Weight: 103g      Where to Buy: Kickstarter Launch – 27th March

Options: Dial Colour – Black, Blue, Copper, Green, Silver
Spectre Time - A Brief Introduction
"My name is Gulshan, I founded Spectre Time, a Singapore homegrown microbrand and i would like to share my story with you. I was working as a flight attendant for the world-renowned Singapore Airlines. I cannot say that I did not enjoy the job and the lifestyle, in fact I enjoyed every bit of it. Flying all over the world visiting different cities, meeting people from all walks of life and learning about new cultures opened my eyes and broadened my thinking and knowledge. It was always truly a learning experience on every flight.

It all started when I finally saved up enough money to purchase my very own Swiss Made luxury automatic wristwatch. I have always been an admirer of wristwatches and that purchase ignited the passion even further. I did enjoy wearing it but it got me thinking and I asked myself, "why spend thousands of dollars on a wristwatch that has a sole function to tell and keep time?". After much thought, I decided to design and produce my very own wristwatch which will be the one and only piece ever made. I started the task of sourcing for suppliers from all over the world.

I took inspiration from a few luxury watches and pieced together a design from scratch that I was satisfied with. I also managed to get in contact with a wristwatch manufacturer and the process of creating began. I never knew so much work was involved in creating wristwatches, from choice of material to the type of finishing, to the way the bracelet attaches to the case as well as the dimensions and choice of movements. I did learn so much more in such a short period of time.

It was a 3-month long wait for my prototype to be completed and delivered and when I finally received it I was astounded at how good the quality and finishing was. I started wearing my creation on-board flights and people started noticing it, both my colleagues and passengers. People started approaching me asking me where I bought the wristwatch I was wearing from and told me how nice it looks.

My answer to them was, "This is my own creation and you cannot find it anywhere as it does not retail at stores". I could see the disappointment in them as they would have liked wearing it on their wrist. I was told by many to produce more, to monetize it and perhaps start my very own wristwatch business. It got me thinking after a few months and that is when I decided to produce in bulk and share my creation with others.

It was not an easy journey but I pulled through and I am glad I listened and kept my door open to opportunities. I have since left the airline. There is very stiff competition in the wristwatch industry and I am more than happy to be part of it. That is my story and I greatly appreciate the support."
The case of the Frostbite has an overall diameter of 41.8mm. The lug to lug is 49.4mm and the overall thickness, including the double domed sapphire crystal, I measured in at 14.1mm. The entire case, caseback, bezel and crown are all 316L stainless steel. The case, you'll notice, has a very unique design which I have to admit, aesthetically, works great. It kind of reminds me of 'The Claw' from the movie Liar Liar. (God knows where that came from, but everytime I see it on my wrist it's all I can think of).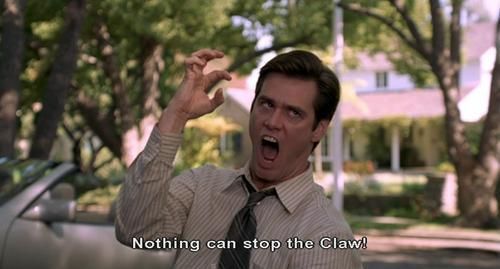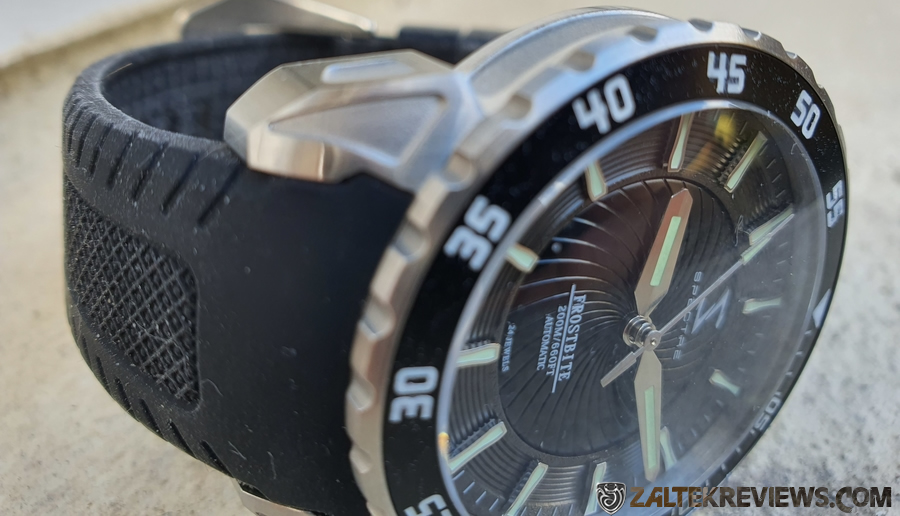 The overall weight of the Spectre Frostbite, on the supplied, fully fitted strap I weighed in at 103g. The Frostbite has a water resistance rating of 200m, thanks to the screw down caseback and obviously the screw down crown aids with the 20ATM water resistance. The proportions of the watch, in my opinion, are a lot better than the dimensions might suggest, although I'm pretty sure you should look elsewhere if your wrists are say, under 6½ inches due to the lug to lug length. It does wear extremely well on wrist though and is very comfortable thanks to the supplied 22mm fitted silicone strap.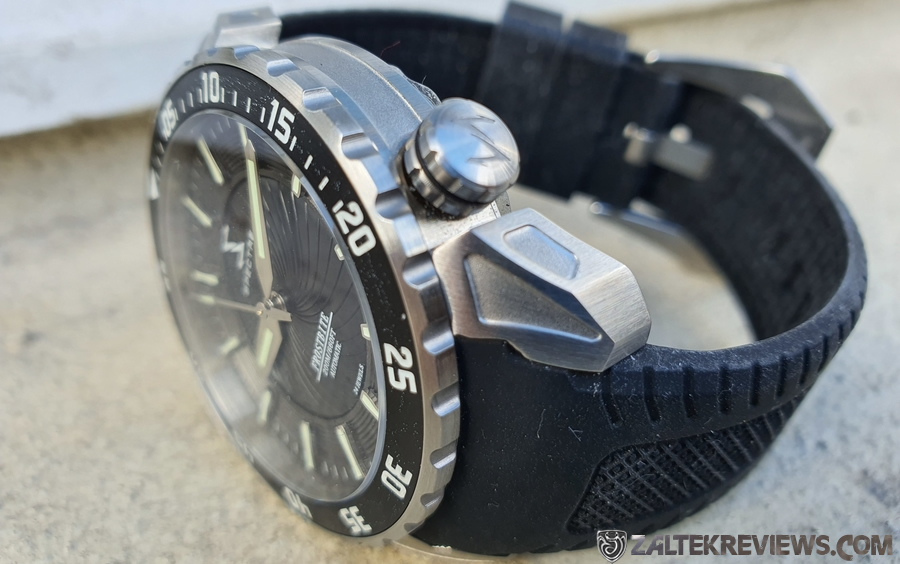 The signed crown is fantastic and definitely looks the part with its etched Spectre logo. There is absolutely no wobble either when the crown is in use and you can also feel a very nice pop as you unscrew it to the first position. The caseback has a laser etched shark design on it that looks decent and there is also the usual spec sheet etched around the edge.
I reviewed the Advisor SUPA Bronze Diver last week and mentioned in the review that it came fitted with a premium black 22mm rubber strap. Well people, with no disrespect to Advisor Watches, the hybrid silicone strap that comes as standard on the Spectre Frostbite is even better! Not only is it fully custom fitted to the case (which I love), it is also one of the most comfortable two-piece straps that I've ever worn. It measures in at a very nice 115/70mm excluding the buckle. My only negative regarding the strap is it can be a bit of a fluff magnet, but it's nothing a quick rinse in warm water can't fix.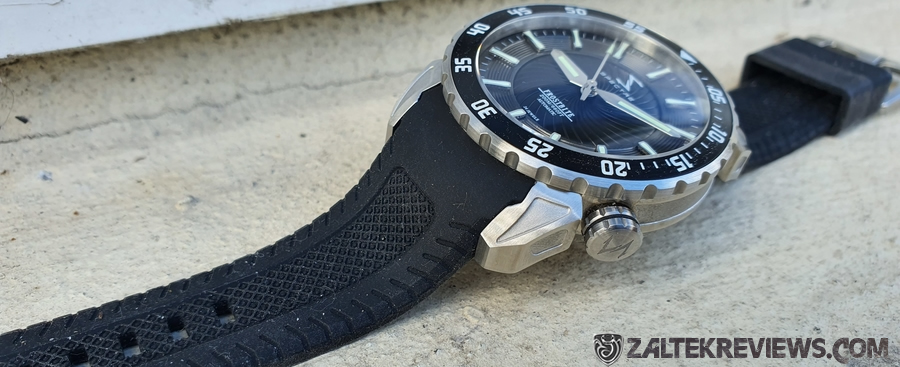 The movement selected for the Spectre Frostbite is the microbrand go-to movement of choice, the super-reliable NH35 manufactured by Seiko. The SII NH35 is a fantastic workhorse with 21,600vph, 3Hz, 24 jewel automatic movement with a 41hr power reserve, self winding and ofcourse hacking. Checking the accuracy after running the Frostbite for just over a week, mainly on my wrist and occasionally in my watch winder, I thought the accuracy was pretty damn good, with it showing an average of just +6.3 seconds per day.
The Spectre Frostbite has a 120 click unidirectional bezel with a fully lumed aluminium insert. It is of good quality with everything lining up just as it should do. The bezel action is pretty good, notchy but precise with minimal backplay. The text on the dial that's printed are the words FROSTBITE, the depth rating, AUTOMATIC with 24 JEWELS just above the 6 o'clock marker. The Spectre logo is also printed and is situated at just under the 12 o'clock position.
Everything on the dial looks great with the swirl effect on the inside changing to a circular design where the hour markers are. I'd make a couple of changes to the dial though, just with the printing side of things. I would remove that line under the model name Frostbite and I'd remove the 24 Jewels script, as I just don't think there is any need for either. It would also clean up the dial a little. Just my 2 cents of constructive feedback.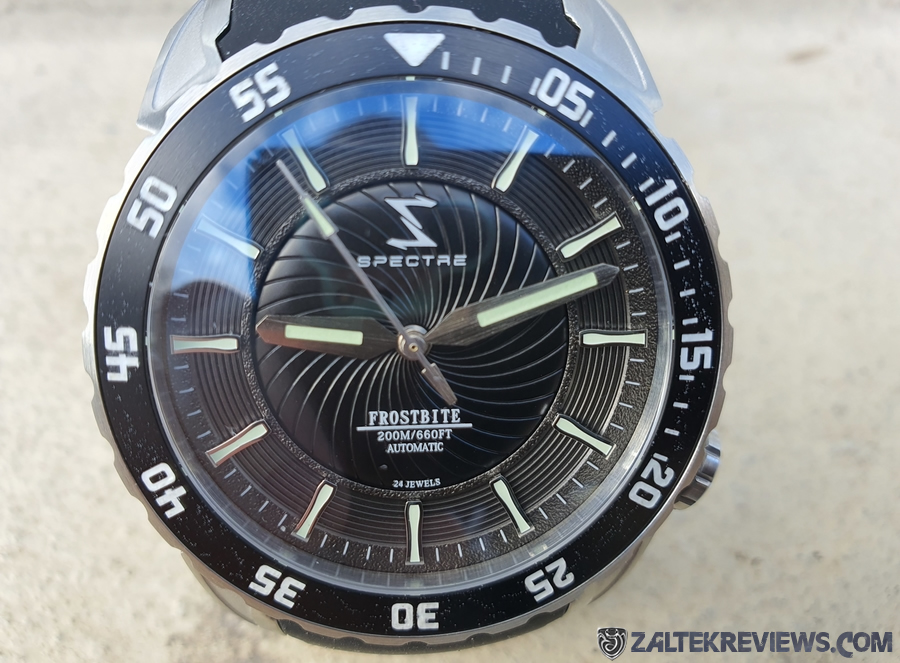 As you can see in the images, the hour and minute hands are nicely done with their quite chunky appearance. The matching seconds hand is great too, with it's prolonged lumed section and tip reaching right out to the start of the minute track when sweeping around the dial. All said & done, I think the dial is very nicely done with a fantastic overall aesthetic.
The lume on the Frostbite is very nice and has been applied pretty evenly. The lume that's listed on the spec sheet is Swiss Super Luminova® BGW9, but as you can see in the image below it looks more like a combination of BGW9 and C3. I haven't been able to confirm this with Spectre Time, but if and when I do, I'll come back and edit this section of the review. *Edit* Lume confirmed as BGW9 & C3.
Here at Zaltek Reviews we review microbrands a hell of a lot. And rather than the usual designs that we get to see that take some of their design cues from various classics of the past, Spectre Time have introduced us to a totally unique design. It's not perfect, but then no watch is…
However, I will say this design really works and the more I wear it, the more I see little design aspects that I haven't noticed before. The price of the watch when it hits Kickstarter later in March, is most definitely a total bargain and excellent value for money. This is one of the best 'entry level', NH35 powered dive watches that I've seen since the Zelos Swordfish v2. Trust me, that is high praise indeed.
Spectre Time – An excellent, slightly chunky, great quality, unique dive watch. Brilliant work Gulshan!
9/10 - HIGHLY RECOMMENDED!
A massive thank you to Gulshan for sending me the Frostbite out for review so quickly. Very much appreciated!
To view the Spectre Time website, or to join their mailing list to be informed of new models etc, visit
Spectre Time
.
Follow Zaltek Reviews on
Instagram
and
Facebook
and please feel free to join our Facebook group
WatchChat
, a busy community for watch enthusiasts and collectors, with tons of images and in-depth discussions.
At Zaltek Reviews, we encourage the companies whose watches we've reviewed to comment on our articles. We invite any company representatives to respond in the comments section below. Thanks very much.