Manufacturer:

Zelos Watches

| Price: $299 USD (€270 EUR, £240 GBP approx)
I bought the original version of the Zelos Swordfish in 2018 and the only reason I don't have it anymore is due to the fact I was offered more money than I originally paid for it. (#NoBrainer) Earlier this year I was sent a review sample of the  Bronze Swordfish from Zelos and I absolutely loved it. The time has come though, to clear out the moths in my wallet, put my money where my mouth is, and buy the new updated v2 Swordfish in SS. Did I buy the right version though?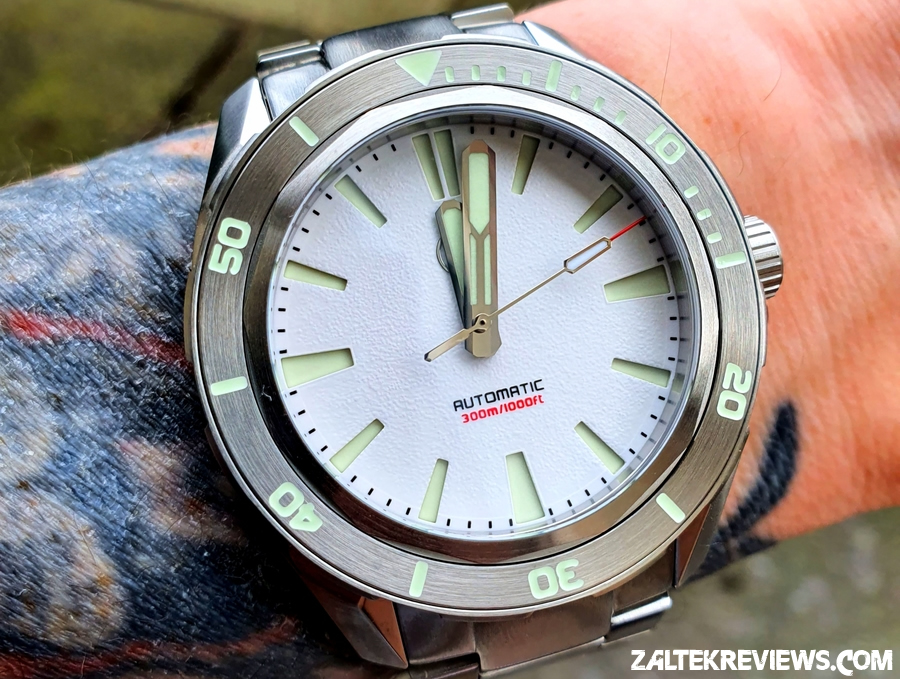 Specifications
Dimensions: Case Diameter – 41.8mm, Thickness – 13.3mm, Lug to Lug – 47.7mm, Lug Width – 22mm
Movement: Seiko NH35 Automatic, 21,600vph (3Hz), Hackable, Self Winding, 41hr Power Reserve
Case Material: Brushed 316L Stainless Steel with Polished Accents
Bracelet: Brushed 316L Stainless Steel, Polished Chamfered Edges, Solid End-Links, Screw-Pins, Milled & Signed Clasp
Crystal: Flat Sapphire, Multiple Anti-Reflective Coatings (Inner)
Bezel: 120 Click Unidirectional, Brushed Stainless Steel or Ceramic Insert, Fully Lumed
Extras: Wooden Hinged Presentation Box, Leather Watch Roll, Horween Leather Strap
Water Resistance: 30ATM / 300m / 990ft
Lume: Swiss Super Luminova® BGW9 & C3 (Multiple Layers (Fully Lumed Dial))
Crown: Signed, Screw Down   Caseback: Screw Down, Stamped Swordfish Logo, Unique Serial No XXX/200
Warranty: 1 Year    Where to Buy:

ZelosWatches.com

Options: Dial: Forged Carbon, Frost (Full Lume), Ice Blue, Helical Blue, Midnight Blue, Black Sand, PVD, Teal
Zelos Watches - The Company
Zelos was founded to offer timepieces with cutting-edge designs with materials such as bronze, meteorite and carbon fiber. Zelos design and produce watches from the ground up, ensuring that you get a watch that can be found no where else. Since the start of Zelos in 2014, they have launched 3 models on Kickstarter with increasing success. Zelos' first model, the Helmsman gathered 273% of the targeted funding. The Chroma followed next with 350% and finally the Abyss with an overwhelming 650% of funding. Zelos no longer use Kickstarter when releasing a new model, opting to take preorders on their own website with only a 2 – 3 week wait time before you get that email stating that your watch has been been despatched via FedEx. Zelos is based in Singapore and was founded by Elshan Tang who having been fascinated by mechanical timepieces for many years, building one was the next logical step. He believes that great timepiece design should not be confined to just expensive luxury brands. Shown below are just a very small example of some previously released Zelos watches.
The packaging of all watches from Zelos is something a bit special. Not only that, the packaging is actually useful! Everyone loves getting a new watch, the whole unboxing experience and honeymoon period that usually follows. However, with a lot of other brands, after you've opened everything up, the box itself is pretty much useless, yet we still keep them just incase we ever think of selling later in the future which is a bit of a nightmare when you've collected as many watches as I have. What actually happens to the box? It gets put with the rest of them, on a shelf, collecting dust!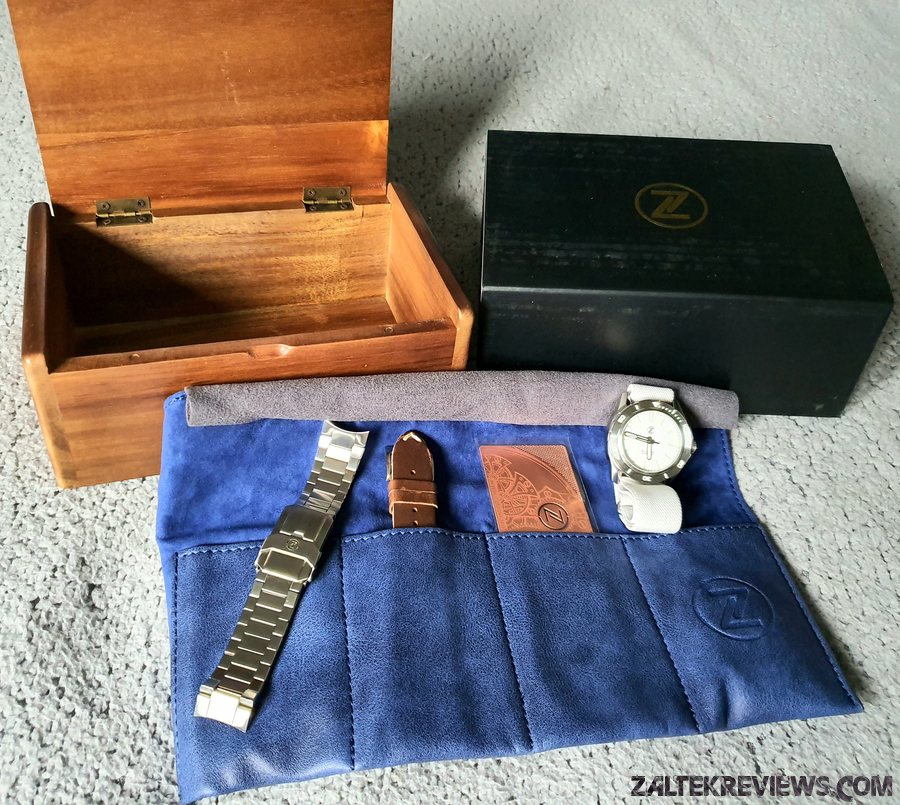 With Zelos, you get a cigar style hinged wooden box that you could keep erm… cigars in. If you're like me though, and have a ton of accessories clogging up your desk drawers or the window ledge of your home office / man cave, you can now fix that! I actually use all my Zelos boxes to store my spare straps and other accessories in a nice & neatly organised area of my office. Zelos also give you a very nice blue leather watch roll, which is another handy piece of kit, especially if you travel regularly. It has space for a total of 4 watches, all wrapped up safely ready for your hand luggage/suitcase.
The case of the v2 Swordfish is 41.8mm. The lug to lug is 47.7mm and the overall thickness, including the sapphire crystal I measured at 13.3mm. The entire case, caseback, bezel, bezel insert*, bracelet and crown are all 316L stainless steel. The finish of the case is entirely brushed, with polished accents on the inner lugs and the top section of the crown guards. (*You get a brushed ceramic bezel insert on the Forged Carbon, Midnight Blue, Black Sand and PVD versions).
The Swordfish v2 has a water resistance rating of 300m / 30 ATM, thanks to the screw down caseback & crown. The proportions of the watch, in my opinion, are fantastic on for my 7″ wrist. The Swordfish wears so well on wrist and is very comfortable even if on paper, it looks large, but with a lug to lug of just 47.7mm it wouldn't look out of place on a wrist as small as 6¼ inches. The crown is also superb with absolutely zero wobble when the crown is at its extended position.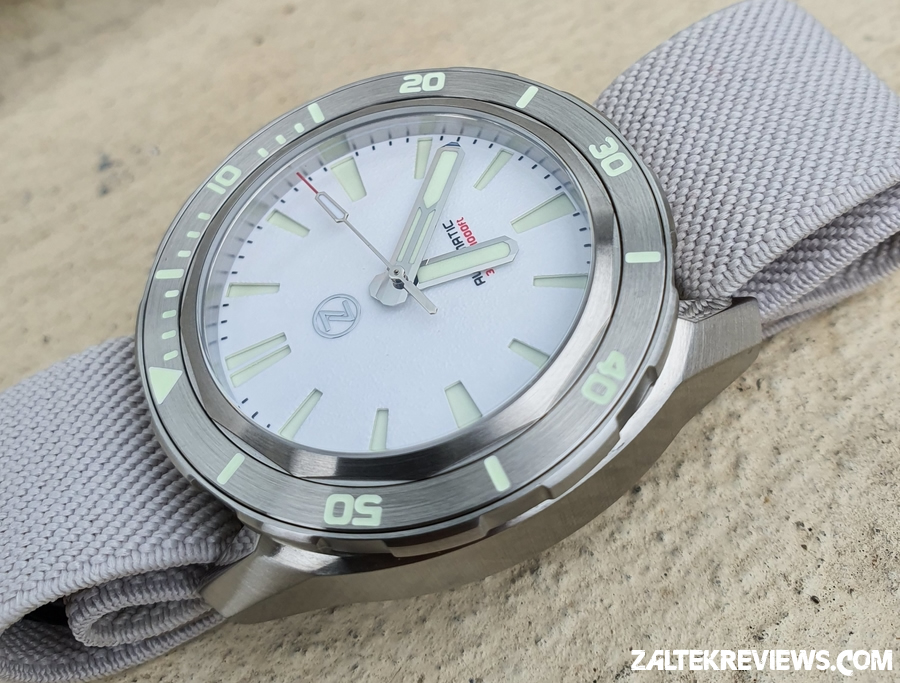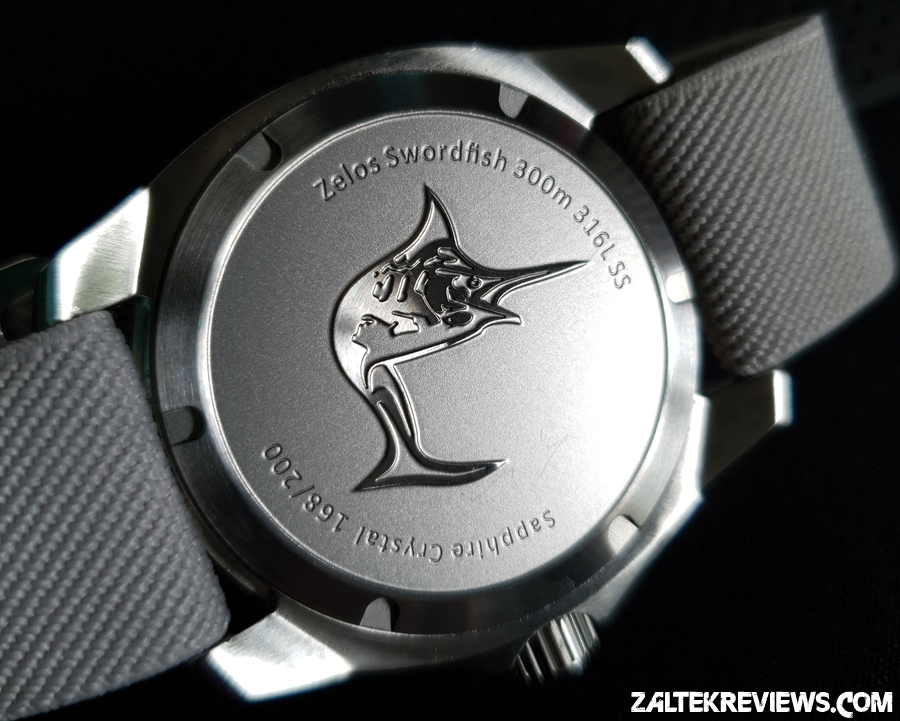 The new bracelet fitted to the v2 is far more refined than the bracelet that was fitted to the original. A lot more smoother edges and the brushed finishing matches the case perfectly. The fit of the bracelet is outstanding with absolutely no wobble or movement at all at the lugs. The links of the bracelet are relatively slim and conform to the wrist brilliantly. The bracelet itself tapers from 22mm at the lugs to 20mm and back up to 22mm at the clasp. Sized up for my 7″ wrist I had to remove a few links, which was simple to do with the screw pins for adjusting & re-sizing. The screw pins too are not like some I've encountered that are of poor quality, these screw pins are excellently manufactured and are simple to remove and reinstall without any misaligned threads or any other dodgy fitment. Solid end links, fully milled clasp (more on that in a minute) that is also stamped with the Zelos logo are also present on this very much improved bracelet.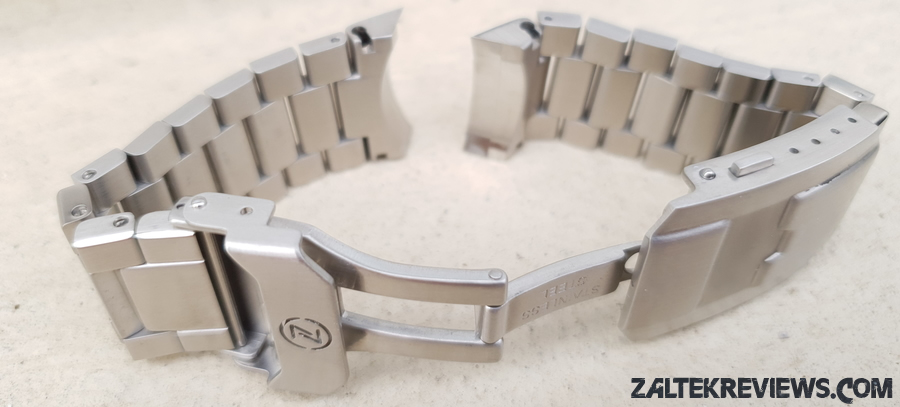 Here we have the only problem with the Swordfish v2. The clasp. When I say it's a problem, it's actually not (more on that later too). I believe Jody from Just One More Watch (the plastic Jock that lives in Australia
) was the first to bring it to people's attention. I've embeded his review below to start at 16:24 to show you exactly what I'm talking about.
I could pretty much swear it was the same day or the day after when customers started to receive their v2 Swordfish that more observations of people having trouble getting the bracelet over their hand and onto their wrist. This is why I'm saying it's not an issue. Elshan, the owner of Zelos, picked up on this straight away and started designing a replacement clasp and it was put into production pretty much the next day and will be sent out to all customers for free! This just shows the level that Elshan goes to regarding customer support. I mean, this can't be cheap for Elshan to do, far from it.
Statement from Elshan Tang on Zelos Timekeepers Facebook Group
"Hello guys, I've heard the complaints about the short clasp for the Swordfish and I'm producing a replacement part for this. Sorry about the trouble with this! The clasp will stay the same, but the folding 'bridge' portion will be lengthened to accommodate larger hands. This replacement part will be mailed out for free, and could be changed using a regular springbar tool. The part that will be sent is shown below in the drawings. It is in production now and should be ready in 3 weeks. Mailing might take 2-3 weeks to reach most locations".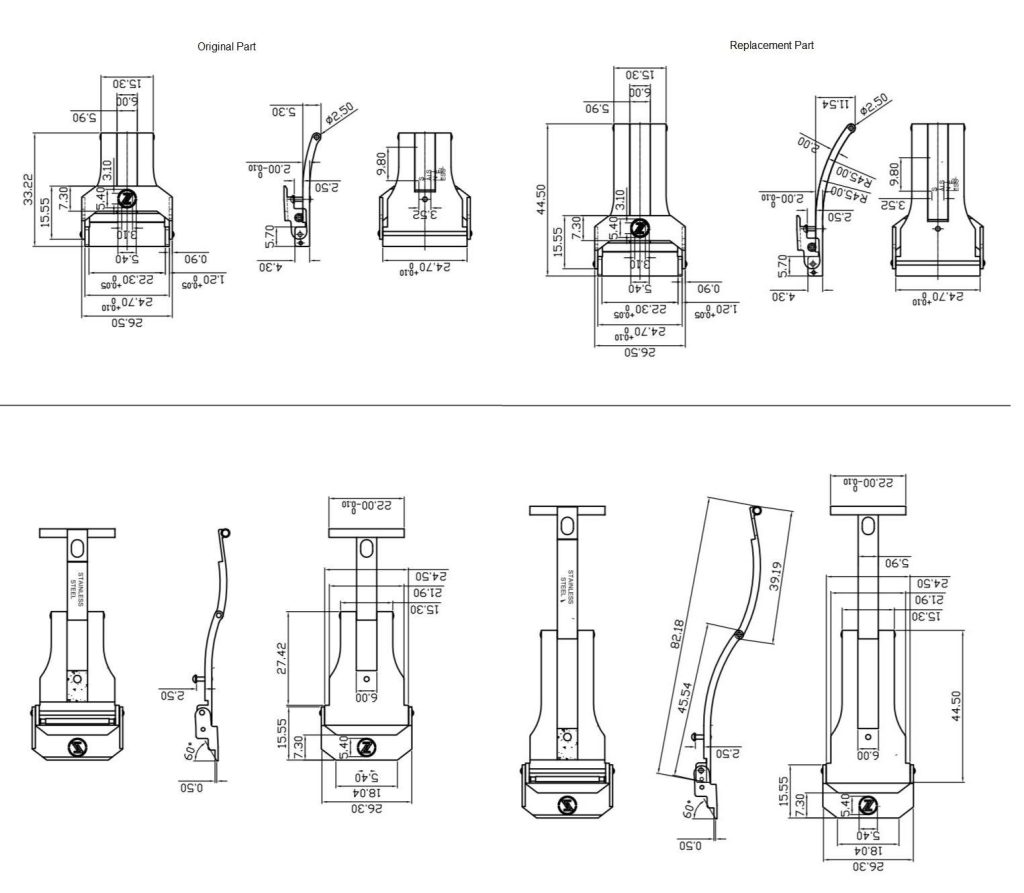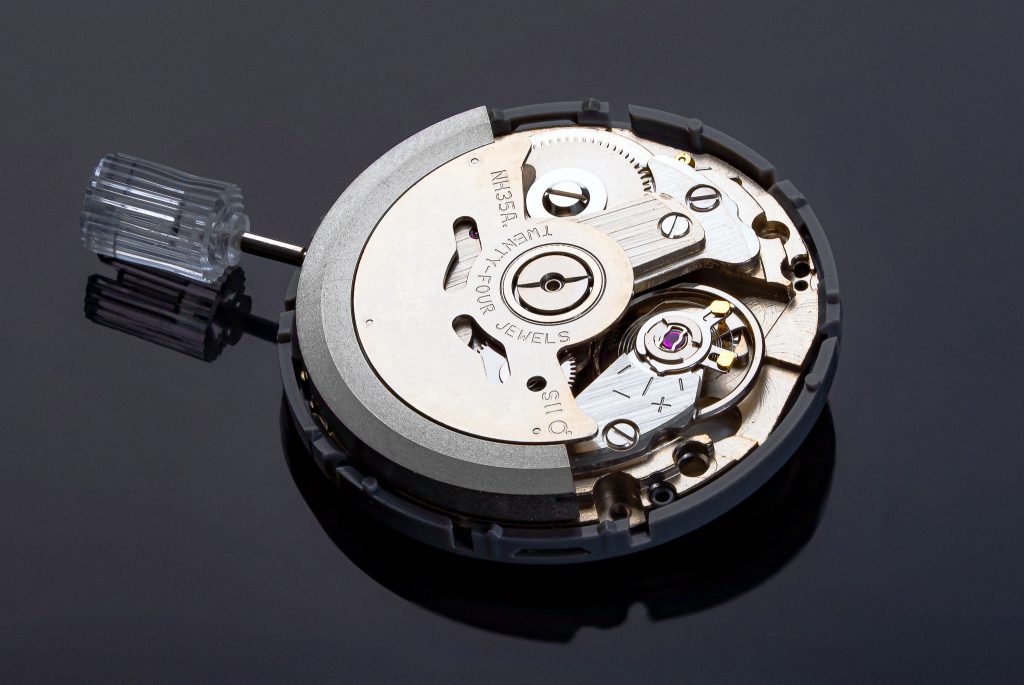 Zelos usually offer a movement upgrade on the Swordfish line to the ETA 2824. Sadly, that wasn't an option on the stainless steel v2. The only movement option for the Swordfish v2 is the microbrand go-to movement of choice, the super-reliable Seiko NH35. A fantastic workhorse that is a 21,600vph, 3Hz, 24 jewel movement with a 41hr power reserve, self winding and of course hacking. Checking the accuracy after running the Swordfish for over a week, mainly on my wrist and occasionally in my Barrington Watch Winder, I thought the accuracy was exceptional, with it showing an average of just +5.7 spd.
This Frost Edition of the Swordfish v2 has a 120 click unidirectional bezel with a brushed and fully lumed stainless steel insert. It is of excellent quality and everything lines up 100% perfectly. The bezel action oozes quality and has absolutely zero backplay. The sandwich dial has very neatly done cut-outs for the hour markers, with larger markers at the 3, 6 & 9 and double markers at the 12 o'clock position. The text on the dial is nicely printed and are very legible. The choice of font too is fantastic, showing just the word automatic in block letters with the depth rating of 300m/1000ft in red underneath.
As you can see in the images, the hour and minute hands are of a chunky style and these have caused a bit of a Marmite experience with people that's seen the watch. Personally, I like them, especially seeing that they are too, PUMPED full of lume! The seconds hand is great too, lumed with its red marker at the end matching the red text on the dial. The lume used on the Swordfish v2 is Super Luminova® BGW9 and C3. Both behind the dial and the dial itself are fully lumed with the hour markings having a contrasting lume to the dial. As you'll see in the lume shot below, this thing is like a torch!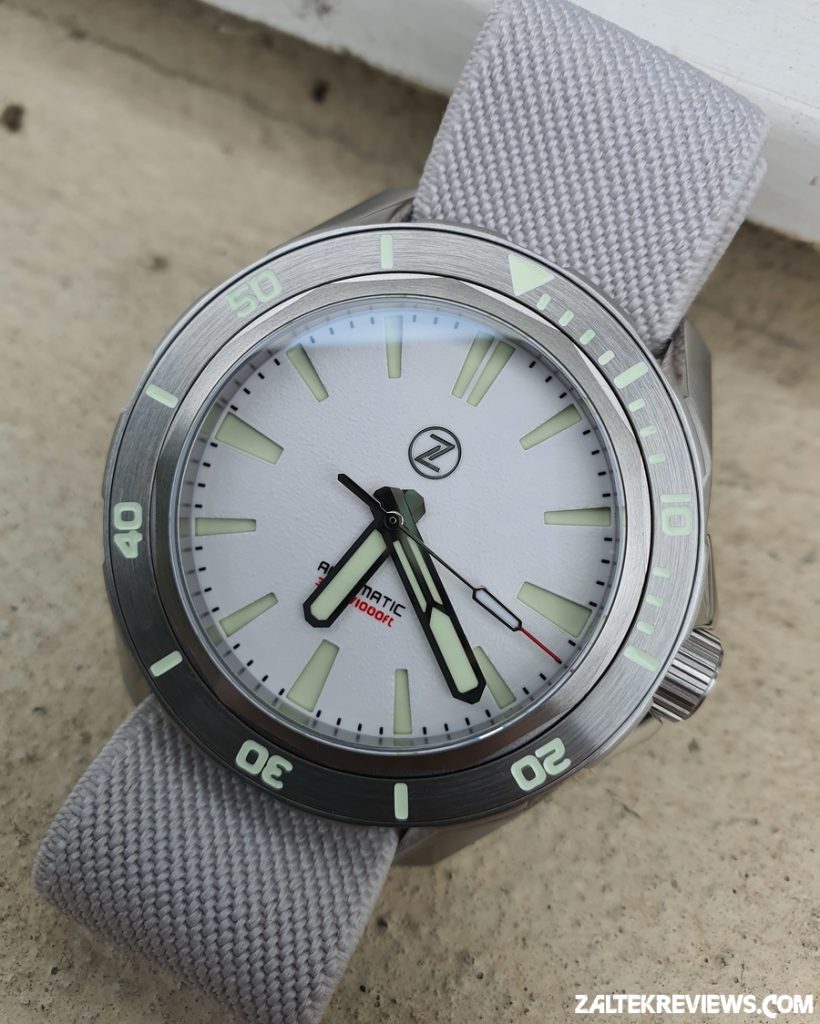 The Swordfish v2 is a total bargain. If you have $300 burning a hole in your pocket, you can't get a better watch than this. PERIOD. The fit & finish are just perfection, the execution, the tolerances, just absolutely everything about this watch is nothing more than just, let me think of the words that best describes the v2 Swordfish… LUSH! ON POINT! THE DOGS BOLLOCKS! BETTER THAN SEX! Ok… I took it too far on that last one, but you get my point.
I however, have a problem with my buying experience. I bought the wrong bloody one! You should have seen me when these watches went live on the Zelos website. I was running about like a f**kin' idiot… Where's my wallet!? BUY, BUY, BUY!!! Take my money you f**kers! I was shopping like Kim Kardashian on crack cocaine!! I did actually want the frost edition, but I was so focused on getting it, thinking it would sell out instantly, I failed to pay much attention to the rest of the Swordfish line up. Of course I looked at them… "don't want that one", "ooo that one's nice", etc, etc, etc…
Now that the watch is here, and the initial honeymoon period is over, I looked at the other versions in much closer detail. And would you believe it, I've fallen in love with the Helical Blue Swordfish (see image below). So much so, I was examining my watch box last night and probably sounded like any other watch nut going through them one at a time. "Nope, can't sell that…" "No chance, that belonged to my Dad…" "Nope, that's gorgeous…" etc, etc… I was like FUU**KK!!!!!! To summarise, yup, I bought the wrong one, DAMMIT! Nothing I can do. Anyway… As I might have previously mentioned, just buy the bloody watch before the preorder price goes up to $349 on the 15th of September or just sell out.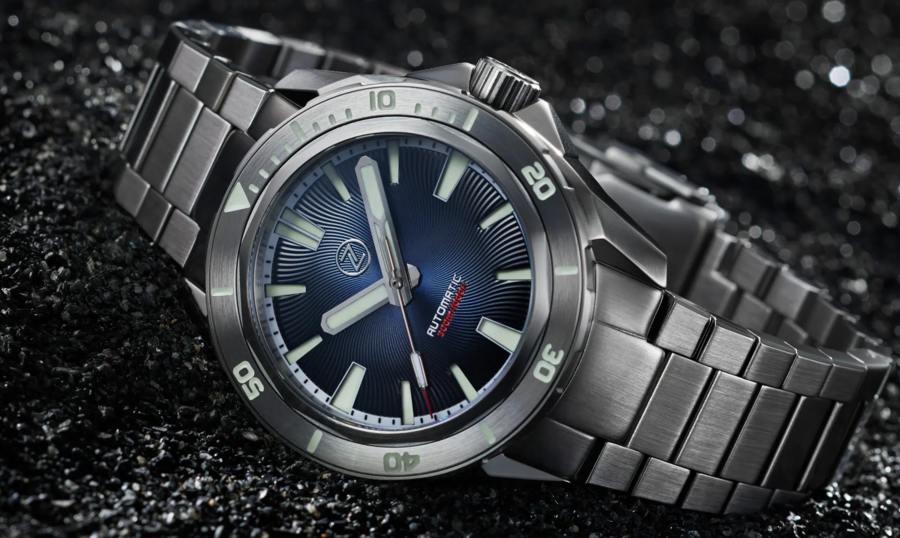 Elshan @ Zelos – What can I say, 10 out of 10. You've totally nailed it yet again!
10/10 - HIGHLY RECOMMENDED
A huge thanks to Elshan at Zelos for putting another dent in my bank account and for making such a brilliant watch at a totally fantastic price. For this level of attention to detail, this is easily the best $299 I've spent on any watch in years. Is this my favourite watch of the year? Maybe. If I bought the right one!!
To view the Zelos website, or join their mailing list to be informed of new models etc, visit
Zelos Watches
.
Follow us on
Instagram
and join our Facebook group
WatchChat
, a busy community for watch enthusiasts and collectors with tons of images and in-depth discussions.
At Zaltek Reviews, we encourage the companies whose watches we've reviewed to comment on our articles. We invite any company representatives to respond in the public comments section below. Thanks very much.