Manufacturer:

Traska

| Price: from $525 USD (£385 GBP, €430 EUR)
Here we are at just a few days into the new year and we already have a new release from Traska, in the form of an updated version of one of my favourite models, the Freediver. I have owned all versions of the Freediver and I still have my Freediver II sitting proudly in my watch box, that I still wear regularly. If I had to be honest and 'fess up, when I first heard that Traska were releasing a new updated version of the Freediver, I was really glad that I still had my blue MkII, as I really thought they'd fuck up the design, as I didn't think that the Freediver II could've been improved. That was until I clapped my eyes on this new MkIII, that arrived on Christmas Eve. Am I annoyed at the price hike? kind of, I am Scottish after all! Do I think that this new MkIII version is still a superb value proposition though? FUCK yeah!! Let me explain…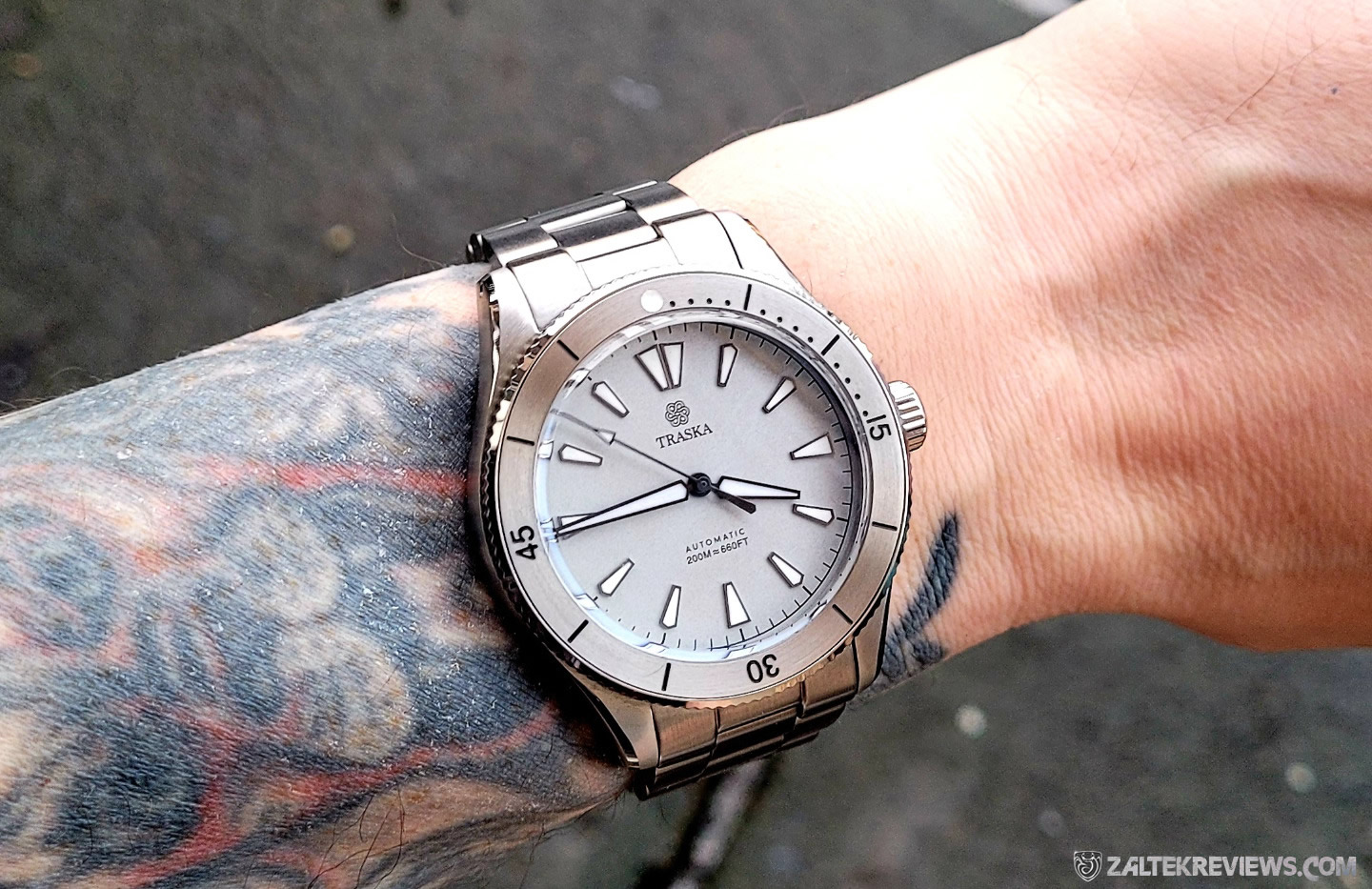 Specifications
Dimensions: Case Diameter – 40.3mm, Thickness – 11.4mm, Lug to Lug – 47.6mm, Lug Width – 20mm
Movement: Regulated Miyota 9019 / 9039, 28,800vph, 4Hz, Hackable, Self Winding, 42hr Power Reserve
Case Material: Brushed 316L Stainless Steel with Polished Accents, 1200HV Scratch Resistant Coating
Dial & Hands: Semi-Matte, Applied Indicies, Diamond Cut Hands
Bracelet: 316L Stainless Steel, Solid Links, Screw Pins, Milled Clasp, 1200HV Scratch Resistant Coating
Crystal: Boxed Double Domed Sapphire, Underside Anti-Reflective Coatings
Bezel: 120 Click Unidirectional, Ceramic / Stainless Steel Insert
Lume: Swiss Super Luminova® BGW9            
Water Resistance: 200m / 20ATM / 660ft      

Caseback: Solid, Screw Down, Unique Serial Number
Crown: 6.5mm, Screw Down, Signed     
Weight: 137g (Sized for my 6¾″ wrist)
Options: Ceramic / Steel Bezel Insert, Date / No Date, Stone Grey, Carbon Black, Mint Green
Where to Buy:

Traska

(Pre-order from 10th January 2021)       
Warranty: 3 Years International
"I threw off my shirt, kicked off my flip flops and leaped into the ocean. It was a beautiful day on a small island off the coast of Vietnam. The sun was shining, the ocean was clear and cool and I was in the company of friends – life was good! But then… I froze. A feeling of dread came over me, something was wrong. I raised my arm out of the water and all the elation I had been feeling a moment before vanished in an instant. I had forgotten to take off my 1966 Bulova Snorkel, the pride of my vintage watch collection. A closer look and my worst fears were realized; salt water had penetrated the crystal, flooding the dial. It was ruined.
Wearing a vintage watch like this while gallivanting around the world was reckless of me, but I've always loved my watches too much to leave them languishing in a safe somewhere. Vintage watches are collectors items. They're no longer meant to be worn on your wrist while you're splashing about on the beach or hooning through Southeast Asia on a motorcycle. But what if they were? An idea began to form in my mind, for a watch that honored the timeless aesthetic and function of the vintage sport watches I admired, but in a more robust modern package, that could handle whatever you decided to throw at it. Back home in the United States, I grabbed a piece of paper and a pencil and began working on the design, for what would, one day, become the Traska Freediver."
"Once this idea was planted in my mind, there was no getting rid of it. Watches had always been a passion of mine. Now, they became an obsession. I befriended local watchmakers, bombarding them with questions as I hovered behind them in their workshops. I spent the little savings I had traveling the world, searching for people with the skill and equipment needed to bring my dream to life. The pieces seemed to be coming together. After a few failures, I finally had a prototype that did justice to my original vision. I built a simple website and started sharing a few photos on Instagram. Initial noises from the watch community seemed pretty positive. Maybe, just maybe, I was onto something.
I chose to launch our first ever model on Kickstarter – a crowdfunding platform where creators set all or nothing goals, and supporters "pledge" to buy the resulting product if (and only if) the campaign succeeds. Reach your target and you're in business. Fall even $1 short and you get nothing. This was my one shot to introduce Traska to the world. I was nervous, but also excited. One way or another, our future would be decided. The result was fast and emphatic; we were fully funded in just a few hours and ended up raising more than twice as much as the original target. The date was April 17, 2018 and Traska was in business!"
"From that day on, we have continued to grow at a staggering rate. A year and a half later, the Kickstarter campaign for our second model, the Summiteer raised over $100,000 in just 12 hours. For the first time, I can now truly say "we" with conviction, because Traska is no longer just a one man show. There are now three people who wake up every morning committed to helping this company become better than it was the day before. But while our Kickstarter days are now behind us and we are maturing as a business, I have never forgotten that direct, personal connection, which will always be central to who we are. Everything Traska has achieved has been because of this community.
There will never be a day when I don't look forward to picking up the phone and speaking personally to whoever calls our direct line. So whether you have been with us from the very beginning, or are just now discovering Traska, thank you and welcome. You are the reason that all of this exists."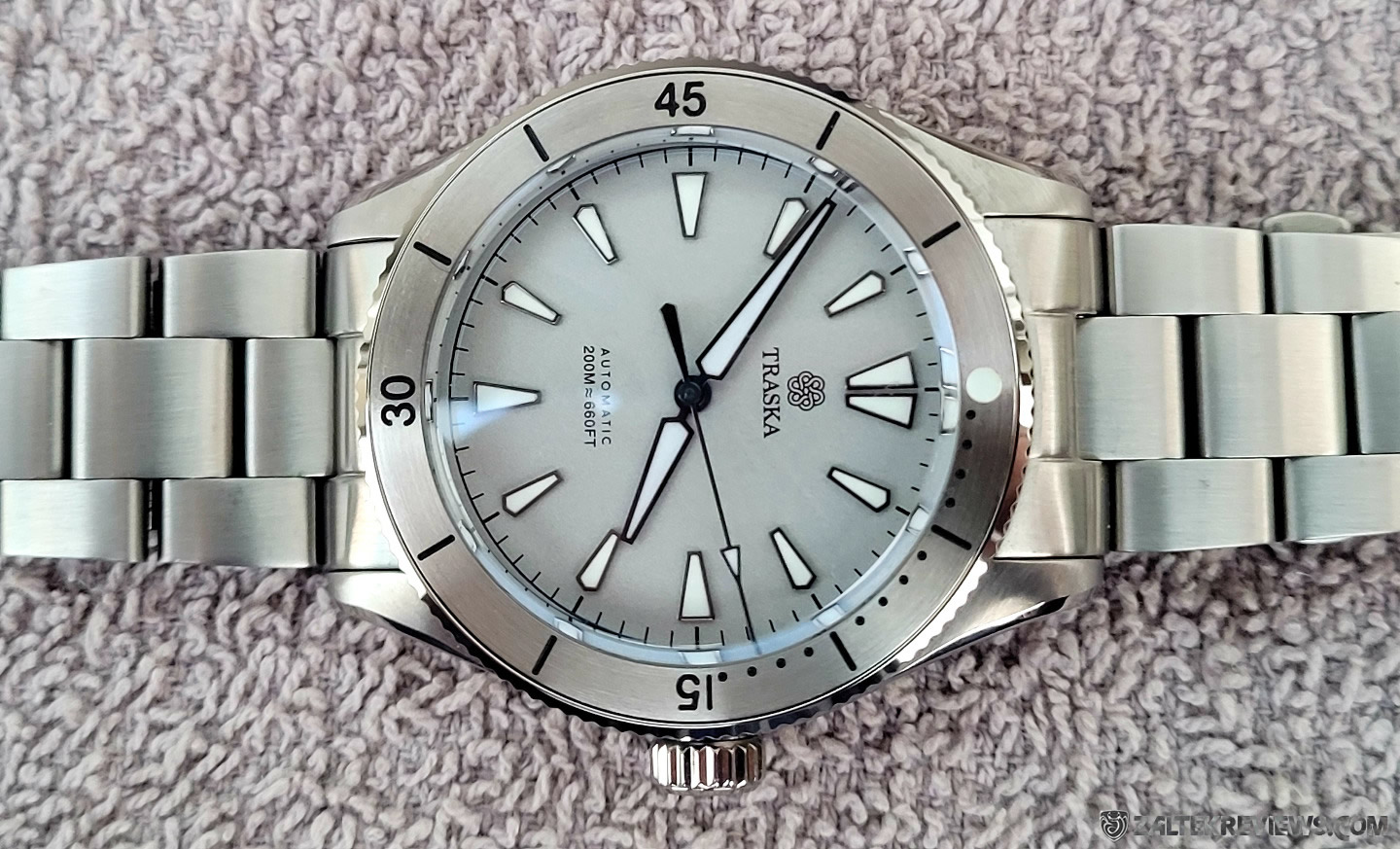 The case of the new Freediver has a diameter of 40.3mm. The lug to lug is 47.6mm and the overall thickness, including the boxed double dome sapphire, I measured in at a mere 11.4mm. The entire case, caseback, bracelet, coin edge bezel and crown are all 316L stainless steel with Traska's scratch resistant coating. Stainless steel typically measures 200HV on the Vickers hardness scale, however with this coating, you're looking at a hardness rating of just under 1200HV. The finishing of the Freediver is mostly brushed, with the addition of polished chamfered edges, that run the length of the top of the case and down over the edge of the lugs. The Freediver has a water resistance rating of 200m, which is rather surprising, especially when you take the total thickness of the watch into consideration. It's all very impressive.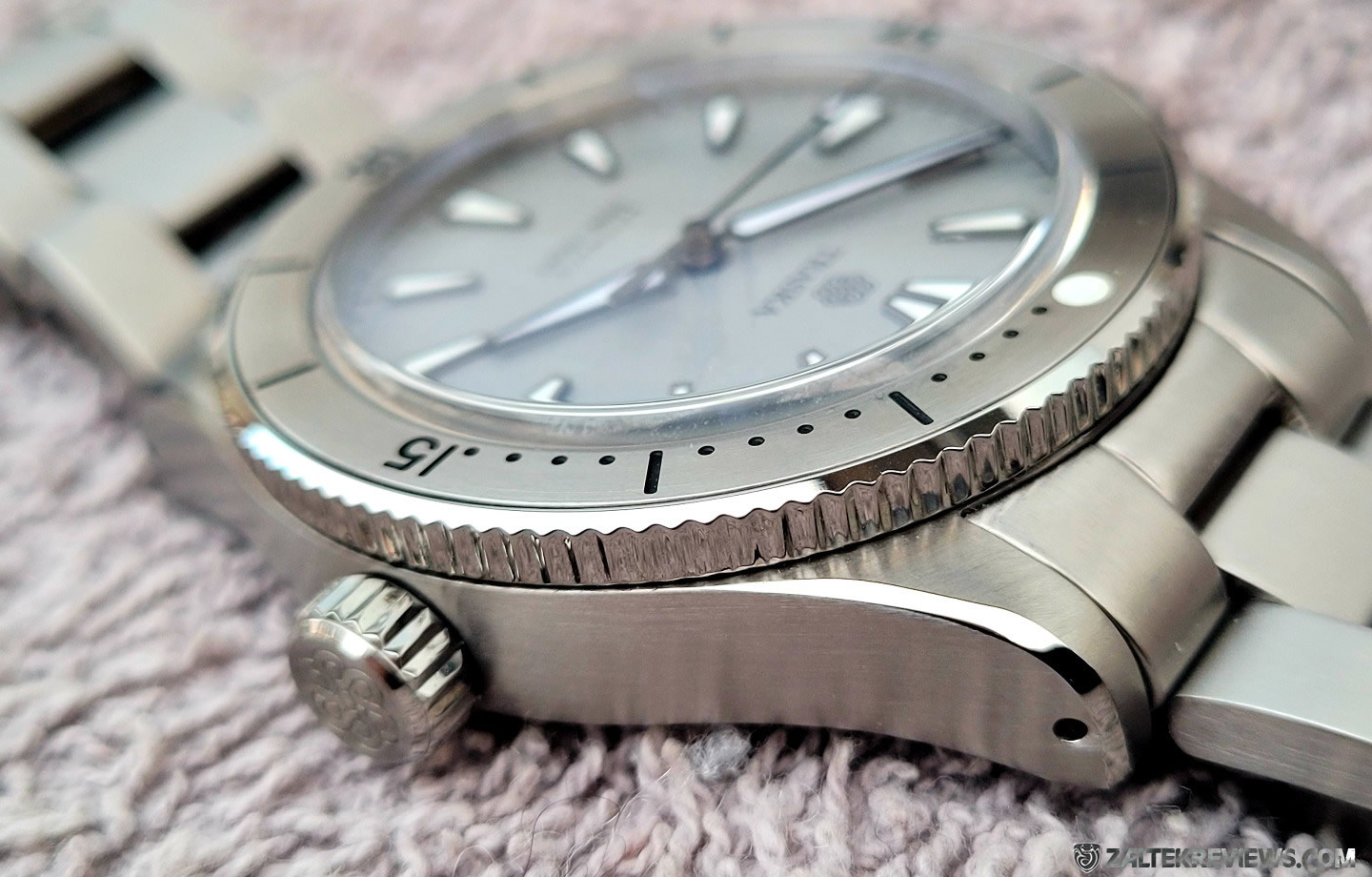 The signed coin edge crown is of fantastic quality, with a nice little pop when you unscrew it, and there's no wobble whatsoever either when the crown is in use. The etched logo is also nicely executed. Another little aspect of the crown that you don't see very often, there's a small polished chamfer that actually matches the bezel, that's just on the outer edge of the crown. The overall proportions of the watch are just bang on perfect. You can tell, especially once you've got the watch in hand, that no pictures really do it any justice. And the best part? It's even better when you put it on wrist!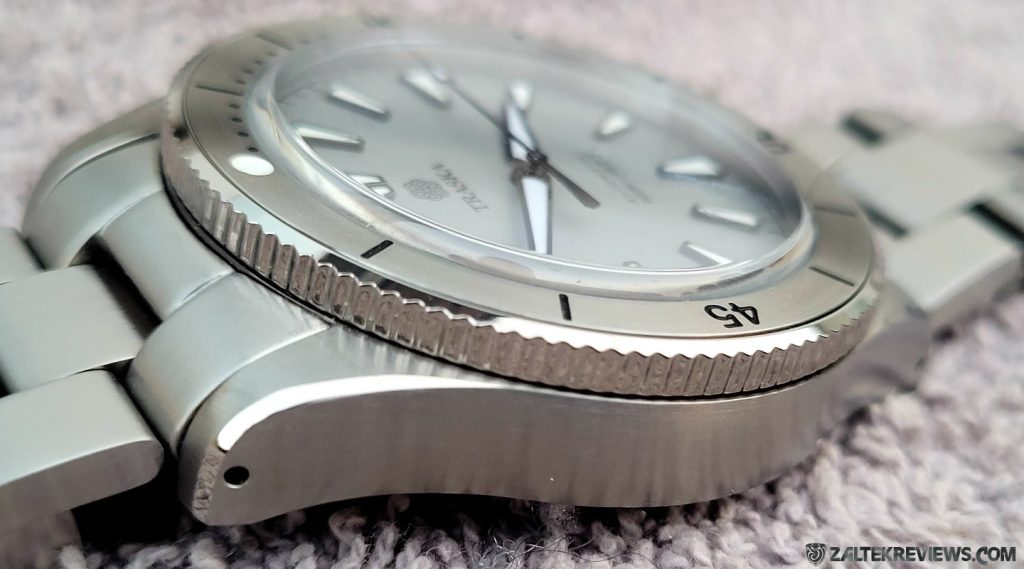 The Freediver III comes fitted as standard with an excellent 20mm, fully brushed, oyster style, 316L stainless steel bracelet, that I'd most certainly class as premium. It is leagues above the usual microbrand shizel and it has all the bells & whistles you'd expect to find from a bracelet of this overall quality, solid links throughout with female end links for instant articulation, screw pins for sizing, as well as a new updated, slimmer, fully milled & signed clasp. When adjusting the bracelet, even the screws used are of exceptional quality. Oh aye, it has the fantastic scratch resistant coating too.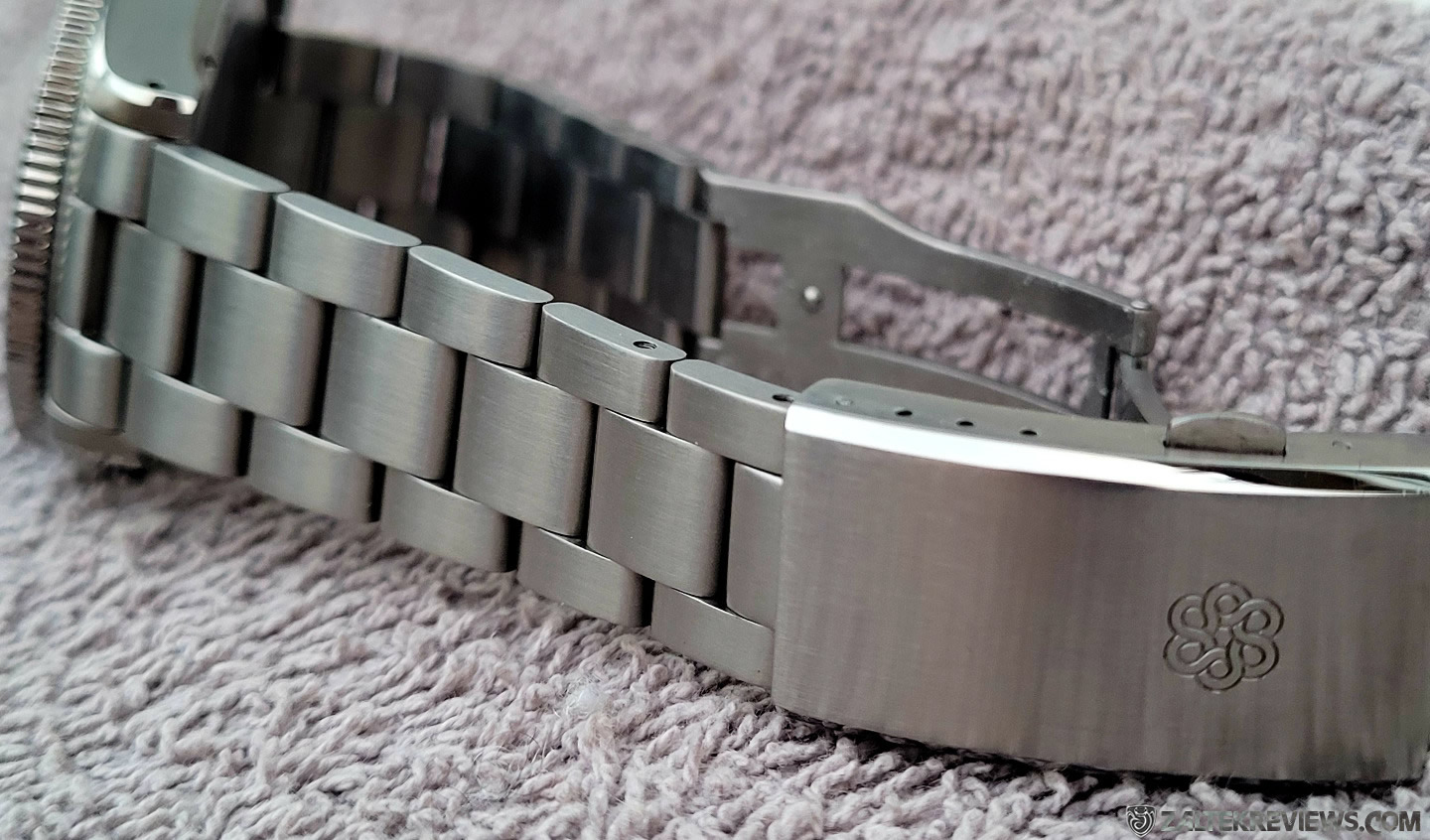 The clasp itself has polished chamfered edges, which is an appreciated extra wee touch and it does match the overall aesthetic, without going down the too blingy route. You'll also find perlage finishing on the inner bridge arms of the clasp. I've tried my best to capture this in the image below. Adjustment wise, there are also a total of 4x micro-adjustment holes for that perfect fit. The bracelet also has a very nice taper to it, going from 20mm at the lugs, down to around 16mm at the thinnest most part, before back up to approximately 18mm at the clasp. Perfect!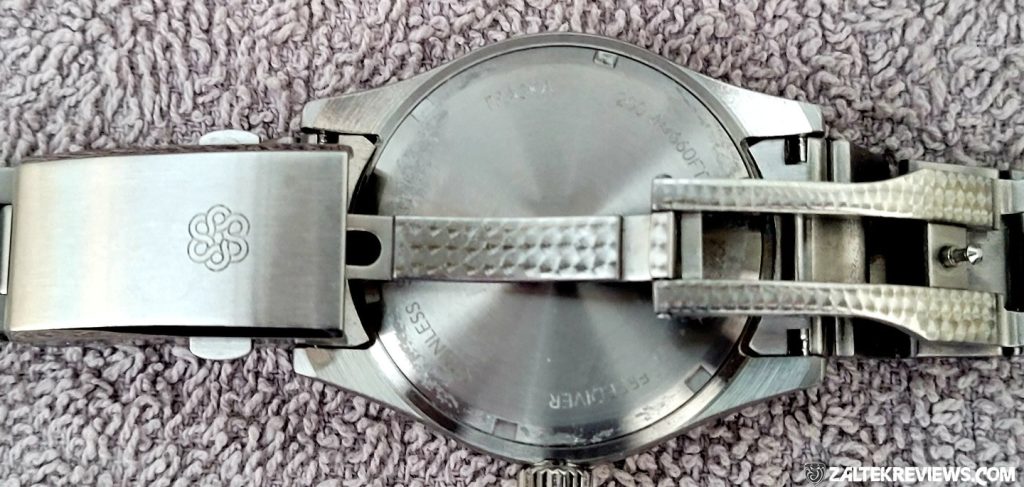 The chosen movement for this new Traska Freediver is either the 9039 or 9019, manufactured by Miyota. The no date version that I have here, has the 9039, whereas the date version of the Freediver III has the Miyota 9019. You might be wondering what the difference is between the 9019 and the more commonly used 9015? The 9019 is pretty much the same, but has lower hand clearance to emphasise that super thin profile. Talk about maximising attention to detail!
The Miyota 9019 and 9039 are both fantastic slim calibres that are 28,800vph, 4Hz, smooth sweep, 24 jewel automatic movements, with self winding and hacking, yet still with a very impressive 42 hour power reserve. Checking the accuracy after running the Freediver III for around 2 weeks, mainly on wrist and occassionally in my watch winder, I was extremely pleased with the results, with this Freediver showing an average of just +1.8 seconds per day. Super happy with that!! Traska do regulate each and every movement before shipping, so that would explain the fantastic accuracy results.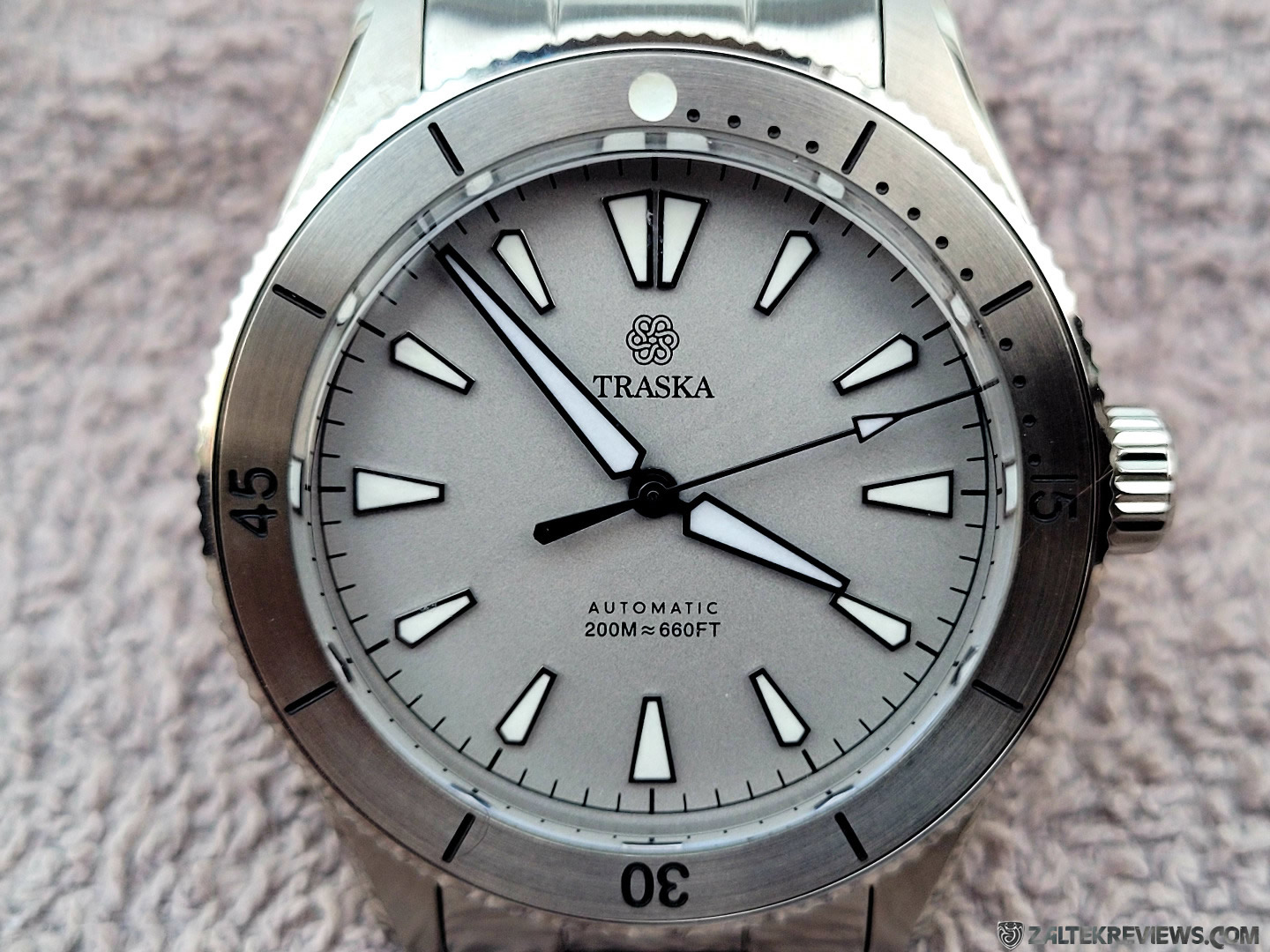 This model of the Freediver III has a 120 click unidirectional bezel with a circular brushed stainless steel insert. It is of outstanding quality and everything does line up 100% perfectly. The bezel action itself just oozes quality and has absolutely no backplay. The printed text on the dial is clean & simple, with the Traska logo at the usual position of just below the 12 o'clock position, along with the word AUTOMATIC at 6 with the depth rating just beneath. All of the hour markers are applied, with a double marker at 12 and there is also a black contrasting minute track on this grey model.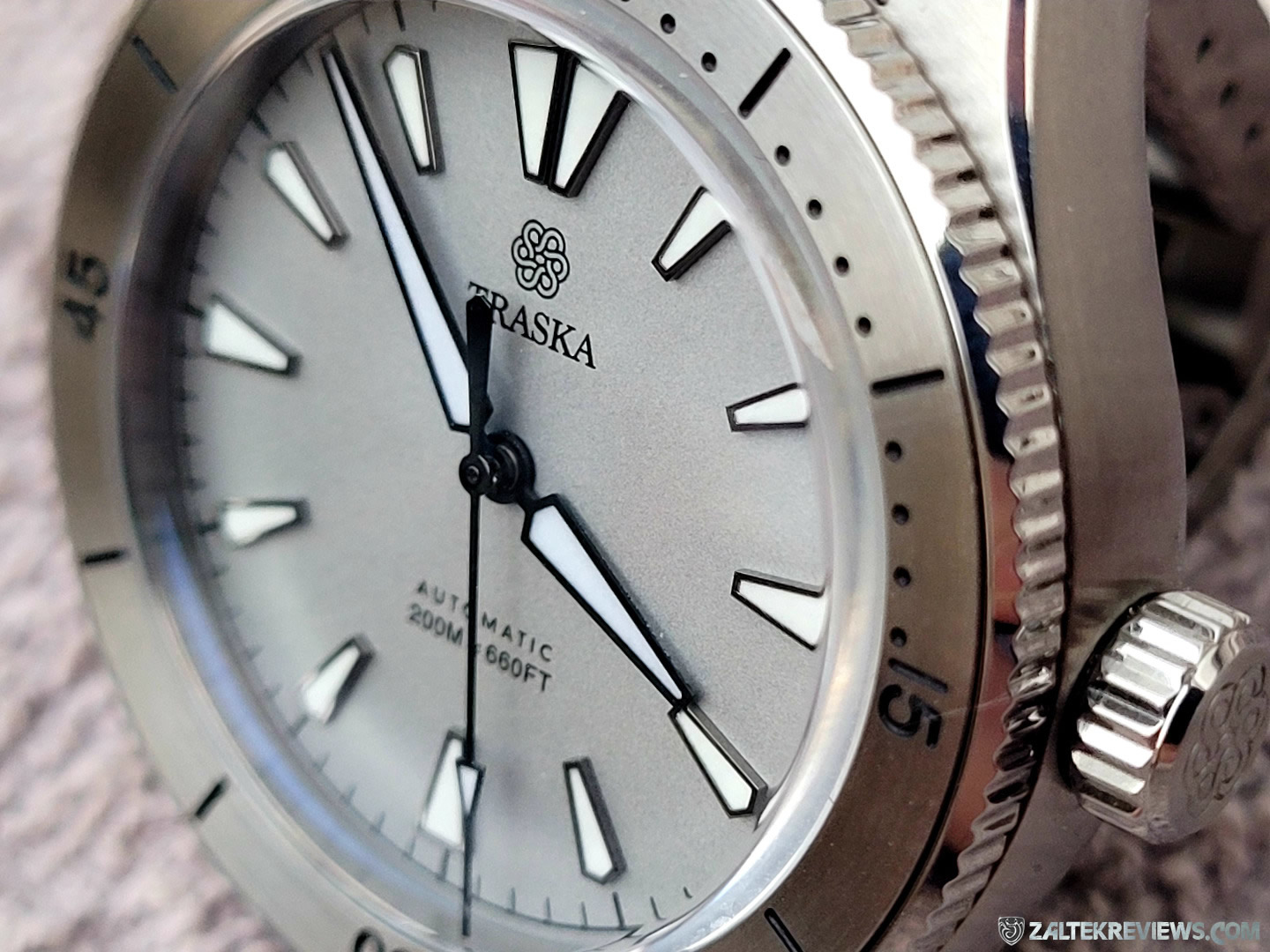 As you can see in the images, the dauphine style hour and minute hands are very nicely done, with their proportionate  scale and overall design. The lumed arrow-tipped seconds hand is lovely too and reaches right out to the minute track. There is also a date option of the Freediver and sensibly Traska chose to place it at 6, WOOHOO! It's not a colour matched date wheel, but they have decided on a chromed border to frame it. Just make a limited edition white Freediver III Jon, for fuck's sake! *(Take a look near the end of the conclusion, at the foot of this review, to see where I'm going with this).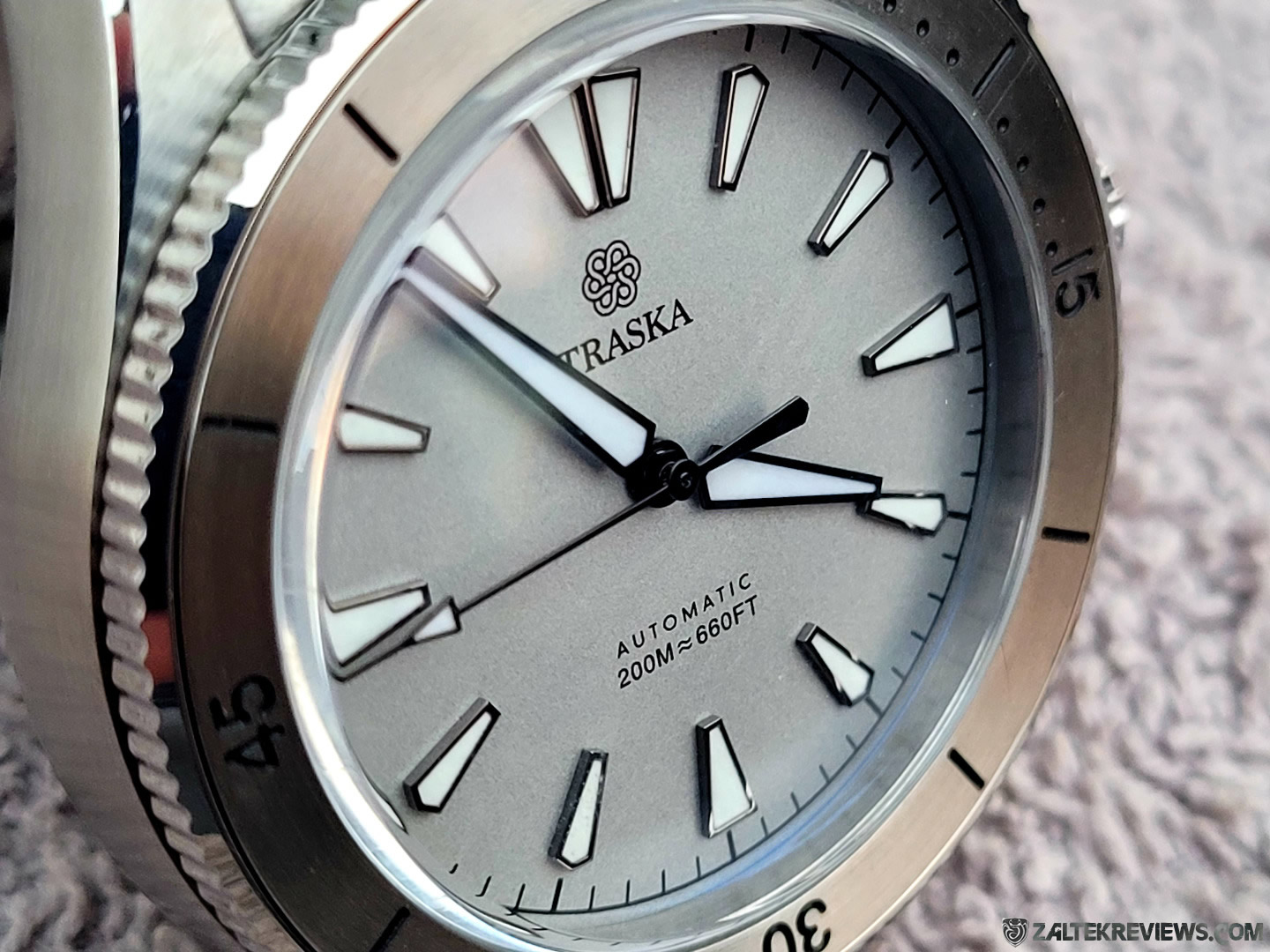 The lume on the Freediver III is nothing short of phenomenal! I'm not sure how, or what Traska exactly did, but the lume is even better than it was on the MkII. The lume that's been applied to the Freediver is Swiss Super Luminova® BGW9, and it's executed and applied perfectly and it SHOWS. Jesus, does it ever! The image below was taken just after 15 minutes or so of being outside, it hasn't even been given the usual burts of light from my UV torch, it quite simply didn't need it to capture just how bright the lume is. Granted, it will slightly fade over time, but it most definitely lasts for many hours.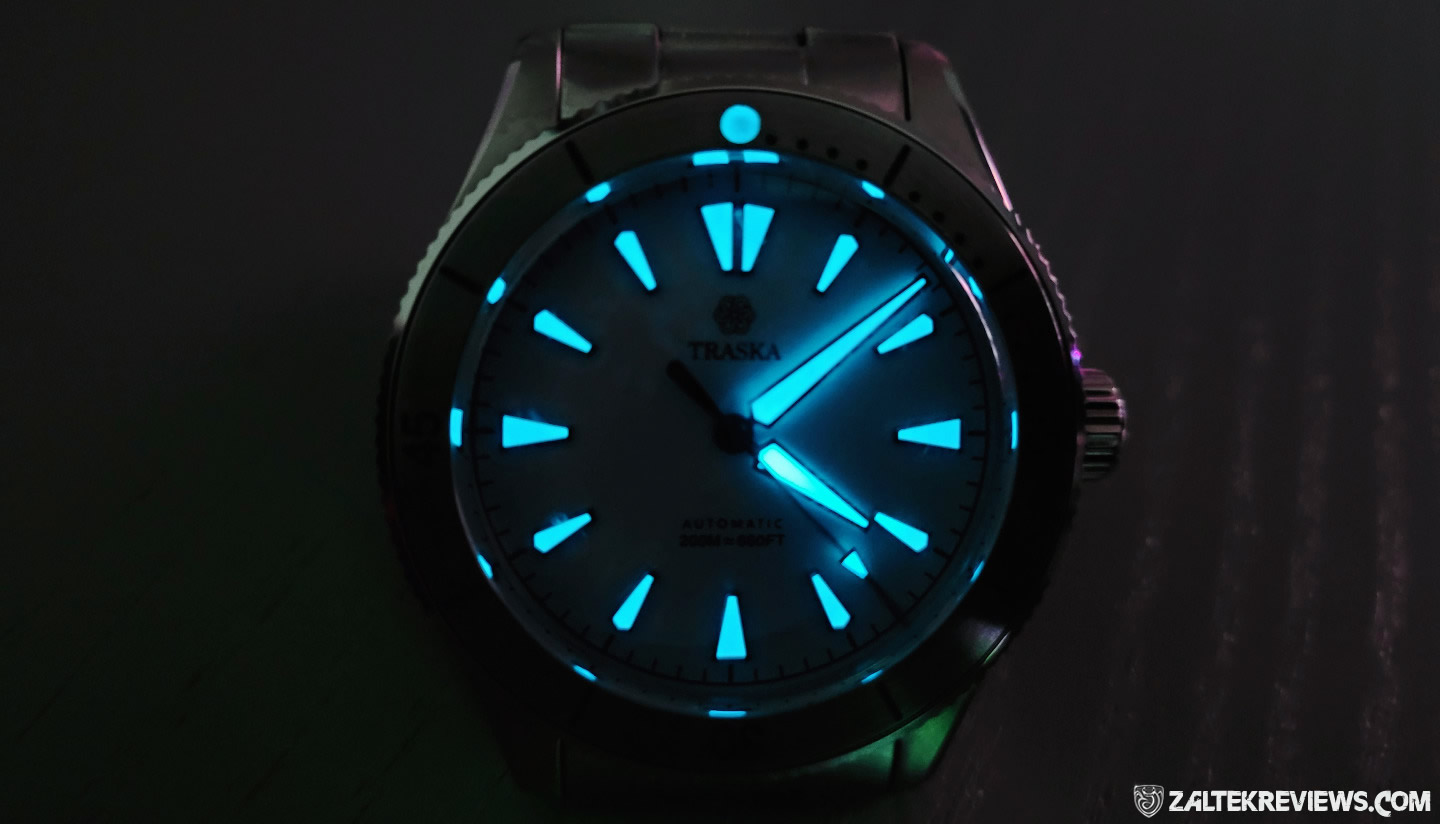 My conclusion is simple. The Traska Freediver III is by far the best dive watch I've reviewed since I started Zaltek Reviews a few years ago. That is a BOLD statement I hear you cry? Well, it's quite easy to explain. For what Traska are offering here, and what you're actually getting for just a shade over $500 USD, is an absolute no fucking brainer! The attention to detail and build quality is better than anything else I've seen in a friggin' month of Sundays! You would need to head into the bank account destroying realm of luxury watches, along the lines of Omega, Tudor etc to get build quality that's any better than this $500 Traska. Oh fuck yeah, remember those luxury watches only just start at around 3 fuckin' grand! Bollocks to that! As I mentioned, it's an absolute no brainer as to which watch I'd pick.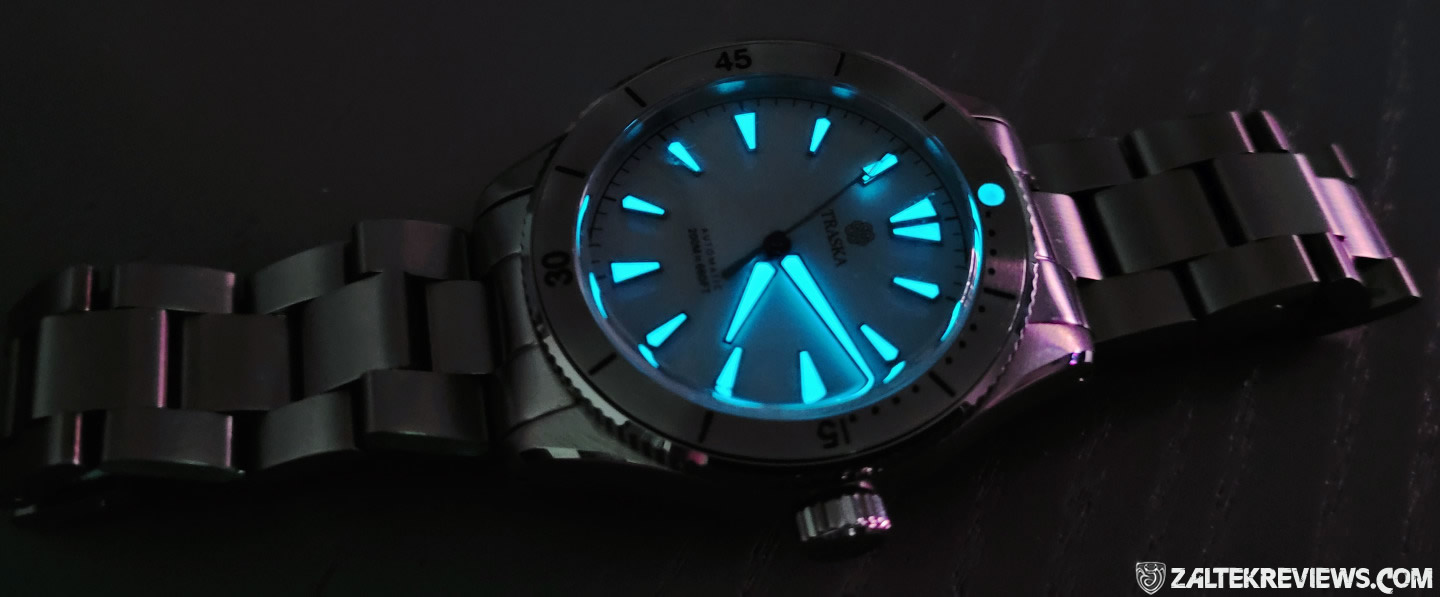 If you're like me and buy a shit ton of watches all the friggin' time… constantly on the hunt & searching for something new, yet you still haven't bought anything in 2021 yet, (yup, I know it's only the 5th of January, so calm yer friggin' jets), then I'd suggest you jump on this one from Traska, you most certainly, will NOT regret it! Much like the Porsche 911 of the sports car world, as microbrand dive watches go, this Traska Freediver III I can easily brand as, "The Benchmark".
One of my watch goals of 2021 is to reduce my watch collection to a much smaller, more manageable size. As most of you should know, I already know my sports watch of choice. The Traska Freediver is also my choice, as the only dive watch that I'll need. That is, until Traska announce / release their Freediver 4. Fuck off, don't you even dare Jon!
What I do need however, is a pure white version of this Freediver III. Do a limited run Jon and I'll buy every single one of them! Obviously, I'd keep one for myself and sell the rest online as Traska's bitch authorised dealer.
11/10 - OFF THE HOOK, HOLY FRIGGIN' TRASKA BATMAN!
A massive thanks to Jon at Traska for sending out the new Freediver III for review. Very much appreciated.
To view the Traska website, or to join their mailing list, to be informed of new models etc, visit
traskawatch.com
.
It takes me a fair amount of work (
and time
) to do these reviews. If you feel like supporting Zaltek Reviews to help towards my running costs, or even if you feel like just buying me a coffee, then please donate using the PayPal button below. Unfortunately, 97% of my readers just scroll by this section. If you feel like that I've given you a few quids worth of knowledge and/or entertainment, then please take just a couple of minutes of your time to donate. Thank you.
[paypal-donation purpose="Donate to Zaltek Reviews" reference="Ref:Zaltek" button_url=""]