Manufacturer:

Vescari

| Price: $220 USD (£165 GBP, €199 EUR approx)
I was contacted by Vescari just before Christmas, asking if I would like to review their chronograph. As per usual, I requested a link to their website and asked some initial questions regarding the watch. When I first seen the images, price and read through the specification list, I thought, here we go… another rinky dink pile of crap. I gave them the benefit of the doubt, and said ok, I'll take a look at it, however, I really wasn't expecting much giving the price point, spec etc.
To cut a long story short, I should practice what I preach, and should "not judge a book by its cover". When the Vescari Chestor arrived I was totally blown away. I stared at the Vescari for what seemed like an age, trying to find something negative about the watch, but nothing, I couldn't find anything wrong with it at all. It is stunning! Let me explain…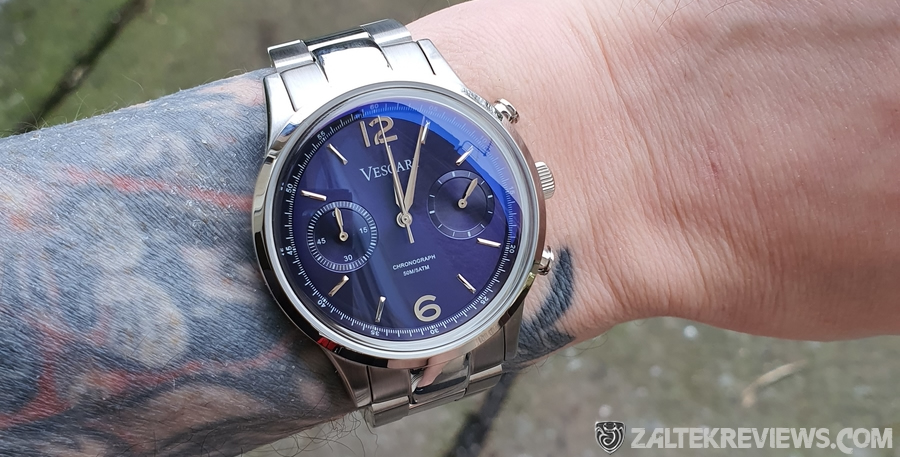 Specifications
Dimensions: Diameter – 39.7mm, Thickness – 12.9mm, Lug to Lug – 47.5mm, Lug Width – 20mm
Movement: Miyota 6S21, Quartz Chronograph, 3 Year Battery, ±20 sec per month
Case Material: Brushed 316L Stainless Steel with Polished Accents
Bracelet: Brushed 316L Stainless Steel, Polished Mid-Links, Push Pins, Butterfly Clasp
Crystal: Domed Mineral, Underside Anti-Reflective Coating
Bezel: Fixed, Polished       Lume: Nil
Water Resistance: 50m / 5ATM / 165ft
Crown: Signed, x2 Pushers     Caseback: Screw Down
Options: Strap – Bracelet, Canvas, Leather | Dial – Black, Blue, Silver | Case – Stainless Steel, Rosegold
The case of the Vescari Chestor has a diameter of 39.7mm. The lug to lug is 47.5mm and the overall thickness, including the domed mineral crystal, I measured in at 12.9mm. The entire case, caseback, bezel, crown, pushers and the optional bracelet are all 316L stainless steel. The finish of the watch is brushed with various polished accents that run over the edges of the lugs. I've got to say, I really like this approach and although the watch might come across as slightly dressy, the polishing hasn't been overly done, so it's not a total scratch magnet as you might first think.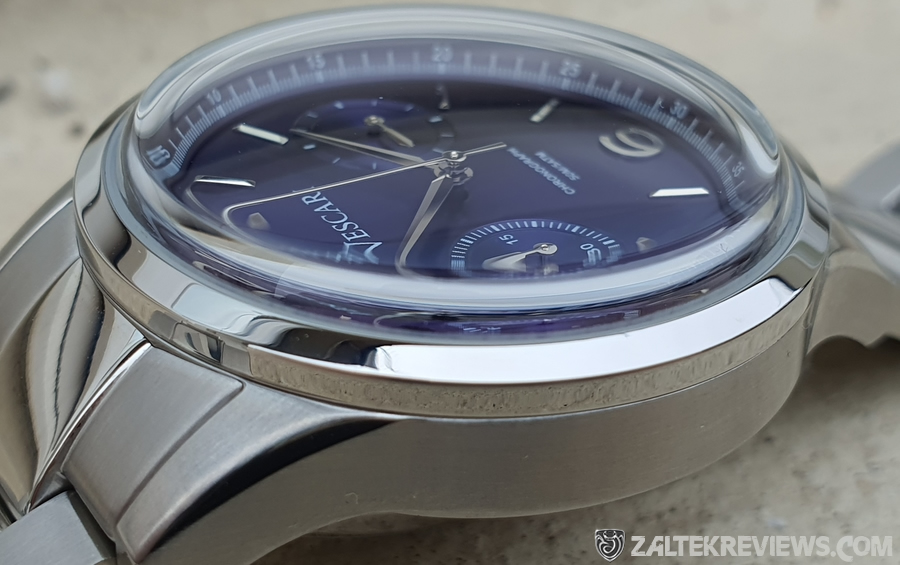 The Vescari Chestor has a water resistance rating of 50m, thanks to the screw down caseback. This isn't a bad thing really, as it's perfectly acceptable for a watch of this style, although I wouldn't go swimming with it. 😉 The proportions of the watch, in my opinion, are excellent for my 7″ wrist, due to the relatively short lug to lug length. The Chestor does wear extremely well on wrist and it is very comfortable, it certainly looks way more expensive that it actually is. I've actually had many people comment on how nice the watch looks and asked where I got it from.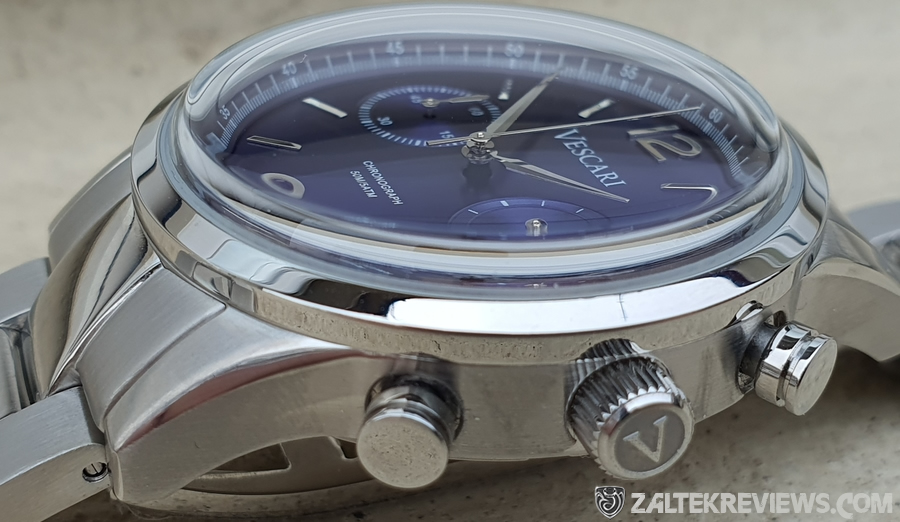 The signed crown is fantastic and looks very nice with its, what looks like stamped. There is no wobble whatsoever when the crown is in use and does feel rather premium. The caseback is simply done though, with just a lightly etched Vescari logo in the centre with the usual various spec sheet listed around the edge.
This version of the Chestor that I have here, was sent to me with the stainless steel bracelet fitted to it. There are other options available that does reduce the cost slightly, including black or brown leather, as well as various different colours of their canvas strap. I can't really comment on the quality of these other straps as I don't have any here, just the bracelet and I'm glad of that, as it is actually very nice indeed and way better than I thought it was going to be.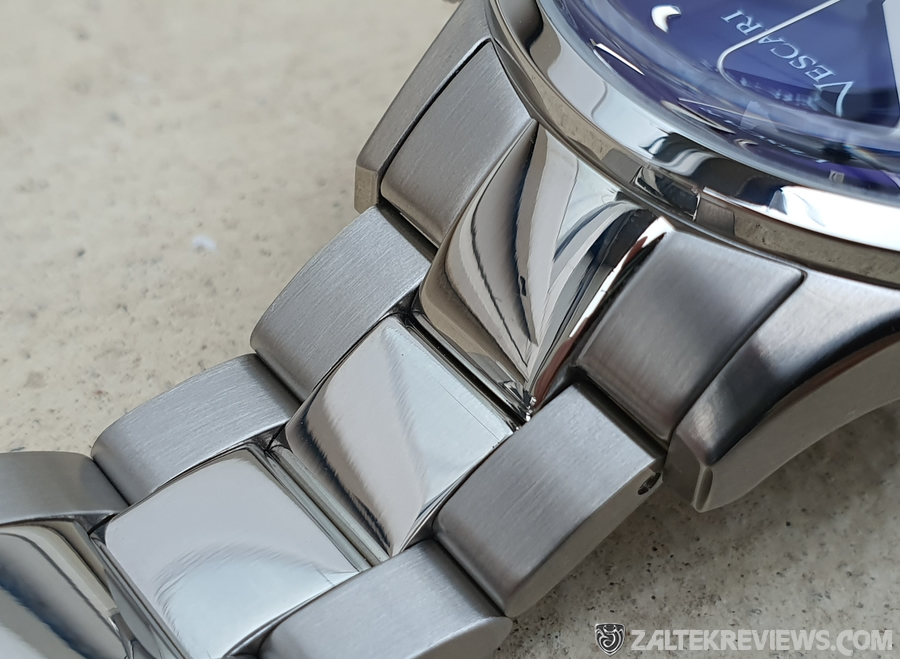 There are solid links throughout that are held together with push pins. No screw pins, but I didn't expect them at this price point. The bracelet is brushed with only the centre links being polished so to match the polished accents of the case and bezel. The bracelet doesn't feel cheap either, even if the watch does feel quite light overall. The bracelet has a nice taper to it too, 20mm at the lugs that tapers down to 18mm at the butterfly clasp.

The chosen movement for the Vescari Chestor is the 6S21 Chronograph from Miyota. The 6S21 is a multi-functional movement (hour/minute/chronograph second) with two sub-dials. The sub-dial at the 3 o'clock position records small seconds and the sub-dial at the 9 o'clock position records 60 minutes. The stated accuracy is a very respectable ±20 sec per month. Battery life is also good, only needing changed every 3 years. When the watch does require a change, it is recommended to use ref SR927W or a 395 battery. It is possible though to preserve battery life when the watch is not in use, simply by pulling out the main crown and leaving the watch in its stopped position. If like me, when you first get the watch and the chronograph hand isn't sitting at dead on the 12 o'clock position, it's a simple fix by pulling the crown out to it's fully extended position and use the top pusher to set the hands reset position.
The Vescari Chestor has a totally fixed bezel with a fully polished finish. The text on the dial that's printed are the words CHRONOGRAPH with the depth rating of 50m/5ATM just underneath, above the 6 o'clock position. The Vescari logo is printed and is placed at just under the 12 o'clock position. The sub-dials are colour matched to the dial with the sub-dial at the 3 o'clock position showing a running 60 seconds and the sub-dial at the 9 o'clock position timing 60 minutes.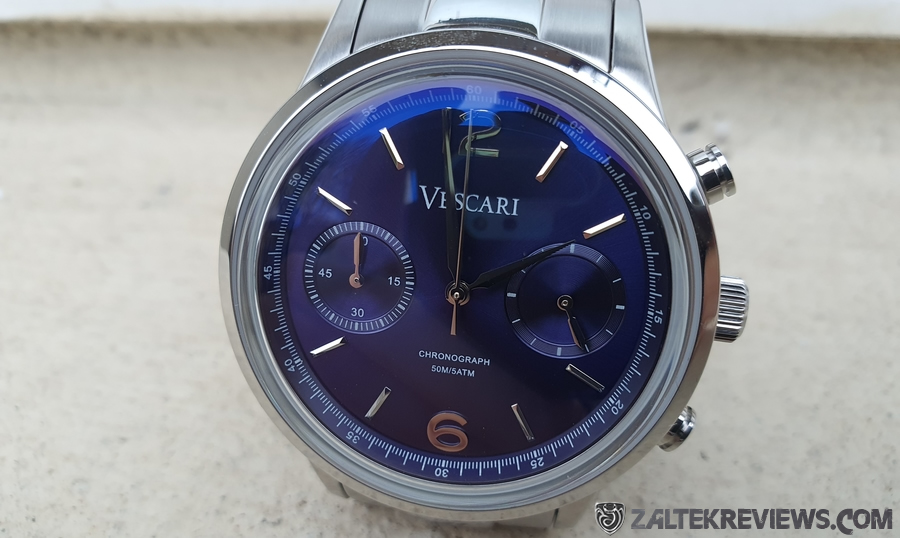 The blue version that I have here, sports a very clean looking dial, compared to that of other chronographs I've seen. The effect on the dial looks amazing with its deep, deep blue, almost inky finish. The hour batons are all applied with additionally applied arabics at just the 6 & 12 o'clock positions. There isn't any lume on the dial or hands, but the watch is still legible in low light due to the way light reflects off the edges of the applied hour batons and hands. As you can see in the images, the hour and minute hands are very nicely done with their very nice design and chrome finish.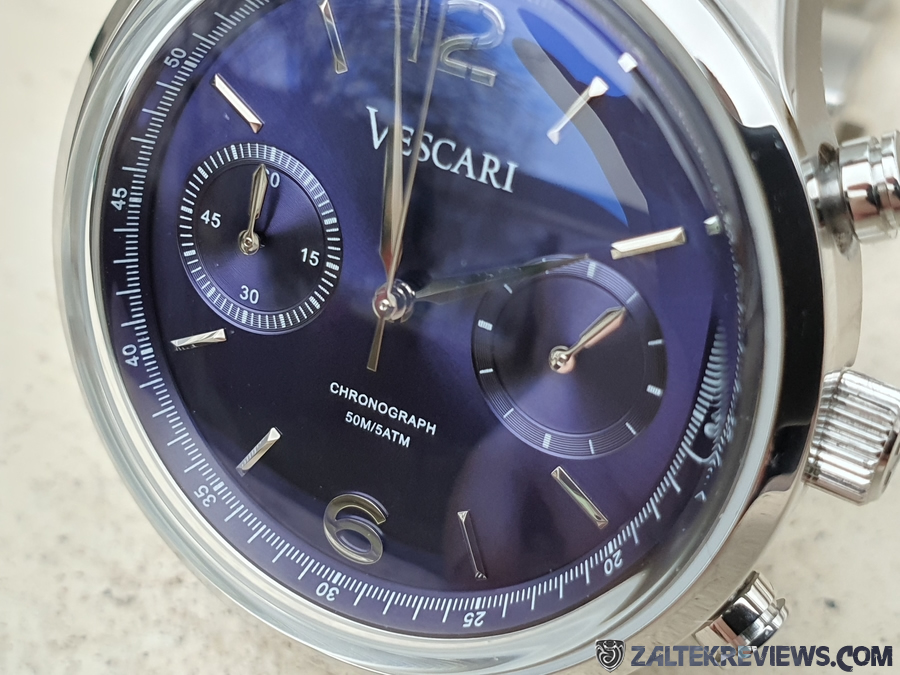 As previously mentioned at the start of my review, I really wasn't expecting a great deal with this watch, but I've had to eat my own words once the watch arrived and I got to see it in the flesh, so to speak. It is an absolutely gorgeous watch and hopefully I can persuade Vescari to allow me to keep it, so I can add it to my own collection. Yup, it's that good! You know me guys n' girls, if you've read my previous reviews, if I get a watch in for review and I think it's crap, I'll let you know it's utter crap. Just take a look at my review of the Égard Poseidon if you don't believe me. 😀
With the promotional code that Vescari gave me, (ZALTEK20) giving you a 20% discount off the RRP, making this watch available to you for only £135 approximately, depending on which configuration you go for. Disclaimer* I don't make a single penny if you buy this watch, so it makes no difference to me if you buy it… all I will say though is, you should, as it's one of those watches that WILL surprise you as much as it did me, once I got it in hand. I can without hesitation, wholeheartedly recommend the Vescari Chestor.
Vescari Watch Company – A truly beautiful watch with excellent build quality, at a totally bargain price. Well done!
9.6/10 - HIGHLY RECOMMENDED!
A massive thank you to Jeroen at Vescari for sending me the Chestor out for review so quickly.
To view the Vescari website, or join their mailing list to be informed of new models etc, visit
Vescari.com
.
Follow Zaltek Reviews on
Instagram
and
Facebook
and please feel free to join our Facebook group
WatchChat
, a busy community for watch enthusiasts and collectors, with tons of images and in-depth discussions.
At Zaltek Reviews, we encourage the companies whose watches we've reviewed to comment on our articles. We invite any company representatives to respond in the comments section below. Thanks very much.