Manufacturer: Clemence Watches | Price (Retail): £429 GBP ($595 USD)
I am always on the lookout for British based watches, but imagine my excitement, when I finally stumbled upon one made here, in bonnie Scotland. I've only ever reviewed just one before and it was actually one of my favourites too, the stunning Akura Wayfarer. Unfortunately, Akura are no longer in existence, which is a real shame, as their Wayfarer was a sure-fire hit in my opinion. Anyway… round 2, (ding, ding)! Here we have a new brand, Clemence Watches, that are based in Leith, Edinburgh. Even although I was born and brought up in Edinburgh, please don't think for a minute that this will be a blatant biased review from William Wallace, erm… I mean, Will. FREEDOM!! Just kidding…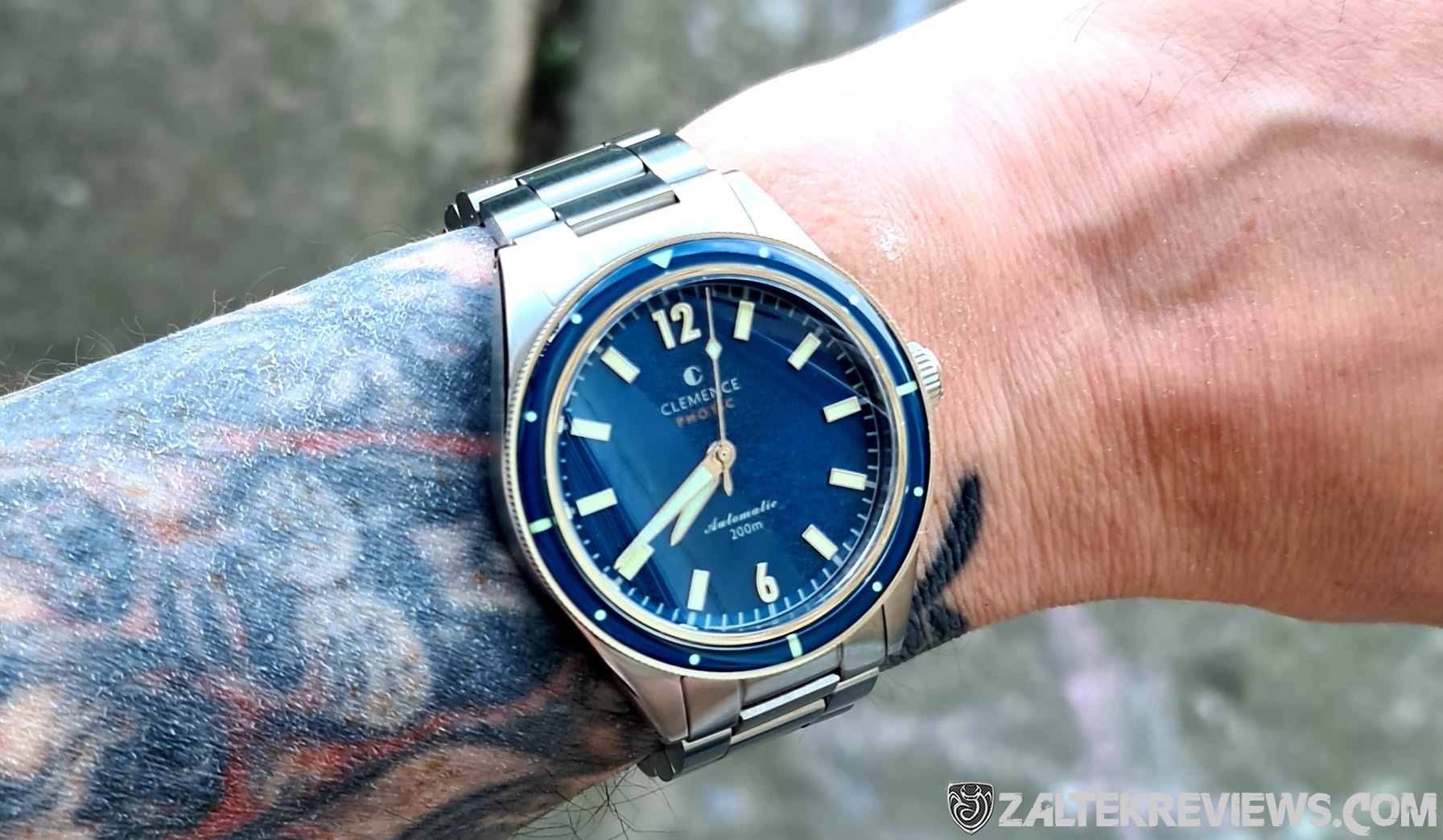 Full Specification
Dimensions: Case – 39.3mm, Thickness – 11.9mm, Lug to Lug – 46.6mm, Lug Width – 20mm
Movement: Miyota 9039, 28,800vph, Hackable, Self Winding, 42hr Power Reserve
Case: Brushed & Polished 316L Stainless Steel
Bezel: Coin Edge, 120 Click Unidirectional, Domed Sapphire Insert, Lumed
Dial: Applied Batons/Arabics, Sunburst, Dauphine Hands
Lume: Swiss Super-LumiNova® C3
Bracelet: Brushed 316L Stainless Steel, Solid Links, Screw Pins, Milled Clasp, Diver's Extension
Crystal: Double Domed Sapphire, Inner Anti-Reflective Coatings (4x layers)
Water Resistance: 200m / 20ATM / 660ft

Caseback: Screw Down Exhibition, Sapphire Crystal
Crown: 6.5mm, Screw Down, Signed

Weight: 148g (Sized up for my 6¾″ wrist)
Where to Buy: Clemence Watches (Coming soon to Kickstarter)
Warranty: 1 Year International
"A digital Mickey Mouse first sparked my interest in watches, but that was in the early 90s and I was still running around in light-up trainers and swinging off trees. Growing up, my Dad would tell me stories about my late Grandfather, Poppa Tom. He had passed away 30 years earlier, but my Dad had always kept several mementos of him close by; Poppa Tom's war medals, a photo of him looking lovingly at Nanna and his watch, a gold Universal Genève. As a child of curiosity, I remember marvelling at this beautiful timepiece, trying it on next to my Micky. As the loose strap slipped down my scrawny forearm, my Dad would recall stories of Poppa Tom riding his motorbike through the Lake District and the two of them restoring a Mk1 Mini together. The watch was, and still is, a time machine to these moments. This is how I fell in love with watches. A few decades later and Poppa Tom's watch now fits, snuggly in the same notch as he wore it. Imbued by those early memories, my vision is to create watches that will go the full distance, with the same spirit of adventure and legacy."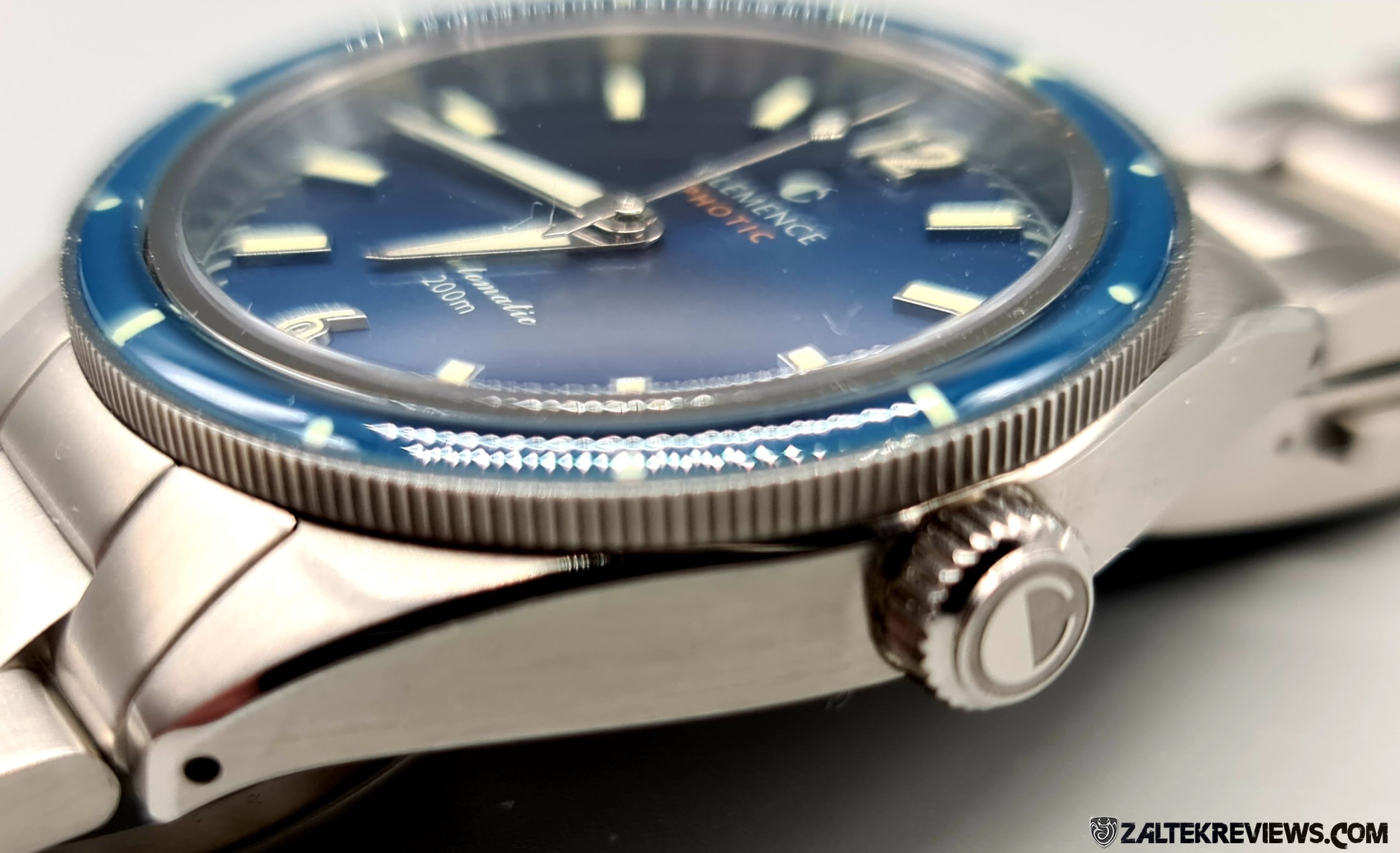 The case of the Clemence Photic Diver has a diameter of 39.3mm. The lug to lug is 46.6mm and the overall thickness, including the double domed sapphire crystal, I measured in at a rather tasty 11.9mm. The case, caseback surround, coin edge bezel, crown and bracelet are all 316L stainless steel. The finish of the case is mostly brushed, with the addition of polished chamfered edges, that run along the top edge of the case and down over the lugs. Overall, it looks fantastic and this attention to detail certainly gives the watch that extra little touch of premium. No matter how hard I tried though, the pictures I took really don't do this thing any justice, as I spent hours trying to capture decent images, but eventually gave up, as no matter how much I cleaned the watch, there were always wee bits of fluff giving me the finger!
The fuckin' reflections were also a total bloody nightmare! Just take my word for it guys n' girls, this watch is gorgeous in real life!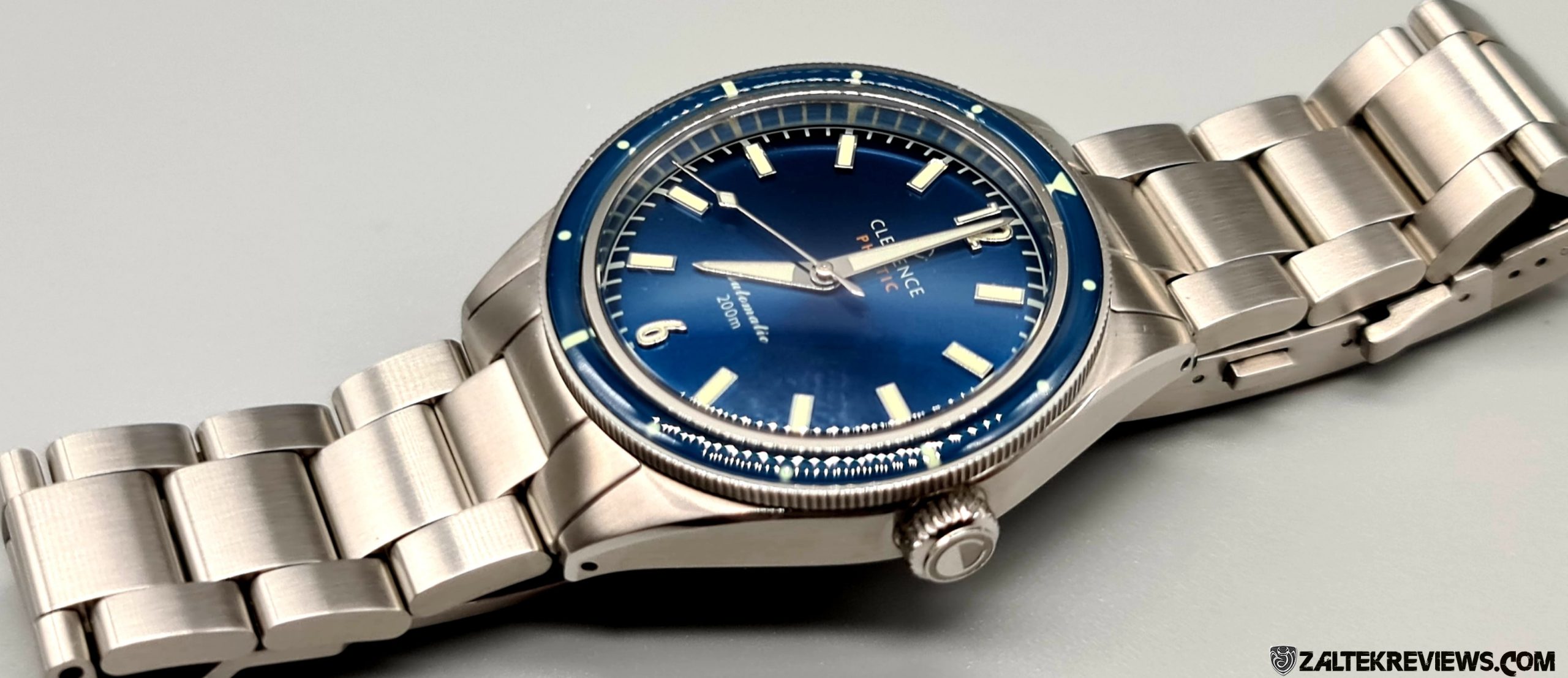 The Clemence Photic has a water resistance rating of 200m, which is more than enough if you ask me. Who the fuck goes diving anyway? Even if I did, I'd be using a diving computer and there's no way I'd be going anywhere the crushing depth of 200m or beyond. Anyway, moving on… the proportions of the Photic are absolute perfection, as it wears brilliantly on wrist and is also very comfortable. The signed crown is nicely sized at 6.5mm, looks great with it's embossed logo and is a piece of cake to operate with oodles of grip. There's no wobble either when the crown is in use and you can also feel a nice wee pop as you unscrew it. As you can see in the image below, we're treated to an exhibition caseback that shows off the Miyota 9039 movement with custom Clemence Photic branded rotor. Nice!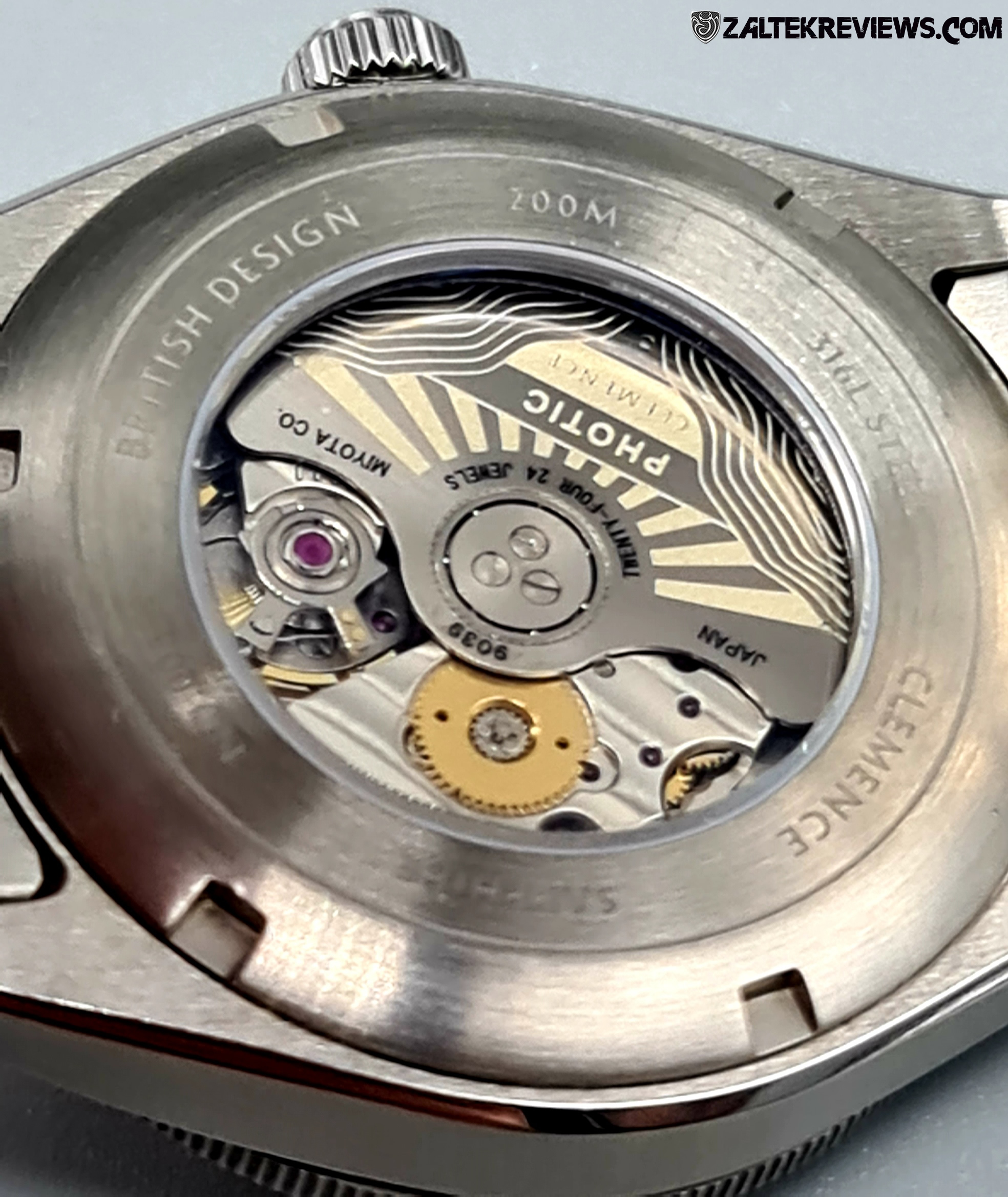 The Clemence Photic comes fitted as standard with an excellent 20mm, fully brushed, oyster style, 316L stainless steel bracelet that I'd certainly class as premium. It is leagues above the usual microbrand off-the-shelf shite and has all the bells & whistles you might expect to find from a bracelet of this quality. Solid links throughout, female end links for instant articulation, screw pins for sizing, as well as a fully milled & signed clasp with diver's extension. When adjusting or sizing up the bracelet, even the screws used here are of exceptional quality, that have no chance of cross-threading due to soft or inferior metals being utilised.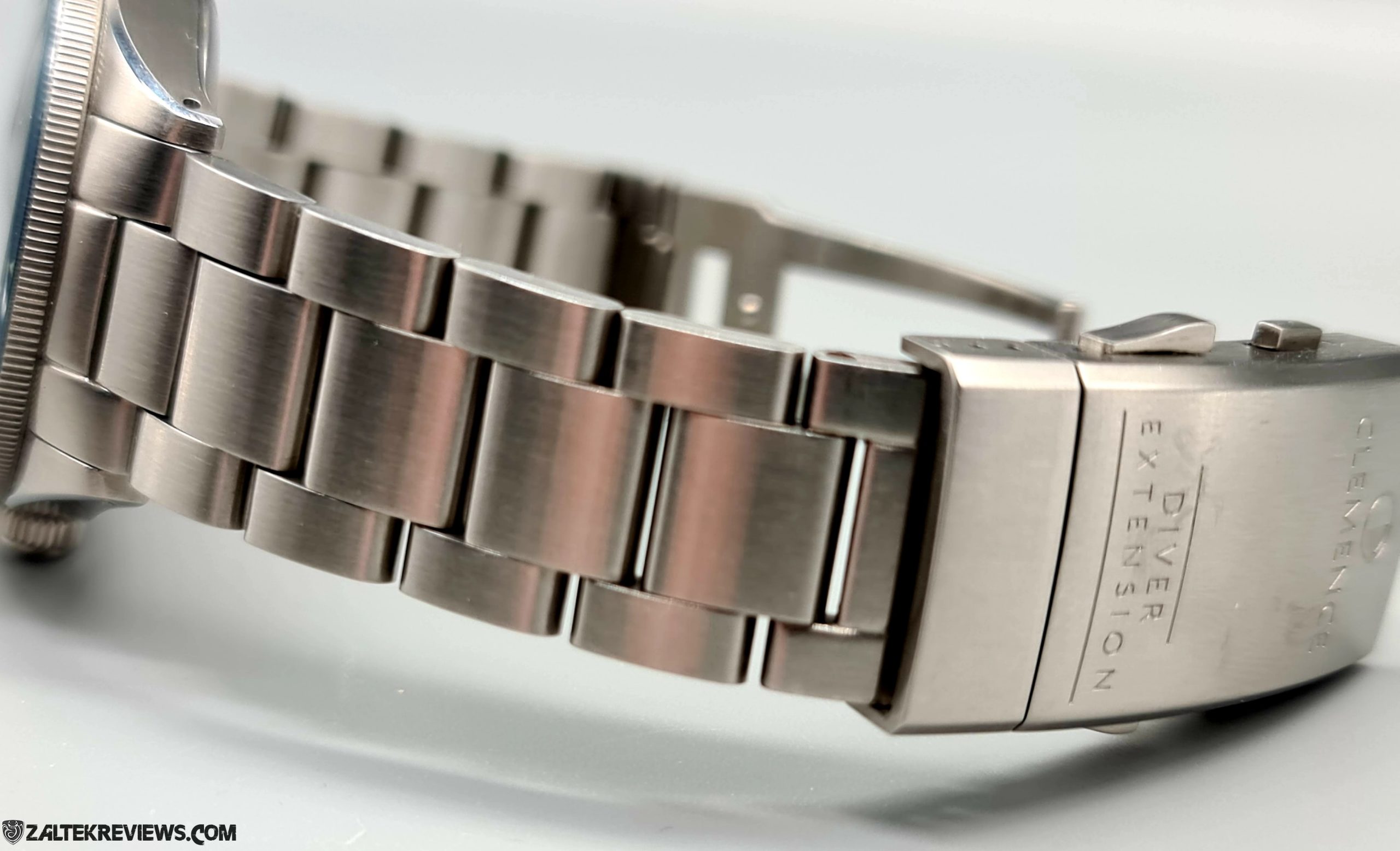 The clasp itself has chamfered edges, which is an appreciated wee extra touch, that does match the overall aesthetics of the bracelet very well. When I first saw the clasp, I thought it might be a little bit too big and rather disproportionate to the size and style of the Clemence Photic. However, once you've sized up the bracelet and get the watch on wrist, it's nowhere near as bulky as you might expect. The on-the-fly adjustment is great too, especially in the current climate of hot & sticky days. (Yep, we get Summer here too in Scotland (even if it does only last a matter of weeks)). Micro-adjustment wise, there's a grand total of just 3x holes, but they're really not necessary, as the diver extension takes care of that. Oh, before moving on to the next part of the review, the bracelet also has a very nice taper to it, going from 20mm at the lugs, down to around 17mm at the thinnest most point, before heading back up to approximately 19.5mm at the clasp. Nice!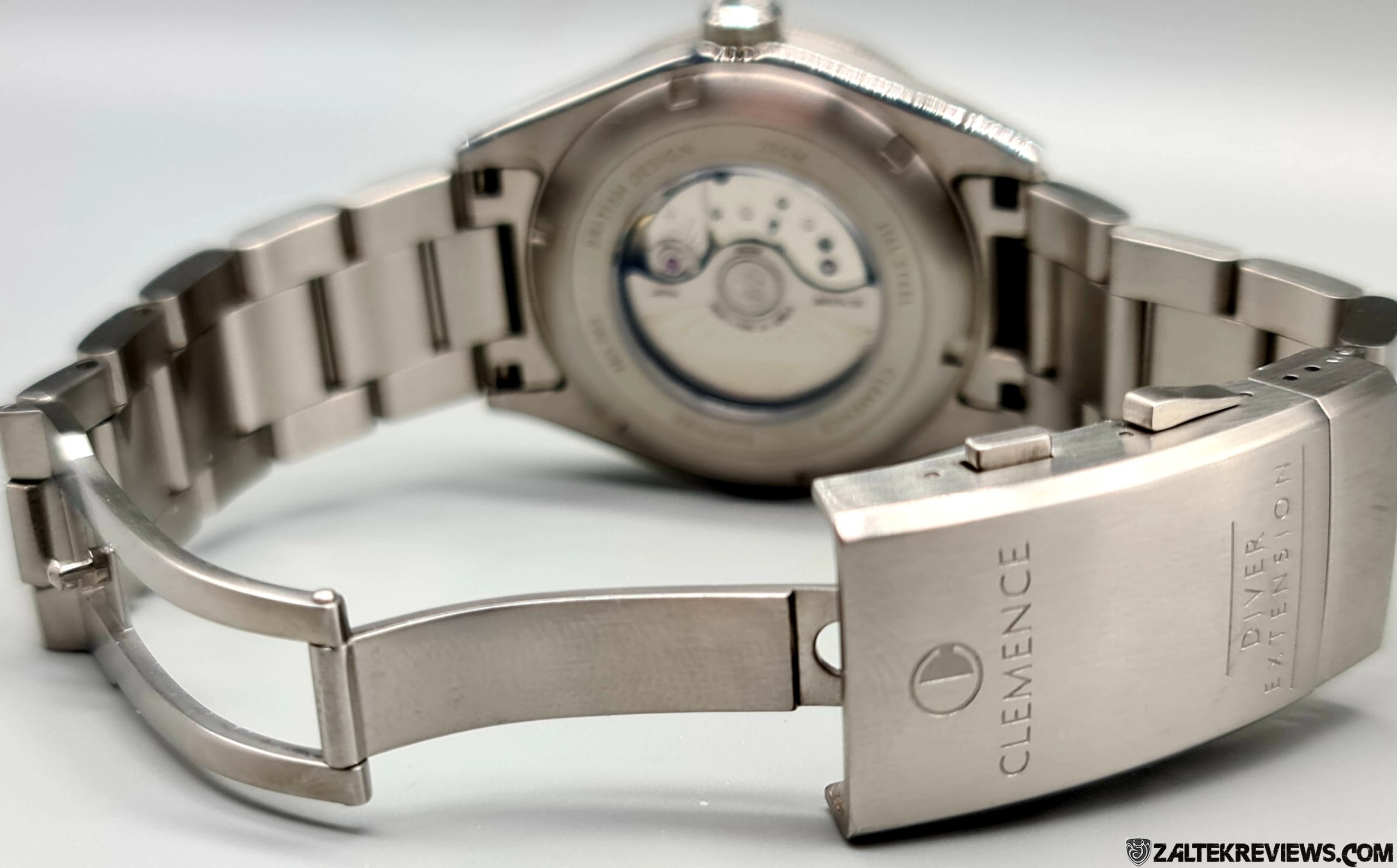 The chosen movement for the Clemence Photic is the high beat, smooth sweep Miyota 9039. This slim, true no-date, Japanese movement is self-winding, has 24 jewels and the oscillating weight spins up, giving you up to a very respectable 42 hour power reserve. The balance runs at 28,800vph (4Hz) and the movement is also hackable. Checking the accuracy on the trusty timegrapher after running the Clemence Photic for around two weeks, I was very impressed with the final results, with the Clemence Photic coming in at an average of just +6 second per day, with zero beat error. "That'll do". (As they say in Yorkshire).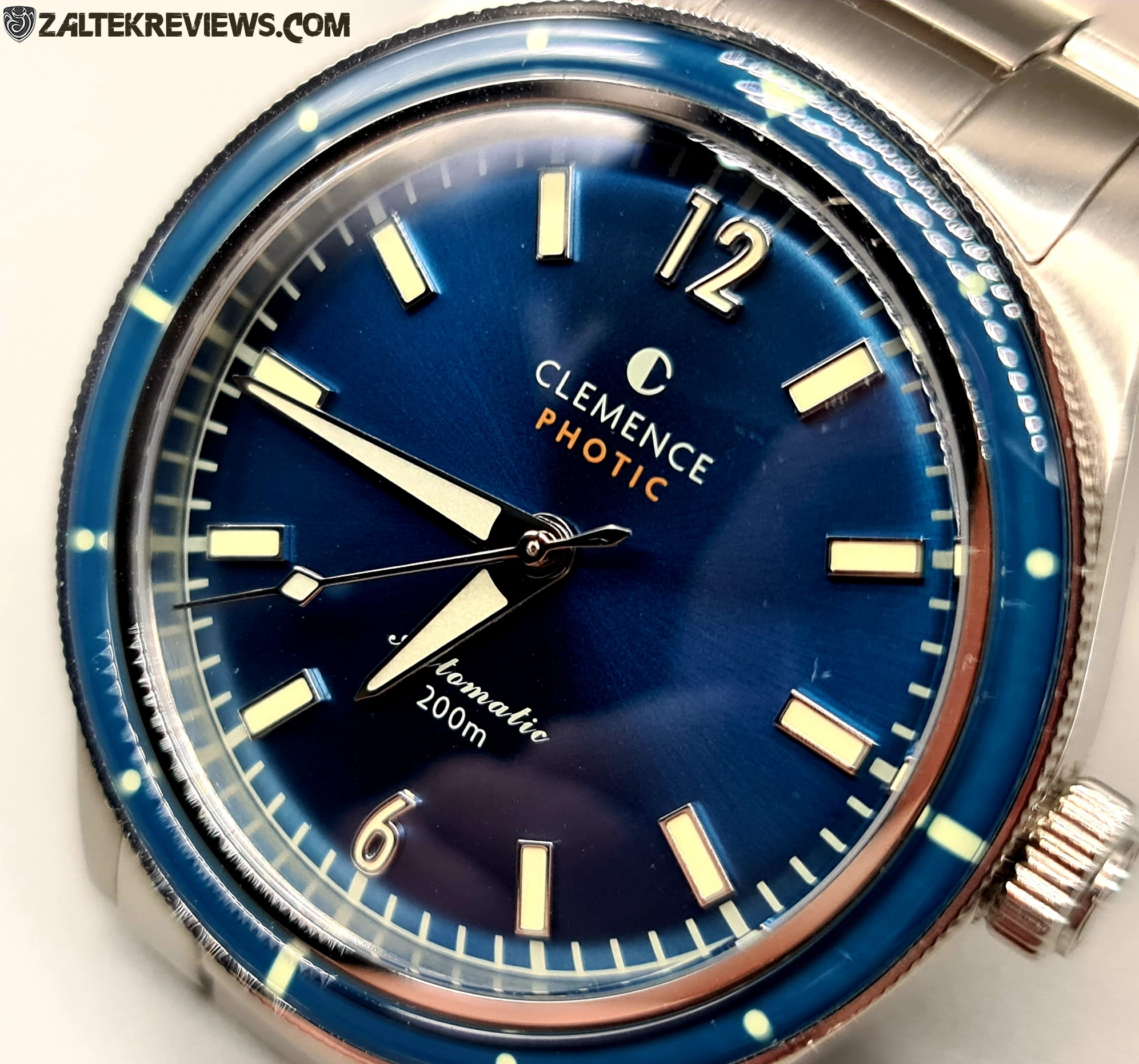 The Clemence Photic has a very nicely manufactured coin edge 120 click unidirectional bezel, with a slightly domed sapphire insert, that also has lumed hour markers, The printed text on this glorious sunburst blue dial is just the word Automatic, finished in an italic style font, with the depth rating of 200m just below printed in white, The Clemence logo is at the usual spot of just under the arabic at 12 o'clock, with the model name PHOTIC directly below, that's been finished in a contrasting and rather vibrant shade of orange. The hour markers are all applied with arabics at the 12 and 6 o'clock positions. This all-blue model also has chrome surrounds on both arabics, as well as on each and every baton shaped hour marker.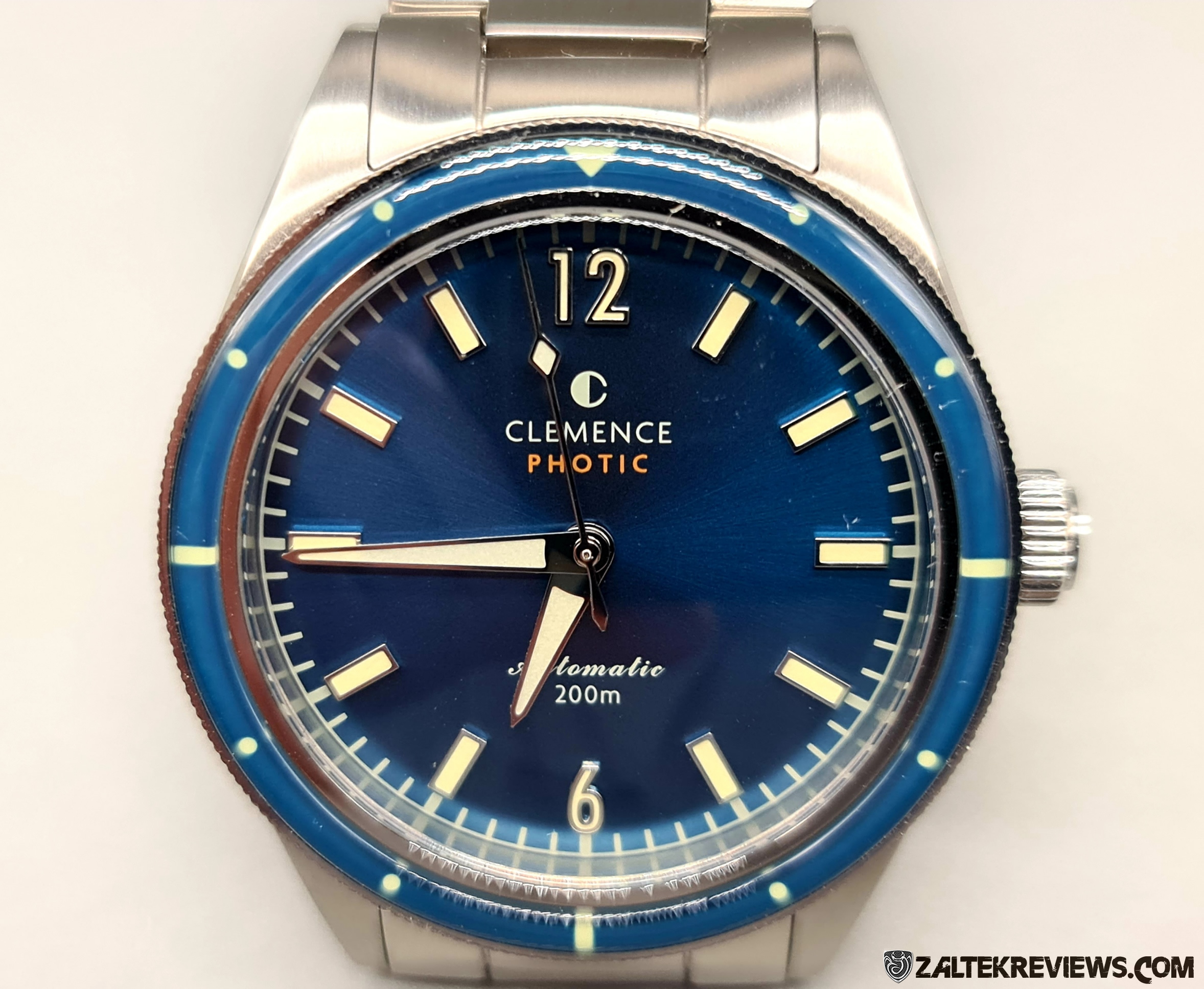 Taking everything into account, it all adds up to a beautifully designed and very legible dial. However, I would have loved to have seen a date option for the Photic, with preferably a colour-matched date wheel at the 6 o'clock position. Next up however, are the dauphine style hour and minute hands that are actually very nicely executed, with their true proportionate scale and lovely overall design. The lumed diamond shaped section of the seconds hand is rather scrumptious too, and the actual tip of the hand does reach right out to the very edge of the printed white minute track. It may have been a good idea to maybe finish the tip of the seconds hand in orange, to match the model colour on the dial. Maybe? I dunno, I'm just thinking out loud. As I said, it's just an idea from a design prospective.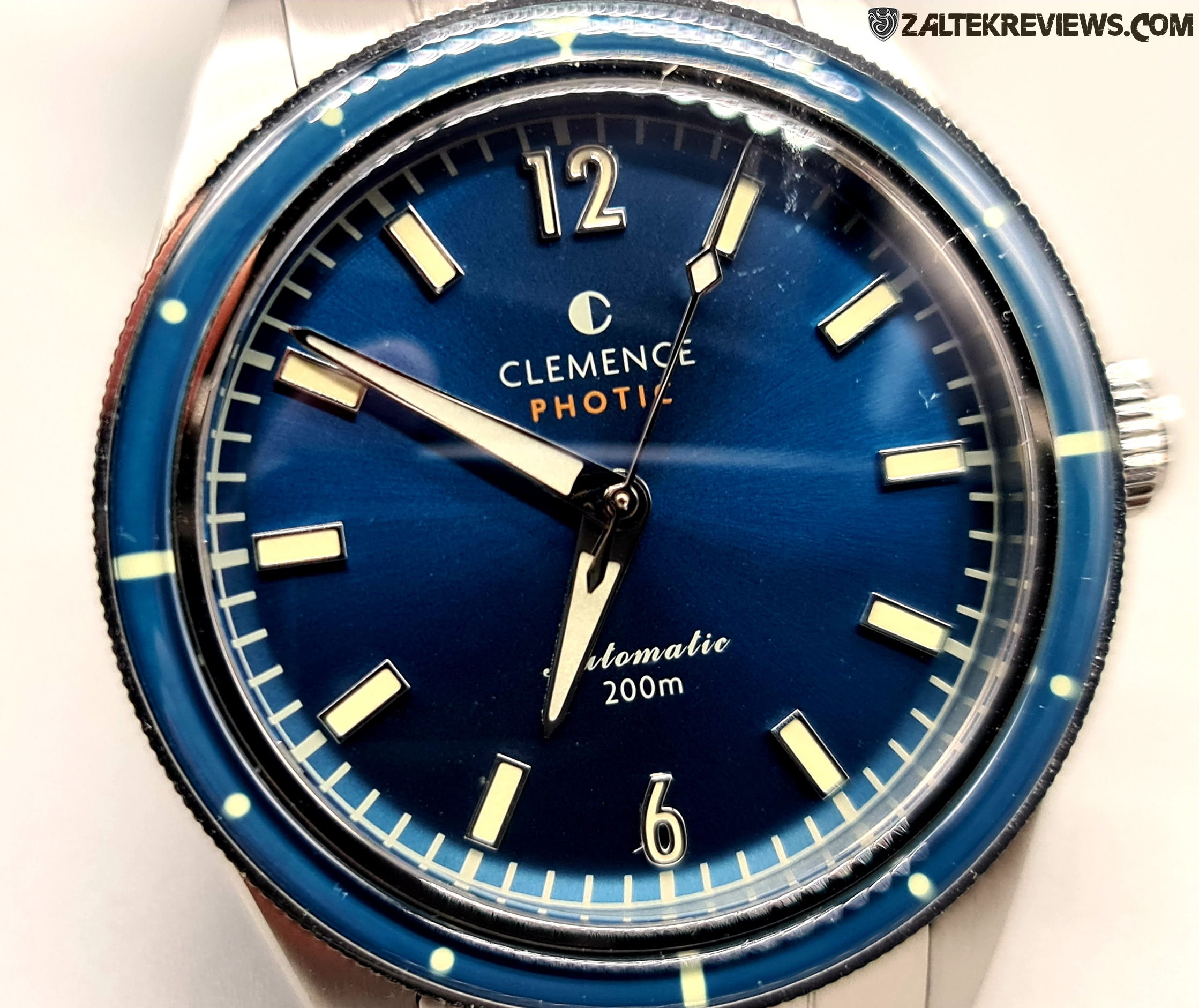 The lume on the Clemence Photic is actually executed very nicely indeed, even on this pre-production prototype. Initially, it is quite potent and even although it will fade over time, it's still very legible during the wee small hours. The actual formula that's been used on the Clemence Photic is Swiss Super-LumiNova® C3.
Generally, when any watch arrives for review, the first thing I do is a few quality checks. The first being to see if everything lines up properly, as that's my number one annoyance. Why send a watch out to me for review if the fuckin' basics aren't even checked? Next, I check the tolerances, especially if the watch has been fitted with a bracelet, checking to see if there's any movement on the end-link and between the lugs. I also check the operation of the crown and give the bezel a few turns, just to see and feel what the action is like. Obviously then I'll wear the thing for a week or two, before jumping on my PC to let you read my thoughts on it. Well people, in case you were in any doubt, the Clemence Photic Diver breezed through all of my initial checks with ease. "Tres Bon" as they say in France.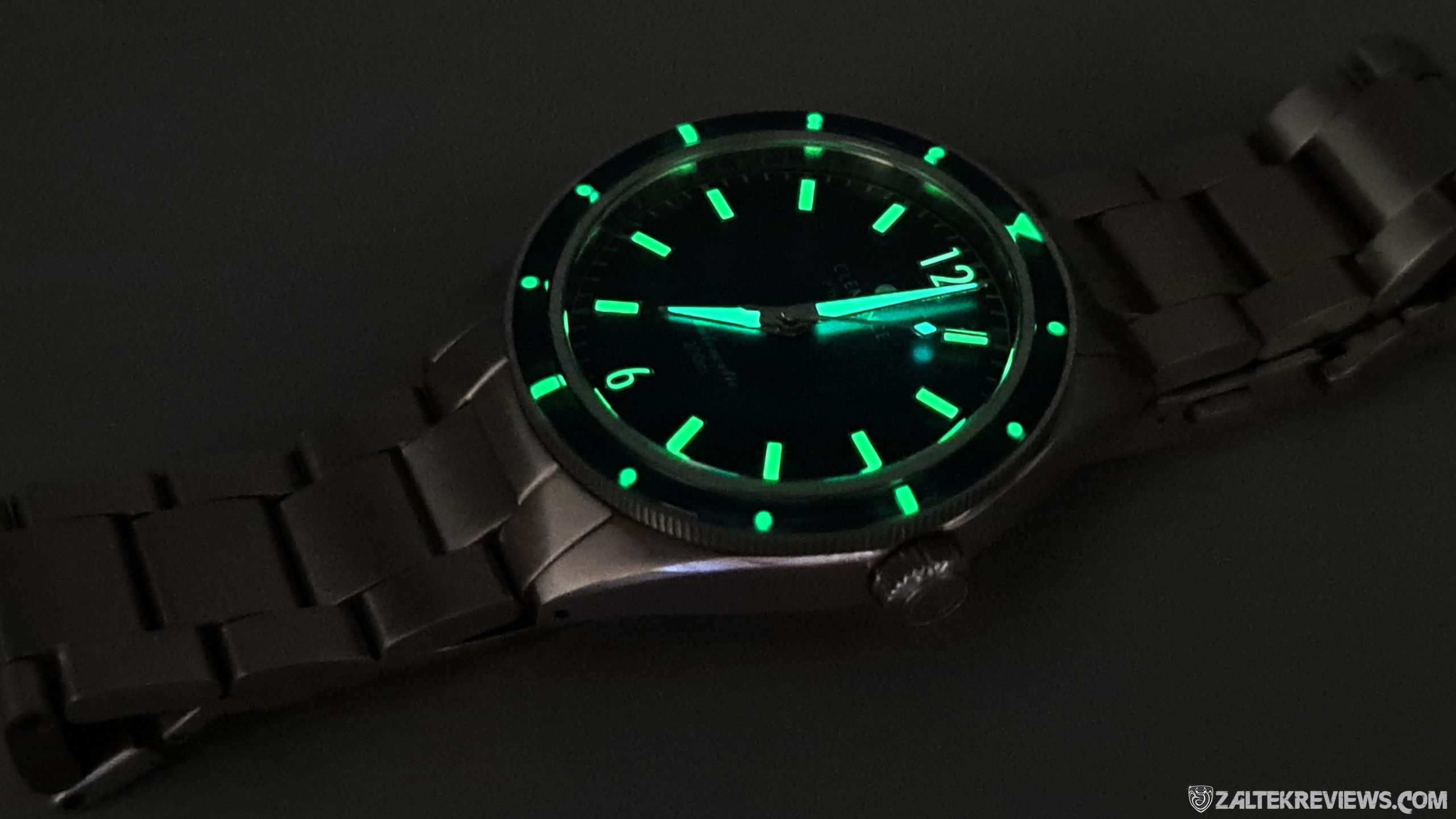 Why the fuck did I just make a French reference? I'm fucked if I know either… Jesus Christ, I think I've just had a brain fart after that one and totally lost my train of thought. FUCK THIS! I need more coffee, back in 5 minutes… OK, that's much better. Moving on… The Clemence Photic then, well what can I say, even although in my introduction I said you wouldn't get a biased review just because it's from a Scottish brand. Well, I've done exactly that, I have reviewed just the watch, nothing else. This watch could have been from the North Pole and I'd have given the same review. It's beautifully made with some gorgeous details and oh aye, the price listed at the top of the review is Clemence Watches retail price, you won't pay anywhere near that once the watch hits Kickstarter. Great news all round then!
A massive thank you to Tom at Clemence Watches, for arranging and sending out the Photic Diver for review. Very much appreciated! To view the Clemence website, or even to join their mailing lists to be informed of new models etc, visit
clemencewatches.com
.
It takes me a fair amount of work (and time) to do these reviews. If you feel like supporting Zaltek Reviews to help towards my running costs, or even if you feel like just buying me a coffee, then please donate using the PayPal button below. Unfortunately, 97% of my readers just scroll by this section. If you feel like that I've given you maybe a few quids worth of knowledge and/or entertainment, then please take just a couple of minutes of your time to donate. Thanks.