Manufacturer: HVD Watches | Price: $399 USD (£289 GBP)
I often get asked why I don't have a YouTube channel and one of the main reasons is I have a fairly strong Scottish accent, so no fucker would really understand me anyway. The comments would be full of, "what's he fuckin' bumping his gums about?" Trust me, even although he's also Scottish, I sound nothing like Jody from Just One More Watch. Oh aye, you only have to look and see what happened to Jody's channel just last week. Fuck that! All that time and effort for some cockwomble at YouTube to turn around and pull the plug! Too many backstabbin' cunts on there if you ask me! Thankfully, Just One More Watch is back online where it belongs, however, I can only imagine the stress and heartache that Jody must have went through during that initial downtime. Another reason that I have no plans on creating a YouTube channel is, this is my website and I'm in total control of it. I wouldn't get away with half the things I say on YouTube, I'd be banned before I've barely even started! Where the hell was I going with this…? I've totally lost my train of thought again. FUCK!! *Edit* Ah yeah, what I initially meant to say was, maybe I should stop watching and reading other reviews, as before this Spectre Diver arrived from HVD Watches, I was expecting something that really wasn't going to hit the mark, as there seemed to be a fair amount of negativity regarding this watch. Are they fuckin' drunk!? Let me share with you my thoughts…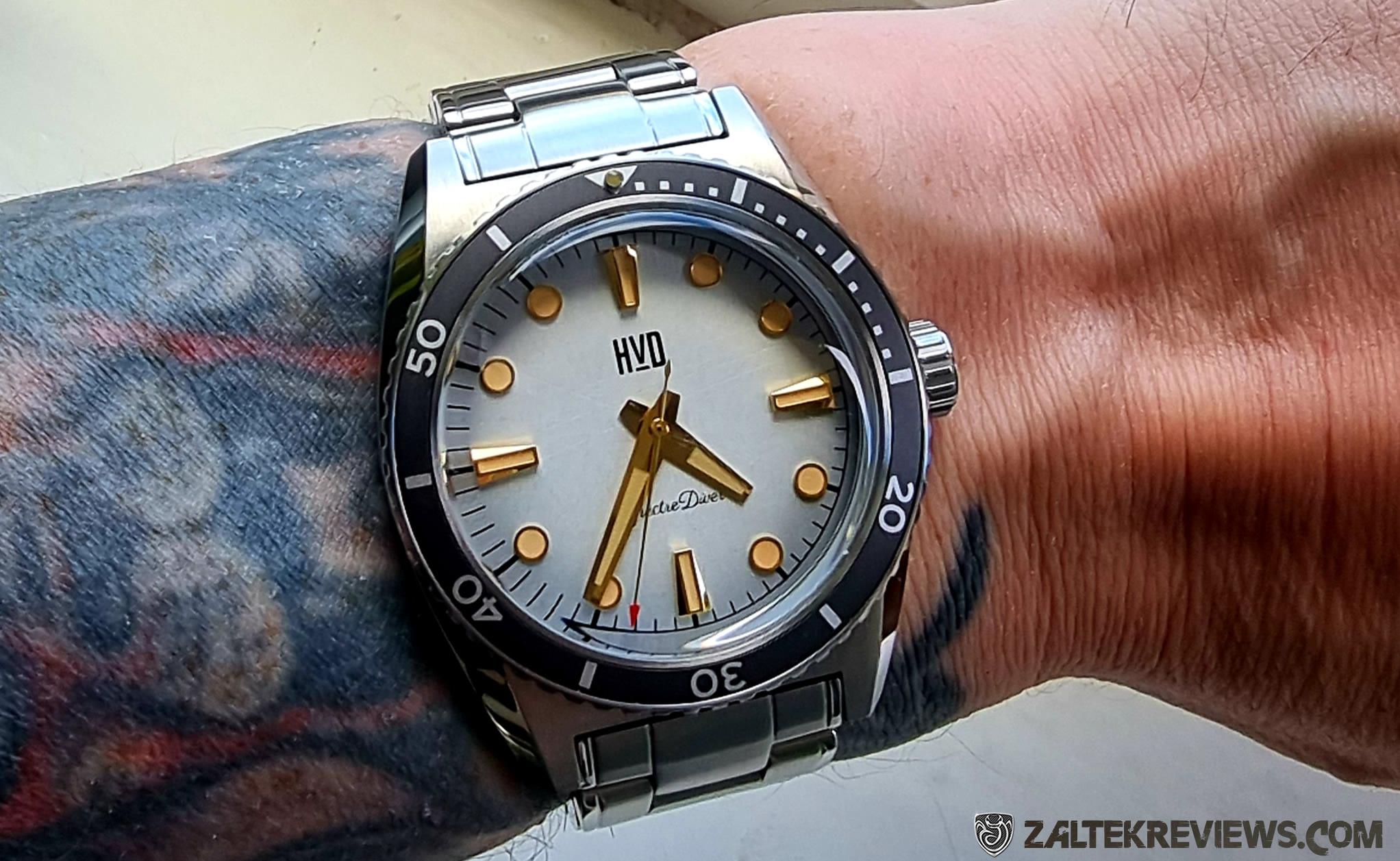 Full Specifications
Dimensions: Diameter – 40.4mm, Thickness – 13.4mm, Lug to Lug – 47.9mm, Lug Width – 20mm
Movement: Swiss Sellita SW210-1, 28,800vph, Novodiac Shock Resistance, Hackable, Handwound, 42hr Power Reserve
Case: Brushed & Polished 316L Stainless Steel
Bezel: 120 Click Unidirectional, Aluminium Insert, Lumed Pip
Dial: Vintage Style Hand-Embellished, Applied Indicies/Batons, Dauphine Hands
Lume: Swiss Super-LumiNova® Old Radium
Bracelet: Brushed & Polished 316L Stainless Steel, Solid Links, Screw Pins, Milled Clasp
Crystal: Vintage Style Domed Plexiglass
Water Resistance: 200m / 20ATM / 660ft

Caseback: Screw Down, Exhibition Display, Unique Serial Number
Crown: 7mm, Push/Pull, Signed

Weight: 136g (Sized up for my 6¾″ wrist)
Where to Buy: Kickstarter (Campaign ends; 2pm, 17th July '21)

Warranty: 1 Year International
Dial Colour Options: Azurite Blue, Emerald Green, Moonstone White, Onyx Black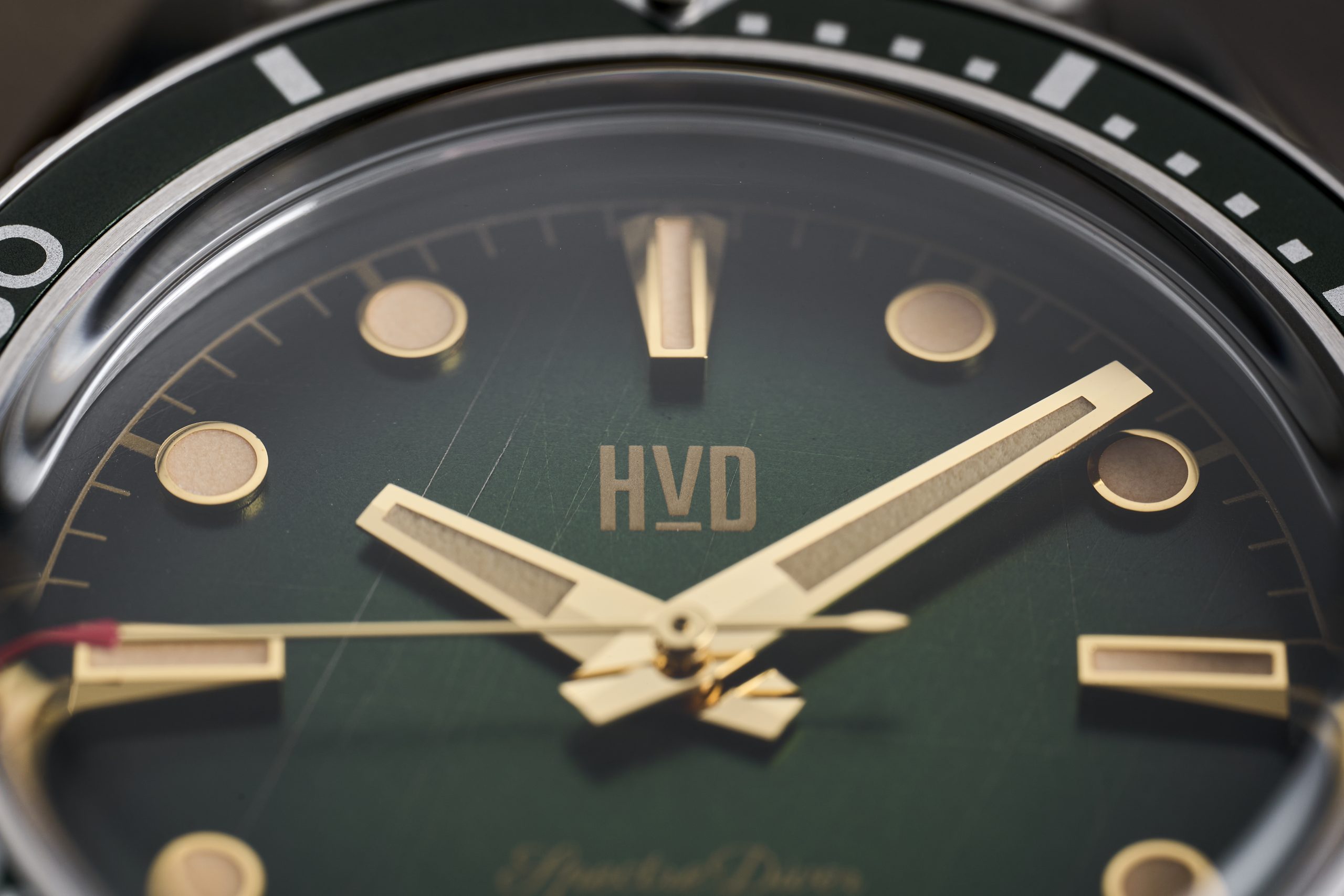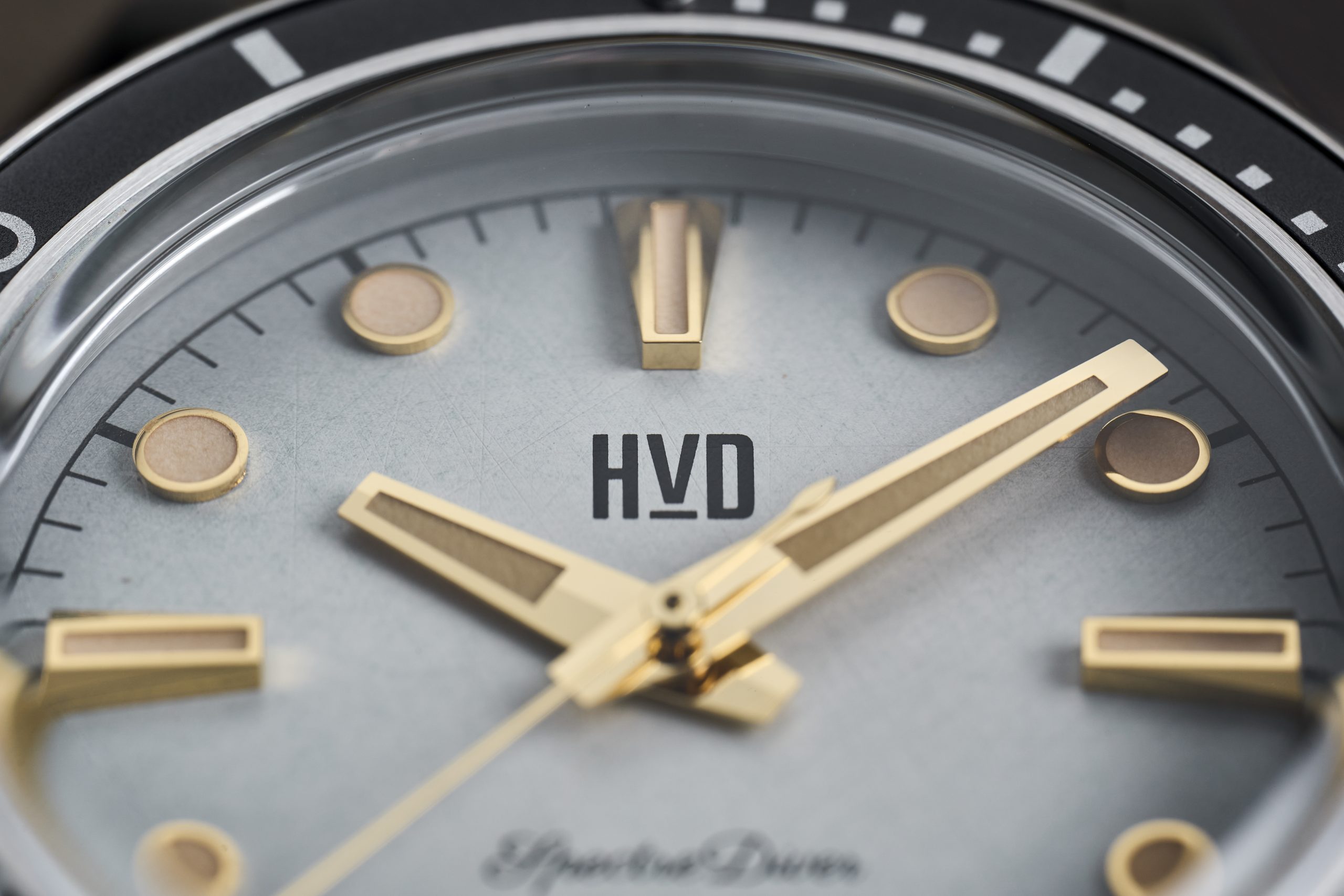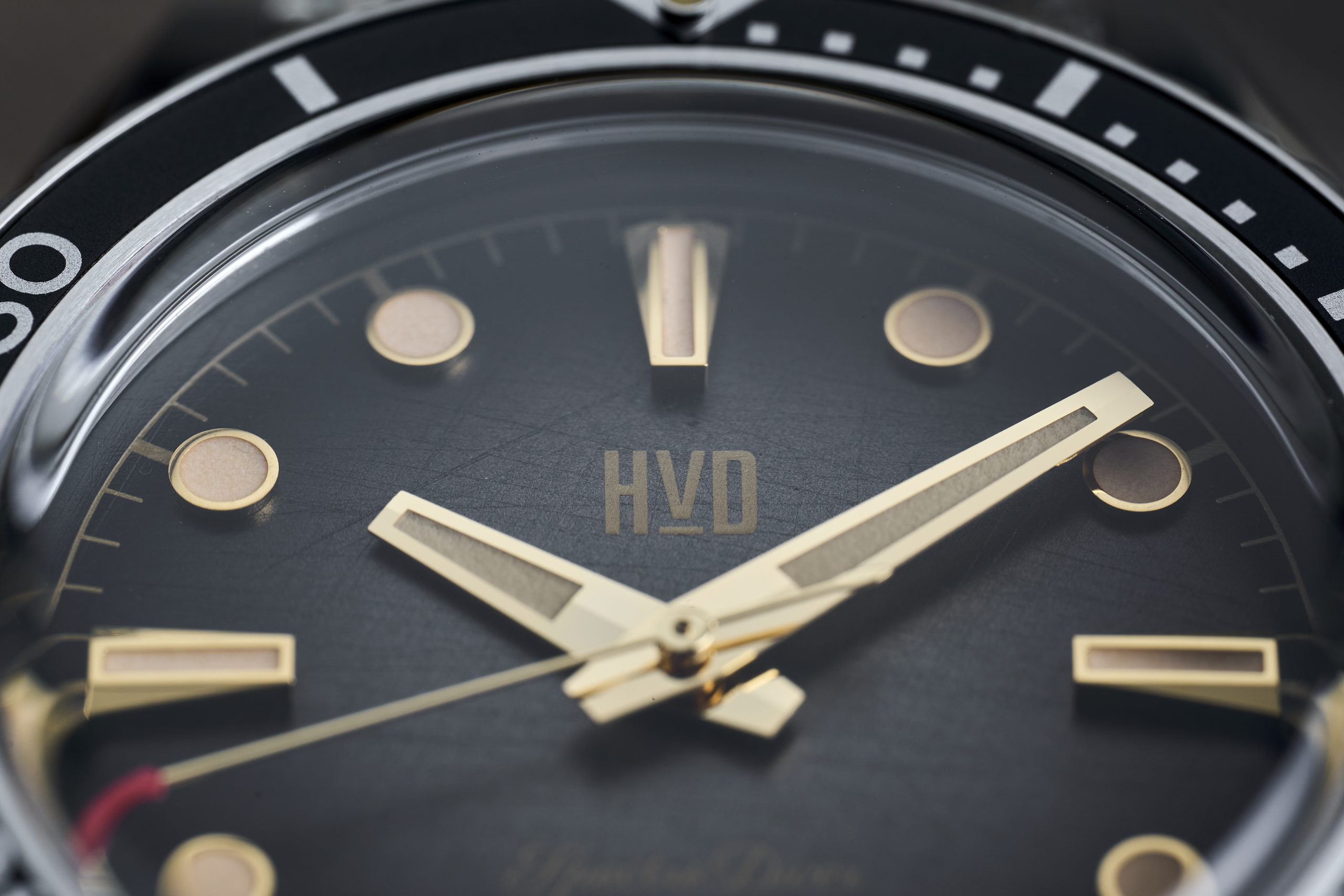 "HVD Watches are based in Singapore, owned and operated by husband and wife team; Travis Tan & Vivian Ko. Call it a movement or a project, HVD were founded to bring the people back to basics; back to a more simpler time. With the use of modern technology, HVD combines handwound mechanical movements with super-vintage styling, to produce well crafted vintage inspired timepieces at a very affordable price. Our aim is to reignite people's passion for all things mechanical and rediscover a personal approach with the very tool that helps us take on the day."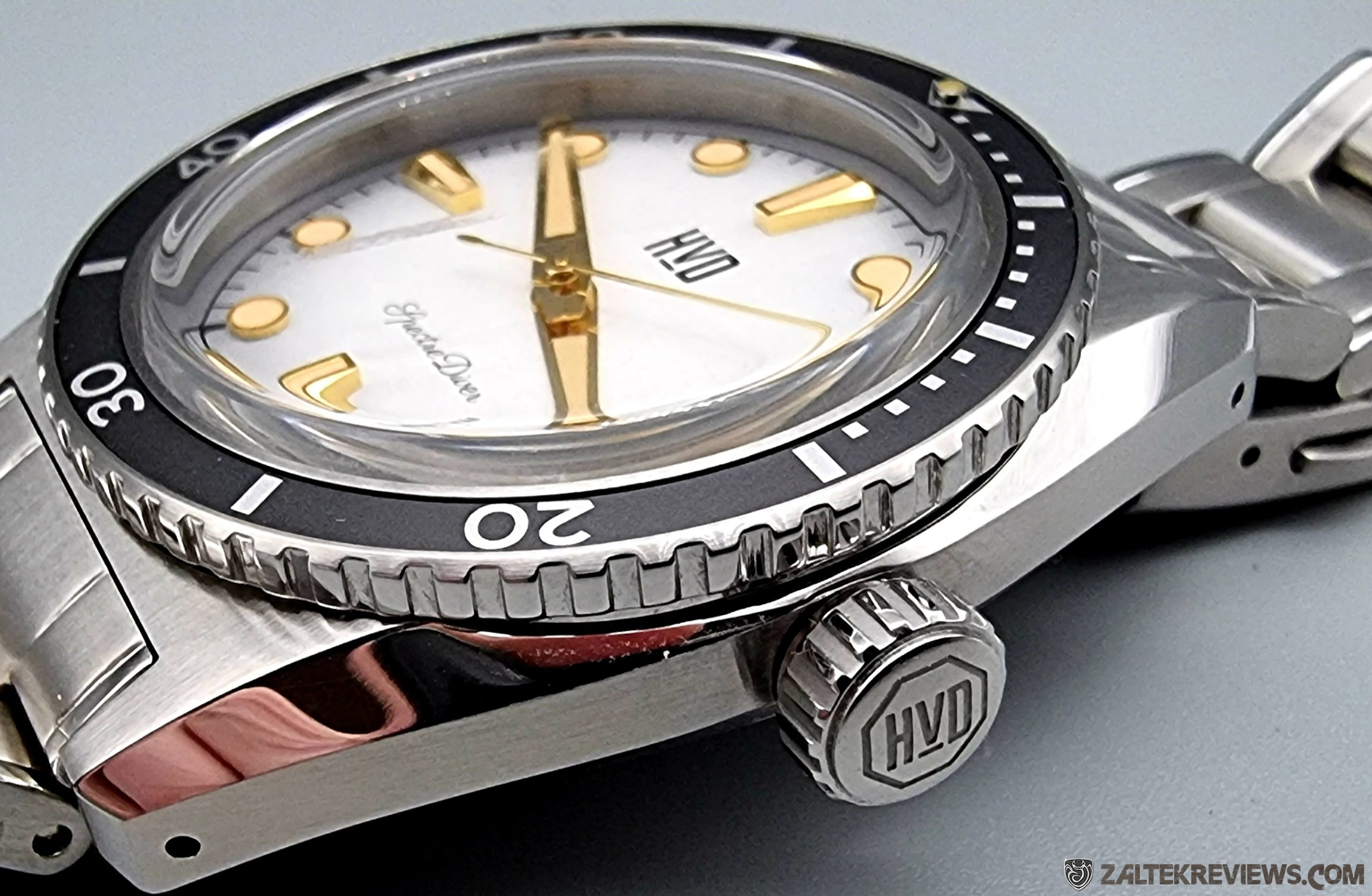 The case of the HVD Spectre Diver has a diameter of 40.4mm. The lug to lug is 47.9mm and the overall thickness, including the domed plexiglass, I measured in at at a total of 13.4mm. The case, caseback surround, bezel, crown and bracelet are all 316L stainless steel. The finish of the case is mostly brushed, but with the addition of two rather fat, yet sexy, polished chamfered edges that run along the top edge of the case. I think this approach looks totally fantastic and I will add that the overall quality of both the brushed and polished finishing is absolutely superb! The case itself might come across as a bit flat-wearing to some people, but I wouldn't let that put off unless you have really small wrists. I don't have large wrists at 6¾″, and it sits on my wrists perfectly, with zero overhang whatsoever.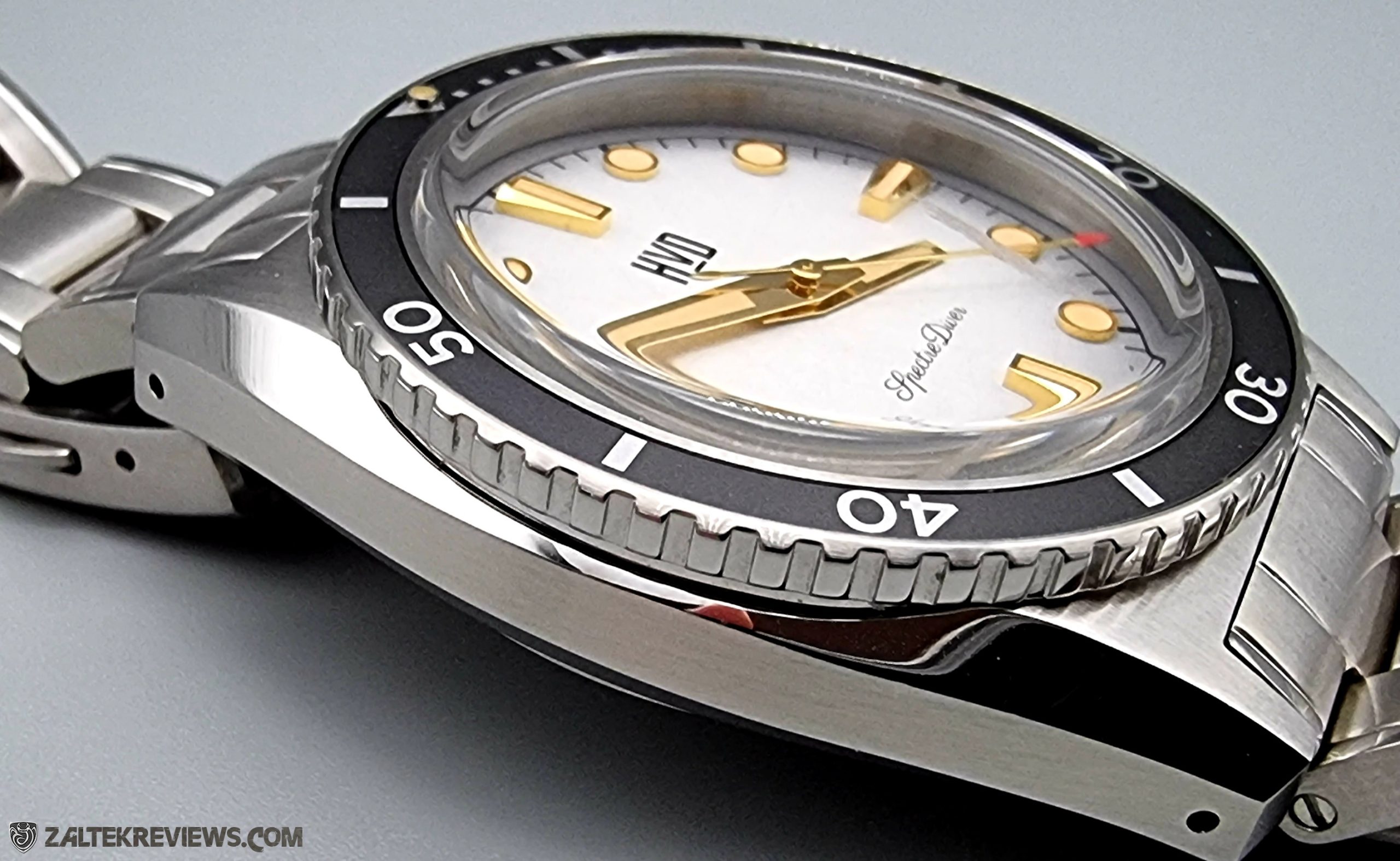 The HVD Spectre Diver has a total water resistance rating of 200m, which if I'm honest, is actually more than I expected it to have. The proportions of the Spectre are excellent, as it does wear brilliantly on wrist and it's also extremely comfortable. The signed crown is nicely sized at 7mm, looks great with it's deeply etched HVD logo and it's a piece of cake to operate with tons of grip. There's no wobble either when the crown is in use and you can also feel a nice wee pop as you unscrew it, although the production units will have a push/pull crown. As you can see in the image below, we're also treated to an exhibition caseback, that shows off the handwound Swiss Sellita movement. Elsewhere, there's a few key specs etched around the edge, with the welcome addition of a unique serial number,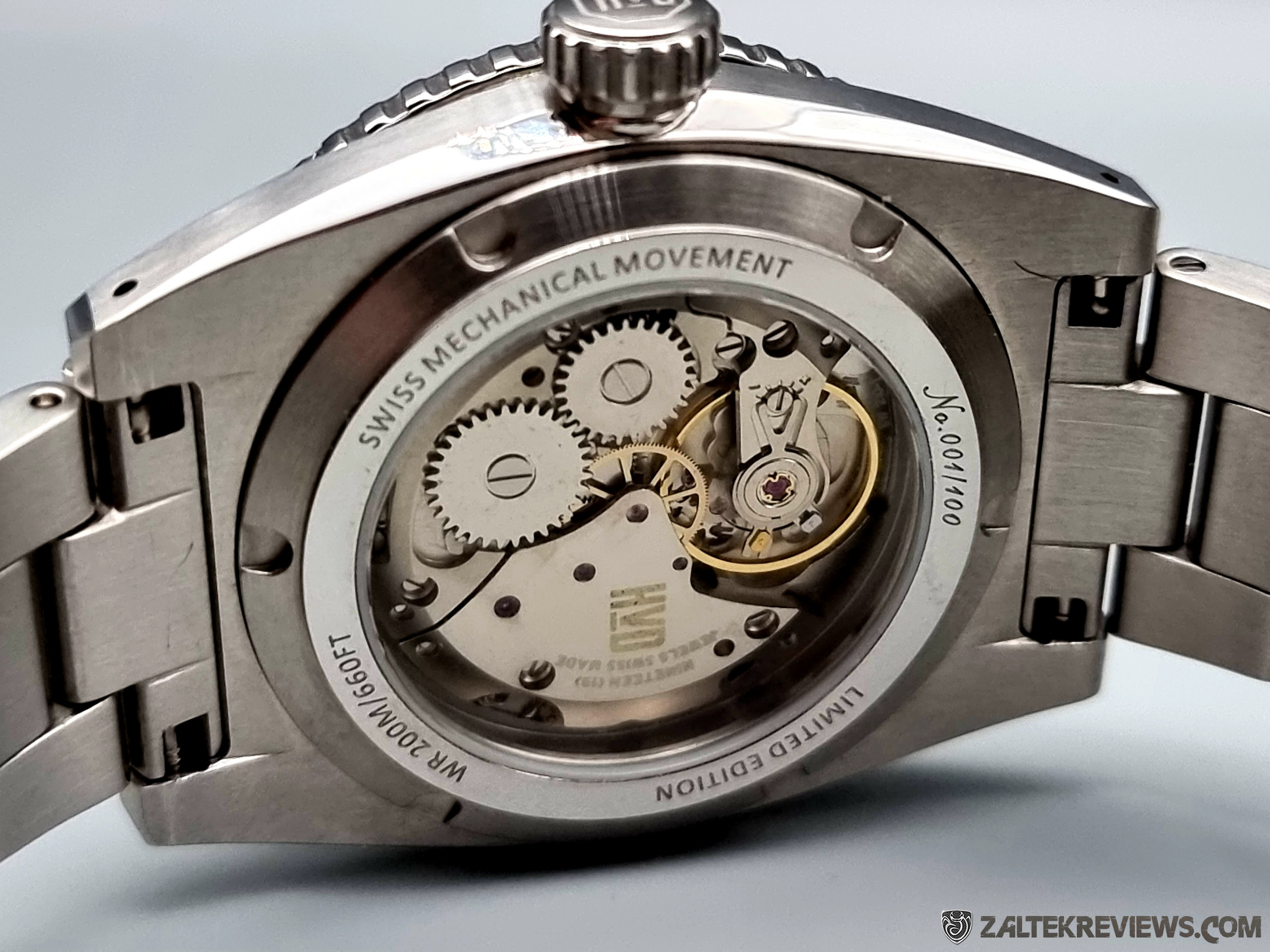 The HVD Spectre Diver comes fitted as standard with a rather lovely 20mm, brushed & polished, oyster style, 316L stainless steel bracelet that I'd certainly class as well above the usual microbrand off-the-shelf shite as it has all the bells & whistles you might expect to find from a bracelet of this quality. Solid links throughout, screw pins for sizing, as well as a fully milled & signed clasp. When adjusting or sizing up the bracelet, the screws used here are of exceptional quality too, that have practically no chance of cross-threading. My only issue with the bracelet are the male end links that extend the effective lug to lug length. These however, will be changed to female end links for instant articulation for the actual production units. Great news!!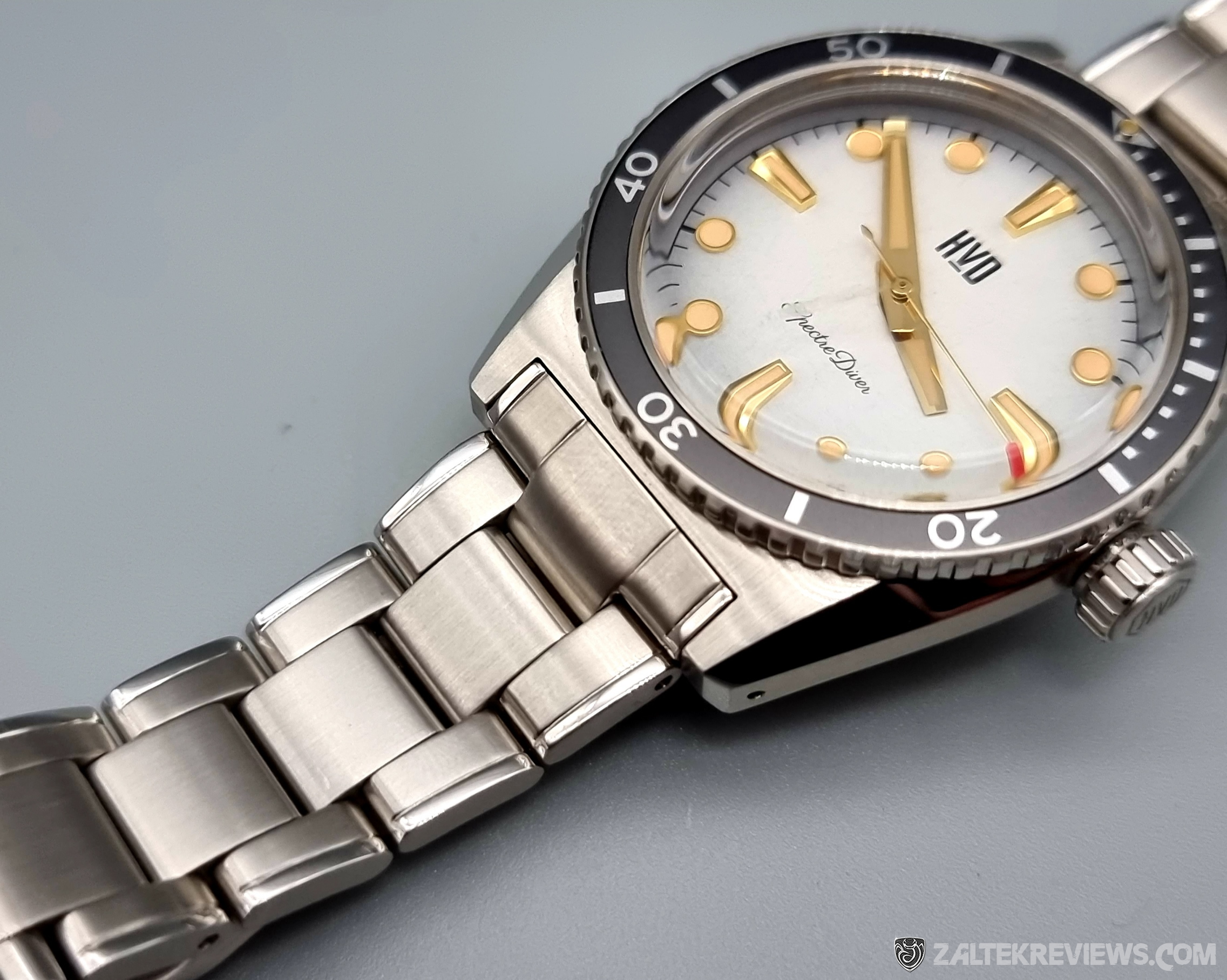 The links of the bracelet are actually of a 3-piece design, even although they mimmick a 5-piece construction. I think they look great though, as it gives the watch that wee bit of extra bling without going over the top. The clasp also has nice polished chamfered edges, that also match the overall aesthetics of the bracelet very well. The micro-adjustment is pretty decent too, with 3 holes added. Oh, before moving on to the next part of the review, the bracelet itself also has a very nice taper to it, going from 20mm at the lugs, down to around 16mm at the thinnest most point, before heading back up to approximately 18.5mm at the clasp.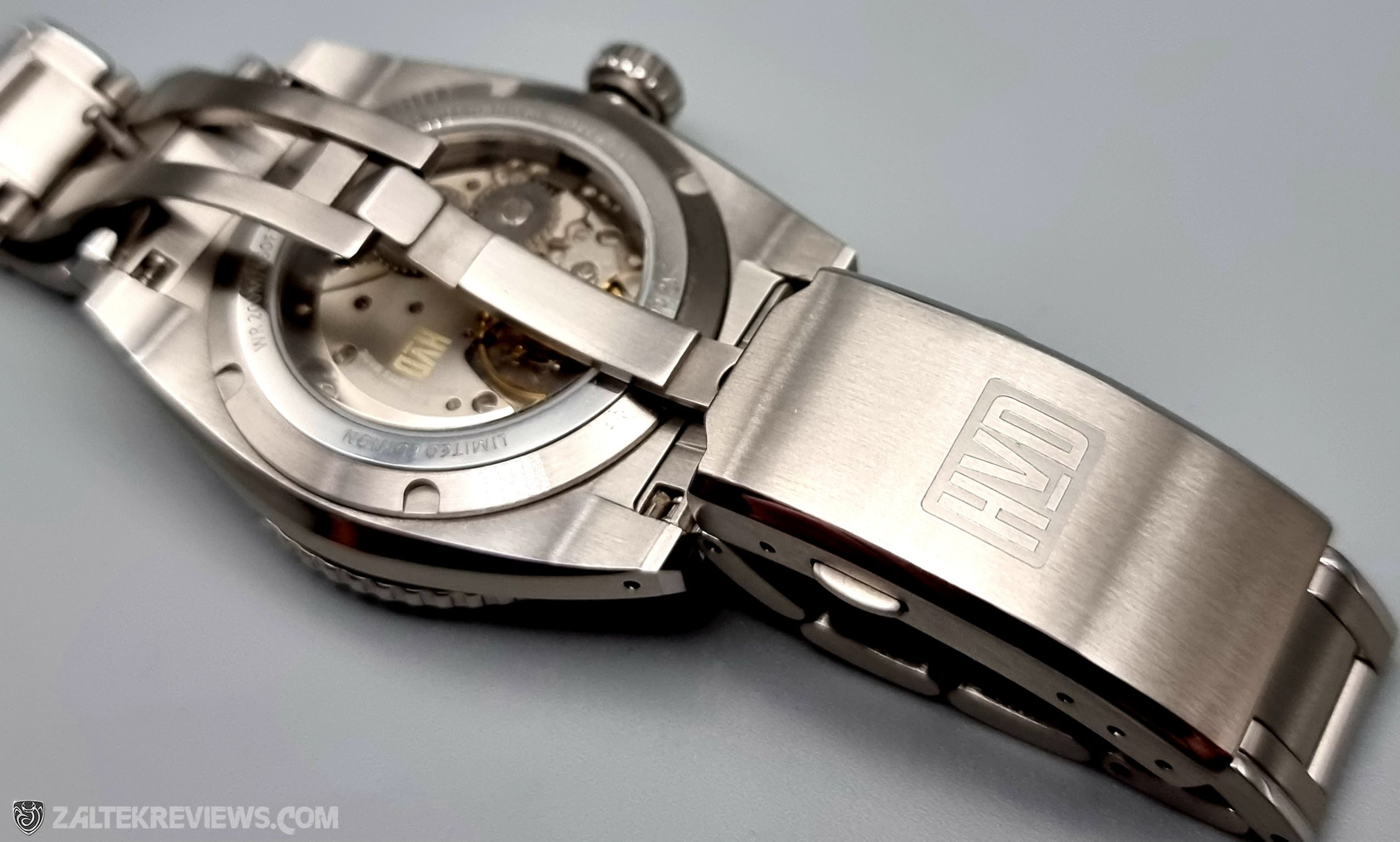 The chosen movement for the HVD Spectre Diver is the high beat, smooth sweep Sellita SW210-1. This Swiss made movement is handwound, has 19 jewels and the oscillating weight spins up, giving you up to a very reasonable 42 hour power reserve. The balance runs at 28,800vph (4Hz) and the movement is also hackable. Checking the accuracy on my trusty timegrapher, after running the Spectre Diver for just a few days, I was quite surprised with the results, with the Spectre Diver coming in at an average of +9 second per day, with minimal beat error. A little higher that I'd like, but it's still within the manufacturers tolerances.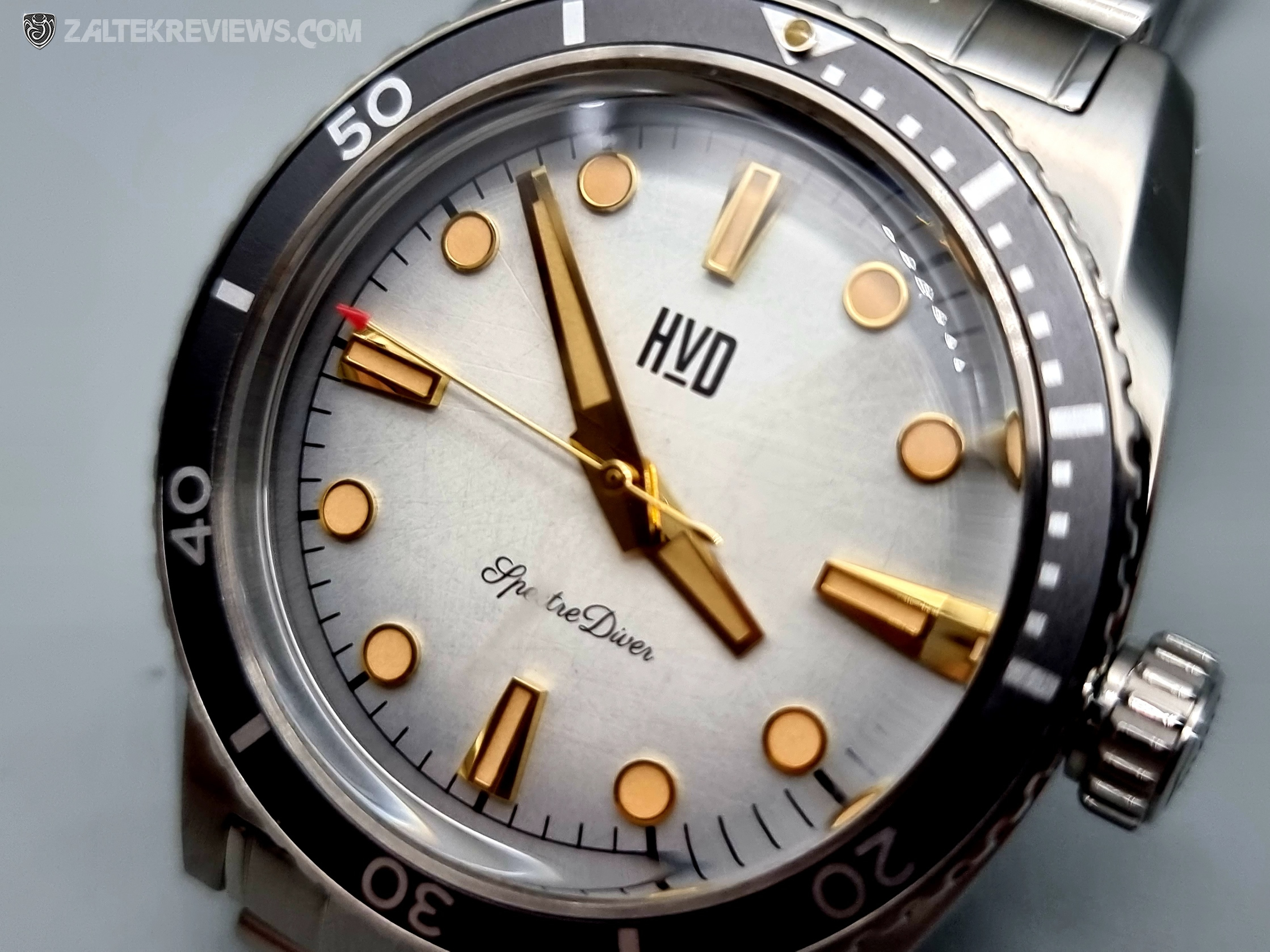 The HVD Spectre Diver has a very nicely manufactured 120 click unidirectional bezel with an aluminium insert, that also has a lumed pip, The bezel action is quite clicky, but there is zero backplay and everything lines up 100% perfectly. The printed text on this dial are just the words Spectre Diver, finished in an italic style font, The HVD logo is at the usual spot of just under the applied marker at 12 o'clock, that's been finished in a contrasting black. The hour markers are all applied, with larger batons at the 3, 6, 9 & 12 o'clock positions. The Spectre Diver also sports gold coloured indicies, that really do POP on this gradient white dial.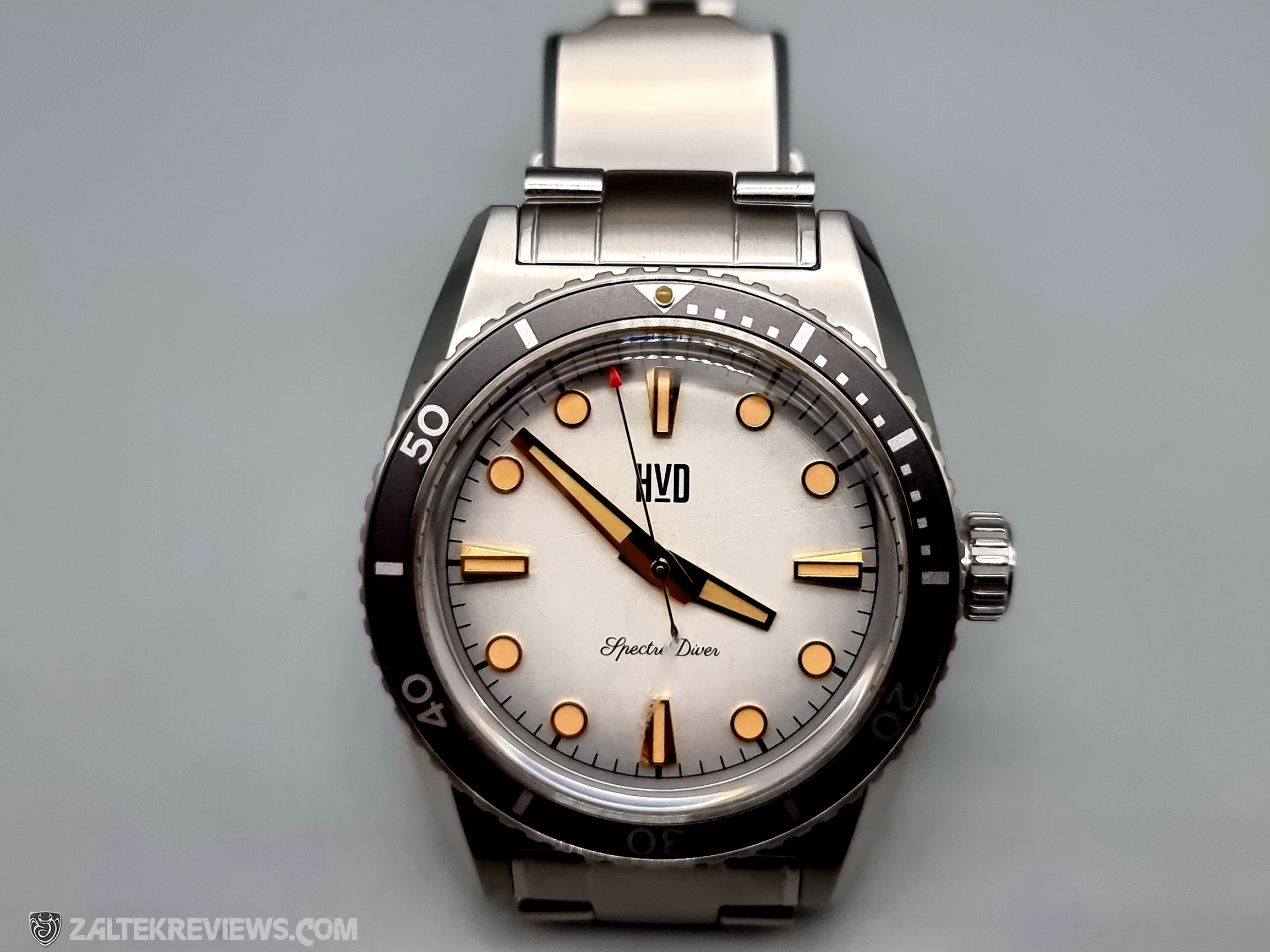 Taking everything into account, everything adds up to a totally stunning and gorgeous dial. The slightly chunky styled hour and minute hands are extremely well executed, with their proportionate scale and lovely overall sharp design. The arrow shaped section of the seconds hand is rather lovely too, with the actual red tip of the hand, reaching right out to the inner edge of the printed black minute track. This white dial version of the Spectre Diver also utilises an almost fumé style dial, where the white starts at the pinion and slowly but surely fades to a light grey at the hour markers. It looks absolutely stunning, and even more so in real life.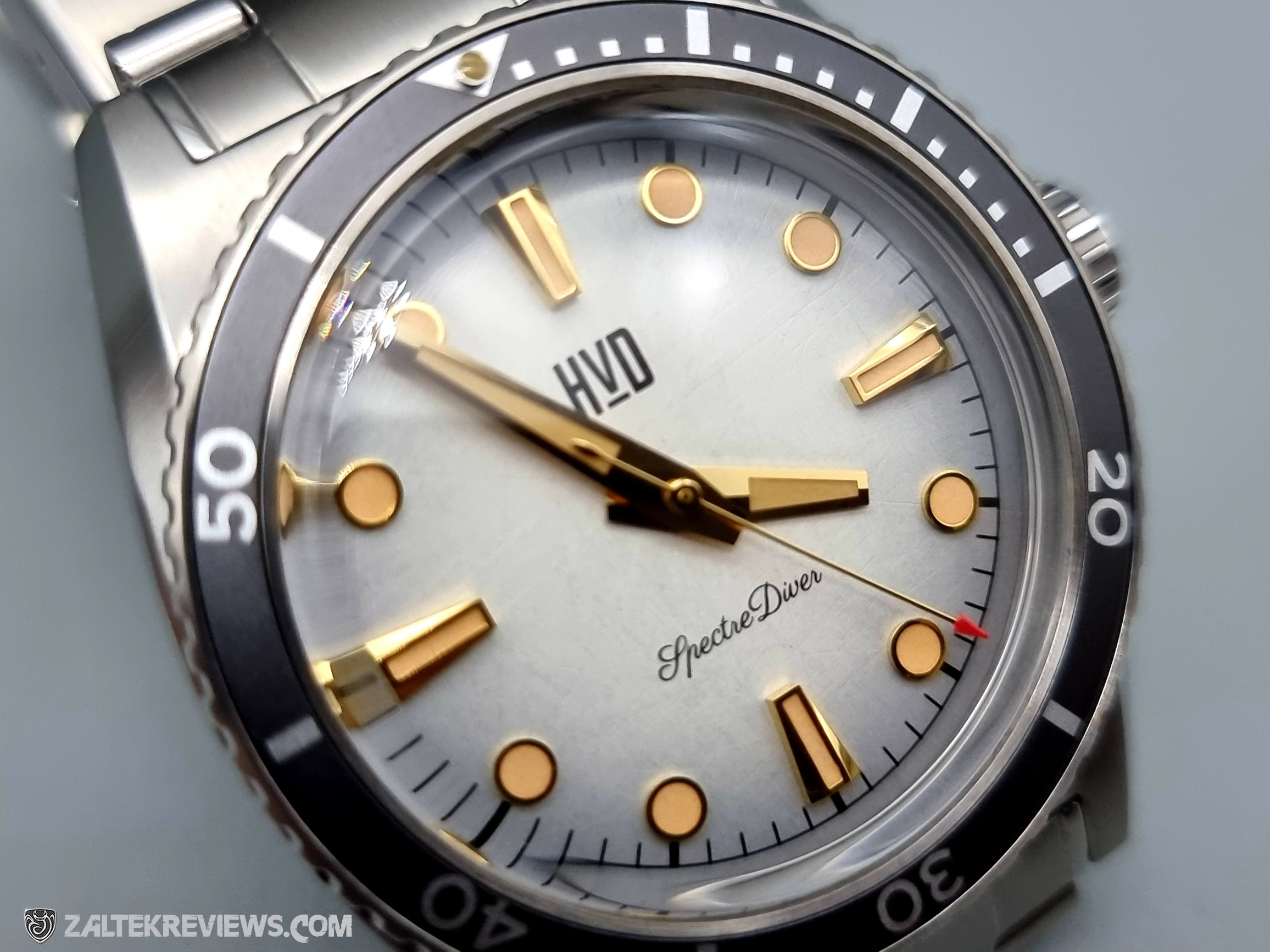 The lume on the HVD Spectre is actually executed very nicely indeed, even on this pre-production prototype. Initially, it's quite bright and even although it will certainly fade over time, it is still applied very well. Even although it's not listed anywhere, my best guess is that the actual formula being used here on the Spectre Diver is Swiss Super-LumiNova® Old Radium, or "Fadium" as it's known within certain circles of the watch community. Personally speaking, I really like it, as it suits the whole vintage vibe thing and matches the rest of the watches aesthetic just perfectly.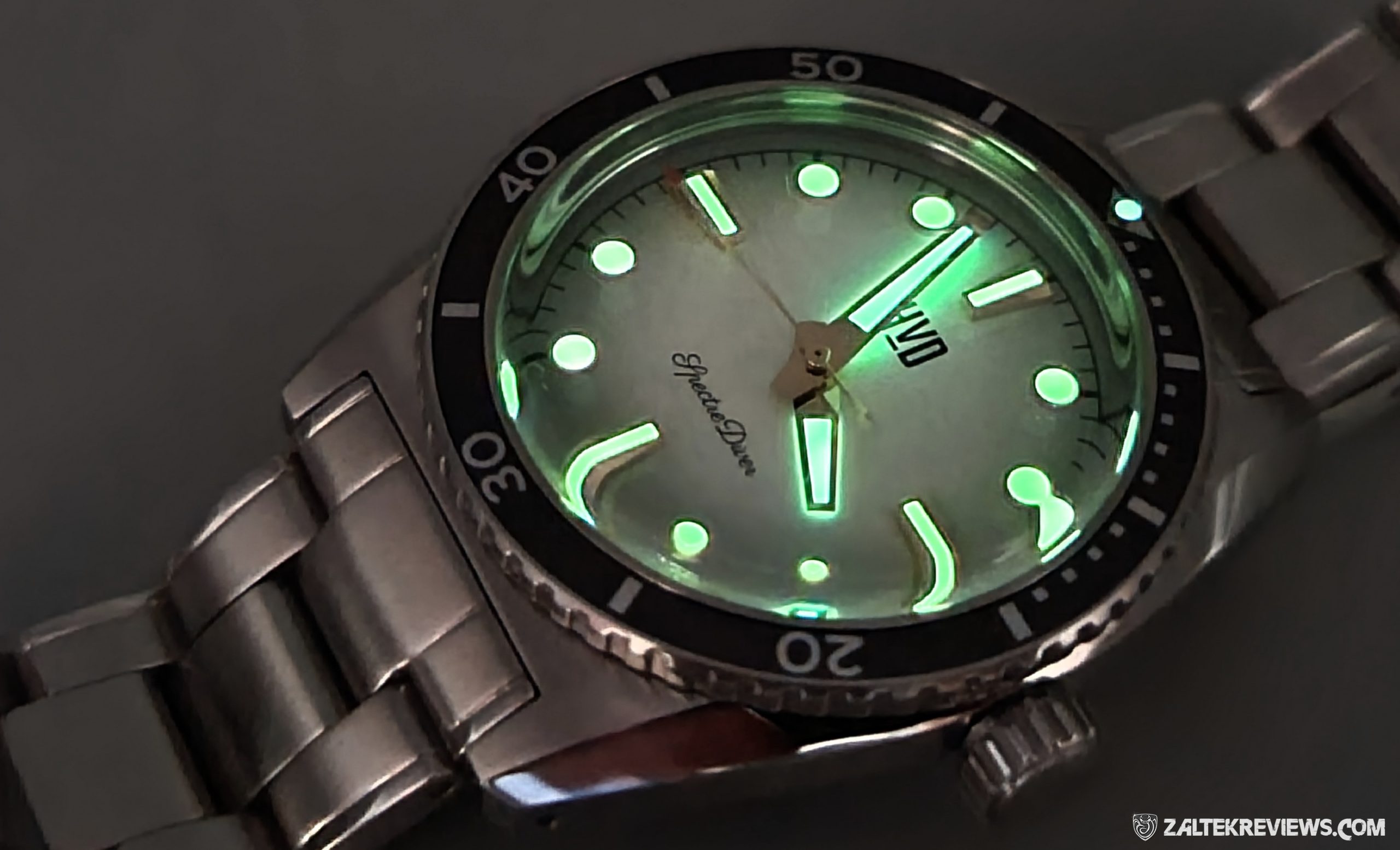 This is a relatively easy conclusion to write. The Spectre Diver from HVD Watches s an absolutely gorgeous watch that has really hit home with me. By all means, it's not 100% perfect, but the small negatives that I have found, are already noted by Travis at HVD Watches and will be fixed for production. As I write this, there are just over 24 hours left of the campaign to run, over on Kickstarter, and not only that, there are a few of the early bird spots that have recently become available, so you can still get all this for $399 USD! My recommendation is to secure one NOW, while you still can. You definitely won't regret it!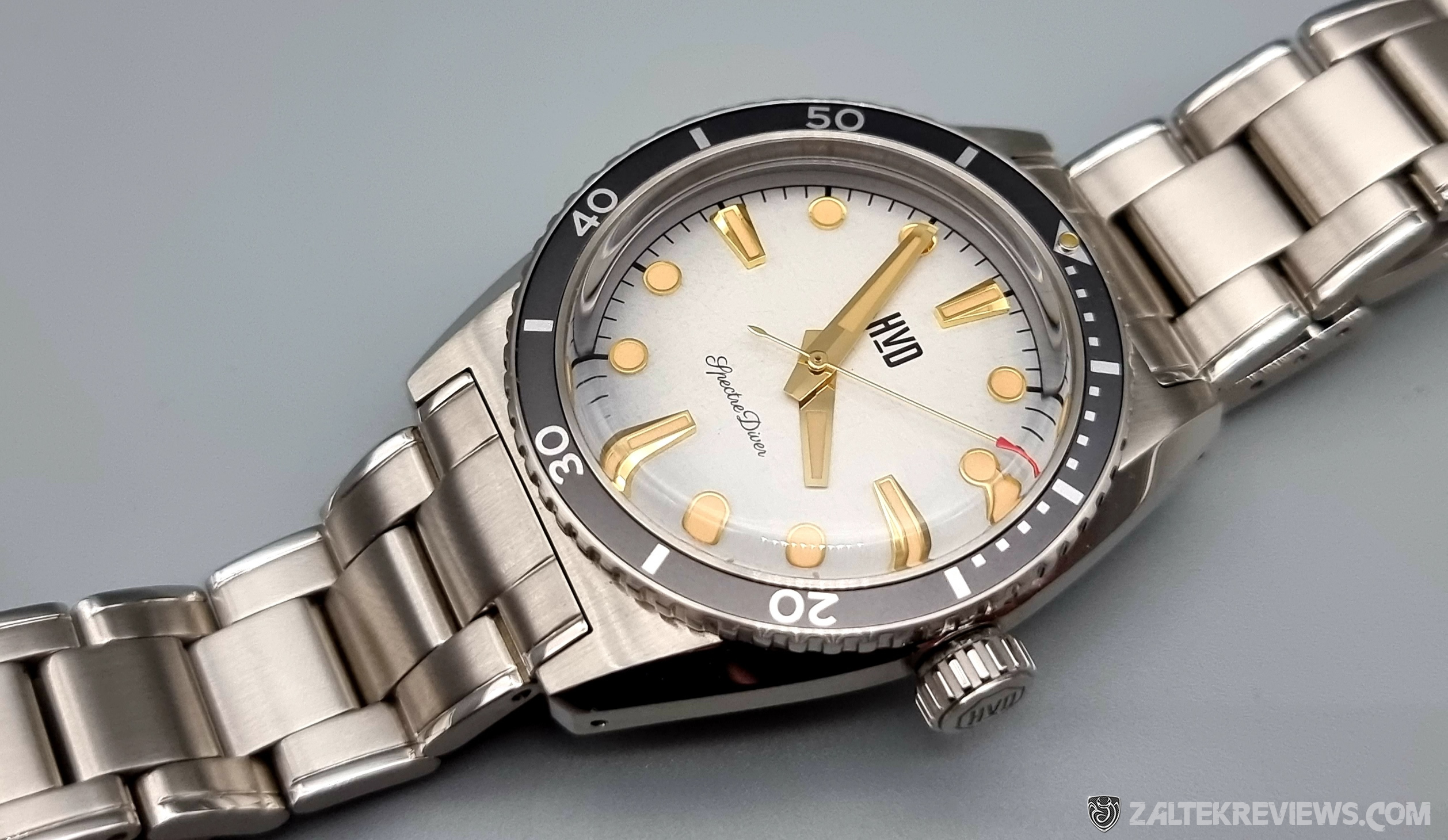 If you need any further proof of just how much I like this HVD Spectre Diver, well, I've actually bought this very prototype from Travis. Yeah, I might have a few minor niggles with it, mainly the male end links on the bracelet, however, Travis has gratiouslly offered to send me the updated bracelet once it's available. Until then, I'll be glady wearing this prototype with a rather smug grin on my face. What you waiting for? Go and secure yours today before the campaign ends.
A massive thank you to Travis at HVD Watches, for arranging and sending out the Spectre Diver for me to review. Very much appreciated! To view the HVD website, or even to join their mailing list to be informed of new models etc, visit
hvdwatches.com
. —> HVD Spectre Diver
Kickstarter Campaign
.
It takes me a fair amount of work (and time) to do these reviews. If you feel like supporting Zaltek Reviews to help towards my running costs, or even if you feel like just buying me a coffee, then please donate using the PayPal button below. Unfortunately, 97% of my readers just scroll by this section. If you feel like that I've given you maybe a few quids worth of knowledge and/or entertainment, then please take just a couple of minutes of your time to donate. Thanks.