Manufacturer: Second Hour | Price: $615 USD (£445 GBP)
There's no question about it,.. I am most definitely a fan of Second Hour. Peter Sargison the owner, his work ethic and the way that he has ran Second Hour since their debut release, the Gin Clear, has been nothing but inspirational. Since then, I was one of the lucky few who got their hands on Second Hour's second release, an early prototype of the Mandala sports watch, which subsequently, actually went on to win Zaltek Reviews Watch of the Year at the tail end of last year. As I chat to Peter quite regularly, I knew that the Giant Stride has been in the works since 2019, but it was pushed back and delayed due to various behind the scenes issues. I'm sure Peter won't mind me saying, but I'm pretty sure it was all down to, what is now, an old manufacturer that he used, Quite rightly, Peter just wasn't happy putting his beloved brand name on something that just wasn't up to Peter's very high standards. Anyway, just over a month ago, Peter messaged me and said that the new prototypes of the Giant Stride had arrived and would I like to review one. Almost dropping my phone in the process, I immediately said YES and less than a week later, it arrived on my desk, ready to be reviewed. My apologies yet again though, go to Peter and his small team at Second Hour, for the length of time it has took me to get this review all done and published. Sorry, I've been a busy boy, with various stuff behind the scenes.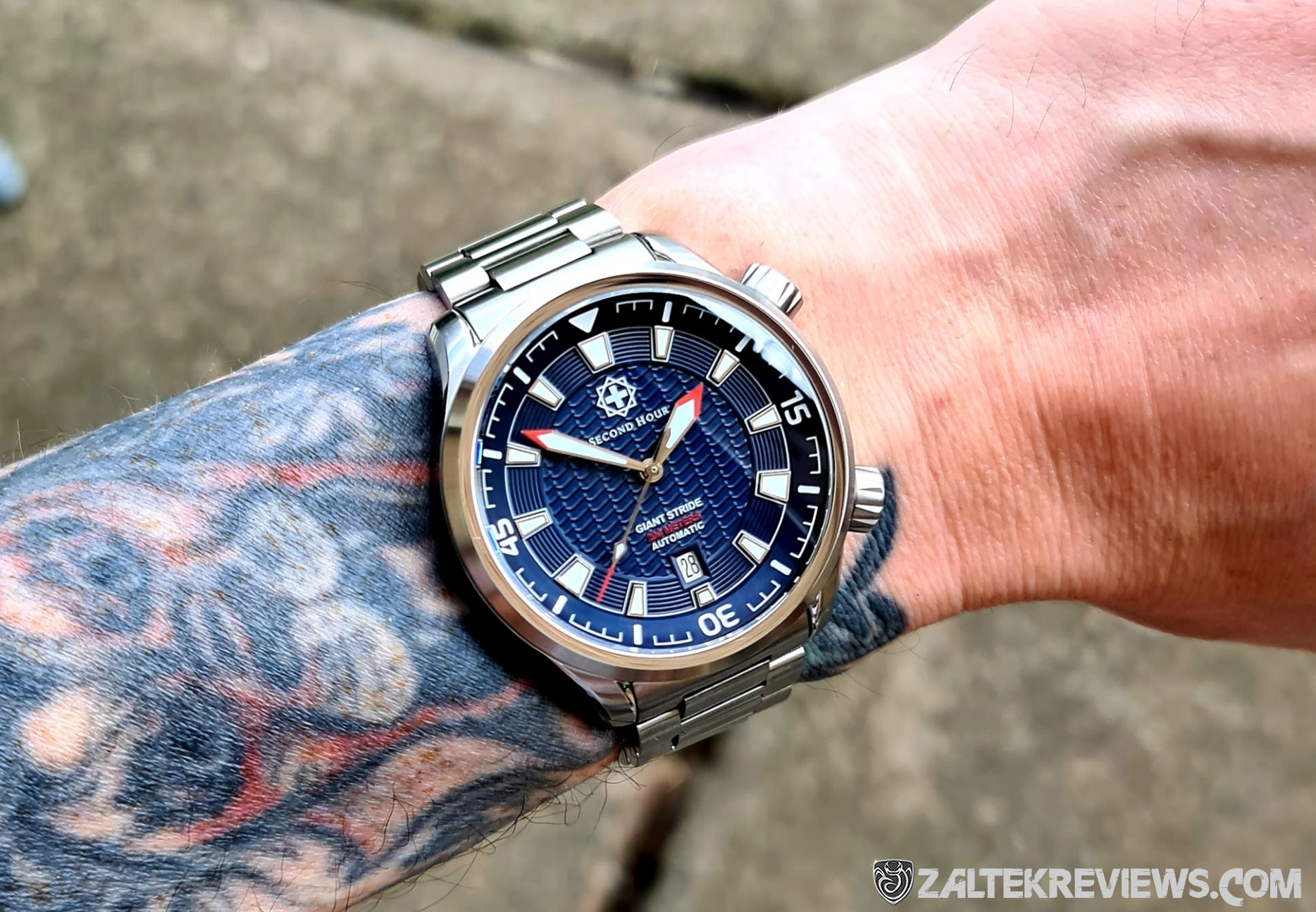 Full Specification
Dimensions: Case – 41.9mm, Thickness – 12.2mm, Lug to Lug – 46.6mm, Lug Width – 20mm
Movement: Sellita SW200, 28,800vph, Hackable, Self Winding, 38hr Power Reserve
Case: Brushed & Polished 316L Stainless Steel, 1200Hv Hardening Treatment
Bezel: Internal, Bidirectional, Lumed, Operated by Crown at 2 o'clock
Dial: Embossed, Multi-Textured, Applied Indicies, Sword Hands, Red Tips
Lume: Swiss Super-LumiNova® BGW9
Bracelet: Brushed 316L Stainless Steel, 1200Hv Hardening Treatment, Solid Links, Screw Pins, Milled Clasp
Crystal: Domed Sapphire, Inner Anti-Reflective Coatings (6x layers)
Water Resistance: 200m / 20ATM / 660ft

Caseback: Screw Down, Embossed Giant Stride Dive Entry Artwork
Crowns: x2, Screw Down, 7mm, Signed, Lumed

Weight: 153g (Sized up for my 6¾″ wrist)
Where to Buy: Second Hour
Warranty: 2 Years International
"The Giant Stride is one of two primary entries into the water when scuba diving from a boat or platform. For Second Hour, the Giant Stride represents a bold step forward into the wild, a world in which you must rely on your skills and experience to guide you through often challenging conditions. The Giant Stride is our first self-funded release and we have spared no expense in developing and furnishing this beautiful watch with the highest level of components and finishing available in the sub-luxury market. The Giant Stride is our bold leap forward and is dedicated to those who take calculated risks and relish the opportunity to experience a brush with the unknown. Please join us for the launch in September."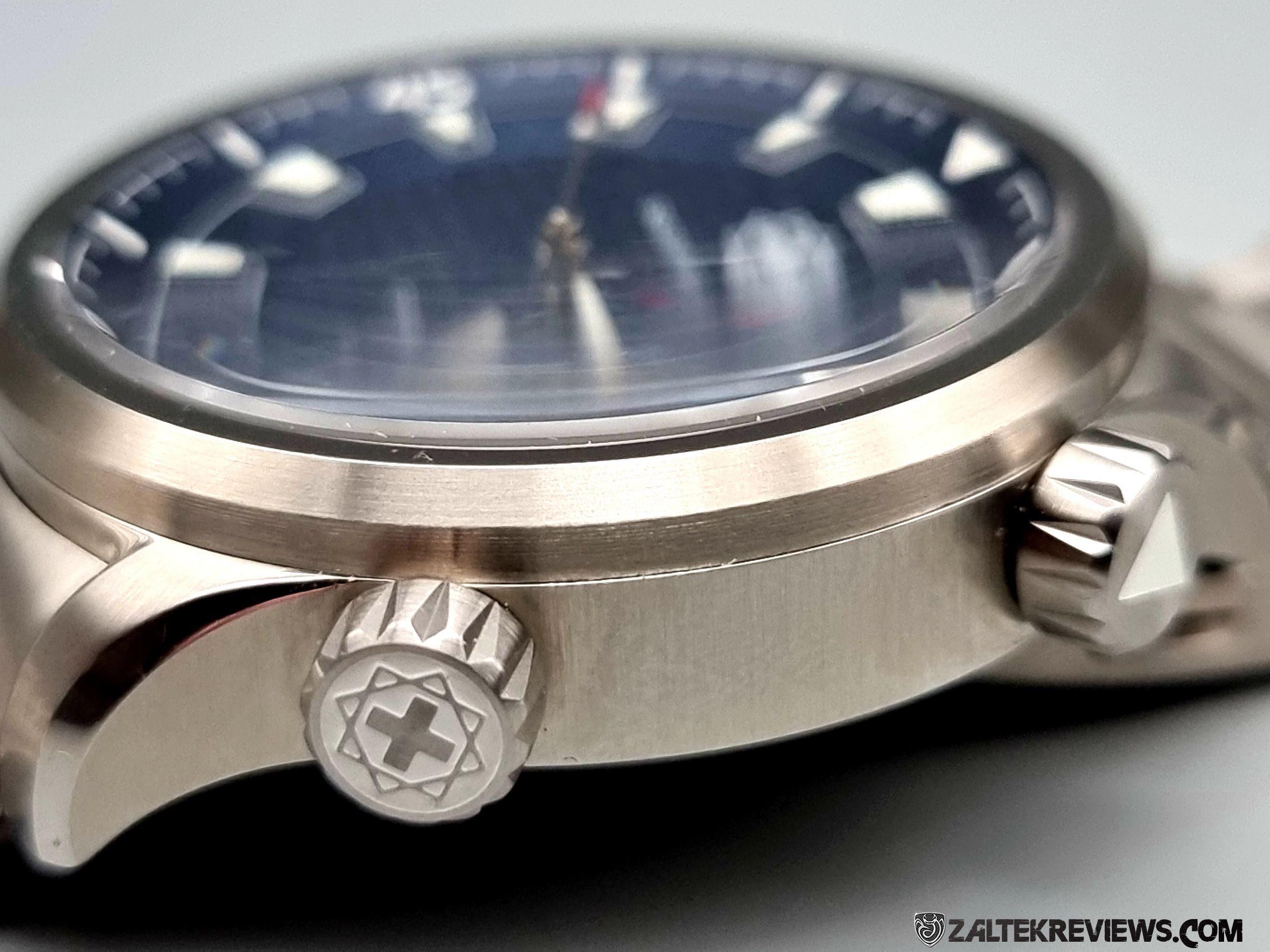 The case of the Second Hour Giant Stride has a diameter of 41.9mm. The lug to lug is 46.6mm and the overall thickness, including the domed sapphire crystal, I measured in at an impressive 12.2mm. The case, caseback, both crowns and bracelet are all 316L stainless steel. The finish of the case is mostly brushed, but with the addition of some rather tasty looking polished chamfered accents, that twist down over the edge of each lug. Overall, it looks utterly fantastic and it's this attention to detail that certainly gives the Giant Stride that wee extra touch of premium. The transition between the two finishes is fuckin' sharp, i.e. totally flawless!
The Giant Stride has a total water resistance rating of 200m. The proportions of the watch are actually a bit surprising, but the case does wear well on wrist, due to its compact lug to lug length of under 47mm. The dual crowns are perfectly sized too at 7mm each and they look great, with both the embossed logo and lumed sections. The issue I usually have with these compressor style divers, is that the crown that operates the internal bezel can usually be too easily adjusted or unintentionally moved. Not on the Giant Stride though, both crowns are screw down and are an absolute pleasure to use. Last, but not least, as you can see in the image below, we're also treated to a caseback that depicts the namesake of this watch, with an embossed design showcasing the giant stride dive entry.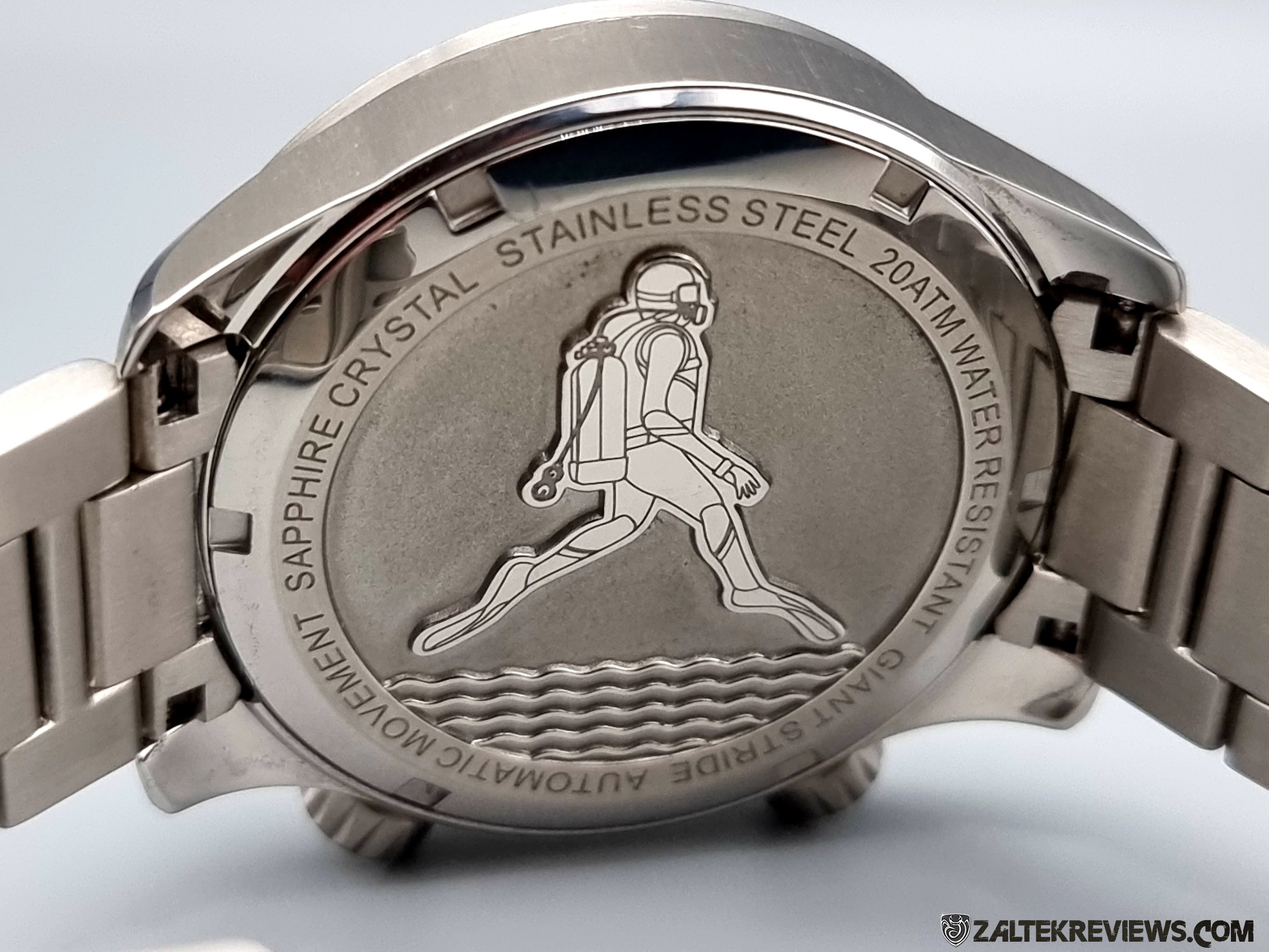 The Second Hour Giant Stride comes fitted as standard with a very high quality 20mm, fully brushed, H-link style, 316L stainless steel bracelet, that I'd definitely class as premium. It is certainly leagues above the usual microbrand shizzle, as it has all the bells & whistles that you'd hope to find from a bracelet of this quality. We get solid links throughout, female end links for instant articulation, screw pins for sizing, as well as a milled & signed clasp with a total of 3x micro-adjustment holes. When adjusting or sizing up the bracelet, even the screws used here are of superb quality, equating to zero chance of cross-threading.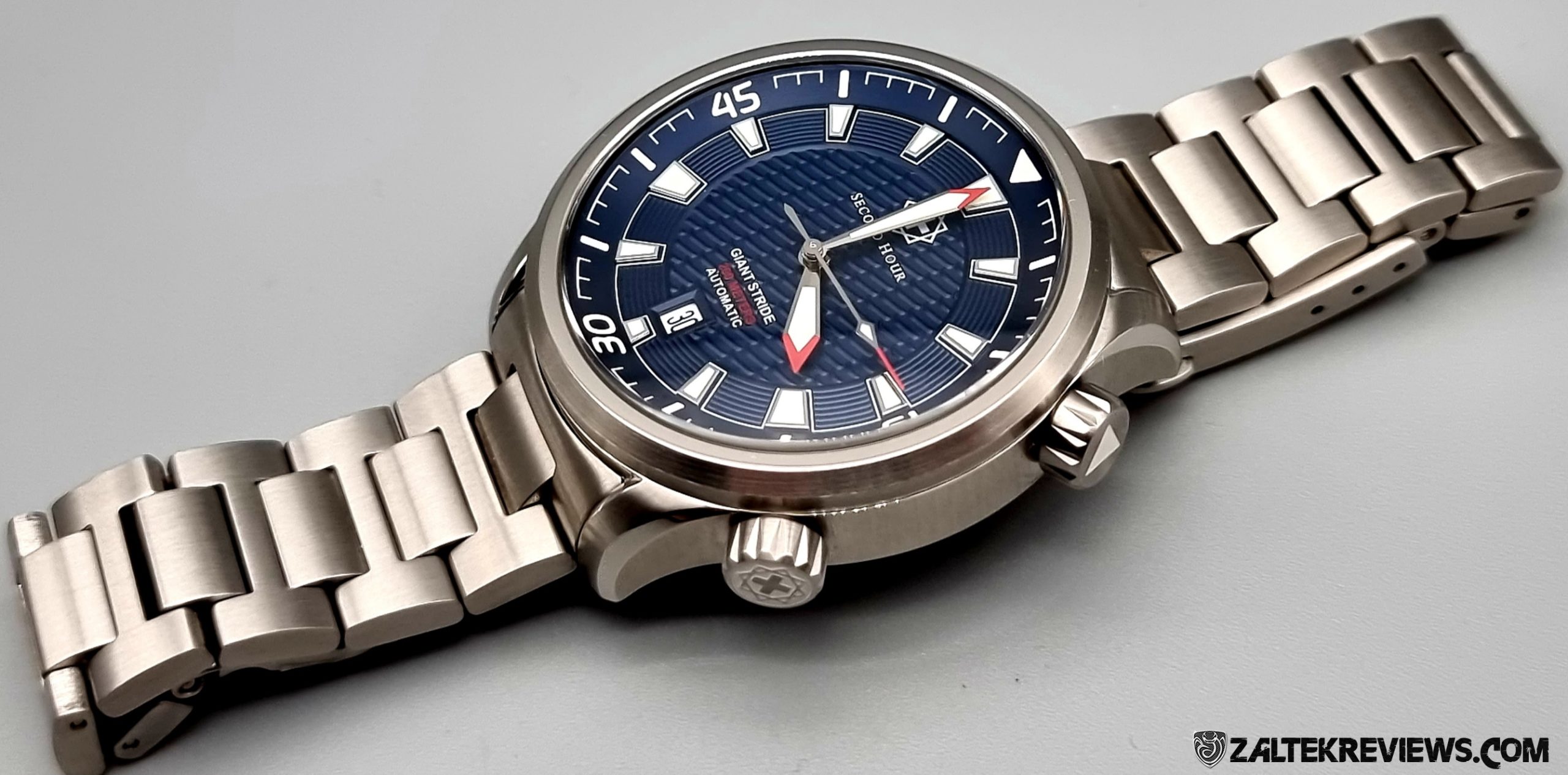 The clasp has polished chamfered edges, which is an appreciated wee extra, that does compliment the overall aesthetics of the bracelet very well indeed. Oh aye, before jumping on to the next part of the review, the bracelet itself also has a nice wee taper to it, going from 20mm at the lugs, down to 18mm at the thinnest most part, before heading back up to 20.5mm at the clasp. I've struggled to find any negatives with this bracelet, even the usually poor 3x micro-adjustment holes will be increased to x4 for production. If I really had to nit-pick though, seeing as the actual watch head is 42mm, I would've expected to see a 22mm lug width, instead of this 20mm. But hey, if those dimensions are good enough for an Omega Seamaster, then who the fuck am I to complain!?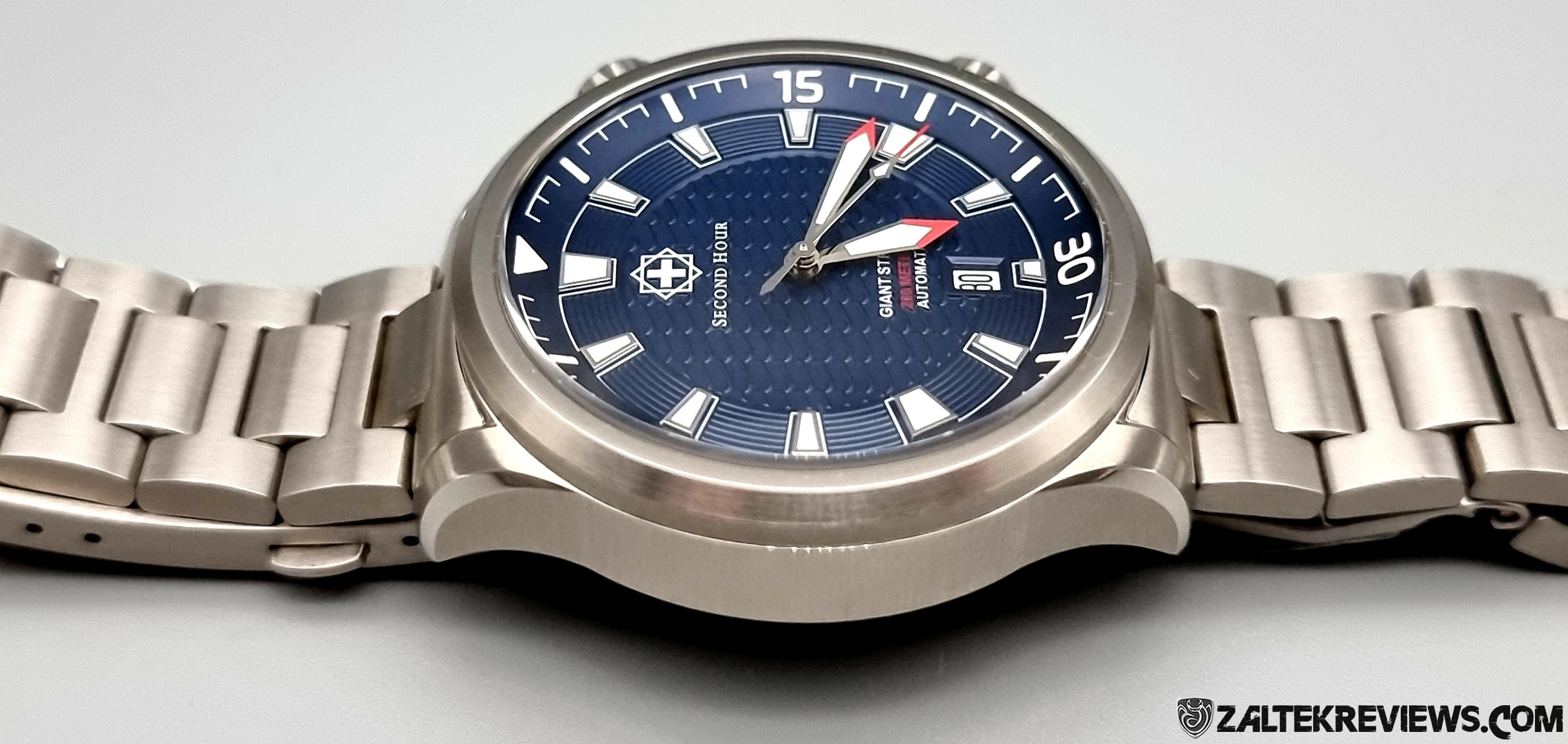 The chosen movement for the Second Hour Giant Stride is the high beat, smooth sweep Sellita SW200. This Swiss made movement is self-winding, has 26 jewels and the oscillating weight spins up, giving you up to a pretty decent 38 hour power reserve. The balance runs at 28,800vph (4Hz) and the movement is also hackable. Checking the accuracy on my trusty timegrapher, after running the Giant Stride for around four weeks, I was equally impressed with the final results, with this Giant Stride prototype coming in at an average of just +3 second per day, with minimal beat error. A very respectable result, all said and done.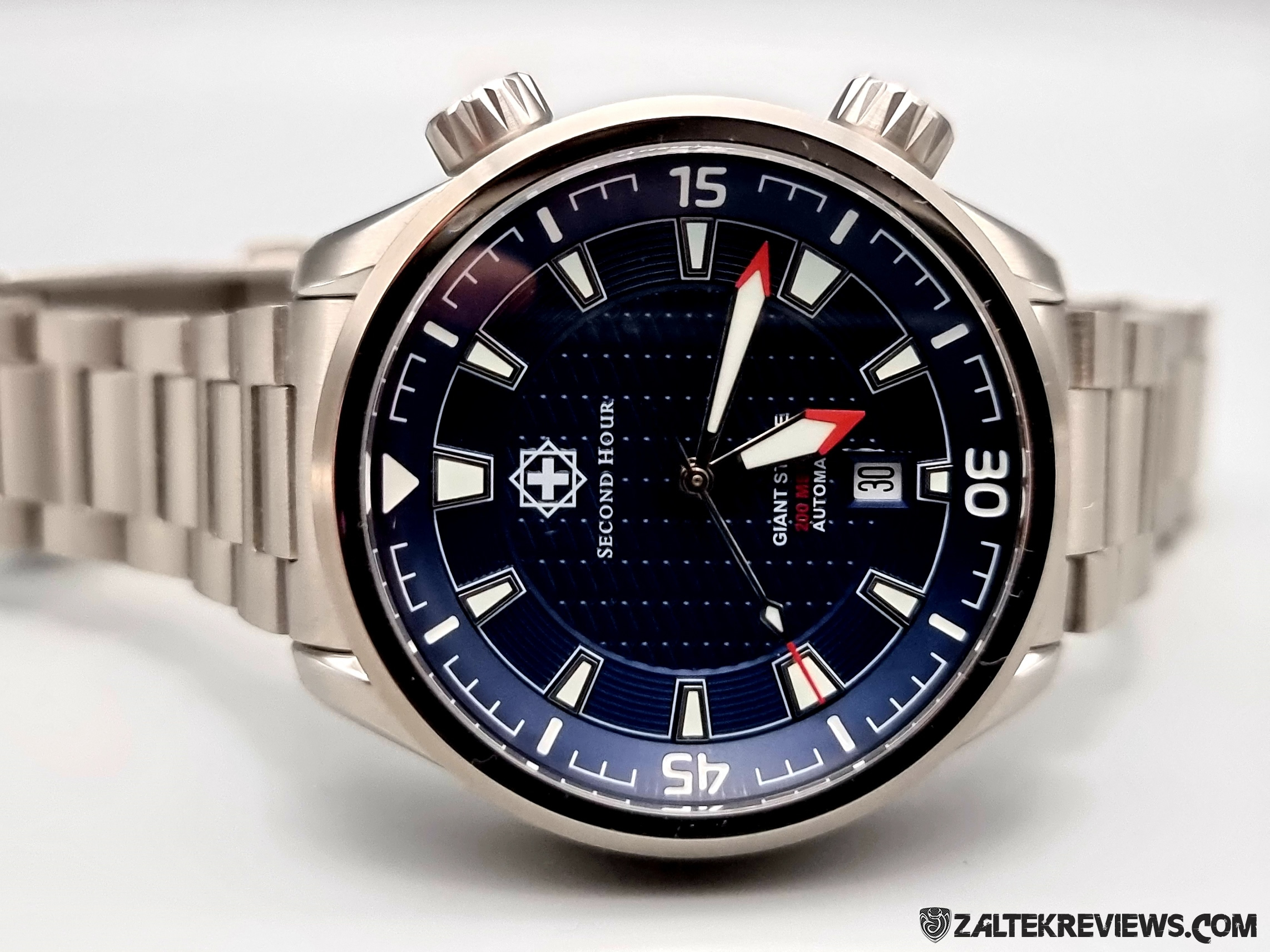 The Giant Stride has a very nicely manufactured internal bidirectional bezel, that is also lumed, The printed text on this fabulous embossed multi-textured blue dial is just the word Automatic and model name Giant Stride, with the depth rating of 200 meters sandwiched inbetween, printed in a contrasting red, The Second Hour logo is at the usual spot of just under the marker at 12 o'clock, although the actual text part 'Second Hour' will be removed for production. The hour markers are all applied and this all-blue model also has contrasting surrounds on every hour marker that matches the white on blue found elsewhere on the dial.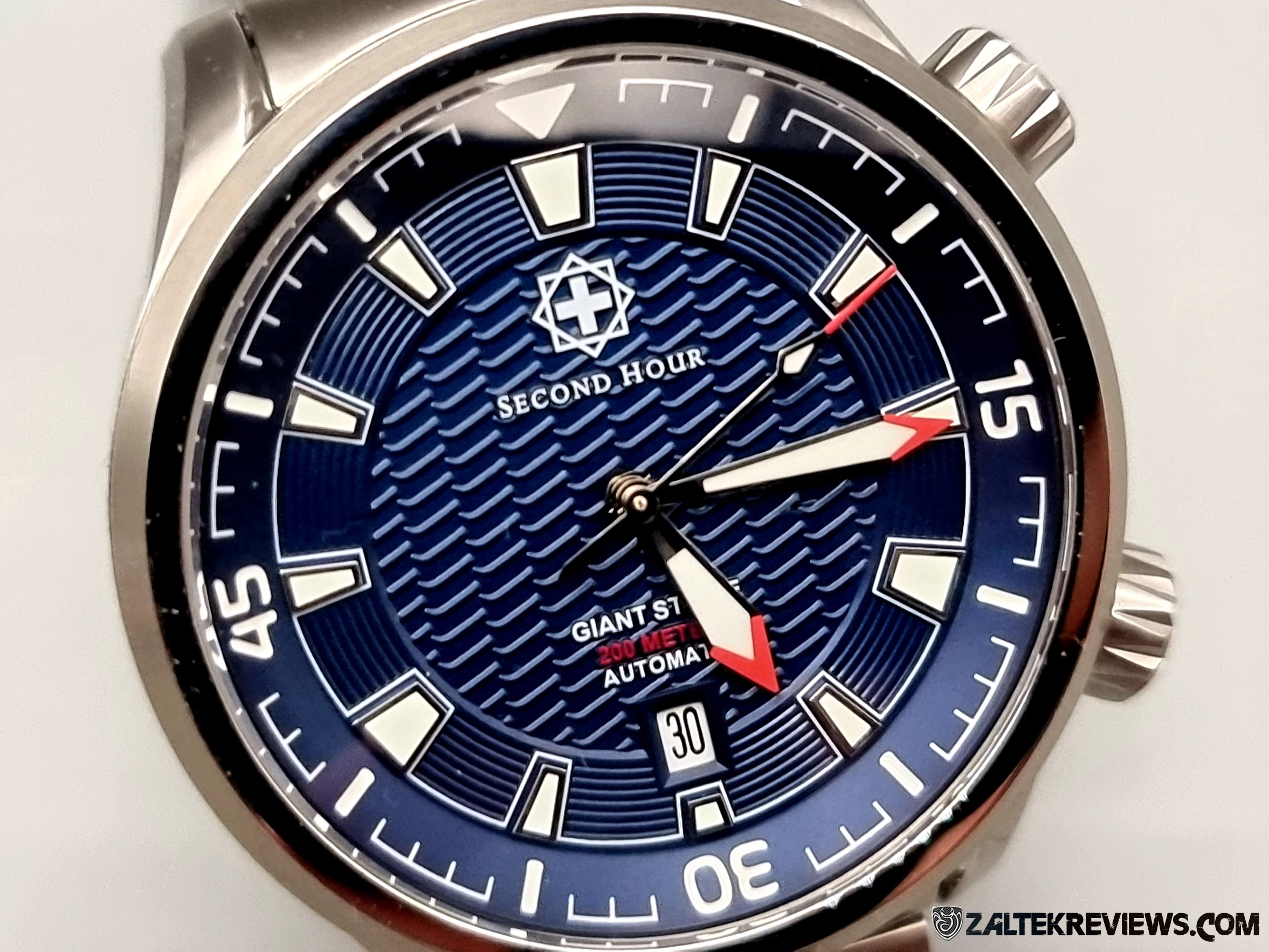 Much like Second Hour's other model, the Mandala, the dial really is a thing of beauty, with maticulous attention to detail. Thankfully, Peter also decided to place the date wheel at the 6 o'clock position, Just a bit of a shame that it's not colour-matched to the dial. Next up are the sword style hour and minute hands that are actually very well executed, with their true proportionate scale and lovely overall design, with the added bonus of red arrow tips on each hand. The lumed long diamond shaped section of the seconds hand is rather delicious too, with the actual tip of the hand reaching right out to the very edge of the dial. The tip of the seconds hand in also finished in red, matching the other red accents on the dial & hands. Overall, it's another tasty looking dial from Second Hour.
The lume on the Second Hour Giant Stride I can only describe as fuckin' phenomenal! The actual formula that's been applied to the Giant Stride is none other than Swiss Super-LumiNova® BGW9. It has not only been applied rather thickly and executed 100% perfectly, it's also initially rather potent, and although it will obviously fade a little over time, it's still very legible hours later during dark and low light conditions. Remember peeps, this prototype is nothing more than proof of concept! Normally with prototypes, the lume requires more work for the production models. I don't see how they can, unless they apply it with a bloody trowel!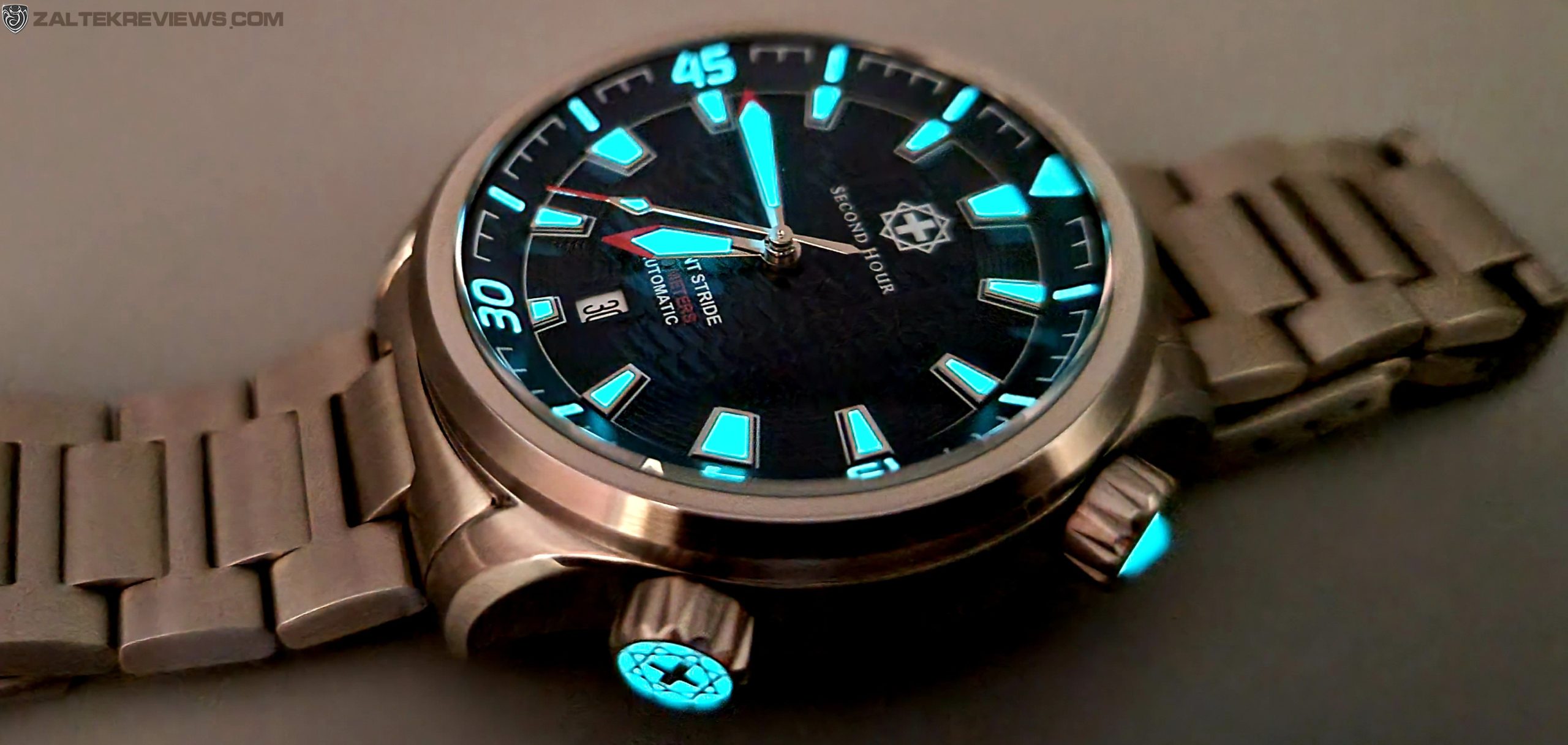 There is no doubt in my mind that the Giant Stride is an absolutely outstanding timepiece. However, even although the lug to lug is relatively compact at well under 47mm, so on paper at least, it should be ideal for my 6¾″ wrist right? Nope. The Giant Stride wears larger than you might expect, as it's all dial, if you know what I mean? It's not like your more traditional 42mm dial/bezel set up. Take the Zelos Swordfish for example, which is also 42mm, yet has an even larger lug to lug length of 48mm, yet in my eyes wears smaller than the Giant Stride. Weird huh? This isn't any fault of Second Hour by any means. It just is what it is.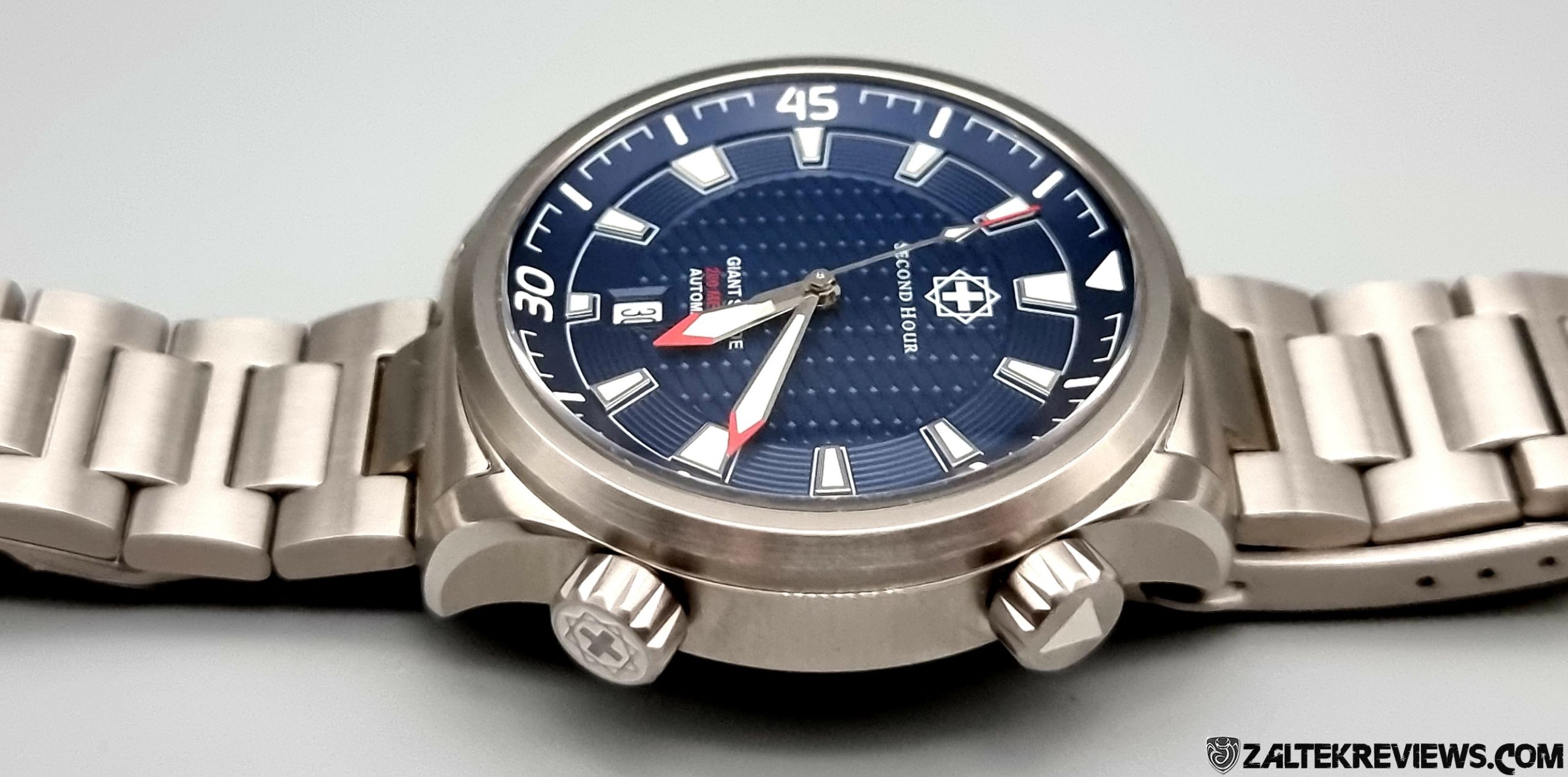 As compressor style divers go though, the Giant Stride from Second Hour is by far the best I've seen to date. The build quality is phenomenal, the choice of movement, the bracelet, the design of the dial… it's all absolute perfection! I just can't find any fault with the Giant Stride, well because, erm… there aren't any! None that I can find anyway… All I'll say is, just take note of how it wears on wrist, as I reckon you'd need a 7″ wrist or above to pull off the Giant Stride comfortably, without it coming across as a dinner plate/helicopter landing pad. A prime example of what I'm bumping my gums about is, I put the Giant Stride on wrist and asked my wife what she thought. Straight away she said it's a bit big isn't it (the watch honey, the watch, not my family jewels!).
Anyway, I then went through my phone and showed her a wrist shot of me wearing the Iridium Torpedo, a 42mm diver with a 50mm lug to lug and asked her if she thought it looked too large on my wrist. As you can probably guess, she said no, it looks fine. I hope you get my point and don't think, "what's this fucker on about, what's he been smokin'!?"
A massive thank you again, to Peter Sargison at Second Hour, for arranging and sending out the Giant Stride for review. Very much appreciated buddy! To view the Second Hour website, or even to join their mailing lists to be informed of new models etc, visit
secondhour.com.au
.
It takes me a fair amount of work (and time) to do these reviews. If you feel like supporting Zaltek Reviews to help towards my running costs, or even if you feel like just buying me a coffee, then please donate using the PayPal button below. Unfortunately, 97% of my readers just scroll by this section. If you feel like that I've given you maybe a few quids worth of knowledge and/or entertainment, then please take just a couple of minutes of your time to donate. Thanks.