Writing this article and subsequently trying to pick just one timepiece and award it as my Watch of the Year 2020 was harder than a 19yr old's boner in the red-light district, that's full of 30 quid hookers eagerly awaiting some fresh meat! (Where the bloody hell did that analogy come from? – (I was going to edit that out, but fuck it, it's staying in)).
Anyway… Think about it peeps, I've reviewed loads of different watches throughout the year and trying to put this task into perspective, for those of you reading this with rather substantial watch collections, it's like me asking you to pick just one of your watches, that you think stands head & shoulders above all the rest. Not a very easy thing to do, is it?
As I said, I've had a lot of really good watches (and a few that were really shite) in for review, whether I've purchased them myself, or they've been sent to me directly from the manufacturer. I started writing this article in late October, trying to give myself enough time to go back and amend the contenders list many times as I deemed necessary. As it currently stands, at the time of this very last edit, I've narrowed it down to just eight watches. There is however, my addition of a few honourable mentions, for watches that thoroughly deserve a shout out from Zaltek Reviews. So, let's get on with it…
The Contenders for Watch of the Year 2020 are...
Everyone knows that I'm a bit of a Zelos fan, as I've owned many of their models since the company launched in 2014. The very popular Zelos Horizons GMT v2 turned up after I ordered it in May of this year. I pulled the trigger on the white Zelos 'storm trooper' frost edition and upon reviewing, it won the Zaltek Reviews Platinum Award!
I reviewed the latest Freediver II early in the year and to be honest, it's been a firm favourite of mine all year long. Watches have come and gone, yet I've struggled to find any that could match the build quality, design and value that the Traska Freediver II offers. The 3rd version is on the horizon, yet I just can't see how this one can be improved.
The Lorier Hydra SII was yet another watch that I was really looking forward to seeing in 2020. I had been trying to get one of these in for review for ages, but the production was slightly delayed due to COVID-19. I patiently waited and eventually got one from Lorier, and boy oh boy, it was most certainly worth the wait!
A rather late entry to the Watch of the Year list, having just arrived at the end of November. Officially, it's not being released until March of next year, I did however get my grubby little hands on the blue prototype. Punching way above its weight, with its superior quality & design, the Second Hour Mandala is a strong contendor for WOTY.
The Traska Summiteer was yet another purchase of mine in early 2020. This time however, it was through Kickstarter. After waiting the necessary few months for manufacturing to be completed, it turned up in Spring. I was utterly blown away with just how gorgeous it is. A truly classic design, stunning build quality and super thin at just under 10mm!
No contender list would be complete without the addition of a model from NTH Watches. Being a big fan of NTH, especially their 40mm Sub range, I love it when a new model lands on my desk. This year, it was time to look at their new 2K1 range, specifically the NTH Thresher. A chunky timepiece, but the build quality is phenomenal!
Marc & Sons Elegance Series
Not having ever reviewed anything from Marc & Sons before, I was a little sceptical of dishing out hundreds of pounds on their new Elegance Series. I needn't have worried though, as the Marc & Sons Elegance Series is an absolute beauty! Solid build quality & fantastic attention to detail. It's most definetly German engineering at its best!
*Drum Roll Please…*
As mentioned above, I've only had the Second Hour Mandala here for just a short time, but to be honest, there hasn't been any other watch that I've experienced in my years of being a watchaholic, that can match, or even come close to the design, build quality and superb attention to detail of the Mandala. The overall package is truly phenomenal and at well under $500, it totally SCREAMS value for money! Second Hour have most definitely evolved into a premium microbrand.
There are loads of watches out there that I recommend on a regular basis, much like those I've mentioned in the contender list. However, without question, I wholeheartedly recommend the Mandala from Second Hour 110%. If you're thinking of ordering one in the new year, all I'll says is, GO FOR IT. You will NOT be disappointed! It's a stunning piece!
As respected microbrands go, Christopher Ward for example, (although to be fair, most people would class them more of a boutique brand these days), a lot of them do offer absolutely fantastic watches, but at a much higher price… Without a shadow of doubt though, I'd still choose the Mandala over anything any other microbrand currently has to offer.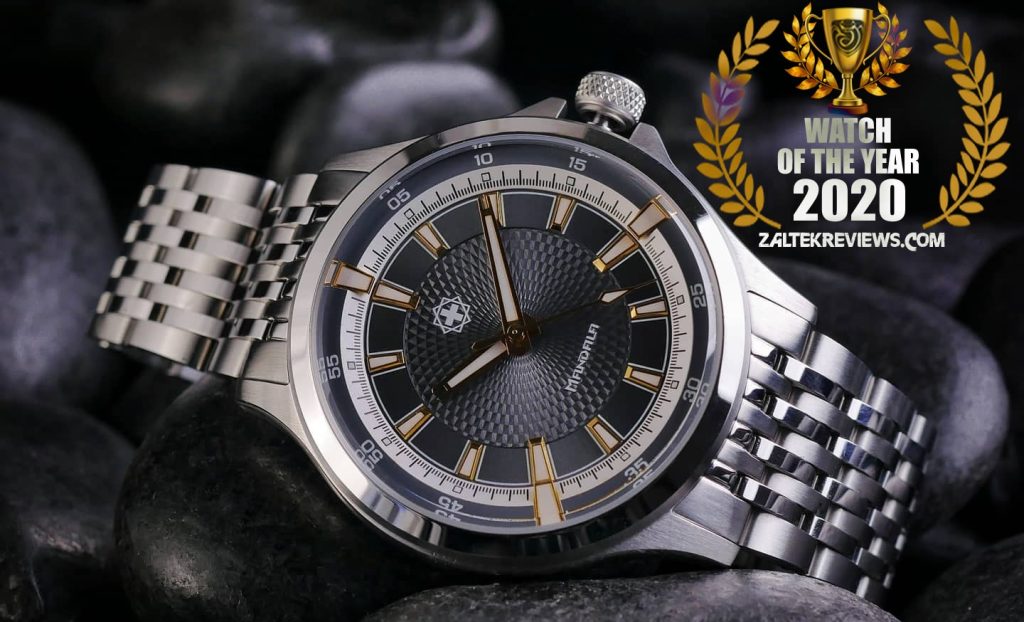 A huge congratulations goes out to Peter Sargison and his small team at Second Hour. You have designed a phenomenal, very unique and truly beautiful sports watch, with outstanding build quality that is thoroughly deserving of the Zaltek Reviews' Watch of the Year Award. Well done!
It takes me a fair amount of work (and time) to do these reviews. If you feel like supporting Zaltek Reviews to help towards my running costs, or even if you feel like just buying me a coffee, then please donate using the PayPal button below. Unfortunately, 97% of my readers just scroll by this section. If you feel like that I've given you a few quids worth of knowledge and/or entertainment, then please take just a couple of minutes of your time to donate. Thank you.