Manufacturer:

NTH Watches

| Price: $725 USD (£555 GBP, €615 EUR)
I've done quite a fair amount of NTH Watch Reviews over the last couple of years and yet I always still find it rather exciting when a new NTH timepiece lands on my desk. I've always been a fan of the NTH Subs, so when the owner of NTH, Chris Vail, contacted me to ask if I would like to review one of their new larger 2K1 Sub range, I jumped at the chance. You might be wondering what the hell the "2K1" is all about? Well, it's much more simple than you might think… 2K1 = 2001, aka the 2001ft of water resistance that this new range of NTH Subs have. The entire 2K1 Sub range are obviously vintage inspired, specifically by the first dive watches that were fitted with helium escape valves and used primarily for extreme-depth saturation diving in the late 60's & early 70's; namely COMEX Submariners and the iconic Rolex Sea-Dweller.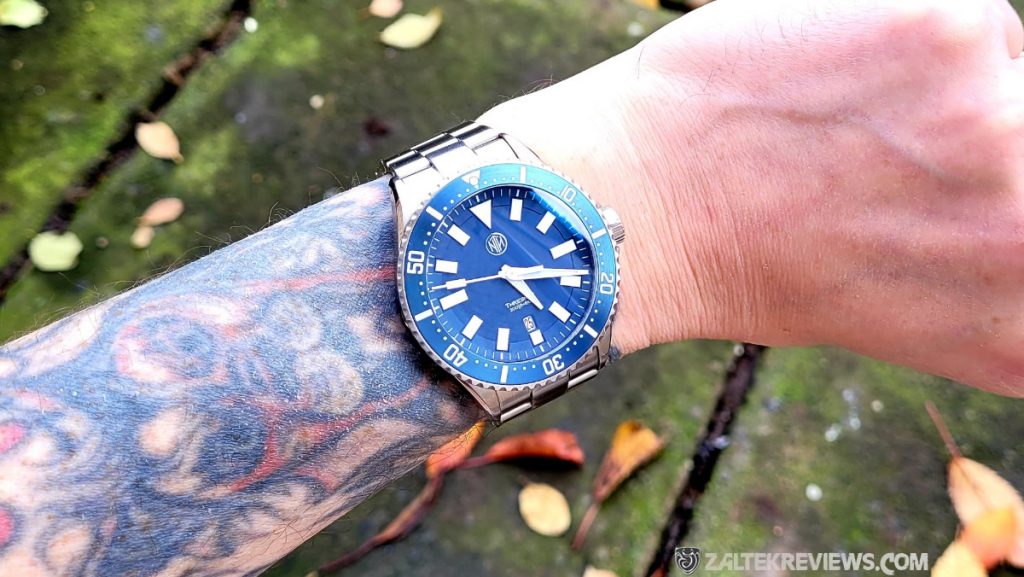 Specifications
Dimensions: Diameter – 43.4mm, Thickness – 12.8mm, Lug to Lug – 50.8mm, Lug Width – 22mm
Movement: Miyota 90S5/9015, 28,800vph, Hackable, Self Winding, 42hr Power Reserve
Case Material: Brushed 316L Stainless Steel with Polished Chamfered Edges
Bracelet: Brushed 316L Stainless Steel, Solid Links, Screw Pins, Milled Clasp
Crystal: Double Domed Sapphire, Underside Anti-Reflective Coatings
Bezel: 120 Click Unidirectional, Top-Grade PVD/DLC Stainless Steel Insert, Fully Lumed
Water Resistance: 610m / 61ATM / 2001ft
Lume: Tritec Swiss Luminova® BGW9
Crown: 7.5mm, Screw Down, Signed, Lumed Logo   
Caseback: Solid, Screw Down        Weight: 164g (Sized for my 6¾″ wrist)  
Warranty: 6 Years        Where to Buy: NTH Watches |

SeriousWatches

/

Watch Gauge



Options: Date / No Date     Finish / Dial Colour: Black, Blue, Full DLC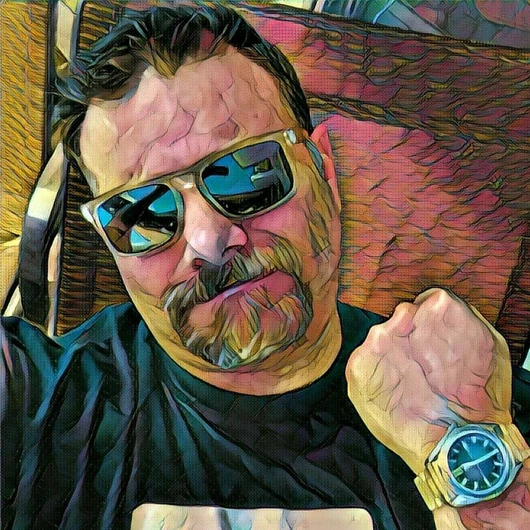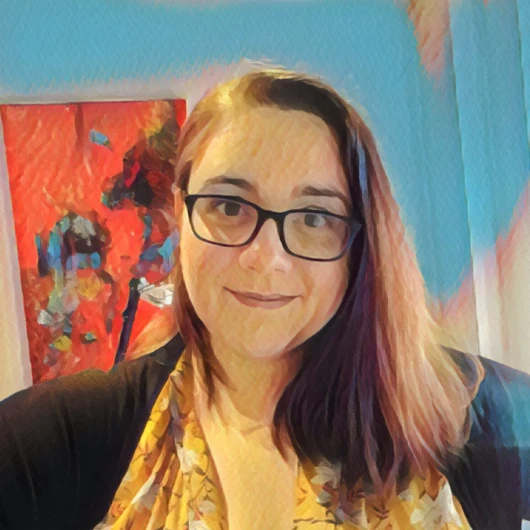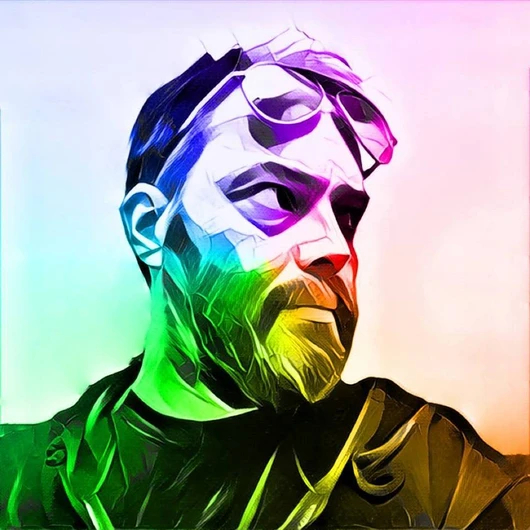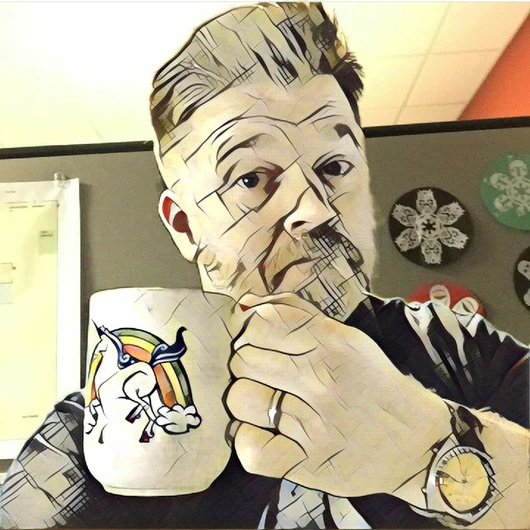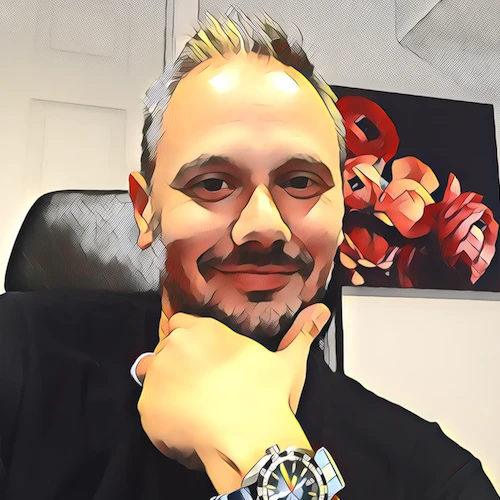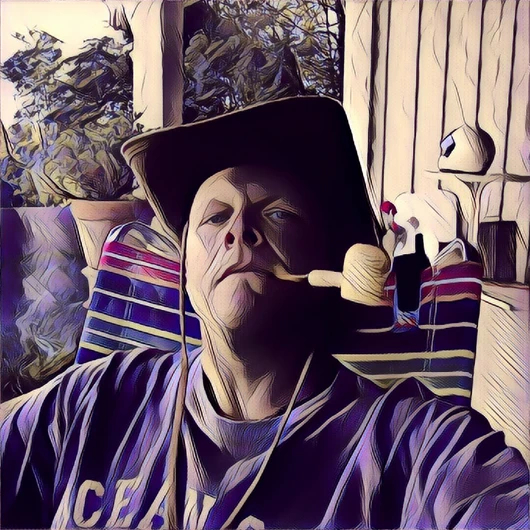 "The 2K1 Subs are our tribute to the world's first dive watches fitted with helium escape valves, made for record-setting, deep saturation diving in the late 1960's and early 1970's. Like those innovative watches, the 2K1 Subs are rated to 2001ft (610m/61ATM) of water resistance. Each 2K1 Sub model shares the same oversized, lumed crown and pointed crown-guards case, with a helium escape valve at 9 o'clock, a slightly raised, double-domed, anti-reflective sapphire crystal, and a no-nonsense caseback with minimal decoration. While the cases of the 2K1 Subs are vintage-inspired, the Swiftsure and Thresher are thoroughly modern designs, featuring applied markers, a beveled minute track and a lumed, DLC/PVD hardened steel bezel. Despite its extreme pressure resistance, the 2K1's innovative case is still only 13mm thick. The chamfered sides and downward-curved lugs give the case a streamlined, wrist-hugging shape."
As you've might have guessed by now, the NTH Thresher has a rather, more than substantial, water resistance rating of 610m, thanks to the next level build quality as well as the inclusion of a screw down caseback & crown. The overall proportions of this NTH are perfection however, with the way it sits on my wrist, due to the dimensions, makes it right on the bleeding edge of what I would normally wear. It's pretty obvious, that these new 2K1 Subs are exclusively designed for the larger wristed enthusiast. If you have a smaller wrist than me (6¾″), forget it, go and buy one of the 40mm Subs.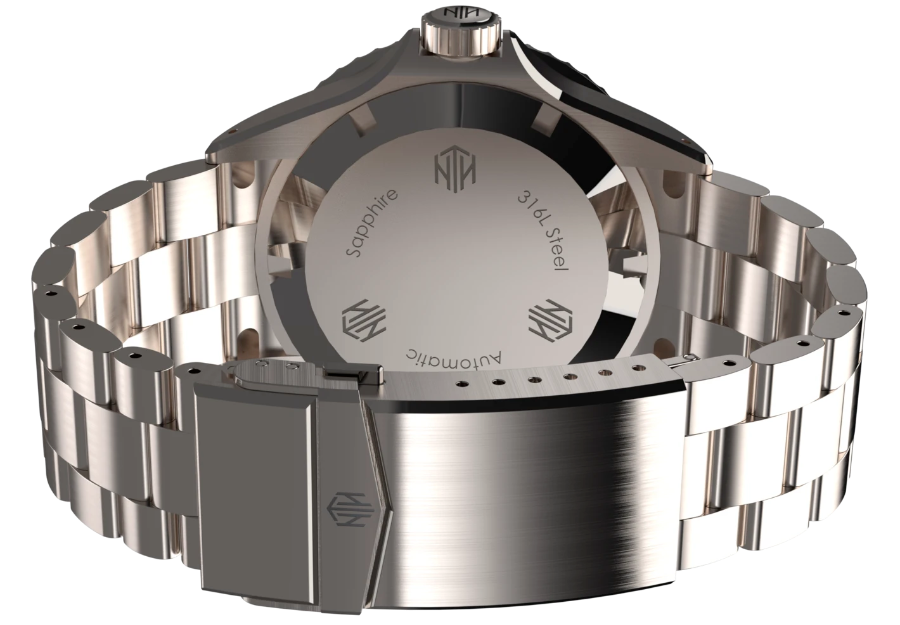 The signed, lumed crown is superb and the quality is definitely up there with the rest of the NTH Watches that I've reviewed. There is zero wobble or backplay when the crown is in use and you can also feel a nice wee pop when you unscrew it. Obviously, the crown is a bit larger than those used on the original 40mm Subs, coming in at a quite beefy (but perfectly sized) 7.5mm. The caseback is also nicely executed, with no fandangled or fussy artwork, just a few NTH logos and basic specs etched around the edge. I wouldn't call it sterile as such, more of a refreshingly clean & classy approach.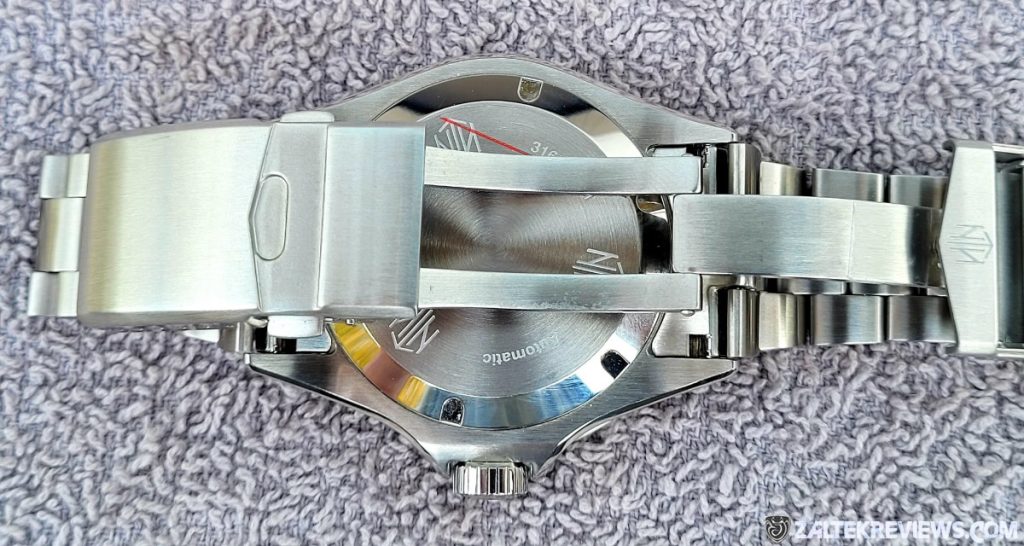 The NTH Thresher 2K1 comes fitted as standard with a gorgeous and very well manufactured 22mm stainless steel bracelet. It is of the usual excellent NTH top-grade quality, that we've all come to expect, with the usual bells & whistles that us watch enthusiasts crave… solid end links, great quality screw pins (that don't fall apart) for simple and easy sizing and/or adjusting, as well as a lovely milled, signed clasp. The bracelet itself tapers from 22mm at the lugs, down to 17.5mm at the thinnest most part and back up to around 20.5mm at the milled clasp. Talking of the clasp, I've seen this style on other microbrands, but none of them are as good as the NTH versions, they always feel just so well sorted. 👍
The chosen movement for this NTH Thresher 2K1 is the smooth sweep, high beat, Miyota 9015 movement, with the subsequent no-date models being fitted with the Miyota 90S5. Both of these movements are very slim Japanese made 28,800vph, 24 jewel calibers, often compared to that of the Swiss made ETA 2824. Power reserve is also very healthy at 42 hours. Checking the accuracy after running the Thresher for just over a week, mainly on wrist and only occasionally in my winder, I was very pleased with the results, with the Thresher coming in at a very respectable +4.8 seconds per day.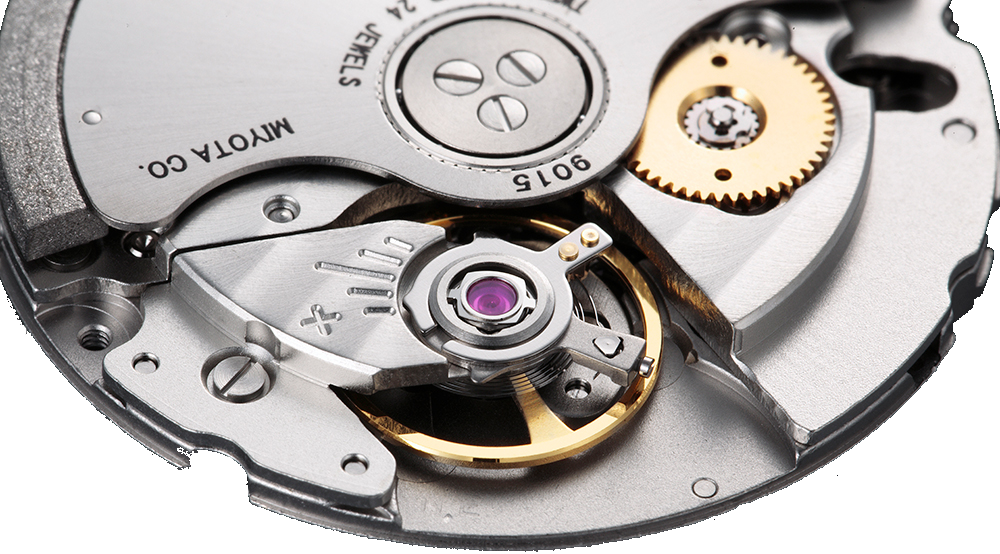 The NTH Thresher has a 120 click unidirectional bezel with a fully lumed DLC stainless steel insert. It is of outstanding quality with everything lining up absolutely perfectly! The bezel action is just like every other NTH bezel that I've had hands on, absolutely superb with zero backplay. The printed text on the dial is the model THRESHER with the depth rating of 2001ft=610m just below finished in white, that matches the NTH logo at the usual spot of just under the 12 marker.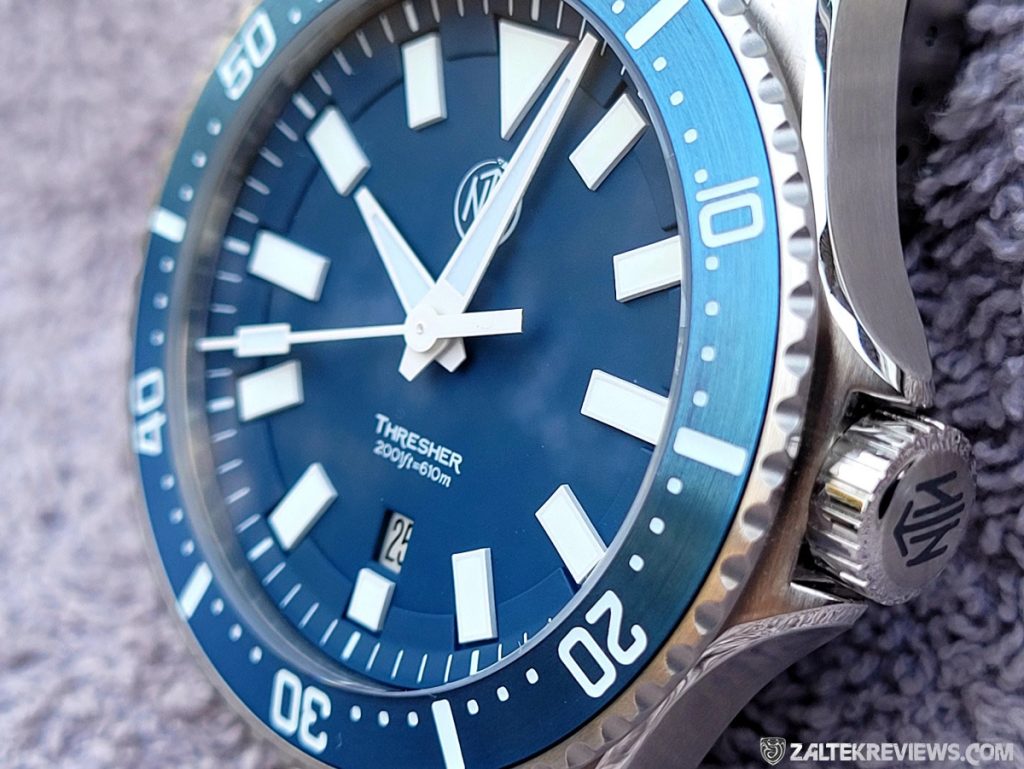 All of the hour markers are applied on the 2K1 Subs, with slightly larger batons at the 3 & 9, with a half-sized marker at the 6 o'clock position on the date models. To enable good orientation of the watch in low light conditions, NTH have also chosen to add a rather large, but still proportionate triangular marker at the 12 o'clock position. The chapter ring is finished in a matching blue, with a clean printed minute track, as well as cut outs where the hour markers nestle into.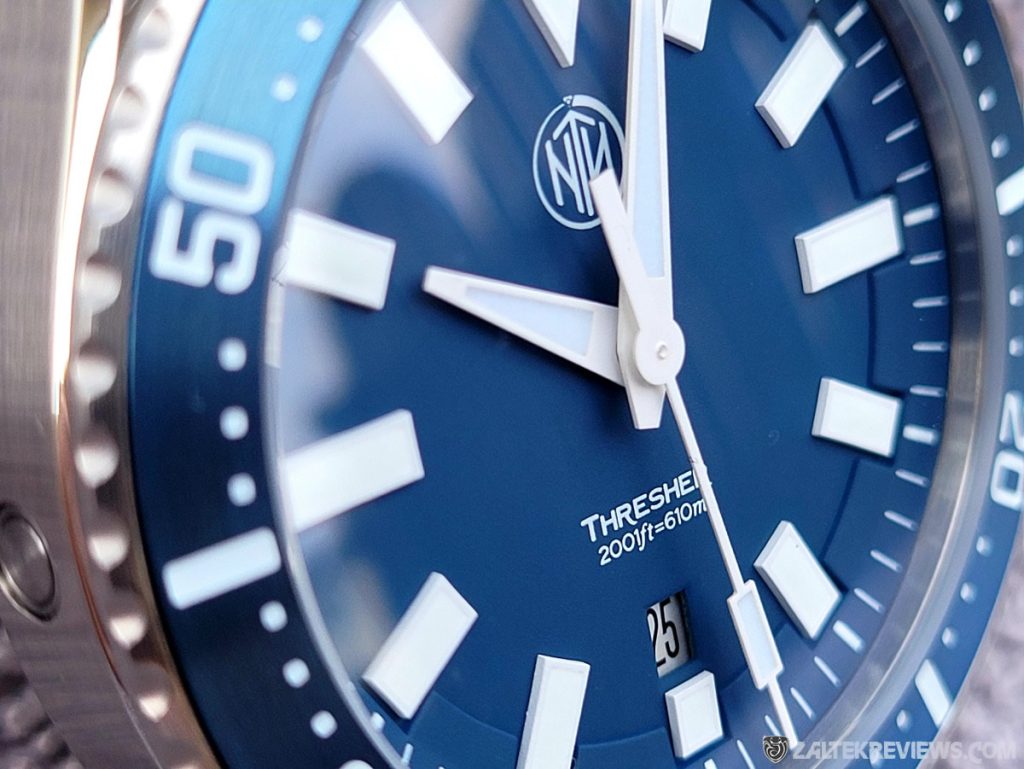 As you can see in the images, the hour and minute hands are very nicely done with their proportionate and very legible design. The seconds hand is great too, that's also finished in white, matching the hour & minute hands. There's also a wee lumed rectangular section and the tip itself reaches right out to the minute track on the chapter ring. There is also a borderless date window at the 6 o'clock position, which does look great… and although it's not colour-matched to the dial, it does match the rest of the white markers and text. The date wheel is only colour-matched on the black version.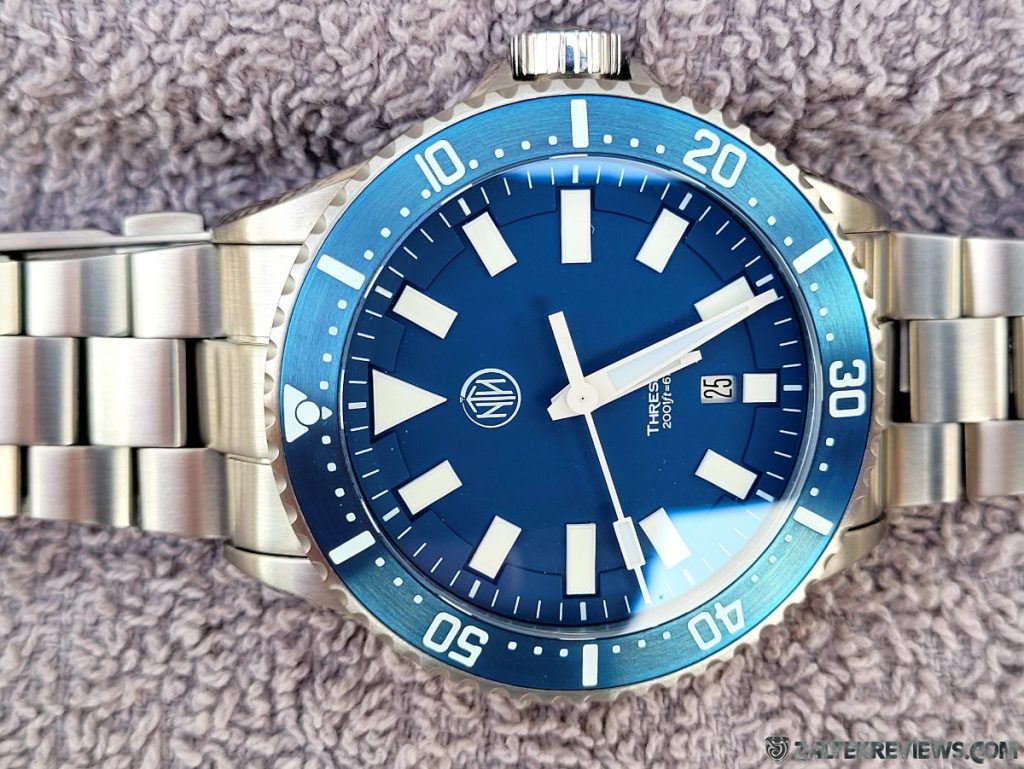 The lume on the NTH Thresher is nothing short of fuckin' amazing! I've seen very few watches with lume that's as good as this. The actual lume that has been applied to the NTH Thresher is Tritec Swiss Luminova® BGW9. The image below was taken just after 5 minutes of being outside, it hasn't been given burts of light from a UV torch like I usually do, it quite simply doesn't need it to capture how potent the lume actually is. Granted, like most watches, it will fade over time, but it is most definitely still legible throughout the night. I've got up at 4am for a slash and I can still clearly see what time it is.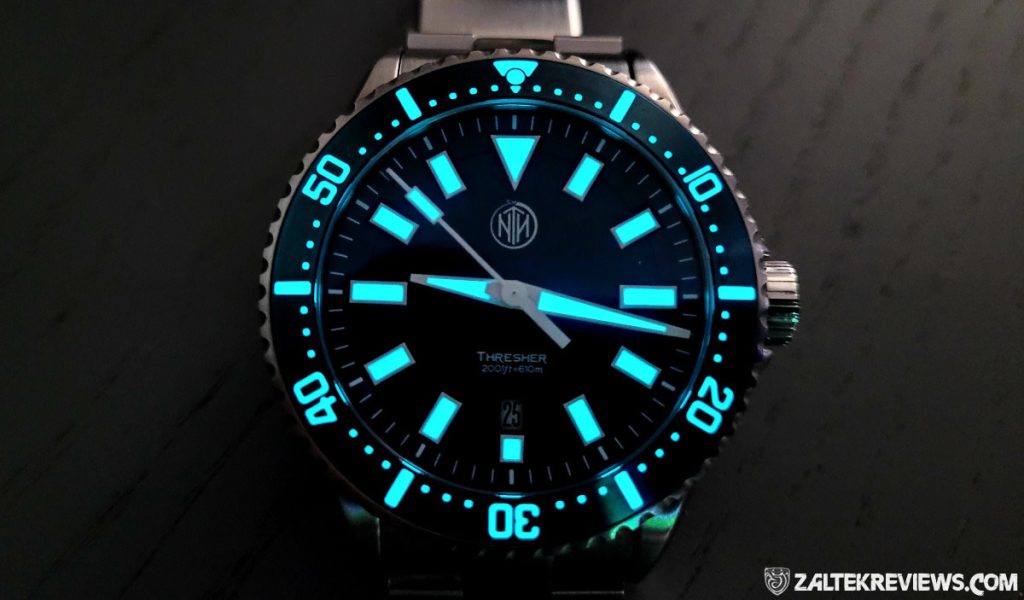 I think I've written this conclusion about 4 times already. Each and every time I try and write it, it just doesn't come across as to what I'm really trying to say about this new 2K1 Sub range from NTH. Anyway, so here we go again with my bleeding fingers… In short, it's an absolutely beautiful watch with exceptional finishing and build quality throughout. I  definitely recommend it 100% to anyone that's got just over a monkey to spend on an automatic dive watch. Some people might look at the price of this watch and think, "that's rather expensive for a microbrand"! Well, listen to me guys… work harder, do some overtime, flog one of your crappy watches, do whatever it takes to get one of these in your collection!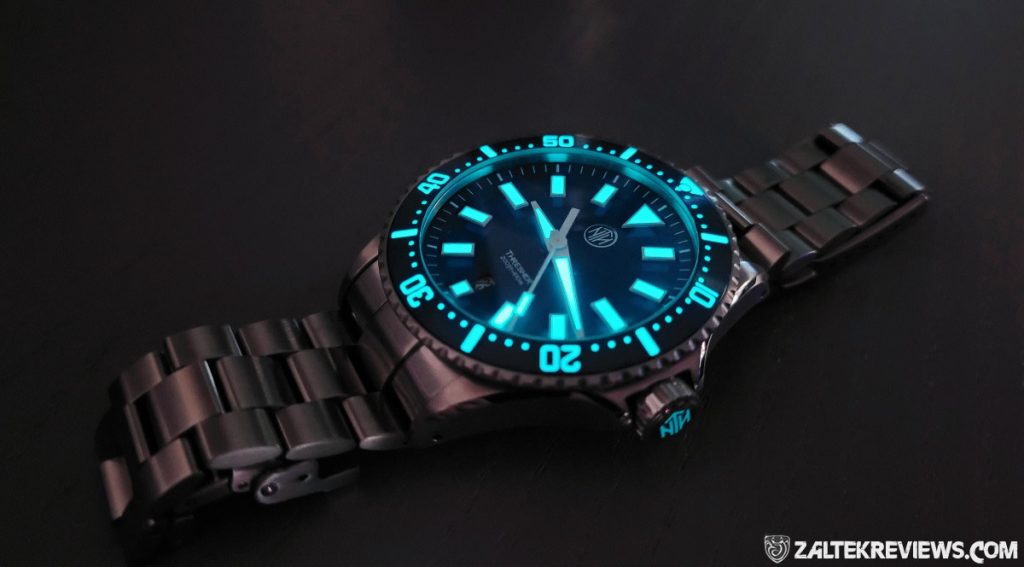 These NTH 2K1 Subs are a definite league above your normal run of the mill, 300 quid microbrands. Even if you're on the fence about pulling the trigger on one of these, trust me when I say, the quality of these are even better than the smaller Subs of around a year or 2 ago. These really are that good! Fuck me, I even stated earlier that this new range was on par, or even better (quality & finishing wise) than the light catcher cases that you find with Christopher Ward C60 & C65's. Those will also cost around 750 quid and that's with their usual discount voucher being taken into account.
My only word of warning with these 2K1 Subs though, is make sure you have a wrist big enough to comfortably pull it off so it won't look like a fuckin' helicopter landing pad strapped to your wrist. (My recommendation; 7″ and above).
TLDR; STOP FANNYING ABOUT AND BUY THE FUCKIN' THING!
NTH Watches – A big, beautiful bastard of a watch, that without question, I wholeheartedly recommend.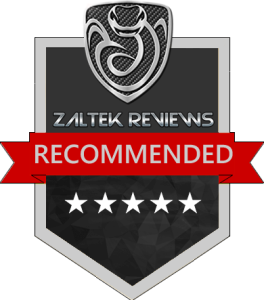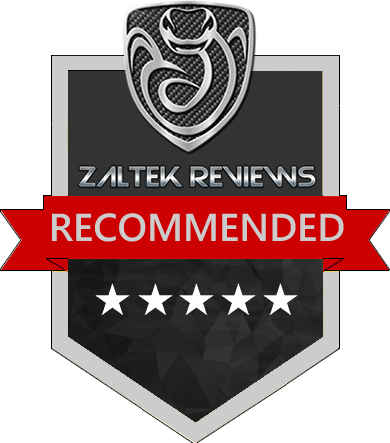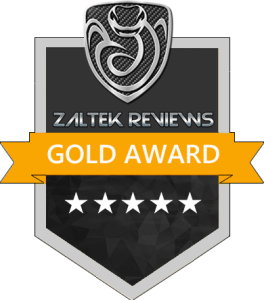 10/10 - HIGHLY RECOMMENDED!
A massive thanks to Chris Vail for allowing me to get my grubby hands on a 2K1 Thresher. Very much appreciated. To view the NTH website, or to join their mailing list to be informed of new models etc, visit
NTH Watches
.
It takes a fair amount of work to do these reviews. If you feel like supporting Zaltek Reviews to help towards my running costs, or even if you feel like just buying me a coffee, please use the PayPal button below.  Thanks very much.
[paypal-donation purpose="Donate to Zaltek Reviews" reference="Ref:Zaltek" button_url=""]