Manufacturer:

Relio Watches

| Price: from $375 USD (£285 GBP, €315 EUR)
Well, it's yet another find on Instagram with this one. I hadn't even heard of Relio Watches before, so I decided to do some research before reaching out to the brand. As it turns out, the brand is so brand-spanking new, their website wasn't even live at the time. I wouldn't worry about that though, as Relio Watches are totally self-funded and will NOT be launching a crowd funding Kickstarter campaign (which is rather refreshing to hear). Relio plan on taking pre-orders on their own website, from the end of this week, with delivery expected around February 2021. I've had the watch here now for a good few weeks, but as we're now in the middle of November, I had better get my arse into gear and review the bloody thing!
Specifications
Dimensions: Diameter – 38.2mm, Thickness – 11.6mm, Lug to Lug – 45.8mm, Lug Width – 20mm
Movement: Miyota 9039, 28,800vph, 4Hz, Hackable, Self Winding, 42hr Power Reserve
Case Material: Brushed 316L Stainless Steel
Bracelet: 316L Stainless Steel, H-Link, Solid Links, Screw Pins, Signed Clasp
Crystal: Double Domed Sapphire, Underside Anti-Reflective Coating
Bezel: Fixed, Polished        Lume: Swiss Super Luminova® BGW9
Crown: Screw Down, Signed       Water Resistance: 100m / 10ATM / 330ft
Caseback: Screw Down, Exhibition Display, Sapphire Crystal
Warranty: 1 Year      Weight: 123g (Sized, (6¾″ Wrist))   
Where to Buy:

Relio Watches

        Dial Options: Teal or Red Fumé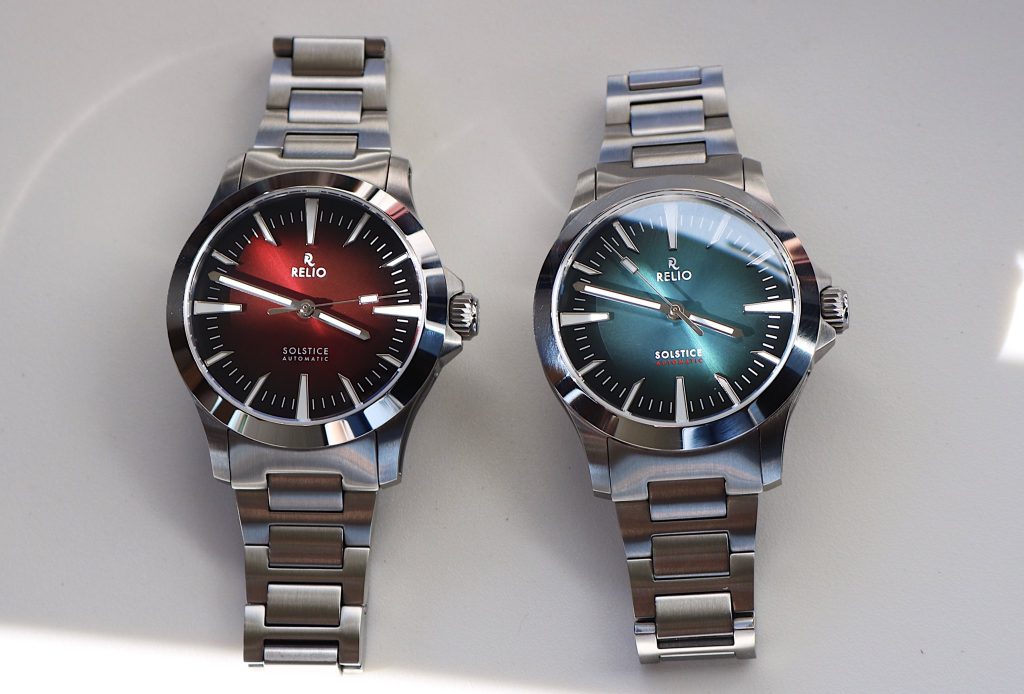 Relio Watches - A Brief Introduction
"Relio began as a series of sketches that were never meant to see the light of day. It was a venture that didn't feel possible, especially when we already had our careers paved in one direction. Formed by Leandro Fernandez and his partner Anais Bergues, Relio became a symbol of what could be, if they broke away from what was expected of them and instead pursued their true passions. Our logo the phoenix, has been an integral part of that mission. The phoenix represents rebirth, new beginnings and this is what the last few years have been about for us - moving away from what makes us comfortable and taking risks. That is what we represent; the start of something new and not being afraid to take chances. At Relio we want to inspire through our creativity and make others want to take chances on themselves. Leandro and Anais have worked together to ensure every design they create pays close attention to detail and brings in elements that gives creation something unique."
The case of the Relio Solstice has a diameter of 38.2mm. The lug to lug is 45.8mm and the overall thickness, including the double domed sapphire crystal, I measured in at a very svelte 11.6mm. The entire case, caseback surround, bezel, crown and bracelet are all 316L stainless steel. The finish of the watch head itself, is entirely brushed but with a satin, almost sandblasted finish that runs along the side of the case as you can see in the image below. I've got to say… I wasn't really keen on this, until I actually saw the watch in person. I do actually like it, as it's certainly a unique approach. Another point to note is just how thin the Solstice is, Relio certainly know how to maximise the slim profile of the Miyota 9039.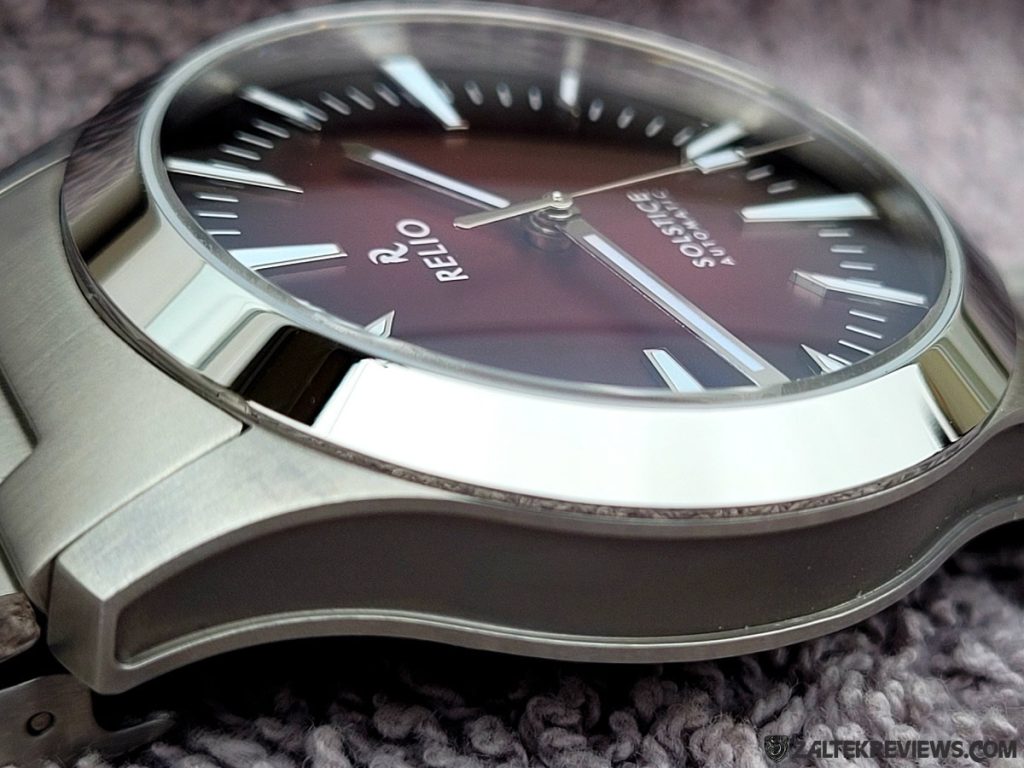 The Relio Solstice has a water resistance rating of just 100m, although I do feel that's a rather conservative rating, it's plenty for an everyday sports watch though. The proportions of the watch, in my opinion, are absolutely spot on. It also fits my 6¾″ wrist perfectly, due to the relatively compact lug to lug and overall dimensions. Comfort wise, the Solstice wears brilliantly on wrist and it's very comfortable indeed, with it conforming to your wrist perfectly.
The signed crown is superb, not too big or too small with plenty of grip. There is absolutely no wobble whatsoever when the crown is in use and you can also feel a very nice wee pop as you unscrew it. You can also see and feel the amount of work that has gone into the crown, making it feel rather premium. The caseback has an exhibition display with sapphire crystal that shows off the ultra slim Miyota movement. There are also the usual basic spec sheet etched around the edge.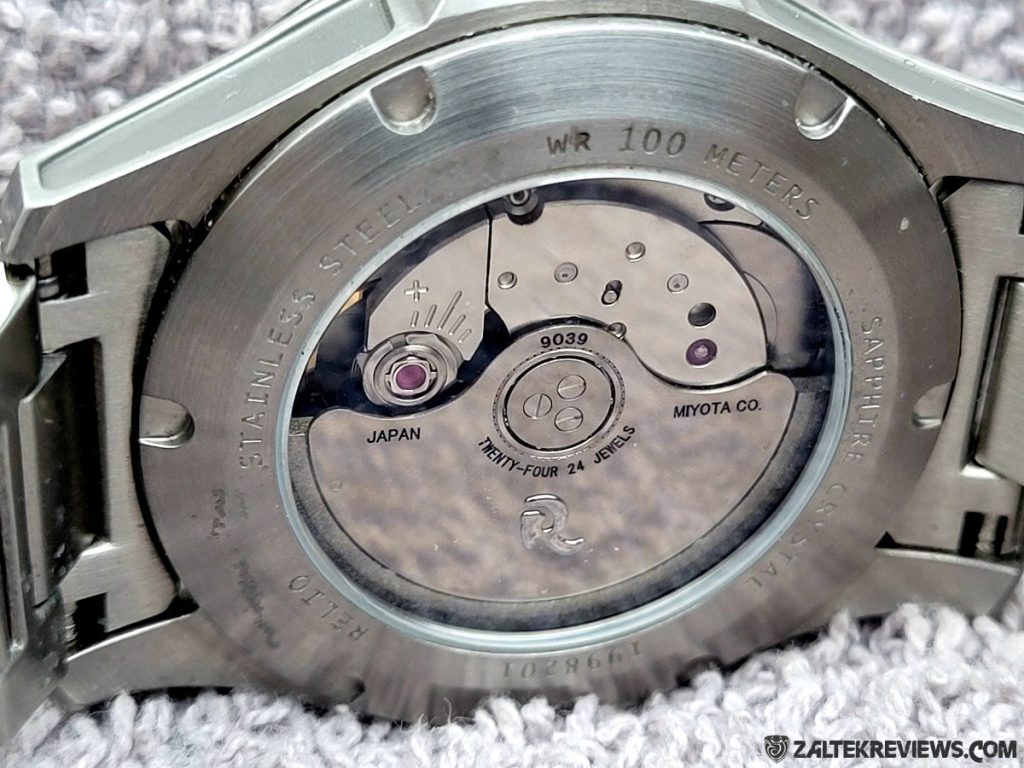 Fitted as standard to the Relio Solstice is probably the most comfortable stainless steel bracelet that I've ever had the pleasure of wearing. It does utilise most of the usual bells & whistles that we all love, solid links thoughout, female end-links, screw pins for adjusting/sizing, but unfortunately it only has a pressed clasp. I find that a bit of a weird choice, as a milled clasp really would have completed the entire package. I would have also chosen a slightly longer clasp housing.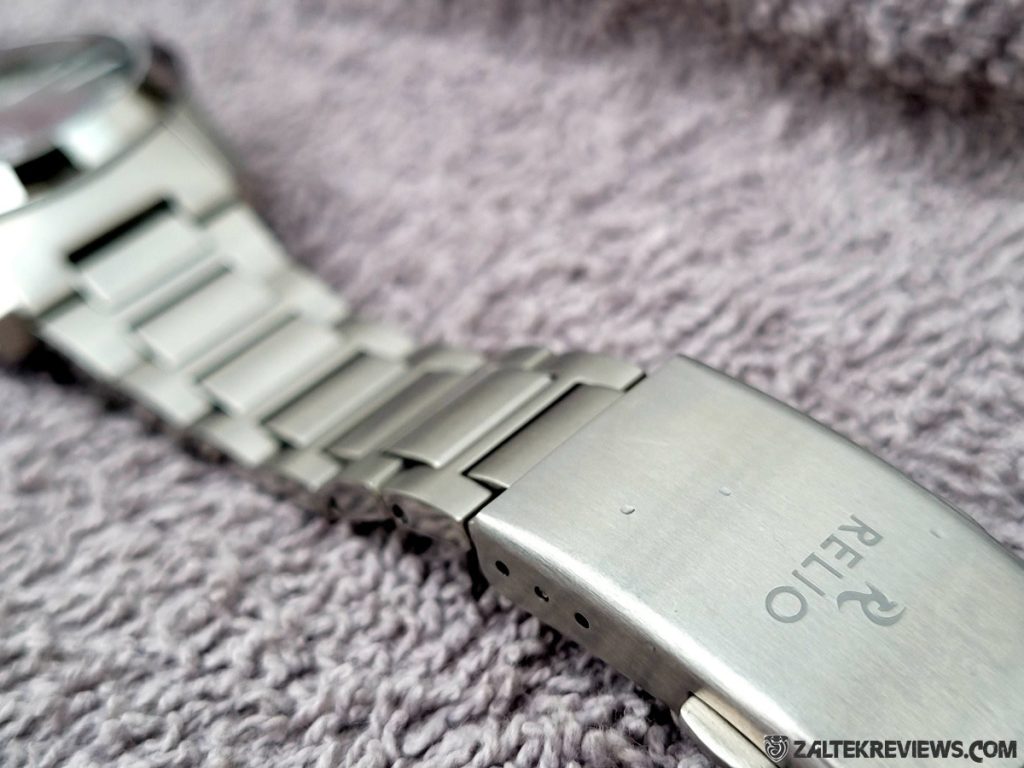 Oh yeah, while I remember, I should actually mention the bracelet measurements. The bracelet is 20mm at the lugs, yet tapers down to 16mm at the thinnest most part, then back up to just under 18mm at the clasp. Talking of the clasp again, there's also a total of 3 micro-adjustment holes to ensure a snug fit.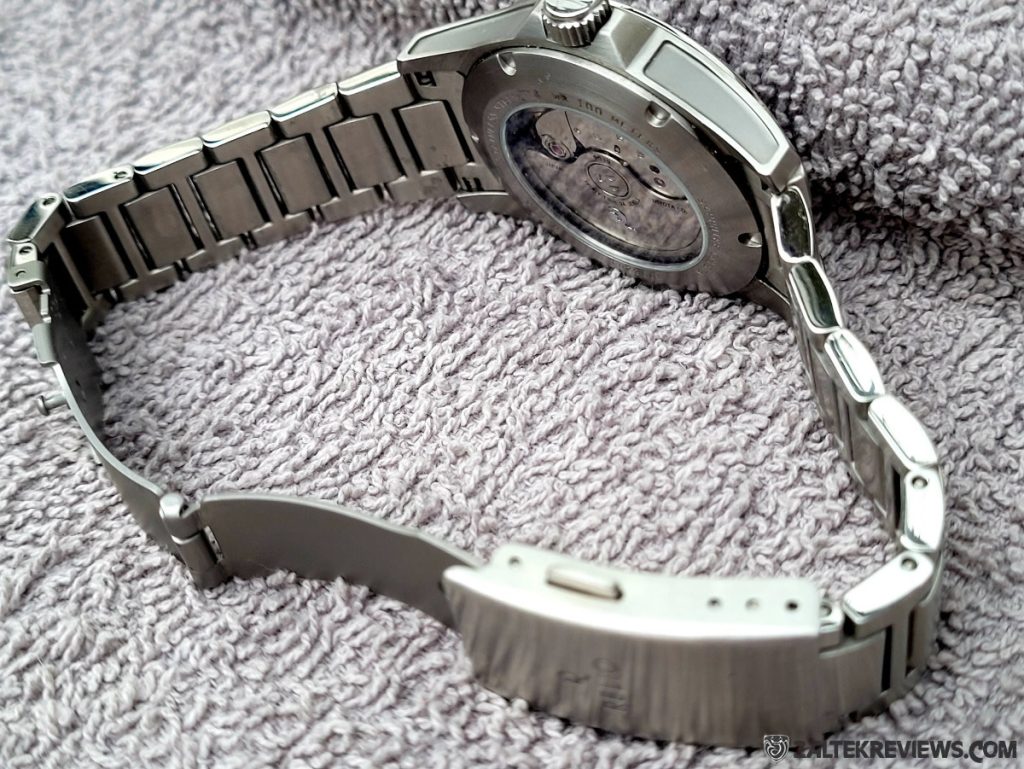 The chosen movement for the Relio Solstice is the 9039, the no date version of the very popular 9015, manufactured by the Japanese company, Miyota. The 9039 is a fantastic slim calibre that is a 28,800vph, 4Hz, smooth sweep, 24 jewel automatic movement with self winding and hacking, with a very respectable 42 hour power reserve. Checking the accuracy after running the Solstice for approximately 20 days, mainly on wrist and occassionally in my watch winder, I was extremely happy with the results, with the Relio Solstice prototype showing an average of just +4.7 seconds per day!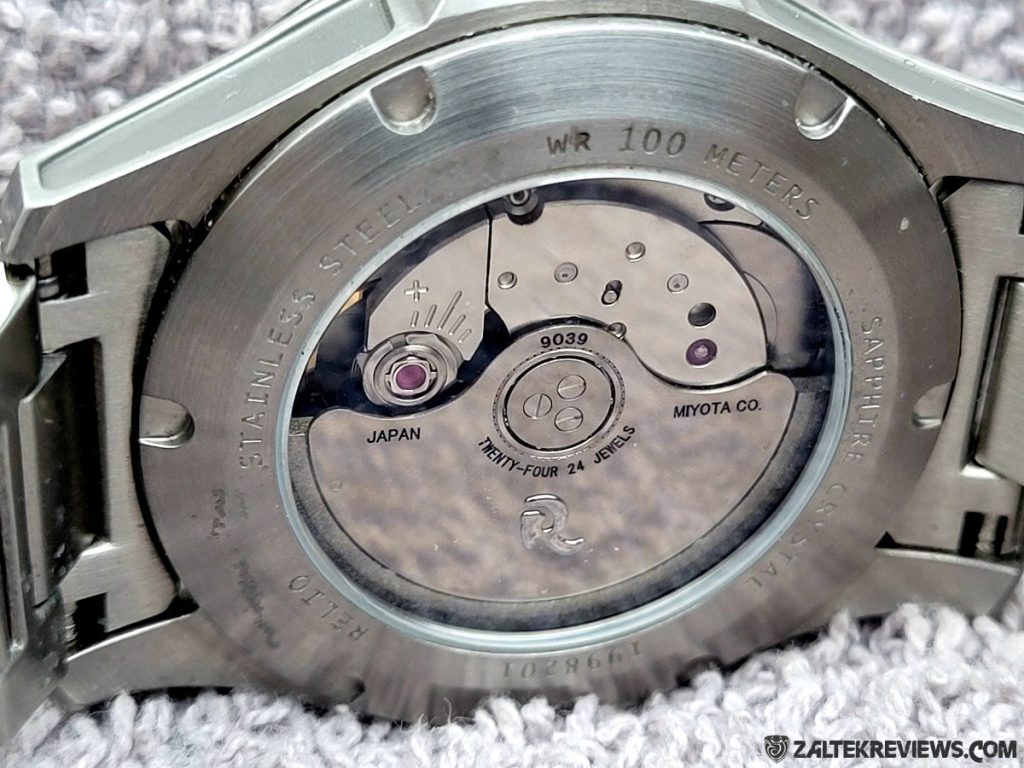 The Relio Solstice has a completely fixed bezel with a beautifully executed polished finish. It is of great quality with a superb overall fit & finish. The text on the dial that's printed in a contrasting white, are the logo and brand name itself at just under the 12 o'clock, with the model name SOLSTICE and AUTOMATIC just above the large index at 6.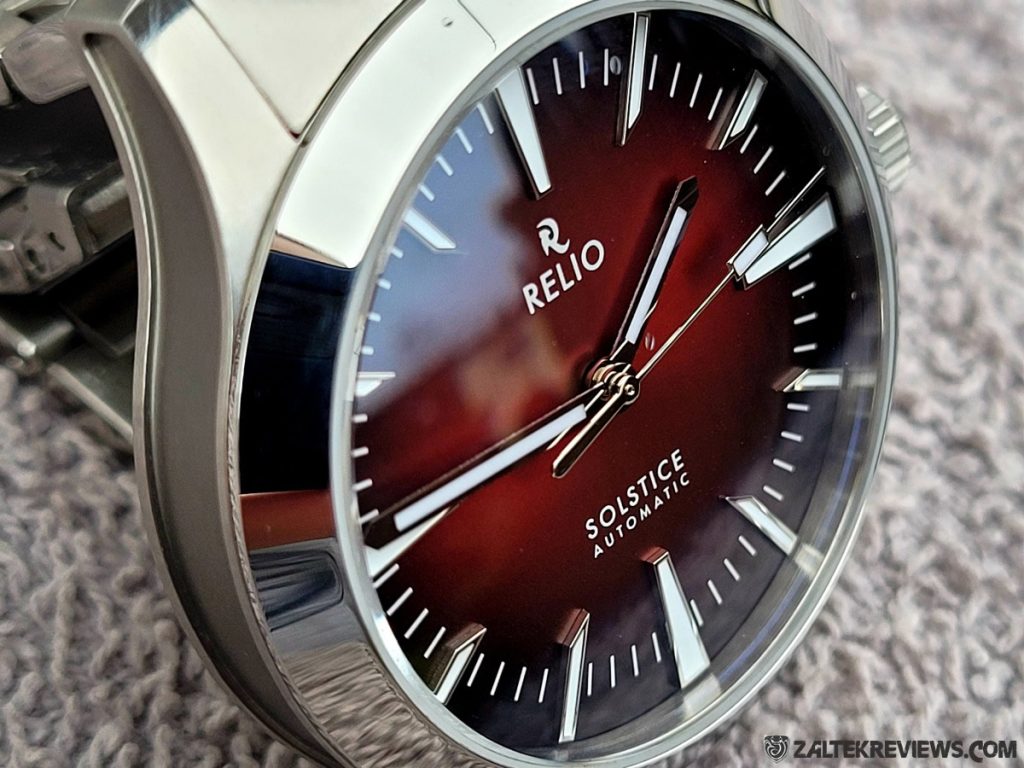 The red version that I have here, sports a very clean and simple aesthetic, although I most definitely wouldn't describe it as sterile. The fumé dial looks fantastic with the black outer edge of the dial transitioning to a deep lush dark red and the effect is even more emphiasised with a gorgeous sunburst effect. There are applied indicies at every hour, with a slashed type tip to all of them, less the larger indicies at the 3, 6, 9 & 12 o'clock positions, all of which are pumped full of lume.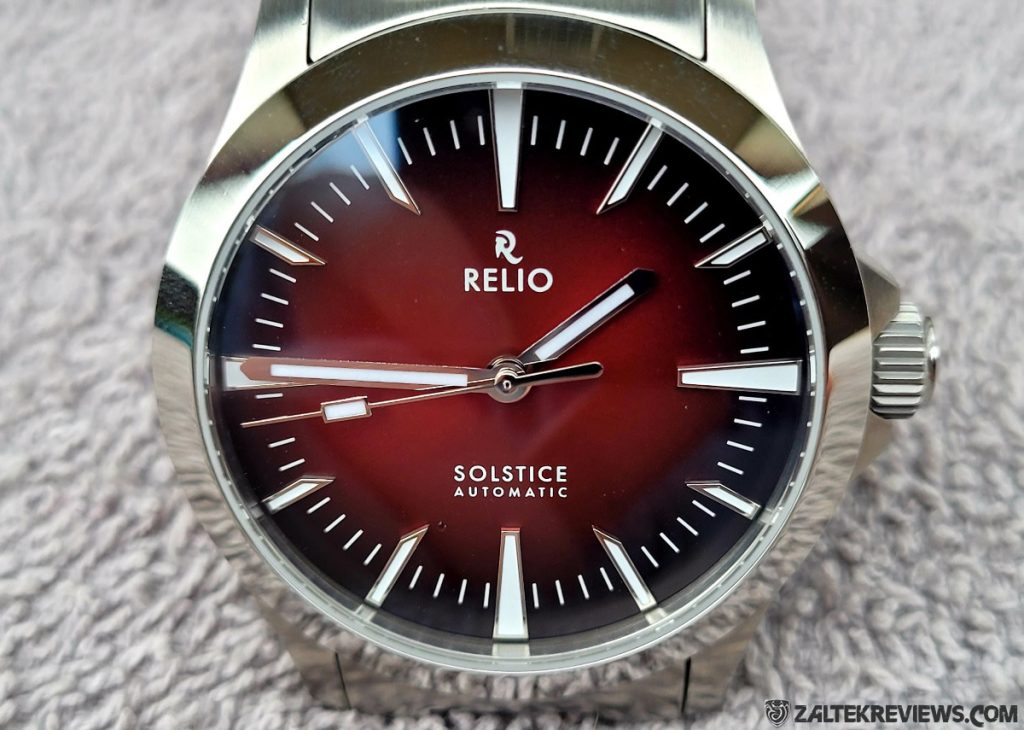 As you can see in the images, the hour and minute hands are very nicely done with their proportionate appearance. The seconds hand is great too, with it's wee lumed rectangular section and tip that reaches right out just past the minute track when sweeping around the dial. The dial has a fantastic overall design and there's nothing really I'd change. Although saying that, I would have liked to have seen a date option, with the date complication at the 6 o'clock position.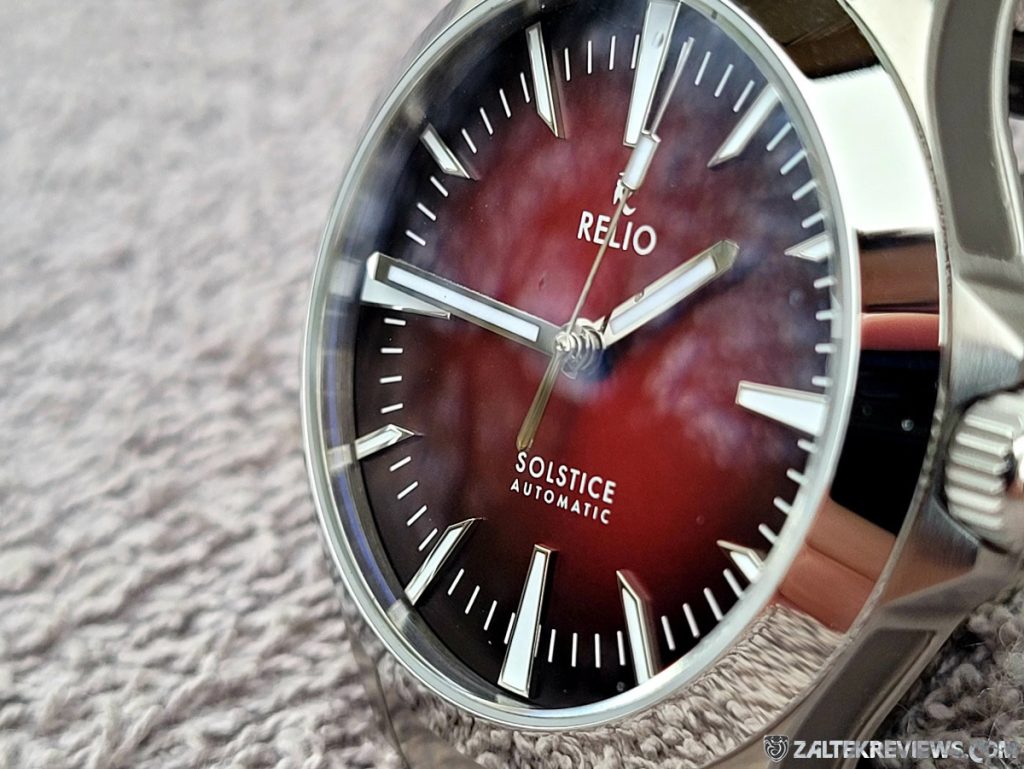 I always bang on about lume with pretty much every watch that I review. The main reason being, is that I'm a total lume junkie! Sometimes though, it can be an afterthought or cost cutting exercise by some brands. Well, you guessed it, Relio haven't disappointed anyone on the lume front. It is evenly & rather thickly applied and even better than some dive weatches that I've reviewed, I just can't fault it. The actual formula that's been applied is Swiss Super Luminova® BGW9.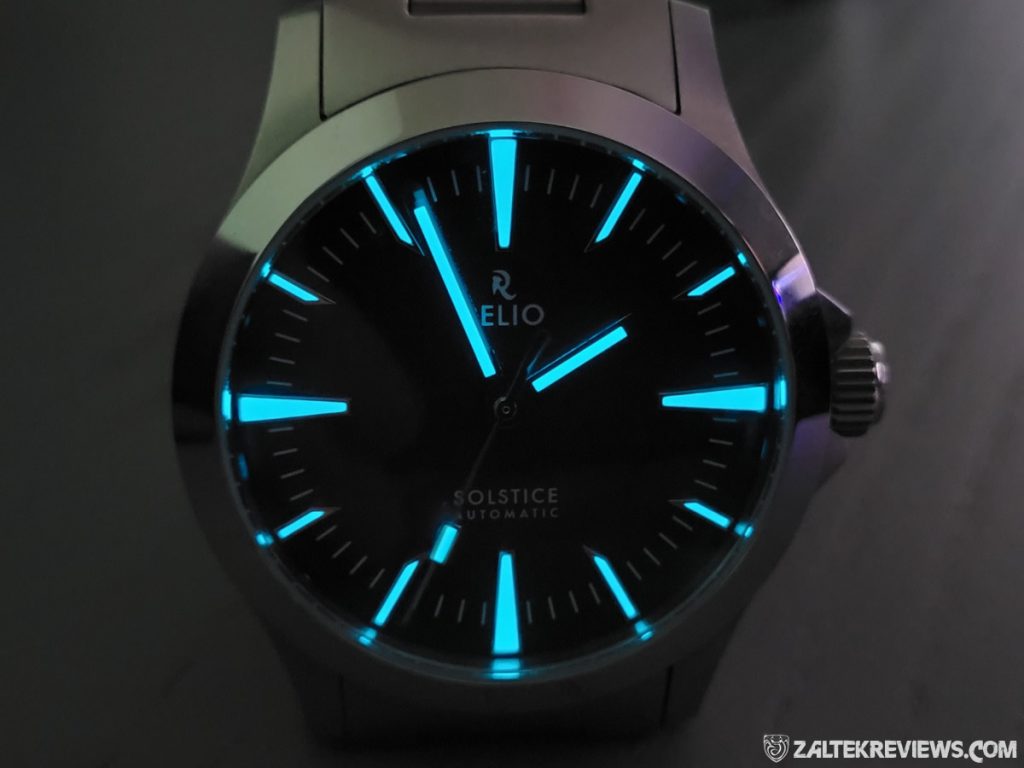 I've had a LOT of really good watches in for review recently, with more coming very soon. The Solstice from Relio Watches is of no exception either, it's a fantastic everyday sports watch, that can easily be dressed up or down, should the occasion occur. The pressed clasp however, is the only negative point that I can find with the watch, although even if I'm coming across as a bit of "clasp snob", I do feel that this small, pretty inexpensive change would really make, if not complete the whole package. Granted though, once the watch is sized and on wrist you'll probably forget about the clasp.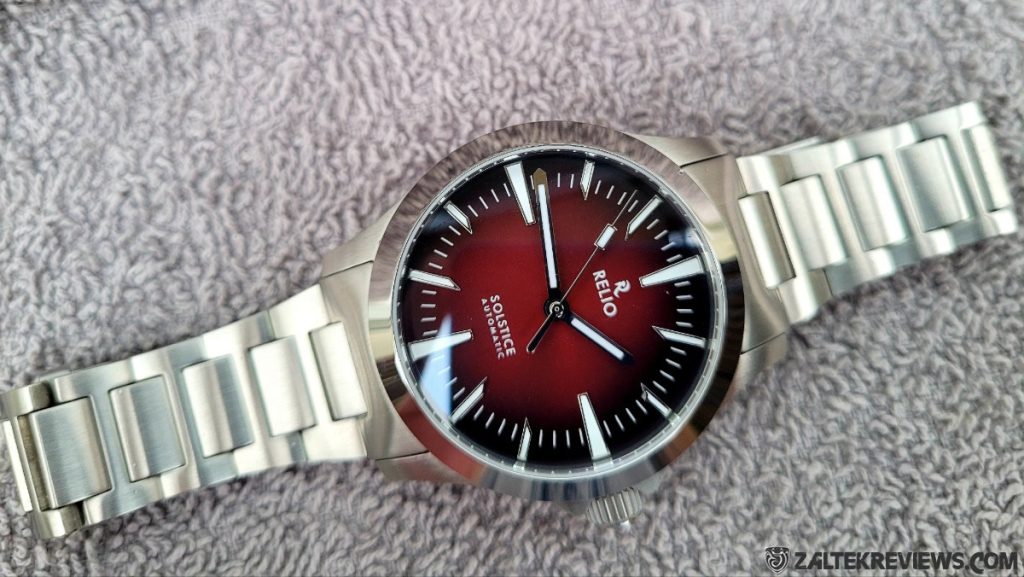 Relio Watches – The Solstice; solid build quality, outstanding design and value for money. Great job!
9.5/10 - HIGHLY RECOMMENDED!
A massive thanks to Leandro at Relio for sending out the Solstice for review. Very much appreciated. To view the Relio website, or to join their mailing list to be informed of new models etc, visit
Relio Watches
.
It takes a fair amount of work to do these reviews. If you feel like supporting Zaltek Reviews to help towards running costs, or even if you feel like just buying me a coffee, please use the PayPal button below.  Thanks very much.
[paypal-donation purpose="Donate to Zaltek Reviews" reference="Ref:Zaltek" button_url=""]