Manufacturer:

RVLVR

| Price: from $339 USD (£250 GBP, €279 EUR)
It wouldn't exactly be fair of me to just continually review watches that I think are perfectly sized and suited to my wrist, hence why I agreed to take a look at this new model from RVLVR, the SD-1. I knew well in advance that it was a bit of a beast and primarily aimed at those with much bigger wrists. Before I get into the actual meat of the review though, I will state that as soon as the SD-1 arrived, I immediately took off the supplied rubber strap and fitted it with one of my own hook straps from Nick Mankey Designs. Why? Because if I kept it on the supplied rubber strap, It would look like I was a 9 yr old, trying on his dad's watch! I also fitted it, as I know it's comfy and I hoped it would tame the RVLVR SD-1 a bit.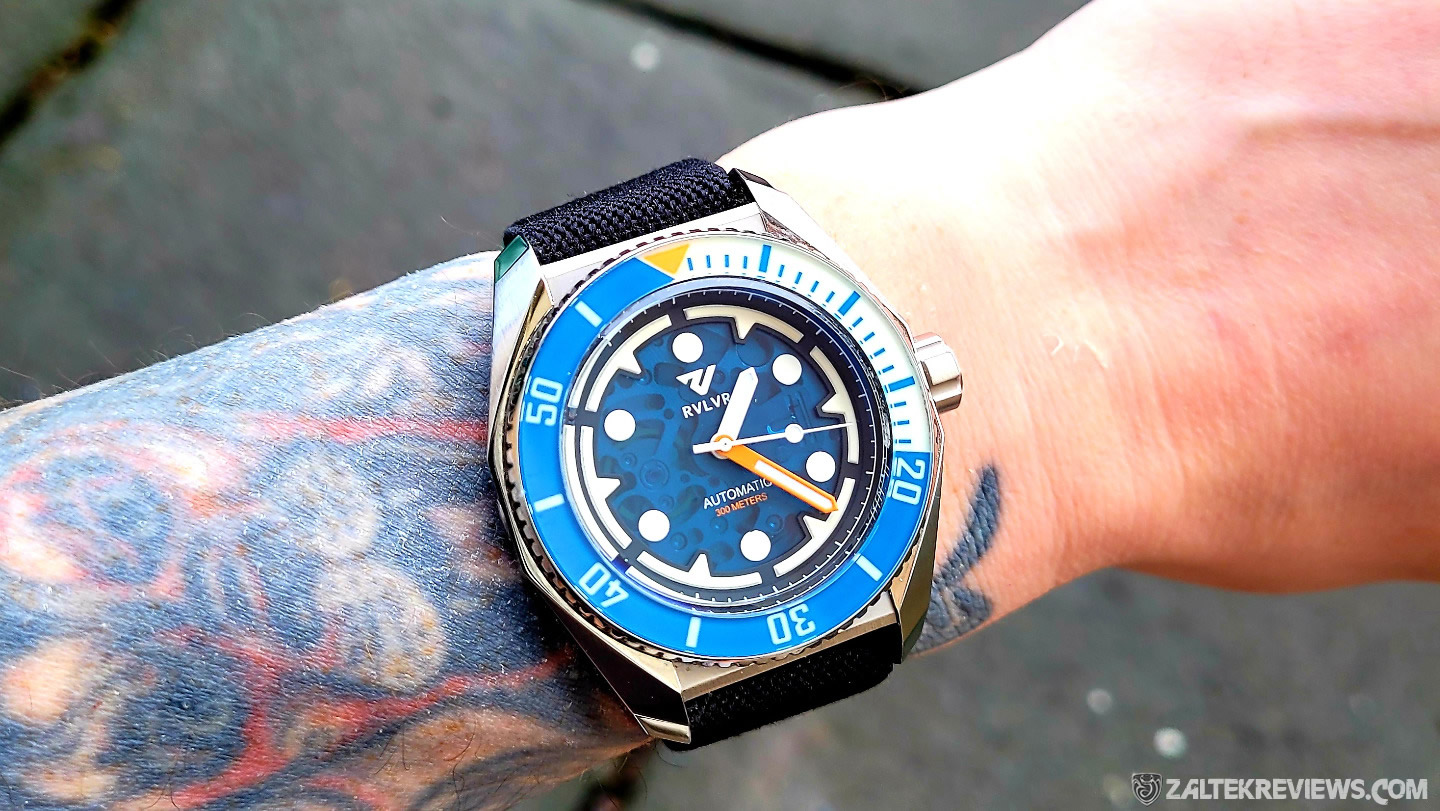 Specifications – RVLVR SD-1
Dimensions: Case Diameter – 43.7mm, Thickness – 14.6mm, Lug to Lug – 51.8mm, Lug Width – 22mm
Movement: Seiko NH70A, 21,600vph, 3Hz, Hackable, Self Winding, 41hr Power Reserve
Case Material: Brushed 316L Stainless Steel with Polished Accents
Dial & Hands: Transparent Sapphire, Printed Hour Markers, Orange Minute Hand, Lumed Logo
Strap: 22mm Rubber, Quick Release, Signed 316L Stainless Steel Buckle
Crystal: Flat Sapphire, Chamfered Edge, Underside Anti-Reflective Coatings
Bezel: Polished 316L SS, 120 Click Unidirectional, Sapphire Insert, Fully Lumed
Lume: Swiss Super Luminova® BGW9 (C3 on Teal Model)
Water Resistance: 300m / 30ATM / 990ft  (Helium Escape Valve)    

Caseback: Screw Down, Exhibition Display       
Crown: 8mm, Screw Down, Signed       Weight: 131g          Warranty: 1 Year
Where to Buy:

RVLVR Kickstarter Campaign

(Launch Date: 5th January 2021)
"RVLVR; though intended to be pronounced as "Revolver" for obvious reasons, we chose to spell it as such, partially drawing influence from the mid-16th century, the time period regarded by historians in which the rise of western civilization and the Islamic gunpowder empires occurred. During this time, it was common practice to pronounce the letter "V" as "U", as the letter "V" only came into existence with the birth of the printing press. This offers us a hidden, alternate pronunciation of RVLVR as "RULUR or Ruler" fitting the bill perfectly for time instruments, which can serve to mark and measure milestones, through the journey of life.

Accenting this chain of thought, the Latin term "Tempus Rerum Imperator" translates into "Time is the Ruler of All Things" which induces meditation of the present moment, in its significance. With this in mind, a lot of our prior timepieces have the term "Carpe Diem" imprinted on them, as a constant reminder to seize the day. Although the term was made popular in the 19th century, the sentiment was known to have originated in the 16th century, in the first stanza of Robert Herrick's 1648 "To the Virgins, to Make Much of Time". The revolver is a representation of our finite lives, as it embodies our absolute mortality. It is our ultimate responsibility to "pluck the day" and make the very best of our perpetually decreasing moments."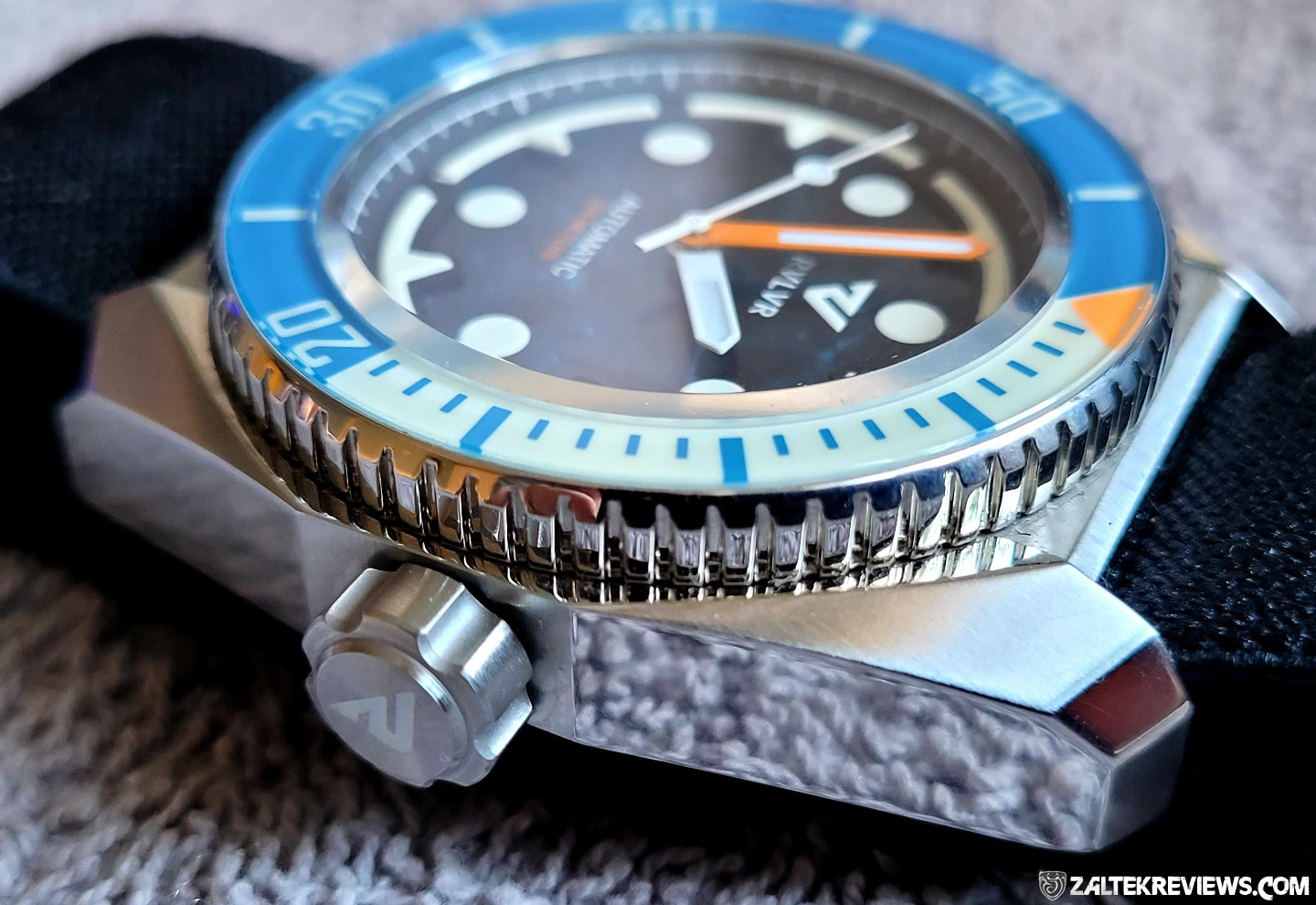 The case of this RVLVR SD-1 has a total diameter of 43.7mm. The lug to lug is 51.8mm and the overall thickness, including the sapphire crystal, albeit flat, I measured in at a rather substantial 14.6mm. The entire case, caseback surround, bezel and crown are all 316L stainless steel. The finishing of the watch is mostly brushed, with the addition of polishing on the sides of the case and the small front-facing edges of the lugs are also polished.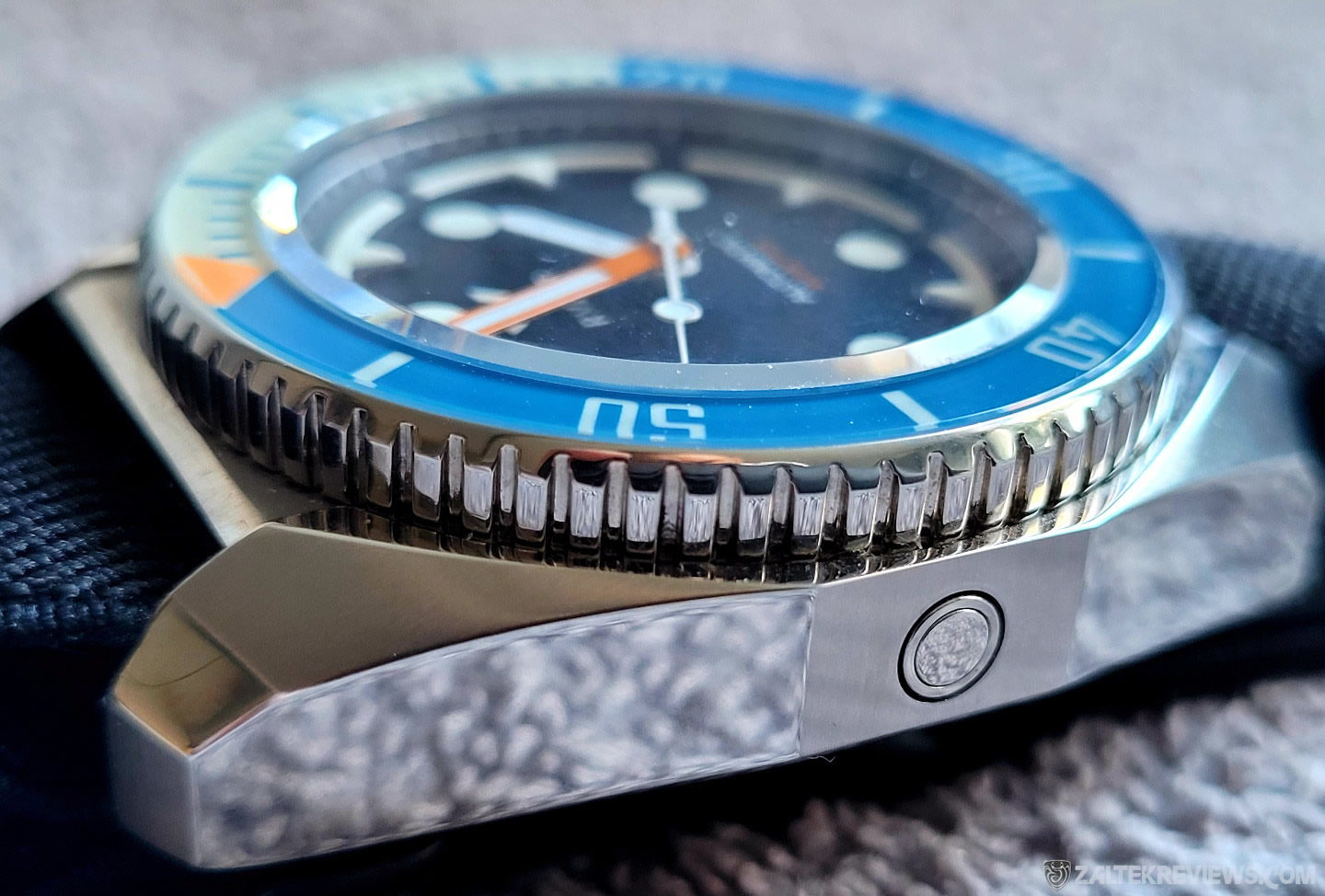 The proportions of the watch are pretty much spot on, even if everything is a bit more substantial than what I'm used to. All colourways of the SD-1 have an impressive water resistance rating of 300m, thanks to the solid build quality and the inclusion of a screw down caseback & crown. Talking of the crown, it is very nicely manufactured and is a total pleasure to use. There's also the inclusion of a helium escape valve on the opposite side of the case, as you can clearly see above.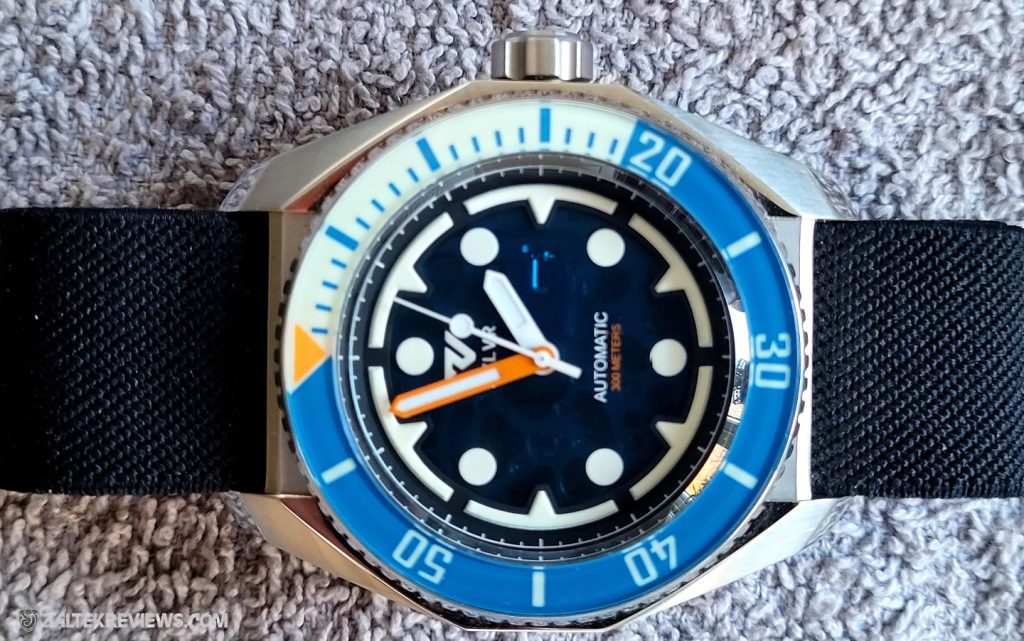 The rubber strap that comes fitted to the RVLVR is of very good quality and does match the SD-1 overall proportions, being big and quite chunky. The length is 130/90mm, thickness is 4.5mm but there is no taper to the strap whatsoever. It's obviously a bit large for me and feels more like a fuckin' belt rather than a strap when on my wrist. There is a choice of straps when ordering your SD-1, although I can't really comment on those, as I was only sent this rubber number.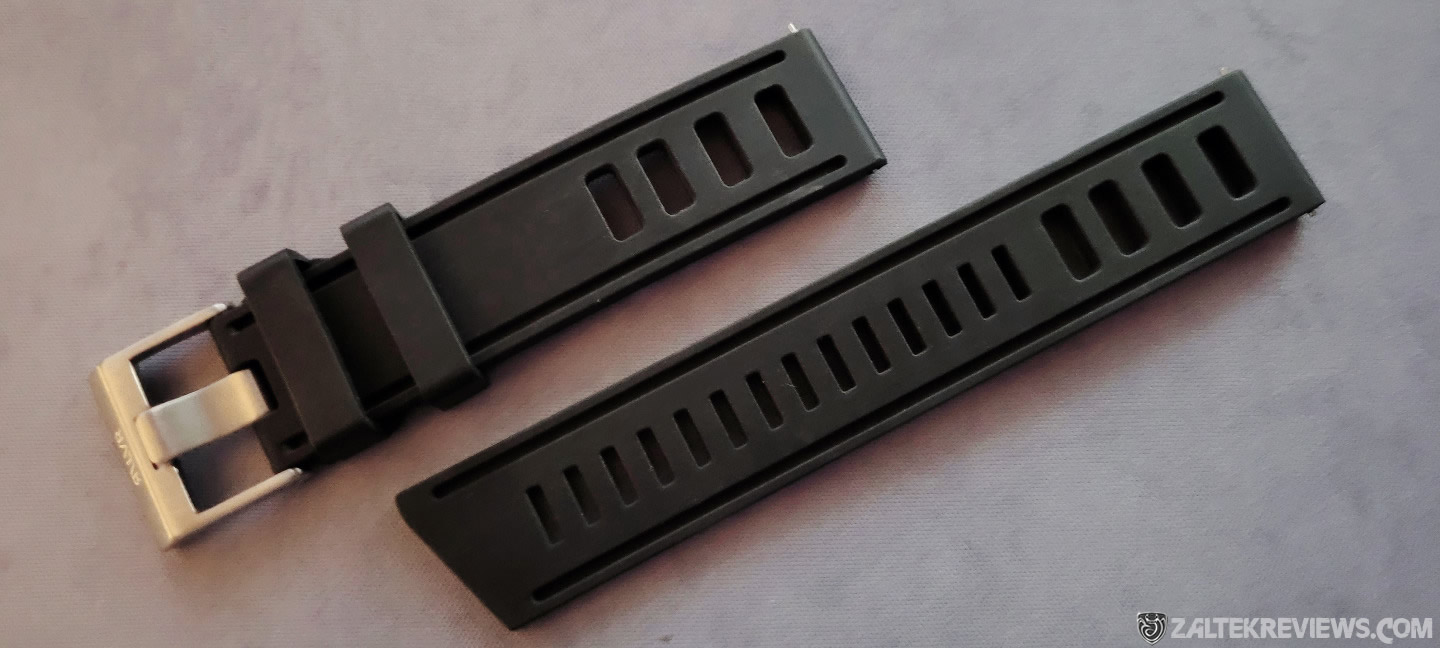 The signed, brushed stainless steel buckle is pretty chunky too, but credit where credit's due, it is nicely manufactured. I've always been a firm believer that you can always tame a large watch with an elastic strap, hence why, for obvious reasons, the majority of images in this review, you'll see my hook strap from Nick Mankey Designs fitted to the SD-1.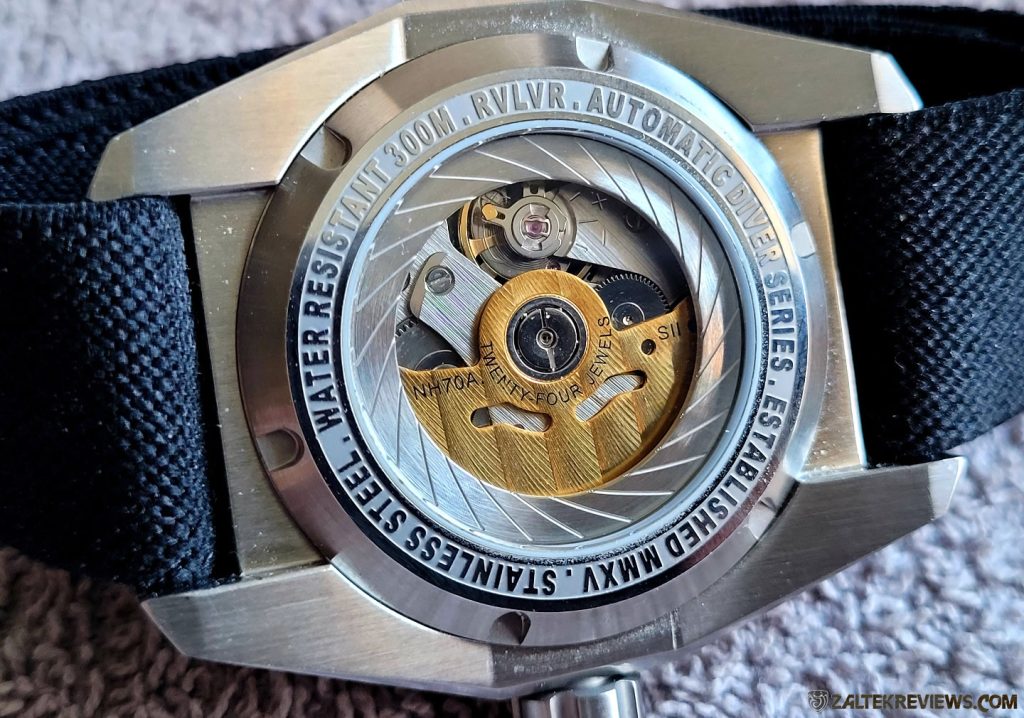 The chosen movement for the RVLVR SD-1 is the Seiko SII NH70A, a skeletonized 3Hz automatic caliber that's part of the Seiko NH series. The NH70 is primarily based on the popular NH35 framework, therefore it's hackable, self-winding, has 24 jewels, runs at 21,600vph and has a respectable 41 hour power reserve. Putting it all into perspective, it's basically a slightly fancy version of the NH35, and I'll admit, it does look pretty nice in the image above, especially with that rather unique gun barrel style surround. Checking the accuracy after running the RVLVR SD-1 for around 3 weeks, both on wrist, as well as in my watch winder, I was rather pleased with the results, with the SD-1 showing an average of +8.8 spd.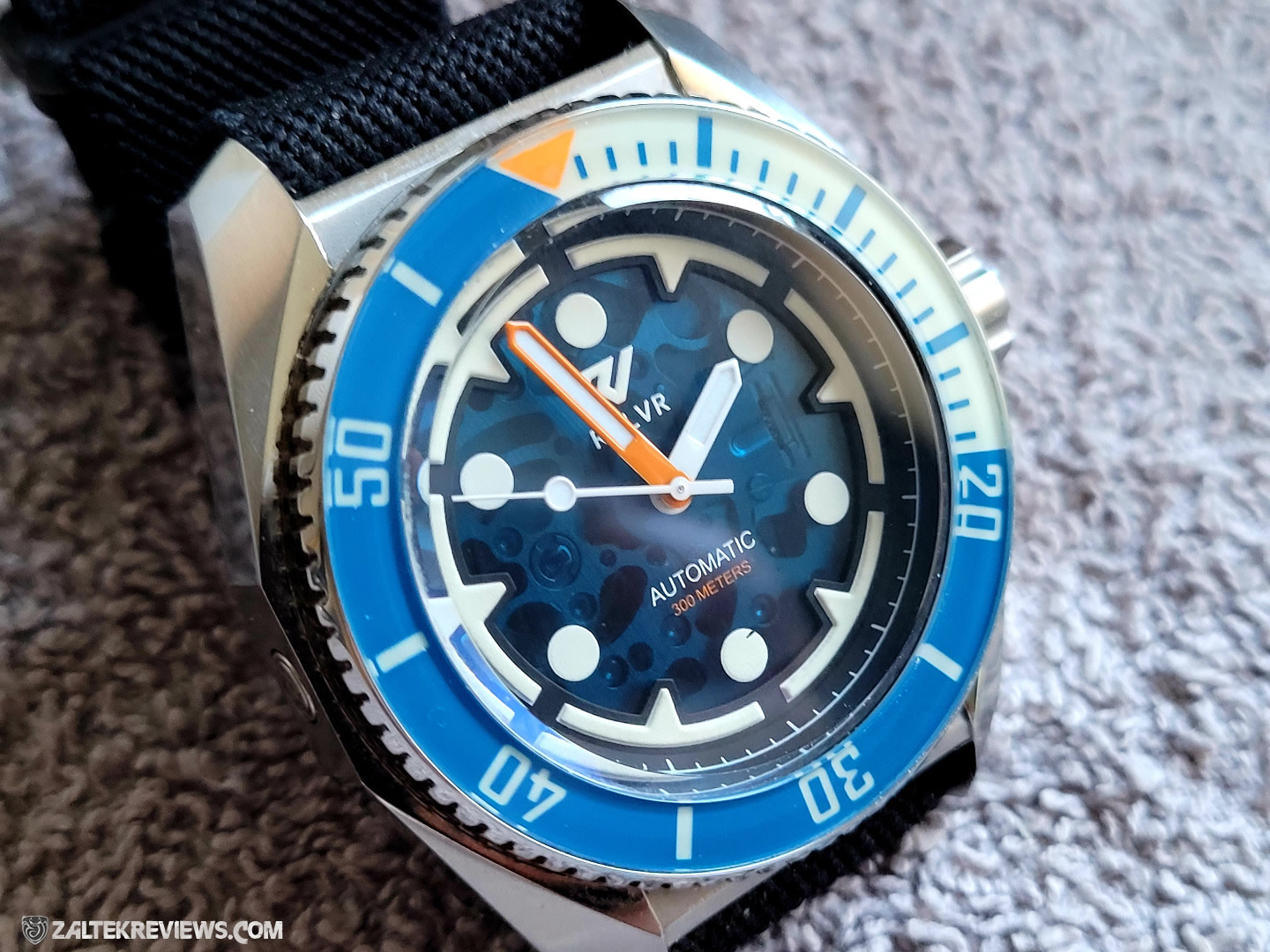 The RVLVR SD-1 has a 120 click unidirectional bezel with a fully lumed sapphire insert. It is of excellent quality and everything does line up 100% perfectly. The bezel action oozes quality and has absolutely zero backplay. The text on the dial is nicely printed and also very legible. The choice of font too is spot on, showing just the RVLVR logo under the 12 o'clock and the word AUTOMATIC with the depth rating of 300 meters just above the 6 o'clock position. Unquestionably, the highlight of the SD-1, is the transparent sapphire dial that shows off the movement under certain lighting. Personally speaking, I'm not really a fan of this. We all seen it recently from
Christopher Ward
and to be honest, I just thought why bother? If anything, I think it just cheapens the whole aesthetic of the dial, no matter what watch it has been fitted into.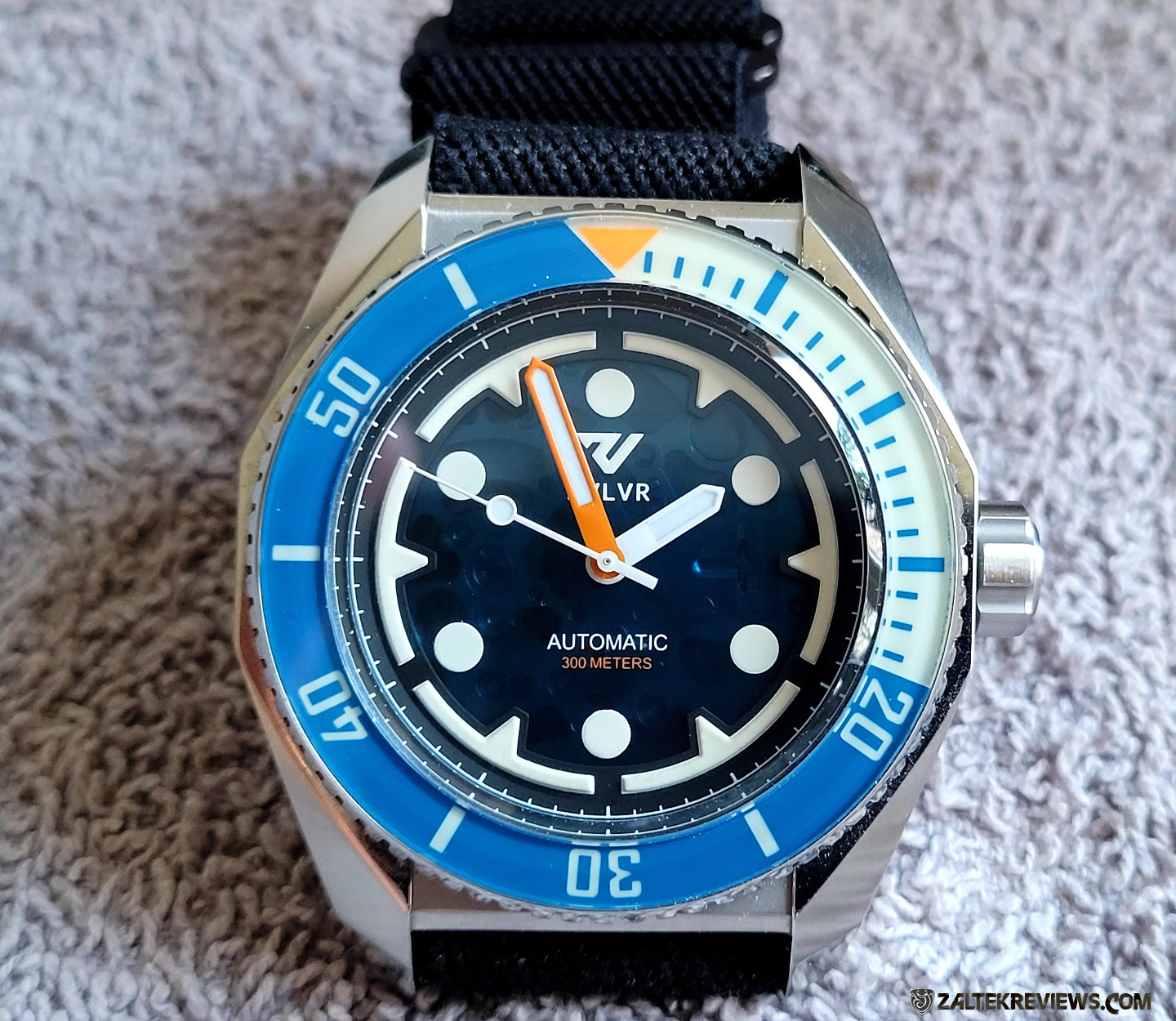 As you can see in the images, the hour and minute hands are nicely done with their proportionate pencil style design and the minute hand is finished in orange to aid legibility when timing stuff in low light conditions. The seconds hand is finished in white, with a lollipop marker half way down. Another increasingly popular trend, is the addition of the lumed logo. A very nice touch! The indicies and surround are also rather chunky, giving the dial an almost cartoon style appearance. They are also pumped full of lume, as you'll see in the lume shot later on in the review.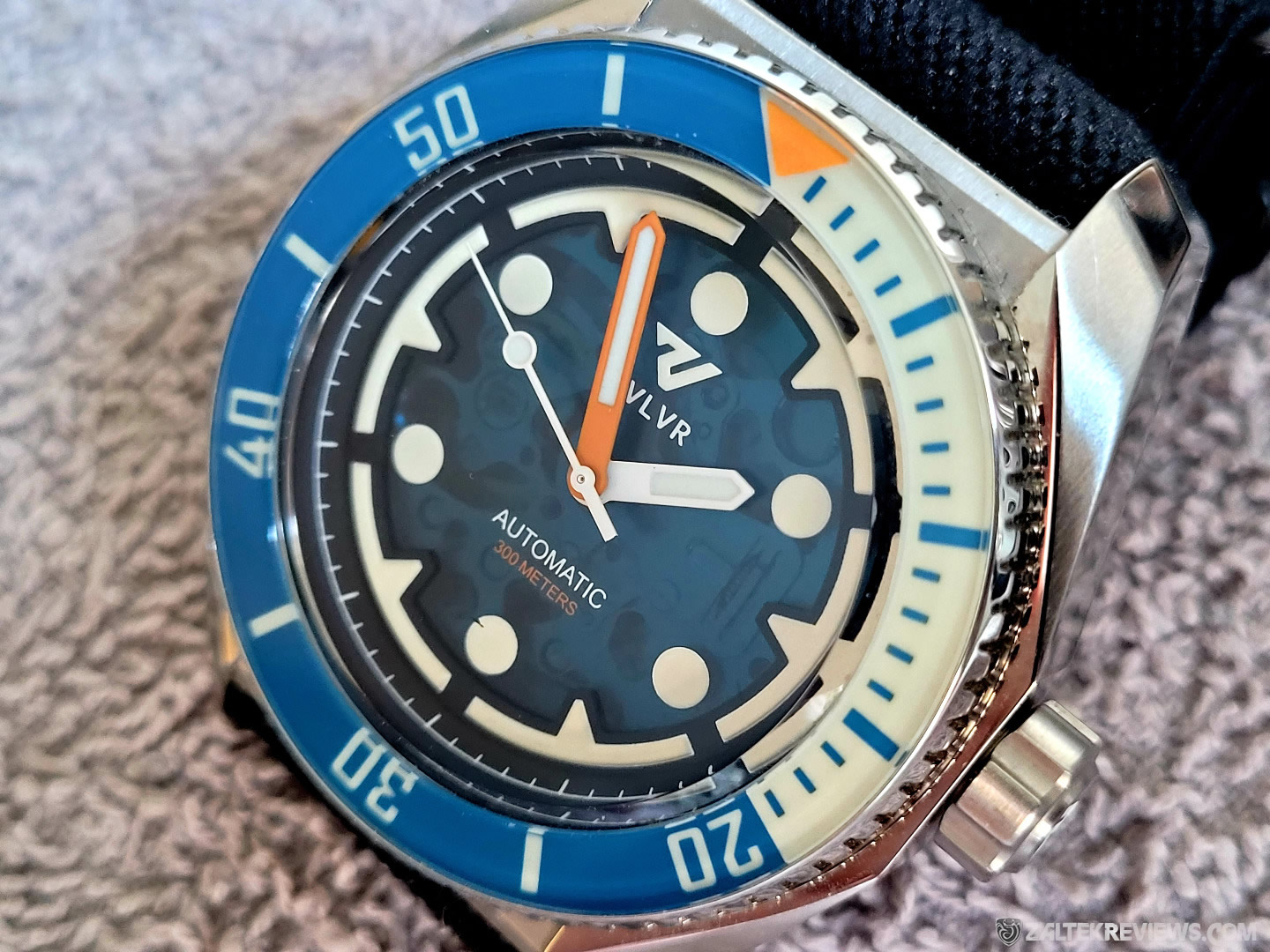 The lume on the RVLVR SD-1 is fuckin' outstanding, and I can honestly say, it's right up there with the best I've seen on any dive watch, with absolutely tremendous staying power that just lasts and lasts for many hours. The lume that's been applied is Swiss Super Luminova® BGW9 with C3 being used on the teal model. I've no idea how many layers has been applied, but I'm guessing it's an absolute shit ton, I can also confirm that it's been perfectly executed. As previously mentioned, another nice little touch is RVLVR decided to lume their logo on the dial. I love that attention to detail!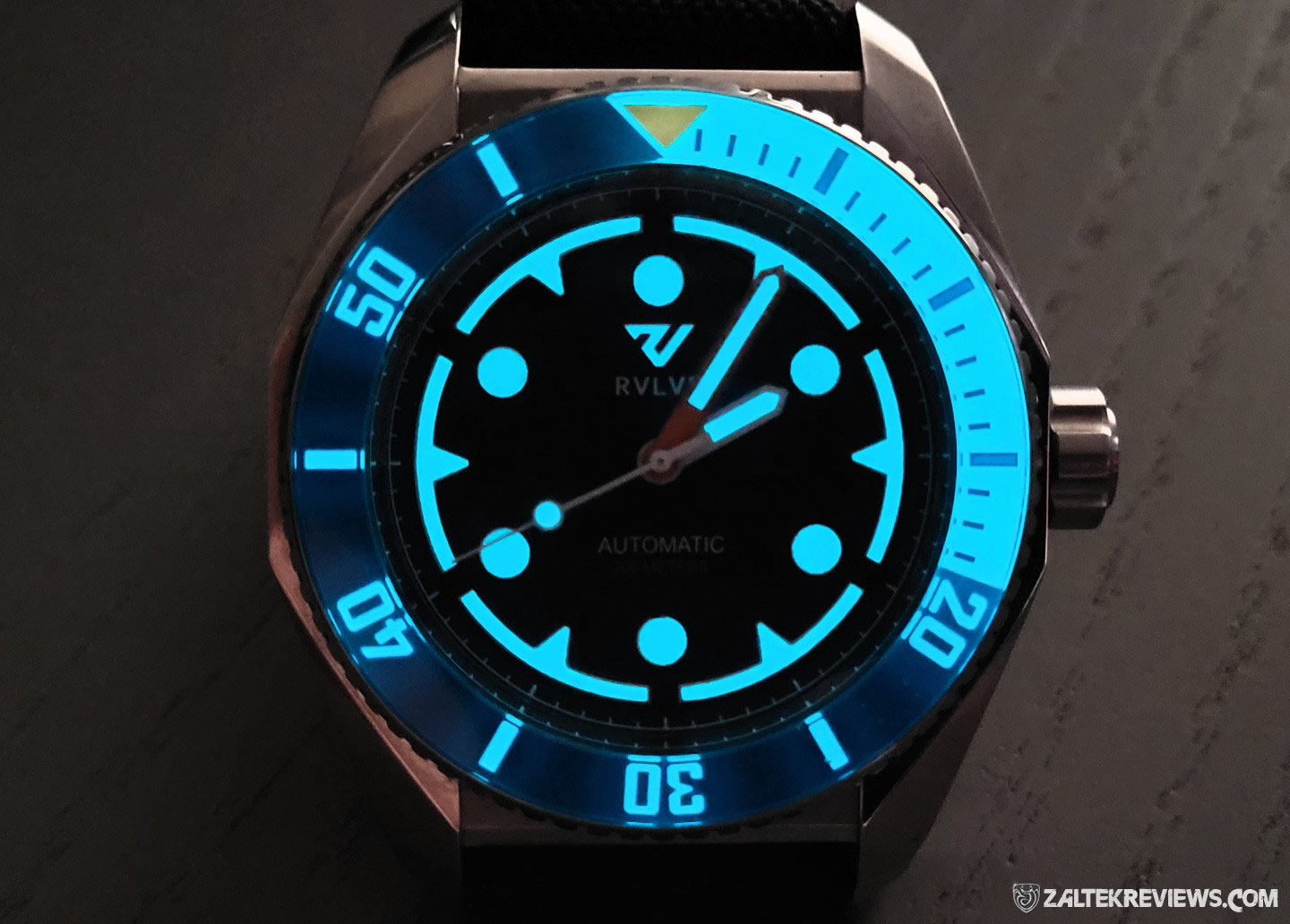 This is one of the best all round packages that I've seen coming from any microbrand in quite a while. There is fantastic attention to detail all round, superb build quality and you won't find any cost cutting measures on the watch anywhere. If you're in the market for a very well manufactured large dive watch with phenomenal lume, then you should look no further than this SD-1 from RVLVR. Head over to their soon to be launched Kickstarter campaign and get ready to pledge, once it goes live on the 5th January 2021. 👍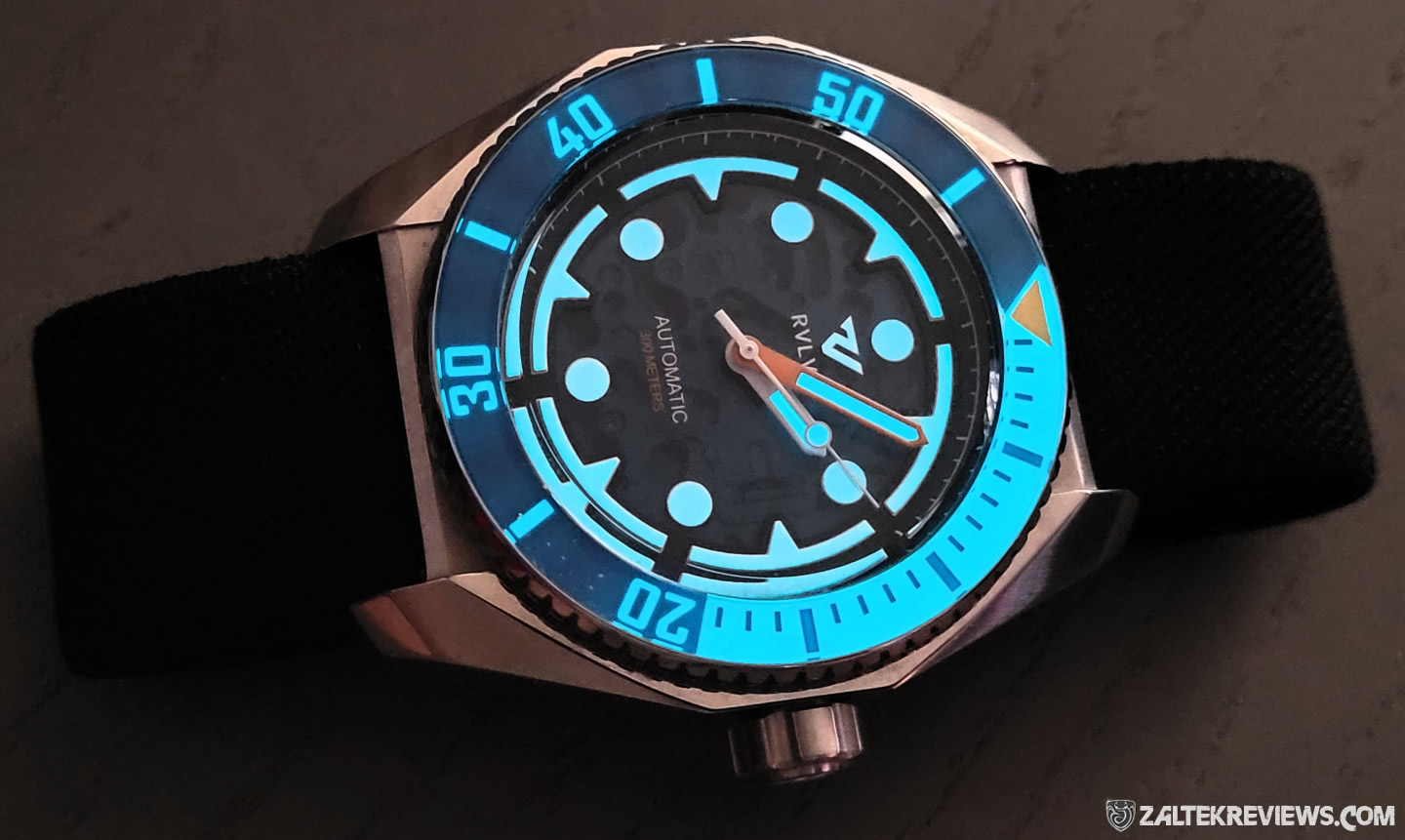 8.7/10 - RECOMMENDED FOR 7" WRISTS AND ABOVE
A massive thanks to Dan at RVLVR for sending out the SD-1 for review. Very much appreciated.
To view the RVLVR website, or to join their mailing list, to be informed of new models etc, visit
rvlvr.com
.
It takes me a fair amount of work (
and time
) to do these reviews. If you feel like supporting Zaltek Reviews to help towards my running costs, or even if you feel like just buying me a coffee, then please donate using the PayPal button below. Unfortunately, 97% of my readers just scroll by this section. If you feel like that I've given you a few quids worth of knowledge and/or entertainment, then please take just a couple of minutes of your time to donate. Thank you.
[paypal-donation purpose="Donate to Zaltek Reviews" reference="Ref:Zaltek" button_url=""]