Zaltek Reviews - Watch of the Year 2019
After the controversy that came from my last review of the Égard Poseidon, I decided to try and balance things out a little and finally get round to doing my Watch of the Year article. Cherry picking just the contenders to make this article was a lot more than just a 5 minute job, as I've reviewed a lot of fantastic watches in 2019. After much head scratching, I've picked the following six watches as my condenders for WOTY 2019. I could have picked a couple more, like the Traska Freediver II and the Zelos Mako v3 but unfortunately they've not shown up yet, which is a shame as I'm sure they would have made the list. It doesn't look like they will appear until early January 2020. Anyway, onwards to the contenders…
Everyone knows that I'm a huge Zelos fanboy, as I own many of their models. The second version of Zelos' hugely popular Swordfish turned up in early September. Initially, I went for their full white dial frost edition. As much as I loved the watch, I couldn't help but think that I ordered the wrong one. A few weeks later the helical blue version turned up and WOW, I love it! I went as far as buying the forged carbon version too, but the helical blue one is still my favourite. I was hoping that the Mako v3 might have made this contender list, but no sign of that until 2020.
Bangalore Watch Co Mach1C
The Bangalore Mach1C is not the style of watch that I would normally reach out and get a review sample. There was just something about it though, that I can't quite put my finger on. It arrived back in October, and I must admit, I was totally blown away by just how good it is. I don't have any pilot watches in my own personal collection, but rest assured, I'll be doing everything I can to get one once they are readily available at some point in 2020. A truly fantastic watch with a brilliant spec that wears very well.
I've had the ITHYUS Abyssi here for just a few weeks and to be honest it's had more wrist time than pretty much anything else, including everything in my own collection. The choice of movement, build quality, fit & finish, not to mention that every single Abyssi is pressure tested as well as being fully regulated to six positions. The attention to detail of the Abyssi is nothing short of outstanding. At a price of under £500, it screams value for money and one watch that I wish I owned. I'd opt for the blue one though.
I reviewed the Newmark 71 back in June. After reading another review of it, I remember thinking to myself, it can't be that good! Anyway, I reached out to Newmark Watch Company and a week or so later it arrived. All I'll say is, I liked it that much, I immediately backed it on Kickstarter and the production model only just arrived a few days ago on Christmas Eve. In my review of the prototype I gave it 10/10 and well, the production model is even better if that's possible. One of my favourites of the year for sure.
I remember lusting after the NTH Odin for months. I wanted to review it so badly and after numerous emails to NTH I gave up as I never got any reply from Chris (the owner of NTH). My love for the design didn't fade, so I thought f**k it, I'm buying one. After a few emails to SeriousWatches and the transfer of some wonga, it arrived. And would you believe it, a day later, the blue Odin arrived for review from NTH. F**kin' typical! Not that it matters, I'd have bought it anyway as it's truly outstanding!
Although the HKEd Emperor was released in 2018 it wasn't until this year I managed to review one. I was sent the brown version and I remember saying in my review that the build quality was exceptional, but I just couldn't live with a brown dial. I hankered after the blue version with date for months, but they are as rare as rocking horse sh*t. They didn't even show up as used! But one day a member of our very own Facebook group WatchChat said he had one and gave me first dibs on it. I snapped it up immediately!
As previously mentioned, I've had the ITHYUS Abyssi here for just a few weeks and to be honest, I've no other watch that I have here that can equal the attention to detail of the Abyssi. The overall package is phenomenal. At under £500, the value for money is absolutely fantastic. Each and every watch is pressure tested and regulated in 6 positions, all of this is done in-house by ITHYUS. Personally, for me, it's not perfect, just like I mentioned in my review. But, GOD DAMN, it's as close to perfection that I've come across. There are loads of watches that I could recommend, like the ones I listed above. But, I wholeheartedly recommend the ITHYUS Abyssi 110%. If you're thinking of buying one, all I'll says is, GO FOR IT!!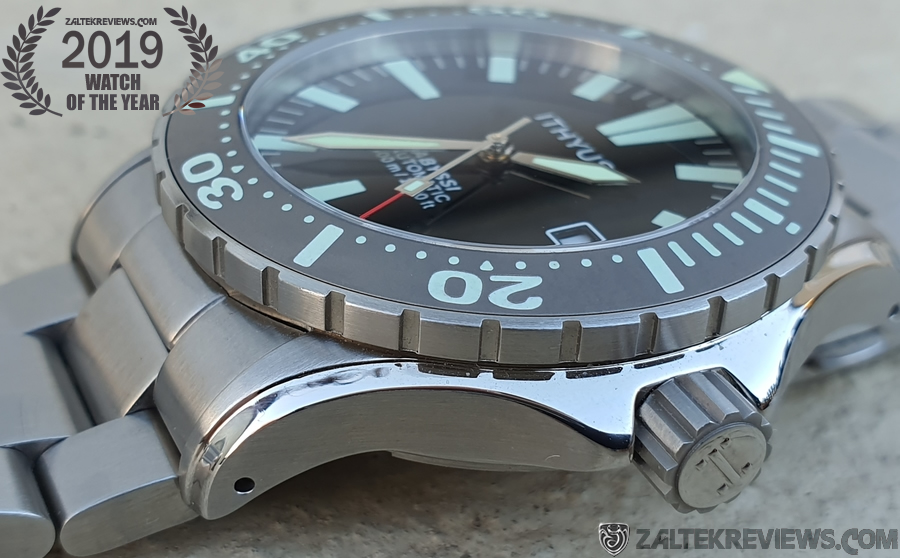 Follow Zaltek Reviews on
Instagram
and
Facebook
and please feel free to join our Facebook group
WatchChat
, a busy community for watch enthusiasts and collectors, with tons of images and in-depth discussions.
At Zaltek Reviews, we encourage the companies whose watches we've reviewed to comment on our articles. We invite any company representatives to respond in the comments section below. Thanks very much.