Manufacturer:

Armida Watches

| Price: $549 USD (€500 EUR, £450 GBP approx)
I've been hearing a lot of good things recently of Armida Watches. So much so, I decided to have a look at their website and after a quick browse of their products I decided to reach out to Armida and request a review sample of their A12, a homage to the iconic Seiko 62MAS, a watch that I've admired for years. However, when Chris at Armida Watches got back to me asking which colour I'd like to review, I had another look at their website and spotted this 40mm version of their A6 and asked for that instead in the sunburst dark blue variant. A few days later it arrived. And oh boy, I'm glad I had a last minute change of heart. Don't get me wrong, I still plan on reviewing the Armida A12 in the near future. *Hint, hint*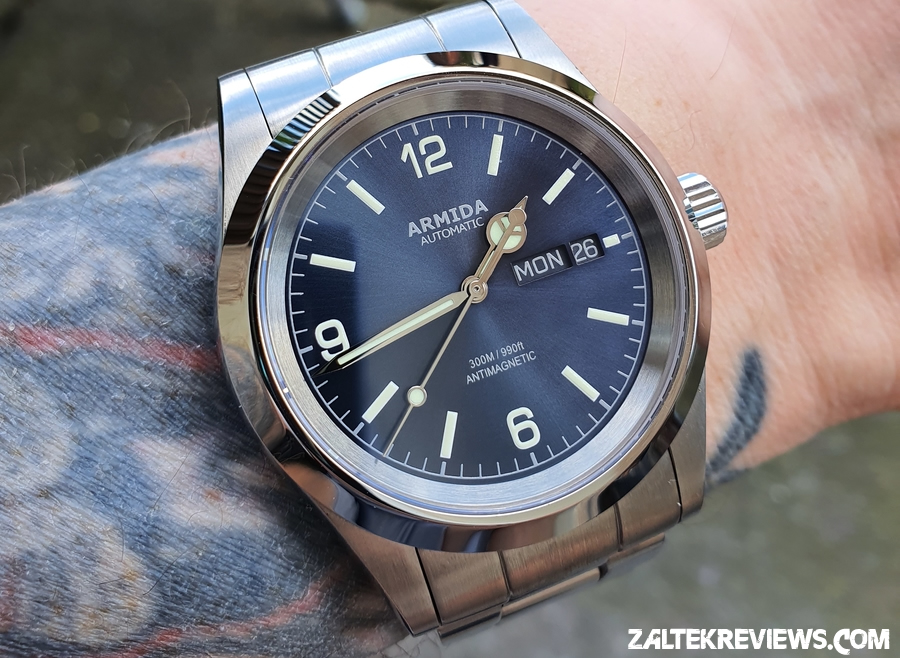 Specifications
Dimensions: Case Diameter – 40.3mm, Thickness – 12.8mm, Lug to Lug – 48.7mm, Lug Width – 22mm
Movement:

Swiss ETA 2836

Automatic, 28,800vph (4Hz), Hackable, Self Winding, Day/Date, 40hr Power Reserve
Case Material: Brushed 316L Stainless Steel, Polished Sides
Bracelet: Brushed 316L Stainless Steel, Polished Sides, Solid End-Links, Screw-Pins, Milled & Signed Clasp
Bracelet Dimensions: 22mm, Tapers to 18mm, 20mm at the Clasp
Crystal: Flat Sapphire, Multiple Anti-Reflective Coatings (Inner)
Bezel: Fixed, Polished   
Water Resistance: 30ATM / 300m / 990ft
Lume: Swiss Super Luminova® C3
Crown: Screw Down, Polished & Signed      Caseback: Screw Down, Solid Stainless Steel
Warranty: 1 Year    Where to Buy:

ArmidaWatches.com

Options: Dial Colour: Black, Dark Blue, Sunburst Dark Blue | No Date (Black Only)

This version of the Armida A6 has a case diameter of 40.3mm, a lug to lug of 48.7mm and the overall thickness, including the sapphire crystal, I measured in at a rather svelte 12.8mm. The entire case, caseback, bezel, bracelet and crown are all 316L stainless steel. The finish of the case is brushed on top with polished sides and the screw down crown is also polished. The Armida A6 has a water resistance rating of 300m / 30 ATM, thanks to the screw down caseback & crown.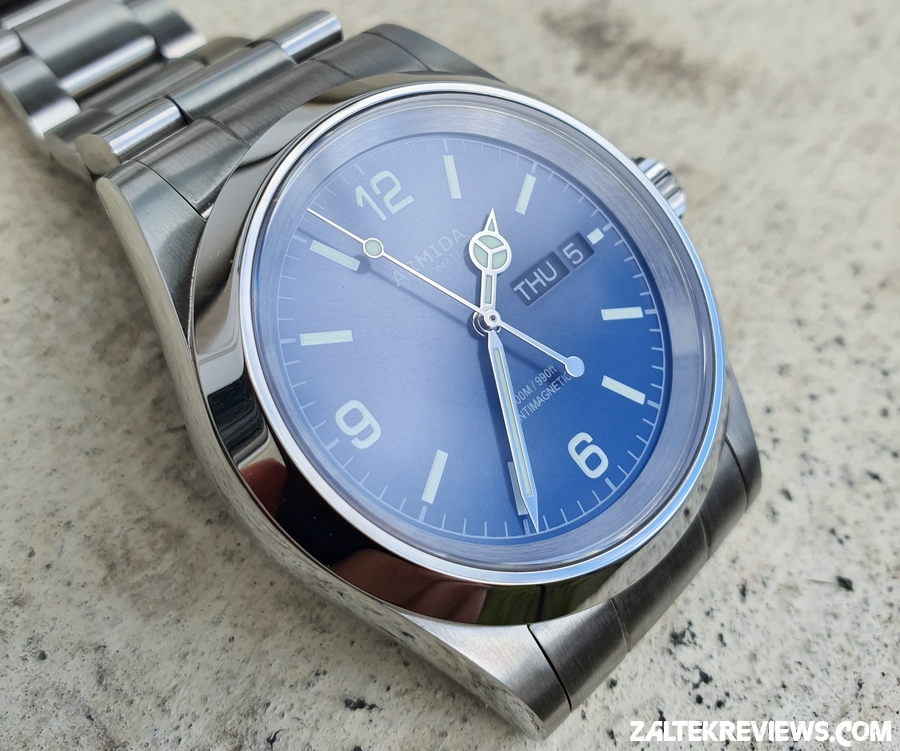 The proportions of the watch, in my opinion, are absolutely fantastic for my 7″ wrist. This 40mm version of the A6 wears just so well on wrist you actually forget it's there! Oh yeah, the case has drilled lugs too making strap changes a breeze, not that I'd want to take the bracelet off (more on that later). The crown and stem are also brilliantly constructed, you can actually see the extra effort that Armida has went to, what with the additional seals etc you can see when the crown is unscrewed. One last thing, there is absolutely zero wobble either when the crown is at its fully extended position.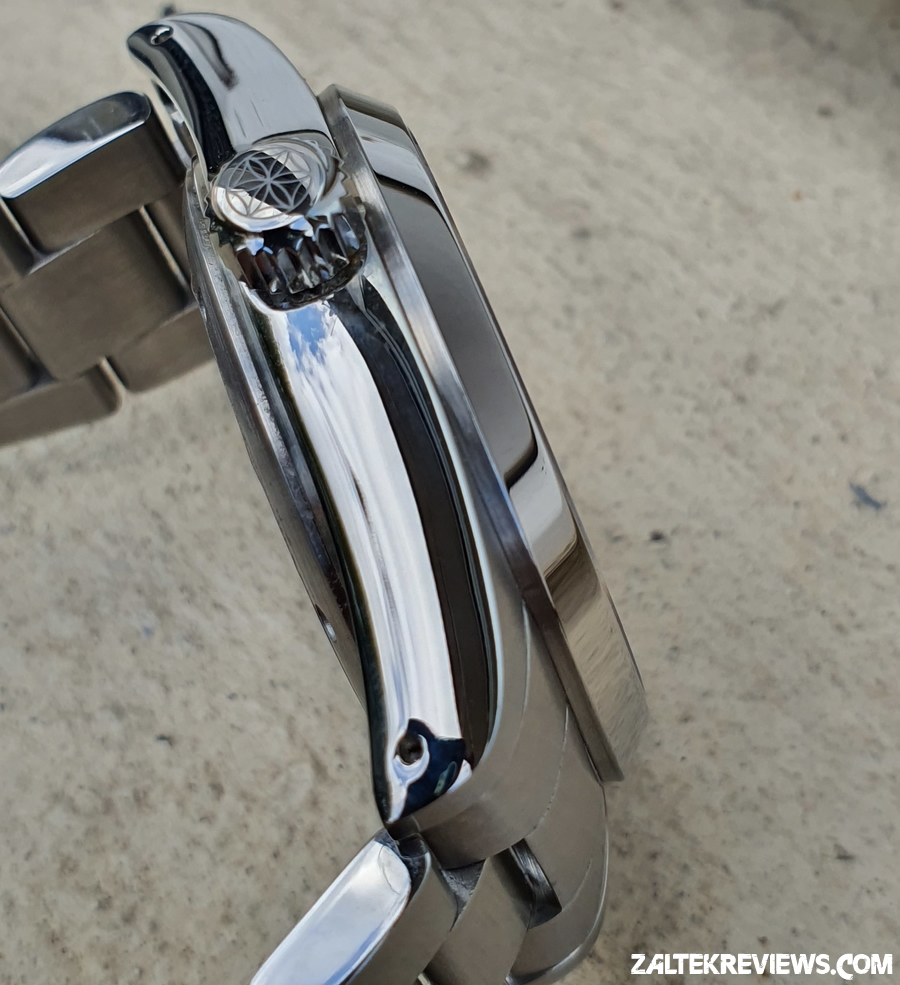 The links themselves are all brushed with polished sides and the milled clasp has a twin push-button release on the sides as well as a divers extension with the same release mechanism. There are also three micro-adjustment holes to ensure a perfect fit. Overall, it's everything you would want in a bracelet, extremely well made with an outstanding fit & finish.
To be honest, I'm not quite sure that a divers extension is appropriate for this style of watch. I certainly wouldn't take it diving anyway, one slip and you'd scrape that gorgeous polished bezel. The same clasp but with no divers extension, with maybe a couple more micro-adjustment holes would suit the overall aesthetic better in my opinion.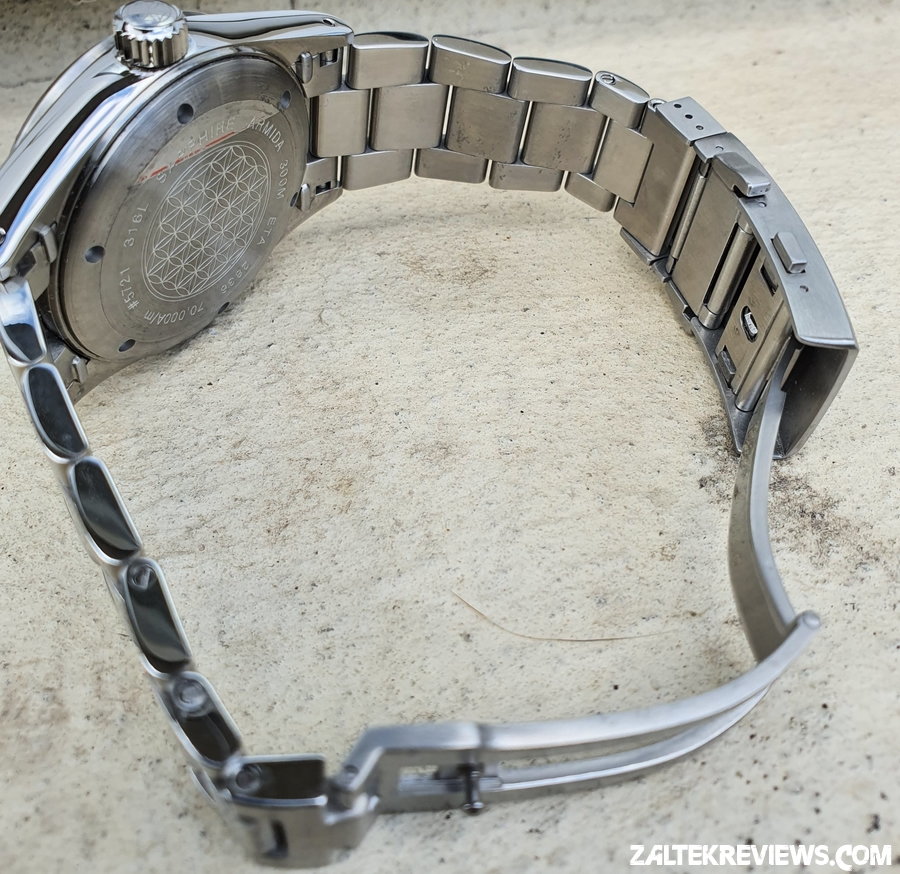 The bracelet tapers from 22mm at the lugs to 18mm and back up to 20mm at the clasp and it is of superb quality. Sized up for my 7″ wrist, I had to remove a few links, which was simple enough to do with the screw pins for adjusting & re-sizing. Solid end links, milled clasp that is also signed with the Armida logo are also present on this great bracelet. Additionally, the clasp has chamfered edges which is a very nice touch. The first mid-link is also done correctly in my opinion, as it fully articulates 180° ensuring optimum comfort and doesn't extend the lug to lug like you see on some other bracelets.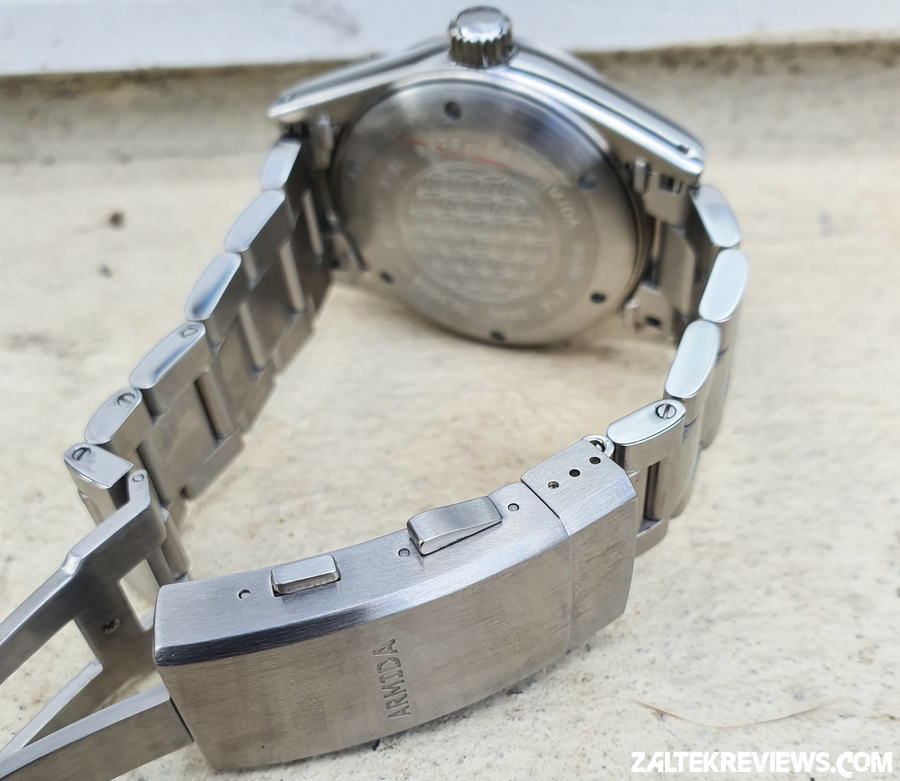 The ETA 2836 is a calibre based on the ETA 2824 and while it not only has a date function, it also features a weekday indicator. The most recent version of the 2836-2 houses a stop second device and can be upgraded to a GMT calibre with a second time zone. Just as not every watch with a 2824-2 features a date display, there are also watches in which the 2836-2 is used, even when their dials do not permit a weekday display (e.g. Mido Baroncelli or the Chronometer Jubilé). Checking the accuracy after running the Armida A6 for a couple of weeks, mainly on my wrist and occasionally in my Barrington Watch Winder, I thought the accuracy was excellent, with it showing an average of just +4.7 spd.
The Armida A6 has a polished, fixed bezel. The dial itself on the A6 has very neatly printed hour markers and arabics at the 6, 9 & 12 o'clock positions, all of which have a good helping of C3 lume. The logo and text on the dial are nicely printed and are very legible. The choice of font too is good showing just the words Armida and automatic in block letters with the depth rating of 300m and the words anti-magnetic just above the 6 o'clock position. Oh yeah, talking of which, the A6 has an anti-magnetic rating of 70.000 A/m. Don't even ask me what that equates to. It's not as if I can test it.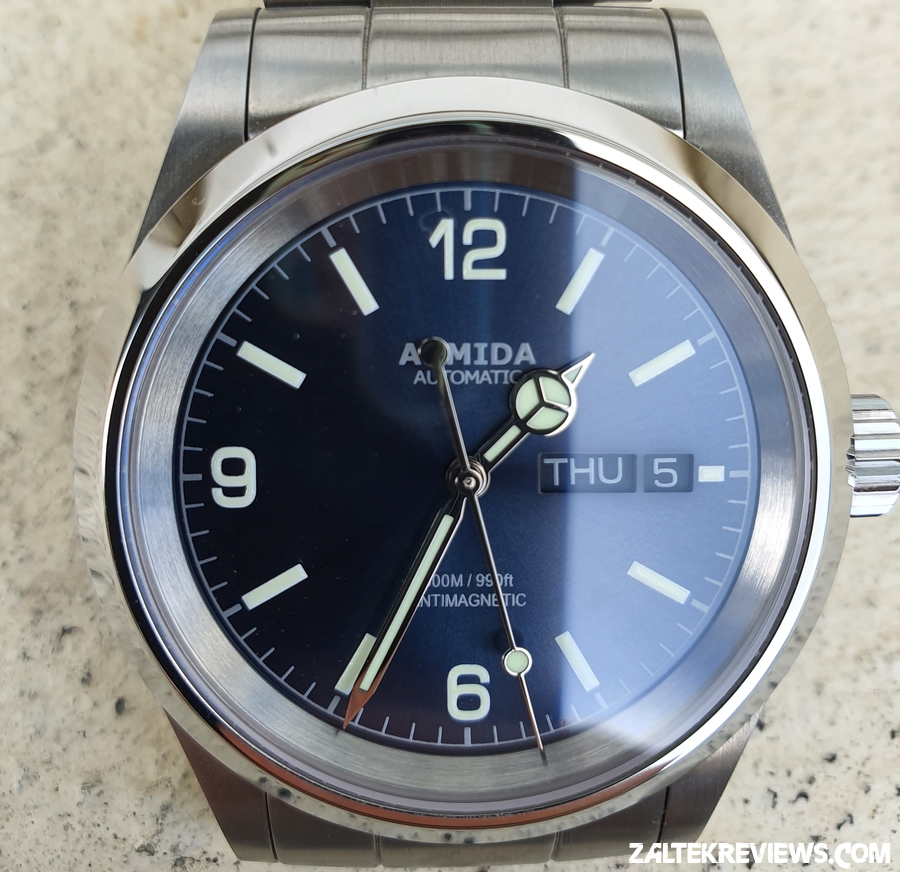 At the 3 o'clock position we have a day & date complication. And what's this, a colour matched day & date wheel! Praise the friggin' lord, finally we have a company that DOES know the definition of attention to detail! Good job Armida!
The hour and minute hands are unfortunately probably the worst part of the watch for me. Obviously though, I can see why Armida chose the Mercedes hands (bloody Rolex), they're just not for me. They do have a gobful of lume on them though, as does the lollipop marker on the seconds hand.
The Armida A6 is available with a smaller diameter of just 36mm however, I think this 40mm version is far more suitable in this day & age and would suit a larger amount of wrist sizes. The overall aesthetic, which is obviously a homage to the Rolex Explorer but with the huge difference being the price! It's like night & day, however, you probably know that anyway.
That doesn't mean to say that the Armida A6 is some budget, rinky dink pile of sh*t. Far from it! The build quality is fantastic, the fit & finish and of course the attention to detail is extremely good. All this for just £450! It just screams a total bargain! Oh yeah, the choice of movement that Armida chose to use… they're not bloody cheap either, far from it.
Now, compare that to a Rolex Explorer, and I've just googled this, have an average price of around £6,000. SIX f**kin' grand! And that price is for a used example. Bollocks to that! I know what I'd rather spend my hard-earned on.
Armida Watches – Excellent job on a total belter of a watch! I love it. I can't wait to review your A12!

9/10 - HIGHLY RECOMMENDED
A huge thank you to Chris at Armida Watches for sending out the A6 so quickly. To view the Armida website, or join their mailing list to be informed of new models etc, visit
Armida Watches
.
Follow us on
Instagram
and join our Facebook group
WatchChat
, a busy community for watch enthusiasts and collectors with tons of images and in-depth discussions.
At Zaltek Reviews, we encourage the companies whose watches we've reviewed to comment on our articles. We invite any company representatives to respond in the public comments section below. Thanks very much.