Manufacturer: Vario | Price: £299 GBP ($365 USD, €340 EUR (Approx))
I've been in contact with Ivan and Judy, the owners of Vario for quite some time now. I actually have quite a few straps here that Judy sent me over to review. I will be reviewing the straps once I can fit them into my review schedule. (I've had quite a few time sensitive reviews that need doing, so I can only apologise for the delay). However, I have managed to fit in this review of Vario's new dress watch, the Empire. I seem to have reviewed quite a lot of dress watches recently, so how does the Empire from Vario stack up in comparison? Let's find out shall we… 👍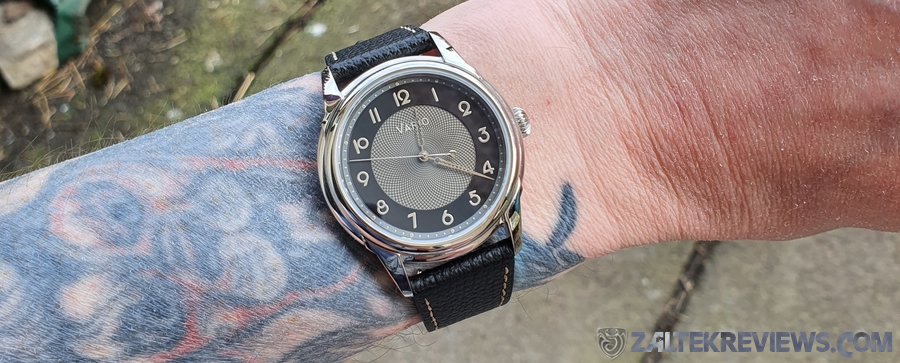 Specifications
Dimensions: Diameter – 38.1mm, Thickness – 11.2mm, Lug to Lug – 45.8mm, Lug Width – 20mm
Movement: Miyota 6T33, Mechanical Hand-Winding, 28,800vph, 17 Jewels
Case Material: Brushed & Polished 316L Stainless Steel
Strap: Vintage Italian Leather, Signed Polished Buckle
Crystal: Sapphire, Underside Anti-Reflective Coating
Bezel: Fixed, Polished   
Water Resistance: 50m / 5ATM
Lume: Choice of Lumed/No Lume (Hands Only)
Crown: Onion Style, Push/Pull
Caseback: Screw Down, Exhibition Display
Warranty: 1 Year    Overall Weight: 61g     Where to Buy: VarioEveryDay

Dial Options: Black, Gunmetal, Silver, White (Other Colours Available Soon)
Movement Options: Miyota 6T33 Handwound, Seiko NH38 Automatic
The Golden Era of Art Deco
"If fashion is a cycle, then it's time we revisited the Golden Era of Art Deco. Based on design principles first exhibited in Paris, 1925, Art Deco remains one of the most well-known pushes into modern style and sophistication. Its clean lines and simple shapes, while used to create high-end luxury items, were not limited to the upper class. This helped its popularity spread across social and economic circles.

The United States showed particular interest in the movement, and its influence led to the creation of the Empire State Building as we know it today. The tallest building in the world from the time of its completion in 1931 until 1970, its geometric exterior and ornate gold and silver interior designs have made it an iconic masterpiece that still draws millions of visitors, decades after its creation.

Vario's Empire is a gorgeous homage to this era in design history. From the understated guilloché dial and bold yet elegant lettering, to the simple yet distinctive geometry of the hands, you'll find it embraces the same sweeping beauty that sits in the halls of the Empire State in New York. There are many ways to exude luxury, and the Vario Empire taps on this Streamline Moderne movement to find innovative ways to, represent luxury, glamour and exuberance."
The case of the Vario Empire has an overall diameter of 38.1mm. The lug to lug is 45.8mm and the overall thickness, including the sapphire crystal, I measured in at a very slim 11.2mm. The entire case, caseback, bezel, and crown are all 316L stainless steel. The finishing of the Empire is mostly polished however, Vario made the right decision and added vertical brushing to the sides of the case and inbetween the lugs. It's too easy these days for some campanies just to polish the entire watch and boom, they call it a dress watch. I admire Vario's decision not to go down that route and actually took the time to do something a little different. I can also state that the vertical brush finishing is very nicely executed. The weight of the Vario Empire, on the supplied Italian leather strap, came in at a very nice 61g.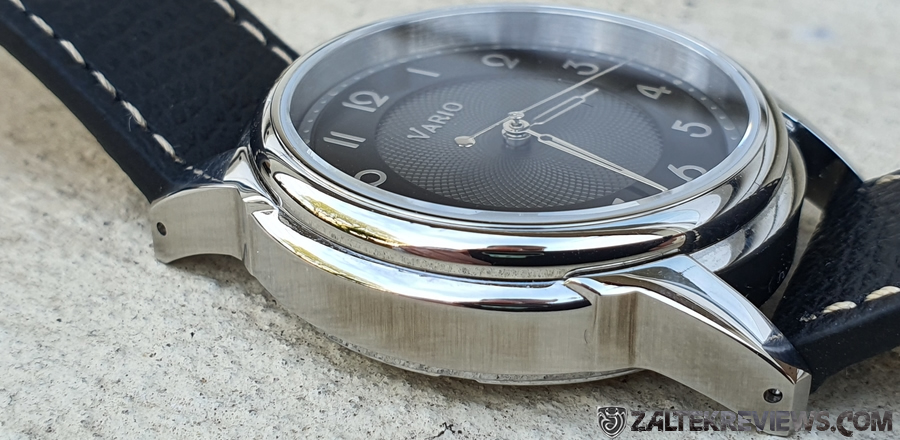 The Empire has a water resistance rating of 50m, which is obviously just down to the screw down caseback, as the crown is the expected, but perfectly acceptable, push/pull variety. The proportions of the watch, in my opinion, are very much in the sweet spot for a dress watch. Not too small where it looks like something from the 19th century that Marty McFly just pulled out of the DeLorean. Neither is it too large, where it looks like a friggin' dinner plate, 38mm is simply perfect.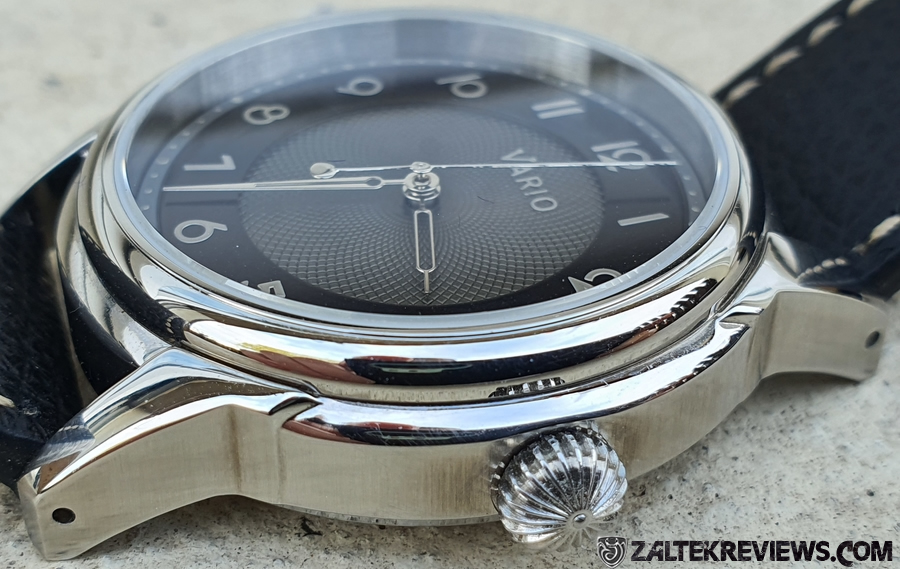 The onion shaped crown is fantastic and is of a decent size, making it very easy to grip and use, unlike some dress watches that I could mention, where they design the crown to be just way too small, tiny infact, and you just can't get a grip of the f**kin' thing! The caseback of the Empire though is just how a display caseback should be! No matter what style of watch you're looking at, you should never have a display caseback UNLESS there's a movement there that is actually nice to look at, otherwise what's the point? No more of this 'plain Jane' shit please! This takes me to my next point, just look at that handwound movement that Vario picked in the image below. I could stare at that thing for ages. Simple, yet beautiful!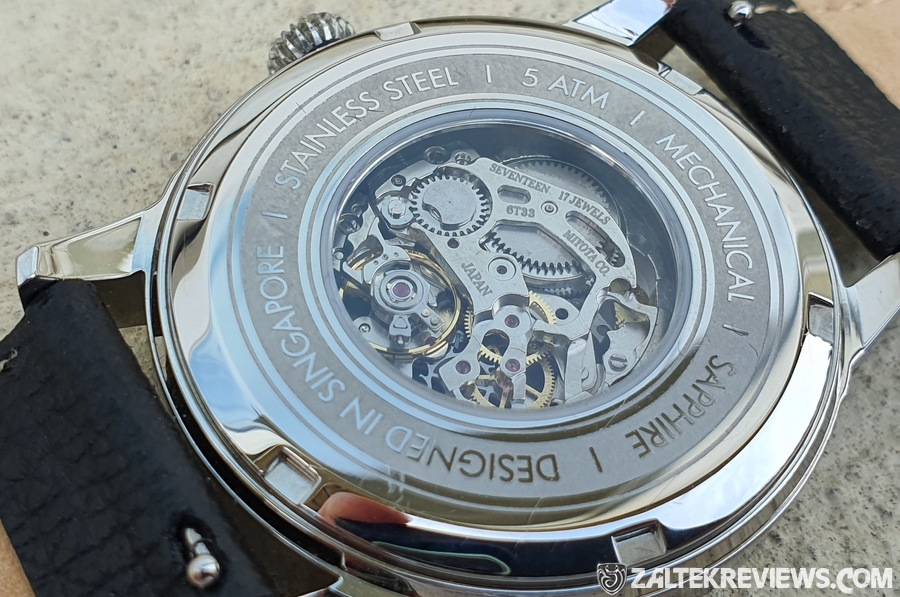 The Vario Empire comes fitted as standard with a gorgeous 20mm Italian leather strap that tapers down to 15.5mm at the signed and polished buckle. It is for sure, leagues above the usual microbrand, off the shelf garbage that you sometimes get. Considering that Vario's main business, before watches that is, was manufacturing watch straps. You can immediately tell that they know exactly what they're doing. The strap that's fitted to this Empire is of very high quality indeed, very soft and extremely comfortable. They haven't made this strap ridiculously long either, at 110/75mm. 👍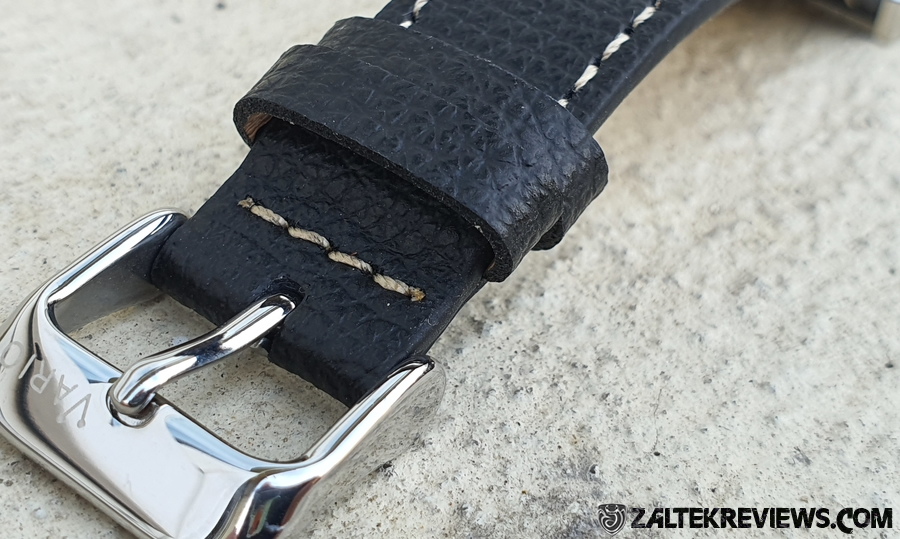 The chosen movement for this version of the Empire is the Miyota 6T33, a mechanical hand-winding movement with 17 jewels that runs at 28,800vph. Not a fan of hand-winding and want a full blown automatic instead? Well, Vario give you the choice so you can get the Empire with the NH38 manufactured by Seiko instead. Personally, I would go with the high beat hand-winding movement from Miyota, it just suits this watch much better, it is also far more interesting to look at.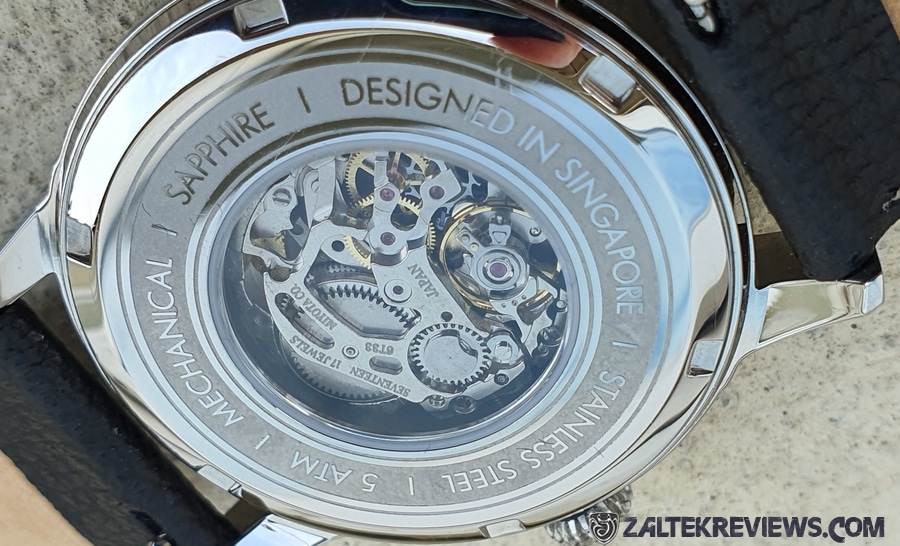 The Vario Empire has a totally fixed bezel as you'd expect and has an entirely polished finish. There is zero text on the dial itself, just the very nicely applied Vario logo at the usual position of just under the 12 o'clock position. The Empire takes homage from the era of Art Deco and in particular, the Empire State Building that was completed in 1931. The tallest building in the world right up until 1970 I might add. Anyway, back to the dial, I love the elegant arabics that are applied, as well as the guilloché style that's in the centre. It's just beautiful and really has to be seen to be fully appreciated.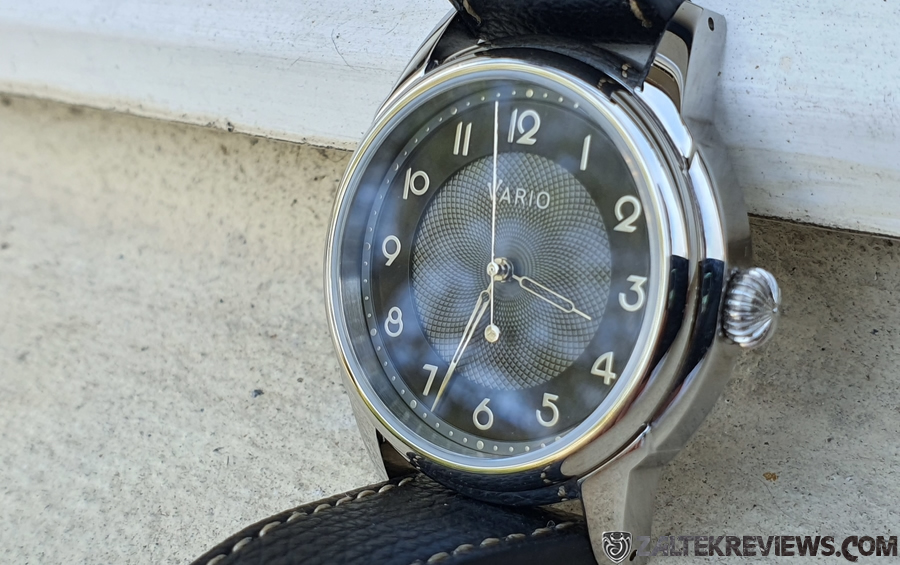 As you can see in the images, the hour and minute hands are simply stunning with their kind of skeletonised appearance. I normally try and state in my reviews what kind of style the hands are… alpha, sword, cathedral or whatever style they appear to be. The hands on the Empire are different though, as they're totally unique, with Vario taking their inspiration from the 1920's and the whole Art Deco thing. Vario do actually offer an option of lumed hands, but even with me being the total lume junkie that I am, I still much prefer these, as they are much more in-keeping with the whole aesthetic.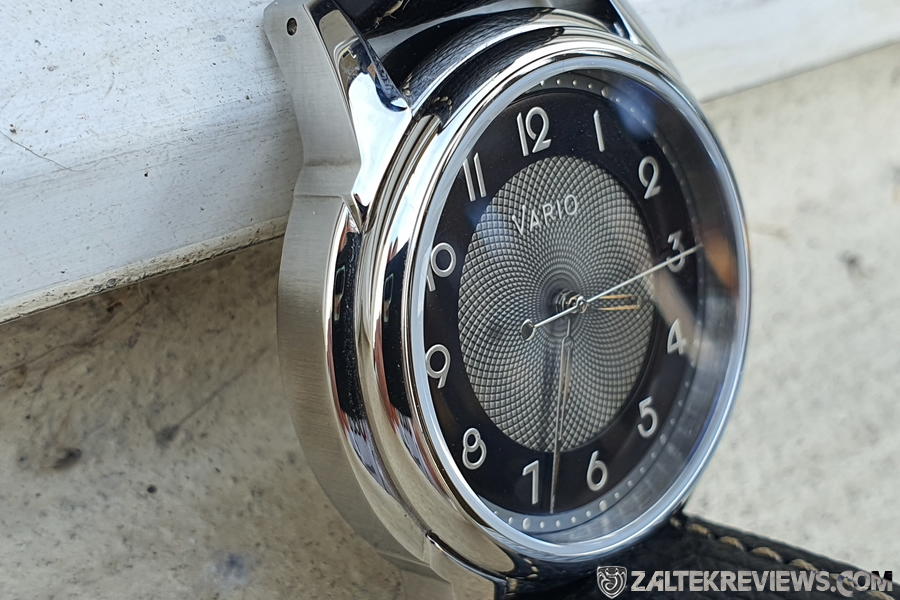 I just looked at my watch fund as I'd love one of these in my collection, however, my account just laughed at me. It's a fair point considering I have 4 watches that are incoming. Too many watches I want to buy, but not enough money. Damn it!
Anyway, back on topic, as you can probably tell, I think this watch is absolutely stunning! If you need an affordable dress watch in your collection, then look no further than this Vario Empire. Before I got this sample, I wasn't sure if I was actually going to like it if I'm honest.
It's not until I had it on wrist and seen it in person, I thought WOW, this thing is actually damn nice. The more I've wore it and looked at it more closely, the more Vario's attention to detail becomes more apparent. It's a beautiful watch that is exceptional value for money. I most definately, wholeheartedly, recommend the Vario Empire. Great job Ivan & Judy.
Vario – Elegant, Gorgeous, Beautiful! Pick any of those if you like, as I think the Empire is all 3!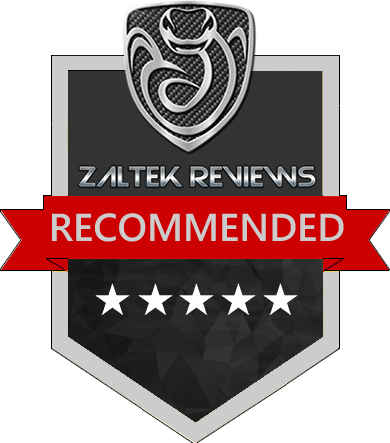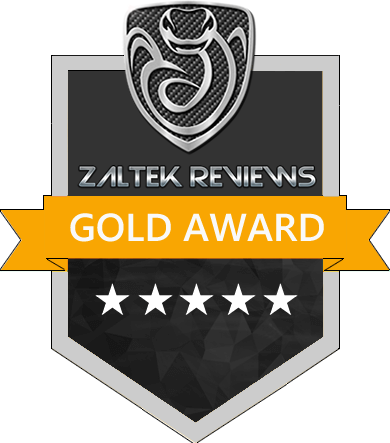 10/10 - HIGHLY RECOMMENDED!
A huge thank you to Ivan and Judy from Vario for sending out the Empire for review. Thanks, I really appreciate it.
To view the Vario website, or to join their mailing list to be informed of new models etc, visit
VarioEveryDay
.
Please follow Zaltek Reviews on
Instagram
,
Twitter
and
Facebook
and feel free to join our Facebook group
WatchChat
, a very busy community for watch enthusiasts and collectors, with tons of images and in-depth discussions.
At Zaltek Reviews, we encourage the companies whose watches we've reviewed to comment on our articles. We invite any company representatives to respond in the comments section below. Thanks very much.